Are your grandparents struggling to keep their room in the right shape?
Indeed, cleaning the dirt in their rooms regularly can be difficult for older people. But maintaining a conducive and clean environment is also essential to ensure they're safe and healthy throughout.
This is why they need an effective cleaning solution that will be easy and comfortable to handle. In this regard, a lightweight vacuum cleaner would be a perfect choice as it will enable efficient yet effortless cleaning. And it also comes at a relatively lower price than other heavier cleaning tools, which is the icing on the cake!
But the market is flooded with options, which can make anyone confused. And that's where we will help you out by putting forward this carefully curated guide to the 10 best lightweight vacuum cleaners for elderly people available out there.
With all said and done, let's proceed.
Best Lightweight Vacuum Cleaners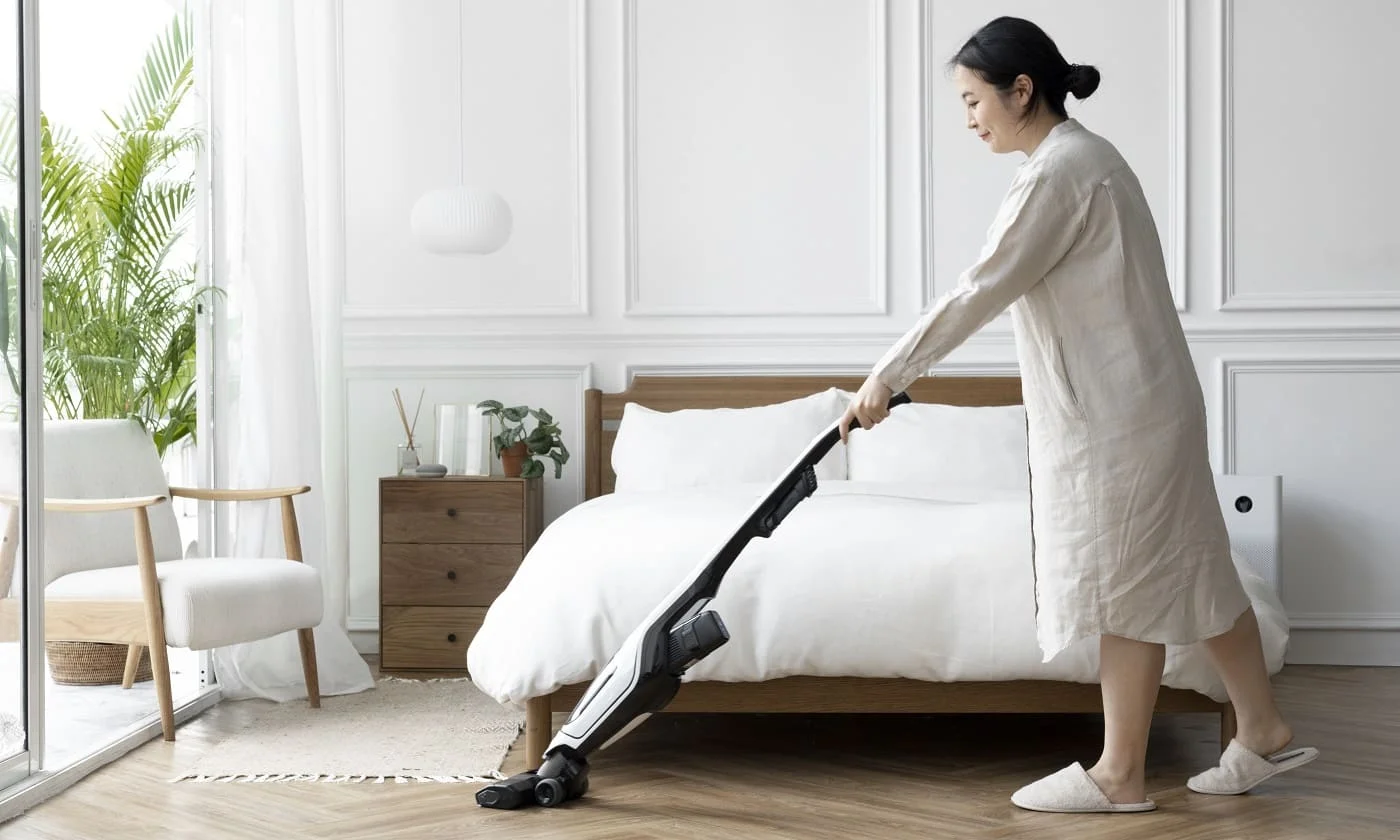 Here's the list of the 10 best lightweight vacuum cleaners for elderly, ensuring effortless cleaning and a clean environment for your grandparents.
This 3-in-1 vacuum cleaner from the well-known brand Bissell is the perfect choice for achieving spotless floors with minimal effort. As such, it can be a great gift for any elderly family member with limited body flexibility who struggles to clean her/his room thoroughly.
Why Did We Like It?
To begin with, its powerful suction ability facilitates much quicker pickups than ordinary models to render your floors clean and bright within minutes.
And as mentioned earlier, this device is actually three cleaning tools combined in one, viz. a handle vacuum, a stair vacuum, and a stick vacuum. This lends great versatility, allowing you to eliminate all kinds of dirt, including pet hair, dust, small food pieces, and many more. So, you can easily convert it into the desired form for cleaning furniture, stairs, or floors and rugs, depending on your needs.
The 0.67 liter capacity of the dirt cup is also commendable as it can pick up dirt from a couple of cleaning sessions before you need to empty it.
What Could've Been Better?
Make sure you check the vacuum cleaner carefully when it arrives since the packaging used is weaker than other products and may get torn in quite a few places. This makes the cleaner prone to damage during delivery, so it's a must to immediately report any such issue to the manufacturer.
Pros
Quicker pickups

Highly versatile

Good dirt capacity

Easily convertible
Capacity: 0.67 Liters | Dimensions: 8.3" x 9.5" x 44.25" | Weight: 2.6 pounds | Decibel: 80 dB | Voltage: 120V | Cordless: No
Next in line is this powerful car vacuum cleaner from ThisWorx that can keep the interiors of your beloved vehicle spic and span for years to come. Coming with a slew of super-efficient features, it has been praised by many elderly customers for its impressive performance and the user convenience it offers. So, let's go ahead and check out all its features.
Sale
Why Did We Like It?
Removing food spills and bread crumbs from hard-to-reach spots in the car will never be a headache for older adults with this unit at their disposal. That's because the vacuum comes with three attachments, viz. an extension tube, a flathead hose, and a brush head, which can help clean any part of the vehicle minutely.
Coupled with this, the strong suction and cyclonic force created by its 106W motor can terminate any debris or dirt stuck anywhere in the car. There is also a highly effective HEPA filter that traps small dirt particles such as allergens and pet dander that can recirculate back into the air.
Furthermore, its 16-foot power cord gives users the slag needed to clean the trunk or backseat of the car without any snag. Even the compact and lightweight design makes it quite easy to handle on the go.
What Could've Been Better?
The dirt cup of this vacuum needs more frequent maintenance than other units as a layer of dust accumulates on its inner surface with a week of regular use. So, you will have to clean the cup at least twice a week to ensure it remains in the right shape and doesn't affect the functioning of the vacuum.
Pros
Cleans hard-to-reach spots

Strong suction

Efficient HEPA filter

Easy to handle
Capacity: 1.08 Liters | Dimensions: 13.39" x 3.94" x 4.33" | Weight: 2.4 pounds | Decibel: 70 dB | Voltage: 12V | Cordless: No
The Eureka NEU10AE4 delivers an impressive performance by rendering your rooms spotless within a very short while. And you can achieve this by just maneuvering it lightly over all the surfaces, with the vacuum cleaner doing the rest of the job perfectly. Thus, it's a model that the elderly can trust.
Why Did We Like It?
The best thing about this vacuum is its 10.5-inch wide cleaning path, which helps you get through the job quickly. Coupled with this is the strong suction that perfectly extracts dust, pet hair, and debris from all types of floors. Not only that, but it's equally effective on shag, carpeted rungs, and high-pile carpets.
Plus, there's a washable filter that just has to be rinsed for proper maintenance, thereby ruling out any costs therein. The attachments coming with it include a dusting brush and a crevice tool that are always stored on the vacuum while cleaning.
Beyond that, you can convert this device into an even more convenient cleaning tool to act on the hard-to-reach spots. All you have to do is detach its handle and connect the attachment. In addition, its quick-release handle makes the job very easy for reaching surfaces above floor level.
What Could've Been Better?
We'd have liked it even more if the dirt canister had a greater capacity, as it fills up more quickly than quite a few other models. In fact, users may need to empty it once for every two cleaning sessions. But we didn't face any issues concerning the performance of the vacuum cleaner.
Pros
Quick action

Filter is easy to maintain

Convertible as per the need

Easy to use
Capacity: 1.7 Liters | Dimensions: 11" x 11" x 41" | Weight: 7.7 pounds | Decibel: 82 dB | Voltage: 120V | Cordless: No
Yet another reliable and effective option from Bissell is this handheld vacuum which is able to remove all traces of pet hair and debris comfortably. Thus, your elderly family members will have no trouble cleaning the hair or food pieces left over by their furry companions when they roam about the house. It also comes in an attractive purple color and an appealing design.
Sale
Why Did We Like It?
The most notable feature is undoubtedly the triple-level filtration of this unit, as it enhances the cleaning performance to a great extent. This makes it possible to remove even the smallest of debris and pet dander from any surface. Plus, the strong lithium-ion battery of 14V provides a much longer run time than average vacuums.
We also found the dirt bin of this unit to be large enough to collect a lot of pet hair at once, which rules out the need to empty it now and then.
What's more, the vacuum comes with specialized tools for acting on different surfaces with ease, which include an upholstery tool, a crevice tool, and a motorized brush. While you can clean furniture and soft surfaces effortlessly using the upholstery tool, the brush and crevice tool can easily remove the pet hair and embedded debris from the hard-to-reach parts.
What Could've Been Better?
Finding a replacement filter for this device can be difficult, as the brand probably doesn't sell the filter on its own. And getting hold of a filter from other sources may be quite expensive. But we were quite pleased with its performance otherwise.
Pros
Enhanced cleaning performance

Large dirt bin

Removes embedded debris

Longer run time
Cons
Filter replacement difficult
Capacity: 0.68 Liters | Dimensions: 16" x 4.5" x 5" | Weight: 3 pounds | Decibel: 70 dB | Voltage: 14V | Cordless: Yes
With the Eufy Robovac 11S at home, your cleaning jobs can really be as easy as sitting back and relaxing! This uniquely engineered device picks up all the dirt, dust, and debris by itself from around the room. Hence, it's the ideal choice for elderly people with limited mobility. If that sounds exciting, read on to know more.
No products found.
Why Did We Like It?
First of all, its suction power of 1300Pa gives it the ability to draw dust and dirt from every square inch of the room to result in a spotless surface within minutes. Right after the first use, you can see and feel the difference yourself.
Plus, the device comes with large wheels to climb over the ledges of the doors and roll over all the carpets to pick up the mess. This is why it can offer a non-stop cleaning performance for up to 100 seconds. And in case any obstacle comes in its way, an advanced infrared sensor helps evade that successfully.
Another striking feature is its BoostIQ technology which automatically raises the suction power in 1.5 seconds whenever it senses a more untidy spot. In addition, the high-quality tempered glass cover on the top protects it from scratches and further damage.
What Could've Been Better?
The power adapter included for charging the device might be faulty in some cases. So, remember to check it just after delivery to ensure that it's working properly. As far as the performance is concerned, rest assured that you won't face any quality issues as such.
Pros
Fully automatic cleaning

Moves smoothly

Evades obstacles easily

Protective cover
Capacity: 0.6 Liters | Dimensions: 12.8" x 12.8" x 2.85" | Weight: 5.73 pounds | Decibel: 55 dB | Voltage: 110V - 120V | Cordless: Yes
Halfway through our list, we've picked this cordless stick vacuum from Shark that facilitates a quick cleanup and provides considerable user convenience. It is armed with a couple of high-performing features that ensure adequate cleaning of your rooms. Maneuvering this device will be quite easy for an elderly person, so it's a good option to go for.
Why Did We Like It?
Firstly, the powerful battery of this unit enables strong suction power, cleaning both carpets and bare floors with equal consistency. It also offers a longer run time to ensure you can complete several cleaning jobs at once.
Interestingly, the vacuum uses a swivel steering to facilitate excellent control while maneuvering around any surface. This lets users carry out the job as per their needs. In addition, the two-speed settings enable easy optimization of the cleaning action for bare floors and carpets.
There's even a motorized brush built into the vacuum that lifts all any embedded debris and pet hair from carpets and furniture, making it perfect for any pet owner.
Beyond that, its dust cup can hold enough debris and dirt to ensure that you don't need to empty it frequently.
What Could've Been Better?
Perhaps the only downside of this device is that the position of the power button might make it difficult for some users to switch it on or off quickly. But performance-wise, we have no complaints regarding the product.
Pros
Consistent cleaning

Longer run time

Perfect for pet owners

Large dust cup
Cons
Power button difficult to access
Capacity: 0.6 Liters | Dimensions: 10.5" x 9.6" x 46" | Weight: 7.5 pounds | Decibel: 80 dB | Voltage: 10.8V | Cordless: Yes
Another model from Shark that we found worthy of including in this list is the HV302 Rocket corded vacuum cleaner. It is adept at cleaning a variety of surfaces and maintains a consistent performance throughout. Also, the utility-based features and convenient design make this an apt choice for an older person.
Why Did We Like It?
What we liked the most about this device was that it came in a convertible form to suit the different cleaning needs of users. As such, you can convert it into a handheld cleaner for acting on surfaces other than floors such as windows, shelves, or even ceilings. All you have to do is detach its nozzle to use the wand and hand vacuum for cleaning the higher spots.
Users even get two cleaning modes with this device, viz. carpet and floor-cleaning, so that they can switch between the two effortlessly as per the need. Furthermore, its swivel steering provides efficient control to facilitate easy maneuvering around the corners and furniture pieces.
We also found the power cord to be quite convenient and effective as it ensures the device receives reliable and continuous power all along. Lastly, you can empty its dust cup just with the push of a button.
What Could've Been Better?
The customer support offered by the brand is not effective enough as it may not be able to provide any satisfactory solution to the issues you might face. Also, it fails to provide any information regarding the warranty or money-back guarantee applicable for the vacuum.
Pros
Convertible structure

Easy maneuvering

Effective power cord

Cup is easy to empty
Cons
Inefficient customer support
Capacity: 0.29 Liters | Dimensions: 10.5" x 9.8" x 46" | Weight: 8.2 pounds | Decibel: 80 dB | Voltage: 110V - 120V | Cordless: No
The Eureka 3670H is also a suitable pick if you want a vacuum cleaner that offers deep cleaning action for multiple surfaces. Powered by exclusive technology and enhanced with user-friendly features, the unit can save older people from the strain of rigorous cleaning sessions permanently. It also has a strong build which helps extend its service life considerably.
Why Did We Like It?
The efficiently functioning 10-amp motor of this device provides powerful and continuous suction to facilitate thorough cleaning on all surfaces. Another noteworthy feature is its long cord that can be extended to at most 20 feet while it's still plugged. This ensures you can clean larger rooms, a fleet of stairs, and long hallways with equal ease and perfection.
You even get three attachments, viz. a dusting tool, an upholstery tool, and a crevice tool to act on carpets, furniture, and hard-to-reach spots, respectively. What's more, you can clean garages or garden sheds effortlessly using a unique blower port that blows all the debris and dirt from therein.
As for the dirt disposal system, that's also quite convenient as this vacuum cleaner comes with disposable dust bags for the purpose. This saves users from the messy cleaning procedures like for most other units out there.
What Could've Been Better?
The warranty offered by the brand may not always be effective as you may not get a replacement for some parts or a refund for all quality issues. However, the product is less likely to show any problems anytime soon as it performs pretty smoothly.
Pros
Powerful and continuous suction

Long cord helps clean large areas

Disposable dust bags

Blows away debris smoothly
Capacity: 2.5 Liters | Dimensions: 17.5" x 9" x 11.3" | Weight: 8.6 pounds | Decibel: 90 dB | Voltage: 120V | Cordless: No
This compact vacuum from Bissell also has a convenient design that makes cleaning jobs much quicker and easier for all, including older adults. You can use it anywhere, including your workplace, car, or home, to keep the surrounding environment clean and hygienic. All in all, it's a device you can count on for quick cleanups and getting rid of accidental spills.
Why Did We Like It?
First things first, its lithium-ion battery of 7.2V provides users with a cleaning time of up to 12 minutes for removing any mess comfortably. This lets you clean a surface thoroughly with just a full charge.
We also appreciate the 2-in-1 dusting brush and crevice tool included in the package that renders a smooth and efficient performance, cleaning all surfaces uniformly. Another advantage is that you can store both these tools together with the device so that they are always ready for use.
In addition, it comes with a USB charger and a cable that facilitate versatile and convenient charging, while the sleek design makes sure it can fit into tight spaces while cleaning. It even comes with an integrated stand for convenient, upright storage.
What Could've Been Better?
This device might not be very effective in removing pet hair. So, if you're specifically looking for a vacuum to remove pet hair, this won't be the ideal option to go for. Apart from that, it performs considerably well in removing most kinds of dirt.
Pros
Provides uniform cleaning

Convenient storage

Cleaning time of 12 minutes

Versatile charging
Capacity: N/A | Dimensions: 2.75" x 12.6" x 3.62" | Weight: 1.37 pounds | Decibel: 84 dB | Voltage: 3.7V | Cordless: Yes
No matter how large your rooms are, the Iwoly V600 will ensure they are shining and spotless by cleaning them minutely. It is very simple to handle for anyone with limited mobility as there is no need to bend over or apply greater force. This makes it an ideal choice for elderly people who wish to keep their rooms safe and hygienic throughout.
Why Did We Like It?
We really liked the system of cyclonic filtration offered by this vacuum cleaner which spins to remove the finest of dust particles away from its motor to keep the suction strong. This prevents dust from interrupting the cleaning action and ensures the suction can effectively pick up all the dirt.
The strength of the motor is also par excellence as it comes with a power of 500W to create an extremely powerful suction that can act on almost all surfaces. Added to this, there are three attachments and a convenient extension tube that can be adjusted between 17 and 28 inches using a button to clean higher spots easily.
Even the 23-foot power cord makes it easy to clean large rooms with just a few passes. What's more, storing the device is quite convenient as you can hang it on the wall using the wall mount provided.
What Could've Been Better?
The only drawback is its inability to handle carpets, as the powerful suction might cause it to cling to them very strongly. As such, removing the device can become difficult, and the carpet might also be damaged in the process. That's why it's best not to use it on carpets.
Pros
Keeps suction strong

Cleans higher spots easily

Long power cord

Convenient storage
Capacity: 0.5 Liters | Dimensions: 4.72" x 10.24" x 44.88" | Weight: 1.37 pounds | Decibel: 80 dB | Voltage: 120V | Cordless: No
Best Lightweight Vacuum Cleaner Comparison Table
Buying Guide For The Best Lightweight Vacuum Cleaner
To make sure you're choosing the right vacuum cleaner for an older adult, you must pay attention to a few factors that determine the quality of its performance. After all, there are many such models that seem to be of high quality but actually don't deliver what the brand claims.
That's why making a hasty decision can lead you to land up with a model that only delivers partial results. On that note, here are a few points you must keep in mind before purchasing a suitable model.
Cord Options
Vacuum cleaners can be found in two variants- cordless and corded devices. While the former functions through a battery, the latter requires a power source for the cleaning action. Now, both the types come with their own positives and negatives, with lots of models from each category suitable for older people. That's why the user needs to be clear about his/her preferences first.
So, if you find it difficult to carry the cleaner around while it's plugged in, it's best to buy a cordless option. This type will let you move freely around all corners of your home. But you will have to bear the hassle of charging it each time the battery goes down.
Design And Size
Going for a vacuum cleaner with a convenient design is important as that would make it easy to maneuver around the home. But often, the images of the device on the product page aren't enough to determine whether the design will be convenient or not. So, reading through the product reviews will be of great help in knowing whether the design truly makes it easy to use.
Another important aspect of the design is the availability of a 2-in-1 cleaning system, whereby the device converts into a stick or a handheld vacuum as per the need. Hence, make sure you check for the feature when you choose a model. It's also essential to ensure that the storage is convenient, so the availability of wall mounts or detachable handles will be helpful in this regard.
Health Issues
This is among the most crucial factors to consider while choosing a model for elderly people. That's because many of them might be suffering from certain long-term health issues, which can make it difficult to carry out manual jobs.
So, remember to take these into account before making the final decision. In case they're facing critical problems and have very limited mobility, it's better to choose a robot vacuum such as the RoboVac for them.
Lightweight Vacuum Cleaners FAQs
What are the advantages of using a lightweight vacuum cleaner?

Some advantages of using a lightweight vacuum cleaner include:
Ease of use: Lightweight vacuum cleaners are easier to carry and maneuver, especially for older adults or individuals with mobility issues.
Portability: These vacuum cleaners are generally smaller and more portable, allowing for convenient storage and transportation.
Versatility: Many lightweight vacuum cleaners offer versatile features such as 2-in-1 functionality, allowing them to convert into handheld or stick vacuums for cleaning different surfaces and areas.
What is the difference between corded and cordless lightweight vacuum cleaners?

Corded lightweight vacuum cleaners require a power source for operation, while cordless models operate on battery power. Corded vacuums provide consistent suction but may have limited mobility due to the cord. Cordless vacuums offer greater freedom of movement but require recharging.

Why is the availability of wall mounts or detachable handles important in lightweight vacuum cleaners?

Wall mounts or detachable handles in lightweight vacuum cleaners provide convenient storage options. They allow you to keep the vacuum cleaner in a compact and easily accessible location, saving space and ensuring quick access when needed.

Can lightweight vacuum cleaners effectively clean different floor types?

Yes, many lightweight vacuum cleaners are designed to effectively clean various floor types, including hardwood, carpet, tile, and laminate. However, it is advisable to check the product specifications or reviews to ensure that the vacuum cleaner performs well on the specific floor types you have in your home.

How do I maintain a lightweight vacuum cleaner?

Regular maintenance of a lightweight vacuum cleaner includes emptying the dust canister or replacing the vacuum bags, cleaning or replacing filters, checking for clogs or blockages in the suction path, and keeping the brush roll or beater bar clean. Refer to the manufacturer's instructions for specific maintenance guidelines.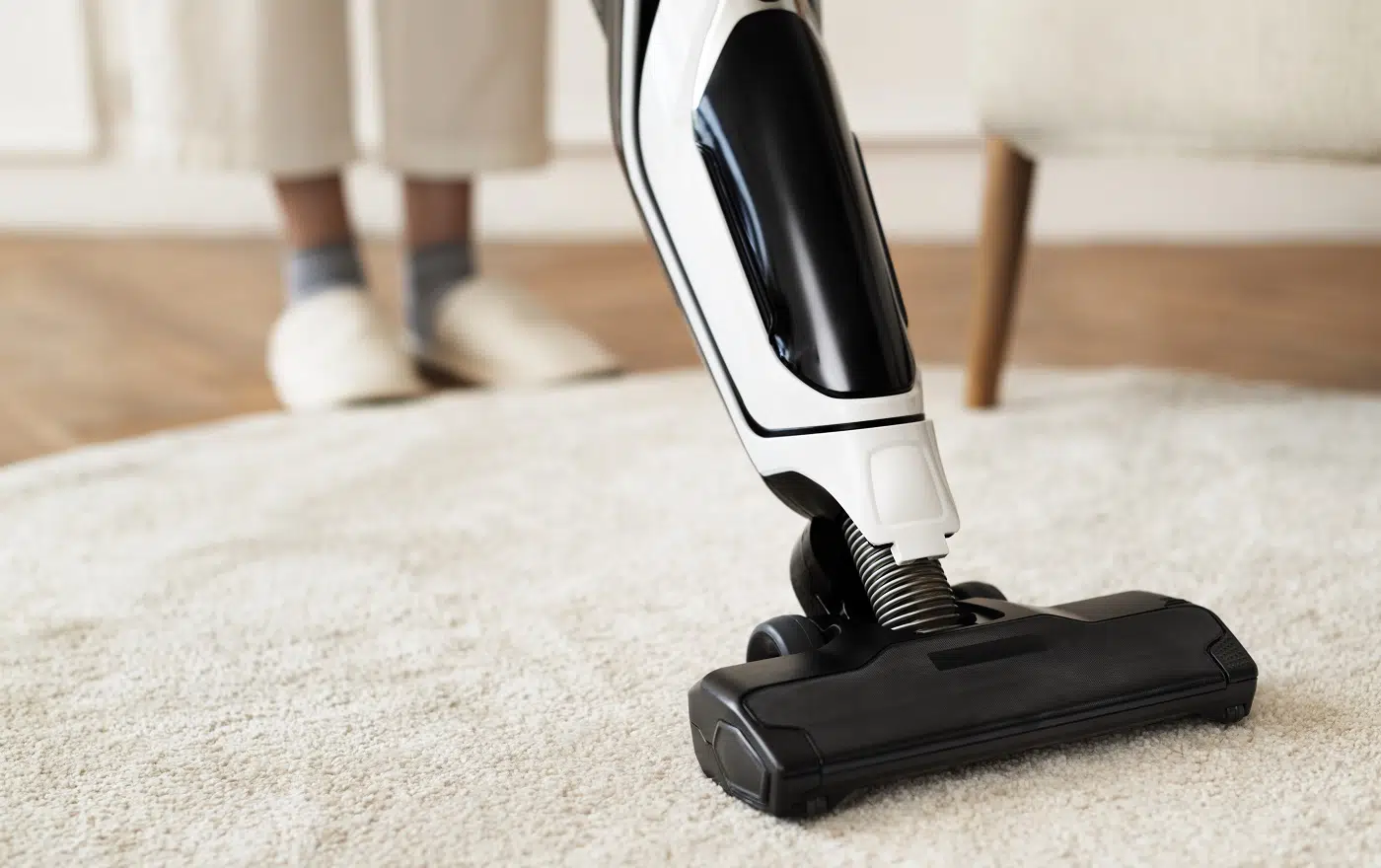 Conclusion
We hope our guide will help you select the best lightweight vacuum cleaner for an elderly person easily. All the options we've included in our list can make cleaning jobs a lot simpler for them. So, go for it!
But before we wrap up our guide, let's share with you our favorite options from the list. The Bissell Featherweight 2033 is the best budget buy in our view since it offers great versatility and efficiency at an unbelievable price.
However, if you're on the lookout for an advanced model with a much wider cleaning path, the Eureka NEU182A will be an ideal pick. On the other hand, the ThisWorx TWC-01 is among the most efficient car vacuums you'll ever come across.
What do you think about our verdict? Let us know in the comments section below. Till next time!
Related Articles 
55 Best Robot Vacuum Names For Your Little One
Bissell Crosswave 1785A vs. 2306A [Two Wet/Dry Uprights Legends Compared]
Bissell 1806 vs. Bissell 1940 [Steam Mops Compared]
Bissell 3624 Vs. 2694 [SpotClean Portable Cleaners Compared]
Hoover Power Scrub Deluxe Vs. Hoover Turbo Scrub [Comparison]
Roborock H7 Vacuum Cleaner Review
13 Best Bagged Canister Vacuums 
10 Best Shop Vacs For Dust Collection
13 Best Vacuum for Stairs | Reviews and Buyers Guide
13 Best Backpack Vacuum Cleaners | Reviews & Buyer's Guide
13 Best Non-Electric Vacuum Sweepers
6 Best Vacuum Cleaners for Mattress That Promote Healthy Sleeping
19 Best Upright Vacuums with HEPA Filter| Reviews & Buyer's Guide
Bissell BigGreen 86T3 vs. BG10 | Carpet Cleaner Comparison & Buyer's Guide
6 Smallest Wet Dry Vacs For Home and Workshop
iRobot Roomba 675 vs. 680 vs. 690 | Robot Vacuums Compared & Buyer's Guide
13 Best Central Vacuum Systems
The Best Vintage Vacuum Cleaners To Collect
13 Best Steam Cleaners for Hardwood Floors
6 Best Miele Vacuums For Cat, Dog, And Pet Hair
McCulloch MC1385 or Vapamore MR100
13 Best Steam Cleaners for Hardwood Floors
11 Best Central Vacuum Attachment Kits, Powerheads & Brushes