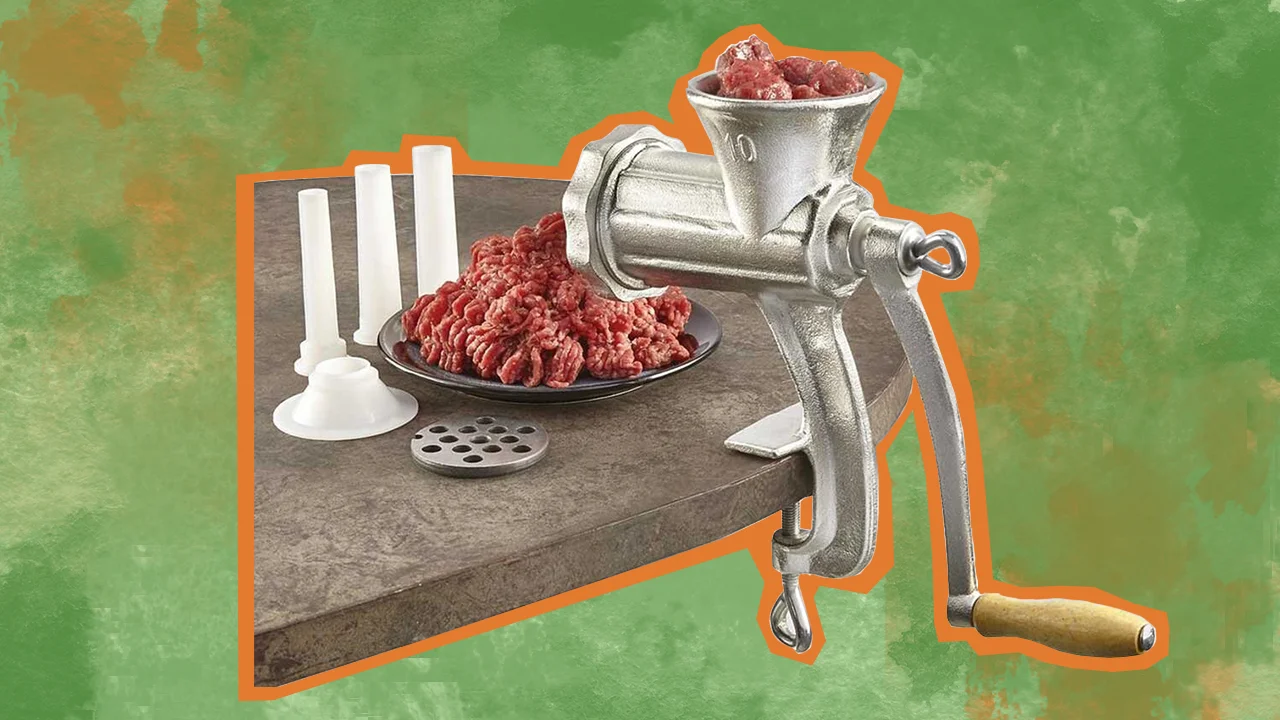 A manual meat grinder can be a terrific addition to your kitchen gear if you prefer cooking from scratch.
Meat grinders can be more versatile than their name suggests, allowing you to maintain control while processing a range of meats, fish, and vegetables.
Choosing the best manual meat grinder requires some consideration of your demands and the benefits and drawbacks of the manual grinder.
We'll examine the top ten meat grinders in this article to assist you in selecting the affordable option that will work best for you.
What Are the 10 Best Manual Meat Grinders to Buy?
Here are my picks for the top ten of the best manual meat grinders on the market.
Sale
What I like
Construction is made of heavy-duty stainless steel.

Wide-opening clamp

Able to ground any type of meat, including soft bones.

This sausage stuffer contains three stuffing tubes, two stainless steel screens, a food pusher, and a stainless steel knife.

Steel is less pleasant than wood, while a wooden crank handle is more resilient than plastic.
What I don't like
Because it is too low and close to the edge of the counter, ground meat could be challenging to gather.

A high cost for a high-end item.
There aren't many manual meat grinders that are more dated than this one from LEM Products.
Although having a vintage appearance, it functions just as well as any mincer from today. Designed to last, who knows, maybe granny still has one in her kitchen from years ago!
The clean, polished stainless steel finish of this sturdy-looking grinder from LEM is impossible to miss. This crank manual meat grinder is rust-resistant and will last you for many years.
The wide-opening clamp makes it easier to mount this manual grinder to virtually any table or tabletop.
The outcome of the grinder is substantially lower than that of many other manual grinders, which could be an issue. You will need a shallow basin to catch the falling minced meat.
See the Best Wheatgrass Juicer currently on the market!
Material: Stainless Steel | Item Weight: 2.88 kilograms | Item Dimensions: 11.5 x 8.3 x 5.3 inches | Color: Silver | Specific Uses for Product: Personal
What I like
Corrosion, rust resistant, and ease of cleaning make it a highly durable product that will last years of heavy use.

The device may be mounted easily on any countertop or table

It has two stainless steel plates (fine and coarse grinding plates)

Includes a one-year warranty if the grinder and accessories are faulty or damaged.
This excellent budget meat grinder from CAM2, which is modest in stature but powerful in results, comes in second place.
Its long-lasting durability and rust resistance come from its construction with heavy-duty stainless steel.
Given its lower price than other grinders on this list, I was surprised not to find anything that suggested a shoddy construction when using it.
In contrast to plastic grinders, which can easily become caked in bacteria and rotten meat, stainless steel construction also makes it exceedingly simple to clean.
The grinder's large base is one of its best qualities.
Are you just starting? Find out here how to use a manual meat grinder.
Material: Stainless Steel | Item Weight: 700 grams | Item Dimensions: 7.87 x 3.94 x 5.91 inches | Color: Silver | Specific Uses for Product: Meat
Sale
What I like
This sausage stuffer guarantees the device's lifespan and durability by having two stainless steel plates for coarse or fine grinding.

Speeds up and simplifies the meal preparation process while also minimizing the amount of trash on their kitchen counter

You may use this grinder to make pasta, including rigatoni and spaghetti, by simply entering the dough and cranking the handle.
What I don't like
Cleaning in the ridges can be challenging.
The F&W Kitchen Basics 3 N 1 Manual Meat and Vegetable Grinder, which can rapidly and conveniently grind meat or various foods, is my best budget recommendation.
You may be guaranteed the device's lifespan and durability because it has two stainless steel plates for fine and coarse mincing.
You may also produce a variety of delicious and healthy sausages using the three funnels supplied in different sizes.
This crank manual meat grinder is ideal for people who wish to prepare food more quickly and easily while minimizing the mess on their countertops.
This choice stands out from the competition because you can use this grinder to manufacture pasta like rigatoni and spaghetti by adding dough and spinning the crank.
Find out the Best Molcajete currently available!
Material: Stainless Steel | Item Weight: 1.9 pounds | Item Dimensions: 7.8 x 5.59 x 5.39 inches | Color: White | Specific Uses for Product: Meat Grinder, Grinder
What I like
Its traditional appearance with a refined white plastic finish.

Dishwasher safe

Stainless steel blades with a steel frame for durability.

A meat pusher and locked encased stainless steel blades for safety.

Versatile and suitable for pasta, fruit, vegetables, and meat.
What I don't like
The suction cup provides insufficient stability.

No sausage stuffer attachment or sausage stuffer tubes
With the Gideon hand crank manual meat grinder, we transition from the outdated metal meat grinders of the past into the twenty-first century.
The sturdy plastic structure and steel frame of the Gideon meat grinder will perfectly match your modern kitchen decor.
It includes a meat pusher to push meats into the grinder, keeping hands out of the feeder.
To grind vegetables, meats, or even fruits, the Gideon hand crank manual meat grinder has a durable design with heavy-duty stainless steel and plastic elements.
No part interacts chemically with the minced food, making it all food safe. Once you grind, the Gideon hand crank manual meat grinder may be easily cleaned in a dishwasher.
Material: Stainless Steel | Item Weight: 2.48 pounds | Item Dimensions: 10.91 x 6.69 x 6.1 inches | Color: White | Specific Uses for Product: Meat Grinder
What I like
The durability of the stainless steel parts.

A strong suction cup at the bottom and a stainless steel table clamp create a double fixing that keeps the machine from moving while in use, making the process more practical and straightforward.

Dishwasher safe; it is simple to construct and disassemble.
The Huanyu Manual Meat Grinder has two main uses—grinding and stuffing—and is in my top five.
Install a cross stainless steel knife and a round meat plate at the output so that they can crush and finely grind various items.
The shell bracket is manufactured from two types of stainless steel: 304 stainless steel for the easily consumable blades and drills and 3CR13 stainless steel for the required durability.
The Huanyu Manual Meat Grinder is corrosion and rust-resistant while being dishwasher-safe. (The grinder head should be washed by hand)
Material: Stainless Steel | Item Weight: 7.1 pounds | Item Dimensions: 92.16 x 56.64 x 127.68 inches | Color: Stainless Steel | Specific Uses for Product: Meat Grinder
Sale
What I like
Heavy-duty plastic and stainless steel blades are among the premium components, which assure durability and make the tool powerful and quick to use.

It has everything you need to prepare a range of foods, and the parts are replaceable, so you don't have to worry about losing any parts.

The ergonomically designed handle, solid body, and non-slip bottom rubber make the meat grinding process smooth, safe, and more comfortable to use.
What I don't like
Not suitable for use with frozen meats
The LHS Manual Meat Grinder is the best manual meat grinder for people seeking a simple-to-use tool. It comes with a fine and medium grinding plate.
There is no need for power; all that is needed to operate it is to put the chunks of meat into the meat grinder and turn the hand crank.
This tool is adaptable and suitable for meat grinding and various foods. It comes with a meat pusher to push meats into the grinder to reduce waste and save time.
Heavy-duty plastic and stainless steel blades are among the premium materials used in the product, guaranteeing its endurance and making it powerful and quick to use.
Material: Stainless Steel | Item Weight: 2.05 pounds | Item Dimensions: 10.04 x 6.18 x 4.53 inches | Color: White | Specific Uses for Product: Meat Grinder, Grinder
No products found.
What I like
Easy to use and easy to clean

Strong and durable machine

This machine has many functions; it can slice, shred, and dice meat.

Very efficient
What I don't like
It might jam while using.
The blade is made of commercial-grade stainless steel, with exceptional hardness and outstanding anti-corrosion and anti-oxidation performance.
The blade is also intentionally designed as partially sealed for simple replacement, washing, and ensuring your interior sanitation.
NN 2-in-1 Commercial Meat and Vegetable Cutting Machine has the benefits of a gorgeous shape, innovative style, easy cleaning, hygienic design, and consistent quality.
It is appropriate for use in dining establishments, butcher shops, and canteens and is the perfect product for processing hog, beef, and other types of meat.
Material: Stainless Steel | Item Weight: 9 Pounds | Item Dimensions: 25*23*30cm | Color: Blue | Specific Uses for Product: Meat Grinder, Grinder
What I like
A reliable, strong meat grinder

It is easily usable by both children and the elderly

Easily mince different meat components

Full disassembly is possible for fast cleaning

Ruooson is committed to making excellent, useful kitchen gadgets.
What I don't like
The suction on the bottom comes loose during use.
This is a durable meat grinder that's made of stainless steel. It features a smooth and shiny body, and all metal components are cast in one piece.
The internal parts are also polished using a good mirror. The ergonomic design of this meat grinder makes it easy to use for children and the elderly.
Its low-speed spiral-cutting technology helps it deal with the various ingredients in just minutes.
The cutting plates are also sharp enough to prevent the meat from slipping when it's ground. It can easily deal with various meat products, such as beef and pork.
Material: Stainless Steel | Item Weight: 6.36 pounds | Item Dimensions: 8.23 x 7.95 x 5.87 inches | Color: Silver | Specific Uses for Product: Meat Grinder
What I like
Stable caliber

Multipurpose use

Selectable cutting

They are frequently used to grind various meat, vegetables, and nuts, including pork, cattle, lamb, fish, poultry (with bone), spices, pepper, mushrooms, long beans, radishes, etc.
What I don't like
As per manual meat grinder reviews, it might be too small for others.
The entire device is all stainless steel construction. Therefore, there will be no breaking, and it is rust-resistant! Greater firmness and beauty; polished surface; thicker 304 stainless steel body!
The 420 food-grade stainless steel reinforced blade has a smooth surface, is long-lasting, and can be used repeatedly.
A sausage funnel is included. Able to finish filling sausages and grinding your own meat on one machine.
It may serve as a meat mincer and a sausage stuffer, including 4.5mm and 8mm aperture grinder plates, adopting various processing requirements and individual tastes.
Material: Stainless Steel | Item Weight: 9.5 pounds | Item Dimensions: 13.27 x 9.21 x 5.67 inches | Color: Stainless Steel | Specific Uses for Product: Meat Grinder, Grinder
Sale
What I like
Double fixed design

Constructed with heavy-duty stainless steel

Conserves labor and time

Produces food quickly
What I don't like
Other customers might find this machine too small.
The multipurpose manual meat grinder from Dyna-Living is all stainless steel construction.
A hand meat grinder produces great meals at home simply because it grinds meat rapidly and fills sausage.
The thick food-grade 304 stainless steel used in the construction of the sausage-making machine makes it solid, long-lasting, and corrosion-resistant.
Two sausage stuffing tubes are included with the manual meat grinder to accommodate your needs for creating sausages of various sizes.
Material: Stainless Steel | Item Weight: 8.49 pounds | Item Dimensions: 9.21 x 8.19 x 8.15 inches | Color: Silver | Specific Uses for Product: Meat Grinder
Quick Comparisons Of Manual Meat Grinders
What Are the Benefits of Using a Manual Meat Grinder?
Grinding your own meat is an excellent approach to having greater control over the ingredients and preparation of your cuisine.
After tasting your freshly ground burger patties, you won't want to use store-bought ground meat again. Now let's examine more benefits of using a manual meat grinder:
Quality
You have very limited, if any, control over the meat that is utilized when you purchase ground meat from your neighborhood grocery shop.
Although some small butchers will let you choose the cuts to be ground, this is extremely uncommon in the larger stores where most of us shop.
An elderly dairy cow may have produced the ground beef trays you see in refrigerator displays. Is it fed grass or corn? Was it a locally produced cut or an imported, less expensive one?
You may have additional options if you grind and mix your ingredients. If you'd like, you could even use a prime cut, like Wagyu.
Cleanliness and Freshness
Although factories and businesses must abide by strict health rules, this does not guarantee that they always comply.
Hazardous bacteria are more likely to contact meat at a factory than in your kitchen.
It was recently discovered that nearly 20% of the ground beef sold in US retailers had bacteria known to be resistant to three or more antibiotics.
Contrary to popular belief, most ground beef you purchase from larger retailers isn't ground there.
When the meat is exposed to air, bacteria have more chances to grow, and the quality may suffer.
Ingredient Selection
Ground beef is frequently displayed on the tray after tray as you browse the aisles of your neighborhood Walmart.
What about less common cuts, such as venison, ostrich, or plain old pig, for sausages? It isn't easy to get basic ingredients like ground pork when shopping.
It costs a lot if and when the retailer has it in stock. Wouldn't grinding your own meat be simpler, given the accessibility of pig butts and the comparatively low cost?
You could crush the readily available turkey meat to create a leaner, healthier sausage or burger.
However, for many hunters, there is no greater sense of accomplishment than knowing they shot, field-dressed, and ground the animal themselves for hamburger or sausage production.
Saving Money
The majority of the time, doing it yourself is less expensive. Visit your neighborhood store, get some chuck roast, and compare the cost to ground chuck.
Even though they are both the same meat, I promise the chuck roast will be less expensive. In essence, you're paying someone to grind meat for you.
You can grind practically any meat for much less money when you have your miner. You can grind any leftover off-cuts you normally toss away to ensure no waste.
The best action is to take a few of the less well-liked cuts or any meats on sale. Your next BBQ party can be substantially cheaper without sacrificing flavor.
Control Over Taste
You will have complete control over flavor if you can ground your meat. You are free to try other meat combinations or add some additional seasonings.
For instance, you may use ground chicken or turkey to make sausages.
Also, most manual grinders will work well with various fruits and vegetables, giving them a fantastic complement to making a salad or veggie options.
Even before grinding the meat, season it with various seasonings to give it a richer flavor. Also, you can decide if the dish needs finer or coarser grinds by adjusting the texture.
With sausages and burgers, in particular, the grind makes a significant difference.
Manual vs Electric Meat Grinders: What Are the Differences?
After deciding to grind your meat, the crucial decision is whether to use an electric or manual grinder. Let's go over each type.
Manual Meat Grinder
Manual grinders are often far less expensive if you want to try grinding meat at home.
The size and weight of manual grinders are typically under a foot tall and a few pounds due to the absence of a motor or electrical component.
They are the perfect choice for use in small kitchens or while traveling because they add compactness and less weight.
You could put one in your pack with ease if you enjoy hunting. When you can process a deer back at your lodge, why haul it back at its full capacity? Just be careful how you dispose of the carcass.
Another significant benefit is not dependent on an electrical outlet, especially if you plan to use it outside or if your kitchen has a few extra sockets.
They are also simpler to disassemble and clean up because they don't have any robust motors or electrical components.
Its biggest drawback is the physical effort needed to operate a manual meat grinder; it is not suggested for those with mobility concerns.
The meat must be manually fed into the grinder as you turn the crank. But, you do get a fantastic arm exercise.
A clamp that secures a manual grinder to a surface is sometimes present. To securely clamp the grinder, you'll need a counter or tabletop that is quite straight and not too thick.
One alternative is rubber suction cups, but the machine can easily move with these, making it risky as you turn the crank.
Electric Meat Grinder
Let's start with the most important point: electric grinder models are exceedingly simple to use! Connect it, add meat to the plastic funnel or hopper, and turn on the electricity.
Reloading the feed tube and maybe compacting the meat will require the most physical effort.
They will handle tougher chunks of meat or meat with bones much more easily. Because of the strong motor, you can chew through far more in less time.
This results in a safer and cleaner grind overall. With an electric grinder, you don't need to use both hands and come into contact with the blades.
You don't need to worry as much about exposing the meat to the air or higher temperatures for extended periods because the grind time is shorter.
The electric grinder's price will increase due to its powerful engine. The majority of electric grinders cost substantially more than their manual equivalents.
Moreover, they will weigh more and take up more counter space. Electric grinder motors are frequently quite loud, which can be an issue if you live in a small apartment complex.
Strong motors can also be unreliable and may overheat if the grinder clogs. Over time, a powerful motor can wear out less expensive gears, necessitating costly repairs.
Where you can use an electric grinder may also be constrained by the necessity for a power outlet. For future camping vacations, refrain from grinding meat unless you have a hookup.
What Are Things to Look for When Finding the Best Manual Meat Grinder?
There are a few factors you should look into before making any purchases when deciding which manual meat grinder is best for you.
How Well Does It Ground Meat?
Manual grinders aren't usually inexpensive, so you'll want to find the greatest deal possible. Does it give adequate adaptability, and what kinds of meat do you intend to grind?
A manual grinder's blade and grinding discs are major in their flexibility. You can chop tougher meats with sharper stainless steel blades, such as a game or red meat.
Can a meat grinder grind bones for your pets? Consider the grinder's adaptability and whether you can modify the grind's thickness with the stainless steel blades.
What shape will the flesh take? How many items can you load at once? And finally, how quickly will the beef be ground?
Material and Durability
Domestic hand grinders that are more contemporary and smaller frequently have plastic in their manufacture. For durability, they typically employ durable ABS plastic.
However, this material must be BPA-free and food-safe. Polymers offer the benefit of being lighter weight and having modular designs that are simple to disassemble for cleaning.
Older model grinders will often have an all-metal construction, similar to those you may have seen your grandparents use.
They frequently use cast iron, stainless steel, or an electroplated metal for better food safety.
The cast iron construction of a grinder indicates that it has been made to withstand the task at hand. The use of cast iron without a coating also makes it susceptible to rust.
Even when tossed in a backpack or the storage bag that comes with it, the cast iron design of this grinder maintains its longevity.
When grinding tougher portions of meat, these metal grinders will function at their finest because they are less likely to jam or clog than their plastic counterparts.
Anchoring Mechanism
For maximum safety, the best manual meat grinder should have a solid anchoring mechanism that secures your tabletop.
The gadget becomes unstable during grinding, which reduces its effectiveness and makes it dangerous.
Because they are inexpensive and simple to set up, suction cups are typically seen on less expensive versions.
Suction cups don't require any modifications to your counters and can be readily attached to practically any surface.
Suction cups, however, are prone to breaking free or wobbling on uneven or abrasive surfaces, including tiles.
Cleaning and Maintenance
It is crucial to maintain a grinder that is completely clean and sanitized while working with food, most especially if you're making baby food.
According to a recent study, ground beef and veal were more likely to contain heat-resistant E. coli. Coli because the ground meat had too much moisture.
Cooking your meat won't destroy that bacteria spore; many are antibiotic-resistant. Examine the machine's ease of disassembly before cleaning.
Are there any unique cleaning needs, such as hand washing only? The ideal grinder would be one that can withstand the higher heat of a dishwasher.
What Meat Grinder Size Do You Need?
How big is the space in your kitchen? Does your counter support a large machine and have enough room for it? Or would you prefer something smaller and perhaps even portable?
Many portable plastic types will be simpler to store and move around with if you plan to grind meat for family meals or smaller gatherings.
It would be best to consider a more durable and typically heavier grinder to handle more meat for commercial use.
Up to four pounds of ground beef can be produced per minute by some metal tabletop-mounted grinders, but it will be laborious.
An electric grinder might be a better option for business use.
Features and Attachments
Make sure the stainless steel blades of any grinder you choose are completely covered because, occasionally, adults can be just as clumsy as little toddlers.
Many contemporary versions include stainless steel blades encased in chambers that can only be opened when completely locked.
Also, using the provided meat pusher will keep fingers away from the stainless steel blades.
You may produce various grind thicknesses and textures using the numerous stainless steel plates that come with the machine.
Having sausage stuffing attachments is also an advantage.
Cost
Generally speaking, manual grinders will be far less expensive than electric machines. However, some renowned manufacturers frequently include exclusive extras.
Try to stay within the budget that you set. Countertop grinders made of plastic are typically less priced but less durable.
An all-metal grinder may be worth the small additional expense if you grind meat regularly at home.
Warranty
Check the warranty terms and conditions whenever you acquire kitchen equipment, especially those with moving parts.
The majority of manual grinders have a minimum one-year manufacturer's warranty.
Manual Meat Grinder FAQs
The following are the frequently asked inquiries about manual meat grinders:
Are Manual Meat Grinders Worth It?
Due to the required labor, manual meat grinders are best for people who won't need to process much meat at once.
Yet, they are significantly less expensive than electric meat grinders, making them an excellent choice for people on a tight budget.
How Hard Is It to Use a Manual Meat Grinder?
Because most manual meat grinders only require turning a crank to grind meat, they are simple to use.
Yet, if you have to handle a lot of food at once, the design's simplicity can also be one of the largest obstacles because it can lead to hand and arm fatigue.
How Do I Choose a Manual Meat Grinder for My Home?
The best meat mincers and grinders should have strong, heavy-duty motors, a large cutting group, and anodized aluminum and stainless steel construction to withstand corrosion.
A crucial component is a switch that reverses the flow to clear obstructions.
Is Bellemain Meat Grinder a Reliable Brand?
It is easy to assemble, take apart, and clean up. The best hand meat grinder brand out there is this one. Amazing quality is present.
Summary
Let's look at my top three recommendations for manual meat grinders available right now.
It worked well for tiny amounts, in my opinion. You can enjoy using this product if you want a grinder that you can use for small quantities and are willing to use with more care.
I have a few appliances with a similar configuration, and this suction cup performs best. It was simple to flip and crush with little effort.
After it was finished, it didn't leave much inside either. This small device accomplishes a lot. Overall, I'm satisfied.
Although a little pricey, it was just what I was searching for. It is truly effective. To thoroughly clean it, you must climb inside with a cleaning brush.
Extremely powerful and effective for crushing chicken bones, among other things. I'm very happy I found a manual stainless steel grinder that is incredibly nicely crafted.
Very satisfied with the purchase.
Despite the high additional cost, I enjoy returning to the essentials, and cleaning and disassembling is quite simple.
Freezer-burned meat can still be used; ground it up and make chili or burritos. Nothing goes to waste. This little grinder is a very smart purchase!
Conclusion
The best manual meat grinder combines functionality and quality at a price acceptable to the user. Size, sturdiness, power, and features are all important.
The outcomes may be more cost effective for your family's health overall. It is the best way to start making your own ground meat at home.
Even the roast's leftover pieces might be ground up and used to make a nice meatloaf. I hope this manual meat grinders analysis has encouraged you to try your own.
Related Articles
13 Safest Electric Kettles without Plastic
11 Best Under Cabinet Range Hood
4 Best Ways To Reheat Chicken Wings
7 Best Hand Crank Ice Cream Maker