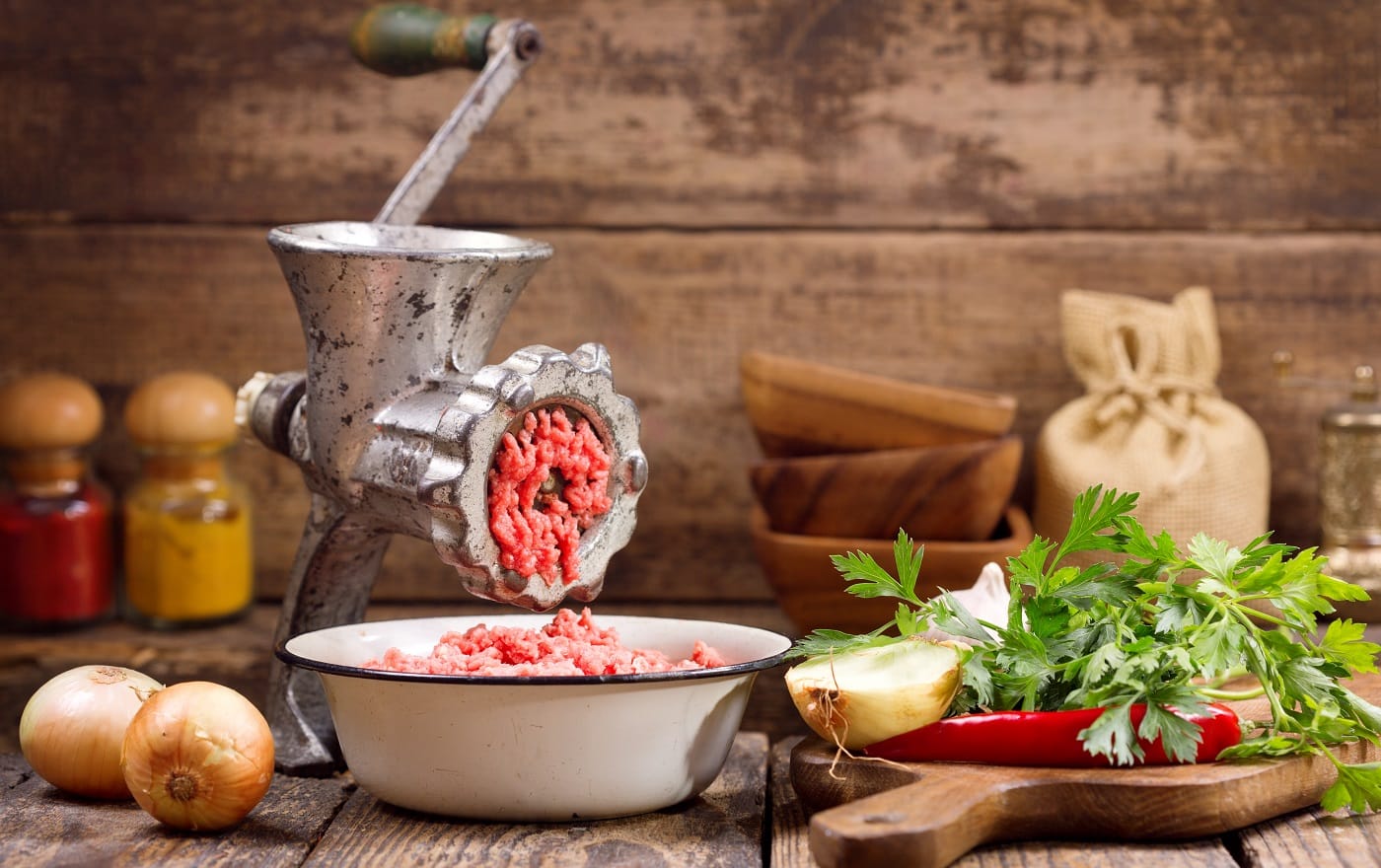 Going to a butcher every time you need ground meat to make a special dish can be annoying. 
In that case, getting a manual meat grinder for yourself is the best thing to do. Note that a manual model will be much better than an electric one as it enables you to fully control the grinding action; plus, it's not noisy at all. 
However, choosing the best one becomes difficult when there are so many options out there. That's why we have tried to make things simpler for you by compiling this comprehensive list of the 7 best options to consider. 
So, without further ado, let's get going. 
Best Manual Meat Grinders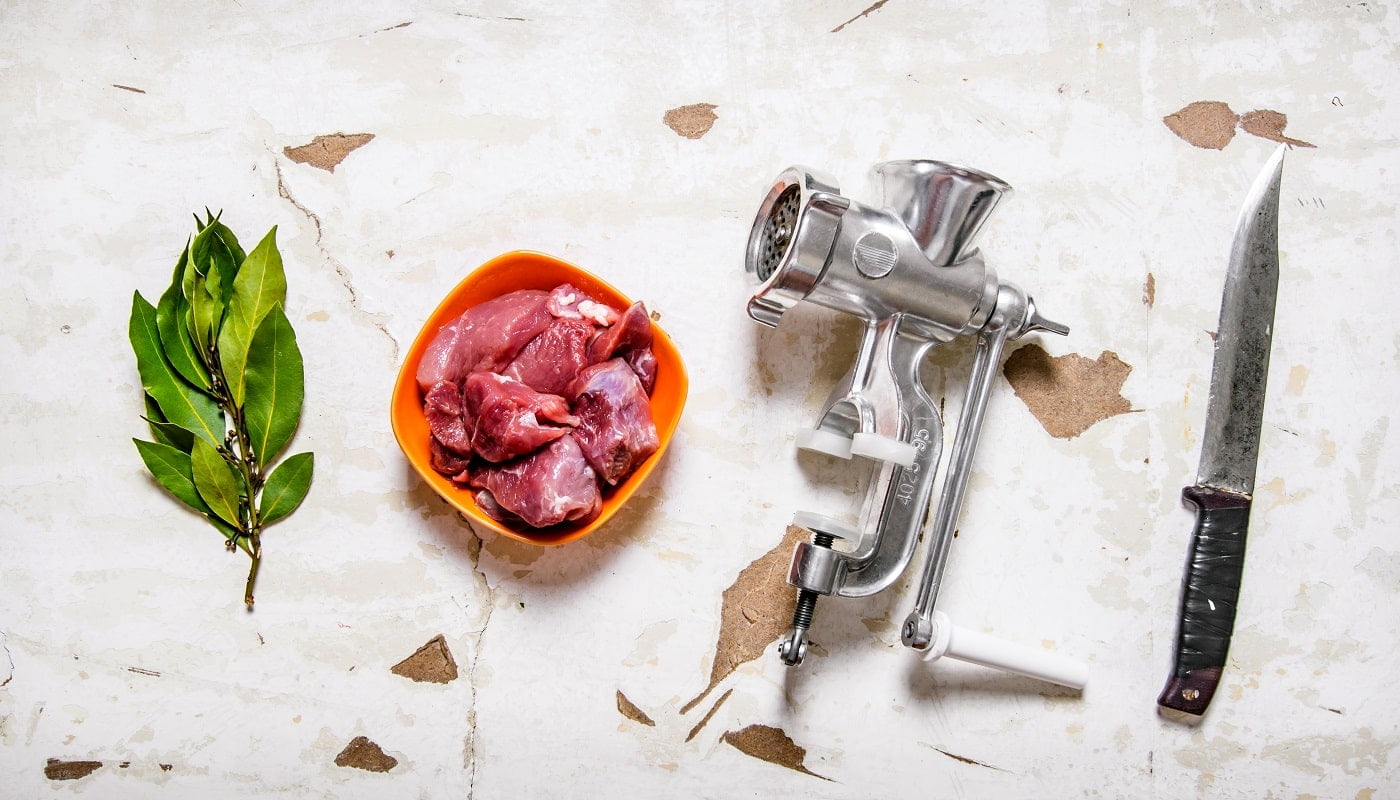 Enjoy delicious meatballs anytime you want with this convenient meat grinder from Gideon. Suitable for grinding a variety of ingredients, it gives you perfectly ground meat and vegetables every time. Note that this grinder measures 9.5 x 7 inches and weighs 2.48 lbs.
Why Did We Like It?
We were impressed by its high-quality blades made of stainless steel, which could turn any meat into a finely grounded paste. Following this, we could cook the meat in any style with a seasoning of our choice. Notably, there are two separate blades for coarse and fine mincing. 
This grinder is also very safe to use as the blades are fully enclosed, thereby eliminating all chances of injury. A meat pusher is included as well to help you push the meat into the grinder to keep your hands and fingers away from the feeder. Plus, the easy-to-turn hand crank makes it very simple to use. 
What's more, the strong suction base of this product always keeps the meat grinder in place. Lastly, it can be cleaned very easily by just placing it into a dishwasher.
What Could've Been Better?
Although this product works quite well most of the time, it may take more time to grind frozen meat. That's because such meat is more compact and requires the application of greater force on the hand crank. Nonetheless, it's an efficient and powerful meat grinder that does its job well.
Pros
Can turn any meat into a fine paste

Offers both coarse and fine mincing

Enclosed blades make it safe to use

Grinder always stays in place
Cons
Takes longer to grind frozen meat
This heavy-duty grinder from LEM Products can handle all types of meat, delivering just the performance you desire. Equipped with powerful features, it makes food preparation fun and easy. Thus, it can be used by anyone, be it a butcher, a professional chef or a foodie who loves trying out different meat recipes at home. 
Sale
Why Did We Like It?
Purchasing a meat grinder is a long-term investment, so it should be durable enough to provide long-lasting performance. This grinder ranks quite high in terms of durability, thanks to its stainless steel built that makes it sturdy and rust-resistant. 
As for the grinding power of this product, it comes with a number of accessories. These include two powerful plates, a knife, a stuffing star, and 3 stuffing tubes. 
Note that the three tubes come in widths of ½ inches, ¾ inches, and ⅞ inches. Thus, you can use the product to grind a range of meats to make your favorite dishes at home. 
What's more, a clamp at the base of the gander has a wide opening, which allows you to mount it on nearly all countertops and tables. Also, this product is safe to use in a dishwasher, which makes it quite easy to clean. 
What Could've Been Better?
The only problem that you might face with this grinder is while collecting the ground meat. That's because the output of this grinder is positioned lower than other grinders. As such, you'll need a plate or a shallow bowl to collect the meat. 
Pros
Sturdy and rust-resistant

Can grind different types of meat

Comes with many accessories

Can be mounted on any countertop or table
Cons
Dispenser positioned lower than other grinders
Next, we've selected this superior-grade meat grinder from LHS, which comes with a range of beneficial features. Making mouthwatering meatballs or a platter of scrumptious egg salad is a breeze with this product at home. Note that the unit measures 9.45 x 4.29 inches and comes with a long handle of 6.2 inches.
Sale
Why Did We Like It?
First of all, we really liked the unique design of this grinder characterized by an enlarged hopper size. This gives you more ground meat each time, so you'll need to use it just a few times even for larger meals. Plus, the suction base of this product is much more powerful than ordinary grinders and hence keeps it firmly in place. 
We also found this product very safe to use, since the blades are securely enclosed. Additionally, its stable body and non-slip bottom made of rubber further facilitate safe and smooth grinding.  
Furthermore, the ergonomic design of the crank handle makes it easy and comfortable to use. Finally, this model is built with heavy-duty plastic and has blades made of stainless steel that enhance its durability manifold. 
What Could've Been Better?
We noticed that the grinder didn't work well with pork as with other types of meat. Even after turning the handle 4 times, the meat was almost unaffected. Also, the pork fat may sometimes lead to clogging of the blades, due to which the product may stop working. So, it would be best not to try mincing pork with it. 
Pros
Lets you grind more meat

More powerful suction-base

Makes grinding safe and smooth

Comfortable to use
Cons
Doesn't work well with pork
You can also bring home this TUNTROL product as it will be the perfect food processing companion. Name a meat, and you can grind it just the way you want with this grinder. So, making sandwiches and burgers with meat-stuffings will become much easier and quicker than before. Note that this product measures 6.5 inches long and has a 4.7-inch wide base.
Why Did We Like It?
This product offers users a selectable cutting feature with its 5-mm and 8-mm orifice plates, besides the primary stainless steel cutting blade. Hence, you can use it as per your personal preferences and for different processing needs.
In addition to this, the durable stainless steel screw shaft and body of the grinder helps provide a long-lasting performance. This is unlike most of the ordinary products you'll find in the market, which are made from cheaper and more damage-prone aluminum alloy. Plus, it doesn't produce any disturbing noise and is completely safe for use. 
What's more, this product comes with both a cushioned cup and a clamp made of steel, so that you can attach it firmly at different positions. So, it would never shake while a user is operating it. 
What Could've Been Better?
Sometimes, the product may arrive with some accessories missing from the package. For instance, you might get only one meat plate included instead of the two. So, make sure you check the product properly soon after it arrives and report any such issue as quickly as you can.
Pros
Offers selectable cutting

Provides long-lasting performance

Doesn't produce any noise

Comes with a double fixing arrangement
Cons
Some accessories might be missing
Another great product to go for is this multifunctional meat grinder from Kitchen Basics. Coming with a convenient design, it lets you grind all kinds of meat and vegetables effortlessly. Note that it measures 7.5 inches long and 5 inches wide and weighs 1.87 lbs. So, let's go ahead and have a closer look at all its features.
Sale
Why Did We Like It?
You'll love the grinding action of this product, as it ensures that all kinds of meat are ground efficiently as per your needs. What does the trick is the pair of blades for fine and coarse mincing that yields perfect results.
Also, it comes with sausage funnels of 3 sizes, so that you can easily turn the meat into ideal sausages. Believe us when we say, your family members will surely be impressed with the delicious yet healthy, homemade sausages. 
What's more, it can be used to make spaghetti and rigatoni pasta strands. Just add the dough, turn the crank and get beautiful pasta strands. Lastly, it can be conveniently attached to any countertop or table, thanks to the powerful suction cup at the base. 
What Could've Been Better?
Although you won't face any major issues with this product, its plastic body is not as sturdy as other grinders. As such, it is more prone to get scratched, and bacteria may also accumulate on the surface. To deal with such issues, you should store the grinder in a secure place as soon as the work is done.
Pros
Grinds meat as per your needs

Can easily turn meat into sausages

Can make pasta strands

Can be attached to any countertop
Cons
Plastic body not sturdy enough
Enjoying healthy sausages and burgers at home indeed becomes simple with this grinder from Simple Being. It is the perfect grinding solution for your kitchen and is sure to render a long-lasting service. Note that this product comes in dimensions of 14.96 x 5.71 inches and weighs 2 lbs.
Why Did We Like It?
Firstly, this grinder is very simple to set up and quite easy to operate. You just have to put the meat pieces into the input container and then turn the crank. And you get total control over the crank unlike models operated by electricity or those that are automatic.
Also, the grinder is built of superior-grade plastic and stainless steel material that helps it withstand the ravages of regular use. As such, it lasts much longer than most ordinary products. And a pusher is provided with the product to push the meat into it safely. 
Moreover, you can handle the product quite easily as it is very lightweight and hence highly portable. Lastly, a strong suction base helps to keep the product firmly in place wherever it's kept. 
What Could've Been Better?
We observed that the grinder sometimes couldn't mince meat in one go, hence it retained its chunkiness to a large extent. So, we had to put it through the product twice to get the good-quality ground meat that is ideal for use in any dish. 
Pros
Simple to set-up

Sturdy and long-lasting

Pusher makes it safe to use

Highly portable
Cons
Meat may not be minced in one go
We've included this product in our list as it provides you with fast and powerful results with minimum effort. Being a 3-in-1 grinder, it can mince all kinds of meat and vegetables and many other ingredients as well. Note that this model measures around 9.45 x 4.29 inches and weighs 2.05 lbs.
Why Did We Like It?
With this grinder at home, you don't need to worry about any mincing task at hand as it will do the job flawlessly. Be it making ideal sausages and beautiful pasta strands, or grinding a bowl full of vegetables, this product does it all. 
Also, it ensures the complete safety of the user as the blades are fully enclosed, and the meat pusher keeps the fingers away. 
Notably, the pusher comes with an ergonomic design which makes the grinding faster and more efficient. The handle of the crank is also ergonomic, making it easy and comfortable to turn. 
What's more, the suction base of this grinder is powerful enough to keep it in place during use, maintaining perfect stability. Also, it can be cleaned in a dishwasher or even by hand, adding to your convenience.
What Could've Been Better?
The only issue we faced with this product was during its initial set-up as there were no instructions included with it. We had to browse the internet to set it up, and this took more time than other grinders. The manufacturers should include a detailed and well-illustrated instruction manual to make it easy to assemble.
Pros
Does the mincing flawlessly

Has a wide variety of applications

Ergonomic pusher makes grinding faster

Dishwasher-safe
Cons
No instructions provided on set-up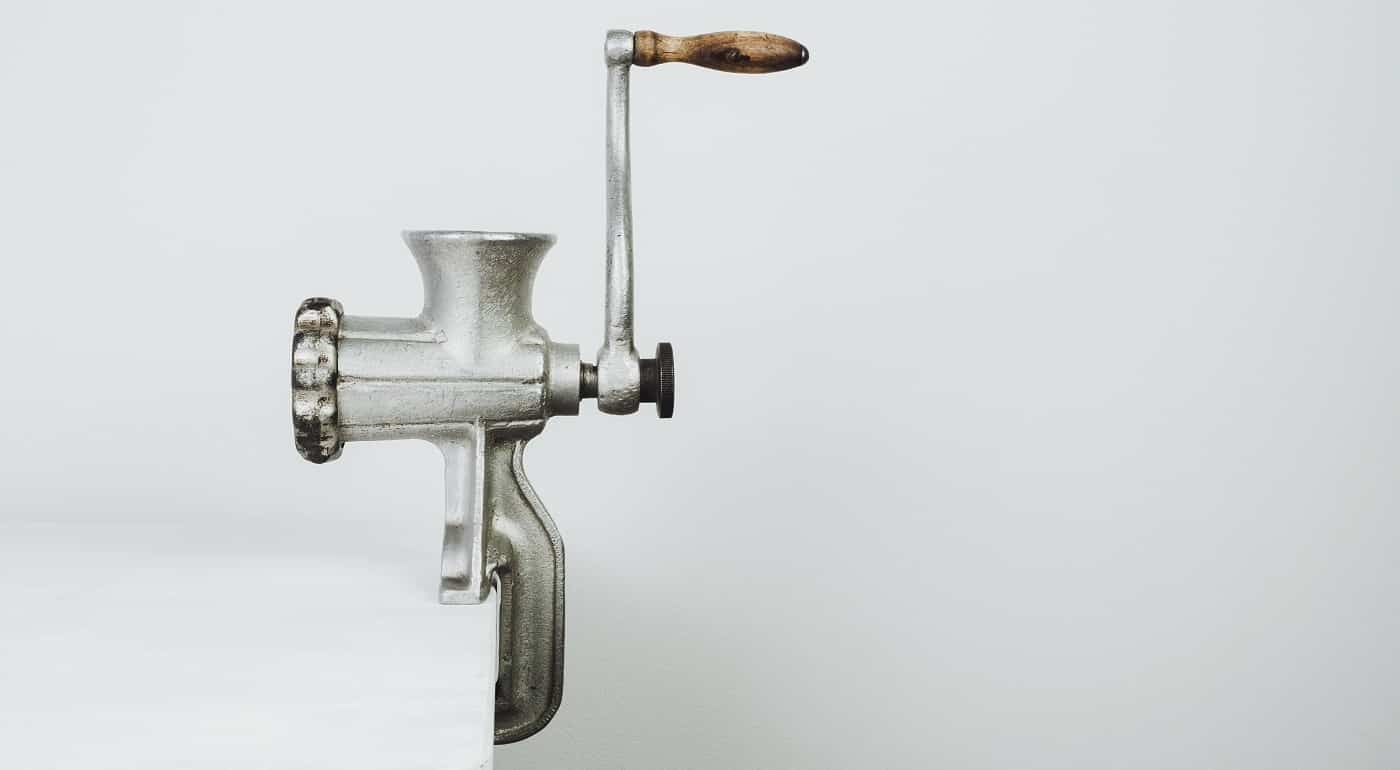 Manual Meat Grinder Buyer's Guide
Now, looking at the best models out there is never enough to make an ideal choice. You need to consider some key features that will determine the performance of a meat grinder. 
Also, keeping in mind your particular needs is important. So, let's look at the important points that you need to take in account before proceeding to buy a meat grinder. 
Cleaning And Maintenance
Keeping the grinder clean is very important since you'll be using it regularly to process a variety of food materials. Studies have shown that veal and beef are prone to certain heat-resistant E. coli strains. That's because these ground meats contain excess moisture that can harbor such strains. 
Now, the cleaning process can vary from product to product. While the ones that are dishwasher safe can be cleaned easily, the others will need more effort and time. 
Also, those built of high-quality stainless steel would just have to be wiped with a clean cloth. So, make sure you check the cleaning and maintenance requirements for all the products that you consider. 
Performance
You'll always want to get a model that delivers the performance you desire. As such, you will need to consider the meat that you'll grind with it and whether it is versatile enough. 
Note that the versatility of a grinder depends on the blade quality and the discs for grinding. Sharper blades will give you tougher cuts, which are needed for meats like red meat. 
However, if you need to process meat for your pets as well, the blades must be powerful enough to grind bones. Plus, you must check whether the blades let you adjust the grind thickness. 
That's not all; decide whether you want the meat to come out in thin strings or in chunks and how much meat you want to load at once. 
Materials
Modern grinders are often built of sturdy ABS plastic to enhance their durability. However, the plastic should be marked food-safe and BPA-free. 
A great benefit of going for a plastic grinder is that they are very lightweight. Also, some of them come with modular designs which can be taken apart easily. 
That said, stainless steel and cast-iron grinders offer greater food safety. They can also grind tougher meat cuts and wouldn't clog or jam often as in the case of plastic models. 
But you should check the durability of the handles and crankshafts while going through the details of such products.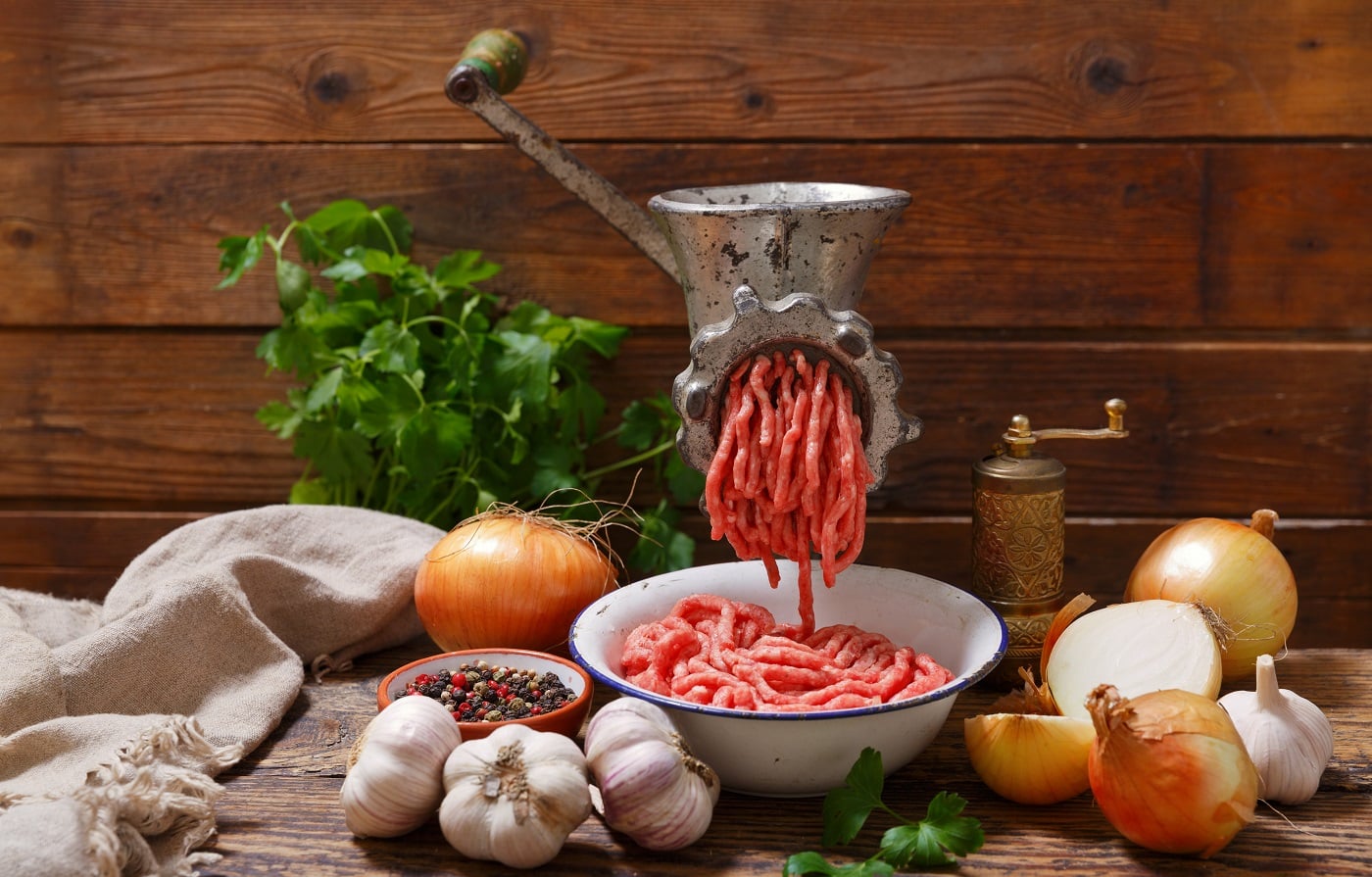 Verdict
That's all the time we have for you. We hope now you'll easily be able to choose a suitable manual meat grinder. 
But before we sign off, here's a quick recap of our favorites from the list. The Gideon GD-MT-MCER-02 Meat Grinder is the best-budget buy in our opinion. However, if you want a more versatile product, you can go for the Kitchen Basics 3-N-1 Meat Grinder. 
On the other hand, if durability is most important to you, then the LEM Products 821 Meat Grinder will be a perfect choice. 
With that, we'll take your leave. Till next time, take care. 
Related Articles
13 Safest Electric Kettles without Plastic 
11 Best Under Cabinet Range Hood 
Vitamix 5200 vs Vitamix 5300 [All You Need to Know]
4 Best Ways To Reheat Chicken Wings [Oven, Refrying, Sauté, Microwave]
13 Best Electric Kettles Right Now | Buyer's Guide
10 Best Food Scales Buyer's Guide and Reviews
15 Best Electric Smokers – Guide & Budget Picks
13 Best Kitchen Shears Right Now Reviewed
13 Best Mini Freezers for a Chilly Year  
10 Best Hot Dog Rollers | Buyer's Guide and Reviews
13 Best Cappuccino Makers to Enjoy Today | Buyer's Guide
11 Best Range Hoods to Consider
11 Best Bar Stools Today | Buyer's Guide and Reviews 
13 Best Wine Coolers Right Now
7 Best Hand Crank Ice Cream Maker