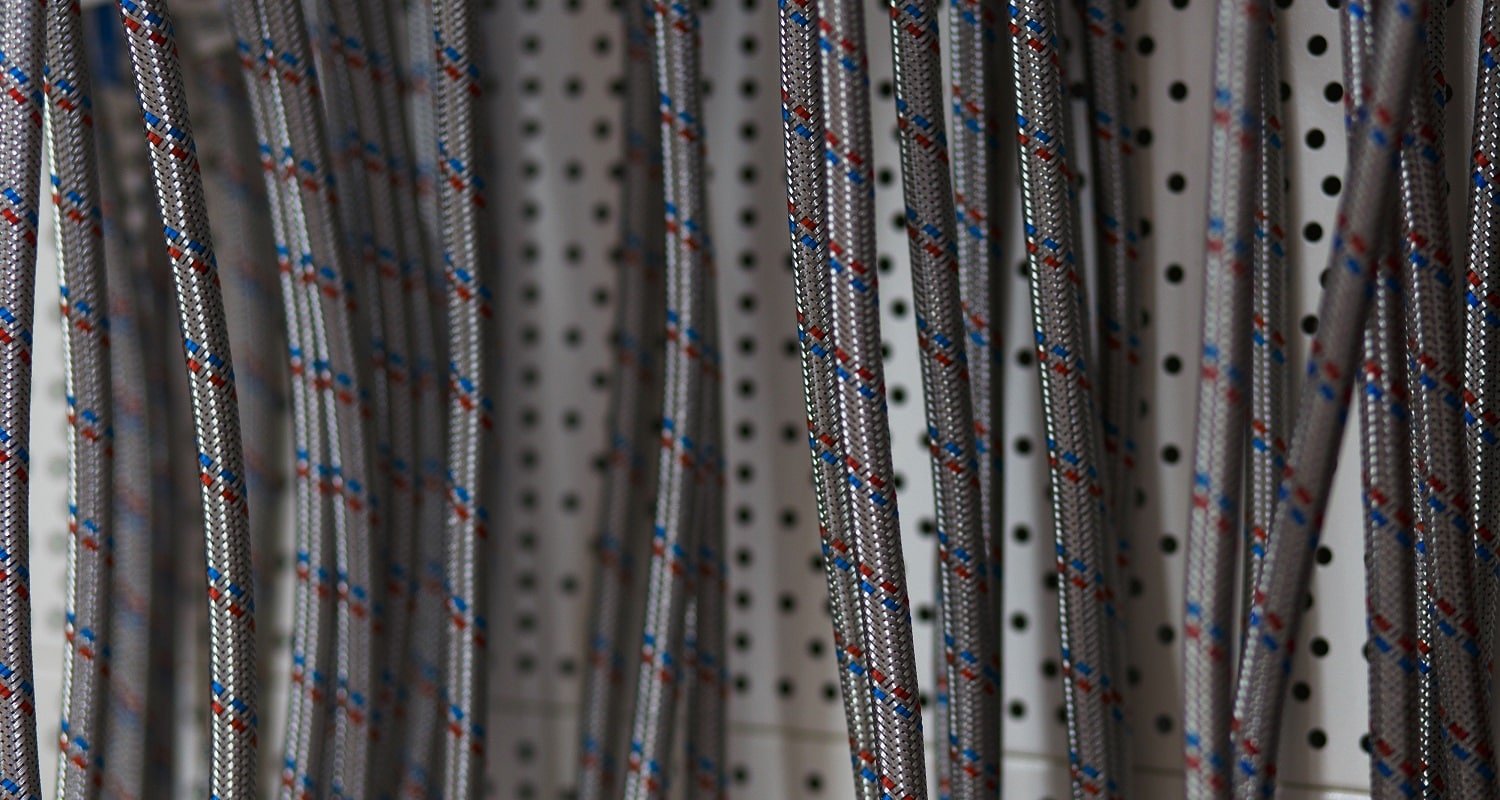 A metal garden hose can be a much-needed addition to your landscaping toolkit as it acts as a one-stop solution for a number of gardening problems.
Non-metallic garden hoses often cause a number of issues such as entanglements, ruptures, and kinks which significantly delay other activities. With a metal hose, these problems are kept at bay, leading to more efficient gardening.
Being highly resistant to wear and tear, these accessories are durable and come in a variety of specifications, each with its own uses and drawbacks. In order to buy the right one for your needs, it's prudent to ensure that a particular product is compatible with your property's specifications.
However, with the sheer number of high-quality hoses available in the market, it may be difficult to pick the ideal one. So, we are here to help out with our comprehensive listicle and guide, curating the best metal garden hoses of the year.
Let's jump right in!
Best Metal Garden Hoses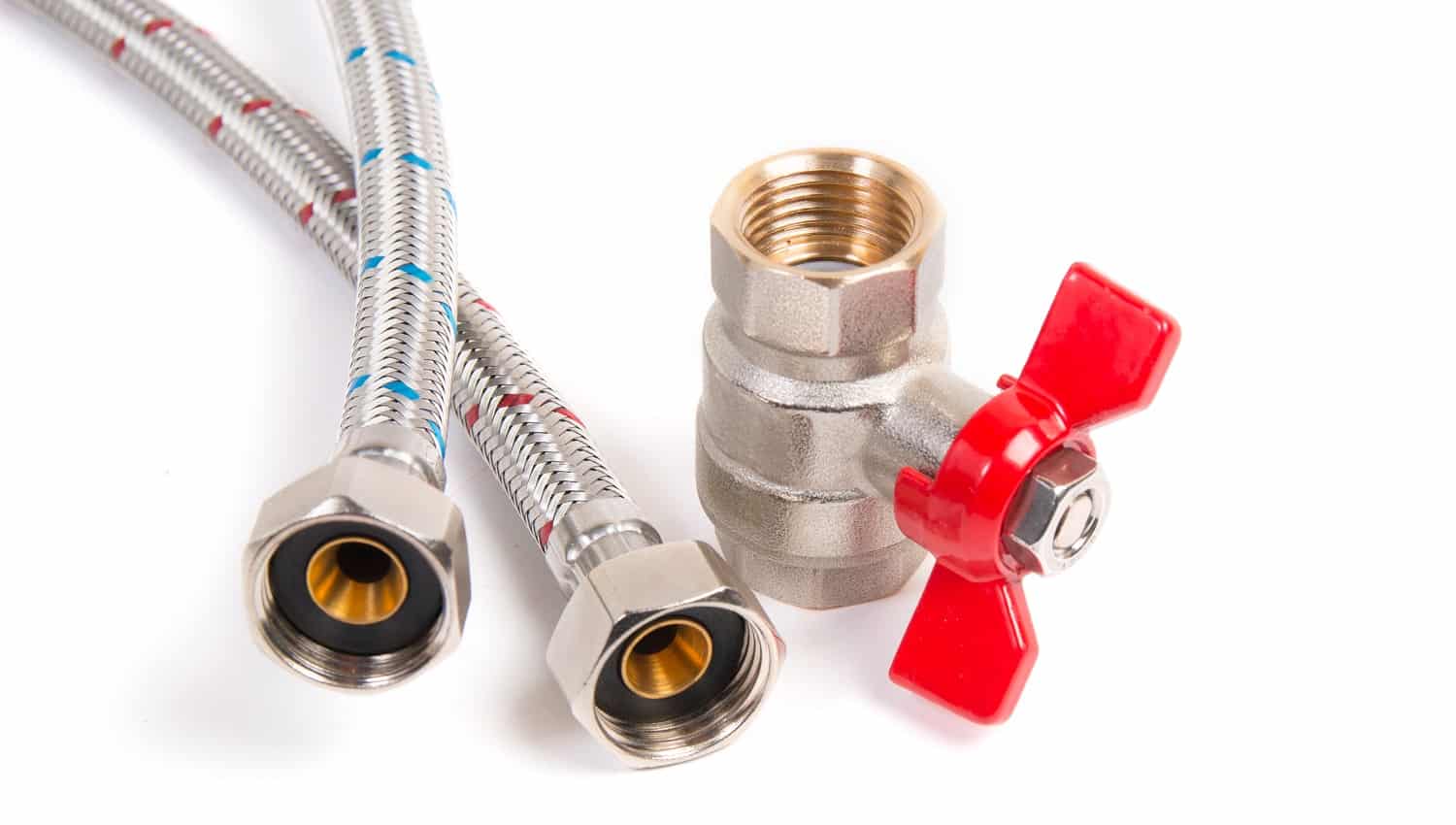 First on the list, we have a highly durable hose that is built to endure harsh conditions and last long enough. With a number of features for added safety, this product delivers well on small to medium-sized lawns with ease.
Why Did We Like It?
Durability is the main factor to consider when it comes to garden hoses and in that respect, this product ticks all the boxes. Made of commercial-grade 304 steel, it shows high resistance to rust, punctures, and UV radiation, and is also immune to harsh weather conditions.
Additionally, the product is designed with user flexibility in mind and the advanced flex ridge pattern affords functionality under a variety of work conditions. It also offers problem-free maneuverability without issues of tangling or kinks and is easy to roll up for storage once used. 
Last but not the least, in spite of its tough material, this garden hose is lightweight and does not expand or retract under any condition. This allows for consistent water flow at high pressure without the hassle of carrying around a needlessly bulky thing. Further, the attractive warranty policy is another feather in its cap, and given its properties, this product offers great value for money!
What Could Have Been Better?
The only shortfall of this otherwise excellent product is its diameter size. At a mere 16mm, it may be a limitation and is not suitable for heavy-duty tasks. However, it does have its unique features which make it ideal for a number of other uses such as watering plants and shrubs.
Pros
Sturdy and tenacious

Resistant to radiation, punctures, animal bites

Great value for money
Cons
Diameter width unsuitable for heavy-duty tasks
Our last product is another outstanding garden tool from Touch-Rich, a 25-footer that is adept at tackling a variety of watering applications. It is a good blend of durability and tremendous working power that leaves no stone unturned to give you a problem-free watering experience with little room for complaint.
Why Did We Like It?
The main selling point of this hose is its incredible strength and long-lasting tenacity for heavy-duty work. With the ability to withstand 1000 N pulling force and 250 PSI water pressure, it makes for one of the toughest products, one that is also resistant to abrasions and features a rust-proof outer shell.
Also, given its ability to fight off wear and tear, the hose is a perfect accessory for both commercial uses as well as household tasks. Further, the inner shell of the conduit is free of lead, BPA, and phthalates, which ensures that it remains completely safe for use, to the extent that the water is suitable for drinking. 
Last but not the least, it is equally lightweight and flexible. Immune to tangles and kinks, the product guarantees a steady, powerful water flow, and saves you a great deal of time and money. Exposure to the elements has no effect on this sturdy gardening tool, and with an exceedingly reasonable price tag, it offers some of the best qualities in its range.
What Could Have Been Better?
Products from Touch-Rich do offer good value for money, but they are priced on the higher end of the scale, to begin with. But while this hose may not be affordable to the regular gardener, it is certainly ideal for the professional who doesn't mind going that extra mile for the sake of high performance.
Pros
Eliminates the need for multiple hoses

Incredibly safe and durable

Ensures steady water flow
Next up, we have an excellent product from a trusted brand that promises years of work without a hitch. Highly sturdy in a slender design, this metal hose is an all-rounder when it comes to functioning, durability, and versatile performance. In our books, it is a great addition to anybody's gardening paraphernalia.
Sale
Why Did We Like It?
When we talk about this product, we first talk about the design. The advanced interlocking flex pattern is optimized for maximum performance with the flexible latex-lined internal hose encased in a protective covering of commercial-grade stainless steel. It covers all grounds, therefore, in terms of construction and is also highly durable.
The product exhibits high resistance to leaks and extended drags over rough terrain, thus ensuring an impressive lifeline. Further, the hose is weather-proof to the extent that it is able to withstand sub-zero temperatures and does not needlessly expand or retract, thus ensuring consistent water flow. 
Lastly, the aluminum fittings are equally crush-resistant and engineered to stand up to a considerable amount of force. In addition to that, the on/off valve of the fittings simplifies output control thus enhancing operational efficiency. The hose comes with all of these features at a very reasonable price and definitely ranks high on our list.
What Could Have Been Better?
This otherwise exceptional product lags behind in a singular aspect – fittings. Made of aluminum, they are extremely strong and durable but often difficult to unscrew from the nozzle. However, this is no dealbreaker and definitely not a reason for the product to be off your list of potential buys!
Pros
Consistent, high-pressure water flow

Weather-proof and resistant to abrasions

Strong, crush-resistant fittings
Cons
Aluminum fittings can get stuck
One of the costlier models from Touch-Rich, this garden hose justifies its price tag in all respects. Durable and high-performing, it is suitable for tasks that demand a little extra power. Versatile in functioning, it promises to deliver and makes for a worthy purchase.
Why Did We Like It?
Right off the bat, this model impressed us with its incredible durability and resistance to corrosion. It can withstand a pulling force of up to 1000 N and remain flexible and lightweight in spite of it. Also, the product is ideal for tasks that need a strong jet of water as it easily works with 250 PSI water pressure.
Furthermore, combined with this immense capacity for work is a high degree of versatility thanks to the seven nozzle spray options available. This feature extends the hose's ability to tackle a wide range of duties and ensures that the user faces no problem in navigating a multitude of gardening solutions. 
Last but not the least, this metallic hose from Touch-Rich is puncture-proof and will survive animal bites for certain. Also, the construction material is safe to even drink from, which makes this hose a huge favorite in our books!
What Could Have Been Better?
The only chink in the armor of this exceptional accessory is the price. Sitting on the higher end of the scale, it may not be a feasible buy for the average landscapist. However, we're sure that after taking a good look at what it has to offer, you'll agree that it certainly is worth those few extra dollars.
Pros
High-functioning with immense durability

Ideal for heavy-duty outdoor use

Safe and sturdy construction
Another outstanding feature on our list, BEAULIFE's stainless steel garden hose promises you a long lifespan combined with diligent service. Smooth to operate and high on reliability, this is a product that you cannot afford to miss. Read to find out why!
Why Did We Like It?
Built to withstand a high-pressure water flow, this garden hose from BEAULIFE features a wider diameter than most of its counterparts in the market and is just as good in terms of construction and design. Complementing the diameter is a range of fittings that are equally resistant to leaks and ruptures.
Moreover, it is made from high-quality steel that remains free of rust and abrasions while also ensuring operational efficiency by eliminating kinks and tangles. You will be able to use it over rough terrain, around sharp corners and trees without a second thought, and more importantly, leave it out in the open without chances of damage. 
In addition to that, this product privileges user comfort a great deal. This is apparent in the high degree of portability and ease of storage it exhibits. Also, the 8-pattern nozzle fitting is time-efficient and works well with the diameter width to guarantee an impressive flow of water throughout. Lightweight and long-lasting, BEAULIFE's product is definitely one worth considering.
What Could Have Been Better?
Even though the hose is devoid of kinks, there are places in which it is prone to bending slightly. However, it is equally easy to straighten it out and the issue hardly stands a chance against the excellent features of the product.
Pros
Withstands high pressure

Impressive resistance to wear-and-tear

Versatile, with high operational efficiency
Cons
Occasionally prone to bending
The penultimate product on the list, Hercules' garden hose is a reliable product that performs well to give you a smooth watering experience. A durable and sturdy piece of equipment, it is built to last and stands up well to a host of potentially corrosive elements. Go through our review to learn all about it.
Why Did We Like It?
First up, the incredible design of the product deserves to be spoken of. It features a durable interlocking pattern and a metal casing that renders it highly sturdy and efficient for a variety of tasks. Adding to this is its portability and lightweight. They make the unit easy to handle and carry around on larger properties.
Further, given its flexibility, the hose is thoroughly easy to store and coils without a hitch. Its construction also ensures that it remains free of leaks and kinks while being highly resistant to wear and tear. It truly comes close to being indestructible and makes for a worthy addition to your toolkit. 
Lastly, this product has the capacity to withstand a high degree of water pressure that ensures a steady and forceful flow. It would be safe to say that it is quite perfect for watering a number of places and objects including gardens, cars, pets, as well as drainage systems. In addition to all its excellent features, the kit comes with its own reel that allows you to save money on extra accessories.
What Could Have Been Better?
The one drawback that this product suffers from is the small diameter. Being directly linked to the water flow, this is an important factor in terms of functioning and we'd suggest you carefully evaluate your needs and decide if the garden hose is compatible with them.
Pros
Ergonomic design for optimum efficiency

High resistance to weather and abrasions

Cost-efficient
Cons
Small diameter of the inner hose
Next on the list is an excellent product from Titan, one that is powerfully built to deliver well and without glitches. The construction makes it a reliable gardening tool, ideal for professionals as well as enthusiasts. Read our review to learn all that you need to know!
Why Did We Like It?
This excellent piece of equipment works well in your garden and keeps it looking fresh and healthy with minimum effort. The 16-gauge stainless steel offers immense strength which easily withstands a high-pressure water flow and remains corrosion-free, thus rendering it useful for a wide range of tasks.
Furthermore, this hose is highly resistant to almost every conceivable danger in terms of abrasions. It functions well under harsh weather conditions, is puncture-proof, immune to crushes and kinks, and also adept at tackling animal bites. Its resistance to external elements optimizes it for heavy-duty tasks and enhances its performance. 
Lastly, the product features a 360-degree brass spray nozzle that allows for high-pressure water distribution, such as in residential apartments. Also, the hoses are interconnecting and afford the user flexibility in terms of length. Easy to coil up and store, Titan's hose ticks all the right boxes!
What Could Have Been Better?
Though a high-performing metal hose, this model is prone to the occasional leakage which hampers the watering process. But this is definitely not a problem that outweighs the product's efficiency and we'd give it serious consideration regardless.
Pros
High durability and strength

Rust and corrosion-proof

Durable, versatile functioning
Cons
Prone to the occasional leak
Morvat's product is the longest metal garden hose featured on our list. But its utility doesn't stop at that. By far one of the most high-performing models out there, this 150-footer is a durable accessory that operates with a high level of efficiency and leaves you with little to desire.
Why Did We Like It?
With a length of 150 feet, this product from Morvat serves its purpose well and is ideal for large-sized properties. It saves you money on other hoses as it is sufficiently long to be used without the addition of extra conduits. Despite its length, it is not heavy and at 17.8 lbs, quite portable and convenient to carry around.
Speaking of which, it must be noted that lightweight does not mean bad quality. In fact, the hose is made of the toughest heavy-duty steel that steers clear of kinks and punctures, keeping the operation smooth and quick. The house is built to last and makes short work of most watering activities. 
Last but not the least, it scores high on durability even in terms of being rust-free and corrosion-free. Thanks to its constitution you need not worry about either animal bites or leaving it out in the sun for extended periods of time. This product is a great bargain, and given its features, we definitely feel that it offers one of the best value for money.
What Could Have Been Better?
Barring one, this excellent garden hose suffers from no faults. The force of the water flow tends to be low on occasion leading to slower watering than expected. However, we would suggest getting in touch with Morvat's customer support as they are immensely helpful and never unresponsive.
Pros
Cost and energy-efficient

Lightweight, high-quality construction

Weather-proof and corrosion-free
Next on the list is a high-performing garden hose from TheFitLife. This promises to make gardening an effortless and fun job, and as we found out, it makes good on that promise. With this one, you will need very little else to get the job done well and fast. Certainly one of our personal favorites!
Why Did We Like It?
Highly flexible and resistant to kinking and breaking, this is a good hose to pick if you have a large lawn that requires you to move around. The easy portability of this hose comes from its sturdy construction and tenacious outer casing which utilize high-quality stainless steel to ensure long-lasting use.
Further, it is designed to be lightweight and compact – qualities that allow for easy coiling and storage, while eliminating chances of wear and tear. Also, the spiro-shield technology safeguards the hose from punctures, which can then withstand a high-pressure water flow with ease. 
Last but by no means the least, this product is an example of superior versatility and is available in different lengths ranging from 50 to 200 feet. This is not only an added perk in terms of operational efficiency but also makes the unit cost-efficient and an economical buy!
What Could Have Been Better?
Occasionally, there are problems with the fittings of this garden hose which, otherwise, leaves little room for complaint. In case of such difficulties, we would suggest you get in touch with customer support and they should easily be able to resolve it!
Pros
High durability and resistance to abrasions

Easy coiling and storage

Cost-efficient and multipurpose utility
A new entrant on the list, Cesun is a brand worthy of your trust and this excellent product from the company promises to deliver well. Made of high-quality steel and built to endure, it stays put in harsh conditions and gives you a breeze of a time watering your gardens and cars.
Why Did We Like It?
Right off the bat, we were pleased with how adaptable this hose from Cesun is. Constructed out of 304 stainless steel, it is immensely resistant to all weather conditions, wear-and-tear, punctures and breakages. Also, it remains free of kinks and bends which not only ensures ease of handling but also a steady, continual flow of water.
Further, the material is able to withstand high-pressure water flow without falling prey to leaks. And once used, neither will you find any issues with coiling it up easily for storage. This product attaches easily to a variety of faucets, and therefore, ticks all the boxes under a durability and versatile functioning. 
Lastly, you'd think a hose of such strong construction would weigh considerably higher on the scale. But Cesun's conduit is incredibly lightweight and portable. It is fitted with a free heavy-duty nozzle that is equally corrosion and rust-proof. All in all, you will hardly have trouble with this hose, and as the cherry on the cake, it offers great value for your money.
What Could Have Been Better?
Although quite flawless, this product occasionally comes in misleading packaging which is obviously a deterrent for customers. However, Cesun's customer support is exceptional and we'd recommend getting in touch with them in case of such issues.
Pros
Withstands all weather conditions

Ease of handling and storage

Good value for money
Cons
Occasional misleading packaging
A relatively new product in the market, this metal hose has been popular with customers for a good number of reasons. The USP is its extreme durability and resistance to force, which makes it a high-ranking product in our books. Check out our review of it to know more!
Why Did We Like It?
The product's popularity has been on the rise ever since it launched and we can clearly see why. Made of high-grade steel, it offers ample resistance to rust, corrosion, breakages, and kinks, and is, therefore, one of the most reliable garden hoses in the market. Also, it comes with an attractive warranty policy in case there is trouble – a highly unlikely situation!
The outer shell of the product is designed with Spiro-Shield Technology that makes it immune to punctures and adept at handling a high amount of water pressure. The house is built to last and makes quick work of most watering activities. Further, it exhibits a good deal of flexibility and is able to unreel itself with ease. 
Lastly, this is truly a garden tool that promises to deliver a commendable performance for a good number of years to come. Lightweight and portable, it stands up to harsh weather conditions and remains unaffected by long exposure to the sun or cold. With an attractive price tag and better features, this is a conduit you wouldn't want to miss.
What Could Have Been Better?
The one problem with this otherwise superior piece of equipment is the speed of the water flow which is slower than a lot of other models in the market. However not every unit is the same and this one comes with its own set of pros that are hard to beat. We'd recommend you bear that in mind instead of crossing it off your list!
Pros
Sturdy and reliable

UV-resistant and weather-proof

Lightweight, flexible, portable
One of the most premium quality products on our list, this garden hose from Bosnell is a trusty tool to add to your kit. With an exceptional lifeline and versatility of performance, it promises a smooth operation that leaves very little room for complaint. The unit is ideal for a wide variety of uses and makes for a worthy purchase.
Why Did We Like It?
This well-constructed hose is made of quality stainless steel with high resistance to corrosion. What sets it apart is its shelf-life, which is far longer than most other models in the market, thanks to the rust-proof quality of the building material.
In addition to this, it is convenient to use and not prone to tangles or kink, thus saving operation time. This is why it is also easy to store indoors and shows no signs of damage if exposed to the elements either. All in all, this is a reliable product in terms of both functioning and durability and gives you little to worry about.
On the whole, the hose is lightweight and offers easy portability. Its main USP is the firefighter nozzle which, in addition to the existing nozzle, serves well under both high and low water pressure. This further enhances the conduit's versatility and makes it ideal for a plethora of activities such as camping and cleaning.  
Lastly, the design is extendable and affords greater flexibility in terms of use as you are able to connect multiple hoses together in order to achieve the required length. Also, it supports different variants of nozzles with ease, thus furthering its own utility to a remarkable degree.
What Could Have Been Better?
Although not a dealbreaker by any means, this garden hose weighs a little heavier on the scale when compared to other models out there. However, it does not compromise on portability or efficiency on this account and is a product worth considering.
Pros
Lasts longer than other models

Resistant to rust, weather, and abrasions

Versatile utility
Cons
Weighs more in comparison
Metal Garden Hose Buyers' Guide 
By now, you must have shortlisted a few products in your mind! A metal garden hose fulfils the same duties as that of a non-metallic one, but without any of the problems posed by the latter. Never again will your gardening experience be marred by a rupture in the pipe!
However, it pays to double-check. In order to simplify the selection process further, we have compiled a list of factors that you must bear in mind while buying the right hose for your garden. Take a look!
Length
This is where customers are most often at a loss. Hoses can vary greatly in length and your choice will depend entirely on the individual needs of your garden. In order to increase the length, you may connect several hoses to make one. Doing this affords you the flexibility of using the extension only as and when necessary.
However, it may burn a hole in your pocket to buy several of them together. So consider your needs seriously before coming to a decision. In our books, a longer hose is always preferable to one that falls short.
Kind of Steel
Metal hoses are available in two kinds of stainless steel: 201 and 304. The former is durable and affordable and offers great tenacity at a low cost. However, garden hoses made of the 304 variety have even longer shelf lives and are more resistant to rust and corrosion. This is so because the 201 alloy comprises lower levels of nickel in order to cut costs, which in turn affects its longevity.
Diameter
Would you have thought that the diameters can be as varied as the lengths? Maybe not, but they are. The diameter width is directly proportional to the flow rate of water. Hence, in case the hose is to be used for tasks that require a powerful water flow, a wider diameter would be more desirable. 
Fittings
Having an attachment for the end of the hose can greatly enhance its versatility. Compatible fittings, therefore, must be kept in mind before making a purchase and we have made sure to include models that work with the most number of fittings. 
Brass fittings have an upper hand when it comes to metallic garden hoses as they do not get stuck on becoming wet. On the other hand, it can be difficult to unscrew aluminum fittings after the job is done even though they are the stronger of the two.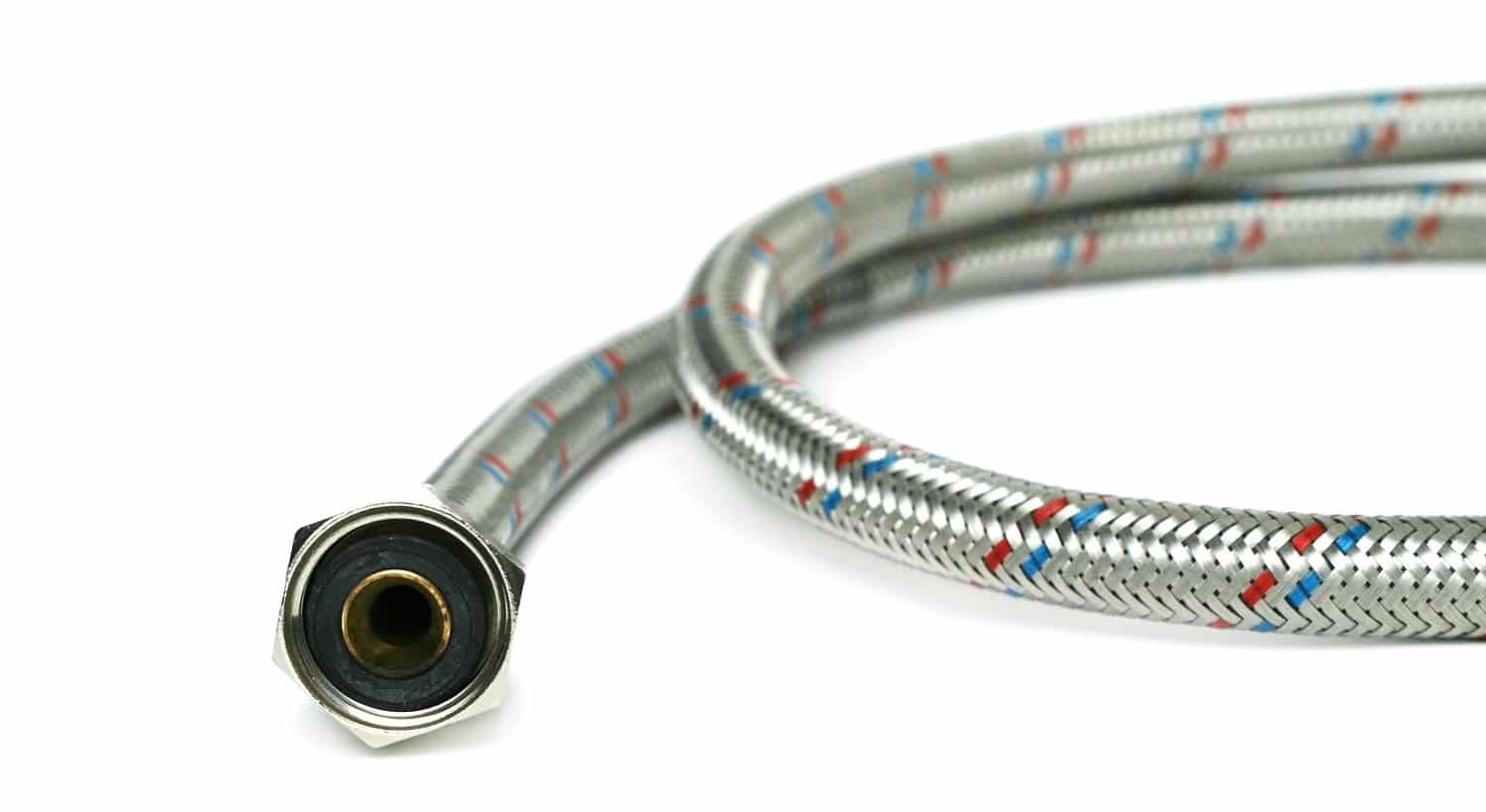 Verdict
Gardening tools are never easy to pick no matter the extent of our research. We love our lawns and won't settle for anything less than the best.
Keeping this in mind, we hope our list and guide have brought you a step closer to buying the ideal metal hose for your garden. However, with the markets flooded with premium products, each looking better than the previous, it can send the best of us in a tizzy. So, here is a round-up of our favorites in a few categories.
Our top choice is the Forever Steel Hose on account of its versatility and long life. This is a high-functioning product that resists abrasions to a considerable degree. Another premium product is the garden hose from Tiabo. With its incredible range, it is perfect for large-sized properties. Lastly, the one that offers the best value for money, according to us, is the 25-foot long hose from Touch-Rich.
Let us know what you thought of our recommendations by commenting below; we would love to hear from you!
Till next time!
Related Articles
The 5 Best Lawn Mowers for St Augustine Grass Right Now
Where to Find Good St. Augustine Grass Seed & How to Grow It
7 Best Shoes for Cutting Grass Comfortably | Buyer's Guide
10 Best Automatic Garden Hose Reels
13 Best Garden Hose Nozzles for Gardeners
13 Best Hydraulic Hose Crimpers 
Learn How to Bury a Garden Hose for Easy Watering Transport