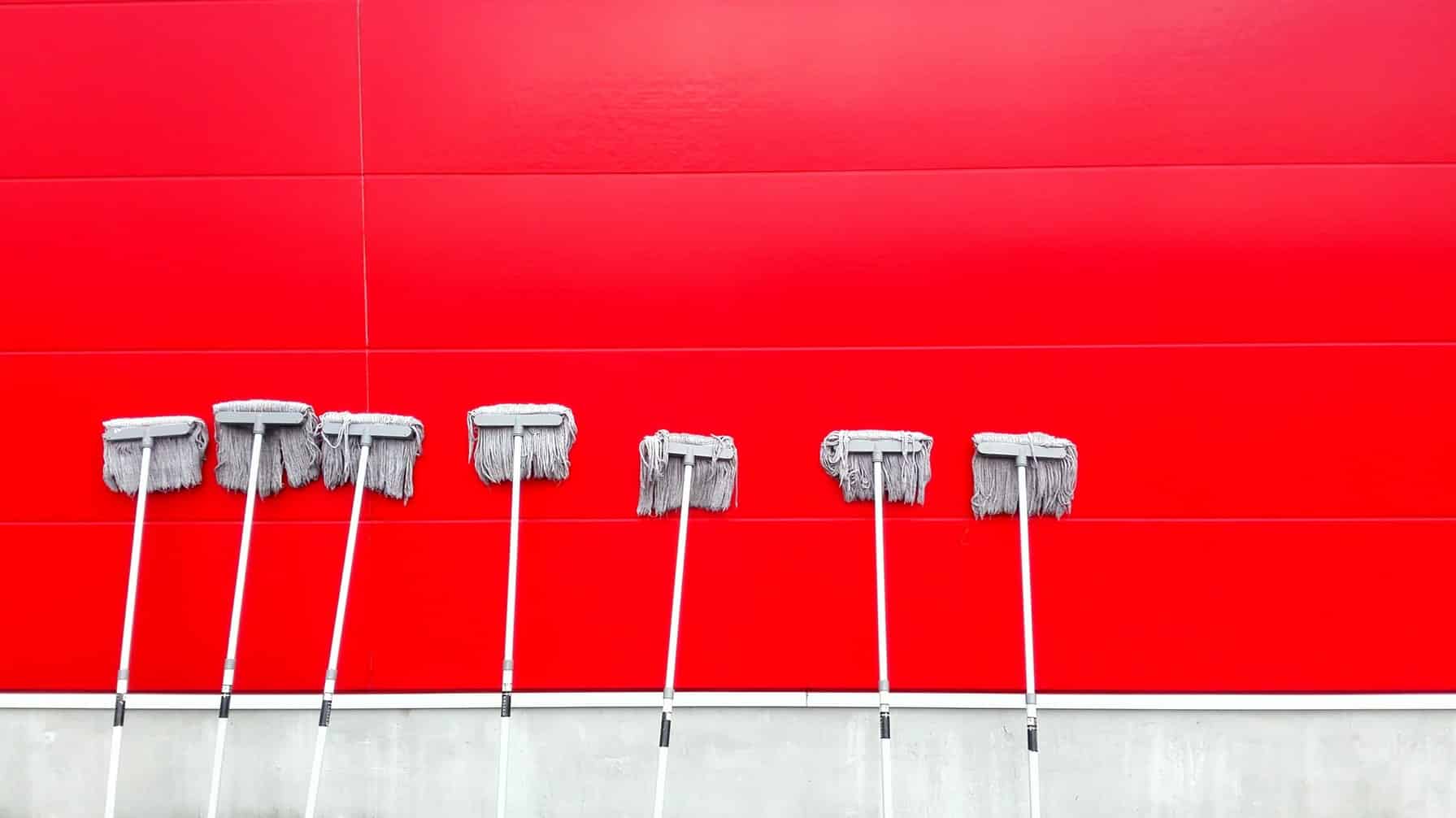 New generation mops have taken away the drudgery that comes with the traditional cleaning methods. 
They have changed the very idea of cleaning, washing, and moppin' around with some wonderful features such as innovative spray jets, washable heads, and microfibers. In the following paragraphs, we'll be talking about all these exciting features and how they help in making your home absolutely clean and dirt-free. 
But for now, let's bid adieu to the days of cleaning floors with bulky buckets and stingy mops. Let's shift our focus to a whole new world of convenient mops that will help you speed through your chores. 
We reviewed some modern-day mops to find which of the models make all the surfaces shine the brightest in the least span of time! We also measured how much dirt did each mop leave behind after a single swipe, and made the list accordingly.
So, without further delay, let's dive right into it!
 Best Mops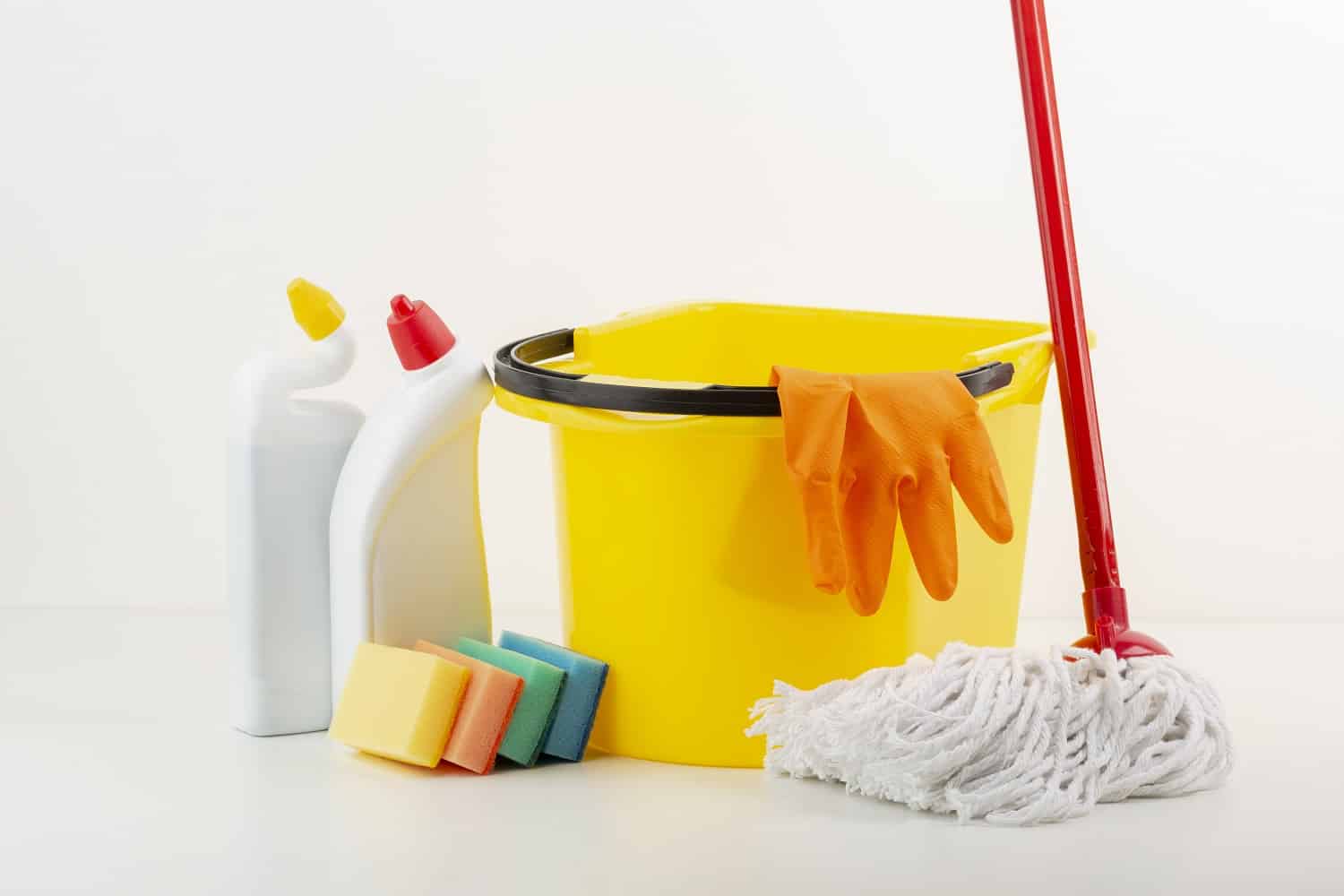 With the Swiffer Sweeper Cleaner, you will be well-equipped for some effortless floor cleaning. Its cleaning kit includes everything you'll need to wipe out scum with and keep your floors completely dust-free and sparkling. 
The product comes with an easy-to-assemble, lightweight sweeper, seven dry disposable clothes, and three wet disposable clothes that effortlessly polish your dirty floors.
Experience
Cleaning floors with the Swiffer starter kit takes away the fatigue and drudgery out of the job, and spares your body of any pain after everything's clear! This mop is best suited for quick clean up jobs that don't require big mop buckets and special cleaning solutions.  
For the best results, you will need to get rid of the dry dirt from your floor like loose strands of hair, pet fur, and food debris before you use the wet mop. The wet mopping cloths are specifically designed with a textured surface that allows it to dissolve sticky grime and lock them in the microfibres while cleaning.
Moreover, the wet microfibers of this mop can swiftly remove dry leaves from your balcony or quickly clean-up the kitchen floor after you finish making breakfast. The wet mop has deep cleaning microfibers that effectively absorb residue dirt to make your floor sparkly clean. 
However, the mop isn't that great for removing extremely sticky stains. So, if you are a lover of pets and looking for a mop to clean those muddy footprints from the floor, it's better to opt for the heavy-duty ones instead.
Pros
Promotes ease of use

No additional floor cleaning solution required

Refill pads readily available

Textured mops for 3x cleaning
Cons
Not suitable for extremely dirty floors
The JINCLEAN dry mop can be your go-to cleaning tool for homes, garages, offices, or commercial establishments. We were simply amazed to see the results it delivered on all types of cleaning surfaces such as laminate, hardwood, vinyl, bamboo, or tiles. That, too, without using any of those harmful chemicals that ruin your tiles in the long run. 
Sale
Experience
This mop is one of the most reliable and durable products you will come across within this price range. JINCLEAN takes into account all the inconveniences one might face during a cleaning session, tailoring its product accordingly to deliver an overly satisfying result.  
Firstly, its adjustable strong steel telescopic handle can be extended to up to 59" which in turn reduces your chances of getting a sore back from constantly bending over. Plus, the mop features an extremely lightweight design (i.e., it weighs only around 3 pounds), eliminating the chances of fatigue of hands and wrists. 
And, there's no point denying that one of the most noteworthy advantages of this mop is that it delivers chemical-free cleaning. This dry mop can be your eco-friendly alternative to those harmful wet chemical mops that strain your floors and tiles after prolonged use. 
Also, we observed that removing its mopping pad is incredibly hassle-free and easy. Thanks to its one-touch slide off system, you can remove the dirty pads right off without getting your hands dirty in the process.
However, the only negative aspect that caught our eyes is that the rod handle tends to collapse if you put too much pressure on it.
Pros
Excellent chemical-free cleaning

Easy mop head removal system

Industrial size 24"x11" mop head covers more area

Compact lightweight design
Cons
The rod is a little flimsy and collapses under too much pressure
Tired of buying new mops every other month? We can guarantee that if you opt for the Linkyo microfiber mop, you will be going to the shops a lot less than before. Besides its sturdy build, what really impressed us was its swivel head, that turns a whopping 360 degrees, making it a great choice for cleaning those hard-to-reach corners. 
Experience
What primarily caught our attention is its slim and lightweight construction that makes it a whole lot easier to maneuver the mop. It's not like those "sturdy" mops which feature a bulky design and strain and tire your wrists after just a couple of wipes. Also, this is not the only feature that makes it stand out from the rest of its competitors.
The model comes equipped with a swivel head that rotates at an impressive 360-degree angle and is great for cleaning all types of unique spaces. Also, its ergonomic design eliminates the necessity of bending and hurting your back every time you try to reach those tight, narrow corners of your house.  
Needless to say, like most premium products, this mop is also adorned with microfiber pads that are highly absorbent and effective at polishing the floors without damage. And, talking about user-friendliness, we were impressed to observe that the pads are completely reversible(one side for wet-mopping, and the other for dry mopping) and reusable.  
You also receive an extra microfibre pad with sewn-in scrub lines for removing grime and stains quickly and effectively. However, the mop head could have been a bit tighter, as it swivels randomly in any direction after being in use for some time.
Pros
Reversible mop pads for dry/ wet mopping

Reusable and machine washable

Tailored with scrub lines for removing tough grime

Has durable plastic clips for keeping the pads in place
Cons
May not be suitable for extremely rough everyday use

Mop head flips sometimes after extensive use
This 18" model uses premium microfiber pads that pick up even the microscopic debris that come in its way and tightly holds on to it. However, it's not just the excellent quality of the microfibers that have drawn our attention; there's so much more to it. 
Experience
We found this mop to be ideal for cleaning laminate, hardwood, concrete, or even tile floors and custom made for rough use. Its 18" width helps you cover a lot more area with each mopping stroke, thereby saving a whole lot of time and physical effort. Also, it boasts of dual-action capabilities, which means it works perfectly on wet as well as on dry floors. 
As an added advantage, the microfiber pads are machine washable, which makes them much more economical than their disposable counterparts. Just pop in the suckers into the washing machine once you finish the day's cleaning, and they will be just as good as new! 
Once you opt for the professional microfibre mop, you won't need to spend your hard-earned money buying new cleaning pads every two weeks. The product already comes with 2 Microfiber Dust Mop Pad, Microfiber Wet Mop Pads,  and 2 free premium microfiber cloths.
Plus, it's heavy-duty swivel can turn a whopping 360 degrees, which allows it to get into tight spaces where ordinary mops can't reach, and keep all corners of your home absolutely spic and span. 
Its only drawback is that the piece that connects the handle to the mop is a little wobbly and fragile. So, you gotta be careful not to apply too much pressure on it to prevent its breaking. 
Pros
Includes premium dust pads and wet pads for effective cleaning

Works perfectly on all types of floors

Has a 360-degree swivel

Comes with an adjustable handle
Cons
The connecting piece of mop handle is a bit wobbly
If you are looking for a versatile product that works great for simple everyday dusting as well as deep cleaning sessions, this mop can be a perfect choice for you. We really loved its minimalistic and functional design that focuses primarily on ease of use. Read on to find out more about it.
Sale
Experience
Like most premium mops, the O-Cedar EasyWring Spin Mop is made up of deep-cleansing microfibres that easily removes dirt and grime and locks it inside. The super-absorbent quality of the microfibres has a wide user-base, and an online buyer also stated, "the product is a whiz at picking up and absorbing dirt."
Also, its functional design has left a lasting impression on our minds, as every inch of it focuses on ease-of-use. It's triangular-shape and its flexible head allow you to reach even the tightest corners of your room that usually don't get much attention from ordinary mops. And, the comfortable handle comes with 3 types of height settings, (i.e., 24", 36" and 48") making it an ideal choice for tall and short folks alike. 
We especially liked the accompanying wringing bucket and easy-to-use pedal system, which simplifies and fastens the overall cleaning process. All you need to do is hold the mop in the bucket and press on the pedal to wring water without getting your hands dirty in any way. 
The product also features a splash guard system that ensures your pants and newly-cleaned floors stay dry and do not get splashed with dirty water.
While everything about this model is great, its not-so-sturdy stand made us upset. It seems very fragile and could break with a sudden jerk in a random direction.
Pros
Exclusive bucket design

Built-in wringer for hands-free wringing

Deep-cleaning microfiber absorbs tough dirt and grime

High-quality foot pedal for spin wringing

Splash Guard that keeps splash and spray inside bucket when wringing
Cons
The stand could be sturdier
Our next recommendation is yet another great product from Swiffer that's specially made for keeping your wooden floors as neat as a new pin. Its specially-made wood cleaning cloths act like microfibers and is highly effective for removing debris and stubborn dirt from wooden floors.
Sale
Experience
In case you have grown tired of the messy mop-buckets and pre-soaked, dripping wet pads, you should definitely opt for this hassle-free alternative. This creative model has a built-in spray nozzle that automatically disperses the cleaning solution on the ground. Moreover, adding to your convenience, the nozzle is set up with a pair of LED lights that illuminate your way and helps you clean the dark corners of the room with ease.
Another strong suit of the product is its cleaning pads that work just like super-absorbent microfibers. It efficiently picks up the debris that come along its tracks and strongly holds onto it, instead of just moving the dirt around the room.
Together, the jet nozzle and the mopping pads give you top-notch results and can be used on any type of floor. The fine mist spray coats the floor evenly with the cleaning solution, while the soft textured pads lift up the stubborn debris with perfect ease. And if that wasn't enough, it imparts a definite luster and a soothing aroma to the washed floors. 
However, the only flipside to the product is that it does not come with specific assembly instructions, and you will need to rely on youtube videos and online manuals for the same. We hope the company will take care of this soon.
Pros
Safe on all hardwood

Ultrafine dual nozzle spray

Effectively dissolves tough messes

Traps dirt instead of spreading it

Cleans hard to reach spots
Cons
Does not come with an instruction manual for assembling the product
Bona hardwood floor cleaner can be your all-in-one solution to cleaning and revealing the natural shine of your wooden floors. The product comes with a 34oz cartridge filled with a water-based cleaning mixture and a microfibre cleaning pad for cleaning your floors without damaging it in any way.
Sale
Experience
This is a next-gen premium mop that boasts of an extra-large cleaning base, and truly delivers what it promises. We found that the base size was almost 10% larger than its contemporaries in the price range. This, in turn, allows you to cover a lot more space with each stroke, resulting in faster cleaning. 
However, what makes the base truly unique are its curved corners lined with soft rubber borders. The curved borders act as bumpers to prevent accidental marks and dents on your wall/furniture if you hit them with the mop while cleaning. 
The mop also comes with a residue-free cleaning solution that works perfectly to remove dust, dirt, and grime from the hardwood surface and reveal its natural shine. However, you must be careful while assembling the product as the liquid tends to leak through the gaps otherwise. 
The mop also features an ergonomically designed handle padded with soft foam that puts less strain on your hands despite prolonged use. It also has a foam grip just below the neck of the mop to provide extra support to your hand and wrist, while your mop.
Once you finish cleaning, just pop in the pads into the washing machine and use the retractable hook to hang it up in your closet till further use. Its microfibre pads are extremely durable and can be washed and reused for up to 100 times. 
Pros
Extra-large mop head

40% faster cleaning

Refillable cleaner cartridge

Rubber rim around the base for extra protection

Comfortable foam handles
Cons
The cleaning solution leaks sometimes
Aootek's 360 spin mop takes the convenience of floor cleaning to a whole new level. It features a durable stainless steel body and a flexible handle that you can turn up to 180 degrees. It helps you reach the tight spaces and clean all those dusty corners of your room, which other mops fail to reach.
Experience
To start off, what we liked the most about this mop is its dual spout bucket that boasts of a centrifugal spinning design for cleaning and drying mop heads instantly. Also, this evolution from the earlier foot pedal model ensures there isn't a lot of dripping water on the floor once you are done with cleaning and drying the mop. 
The bucket also features a built-in draining plug so you can empty the bucket quickly while keeping your hands out of dirty water. Another thing that's really special about this mop is the super-absorbent mop head that exhibits a soft-to-touch blend. It smoothly wipes away the dirt without damaging your floors in any way and also adds to your convenience by preventing any leftover wet streaks on the floor. 
Also, the mops are easily washable and would last you anywhere between six months to a year, even after heavy use. This makes it an ideal choice for the clean freaks. 
Another thing that really impressed us was its sturdy build. You won't find any unnecessary moving plastic parts (like plastic spinning axis, wheel, or agitator) in this model that are prone to breakage. 
But, in this otherwise flawless model, the mop head could have been made of hard PVC, instead of iron that rusts after a while.
Pros
No unnecessary leaks due to absence of pedal or spinning axis

Super-absorbent, streak-free microfibres

Unique wringing system for fast drying

Machine washable mop heads
Cons
The mop head tends to get rusted after a while
This versatile spin mop allows you to clean a diverse range of floors like tiles, laminate floors as well as hardwood. The product is just ideal for those cleaning enthusiasts who love to indulge in frequent cleaning sessions and look forward to completing the job quickly without wasting much water. 
Experience
Hundreds of happy customers have left a positive review about this product on the internet, saying this was the ideal twist mop they wanted in their cleaning arsenal.
Coming to its features, we were quite impressed with its hands-free wringer that comes with a foot pedal to adjust the moisture level perfectly after every wipe. You get the opportunity of adjusting the moisture level as per the job in hand. For example, you can give the pedal a slight push to leave more water for the tougher grimes and stains or keep it pressed for a longer time to dry out the moisture completely.
Furthermore, the durable microfibers of the mop head is made of an extremely soft material to ensure your floors remain completely scratch and dirt free. Also, if you are looking for a product that will never strain your back, the Arevo Wet Spin Mop can be your perfect choice. It has an adjustable mop handle that suits your height and helps you to get the mop to those hard-to-reach places without much hassle. 
Also, you won't ever need to bend or crouch down while using this mop as the adjustable handle is able to lay nearly flat and easily maneuvers under furniture and cabinets.
Pros
Hands-free easy wring bucket

Extending handle

Last longer and feel stronger

Leave your floor scratch-free

Microfiber mop head is reusable
Cons
The plastic does not last beyond a year
Looking forward to some effortless cleaning time? This spin mop comes with a wringer bucket that you can use to get rid of excess water from the mop, without straining your hands in the process. All it takes is just a slight push on the handle and the bucket spinner will wring out all the dirt and grime to make the mop neat and ready for the next cleaning session. 
Sale
Experience
What initially caught our attention about this model is its bright red color that really pleases the eyes. However, it has got a lot more to offer than just an eye-catching colorful design. 
What's more impressive is that the company offers a three-time, no-questions-asked replacement for the mop head once you buy the complete bucket set. Additionally, the kit also includes an extra soft cleaning glove, 2 absorbent refills, that allows 3 times more efficient cleaning than the cotton ones, and also dries the floor automatically.
And as we already mentioned, the splash guard wringer comes with a comfortable press system that you can operate with ease. 
If you are sick and tired of those dirty splashes of spin-drying, then you are definitely going to love this stainless steel wringer basket that comes with a detachable lid. The encapsulated lid prevents all the water splashes and leaves a clean and fresh sensation after each wipe. 
Also, the mop bucket is constructed of a self-balanced easy wring technology, which prevents spillage of water all over the room during movement. 
So, you can push it around the house without any hassle! 
Pros
Has a 360 degrees swivel head

Supports 180degree rotation

Cleans hard-to-reach areas

Aids easy drying and washing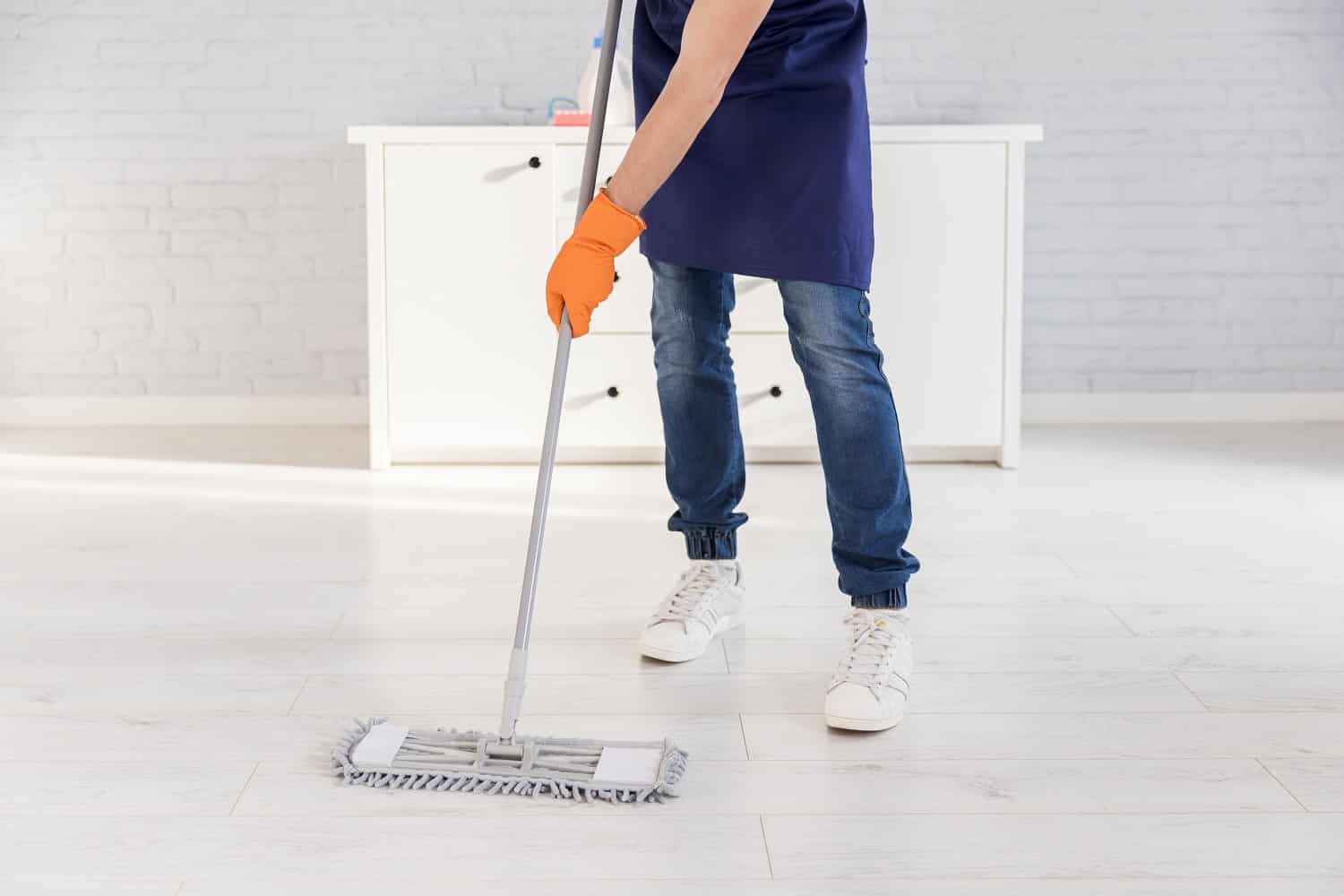 Best Mop Buying Guide
Well, now that we've reached the end of this list, it's time to let you know what are the conditions we kept in mind while making it. We are sorry to break it to you, but most of us tend to do the common cleaning chores of the household completely wrong. For example, however strange it may sound, you can't just pick any random mop for all types of floors. 
Also, different types of floor surfaces require different cleaning solutions. So, what exactly do you need to keep in mind to get your job done quickly and efficiently? Can't seem to figure it out?
This is why we thought of preparing this guide for you to clarify how you should be cleaning in the first place. Go through it minutely to understand the nitty-gritty of washing and cleaning with these mops.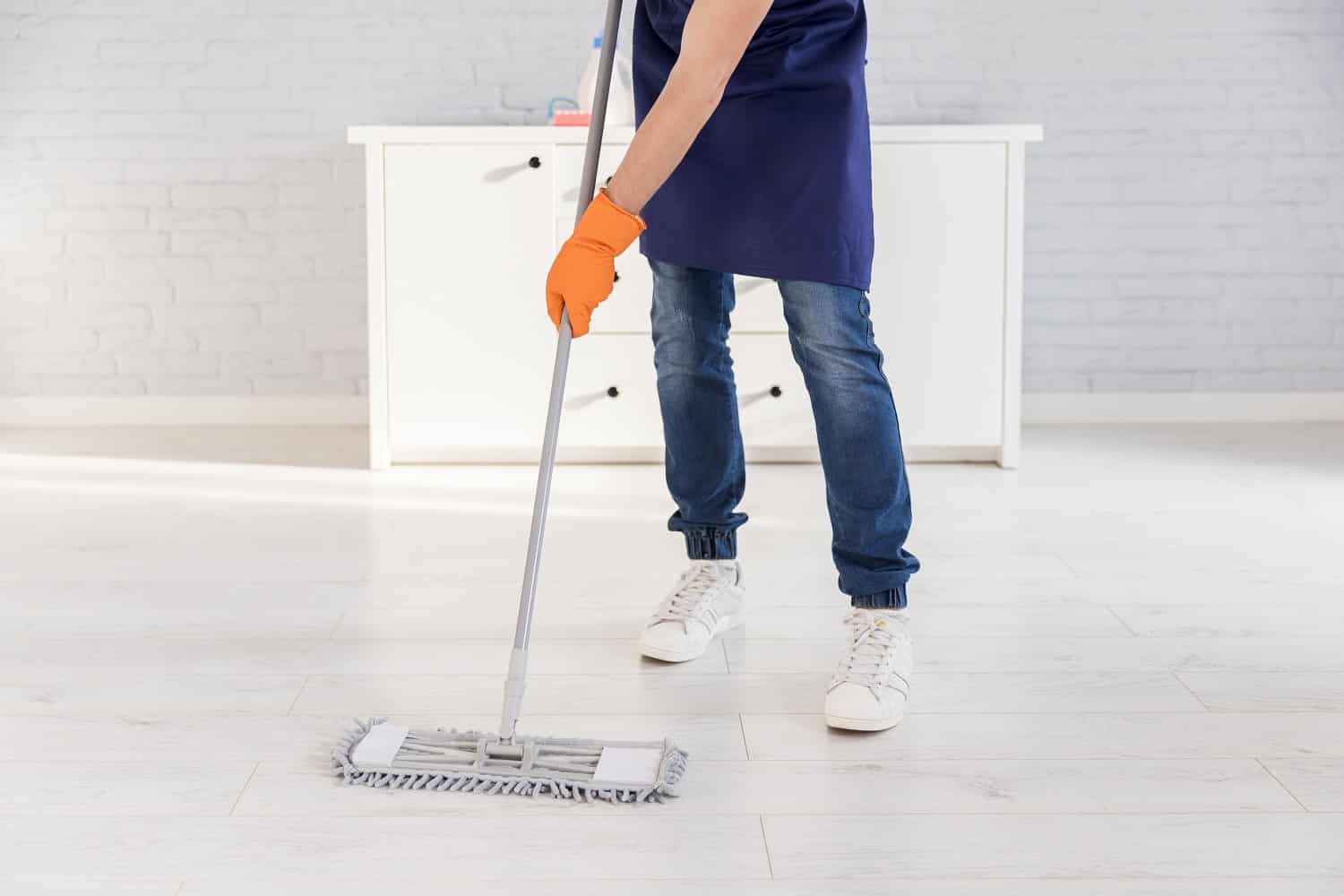 The Mop Heads (Wet vs Dry)
Do you need a mop to deep-clean sticky grimes from your bathroom tiles or just want to dust the hardwood floors? Wet mops will be far more effective for the former job, whereas dry mops will provide a great line of defense against pet hair and casual debris. 
And, if you want a dry mop for everyday dusting, go for the ones which have microfibre pads, as they are incredibly absorbent and picks up dirt efficiently. On the other hand, wet mops are great for cleaning up sticky grimes and bigger messes and keep your tiles clean and sparkly. 
The room size
Picking up a mop isn't just about the kind of mop you choose, but also about the area and space you are cleaning. In case you live in a small apartment, it's probably best not to go for the industrial-grade dust mops. They are usually very large and, in most cases, do not fit into your living room properly. 
Also, it will be essential to pick the mop judging the kind of floor you have in your house. Check whether the mop pads are soft and whether the cleaning solution is suitable for the marble, hardwood, bamboo, or tile floors and choose accordingly.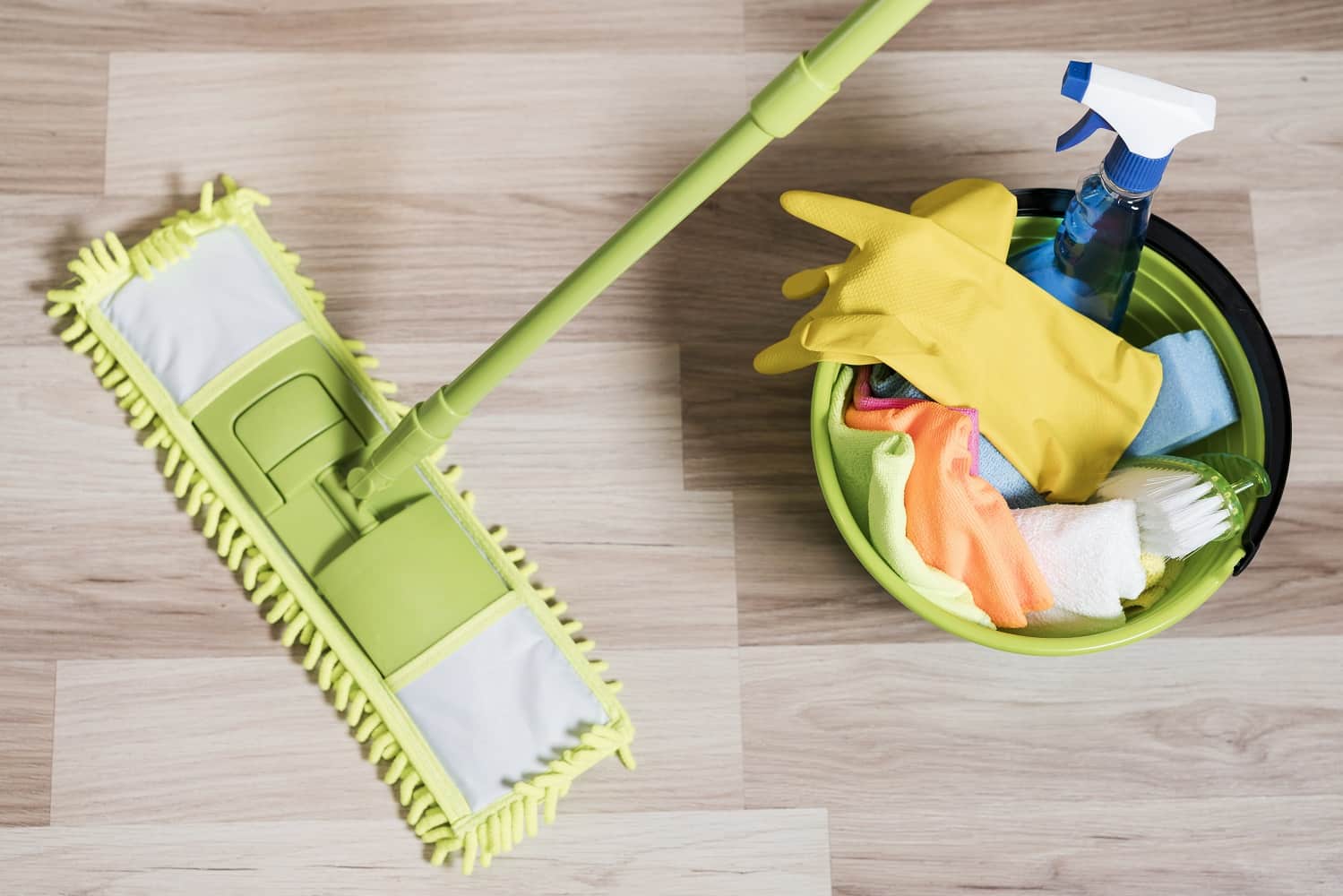 Maintenance
You must also check whether the mop features machine-washable heads or disposable ones. If you choose the ones which have washable heads, you can easily throw them into the washing machine once you are done with the cleaning. However, if you do not want to be bothered with excess laundry, you can just opt for the disposable ones out there.
And, while the chenille or microfiber mops can be machine washed, or disposed off after use, in case of sponge mops, the maintenance process isn't that easy. So, judge your requirements carefully before you opt for one of those. Additionally, you will also need to consider the cost of the replacement heads for any kind of mop you choose.
Wringing mechanism
The key to polishing floors quickly and effectively is to have the correct amount of moisture in your mop while you clean it in between use. And, there are a wide variety of wringing mechanisms that help you maintain the precise moisture level. But the mops fitted with manual wringers like spinning axis and foot paddles require you to twist/pull to squeeze out extra moisture.
For example, with in-bucket wringers, you will be able to adjust the moisture level according to your needs. You can spin it multiple times to wring the mop completely dry with just a little bit of moisture, or just spin it once to leave much more moisture for the tougher jobs. 
Final Words
Feeling overwhelmed with instructions? Just take a deep breath and relax- it's only a mop! And with the options we have provided above, you can rest assured that your rooms will be sparkling without any hassle. Simply go through the aforementioned reviews to pick one that best suits you and your cleaning style, and you will be all set for disinfecting the rooms from top to bottom. 
Hope this guide will help you to have a satisfactory house cleaning experience in the near future. Stay tuned for more such detailed reviews. Good luck!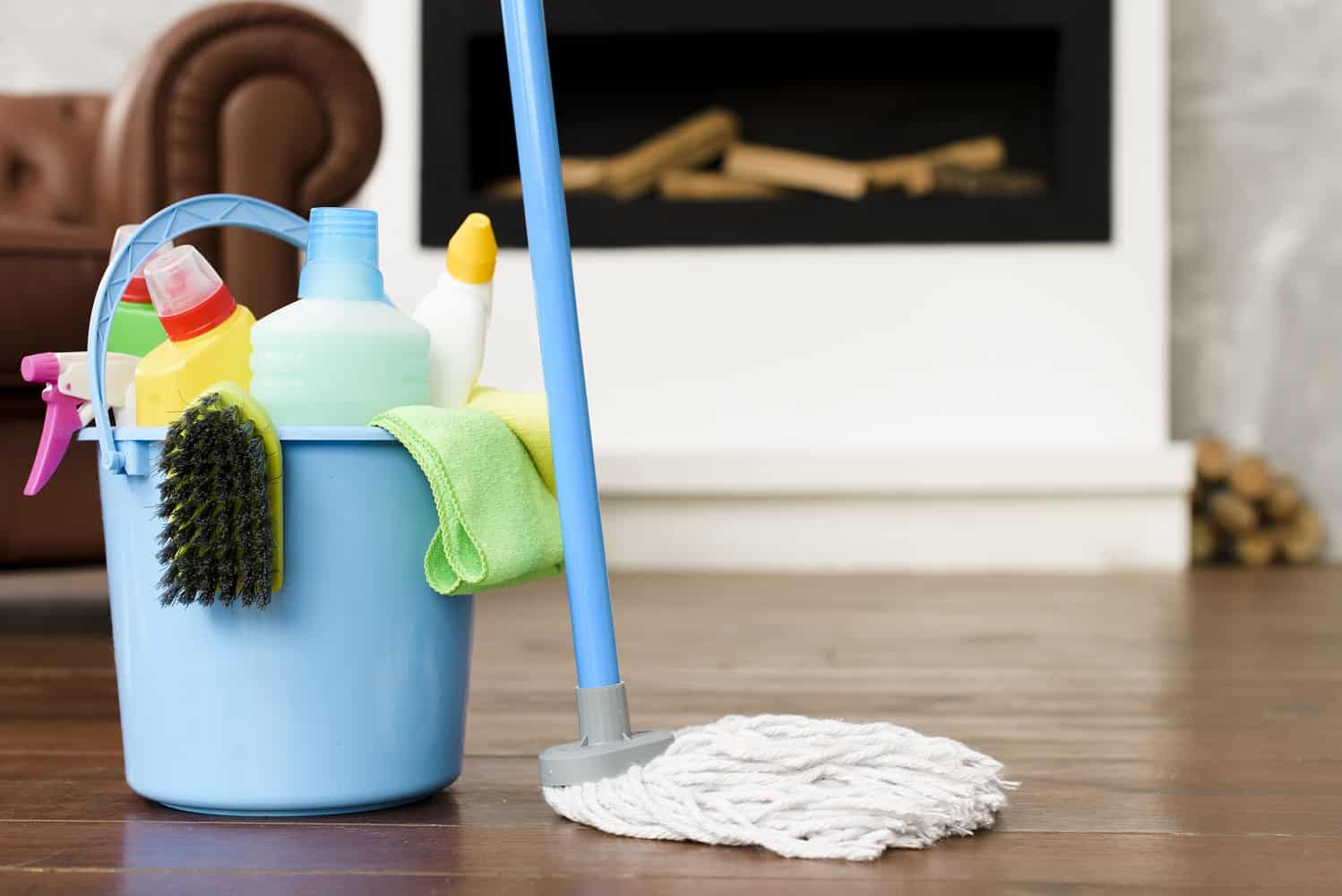 Related Articles 
13 Best Vacuum for Stairs| Reviews and Buyers Guide
13 Best Robot Vacuums You Can Buy Under $200– Reviews & Buyer's Guide
8 Best Robot Vacuums Under $150| Reviews & Buyer's Guide
13 Best Backpack Vacuum Cleaners | Reviews & Buyer's Guide
13 Best Non-Electric Vacuum Sweepers
Best Samsung Robot Vacuums | POWERBot Buyer's Guide
6 Best Vacuum Cleaners for Mattress That Promote Healthy Sleeping