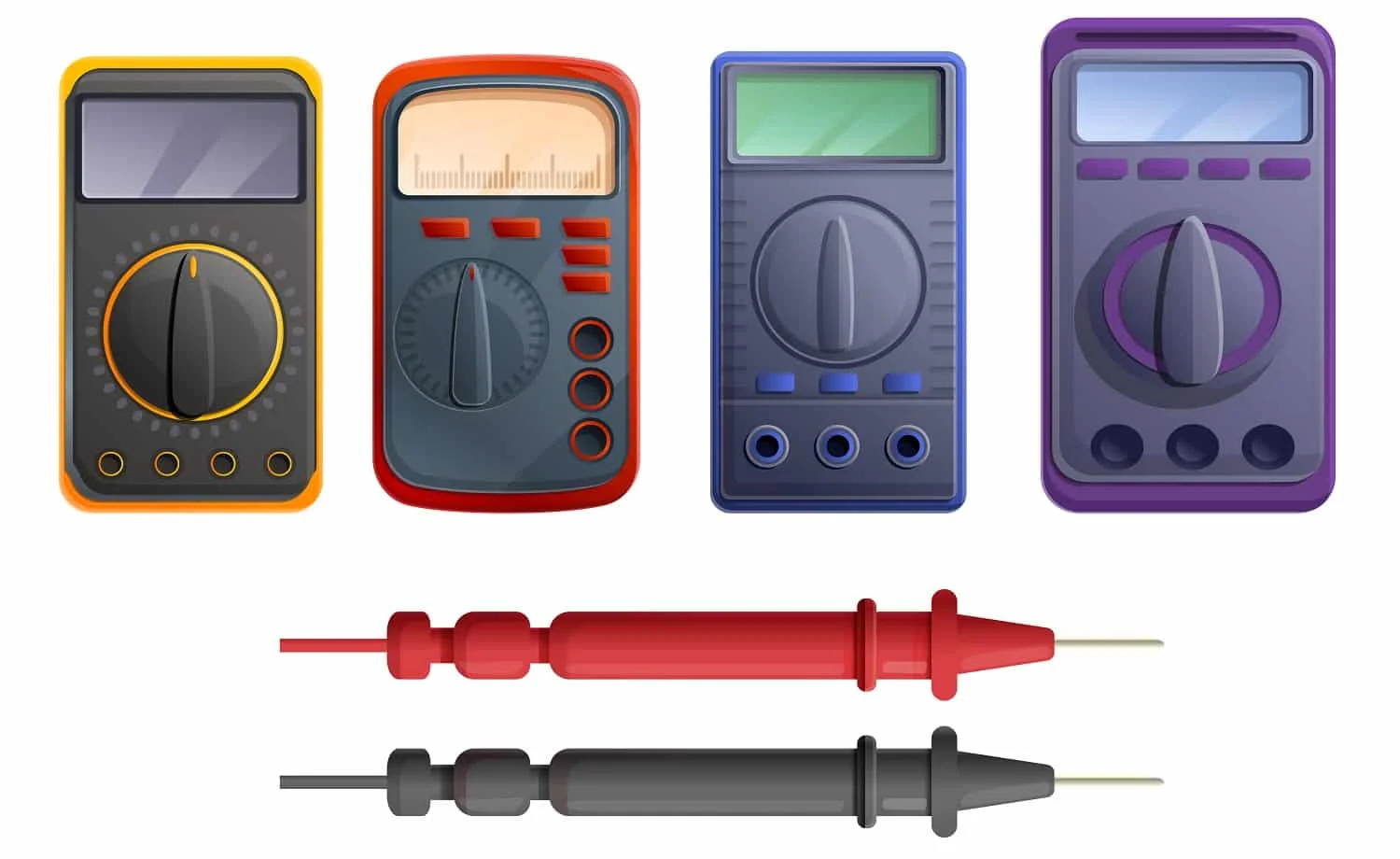 Multimeters are highly versatile tools that come in handy for a variety of electrical tasks and make up an essential component of any DIY toolkit.
Given their three-way function as an ohmmeter, voltmeter, and ammeter, they are valuable devices to have around and depend upon.
The markets are flooded with these efficient devices, with each having its own strengths and low points. To find the right one for your needs there are a number of aspects to keep a note of, and needless to say, it pays to research well.
Here, we have done it for you in our comprehensive listicle that narrows down thirteen superior multimeters available in the market in 2022. Each product has been explored thoroughly with its strengths highlighted, and the list is followed by an equally exhaustive buyers' guide, underlining the factors to consider while buying the perfect multimeter.
Let's get on with it, what say?
Best Multimeters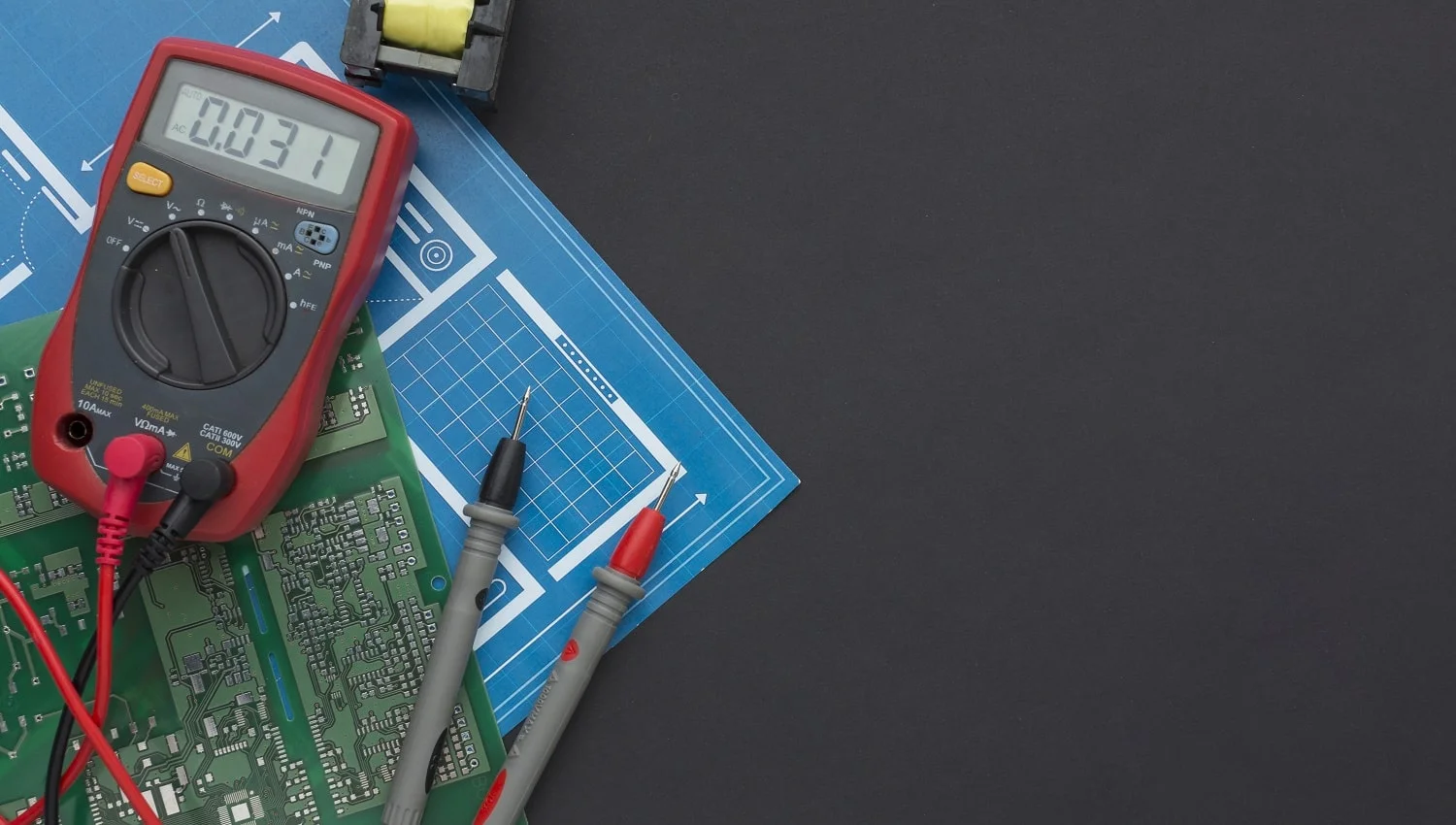 An excellent product for first-timers from Craftsman, this digital multimeter makes a mark with its high range of functions and versatility. It is a reliable device and serves well for a variety of DIY projects and regular household jobs, and is a breeze to use for amateurs and experts alike!
Why Did We Like It?
Although not as precise in measurements as more professional tools, this digital multimeter from Craftsman makes for a handy choice for beginners with its wide range of easy-to-use functions. It measures up to 600 volts alternating current and 10A alternating current for electrical installation and home appliance repairs and is also effective for auto marine installations and repairs.
It has a stable readout and in order to ensure complete safety, there are audible tones below 30 ohms that check wiring and shorts. This multimeter is a highly resistant one and proves useful for most important household electronic tasks. 
Alongside a high level of functionality, it also proves to be a sturdy tool featuring a protective rubber case to prevent abrasion from accidents. This ensures that it remains in excellent working condition over prolonged use. Last but not the least, one of the highlights of this product is its affordability. For all its utility, this exceptional multimeter barely makes a dent in your budget!
What Could Have Been Better?
When compared to its more professional counterparts, this digital multimeter is not as accurate in its measurements and you might want to double-check to ensure precision. Nevertheless, it works perfectly well for beginners and regular DIY tasks and is an option worth checking out.
Pros
Versatile product with multiple functions

Well-suited for beginners and to household tasks

Sturdy and durable over prolonged use
Cons
Prone to inaccurate measurements
Next up, we have a product for serious electronics aficionados and seasoned DIY-ers. Fitted with a range of professional functions, a polished build, and great design, this RMS multimeter from Fluke is a tool that will save you a ton of effort, time, and brainstorming, thanks to its incredible efficiency.
Sale
Why Did We Like It?
This product from Fluke left us particularly impressed and with little to no ground for complaint. In terms of operation, it is highly proficient and offers a host of advanced features for precision, utility, and ease of use. It is a high-performance tool for professionals and is equipped with True RMS technology.
The technology offers easy, accurate readings of non-linear loads and is also fitted with additional features for convenience. The backlit LED, for example, ensures functioning in poor visibility and lighting conditions, while the low input impedance prevents faulty readings. Further, its ergonomic design only adds to the device's credibility as a great investment. 
In addition to that, the multimeter operates across a wide range of temperatures: from minus 10 degrees Celsius to 50 degrees Celsius. Maintaining a battery life of 400 hours, it is comfortable and effective in adverse working conditions and delivers a remarkable performance over prolonged and rough use.
What Could Have Been Better?
As a tool for professionals, it is inevitably priced higher on the scale than most other multimeters on the market. But given its efficiency and Fluke's commitment to excellence, you get what you pay for, and the product makes for a worthy consideration.
Pros
Highly precise readings

Good visibility in poor lighting and work conditions

Suitable for prolonged use and reliable in adversity
Cons
Expensive in comparison to other multimeters
This excellent multimeter from Cen-Tech is a digital one that offers a high level of basic functionality combined with multiple main measurement functions. It is a compact and portable device that makes it suitable for various projects in diverse situations. Surely, a tool to keep handy, isn't it?
Why Did We Like It?
Cen-Tech's product is a useful tool for your everyday tasks for which you may find yourself caught in a number of unusual situations. Equipped with seven main measurement functions, it offers a high degree of accuracy in readings, which is further enhanced by the large, crystal-clear LCD display.
In addition to this, the device features a simple single-dial control system, which further enhances its utility. For its size, it is highly capable and accurately tests AC and DC voltage, resistance, and continuity among others. It makes no compromises on its primary functions and makes for a reliable tool on any occasion. 
However, the greatest USP of the product is its design. Featuring a high-impact housing for a comfortable grip, this credit-card-sized model is optimized for use in any location. Lastly, the remarkable features it offers do not burn a hole in your pockets. That's because it is one of the most reasonably priced multimeters out there and delivers excellent results.
What Could Have Been Better?
The only minor flaw that this otherwise outstanding product suffers from is the lack of an audio confirmation of continuity. However, it makes up for this through a wide array of other essential functions that are found on very few models within its price range.
Pros
Highly versatile tool with precise readings

Sturdily built and reliable in adverse work conditions

Great value for money
Cons
Lacks an audio confirmation of continuity
Next on our list is another superior product, this time from Etekcity – a well-established brand in the field of electrical tools. This compact, digital multimeter performs versatile functions with a great degree of accuracy and delivers impressive results. High in durability as well as affordability, this is a product worth looking at.
Why Did We Like It?
Another product that we greatly appreciate for its design, the Etekcity Digital Voltage Tester Meter is a tool that you can rely on. The measurements score high on accuracy and equipped with a sampling speed of three times per second, it makes for an efficient multimeter that delivers well and on time. 
This multimeter provides measurements for ten function types, in addition to which, it features a good number of other functions to ensure a commendable, all-around performance. The device comes with an inbuilt support stand and overload protection feature, both of which work together to further secure user safety and protection against abrasions. 
Furthermore, this is another multimeter that stands out for its remarkable design with its portability being a high selling point. For added safety, there is also a durable rubber sleeve, so you need to worry about using it in nooks and crannies. Lastly, Etekcity's product is one of the most affordable ones in the market and offers some amazing features for its price.
What Could Have Been Better?
In spite of its high functionality, this multimeter is not suitable for testing AC current. But as the  market abounds in multimeters for the same, we highly recommend this product for its other, exceptional features and great value for money.
Pros
Easy portability for greater functionality

Advanced features for added protection

Great value for money
An excellent product from Extech, this multimeter has the potential to be your go-to tool for all conceivable electrical measurement needs. With a wide range of features for use and high durability, it also makes for a good buy in terms of value for money. Let's check it out!
Sale
Why Did We Like It?
This multimeter is the definition of power packed in a parcel; it is highly compact and offers extraordinary functionality and ensures user safety at all times. What truly impressed us was the in-built non-contact AC voltage detector – a secure method of obtaining precise current readings while eliminating the possibility of bodily harm. 
Additionally, it is also adept at measuring resistance owing to a powerful auto-ranging function, which sets it apart from a number of available products. A bonus thermometer helps to measure temperature while the rubber holster provides safety against electrical shocks. 
Combining performance with attention to safety is truly the lookout of this outstanding multimeter and we couldn't ask for more. Not only does it secure the safety of its users, but the various protective measures ensure that the device itself is also safeguarded against accidents and abrasions. Ideal for use for a good period of time, this is a product definitely worth your time and consideration. 
What Could Have Been Better?
This exceptional product leaves very little room for complaint. The only slight drawback is its slow start-up time. However, in light of the brilliant other features, we believe this could be excused. 
Pros
Guarantees user safety

Durable and protected against abrasions

Versatile and high functionality
Cons
Comparatively slow to start
Highly flexible and diverse in functioning, this versatile toolkit from Klein keeps in mind all your electrical needs. Comprising a digital multimeter, a non-contact voltage tester, and a receptacle tester, the set of tools ensures that not only are all needs met but also done so in an economical manner.
No products found.
Why Did We Like It?
Our vote goes to this toolkit from Klien for the sheer number of functions it covers in a single package. The three components are ideal for any electrical testing of DIY projects, household electrical appliances, or taking professional measurements. 
The product also privileges user safety along with efficiency in its primary functions. The NCVT 1 detects voltage levels for circuit breakers, cords, and cables while the MM300 tests continuity by means of simple audio-visual indicators. As this ensures a user-friendly experience, similarly, the plug easily attaches to standard receptacles to detect common wiring problems. 
As a complete testing toolkit, the package from Klein makes for a valuable addition to your household goods, one that offers a versatile selection of devices. In addition to functionality and protection, it is also affordable and saves you the cost of buying the tools separately. Last but not the least, the kit is durable and sturdy and promises you a prolonged period of impeccable service. 
What Could Have Been Better?
The leads included in the package are sometimes prone to malfunction and require extra attention. But for such a wonderful product within the price range, we find it easy to overlook a minor glitch. 
Pros
3-in-1 package with versatile devices

Secures user as well as device safety

Durable enough for prolonged use
Cons
Leads prone to malfunction
Next up, is another auto-ranging multimeter that delivers excellent performance even in difficult working conditions. Crenova's product is a reliable electrical tool that should be an essential part of anybody's toolkit- be it a professional or an enthusiast. 
Sale
Why Did We Like It?
Crenova has a knack for coming up with easy solutions to seemingly complex electrical problems, and this tool is no different. The auto-ranging tester gauges the required range of voltage to measure without the involvement of manual effort, thus simplifying the user experience. Added to the clear LCD display, this feature makes the device even more convenient to use in areas of poor lighting. 
A wide variety of additional functions lend to the product's versatility. These are an in-built overload protection feature ensuring safety, a data hold feature combined with a maximum value hold function that stores the numerical figures in the device memory, and an auto power-off switch. Altogether, they lead to a commendable performance that holds little room for mistakes. 
In minimizing the need for human effort, this remarkable product from Crenova secures a place on any list of multimeters for the year. Easy to use, durable, and reasonably priced, it is a tool that maximizes performance over any other thing. We highly recommend this and would suggest that you surely consider it while making your purchase.
What Could Have Been Better?
This is a thoroughly impressive product that just works. We could not find any flaws in its working, no matter how discerning we tried to be. And we're confident, you will love it too!
Pros
Improved functioning with a variety of features

Ensures user-safety

Long-lasting and sturdy

Minimizes human effort
Fluke continues to impress and how! The next product from the brand is another True-RMS digital multimeter with an immense capacity for high functioning and accuracy. It is a tool you can depend upon for precise readings under tough conditions, and it never fails to deliver. 
Sale
Why Did We Like It?
The Fluke Compact 115 digital multimeter is a highly versatile device that takes care of your automotive electrical maintenance and repairs. The True-RMS technology, as in the previous multimeter, has the capacity for accurate readings in the case of non-linear loads and is also high-functioning within adverse conditions. 
In addition to the technology, the device also features certain enhanced functions that maintain a distinguished level of performance. For instance, the large, backlit LED screen helps with poor visibility while its lightweight and compact build offer great ease of use. A combination of such features gives the device a high capacity for utility. 
Fluke's products are products you can trust, and this digital multimeter is no exception to the rule. With clear readings, a sturdy build, and enhanced features for user safety, the 115 True-RMS device is a one-stop solution for most of your electrical needs and truly stands out in the market among the rest. 
What Could Have Been Better?
Fluke's devices, exceptional as they are, are priced on the higher end of the scale. However, we are firm of the opinion that there is ample reason for it to be priced so. Here, you get what you pay for and more, and are left with virtually zero unresolved electrical problems. 
Pros
Suitable for automotive electrical maintenance and repairs

User-friendly, compact, lightweight

Offers high user-safety
A new entrant on our list, AstroAI's digital multimeter delivers an undeniably all-round performance that scores high on accuracy and reliability. A versatile and powerful device, it fulfills several important functions by means of a wide range of useful features. 
Sale
Why Did We Like It?
By incorporating a host of advanced features and technologies, this excellent multimeter from AstroAI delivers an impactful performance in terms of enhancing user experience, the accuracy of readings, and durability. It gives highly precise readings for voltage, DC current, diodes, and continuity among others.
In addition to its primary functions, the multimeter comes fitted with a number of features that simplify the user's experience with it. The clear, backlit LCD screen makes it easier to read the numerical values correctly even in conditions with poor lighting or low visibility. Also, the overload protection safeguards the device from overheating and electrical surges, which at the same time, increases the longevity of the multimeter. 
Lastly, the device is equipped with a number of external safety features that provide complete protection for the outer body. These include tough corner rubber guards that protect against accidents, abrasions, and a built-in kickstand for hands-free use. All in all, this is a device that belongs well to both, a professional's toolkit and that of any DIY-er worth their salt. 
What Could Have Been Better?
The only slight disadvantage of this otherwise excellent product is that it cannot measure AC current. However, the features it offers are unmatched in their efficiency. In our opinion, this is a product definitely worth considering.
Pros
Enhanced safety features

User-friendly and simple application

Durable and protected against abrasions
Cons
Unable to measure AC current
The next item on our list is a multimeter that is especially for the repair and maintenance of vehicles and household appliances – it is a must-have for any individual, professional or not! Equipped with a variety of attractive features, it proves useful in versatile ways and is a sturdy device to keep handy. 
Why Did We Like It?
This auto-ranging multimeter from INNOVA is an excellent option for entry-level users with versatile functionality and ease of use, thanks to its host of automated features. This power-packed device offers a high level of accuracy all the while guaranteeing your safety. 
Speaking of which, it must be mentioned that the multimeter comes with a UL certification and an impressive warranty. However, its most attractive feature would probably be the sophisticated auto-ranging function that eliminates the need for manual effort in order to enter the range of electrical current.  
Designed for vehicles and household appliances, this is a multimeter you can depend on for a wide range of solutions. The experience is greatly simplified with bonus features such as a large LED screen which allows you to take precise readings up to several decimal places. Also added for safety, are anti-abrasion rubber guards which not only make the design foolproof but also ensure that the device stays abrasion-free.
What Could Have Been Better?
This product is quite perfect barring a slight defect. The response time of both the continuity tester and auto-ranging feature are slow in comparison which can delay the operation as a whole. But in our opinion, the other features more than compensate for this minor inconvenience.
Pros
Automated features minimize effort

Good guarantee of safety

Easy to use and durable
Cons
Slow response time of some features
A truly commendable product from a reputed brand, Mastech's multimeter is an excellent device that combines functionality with good value for money. It comes with a host of useful functions that greatly minimize effort as well as room for error and is a product worth your time and consideration.
Sale
Why Did We Like It?
A new release from Mastech, this multimeter does its job well and then some. For its price, it offers an incredibly wide range of functions and works as a multi-tester for voltage, AC, and DC current, continuity, relative measurements, and diodes. The readings are swift and accurate, and help you in all conceivable electrical tasks.
Apart from accuracy, the device is adept in ensuring its own as well as the user's safety. There are audio-visual warnings that notify in case incorrect banana jacks are used relative to a function switch setting. Furthermore, it also features a blue LED-backlit LCD display and an auto power-off function.  
All in all, this is one useful multimeter to own for the diverse needs of your professional and amateur projects. Battery-operated and simple to use, it makes for a hassle-free purchase that delivers all that it promises. Last but not the least, being reasonably priced, Mastech's product ensures that customers remain satisfied while getting good value for their money. 
What Could Have Been Better?
 In terms of the automatic power-off function of the device, the shutdown time is 15 minutes and cannot be readjusted. Users often have to restart the device while debugging. But given its superior features, this is a minor flaw and in our books, this multimeter is a winner on all accounts.
Pros
Suitable for a wide range of tests

Additional features for convenience

Simple to use and battery-operated
Cons
Fixed shutdown time of 15 minutes
The last product on our list is by no means the least of all. Quite the contrary, in fact. Because it packs some of the most functional features into a reasonably-priced and sturdy multimeter. But what's the most unique selling point? Read on to find out all about it!
Why Did We Like It?
The most unique feature that sets this product apart from all the multimeters in our list is the clamp grip with a jaw opening. It enables the user to measure the AC current in a conductor without interrupting the circuit and simplifies operation. To enhance the portability further, the device comes in a pouch, ensuring that you have your multimeter handy wherever you go. 
Apart from AC current, Etekcity's excellent product is equally adept in taking readings of resistance, diodes, and continuity tests with a high level of accuracy. The backlit LCD makes the readings easy to read, while the data hold function minimizes effort on the user's part.  
Among such incredible features, this multimeter features a sleep-mode function that puts the device to sleep automatically after 15 minutes of inactivity. This makes the device highly energy-efficient and sustainable. And last but not the least, the product is one of the best ones within its price range and offers great value for money.
What Could Be Better?
This one-of-a-kind multimeter from Etekcity does not measure DC current and is only suitable for taking AC current measurements. But in our opinion, it is a blip worth overlooking as it is a highly utilitarian device with lots to offer in terms of performance and durability. 
Pros
Easy grip and easy to use

Enhanced features for convenient operation

Good value for money

Energy-efficient
Cons
Unsuitable for measuring DC current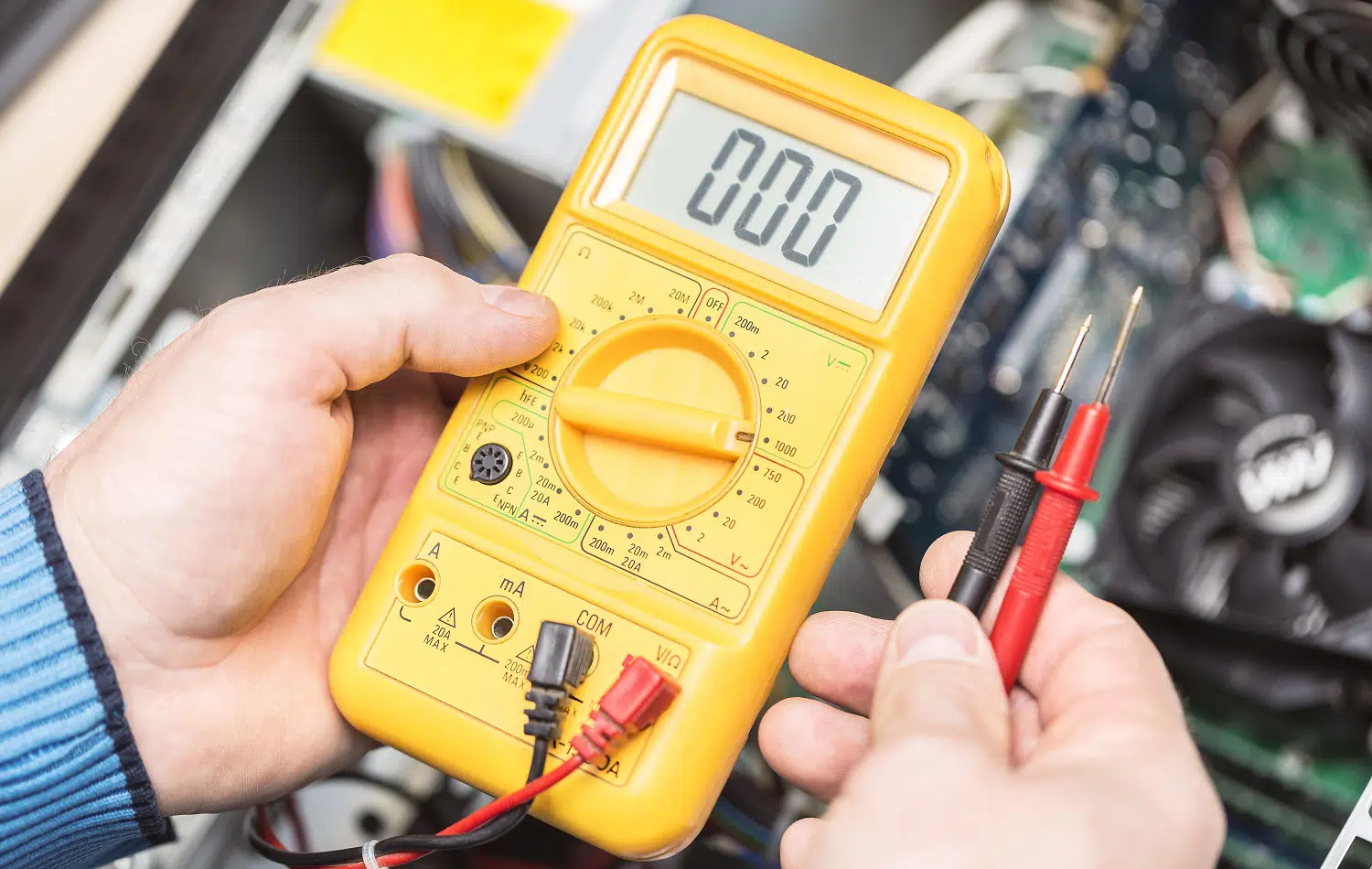 Multimeter Buyers' Guide
A multimeter is as technologically complicated a device as it is functional. Therefore, while selecting the right one for your needs, a number of factors must be kept in mind in order to ensure optimum performance that is tailored to your requirements. What we have outlined below, are the major components and functions of a multimeter that you should factor into your selection of the ideal product.
Major functions 
The auto-range function enables multimeters to automatically readjust themselves to the measurement range of each input, thus eliminating the need for manual calibration. This greatly simplifies your reading experience. 
A faster display rate ensures more accurate results. But the difference is only marginal and so, this is not an essential function in the devices.
The transistor testing function, found on higher-end models, tests the proper functioning of the transistor within any given circuit, thus ensuring the efficiency of the entire operation.
In order to measure the temperature of an electrical device, the temperature testing function comes in handy. This is primarily useful in checking the functionality of a heat-sensitive device. 
The capacitance function measures the system's ability to store an electrical charge. This is not a feature to be found on your average multimeter, but only on high-end, digital ones. 
Next is the hold function, which is an essential element in determining the functionality of a multimeter. It prevents the erasure of readings from the screen and allows you to keep easy track of readings by freezing them. 
Last but by no means least, it must be considered whether the calibration of the multimeter is in an ISO or NIST format. This feature determines the compatibility of the multimeter with certified companies, thus letting you gauge how a particular model works with third-party accessories. 
Digital or Analog?
There are two main types of multimeters and each has its own strengths and weaknesses. Digital multimeters have greater precision in terms of readings as well as the advantage of downloading those readings onto a computer. The LCD screens of these varieties offer more clarity in displaying the numbers and are especially useful in confirming decimal values.
Analog multimeters, on the other hand, are less accurate with readings and also offer comparatively poor clarity due to the absence of a digital display. However, they outperform their digital counterparts when it comes to reliability and is often preferred by professionals given their high reliability and strength.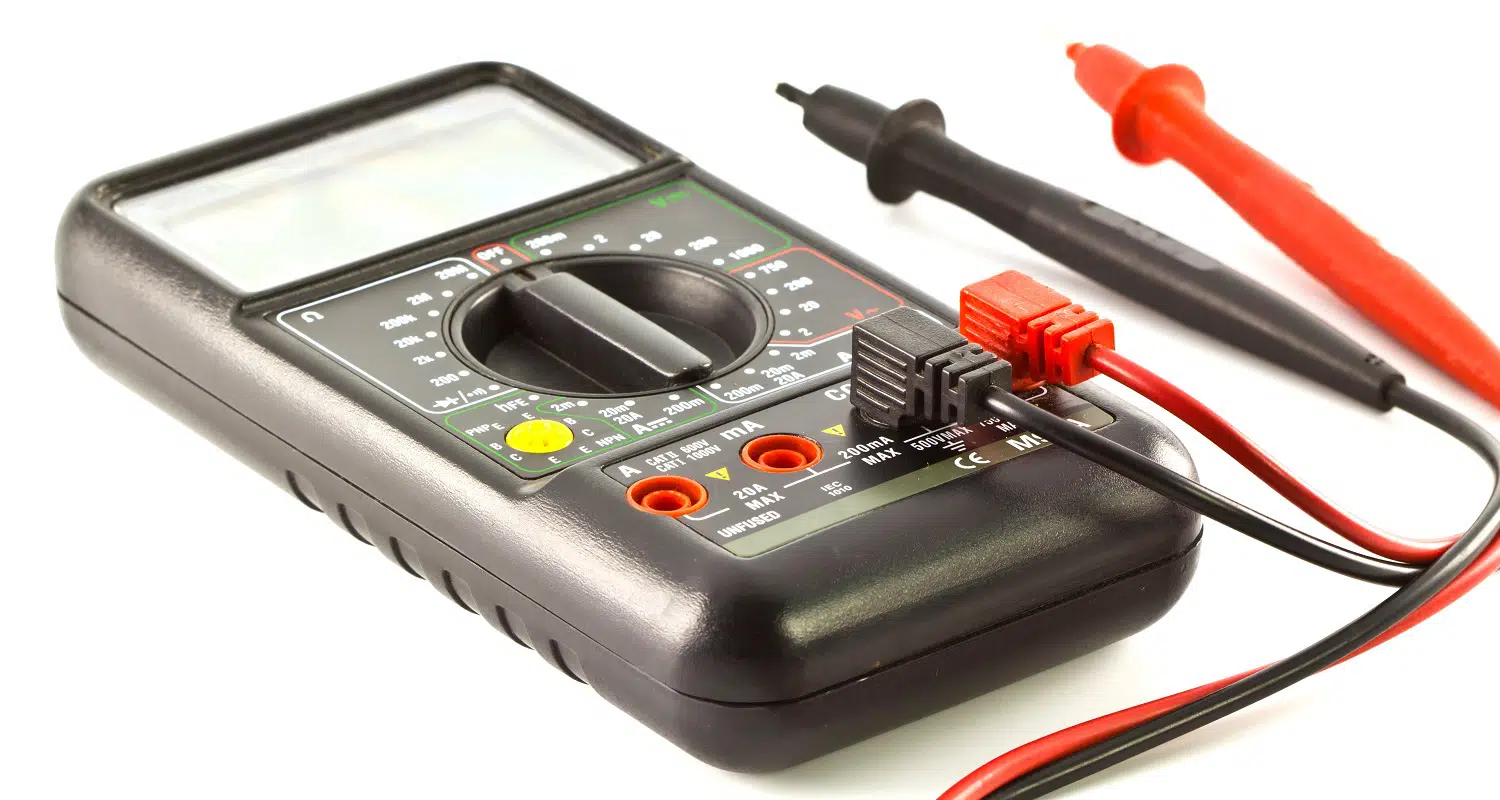 Verdict
Although our list features the most premium products in the market, it is by no means exhaustive. However, we can guarantee that we have indeed picked only the best for you!
While each multimeter comes with its own perks and drawbacks, certain models are particularly well-suited for certain jobs. Keeping in mind our guidelines, selecting the right one is your call. But to help you out a little more, we have rounded up some of our personal favorites.
The most popular choice in terms of overall performance would be the 34-82141 Digital Multimeter from Craftsman. An excellent product with a host of versatile functions, it makes for a worthy investment. Similarly, the 117 RMS Multimeter from Fluke comes in at a close second position. And most importantly, the one that offers the best value for money is Cen-Tech's digital multimeter.
With that, we come to the end of our listicle and guide, and we hope it has been illuminating. Go forth, and take a look! We would be delighted to know your comments on our recommendations.
Till next time!
Related Articles
13 Best Punch Down Tools – Reviews & Buyer's Guide