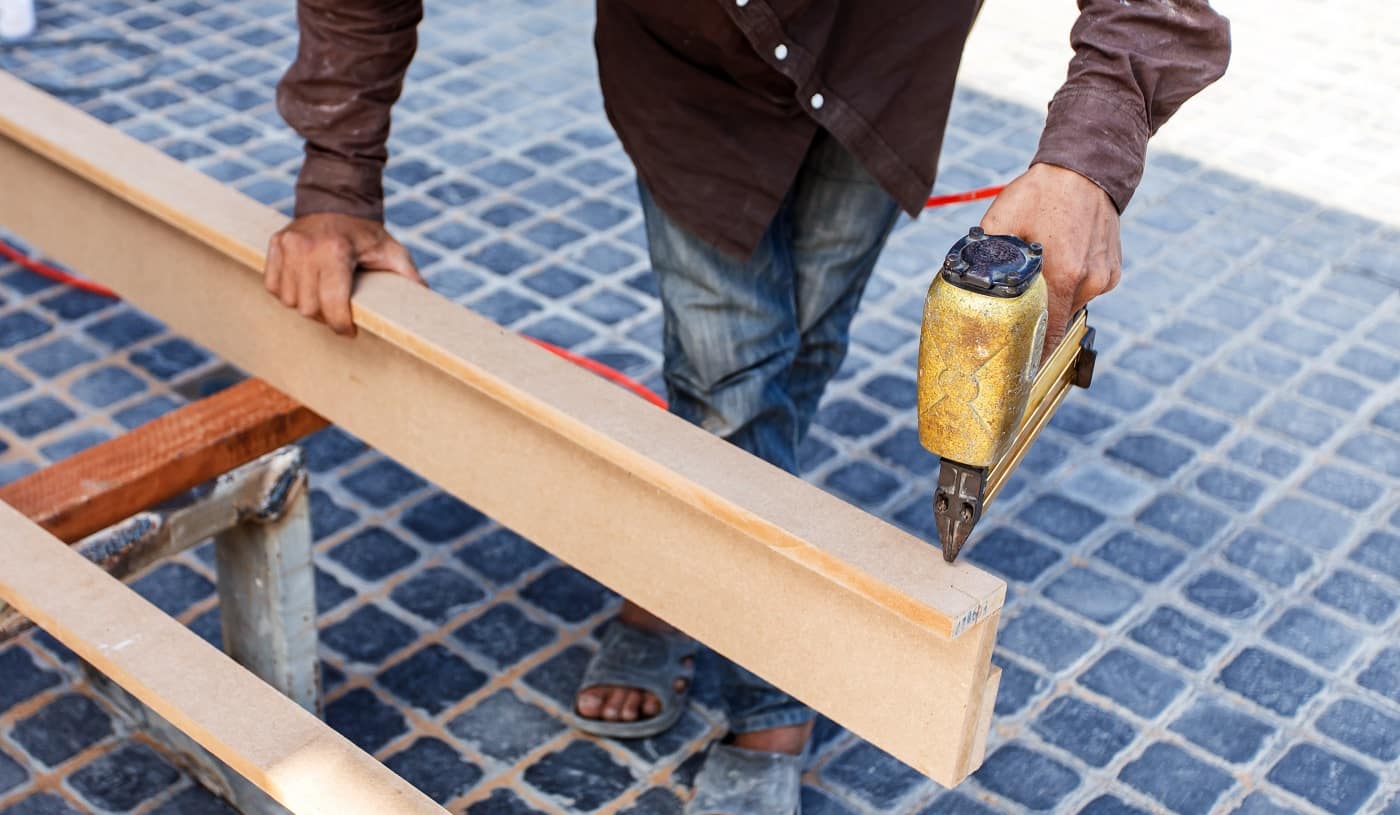 If you're a professional builder or a DIY enthusiast, you're bound to look for ways to get more efficiency in tasks. 
Similarly, if a significant portion of the work involves driving nails into a surface, using a hammer might not be the best option. Instead, you could try out nail guns, which are all the rage right now. 
It fires nails deep into most surfaces and has several benefits compared to manually-operated tools. Firstly, you don't need to spend much energy, and secondly, you get to use a user-friendly tool at an affordable price. However, the crucial question is, how do you choose from the many products available out there? 
To help, we've narrowed down the 11 best models that are making all the right noise. Furthermore, we provide a buyer's guide section, discussing the essential aspects you need to keep in mind during the selection process.
So, let's get started with the reviews. 
Top Nail Gun For Fencing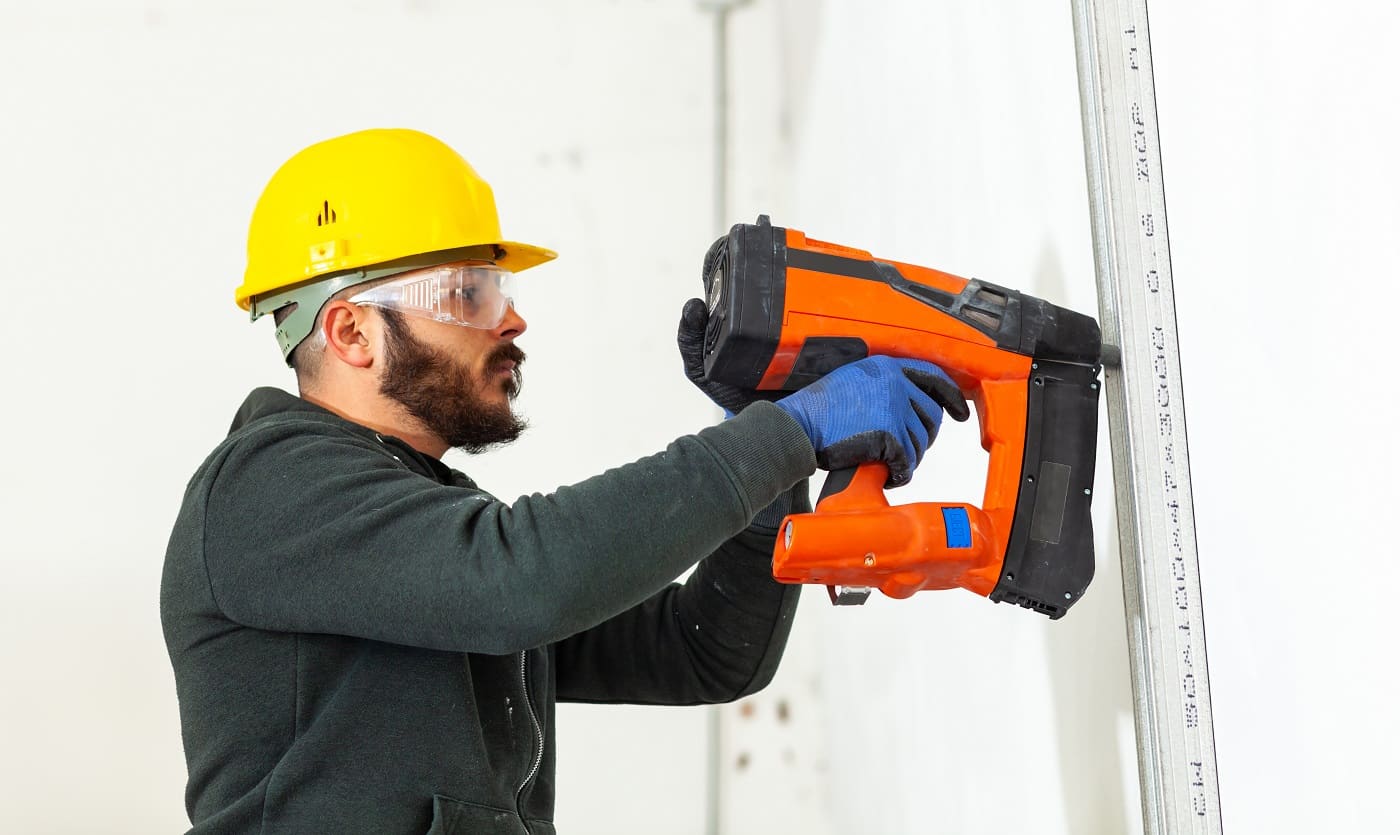 When we sat down to make this guide, the one product that immediately grabbed our attention is the PORTER-CABLE Nailer Kit. It's one of the top models available out there, thanks to its terrific functions; no surprise, it has received positive reviews from buyers. So, let's take a closer look at the details.
Why Did We Like It? 
Right away, you'll notice that it doesn't need a compressor since it's a battery-powered model. There's no cord for improved maneuverability and it saves you the trouble of having to purchase expensive gas cartridges or a hose. And the reduction in price doesn't mean the manufacturers have compromised on quality. 
It has a depth-adjustment wheel to provide more consistency in your tasks, and you'll have no problem countersinking nails. Furthermore, the tool-free release lever makes work manageable, ensuring no interruptions for a smooth experience. In that regard, the jam-release mechanism proves useful, providing much-needed reliability. 
We loved the longer runtime, thanks to the 1.5Ah 20V MAX Li-ion battery and integrated belt, so you need not worry about losing power in the middle of a task. The inclusion of a Bluetooth speaker also makes it highly user-friendly. It's indeed an efficient model, well-designed to solve most of your problems at the workstation.
What Could've Been Better? 
PORTER-CABLE hasn't included a case, which is a bit of a let-down. The inclusion of a case allows you to keep the tool safe and comes in handy during transportation. But since you've to buy it separately, it tends to drive up the overall cost of the product. 
Pros
Consistent output

Easy to use

Extremely efficient

Jam-release mechanism

Maneuverable
Now, if you're smitten by our previous recommendation, we suggest you don't make a decision just yet because the products keep getting better. Next up is the NuMax Nail gun, having numerous quality functions to make your job more comfortable in the workshed. There's a lot to like about it, so read on to find out more.
Why Did We Like It? 
For starters, it's a 21-degree pneumatic framing nailer featuring a sturdy yet lightweight construction. The body is made from magnesium, ensuring it can last a long time, but it also comes with an ergonomic handle for user-friendliness. You can use it for prolonged periods, thanks to the interchangeable trigger, having both single-shot and quick-fire function. 
There are numerous options at your disposal, allowing you to choose the size of the nails and the type of nail gun head. Moreover, it has the usual depth adjustment function to manage the output you get during various tasks. In that regard, the no-mar tip is highly effective and produces consistent results irrespective of the material. 
Needless to say, the NuMax nail gun scores high on the versatility meter, permitting you to use it for subfloors, sheathing, roof-decking, and wood-fencing. It has most bases covered and presents itself as an affordable option for construction purposes. 
What Could've Been Better? 
There are a couple of issues with the model; some users felt that the nail gun was slightly heavy. We understand that it's a personal choice and not a significant problem as you get accustomed to the weight with time. Apart from that, it tends to jam, leading to quite a few interruptions, which is an inconvenience. 
Pros
Dual-shot function

Versatile

Depth adjustment

Magnesium body

No-mar tip
Having discussed two feature-heavy models, it's time to turn our attention to the WEN Pneumatic Brad Nailer, which does away with the clutter. The designers have added only the relevant functions to keep things simple, which makes it extremely useful for producing precise results. No wonder it's on everyone's wish list.
Why Did We Like It? 
Straight off the bat, the 18-gauge brads are highly effective and deliver a substantial range during tasks. They vary from ⅜ inches to 2 inches and come in handy for working with different materials, which speaks volumes about the versatility on offer. We noticed that it has a ¼-inch NPT air inlet filling that can withstand pressure ranging from 60 to 115PSI. 
You'll especially love that it includes all the necessary components, making it convenient for everyday use. Among them, the depth adjustment wheel allows you to vary the output based on the task at hand. It's well-supported by the quick-release nail magazine, which can accommodate 106 nails for a seamless performance. 
There's also a nail gauge and a rotatable exhaust to make work more manageable while the nose latch reduces jamming. It clears nails efficiently, permitting you to complete work without any interruptions. Finally, it's easy to use, making it suitable for professionals and first-time users alike. 
What Could've Been Better? 
One feature that bothered us is the steel inlet, failing to form a tight connection. When you attach it to the air hose, it could lead to air leaking out profusely, which isn't an ideal scenario. So, you might want to switch it with brass inlets, but they need to be purchased separately. 
Pros
Nose latch

Prevents jamming

Nail gauge

Rotatable exhaust

Quick-release nail gun
Certain units convey a sense of power; the KIMO nailer not only conveys it but also delivers a power-packed performance. It has an abundance of energy that drives all the other functions while being easy to manage at the same time. We assure you won't be disappointed.
Sale
Why Did We Like It? 
First and foremost, it's a 2-in-1 tool, delivering both nailing and stapling functions without the need for a cord. You get more maneuverability during tasks to experiment from different angles for the best results. In that regard, the dual-mode toggle switch comes in handy, allowing you to quickly switch between sequential and contact-actuation modes. 
We love the option of adjusting the firing depth, thanks to the suitably positioned rotation knob. It allows you to vary the output depending on the task and use the nail gun with multiple materials. But the significant addition is that of the KIMO Li-ion technology, providing much-needed power and a longer lifespan. 
What's more, it weighs only 6.2lbs, delivering comfort as you work for long hours. You can use it in tight spots for precise performance, while the front-positioned LEDs are highly effective for working in dark areas. 
What Could've Been Better? 
It's slightly more expensive than other models, but we understand that KIMO was left with no choice given the range of functions. However, it won't be possible for many people to afford a costlier unit, meaning a section of buyers may miss out. But no need to worry as there are other available options. 
Pros
Lightweight

Compact

Gets into tight spaces

Front LEDs

Comfortable experience
DEWALT is a well-known brand that has been around a long time, thanks to the fantastic range of products. The DEWALT Nailer Kit is no different and is designed to reduce your effort in the workplace while producing the necessary results. So, it won't be challenging to make your projects stand out.
Sale
Why Did We Like It? 
The striking aspect of the model is that it's 100% battery-powered, making it more convenient than a gas-powered unit. There's no need to use a compressor or hose since it comes with all relevant components to produce the desired result. In that respect, you'll be pleased to note that it's compatible with most 20MAX batteries from DEWALT for a reliable experience. 
Apart from the usual features, DEWALT has done well to include LEDs, something rarely seen in other models. It means you can work uninterrupted, thanks to their multipurpose nature, providing illumination and enhancing tool diagnostics. 
Further adding to the smoothness is the tool-free selectable trigger, which has a dual-purpose. It comes with sequential or contact actuation modes for more versatility in your tasks, ensuring you can work on various projects. 
The significant addition is the low nail lockout mechanism, which prevents dry firing and damage to the material.
What Could've Been Better? 
It's heavier than some of the other models, so if you're accustomed to using a lightweight unit, it'll take time adjusting to this change. The other problem that we found is that noise from the motor is relatively high, which isn't ideal, leading to hesitation among buyers. 
Pros
Sequential and contact actuation modes

Versatile

The low nail lockout mechanism

Includes all components

Reliable
We're at the halfway point of our list, but there are several quality products we're yet to review. Next up is the BOSTITCH Nailer, which has made quite a name for itself, thanks to the multi-faceted nature of the model. Rest assured, you can produce the desired result to get your money's worth.
Sale
Why Did We Like It? 
We begin by discussing the large capacity, ensuring you can store 300 nails without any hassle. And not just any nail, but plastic inserted coil nails, making it convenient to carry out numerous tasks. Along with that, it works well with a wire weld due to the adjustable depth guide, producing a smooth experience. 
You'll notice it has an aluminum body, but that doesn't mean it's heavy. BOSTITCH has managed to keep the weight within reasonable limits, providing more maneuverability. As a result, you can work from various angles for the best results. 
But the significant addition comes in terms of the soft rubber foot, preventing damage to softer wood. It proves useful when working on intricate projects, delivering much-needed precision, which is in short supply. 
Apart from that, we must talk about the user-friendliness, made possible by the tool-free adjustable exhaust. It directs exhaust away from users, ensuring you get a seamless experience to work for long hours.
What Could've Been Better? 
Like some other models, it doesn't come with a carrying case, which is an inconvenience and leads to portability problems. You'll have to purchase the case separately, driving up the overall cost of the model. Apart from that, users report that it doesn't push the nail deep into the material. 
Pros
User-friendly

Soft rubber foot

Lightweight

Highly maneuverable

Adjustable depth guide
Cons
No carrying case

Lacks power
The Freeman Nailer has quickly climbed the charts to rank among the top products available out there. Even a cursory glance at the model leaves you coming back for more, and we assure you won't be disappointed. Much attention has been given to the details, leading to mostly positive responses from buyers.
Why Did We Like It? 
The most challenging thing for a manufacturer is finding the right balance between different functions without compromising on any aspect. This product from Freeman does so brilliantly, offering the perfect combination of sturdiness and maneuverability. It's lightweight but consists of a magnesium body with a sizable side-loading capacity. 
You can use it for extended periods, thanks to the ergonomic design, featuring a grip handle with a no-mar tip. Most users have expressed their admiration for the excellent versatility, making it suitable for sheathing, fencing, or decking installation. 
Another fantastic upgrade is compatibility, meaning it's convenient to use the tool with various nails. The nails can be driven deep into the surface, providing much-needed stability and consistent output daily. Finally, it's easy to use, which is sure to please first-time users and DIY enthusiasts alike. 
What Could've Been Better? 
To be honest, there are a few issues with the model. For instance, double firing is a cause for concern, which leads to the splitting of materials like cement or wood. As a result, you're likely to encounter interruptions at work, while the poor instructions make the depth adjustment function challenging to understand. 
Pros
Large capacity

Efficient

Versatile

Customizable firing depth

Easy to use
Cons
Depth adjustment is a worry

Double firing
We've discussed models having power, durability, and user-friendliness, so it's only right that we talk about the Metabo Nailer next. It's the ideal unit if you're looking for greater versatility, and it allows you to handle an array of tasks with ease. Most users have taken an active interest in what it offers. 
Sale
Why Did We Like It? 
There are several things to like about this model, so let's get right into it. You'll be pleased to note that this 21-degree framing nailer works with plastic collated framing nails, driving them 2-½-inch into the surface. Therefore, it's suitable for numerous applications like flooring, truss build-up, wall sheathing, and construction work. 
Apart from having multiple functions, the nail gun, weighing 7.5lbs is ergonomically designed. This offers significant benefits – reducing fatigue and allowing you to maneuver it from various angles for the best results. 
Other than that, the quick transition mechanism proves useful, ensuring you can use both sequential and contact nailing. In that regard, with help from the tool-less depth adjustment dial, you get a smooth experience. 
You get to use it for prolonged periods, thanks to its rubber grip, delivering much-needed comfort. It makes work more manageable, permitting you to get precision in your projects. 
What Could've Been Better? 
While the pointed nose has its advantages, Metabo has not added a nose cap, causing dents around the nails. However, it can be easily fixed by caulking, so there's no need to worry. Other than that, the weight is slightly on the higher side, meaning you need to make the necessary adjustments. 
Pros
Tool-less depth adjustment

Rubber grip

Smooth performance

Comfortable experience

Versatile
The Makita Nailer may seem like a simple unit but don't be fooled because it delivers a power-packed performance in most situations. But that's not the only good thing about it; Makita has added all relevant functions to meet your demands. It's easy to use and reduces stress at work.
Why Did We Like It? 
If you're looking for speed, you'll love what Makita has in store. Not only does it reduce time, but it also ensures you don't miss out on accuracy. The fast performance drives in the nails quicker, meaning you don't need to spend much time on a single project. 
We especially loved the large capacity air chamber, delivering more power during tasks. As a result, it won't be challenging to drive 148-inch nails to a depth of 3-½-inch. You can use it with most materials, and, in that regard, the lightweight design proves useful. Weighing around 8.3lbs, it's highly maneuverable from various angles.
Besides, to extend the longevity of the nail gun, the designers have introduced a solid-top loading aluminum magazine. It allows you to work with 21-degree plastic framing nails, meaning it scores high in terms of versatility as well. You'll get consistent output on most tasks, making it a favorite among buyers. 
What Could've Been Better? 
Although there's no let-down in output, we've received reports that it jams quite a lot, so some people might be hesitant about the purchase. Also, given the bulky build, it's challenging to use  in tight areas, a fact that won't please a section of buyers. 
Pros
Faster performance

Works with 21-degree plastic nails

Offers 3-½-inch drive depth

Powerful

Lightweight
Cons
Difficult to use in tight areas

Jams
Another quality option that's turning quite a few heads in the market is the WORKPRO Nailer, and with good reason. It offers the perfect combination of compatibility and sturdiness, while safe operations make it suitable for several users. Rest assured, you'll love all that it offers. 
Why Did We Like It? 
At the very outset, we must talk about its exceptional durability, delivering much-needed reliability. You can use it for a long time while, thanks to the aluminum body that can withstand a working pressure of 75-100PSI. 
But that doesn't mean it compromises on other aspects like comfort, and you'll find the ergonomically designed handle to your liking. You can work for long hours, and in that regard, attention to safety is of utmost importance. That said, the magazine pinching latch comes in handy to keep your hands safe while the quick jam release provides a smooth experience. 
Another significant improvement is the excellent compatibility, ensuring you can use it with ⅜-inch to 2-inch 18-gauge brad nails. Likewise, the designers have added a depth adjustment switch to make work more manageable. You get to choose from three different depth modes to decide the power in each shot. 
What Could've Been Better? 
We should tell you that there is a slight kickback from the model, and if you're a first-time user, it takes some getting used to. However, this isn't a big problem as it gets better once you start working. Besides, the price is on the higher side, which is a let-down. 
Pros
Highly compatible

Safe-release latch

Quick jam release design

360-degree adjustable exhaust

Versatile
Cons
It takes time getting used to

Higher price
If you're a DIY enthusiast, you'll love working with the NEU MASTER Nail Gun, and we guarantee it'll be a valuable addition to the workshed. It has many similarities with some of the other units, but more importantly, the designers have made the required upgrades. So, we couldn't help but add it to the list.
Why Did We Like It? 
At the very outset, you'll be thrilled by the remarkable range it delivers, giving it an edge over other models. We're talking about 800 pieces of nails included with it, allowing you to punch close to 200 of them on full charge. 
We found that the 2-in-1 staple gun doesn't require any additional equipment like hoses or compressors, making it highly convenient. You won't have trouble getting consistent results, allowing you to use it for numerous tasks like carpentry, picture framing, roofing, or drywall installation. 
Plus, the inclusion of the non-marring rubber hose delivers much-needed precision. Therefore, you can make your projects stand out while the ergonomic soft-grip handle ensures that long working hours are possible. 
Staying on the topic of user-friendliness, we must mention the adjustable power function that helps complete most tasks quickly. You won't feel overpowered, permitting you to focus on the finer aspects. 
What Could've Been Better? 
The main issue is that it isn't suited for heavy-duty applications because the capacitor needs improvement. It doesn't deliver much energy, making it difficult for you to penetrate the nails deep into the surface. Also, it may not work well with all circuits, so you need to be vigilant. 
Pros
Versatile

Doesn't require additional equipment

Non-marring rubber nose

Soft-grip handle

Adjustable power function
Cons
Performance may fluctuate on specific circuits

Not suited for heavy-duty purposes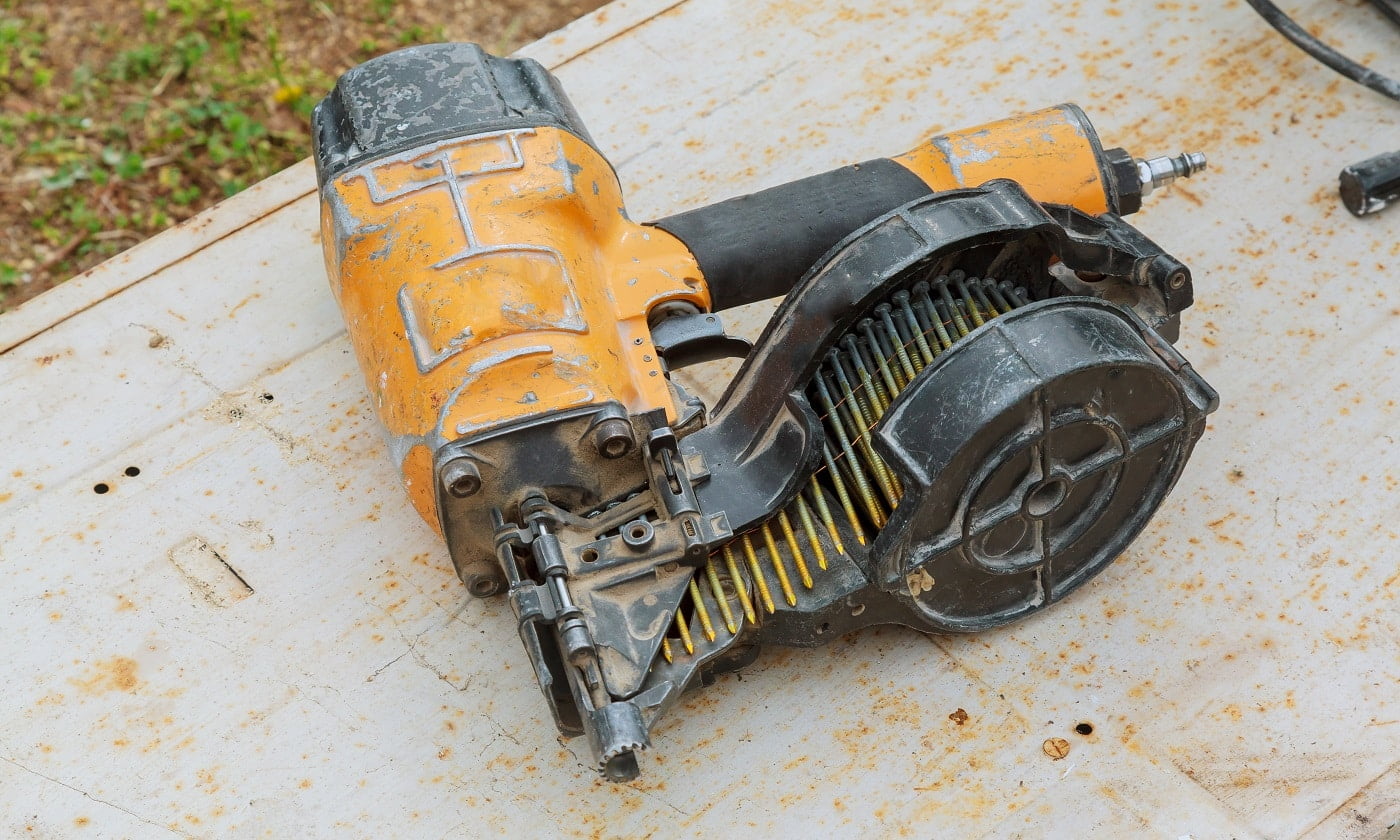 Fencing Nail Gun Buyer's Guide 
Having gone through our reviews, it's time to highlight certain indispensable aspects of a nail gun. We suggest you note the points mentioned below to make an informed decision. 
Ease of Use 
Any tool should be easy to use, and the designers need to build the unit, keeping both seasoned professionals and first-time users in mind. The easier the nail gun is to use, the more convenience you get at work. It will allow you to complete projects faster and produce the desired accuracy. 
Price
Secondly, the price is an essential factor, and one of the first things buyers see. There are numerous options available out there, and very often, you may not want to spend an exorbitant amount on a particular model. So, the designers have to find a way to add the relevant functions while keeping the cost within reasonable limits. 
Sturdiness
Finally, we must add sturdiness to the list because what's the use of any tool if it doesn't last a long time? Users demand quality from the products they purchase, bearing in mind the demands of daily use; a nail gun needs to be robust.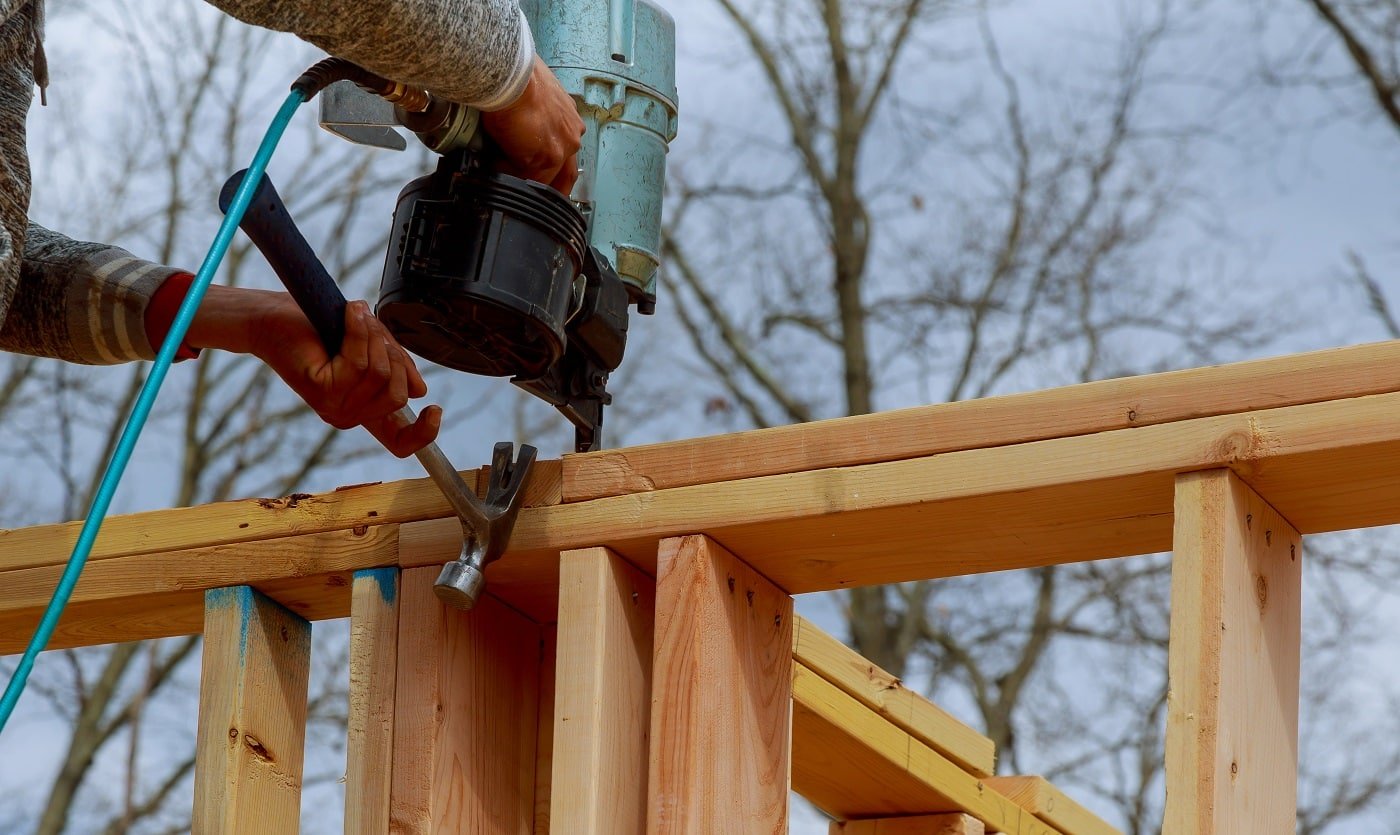 Verdict
Those were our picks of the top nail guns, but there are a few things we need to discuss. 
Before signing off, we've decided to assist you a bit more by mentioning our personal favorites in different categories. For instance, the PORTER-CABLE Nailer Kit delivers the best overall performance, but there's none better than the NuMax Nail Gun in terms of power. 
Apart from that, the WEN Pneumatic Brad Nailer outperforms other products to deliver outstanding precision in your tasks. Well, that's everything we needed to cover; hopefully, you've acquired a better understanding to make an informed decision. 
Ask yourself about the tasks for which you intend to use the nail gun; the answer will help eliminate all unnecessary options. That's all for now. See you soon and always wear a mask because you can't work if you fall sick. 
So, bye, take care!
Related Article
Freeman PFR2190 Framing Nailer Review + Buyer's Guide
13 Best Finish Nailers for Woodworking
What Size Nails Do You Need for Framing?
Pin Nailer vs. Brad Nailer 101 | Key Differences, Advantages & Disadvantages
37 Awesome and Cheap DIY Pallet Fence Ideas to Realize Swiftly