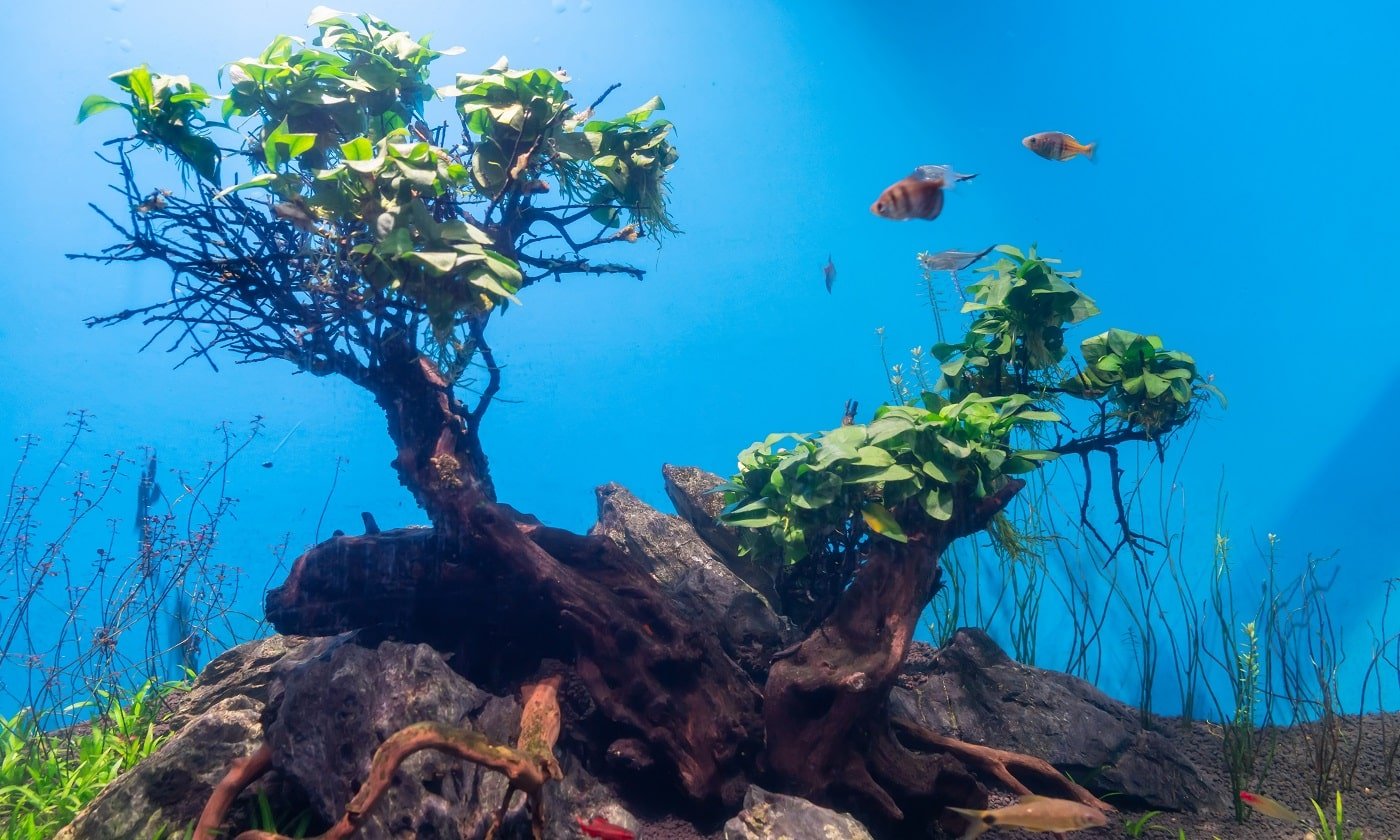 Want to relax after a long day at work looking at the corals and colorful fish? How about getting a nano reef tank for a cozy corner of your room? 
Reef tanks are fascinating if you love the beauty and mystery that marine life offers. These tanks have become quite popular and affordable over the last decade. They are great to house both freshwater and saltwater color fish. However, when it comes to choosing the best one, it is not an easy task. 
The market is filled with thousands of options, and deciding on the perfect one might seem like a challenge. So, in order to help you, we have formulated this guide with a detailed description of the top ten nano reef tanks. You will also find a buyer's guide attached at the end of the guide.
So, without any more delay, let's check them out!  
Best Nano Reef Tank 
IMAGE
PRODUCT
DETAILS

Our Top Pick

Our Top Pick

Coralife LED Biocube 100530106

Available in black color
Square-shaped tank
Includes built-in LED lights

VIEW LATEST PRICE →

MarineLand Contour ML90610 Glass Aquarium Kit

Energy-efficient option
Weighs 8 pounds
Square-shaped tank

VIEW LATEST PRICE →

GloFish NV33823 Aquarium Kit Fish Tank

Includes 3-stage filtration system
LED lighting
Available in multiple sizes

VIEW LATEST PRICE →

Fluval Sea Evo V 10531A1 Saltwater Fish Tank

Available in multiple sizes
Rectangular in shape
Includes aluminum casing

VIEW LATEST PRICE →

Tetra ColorFusion NV33822

Rectangular shaped tank
Includes color fusion LEDs
20-gallon capacity

VIEW LATEST PRICE →

FREESEA 1.2 Gallon Betta Aquarium Fish Tank

Available in both black and white color
Square-shaped tank
Included LED lights

VIEW LATEST PRICE →

Hygger Horizon 8 Gallon LED Glass Aquarium Kit

Includes 3D décor
Comes with LED lights
Broad view curved shape tank

VIEW LATEST PRICE →

biOrb 45653 Halo Aquarium

Available in multiple sizes
Unique round shape
Made of acrylic material

VIEW LATEST PRICE →

Hygger Small Betta Fish Tank with LED Lighting

4-gallon capacity
Made of plastic and glass
Includes submersible water pump

VIEW LATEST PRICE →

BioCube Coralife Size 32 LED Aquarium

Glass construction
Includes 32 LEDs
Comes with an upgraded stand

VIEW LATEST PRICE →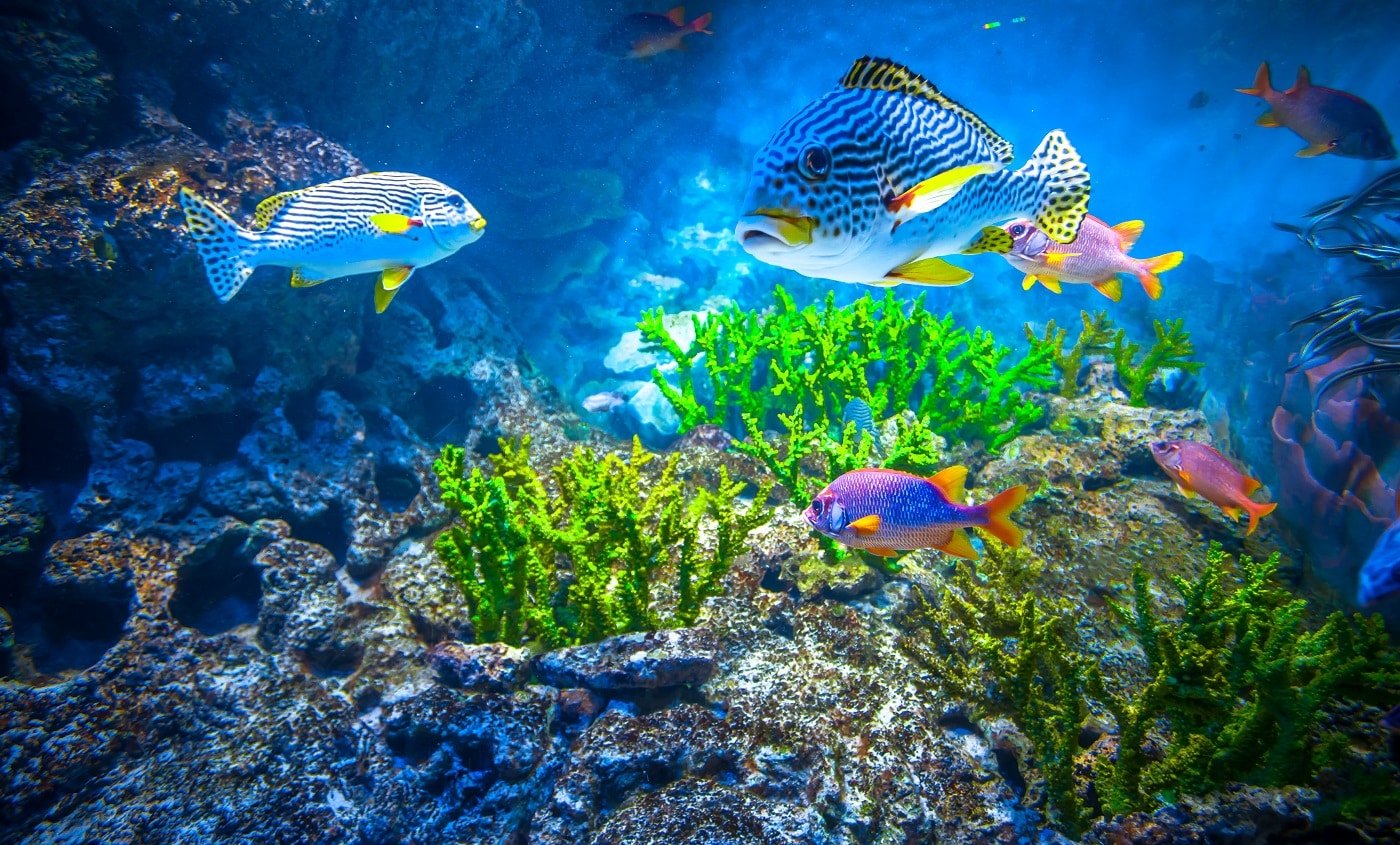 Are you new to reef tanks and want to experiment with an incredible mid-sized variant? Then the Coralife LED Biocube 100530106 could be the best bet for you. With stellar looks and excellent performance, it has managed to impress many users who have given it a try. Let's take a dive and see what this product is offering.
Sale
Why Did We Like It?
The first thing that we noticed about this item is the beautiful square-shaped tank that is made of glass and curved at the corners. This gives you a better view of the fish in the tank and enables you to notice if there's some abnormality immediately. 
The back panel is also made of clear glass, which makes it convenient to add a refugium. Another thing to note is the glass quality. Although it is impossible to ensure zero scratches on the glass, any sort of wear and tear will be at a minimum with this product.
Moreover, to amplify the beauty and increase the tank's visibility, there is an in-built hood with an LED light installed in it. It is perfect for corals and mostly all other types of reed species as it comes with actinic moonlight and a timer. The customizable filters allow you to raise a range of SPS corals too. 
What Could've Been Better?
There is hardly any complaint that we have with how well this item performs. However, we noticed that it was a little loud. The noise is specifically audible during the night when the room falls silent. We recommend that you do not keep the tank in your bedroom. 
Pros
Attractive design

See-through glass on all sides

Suitable for a range of corals

Easy to clean
MarineLand is a popular name in the market, and their product, the Contour ML90610 Glass Aquarium Kit is an excellent option when it comes to fish keeping. It is highly efficient in creating the most suitable environment for marine life to thrive. With this device, you will face no trouble feeding the fishes and raising them becomes super convenient.
Why Did We Like It?
The LED light in the tank is quite notable as it adds to its beauty and highlights the marine life in it. However, even if you keep the light switched on throughout the day, you need not worry about wasting electricity. The LEDs are highly energy-efficient and thus are pretty cost-effective. They are mounted in such a manner that the light gets distributed equally in all corners of the tank. 
Additionally, this tank is easy to use. Unlike many tanks where you could face difficulty removing the canopy to feed the fishes, this one is relatively simpler. The glass canopy slides smoothly over to the rear end of the tank through which you can feed the fishes and check the water condition. 
Furthermore, maintaining the best water quality inside the tank is crucial to ensure a thriving marine life. And this product helps you do that in the most efficient fashion. The adjustable filter pump in this device adds to its overall convenience. 
What Could've Been Better?
After using it for a few months, there's one downside to this product that we noticed. Cleaning seems to be quite a challenging task. The placement of the filter motor is such that it gets a little difficult to access. So, we suggest that you keep this in mind on your cleaning day and reserve some extra time for this. 
Pros
Premium-quality performance

Stylish design

Easy to use

Helps to maintain good water quality
Cons
Cleaning is time-consuming
Looking for a colorful and lively reef tank to enhance the stellar décor in your house? Look no further; you are at the right place! The GloFish NV33823 Aquarium Kit Fish Tank is a great choice if you like having a creative and fun aquarium in your room.
Why Did We Like It?
One thing we can say is that this tank is an excellent choice for hobbyists, beginners, and professionals alike. Simply put, it is so easy to use that irrespective of your level of expertise in working with aquariums, you will not face any difficulty in maintaining this one. 
Moreover, the LEDs that are attached to the tank are pretty versatile and come with customizable functions. Depending on the time of the day, you can either shift it to white or yellow light, based on your preference. 
Plus, the filtration system of this tank is quite noteworthy. It is not a single-stage filter. Instead, it is a 3-stage filtration process that provides the most potent combination of biological, mechanical, and chemical filtration for the aquatic lives in the tank. 
What Could've Been Better?
The performance of this product is undoubtedly top-notch. However, there's one thing that calls for improvement. The connecting plug is a little short, and therefore you need to put your tank very close to the power source. Or you can make use of an extension cord to tackle the problem. 
Pros
Easy for everyone to use

LEDs add beauty to the tank

Water filtration is incredible

Simple cleaning process
Next up on our list, we have the Fluval Sea Evo V 10531A1 Saltwater Fish Tank, which is best known for its sleek and modern design. The aluminum casing adds to the elegance of the tank and turns it into a décor item for your living space.
Sale
Why Did We Like It?
When it comes to looks, this one will surely grab your attention. The manufacturers have spent a good deal of time and effort in perfecting the design. And now, this stands as one of the most attractive choices under the 20-gallon category. It is mainly the honeycomb design pattern that makes it stand out amongst its contemporaries. 
Additionally, if you are thinking of raising corals, this tank can be an ideal fit. The hooded LED lights are highly efficient and suitable to help the corals thrive. The actinic moonlight setting further helps in the process. 
On top of that, the kit is quite well stocked and adjustable if you want to add other products like protein skimmers and water heaters to help the aquatic life survive better. You do not have to buy any tools or instruments separately to ensure this. 
What Could've Been Better?
Once again, we did not find any significant downside to this. However, after a few weeks of using it, we noticed that the rear end's filter compartment is a little small. And in case you have big hands, you might find it a little hard to reach. To avoid minor injuries, we suggest that you wear gloves whenever maintenance is required.
Pros
Unique honeycomb design

Well stocked kit

Can be used with other aquarium products

Great for raising corals
Cons
Filtration compartment is relatively tiny
If you are looking for a vibrant and well-performing aquarium that can bring the décor of the room a notch higher, then you are at the right place. The Tetra ColorFusion NV33822 is an excellent choice for hobbyists and professionals alike. It is packed with essential features that will help the corals and fish survive the best. 
Why Did We Like It?
We could not help but notice how well the manufacturers have designed this item. The 20-gallon reef tank is ideal for those who want an aquarium to accentuate the décor but does not want it to take up much space. This size is perfect for accommodating multiple fish without occupying too much space in the room. 
Moving on, setting up this reef tank is a no-brainer. The user manual is extremely well laid out and takes you to step by step through the process of setting it up. So, even if you are installing it for the first time, you will face no difficulty doing it. 
Plus, the kit is exceptionally well-stocked. Apart from the tank, there's one UL heater, filter, energy-saving, and color-changing LEDs, and 2 Wonderland plant multipacks included in the package. You will not have to incur any extra expenses to buy any essential tools. 
What Could've Been Better?
Even though the package includes a thermometer that helps you keep a check on the water temperature, there's a small glitch. It is a little too big and tends to stick out of the tank. We suggest that you be careful while walking around it. 
Pros
Exceptionally well-designed

Compact size

Includes detailed user instruction

Comes with all essential accessories
Cons
Size of the thermometer is too big
FREESEA is a popular name in the market, and for years they have been making top-quality fish-keeping tools and accessories. Their 1.2 Gallon Betta Aquarium Fish Tank is one of the best out there and plays a significant role in enhancing your room's beauty once you install it.
Sale
Why Did We Like It?
The first thing that we noticed about this item is how it adds a pleasant feel to the room. Its visual aesthetic is totally on point! The tank includes decorative LED lights and some artificial aquatic plants that make you feel very calm when you look at it.
While the kit contains all the essentials, you can always add more items suited to your preference. Feel free to unleash your creativity!
Moreover, as we have mentioned before, this item is a stellar performer. It comes with an excellent filtration system that keeps the water in the tank speckles and maintains the best condition inside. The filtration system is well-hidden from view and placed behind the tank to not ruin its aesthetic value. 
Plus, they offer incredible customer support. You can reach out to them 24×7 in case there's some maintenance issue to resolve or if you need help setting it up. 
What Could've Been Better?
Powering this item might seem a little challenging to some. We noticed that the cord is short, and you have to ensure that there is a charging point close to the tank. Otherwise, you can use an extension cord to power it easily. Even the USB that is included in the pack comes without an adapter that you might have to purchase separately.
Pros
Designed exceptionally well

Highly efficient filtration system

Responsive customer service

Easy set-up process
Cons
Power cord is not long enough
If ease of use and functional design are your major lookouts, we suggest that you check out the Hygger Horizon 8 Gallon LED Glass Aquarium Kit. This is a good option if you are a hobbyist or someone interested to give fish keeping a try.
Sale
Why Did We Like It?
As we have mentioned before, this kit is extremely easy to use. Setting up is a cakewalk because of the detailed instruction guide that you get with the package. Even cleaning and regular maintenance are pretty cost-effective and straightforward. 
Moreover, you do not need any added accessories to set up this item. It requires no special stand, and the cushioned bottom of the tank prevents it from sliding off. Place it on any table that you fancy, and you are good to go!
And the best thing about this is the 3D background décor. It is stuck to the back of the tank with water-proof glue, and it makes it look like a dreamy underwater world. This provides an excellent playground for small fish and shrimps and brightens the aquarium, making it look more lively. 
What Could've Been Better?
While using this, there's one thing that you need to keep in mind. The filtration system is quite strong and is not very suitable for small betta fish. We recommend that you turn down the power of the system or avoid putting tiny fish in the tank. 
Pros
Maintenance is simple and cost-effective

Brilliant design

Cleaning the tank is quite easy

Simple installation process
Cons
Filtration system not suitable for small fish
No one can deny that the biOrb 45653 Halo Aquarium is one of the most compact and beautiful reef tanks that you can get your hands on. It is a circular glass ball that can be a great gift as a home décor item. Your fish will become healthy and survive well in this tank. 
Why Did We Like It?
Feeding the fish will no longer be a hassle with this product. There's no need to slide off the heavy glass or turn off the tank when you put the granules. This item comes with a hinged lid that gives you easy access. The feed hole is covered with a silicone plug, and you do not have to worry about the water evaporating fast. 
Plus, the design of this tank is such that the waterline is not visible. The circular shape of the aquarium conceals the water line completely. Similarly, the airline is placed at the bottom of the tank and discreetly goes to the back of the aquarium. 
Additionally, the simplicity involved in operating this item is incredible. It has non-slip feet at the bottom that enable you to place the tank anywhere you like without fearing that it might slip. 
What Could've Been Better?
The only downside that we noticed about this item is that sometimes it gets a little challenging to work with a magnetic lid. If you decide to put more accessories in the tank, such as submersible water heaters, the chances of the lid remaining open are rather high. 
Pros
Easy to use

Cleaning is quite convenient

Water does not evaporate easily

Waterline and airline are well concealed
Cons
Big accessories may not fit in
We have almost reached the end of the list, and next up, we have the Hygger Small Betta Fish Tank with LED Lighting. It is a compact and vibrant fish tank that can be a good fit even for small desktops, office spaces, or countertops. This nano reef tank can be an excellent gift for family and friends.
Why Did We Like It?
What we liked best is the lighting in the tank. It comes with smart LED lights that get switched on with just a simple touch on the screen. The digital numbers are placed right on the aquarium lid, so it is easy to access them. 
Moreover, there are four lighting modes that you can enjoy. During the daytime, you can keep it shimmering white and shift to a relaxing moonlight at night. If you are feeling quirky, the blue and green options are great too. 
Plus, operating the item is pretty straightforward. The lid is actually a lightweight plastic canopy that can be removed for easy access and feeding the fish. This also makes regular maintenance work simpler and less time-consuming. 
Additionally, the digital thermometer placed in the tank is quite easy to read and gives you a correct reading of the water condition to ensure the fish's good health. 
What Could've Been Better?
While using it, you need to know that this tank is not made for small betta fish. The current produced by the filtration system is too strong for their tiny bodies. Take note of this to avoid any fatal accidents. 
Pros
Great lighting technology

Comes with energy-saving features

Helps maintain correct water temperature

Easy to feed the fish
Cons
Not suitable for small fish
The BioCube Coralife Size 32 LED Aquarium is the final product on our list, and there's no way we could have wrapped up without mentioning it. The design is a unique amalgamation of everything sleek and magnificent. It is quite a conversation starter too.
Why Did We Like It?
The first thing we noticed about this item is its design. It comes with a sleek framing, and that, combined with a modern design, makes it stand among other decorative pieces in your room. 
Moreover, you do not have to manually change the lighting at different times during the day. The lid is integrated with LED lights that offer different color modes. Depending on the timing and your preferences, you can modify the light settings. 
Additionally, the filtration system in this tank is entirely customizable. So, depending on the kind of fish or corals that you want to keep, go ahead and set the system's power accordingly. This would help you prevent any form of probable accidents that might be fatal to the fish. 
What Could've Been Better?
The only downside to this product is that the protein skimmer included in the pack is of poor quality. Indeed, the kit is well stocked; we couldn't help but feel that the quality of the skimmer could have been better. 
Pros
Incredible design

Can accommodate different types of fish

Adjustable LED lights

Safe for fishes
Cons
Protein skimmer calls for improvement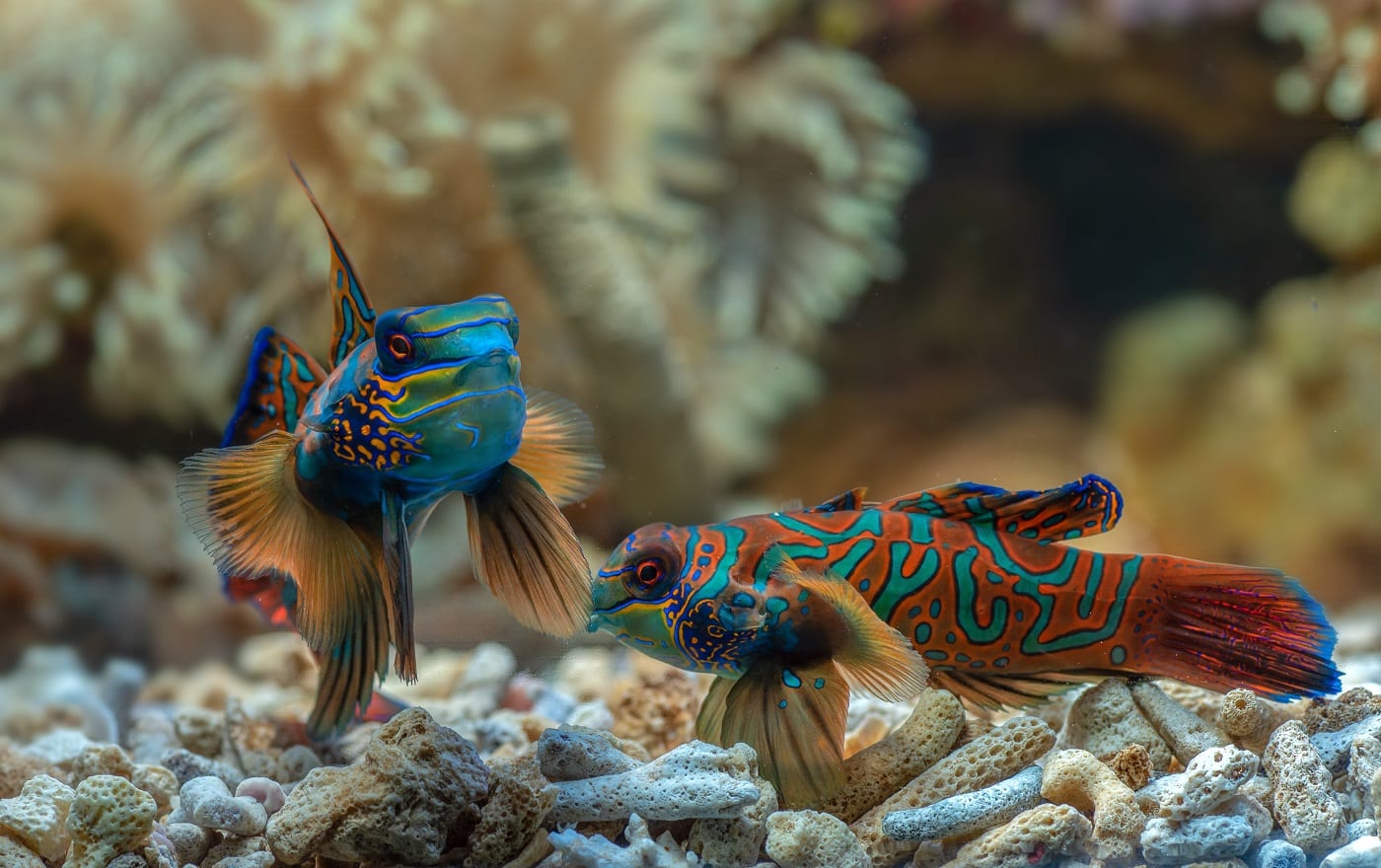 Nano Reef Tank Buyer's Guide
Now that you have read about the top 10 nano reef tanks, were you able to make a choice? Well, we know it is not so simple. Just knowing about the products' features is not enough to help you make the best call. 
There are a few other factors that need to be taken into consideration. And in this section, we are discussing them in detail to help you make an informed decision. So, let's check them out!
Tank Shape And Size
This is one of the most important considerations before you decide on an option. The size of the tank directly affects the health of your fish. If you already know what kind of fish or coral you want to keep, it is better to select a tank accordingly. 
Note that a bigger tank is better if you want to house more fish and is highly suitable for corals.
The shape of the reef tank is also quite crucial. Mostly, the common types either come in squares or cubes. We have noticed that people tend to opt mainly for the cube-shaped ones since they look more attractive. 
Thus, we suggest that you can go for a large nano tank unless space is an issue and keep adding new fish as and when you like. 
Lights
Lights add beauty to the reef tanks, and you should always be careful on this front. Not just that, in case you are housing corals in your tank, their growth and color are highly dependent on the kind of light that's present in the tank. 
If you are keeping saltwater corals, you will need a high color temperature warm LED lighting system. And in case you are going for freshwater marine life, you will require a low-temperature LED to support their growth.
In the list mentioned above, you will find options that come with adjustable LED color settings. You do not have to stick to just white or yellow; you can play with other colors, like blue and red. However, always keep in mind to go for energy-saving options to make sure that the power consumption does not hit the roof.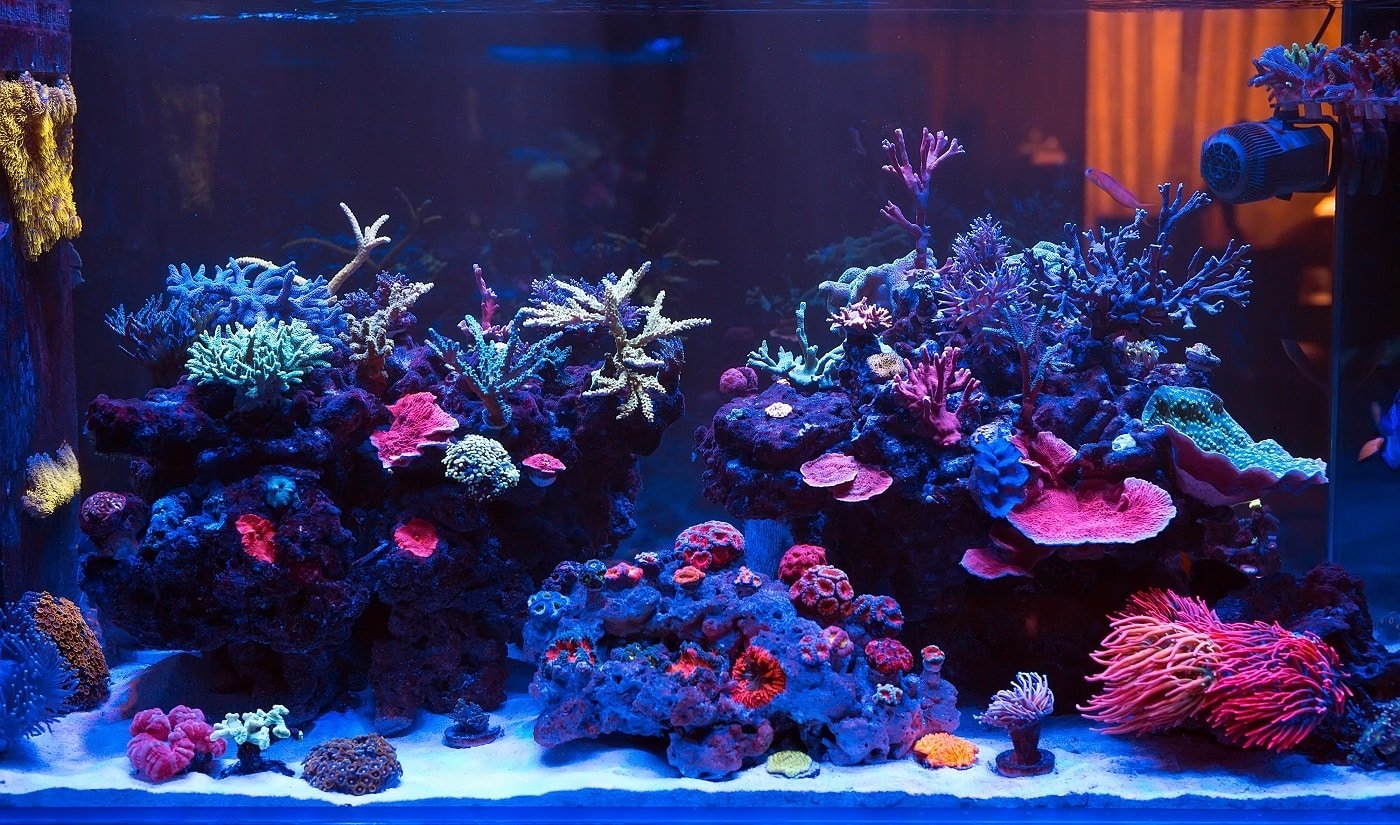 Final Words
With that, we have reached the end of this comprehensive guide reviewing the top nano reef tanks of the year. And we hope you enjoyed reading about it as much as we enjoyed compiling all the information for you. 
But before we take our leave, we would like to let you in on our favorites. The award for the best item overall goes to the Coralife LED Biocube 100530106. If your primary lookout is the ease of use and stellar looks, then the MarineLand Contour ML90610 Glass Aquarium Kit is a great choice. 
And if you want to get your hands on a tank with fantastic LED lighting, the GloFish NV33823 Aquarium Kit Fish Tank is an excellent consideration. Keep a watch on this space for more such interesting reads. 
And that's a wrap. Until next time, take care!
Related Articles
11 Best Aquarium Safe Silicone
11 Popular Small Saltwater Fishes You Need to See