There's a good reason why orchids are thought of as unique flowers. If you plan on growing them, it's essential to find the right pot.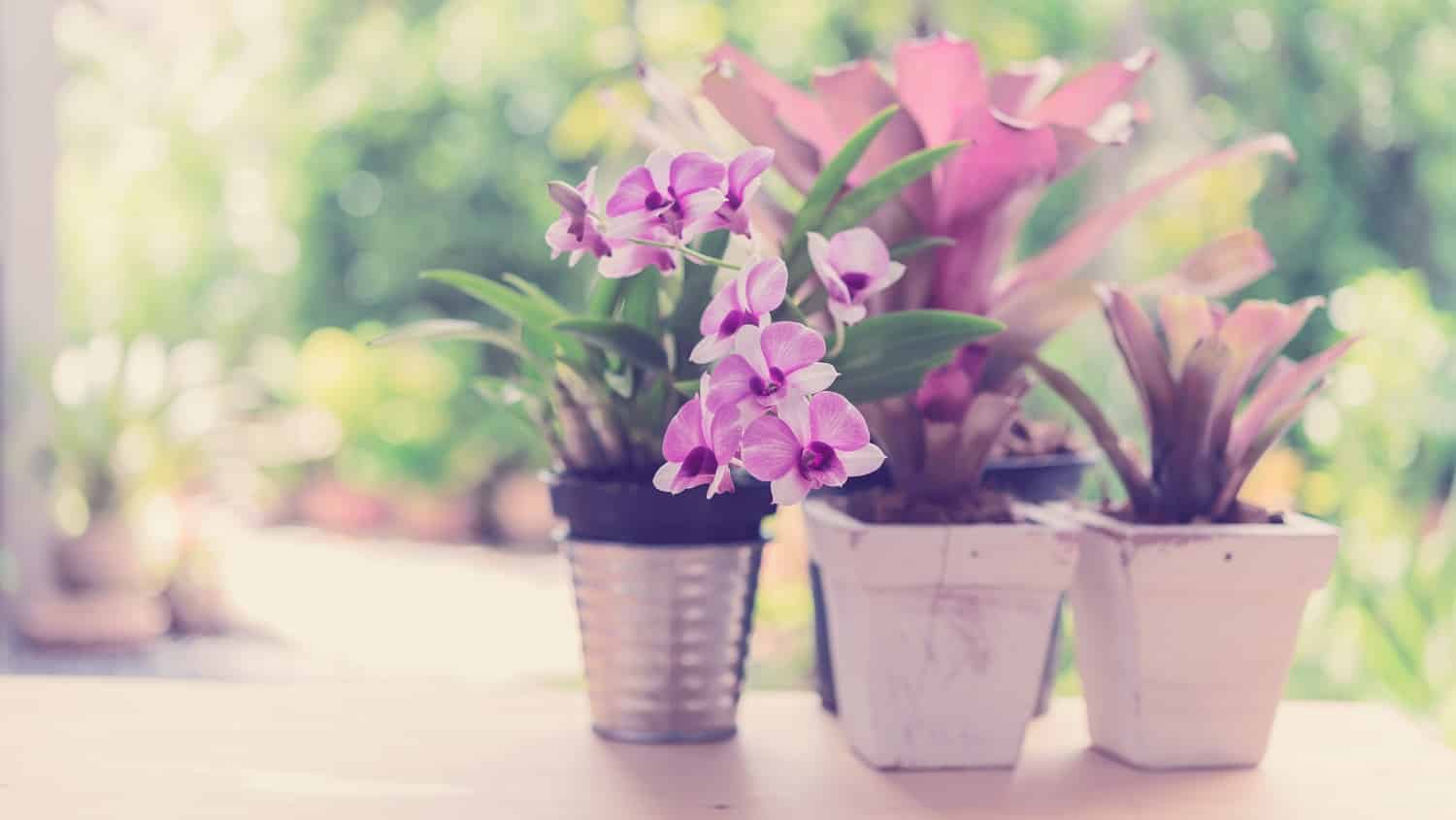 When people think of growing beautiful orchid plants in their home gardens, rarely do they think of the kind of pot they'll need. However, orchids can be difficult to grow if you don't provide them with the right conditions.
Orchids require adequate ventilation, space to spread their roots, and excellent drainage. Keeping these factors in mind, you need to select the right flower pot for them to thrive in. Fortunately, we have curated a list of our top 8 recommendations for the best orchid pots this year.
We understand how overwhelming the search for the right orchid pot can be. Well, you can bank on us to provide you with some of the best ones in the market.
So without further ado, let's get straight to the deets!
Best Orchid Pots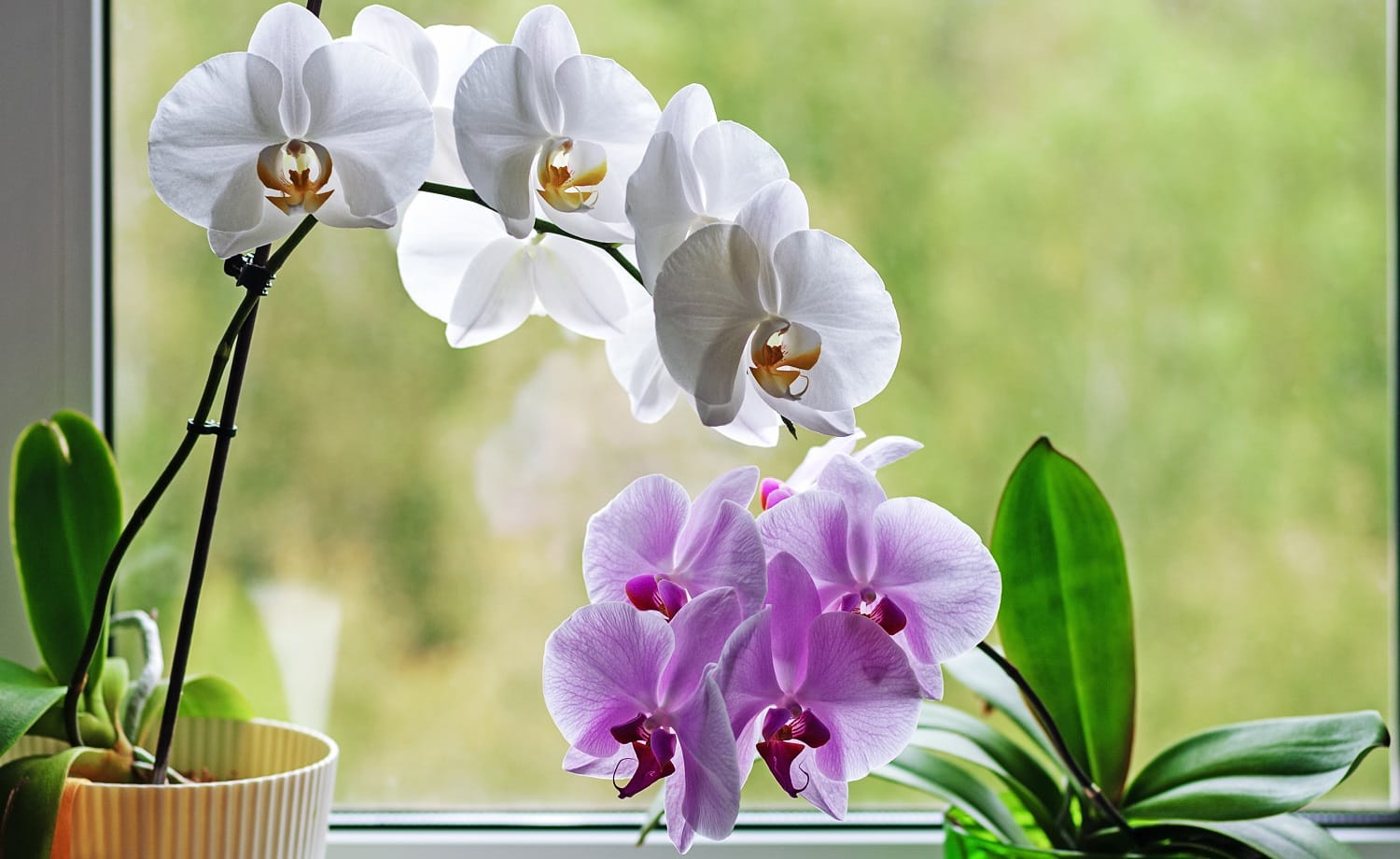 Here is the list of the 8 best orchid pots that you can use to house your orchid plants and give them a well-suited home.
If the thought of a messy orchid pot is turning you off, our next recommendation might be your ideal option. This orchid pot features not one but two pots - the inner pot is mesh while the outer pot is solid. It virtually eliminates messy soil and water puddles.
Why Did We Like It?
Our only gripe with the previous recommendation was the fact that watering could get messy at times. If you do not want to deal with a messy situation, then this orchid pot is excellent.
The product features an inner and outer pot made of durable, heat-resistant plastic. The inner pot contains holes to allow proper ventilation and space for the plant to grow freely. The outer pot can be placed to encourage drainage without creating a mess while doing so.
The solid build of the outer pot continually collects any water and debris. You can efficiently manage the mess by washing the outer pot thoroughly every week or so. Moreover, there is a small space between the inner and outer pot to allow adequate ventilation.
When orchid roots are not allowed to spread out and grow freely, they circle each other, making tangles and knots. To prevent that, this orchid pot features slits and holes, promoting healthy root growth. 
What Could've Been Better?
The outer pot has been designed with fewer holes at the bottom just to allow air circulation and drainage. However, this can defeat the purpose of having a solid outer pot for some users, as minimal dripping can still occur.
This can be cleaned up easily, though, as the drainage from the outer pot is minimal.
Pros
Sturdy and durable design

Promotes growth and ventilation

Convenient size

Colorful options
Cons
Outer pot could have been completely solid
Size: 8" | Color: Black | Shape: Round | Material: Polypropylene (PP)
For our next recommendation, we bring to you the ClearPots Plastic Orchid Pot. As the name suggests, this orchid pot has a transparent body and a raised center with holes, allowing proper ventilation and drainage. This design also helps eliminate stagnant water from the pot, enabling your orchid plant to thrive.
Sale
Why Did We Like It?
One of the best things about this clear orchid pot is its transparent body. This simple design factor allows you to note your orchid plant's growth while being careful about over and under-watering it. Moreover, the clear plastic design allows sunlight to penetrate through, which is essential for proper growth.
The 6-inch, round plastic pot is the perfect size for growing an orchid plant. While it's not too large for any home garden, neither is it too small. The 1-inch raised center enables proper ventilation and also removes stagnant water from the pot.
Finally, the holes at the bottom of the pot are extremely important for drainage. As you might already know, orchid plants require a lot of care, water, and sunlight to thrive. They also need proper drainage, as over-watering can damage the plant.
The raised center design helps with all of this in a simple and efficient manner. Lastly, this plastic orchid pot is affordable and durable, making it an ideal choice. 
What Could've Been Better?
Although the design of this plastic orchid pot is solid with holes at the bottom, there is one thing that could have made it better. Adding a few holes or slits along the side body of the pot could have allowed even better ventilation and let the roots to spread out further.
Pros
Transparent design allows sunlight to penetrate

Lightweight and portable

Affordable option

Enables drainage and ventilation
Cons
Holes on the side body could be added
Size: 6" | Color: Clear | Shape: Round | Material: Plastic
Are you tired of using boring old orchid pots that just look dull in your home? Well, our next recommendation might be just the product you were looking for. This plastic orchid pot comes in an array of striking colors. But that's not all; its unique design gives it a stunning appeal in any home.
Why Did We Like It?
First and foremost, the unique colors and design of this product struck us instantly. The blue turquoise color was particularly stunning and managed to look good, fitting into all kinds of home decor themes.
Coming to its design, this orchid pot features vertical tines placed at a periodic distance from one another in a carousel design. Moreover, it comes with a matching detachable saucer that enables the collection of dripping water and other debris.
Since there are no horizontal bars or holes in this pot, it allows maximum ventilation, drainage, and sunlight to penetrate freely. Although it is incredibly lightweight, it is also super durable and robust.
When your orchid plant grows too big for this 5.25" pot, repotting becomes a breeze. Simply lift the plant gently and place it into a new pot, using the old one for yet another baby orchid! 
What Could've Been Better?
If we talk about the orchid pot, we don't really have any issues with it other than the fact that it's really tiny! However, we also thought that this product was slightly expensive, especially for its small size.
Pros
Allows easy repotting

Lightweight yet sturdy

Detachable saucer allows design options

No root rot due to the design
Cons
Slightly expensive compared to competitor brands
Size: 5.25" | Color: Blue Turquoise | Shape: Round | Material: Ceramic, Plastic
If the smaller-sized orchid pots just aren't cutting it for you, maybe you need to consider a slightly larger one. The plastic pot features two pots - an inner mesh one and an outer solid one. The outer pot is matte white, giving it a classy and elegant appeal.
Why Did We Like It?
Many orchid lovers out there want a simple pot that will draw all the attention to their beautiful plants. Well, this plastic white orchid pot does just that - and a little bit more.
This pot measures almost 7 inches in height and is made of high-quality PP plastic. Its inner pot features a net-like design, enabling adequate ventilation and draining of the orchid plant. On the other hand, the outer pot features a matte white solid body, capturing any dripping water and debris efficiently.
Both pots have small holes at the bottom for proper drainage, which is extremely important for orchids to thrive. The design of the pot allows maximum sunlight to penetrate and keep your orchid healthy and growing.
The vertically slotted design of the inner pot allows the lateral roots of the plant to grow effectively. It eliminates root struggle and is an ideal design for the plant to thrive in. 
What Could've Been Better?
Thanks to the aesthetic white color of this pot, it is prone to catching dirt and dust. This might ruin the aesthetics of the orchid pot over time. However, cleaning it off is effortless - a damp rag will do the trick.
Pros
Double layered design

Sturdy and durable

Included saucer

Ideal height for medium-sized orchids
Size: 6.3" | Color: White | Shape: Round | Material: PP Plastic
If you're into ceramic pots, then consider the Allen + Roth Orchid Pot. This beautiful pot comes in a classy white color and weighs just about 1 pound. Its aesthetic appeal makes it perfect for placing in any room of your house.
Why Did We Like It?
Let's get straight to the point - this ceramic orchid pot is exceptionally aesthetic. Its white-colored body gives it an elegant and luxurious appeal, making it fit into any room you put it in. Moreover, the flower-shaped cutout holes offer ventilation and circulation and add to its aesthetic appeal.
Moving over to its functionality, this ceramic orchid pot has a diameter and height of 8 inches. This makes it perfect for your indoor, medium-sized, orchid plants. The strategically placed cutouts ensure that your fussy plant gets enough drainage, sunlight, and air to help it thrive.
There is also a small saucer attached to the bottom of the orchid pot. This has been designed to capture any excess water, soil, or debris that falls through the potted plant.
The depth of this orchid pot makes it a perfect buy for small to m 
What Could've Been Better?
In terms of aesthetics, this orchid pot is absolutely stunning. However, the flower-shaped cutouts are not entirely practical, as soil may fall out through the holes more often than you would think. It's easy to fix, though - using a few strategically placed stickers or using moss to seal the holes.
Pros
Aesthetic design

Easy to move around

Attached saucer

Great for air circulation
Cons
Cutout holes might cause the soil to fall out
Size: 8" | Color: White | Shape: Round | Material: Ceramic
If you liked one of our previous colored plastic orchid pots, you would love the color options available on this product. These slotted clear orchid pots sold by rePotme are available in 4 beautiful color options. The strategically placed slots provide excellent drainage and ventilation without allowing the soil to drop out of the holes.
Why Did We Like It?
Not everyone likes black, white, and transparent orchid pots. Some plant lovers prefer beautifully colored pots that add aesthetic beauty to a spot. Well, these plastic orchid pots come in an array of stunning colors that add aesthetic appeal to any room you put them in.
The pack of 8 orchid pots features different sizes for different orchid plants. Whether you are just starting to raise a small orchid plant or planning on transferring it to a medium or even large-sized pot. You don't need to worry about the hassle of buying more pots once your orchids grow out of their current ones.
We also appreciated the strategically placed cutout holes. They are designed to optimize ventilation, allow sunlight to penetrate, and facilitate drainage. However, the slots are not too large, causing the soil inside to spill out of the holes.
Lastly, the pots are UV protected, which is a great bonus.
What Could've Been Better?
In terms of build quality and design, these orchid pots are excellent. One minor design flaw we noticed was the fact that the pots do not taper at the bottom.
This design doesn't allow you to place the pots inside other decorative pots. It isn't impossible - just challenging to find the right outer pot.
Pros
Differently sized pots for all growth stages

Aesthetic and simple design

Lightweight and portable

Ideally sized cutout holes
Cons
Pots do not taper at the bottom
Size: 3", 4", 5", 6" | Color: Blue Sapphire | Shape: Round | Material: Plastic
If none of our previous recommendations were quite aesthetically pleasing as you would like, you might enjoy our next product. This orchid pot is octagonal-shaped, and made of beautiful natural cedar. With horizontal wood pieces stacked on top of one another, it gives a striking appeal to the design of the pot.
Sale
Why Did We Like It?
Well, it's hard not to like the unique octagon shape of this orchid pot. Its design is not purely decorative - in fact, this pot has great utility as well. Weighing just 1.3 pounds, the orchid pot is lightweight and easy to carry around.
The wooden design adds a stunning aesthetic to the pot. Moreover, it comes fully assembled with symmetrically stacked, horizontal wooden pieces. The gaps in between each stacking make the design even more appealing as well as functional.
With a sturdy build quality, this orchid pot has been made to last. The galvanized wire eyelets allow you to hang this pot from any wire or thread. The superior design provides excellent drainage to your orchid plant.
This orchid pot is the perfect size for a growing plant. The comfortable design of the product allows you to repot the plant once it grows larger without causing any damage to it. 
What Could've Been Better?
Due to the design of the orchid pot, you may experience soil and debris falling out of the slots. However, this depends on the kind of soil mix that you are using. You can also choose to use a mesh onion sack or a liner to prevent this from happening.
Pros
Super aesthetic design

Easy to handle

Wire eyelets for hanging

Sturdy and durable
Cons
May need to use a liner or mesh
Size: 8" | Color: Natural | Shape: Octagon | Material: Cedar Wood
Are you worried about leaving behind your orchid plant when you go on vacation? Maybe you should consider a self-watering pot! Muzhi Orchid Pot features a 3-set pot consisting of an inner net or mesh pot and an outer solid pot. The additional wicking rope allows you to fill up the water for self-watering.
Why Did We Like It?
First and foremost, let us talk about the design of this pot. This set of 3 pots features an inner, black, mesh pot that provides excellent drainage and air circulation. The outer white pot is solid, and designed to capture any running or dripping water and soil from the inner pot.
There is a small gap between the inner and outer pot, allowing proper ventilation and air circulation. Moreover, this gap stores any excess water which the orchid plant can imbibe over time. Of course, you can choose to throw this water away if you want.
Both pots are made of sturdy, durable PP plastic that is made to last. Furthermore, the black and white color combination is striking to the eye and looks extremely elegant.
The additional wicking rope has been provided to allow the pot to self-water your orchids. This is especially helpful if you are stepping out for a few days and don't have anyone to look after your plant. 
What Could've Been Better?
Although we can't pin this as a design flaw, it is something we would like to point out to you. The design of this orchid pot allows standing water to sit at the bottom of the pot until you throw it out. This might become a breeding ground for mosquitoes and bugs.
Pros
Elegant color combination

Excellent designing

The self-watering feature is great

Lightweight
Cons
Stagnant water may attract bugs
Size: 3.5", 4.4" | Color: White, Black | Shape: Round | Material: Plastic
Best Orchid Pot Comparison Table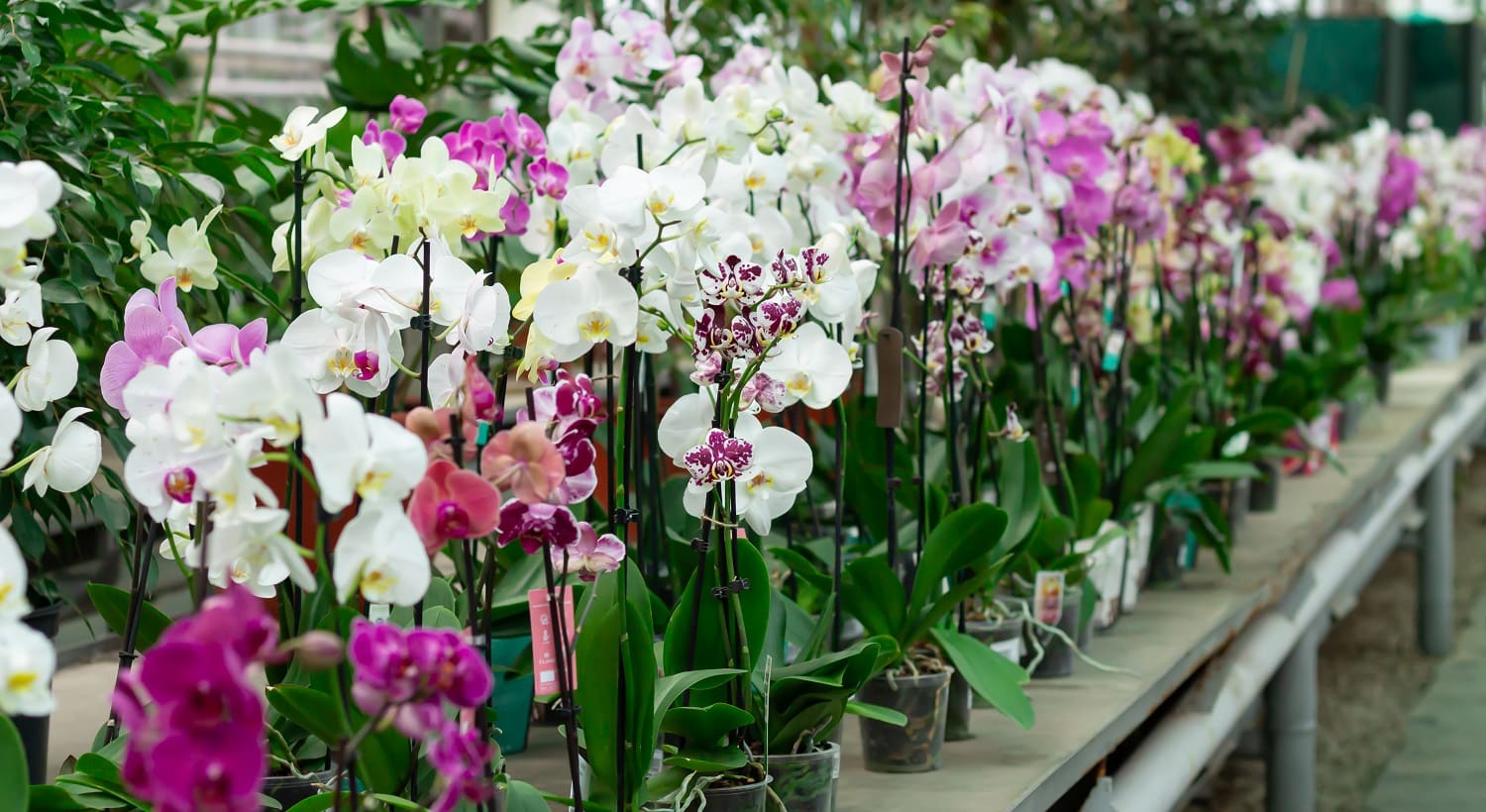 Buying Guide For The Best Orchid Pot
Well, with that, we have finally completed our list of recommendations. We hope you got some pretty great ideas about what kind of orchid pot you'd like to buy for your own little plant buddy.
But before we sign off, we have a few more things to tell you. When buying an orchid pot for your plant friend, there are a few things you need to keep in mind. Let us take just a few more minutes of your time and tell you about these critical factors to remember.
Ventilation
As we mentioned right at the beginning of our guide, an orchid plant requires ventilation to thrive. Without this, the plant is prone to suffocating. Moreover, the holes provide room for the orchid to spread out its roots and grow freely.
When looking for the best orchid pot for your plant, consider this factor. It is best to opt for orchid pots that are designed with strategically placed holes or cutouts. The size and shape don't really matter much, as long as your plant gets enough air circulation.
Orchids also require a good drainage system, as they can't thrive in too much water. Having holes at the bottom of the pot will facilitate this process.
Clear Design
Orchids are quite fussy plants. They require an adequate amount of sunlight to grow well. While you can always choose to place your orchid plant outdoors, you might prefer keeping your plant indoors at times.
During these times, it is crucial to ensure that your plant gets adequate sunlight. Opting for clear or transparent pots can allow more sunlight to penetrate the soil and get to the plant.
Size
Size is one of the most important factors to consider when purchasing an orchid pot. You don't want the pot to be too small, eventually constricting and suffocating your growing plant.
When it comes to small orchid plants, you can opt for a small-sized pot for them. However, keep a close eye on their growth. Once you notice the plant getting bigger, we recommend switching to a larger pot, allowing them to spread out freely.
If you are unwilling to buy pots continuously, you can opt for a pack of orchid pots. This way, you get the same design and aesthetics, and you can also save some money by choosing a pack rather than individual pots.
Material
As you might have noticed from our extensive list of products, there are different types of materials for orchid pots. From plastic to ceramics and even wooden pots, there are many options to choose from.
Well, the kind of pot that you should choose depends on your primary requirements. Plastic pots with cutout holes might be the most versatile and functional option out there. However, ceramic and wooden orchid pots are more aesthetic compared to plastic ones. They are also more environmentally friendly, which is something to consider.
Budget
Another important factor to keep in mind is your budget. Having a pre-set budget ensures that you don't overspend. Of course, we must mention that while maintaining a budget is essential, you must not opt for low-quality orchid pots, as they will eventually hurt your plant.
Plastic pots are typically the most affordable option; however, their quality can differ depending on the manufacturer you choose. You can opt for a more robust material that will be long-lasting and does not damage easily. Of course, you can expect to pay a slightly higher price for these orchid pots.
Quality Of The Pot
Just because you want to stick to a budget doesn't mean you need to sacrifice the quality of your orchid pot. Fortunately, you will find several products in the market which are high-quality and affordable.
We can give you a small tip - go through the buyer reviews carefully before picking any orchid pot. This will provide you with an accurate representation of the quality, size, and aesthetic of the pot.
Orchid Pots FAQs
Why do I need a specific pot for orchids?

Orchids have distinctive requirements, including excellent drainage, ample air circulation around the roots, and stability for top-heavy plants. Orchid pots cater to these prerequisites.

How do I choose the right size orchid pot?

Choose a pot that's 1-2 inches larger in diameter than the current pot. Orchids prefer to be slightly pot-bound, so avoid pots that are too large, which can cause stagnant air and excessive moisture.

When should I repot my orchid?

Repot your orchid every 1-2 years, depending on the health and growth rate of the plant. Also, consider repotting when the potting medium breaks down, the plant outgrows the pot, or when the plant appears stressed.

What type of potting medium should I use for my orchid pot?

Orchids require a well-draining potting medium. Most commonly used mediums are fir bark, coconut husk chips, sphagnum moss, and perlite. Select the appropriate medium based on your orchid type and environmental conditions.

Can I grow multiple orchids in one pot?

Generally, it is not recommended as different orchids might have varied watering needs and root structures. However, if they have similar care requirements, you can place them in the same pot with ample spacing.

Should I use a saucer under my orchid pot?

A saucer is not necessary for proper drainage but can be used to prevent water from spilling onto indoor surfaces. Ensure the saucer doesn't retain standing water, which can encourage root rot.

How do I clean my orchid pot?

Clean the pot with hot soapy water, rinsing thoroughly. For used pots, you can use a mild bleach solution (1 part bleach to 9 parts water) to disinfect the pot, followed by thorough rinsing and drying.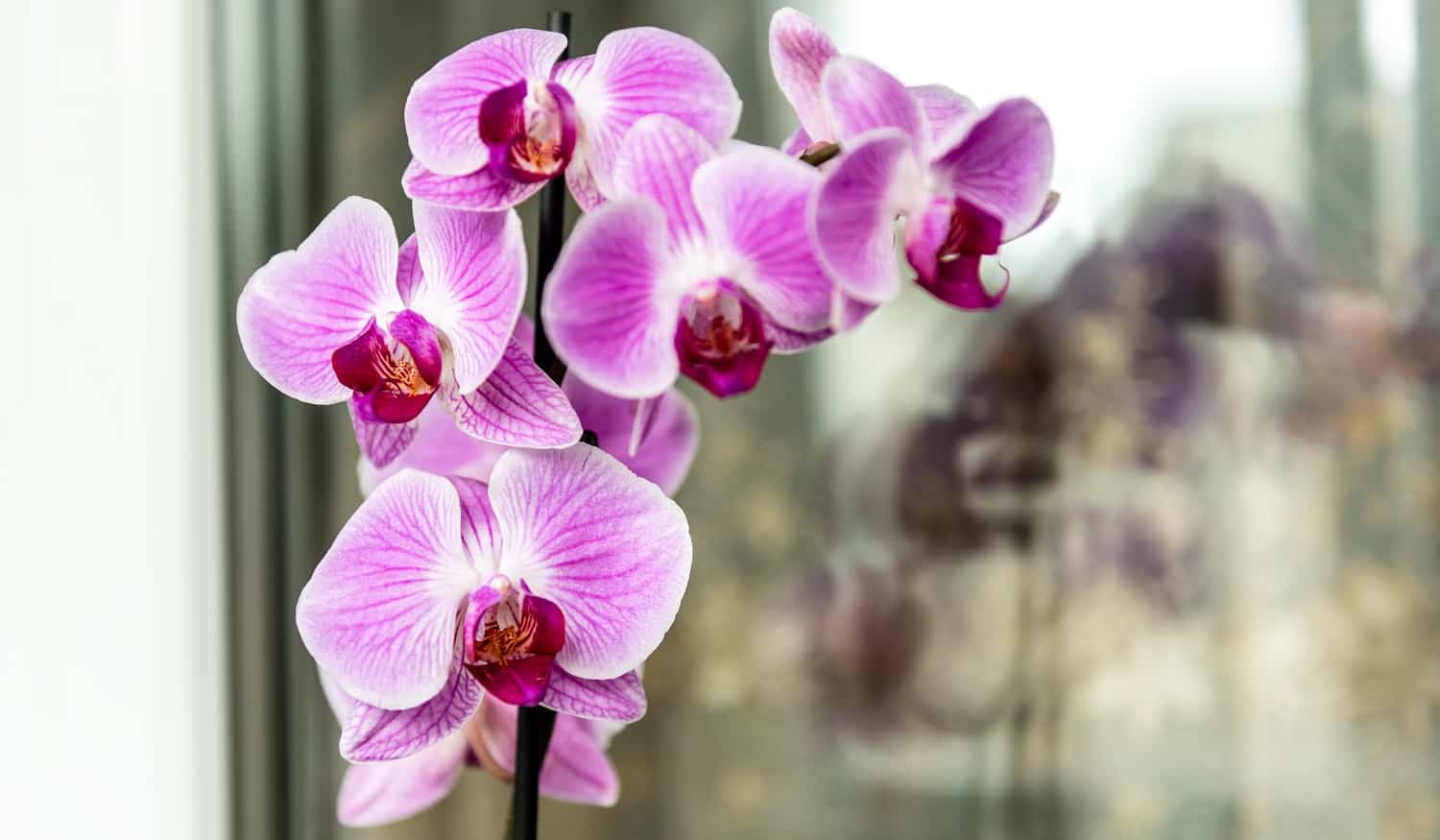 Conclusion
The quest for the perfect orchid pot can be challenging, as finding the right balance of aesthetics, functionality, and affordability is crucial to sustaining the health and beauty of your beloved orchids. Nevertheless, a careful analysis of the various products available will lead you to the perfect pot tailored to meet the specific needs of your orchid garden. Based on in-depth research and expert reviews, the following top three recommendations cater to various needs and preferences that will not only keep your orchids in their prime but will enhance their aesthetic appeal as well.
From the above eight best orchid pots, here are the top three expert recommendations:
For mess-free watering, the Link Solar Mesh Net Pot is an ideal option, providing a practical and innovative two-pot system that virtually eliminates messy soil and water puddles. The durable and heat-resistant plastic design promotes healthy root growth and provides ample ventilation for your orchid plants.
For monitoring growth, the ClearPots Orchid Pot is a good option. Featuring a transparent body, this pot will enable you to easily observe your orchid's growth and water requirements. Its raised center with drainage holes and proper ventilation ensures optimal orchid care and convenience.
Lastly, the Blue Sapphire Orchitop Carousel Orchid Pot is the right choice, boasting a unique design and stunning color options that will enrich the visual appeal of your home. Its carousel configuration facilitates maximum ventilation, drainage, and sunlight penetration, allowing your orchids to thrive and flourish.
As you nurture and grow your precious orchids, rest assured that these top three expert-recommended orchid pots will provide the perfect blend of utility, beauty, and durability. Happy planting!
Related Articles
17 Best Self-Watering Planters
40 Best Online Gardening Stores
13 Best Potting Mix For Orchids
13 Best Organic Lawn Fertilizers 
13 Best Fertilizers for Tomatoes  
13 Best Fertilizer For Succulents Reviewed 
13 Best Fertilizers for Hibiscus 
13 Best Liquid Lawn Fertilizers Right Now 
11 Best Fertilizers for Lilacs  
9 Best Fertilizers for Hydrangeas
9 Best Fertilizers for Petunias Right Now
11 Best Fertilizers for Citrus Trees Right Now 
13 Best Fertilizers for Green Grass
11 Best Lawn Fertilizer Options
13 Best Fertilizers for Vegetable Gardens