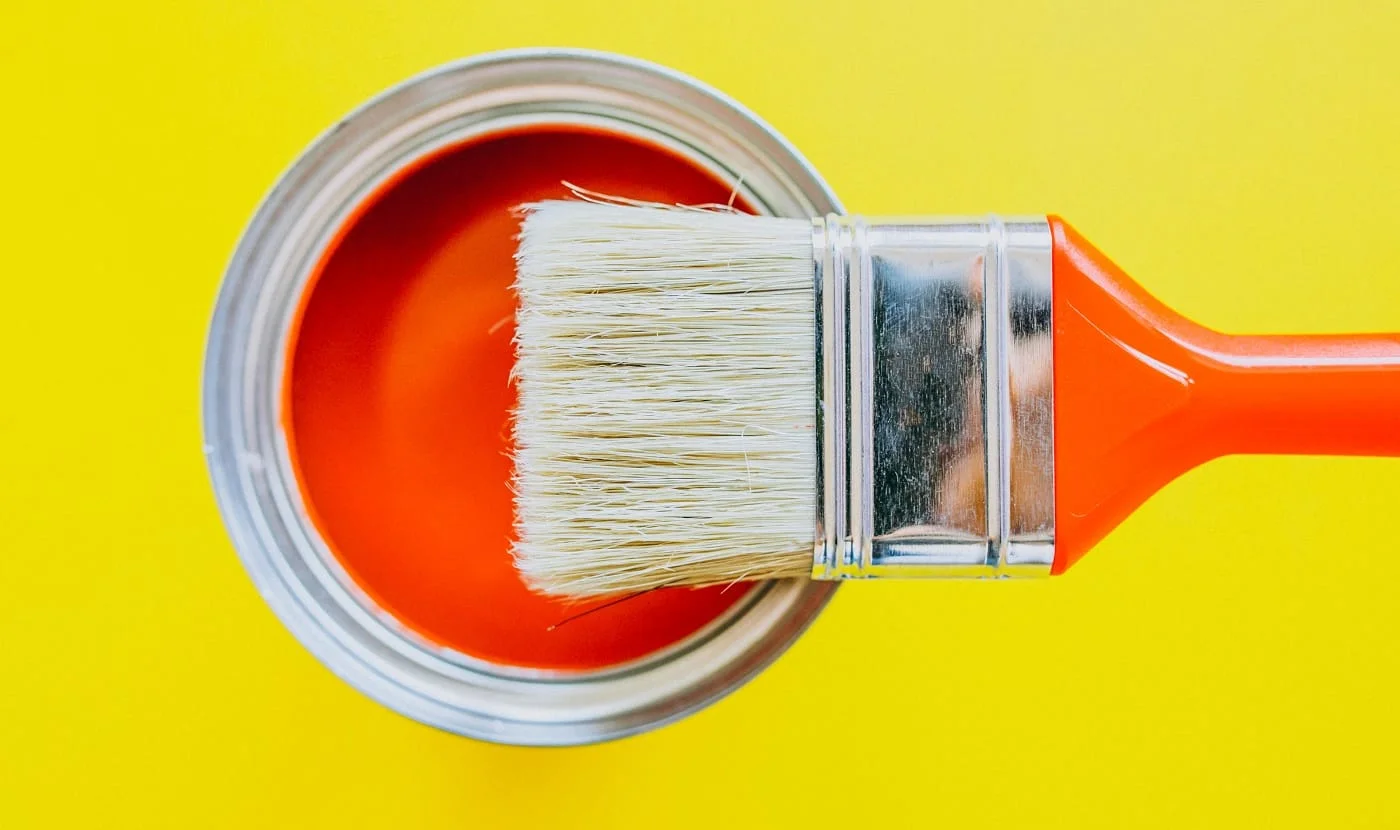 Do you want to renovate your old furniture to match the ambiance of the house? Keep the traditional look intact with chalk paint! 
Now, if you are planning to apply chalk paint, it is absolutely essential to have the right kind of brush. Without it, you will not be able to achieve the look that you want, and that is exactly why we are going to step in. 
We wanted to recreate an authentic look, restoring the charm of old furniture pieces, and that is why we thought of creating this guide. Here, we have listed the 9 best paint brushes for chalk paint along with a buyer's guide to help you in the selection process. 
This has been created after in-depth research, and you will find options for all kinds of needs. The pros and cons of each have been listed down too for your benefit. 
So, dive in now! 
Top Paint Brushes For Chalk Paint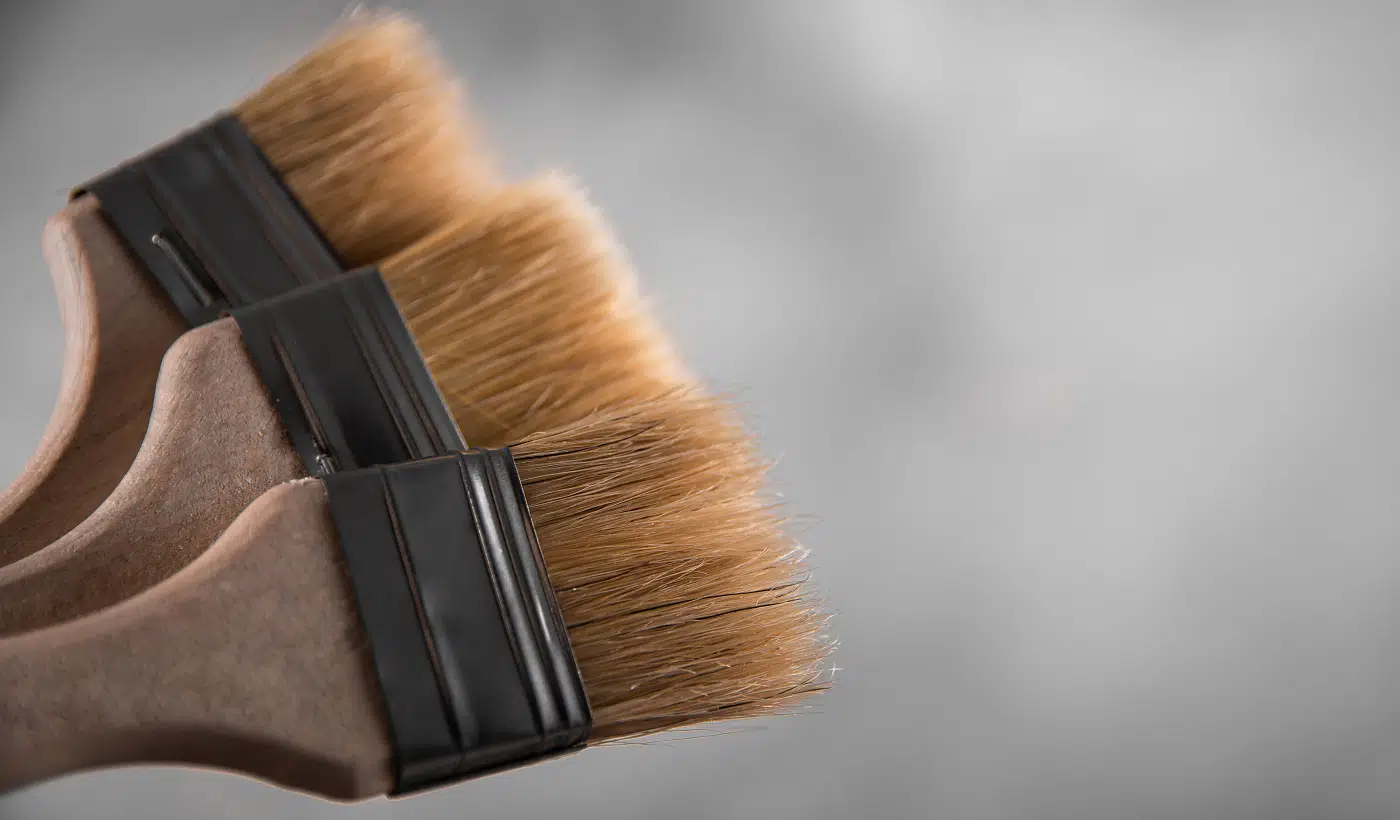 If you are looking for an option that will take care of most of your home furniture, the Modern Art Supplies Paint Brush 4336965642 is an incredible option. It is a set of 2 brushes, both of which are known for their versatile performance. Plus, these are perfectly designed to take care of all the detailing work.
Sale
Why Did We Like It?
These brushes are made of nickel-plated ferrule and come with birch wood handles. The wooden handles are sturdy and will provide you with a good grip. And they have white bristle brush heads, which work very well on different surfaces. In fact, the bristles are made of natural materials, allowing you to apply a smooth coat of paint. 
Next, the brushes are very lightweight and easy to handle. Paired with a comfortable grip and a unique design, they can be used for long hours without straining your hand. 
That's not all; both the brushes offer different benefits. The larger one will work well in covering large stretches at one go, while the smaller one is perfect for coloring edges and sides of different furniture. 
What Could've Been Better?
The only issue with this product is that it keeps shedding once in a while, so you might find a few bristles here and there. We will recommend keeping a watch while painting so that you may remove any bristle stuck with the paint. Other than this, we have no further complaints. 
Pros
Made with nickel-plated ferrule

Easy-to-grip handle

Natural bristles for better performance

Known for its versatile use
One of our best recommendations is the INFINITI ELEMENTS Paint Brush NOVASAT-0414-1728-109 which is again a set of 2 brushes that work for all purposes. We were able to get a smooth finish every time we used these. Read on to know more about their excellent features.
Standout Features 
Weighs 6.4 ounces

Made with wood
Why Did We Like It?
These brushes come with 100% natural bristles, which will preserve that traditional look and work very well for all kinds of painting projects. They are also accompanied by wooden handles to provide a sturdy grip, allowing you to paint faster. The brush is designed in a certain way so that it does not slip out of hand. 
And that's not all; each of them has a large rounded tip, which allows one to paint quicker than normal. The tip covers a larger area every time, and this helps in reducing the effort and time taken. 
Plus, each brush is made for heavy-duty use and is reusable. Make sure that you clean them well before storage, and they will last for a long time. 
What's more, the brushes are light; hence, reduce the strain on your hand and wrist. You will have better leverage and control with this product, and that will help you get more work done in less time. 
What Could've Been Better?
While this brush works excellently in the beginning, it is not made for several uses. If you wash it many times, it will not hold up too nicely, and you might notice the bristles getting rough. But this happens because it is made of natural materials, and we would say that the brand provides enough value for the price. 
Pros
For all-purpose chalk painting

Premium-quality bristles

Ergonomic easy-to-grip handle

Lightweight body
Cons
Wears away with frequent use
If you want a brush that works with paint of all brands, then the New Renaissance Professional 4336890327_SML will serve you well. This is made of premium quality materials and will ensure that you have nothing to complain about at the end of your project.
Why Did We Like It?
This is one of the most affordable products in the market, and this brand sure provides value for money. The brush offers premium quality bristles and will not disappoint you at all. At this price, we had not expected such finesse in the make and quality. 
Plus, the brush is very lightweight and is easy to handle. It provides a comfortable grip and is small enough to work around the edges. And you will not have to strain your wrists at all while working, thanks to the weight. We were able to cover large areas in a day, thanks to this. 
Moreover, the bristles create a very authentic look by providing a chalky finish. This looks beautiful and will give your furniture a traditional look. 
What Could've Been Better?
We have no complaints regarding its performance, and the only thing that you should be aware of here is the cleaning process. This might take a while, and you will have to clean it extensively to prevent the bristles from going brittle. Add a little hair conditioner and then rinse in the end to keep them soft. 
Pros
Easy to handle

Sturdy slip-resistant grip

Affordable option

Provides a chalky finish
Are you a professional painter looking for a set of brushes that will take care of all your painting needs? The DIYARTZ Chalk Paint Brush set works perfectly well and will give your projects the hand-painted charm that they deserve. We were able to change the entire ambiance of the house, thanks to these brushes.
Why Did We Like It?
First of all, the brush handles are designed in such a way that they will fit into any hand easily and comfortably. Each handle is made of premium quality wood and will last for long. Also, the lightweight will allow you to work for long hours at a stretch with no straining of the hand. 
Next, since there are 6 brushes, you will find one for every need. They have different shapes with different tips which are contoured to meet specific needs. We were able to work on the corners easily, thanks to this. 
Also, the ferrule to which the bristles are glued is made of steel and is resistant to rust and corrosion. Since the painting process will involve using water, this quality proves to be beneficial. 
What Could've Been Better?
The only downside to this option is that the brushes are prone to shedding, and you will see bristles here and there while painting. While it is easy to work with, please be careful while washing so that you do not lose more bristles. 
Pros
Provides a traditional textured look

Excellent coverage

Fits all hands

Loop for convenient storage
If you are a DIY enthusiast looking to revive old pieces of furniture, the Brossum Paint Brush 6057034 is going to be a great option. It will give it a new life and provide your house with the chic and rustic look that you were looking for. 
Why Did We Like It?
We have often ended up painting for hours, and this brush has provided us with the ultimate comfort. This is light, and the bristles work on surfaces very smoothly. Each stroke is easy to make and will feel very natural. 
Next, the brush is designed keeping in mind the 2 types of uses. You can use it to apply paint as well as wax. The bristles can hold a large amount of paint and will cover a big area each time. This makes the process quicker, and you can get the job done fast. 
Plus, this comes with a low shedding design, and high-quality epoxy glue has been used to keep the bristles in place. Now, are you wondering if that will raise the cost? Well, this is one of the cheapest options, and the price is absolutely justified. 
Further, the product comes with a leather strap on top, which will let you hang it from anywhere. This makes storage easy and will allow the bristles to dry better.
What Could've Been Better?
We found that a number of bristles were uneven, and that could lead to paint marks in some cases. If this happens, immediately correct it before drying to prevent an uneven finish. In case you are unable to do that, scrape the paint off and do it over in the same area again. 
Pros
Low-shedding design

Very affordable option

Leather strap for easy storage

Made with premium-grade epoxy glue
Do you want to give your furniture the aged worn look that will fit in perfectly with traditional decor? The Bzczh Paint Brush bz001 will help you achieve just that. It works admirably well with all kinds of wax and paints and provides a professional textured finish.
Why Did We Like It?
This product is designed very well with a 2-inch round head and strong bristles. The bristles are attached to a seamless ferrule which is made of metal and is resistant to rust. We have been using this for several months now, and the ferrule has not shown any marks of wear and tear. 
Next, the large brush is designed to prevent shedding and loss of hair continuously. Being made of 100'% natural and double-boiled hog hair, this will provide a very smooth and textured finish. It is accompanied by a varnished beechwood handle that will let you hold it easily. 
Plus, the brand has excellent customer service and offers a warranty period of 180 days. In case it malfunctions, you can immediately call up customer care, and they will help you out.
What Could've Been Better?
The main problem with this brush is that it leaves streak marks if you use less amount of paint. We will recommend taking sufficient paint from your can and keep dipping the brush occasionally. This way, you can prevent streaks in general, and the process would be error-free. 
Pros
Paints efficiently and quickly

Easy-to-grip wooden handle

Backed by a warranty period of 180 days

Comes with a loop for storage
Up next is another set of brushes that will take care of all your needs and will ensure that you can paint any surface easily. The VNKI Paint Brush kit contains 6 options of different sizes, and they work consistently to provide the right kind of texture needed. These are skillfully crafted to prevent shedding too.
Why Did We Like It?
This product is known for its multipurpose nature and can be used with all kinds of wax and chalk paint. It is specially formulated to cover surfaces made of ceramic, canvas, wood, and metal. You can distress and create wonderful textures with this to provide that authentic traditional look. 
Next, this offers a high level of customer satisfaction for 2 reasons. The first is that it is not expensive and will not cost you an arm and a leg. You can easily afford it, and the 6 different sizes will take care of all your needs. 
The second reason is the 30-day money-back guarantee in case it does not meet your expectations. This gave us enough confidence to purchase and use without worrying. 
Plus, the bristles are made of synthetic fibers, which will work very well with water-based paint and will provide a unique texture. These also do not fall out and shed all over the paint, and that makes it stand apart from most of its peers. 
What Could've Been Better?
Unlike most of its peers, this one has a handle that is made of plastic and is flimsy. While this would work for small projects, we will not be recommending this for big ones because of the quality of the handle. It is not very comfortable to hold and might feel like a toy. 
Pros
Contains synthetic bristles

Does not shed bristles

Very economical choice

Works on multiple surfaces
We are finally nearing the end of this list, and it is time to introduce the FINEABLY Chalk Paint Wax Brush. It is compatible with oil-based paints, shellac, and urethanes and will provide you with the exact comfort and control that you want while painting.
Why Did We Like It?
This has a strong metal ferrule which is resistant to corrosion and is long-lasting. It also holds the bristles well and prevents shedding. This is one of the major problems with brushes, and we were happy to see minimized shedding. 
Next, a thick bunch of bristles is packed together, which can cover a larger area than most of its peers. Made of 100% natural bristles, the thick brush will help in finishing the project in a lesser amount of time. 
And you cannot miss out on the thick wooden handle, which is ergonomically shaped to provide more control and comfort. This can make painstakingly long painting projects a little easier and comfortable. You can apply all kinds of chalk and wax paint without spending a lot of time on the process. 
Plus, the length of the brush is 9.44 inches, and that allows for easier and smooth performance. The long handle will prevent paint from being smeared all over your hands.
What Could've Been Better?
The slight issue we had was with covering thin or narrow corners with this brush. Since it is on the thicker side, you might face difficulty in making thin lines or color the edges. We would recommend opting for a separate thinner one for these areas, and then you should not be facing any further problems. 
Pros
Ergonomically-shaped wooden handle

Thickly packed bristles

Can cover larger areas at one time

Less bristle loss
Cons
Difficulty in covering corners
The HWS Chalk Paint Brush is an incredible choice intended for covering narrow and wide surfaces. It is a set of 2 brushes that will efficiently work on multiple materials to provide a traditional look. We loved the round edges that they offered, which worked very well with wax and chalk paint.
Why Did We Like It?
This one comes with all-natural bristles, which will not only provide you with the perfect finish but will also hold and distribute the paint well. These are very good at absorbing paint and will evenly distribute it on most surfaces. We also found that it works very well on sheetrock walls, wood, and cement. 
Furthermore, these are specially made for both DIY enthusiasts and professionals. They are lightweight and come with a perfect wooden handle to provide you with control for fine detailing work and reducing mess. This, in turn, increased our productivity, and we were able to cover large expanses in a shorter time. 
Moving on to the convenience offered, this one is easy to clean and can dry very quickly, allowing you to reuse the brushes faster without having to wait for them to dry. 
What Could've Been Better?
While the brushes performed very well, we would have been happier if the packaging was done in a better way. The brushes were coming out of the packaging, and some bristles had already fallen off. We wish that the brand would look into this and provide for a better box. 
Pros
Eco-friendly and reusable

Known to increase productivity

Dries off quickly

Lightweight and ergonomic handle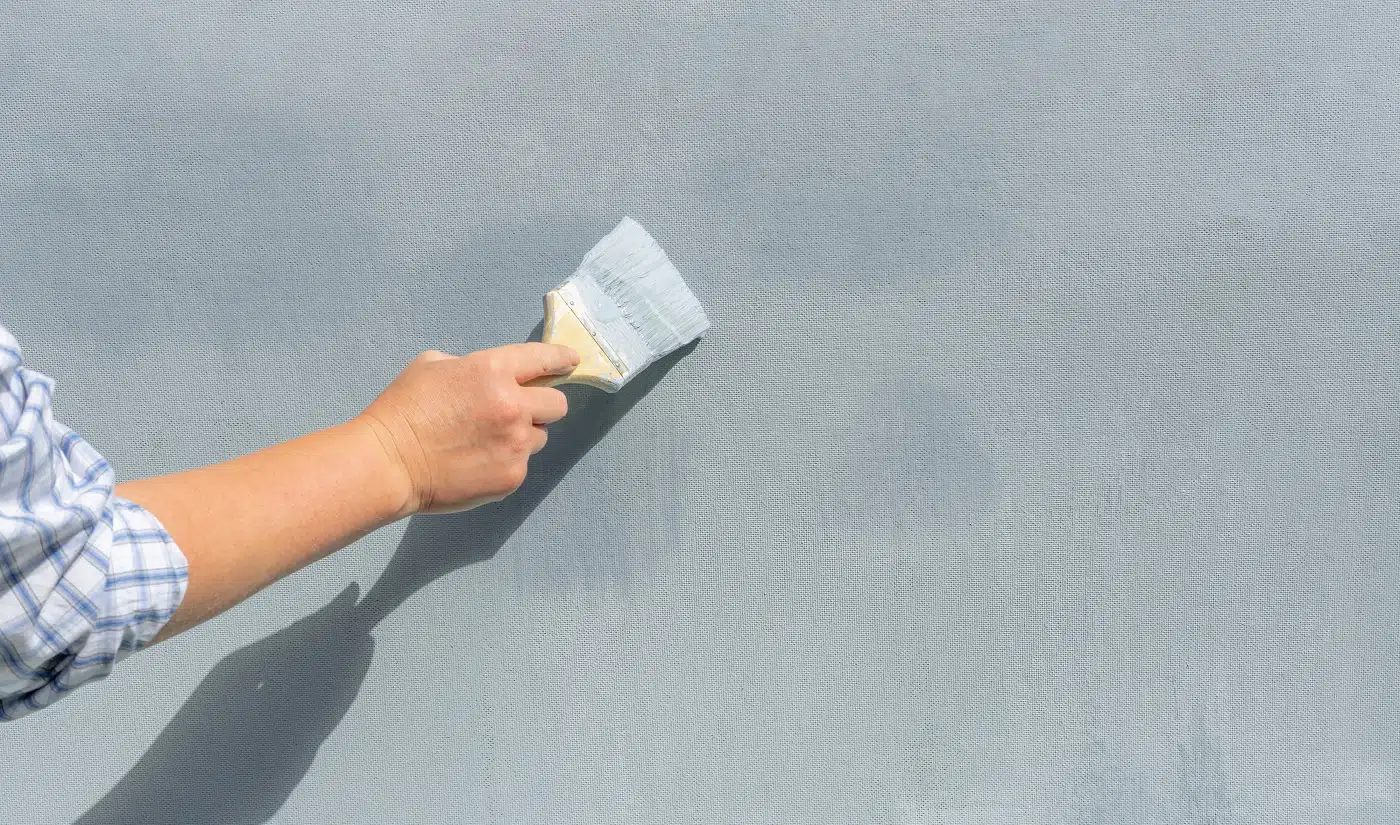 Chalk Paint Brushes Buyer's Guide
A larger set of brushes will not always ensure that you have the right kind. Sometimes you might not even need all of them and may end up wasting money in buying a big set. To prevent any of such problems, we have listed out the factors to remember before purchasing. Read through the list carefully, and we are confident that you will make the right choice. 
Brush Tip
While some brushes will have a thicker rounded tip, others will sport a thin and flat tip. The flat options work very well for narrow parts and for edges. If you want to do fine detailing work, these are the ones to choose.
On the other hand, if you have to cover large areas, then the rounded tip works better. This is thicker and can hold a larger amount of paint. Also, it covers a bigger area with every stroke, making the work process quicker. 
Bristles
The bristles are a very important part of the brush, and you can usually opt between natural and synthetic ones. Now, natural bristles are preferred more as they provide a more authentic finish and are softer to touch. But these have a greater tendency of shedding no matter how strong the ferrule is. 
Further, the synthetic option is generally chosen because it is more durable. Yes, it is less prone to shedding and will last for a long time. But we will recommend this only for smaller projects as the natural ones work better at providing a textured finish. 
Handle
If you are wondering what makes a good handle, let us tell you that it is the comfort and the control that it can provide. A good option will be made of wood and will be lightweight. It should not be bulky because that would cause hand aches when you are working for long hours. 
Also, it is better to purchase one which is ergonomically designed to hold with comfort. If the grip is good, it will provide more control over the project and will ensure a smooth and error-free performance. 
Cleaning
A brush should be easy to clean with soap and water so that you can reuse it. This is essential as you will need to clean it multiple times if you want to apply different colors. The paint should wash off easily, and it is best to get those that dry quickly. 
You can then store them immediately without having to wait for a long while for them to dry up.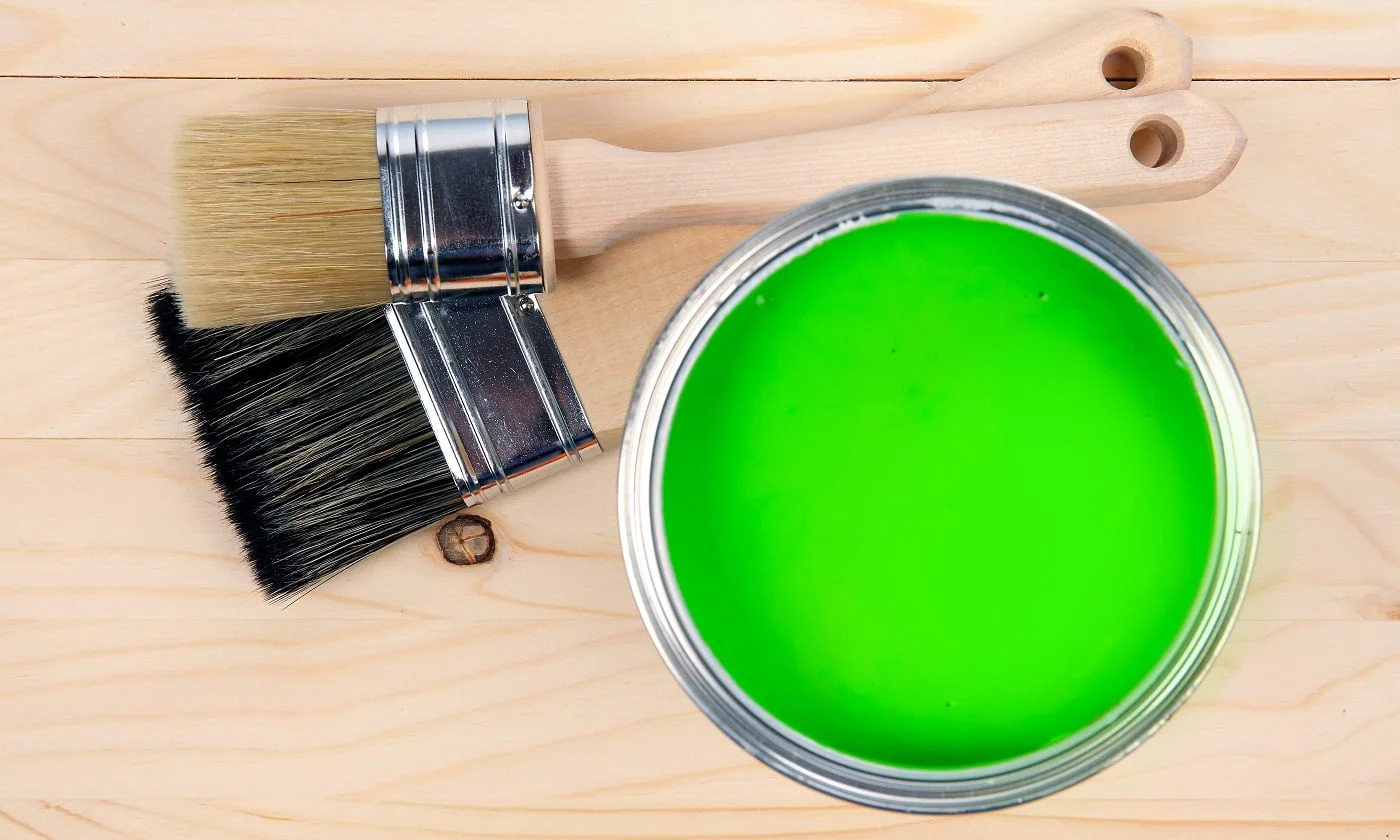 Verdict
No matter what kind of project you have lined up next, a good brush or a set of brushes can make a huge difference. Remember to check the build and thickness before making a purchase to ensure you get proper coverage. 
With this, we have reached the end of our guide, and we will give you a few minutes to take in all the information. Let us then take you through our favorites one last time. The Modern Art Supplies Paint Brush 4336965642 is our overall top choice for its versatile performance. 
On the other hand, if you are looking for premium-quality, the New Renaissance Professional 4336890327_SML will be an excellent option. And if you want a set, then the DIYARTZ Chalk Paint Brush will provide you with 6 brushes in one kit. 
Let us know your favorite in the comment section below. Until next time. 
Happy painting! 
Related Articles
5 Best Sprayers For Plasti Dip
9 Best Pump Sprayers For Staining Fence
9 Best Concrete Stains to Consider
Learn How To Soften A Hard Paint Brush
5 Best Paints For Stucco Reviewed
11 Best Paint For Concrete Walls In Basement
13 Best Professional Airless Paint Sprayer
13 Best Paint for Furniture | Reviews & Buyer's Guide
10 Highest CFM Air Compressors  
9 Best 6 Gallon Air Compressors for Your Home & Garage
13 Best Paints for Bathroom Ceilings  
13 Best Paint for Kitchen Cabinets This Year
2 Luminess Silk Reviews [All You Need to Know]
HVLP vs. LVLP [All You Need to Know & Winner]
Alcohol Ink Art Tutorial [Alcohol Inks 101]
7 Best Latex Paint Remover [Reviewed]
9 Best HVLP Spray Gun [Review & Buyer's Guide]
6 Best One Coat Paint and Primer
7 Best Primers to Cover Dark Paint
7 Best Exterior Primer For Peeling Paint
9 Best Deck Stains Today [Reviews & Buyer's Guide]
6 Best Paint Primer For Rusted Metal
9 Best Paint Stripper For Metal 
7 Best Cold Galvanizing Paints
11 Best Paint Scrapers to Rock
How to Remove Spray Paint from Concrete
7 Best Primers For Covering Red Paint
11 Best Paint Roller To Hide Imperfections Tested