Choosing the right ceiling colors is an important aspect of interior decoration to amp up the aesthetic appeal of your rooms.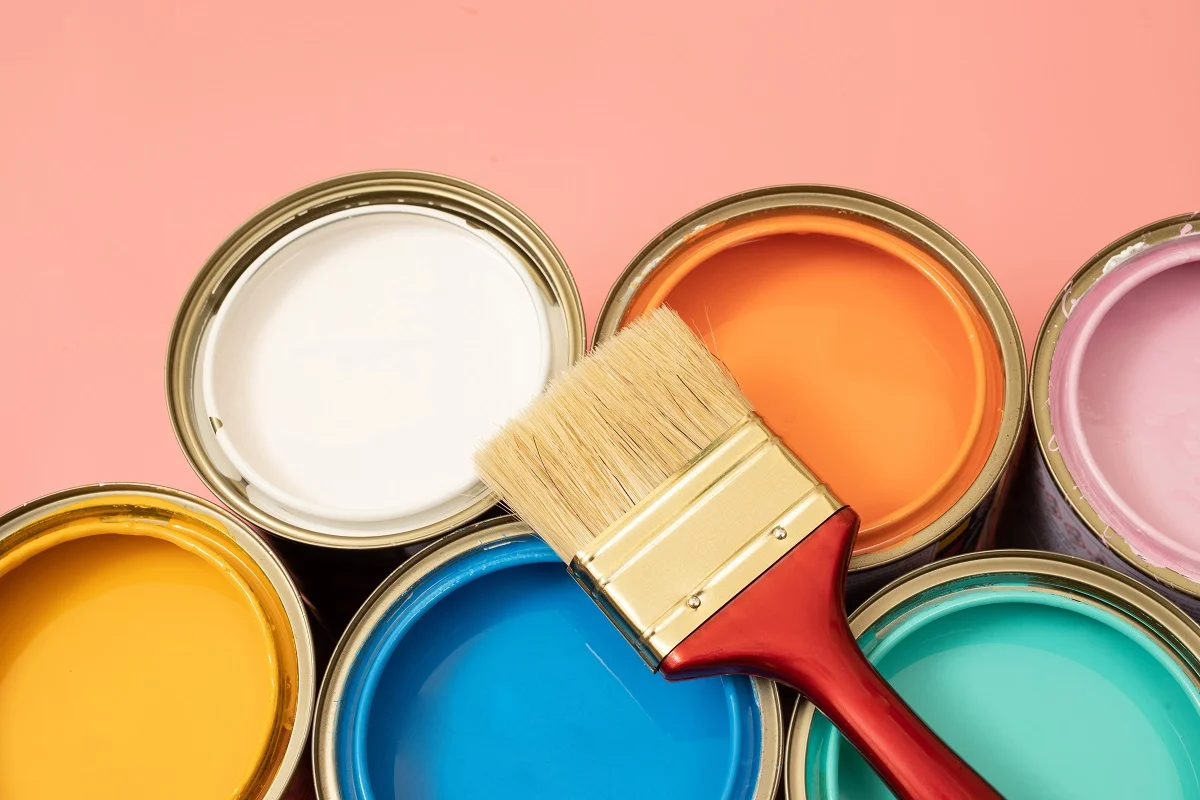 If you have recently moved to a new apartment or your ceiling color is peeling off, it's time to redecorate it with some top ceiling paints in appropriate colors. However, selecting the best ceiling colors can be overwhelming because you need to consider certain factors, like ceiling architecture, light reflectivity, and color contrasts. 
It's easy to feel lost while going through different shades and hues of ceiling paints with all the ceiling color choices muddled up in your head. That's why we're here to discuss some of the best interior paint colors for your ceiling. We'll highlight their natural light reflective quality, tones, textures, and much more. 
Best Paint Colors To Consider For Your Ceiling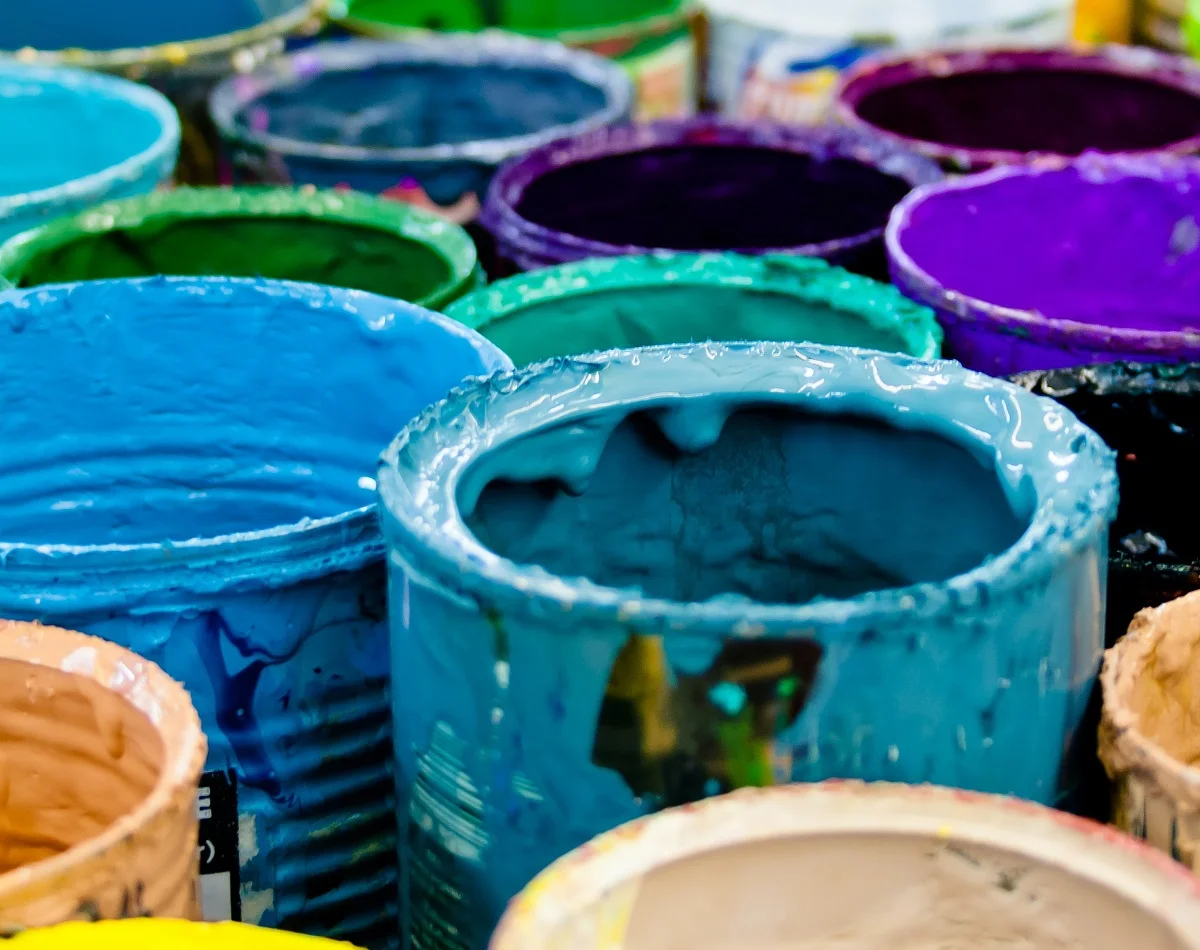 1. Pure White Ceiling Paint - Sherwin Williams 
Classic white has always been an all-time favorite ceiling color among homeowners, and we will explain why. 
This white ceiling paint is highly versatile and can work well in any room of your house, such as the bedroom, dining room, living room, or kitchen. It makes your room feel larger while the white ceiling paint has high light reflectivity to brighten up any room that doesn't receive sufficient natural light. 
In this context, the SW Pure White paint color can be an excellent choice for painting your ceiling to give the room a soothing and peaceful appeal. 
You can also use this color to paint your walls, maintaining a seamless flow of white color throughout the room to provide a calming monochromatic look. Or contrast the white walls and white ceiling paint with a darker accent wall to make your house's interior décor stand out. 
2. High Reflective White - Sherwin Williams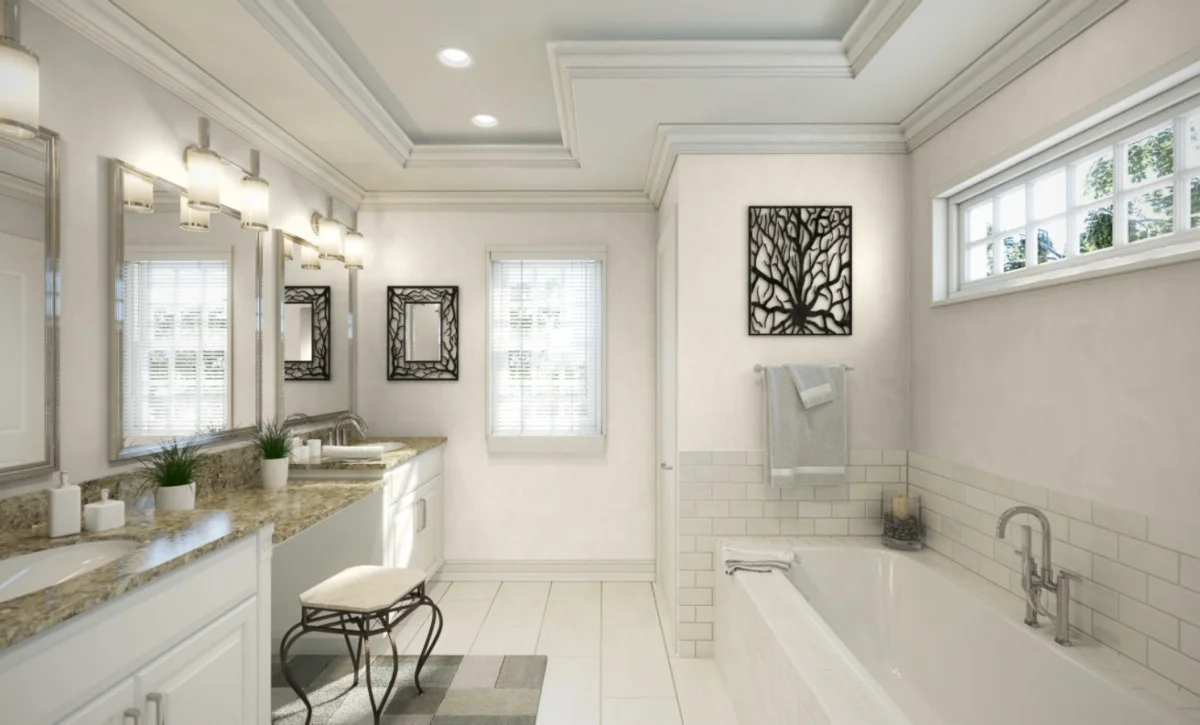 If you don't want your room to look overly bright or monotonous, the SW High Reflective White can be an excellent choice for painting ceilings. This paint color offers soft undertones, making it a perfect neutral color for your room. Since it is not too warm or cold, you can easily pair it with other brighter hues if you want to amp up the interior décor of the room. 
You can also use it as a wall color that goes exceptionally well with a white ceiling and maintains the color symmetry. Alternatively, you can contrast white ceilings and walls with other accent colors, such as earthy green, gray, or black. Whatever design ideas you have, this High Reflective White paint color can be your go-to choice for painting the ceiling white. 
3. White Dove - Benjamin Moore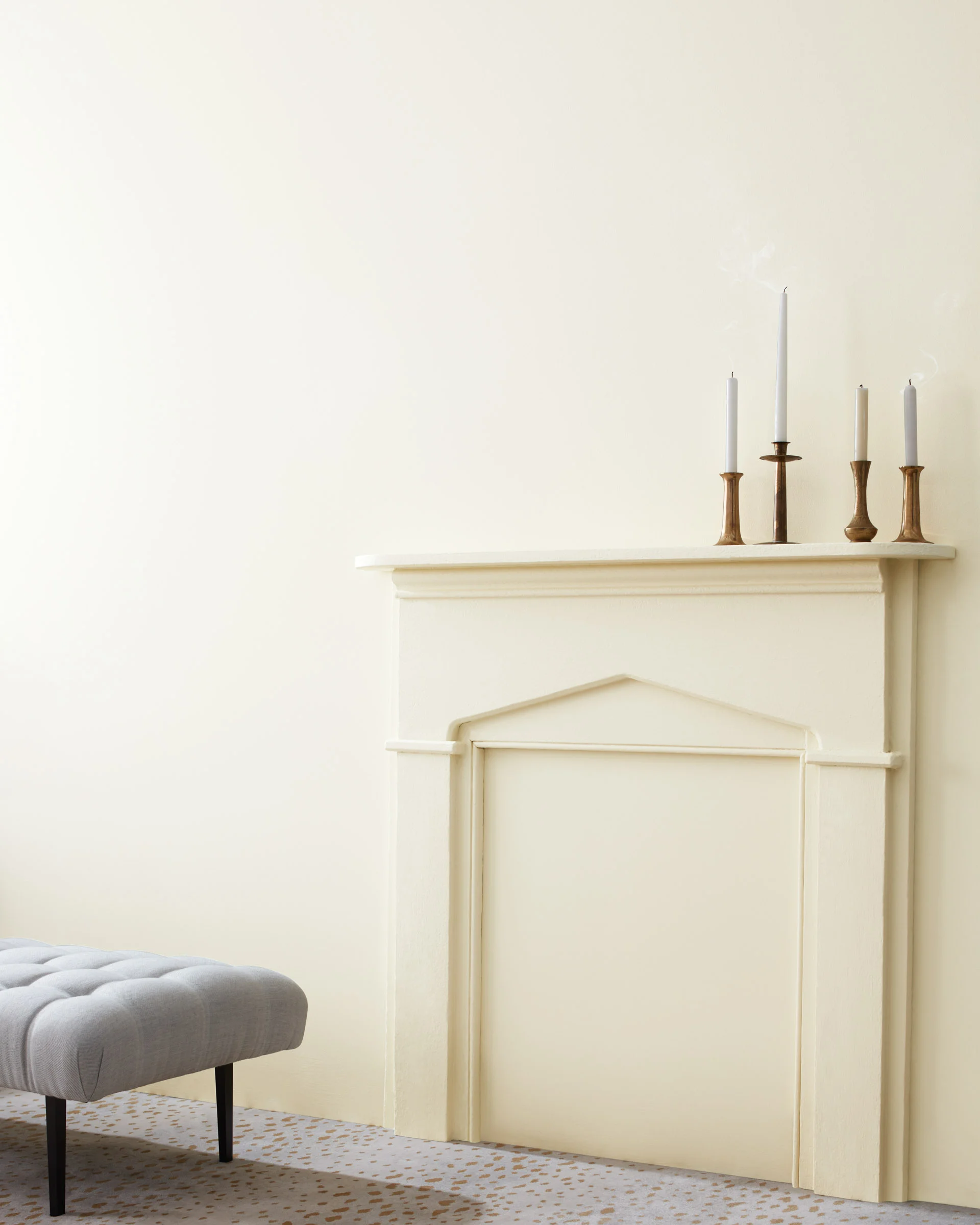 All-white and off-white paints always offer a fresh and clean look to any room and can beautifully highlight vibrant accent colors. The BM White Dove is one of the best white paint colors homeowners widely admire as you can pair it with light as well as darker shades. 
Furthermore, it works perfectly well for painting both walls and ceilings to maintain a continuous and seamless color flow. The clean and neutral undertones of this paint color can brighten up the entire room by reflecting more light even when there's a significant lack of natural light.
4. Cloud White - Benjamin Moore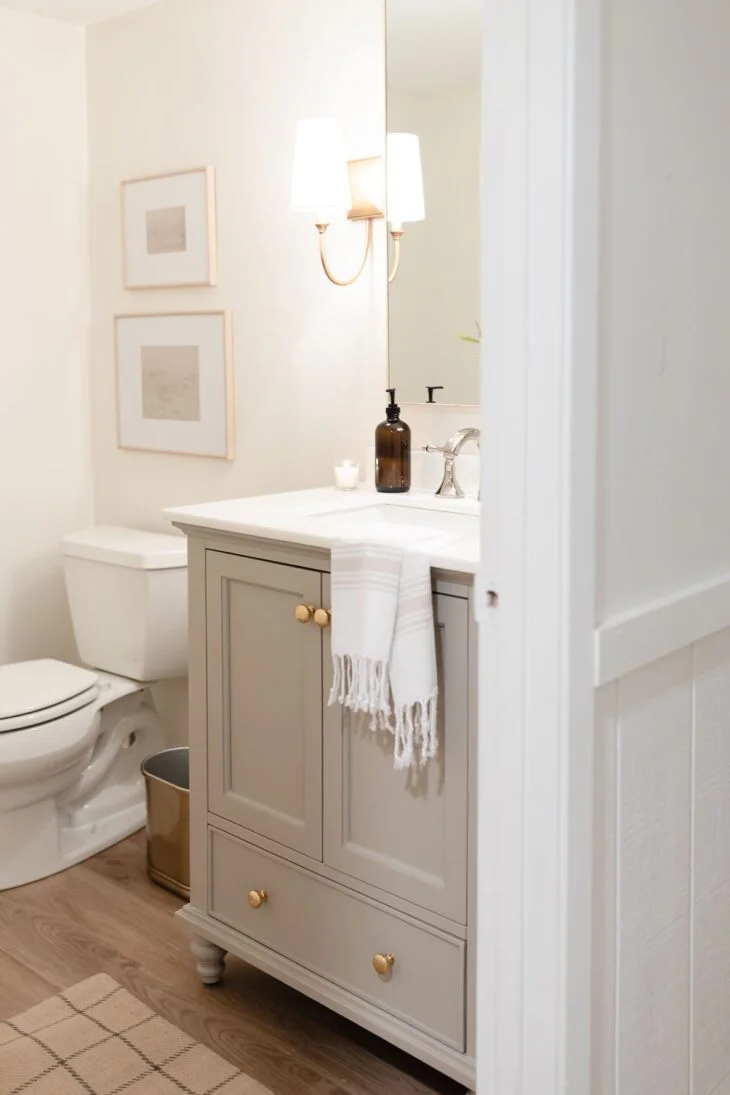 When we talk about the best ceiling paint color to create a classic white ceiling design, it's hard to miss the BM Cloud White. It has creamy undertones that are not too yellow or too stark, and offers a soft and soothing glow. 
Because of its highly versatile creamy off-white tone, you can use it to paint any room, from your bathroom to the basement.  The Cloud White color paint for basement ceiling or bathroom  also offers a warm and cozy feeling and brightens up the space, thanks to its high light reflectance value of 85. 
It pairs well with almost all neutral and vibrant shades, so you can paint your walls a brighter white to contrast with the creamy ceiling color. It even looks quite pretty against earthy tones, beige, and blue colors.
5. Buxton Blue - Benjamin Moore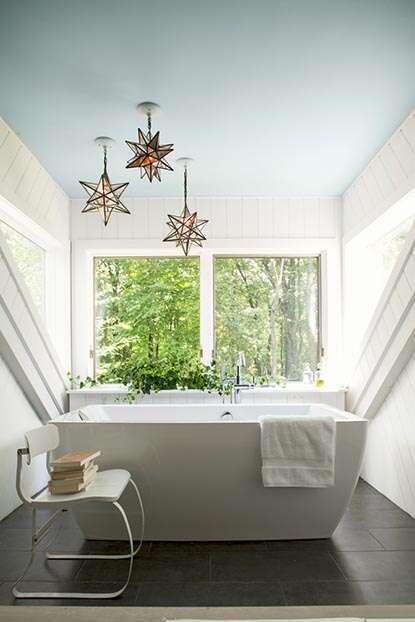 When you are choosing the best ceiling paint color, it's important to consider the wall colors because one wrong undertone can impact the entire interior design of your room. For instance, if you choose to have a light blue ceiling, make sure your walls are painted in cooler blue undertones. 
The BM Buxton Blue paint can be an excellent choice to create a blue ceiling that resembles open skies. It can create the feeling of serene and tranquil environments right inside your house. 
Thanks to its icy-white hue, you can easily pair it with any white paint to make the room feel cozy so that it doesn't lack warmth due to the cool undertones. Furthermore, if you want to play around and experiment a bit with this unique paint color, start by painting your powder rooms or bathrooms. 
And before trying out this blue paint color, you can always ask for a paint sample from Benjamin Moore's online store. 
6. Pale Smoke - Benjamin Moore

The color combination of gray and blue is a match made in heaven, and the BM Pale Smoke offers the perfect blend of blue and gray undertones for ceiling painting. It is pretty similar to the smokey sky blue shade and has been quite popular among homeowners and professional interior designers. 
This ceiling paint is perfect for sprucing up the décor and aesthetic appeal of your living room or bedroom, thanks to its soothing cool undertones. It presents a combination of classic and simplistic modern styles to offer you the best of both worlds. Also, you can use it on any type of ceiling, such as vaulted ceilings, coffered ceilings, or tray ceilings. 
7. Onyx - Benjamin Moore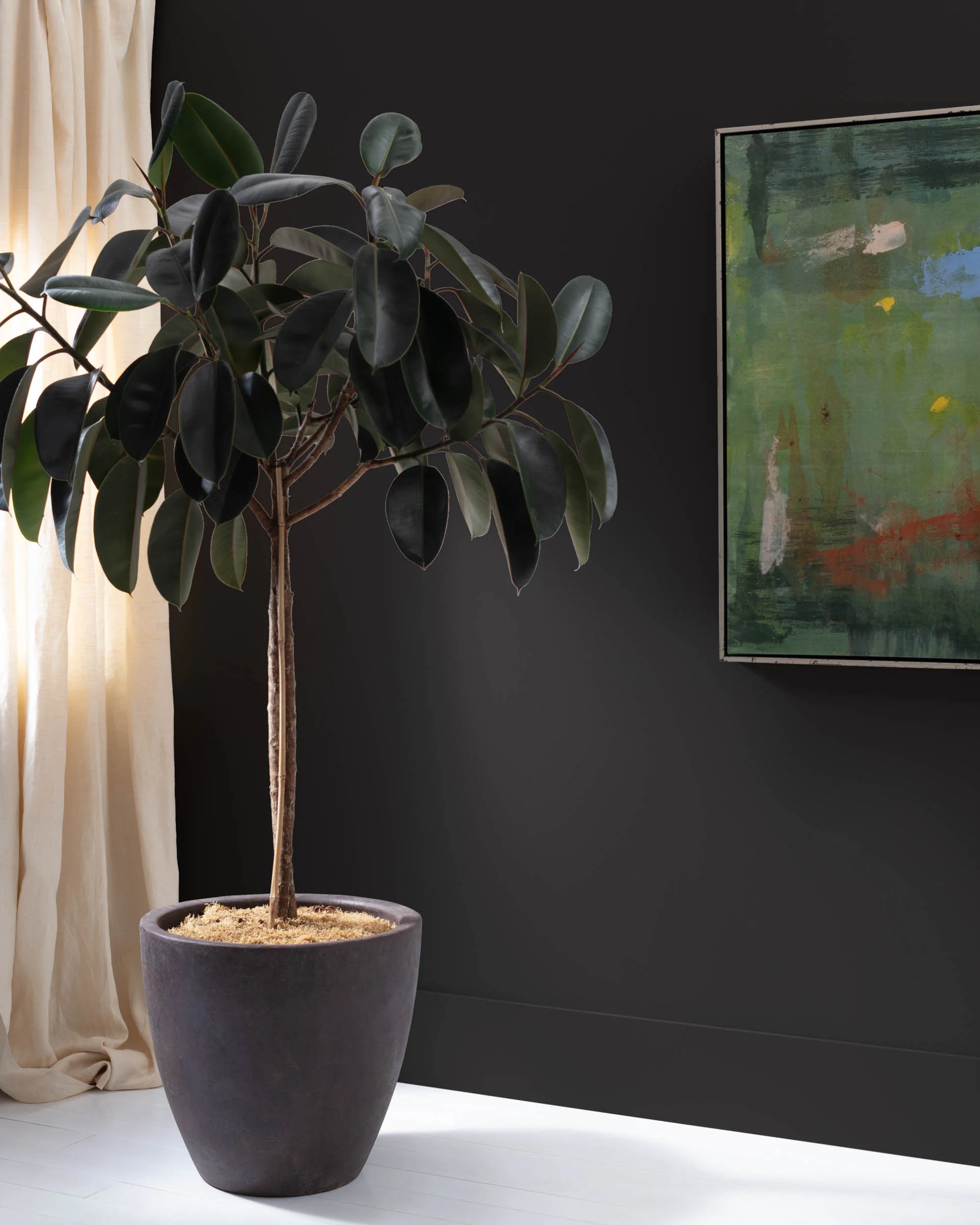 A black ceiling can make the perfect style statement if you are looking for something bold and dramatic for your room's interior design. When discussing dark ceilings, the BM Onyx automatically stands out among other darker colors. 
It is dark black and has no distinct undertones to create an eye-catching effect on your ceiling. But, be careful while pairing it with other wall colors because you don't want your room to scream of doom and gloom. If you want to use this paint to design a dark ceiling, it's best to apply light colors, like white or beige, to your walls. 
Avoid using other dark colors because they can restrict light reflectivity and make the room feel small. This ceiling paint also has a flat sheen finish that offers a certain "wow" factor for a jaw-dropping and bold aesthetic appeal, while even hiding ceiling imperfections.
8. Backwoods - Benjamin Moore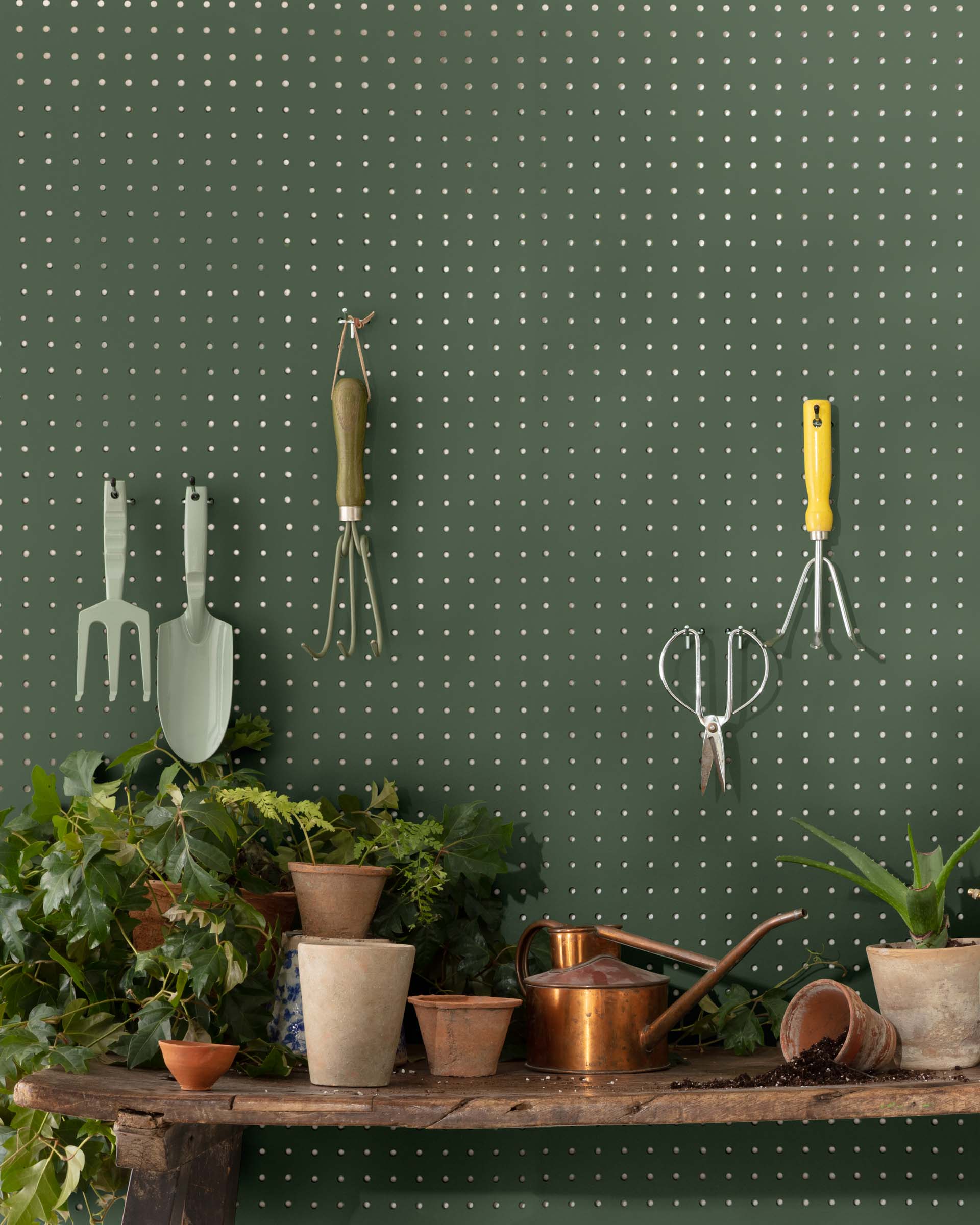 When it comes to choosing a darker color for your ceiling, the BM Backwoods offers dark, earthy green tones that pair beautifully with wooden furniture and polished hardwood floors. It is a cooler green shade because it has more gray or teal undertone than dark green shades. 
This flat paint goes quite well with lighter colors and gold accents, so you can pair it with beige-colored furniture in your living room or bedroom. You can decorate the walls with yellow or golden art pieces to highlight the cooler gray and green undertones of this color, you cannot go wrong with this particular ceiling paint Benjamin Moore color.
9. Chantilly Lace - Benjamin Moore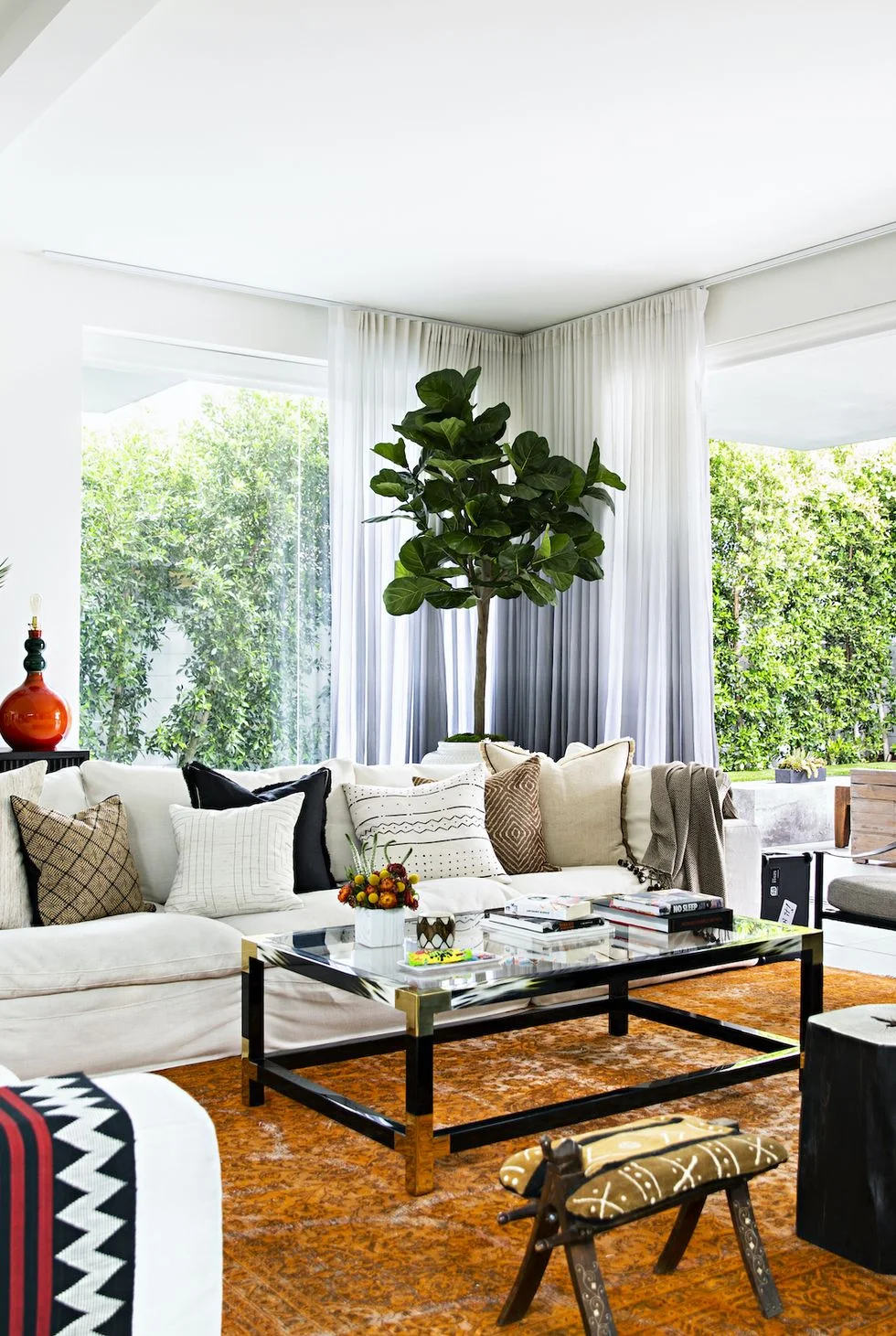 If you're a sucker for a classic white ceiling, Chantilly Lace is a dainty white paint color that is ideal for your living room, dining room, or bedroom. It is universally popular among interior designers and homeowners, thanks to its clean and gorgeous hue, evoking the images of soft linen and pure silk. 
Chantilly Lace comes with neutral tones, which pair beautifully with white and vibrant colors to offer a sense of coziness and comfort without being too overwhelming. You can also pair it with dark blue shades, polished hardwood floors, and wooden cabinets if you want the room to look clean and crisp. It can offer your room a simple, minimalistic, yet sophisticated vibe. 
10. Powder Pink - Benjamin Moore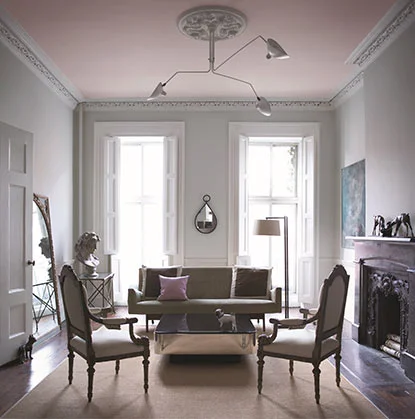 Painting the ceiling with a lighter color, preferably a lighter shade of pink is an excellent design idea to enhance the visual and aesthetic appeal of any room. It allows you to play with different color contrasts while adding depth and dimension to the space. 
That's why BM Powder Pink can be an ideal choice because it offers an open and airy look to your room while maintaining perfect harmony with other colors. It heightens the illusion of space significantly and can add a subtle yet interesting touch to a plain white room. 
11. Baby's Breath - Benjamin Moore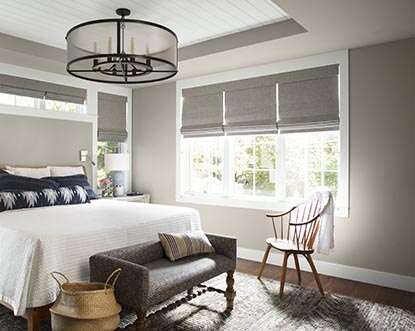 If you have a high ceiling adorned with architectural details, such as crown molding, vaulted, or tray ceilings, it is best to use a subtle color. The BM Baby's Breath guarantees softness and can instantly grab your attention to draw your eyes upward to the ceiling. 
It creates a warm and cozy ambiance, especially if you have a raised ceiling. And you can pair it with other neutral colors, like the BM Silver Fox, to lend a spacious effect to your room. 
12. Studio Green - Farrow And Ball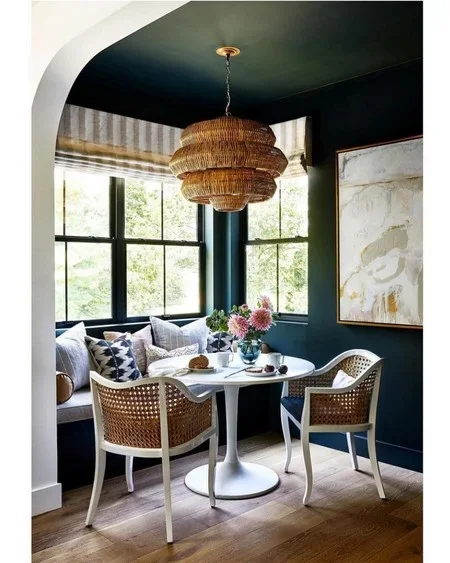 When it comes to experimenting with dark and bold colors for your ceiling, Studio Green from Farrow And Ball can be an exciting choice. It is the darkest green shade offered by the manufacturer and responds beautifully to different lights. 
In fact, it appears much greener under light compared to the color card sample. This dark and rich color is almost black and pairs perfectly with earthy browns and clean matte whites for visually stunning color contrast.
Ceiling Paint Color Frequently Asked Questions  
What are the best paint colors to hide ceiling imperfections? 
If your ceiling is relatively old and has some cracks or blemishes, the best way to hide those imperfections is to choose a dark paint color for the ceiling. Any dark shade, like BM Onyx or BM Backwoods, can easily cover up ceiling imperfections and help you avoid expensive ceiling repairs. 
How can a white ceiling help enhance light reflectivity? 
White ceiling colors usually have a high light reflectance value (LRV), allowing them to reflect light across the room and brighten up the entire space. Even if the room doesn't get sufficient natural light, a white ceiling can make it look lighter and brighter, thanks to its high LRV. 
What are flat paint colors? 
Flat paint colors come with a rich matte finish that separates them from glossy high sheen paints. These flat paints are excellent for monochromatic interior designs and deliver a uniform color flow.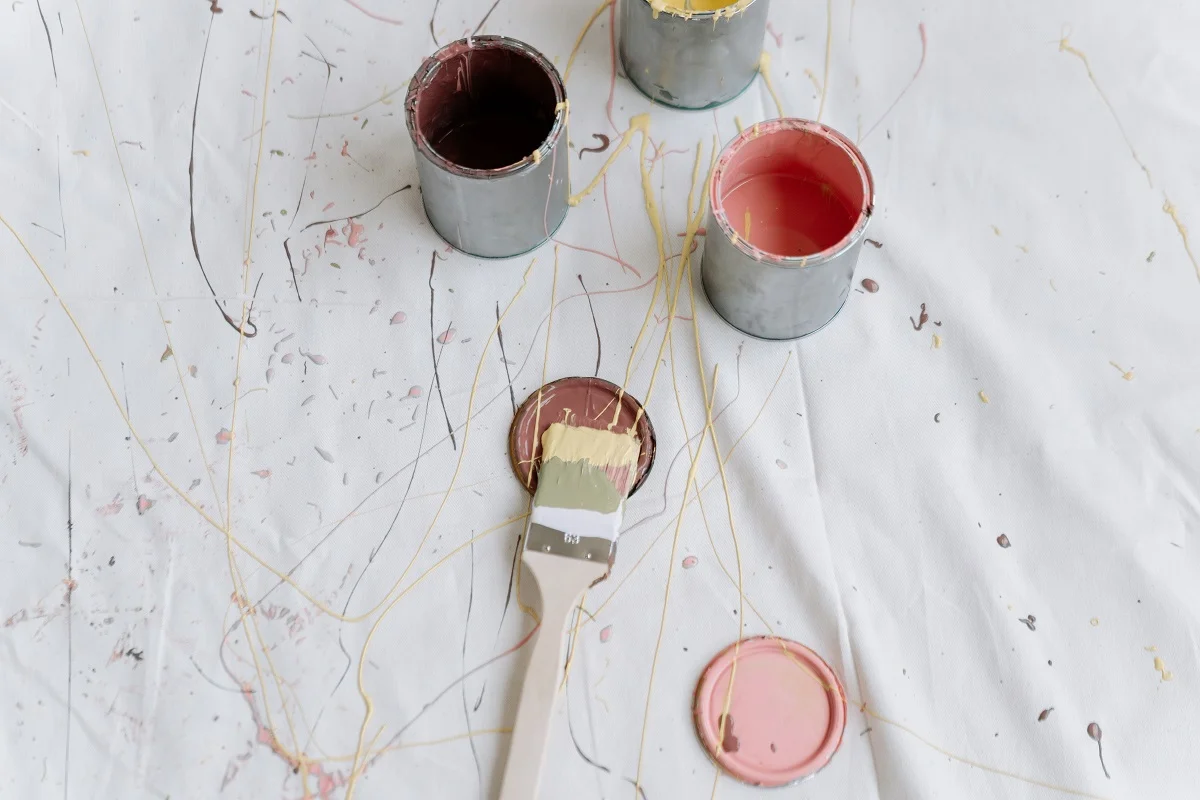 Paint Colors For Ceiling Final Thoughts 
Designing your rooms and choosing the best paint colors for ceiling can be a bit tricky if you are not sure about the right color contrast or profile. 
The ceiling paint colors discussed in our article are ideal for creating both light and dark ceilings. However, if you're not entirely convinced about which color to choose for painting the ceiling, you can always consult with a professional interior designer. 
If you're a DIYer and want to paint your ceiling all by yourself, but don't know how to paint it with a roller, check out our article on how to paint ceilings with rollers. We're sure it'll be of significant help.