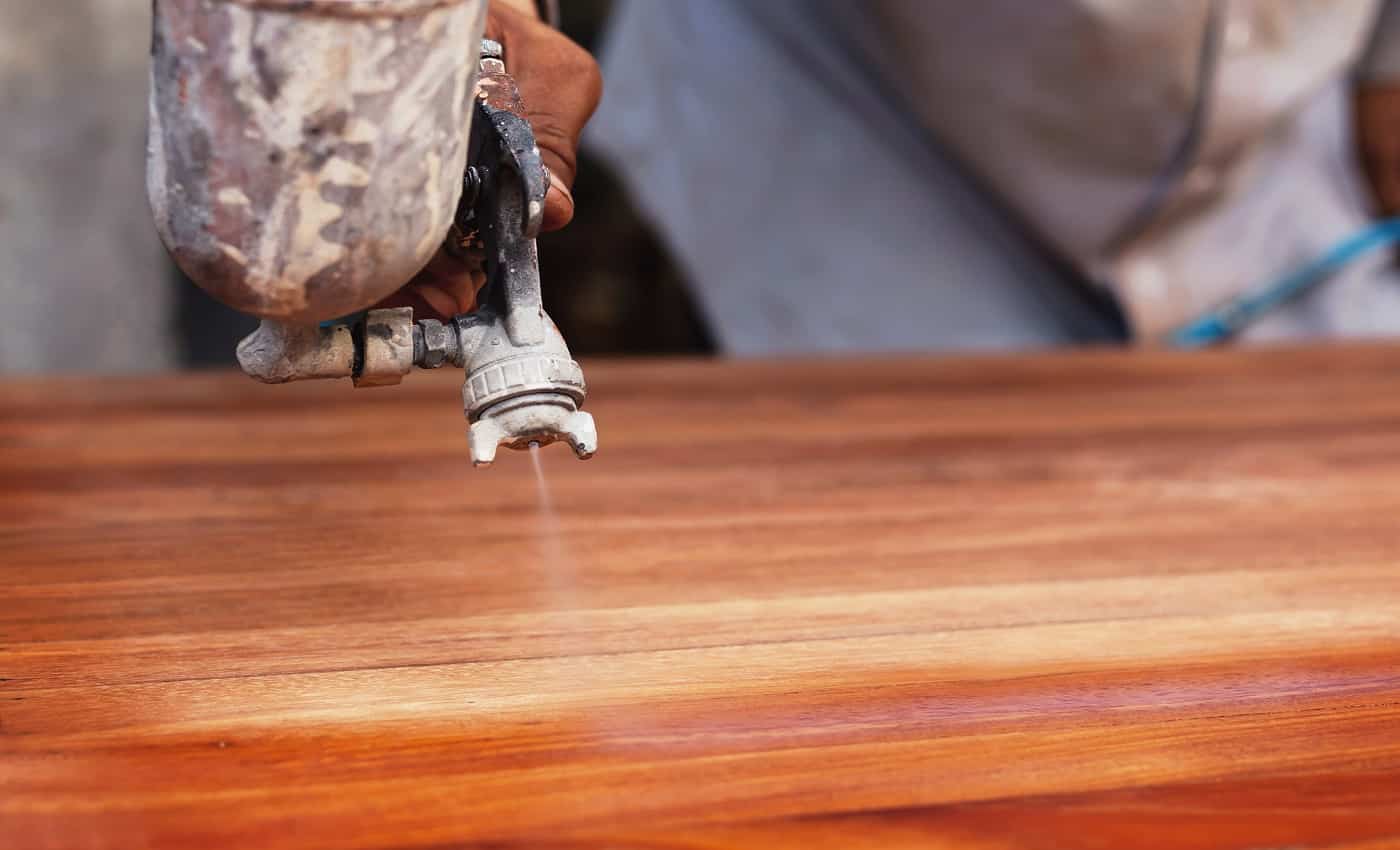 If you are looking to get that extra shine on your furniture or want to make sure it remains durable, lacquer coatings are ideal!
Usually applied right in the end, a few coats of lacquer will automatically enhance the look of the furniture. The issue is that coating anything with lacquer is not always the easiest thing as it is slightly thicker and stickier than regular paint. Moreover, paint sprayers that are lacquer compatible ensure the coat is smooth and ripple-free. 
Now, the real question is – which lacquer paint sprayer is ideal for your needs? Lacquer coatings are not a new concept, and hence, there are a ton of paint sprays dedicated to it. If you are confused about which paint sprayer to buy, hold on tight. We have put together this review on the 9 best paint sprayers just for you.
So, without further ado, let's get right to it!
Best Paint Sprayer for Lacquer
IMAGE
PRODUCT
DETAILS

Our Top Pick

Our Top Pick

Graco Magnum 257025 Paint Sprayer

TrueAirless Spray Tip
Power Flush

VIEW LATEST PRICE →

Neiko 31215A Paint Spray

600cc aluminum cup 
Three adjustment valves 

VIEW LATEST PRICE →

Wagner Spraytech 518050 Paint Spray Gun

Three spray patterns 
Two-stage turbine 

VIEW LATEST PRICE →

Scuddles Paint Sprayer

4.43 pounds 
6.6 foot long power cord

VIEW LATEST PRICE →

Campbell Hausfeld AT706099 Paint Sprayer

Two spray guns 
10 paint filters

VIEW LATEST PRICE →

Wagner FLEXiO 0529021 Paint Sprayer

Adjustable pattern width 
Includes two nozzles 

VIEW LATEST PRICE →

Neu Master NSG0070 Paint Sprayer

6.6-foot power cord 
Three different nozzles

VIEW LATEST PRICE →

PNTGREEN LS230 Professional HVLP Spray Gun

86% transfer efficiency rate 
Metal spray cap

VIEW LATEST PRICE →

Ingersoll Rand 210G Spray Gun

Non-drip cup 
Suspension hook

VIEW LATEST PRICE →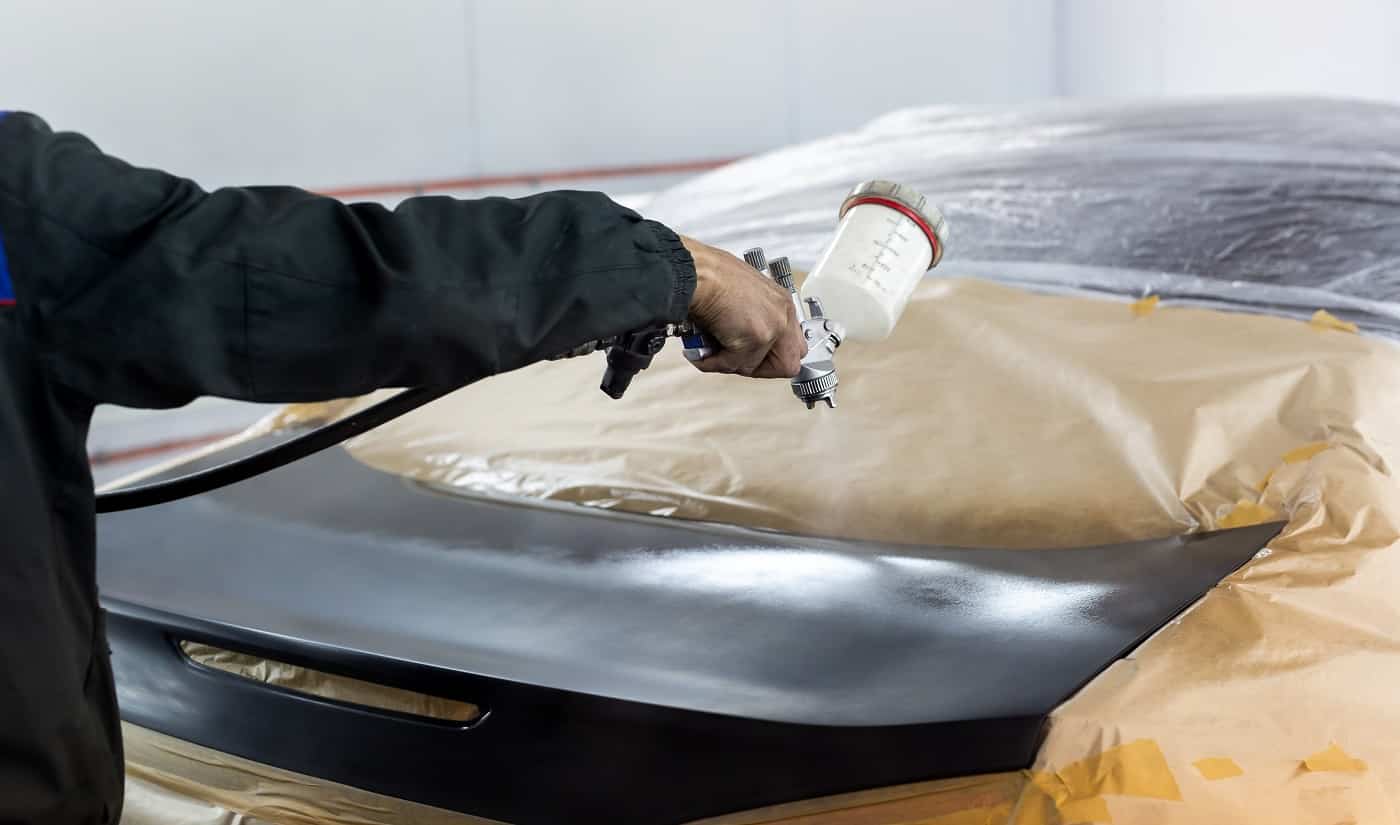 When looking for new tools, most people like something affordable and convenient. Thankfully, this spray gun has both of those qualities. The Graco Magnum 257025 Paint Sprayer has many adjustable features that allow the user to control the tool based on their requirements.
Sale
Why Did We Like It?
Big projects require big tools, and one such tool is the Graco Magnum paint sprayer. With an annual use recommendation of 50 gallons a year, this will definitely be enough for every DIY project. Moreover, it is pretty convenient to use since you directly spray from one or five-gallon containers. 
An interesting feature is that the pressure is fully adjustable, giving you the flexibility to control it in any way. Plus, in case the tip gets clogged, the RAC IV lets you reverse the tip. As such, you don't have to worry about the paint thinning as the stainless steel piston ensures it continues to spray evenly.
Moving on, storage is effortless since there are several compartments that you can use to store the spray gun, the tips, and the power cord. Additionally, the long cord makes it perfect for those projects that have hard-to-reach spots. 
What Could've Been Better?
Functionality-wise this is a very efficient paint sprayer; however, there is a slight downside to it. Setting up and tearing down the paint can be challenging, not to mention, very messy. Cleaning the spray tip can be a little time-consuming as well. However, a thorough cleaning will only make it easier for you to work with it.
Pros
Easy to unclog

Can be used with a large amount of paint

Long delivery hose

Can spray large areas in less time
Cons
Cleaning is messy and challenging
Looking for a sturdy, heavy-duty spray gun? Take a look at the Neiko 31215A Paint Spray that has a stainless steel body. This sturdy gun is made for minor projects as it has small nozzles that are ideal for projects around the house. Let's move on to some of the features this spray gun has to offer.
Sale
Why Did We Like It?
If you are looking for a heavy-duty paint spray gun that can spray lacquer, this one by Neiko is a top contender in a sea of spray guns. One of its best features is that you can choose from different models and nozzle sizes depending on your requirement. Rest assured, they all provide the same level of precision and flexibility when painting. 
We also like that this is a gravity-fed cup and includes three adjustable valves that facilitate precise painting with minimal effort. Even the carrying capacity is impressive since this gun features a 600cc aluminum cup. Plus, it comes with cleaning and assembly tools like a multi-size wrench.
Additionally, the whole paint gun is made out of stainless steel, making it resistant to rust and corrosion. This speaks volumes about its durability and lifespan. Moreover, the cup has a protective lid to keep the paint inside while using it.
What Could've Been Better?
One of the significant issues with this spray paint gun is its disassembly. The paint gun has overly tight screws that make it hard to disassemble and clean. While there is a multi-wrench provided, many users have found it to be too tight to loosen the screws. Other than that, it is a heavy-duty tool that does what it says.
Pros
Precise and smooth spraying quality

Good quality construction

Ideal for small DIY projects

Resistant to rust and corrosion
Cons
Challenging to disassemble
Next on the list is this handy spray gun by Wagner. Whether you want to re-paint an old table or paint the window panes, this paint gun is ideal for everyone's requirements. The days of standing with rollers and brushes are gone, as this product is made to impress.
Sale
Why Did We Like It?
If you are looking for a high-performance spray gun, then take a look at this one by Wagner. It has a two-stage, indoor and outdoor rated air turbine that helps provide a smooth finish to any of your products. What's even better is that this gun allows you to control the volume of the lacquer for a smoother spray. 
One feature that we found particularly interesting is the multiple spray patterns. The Wagner spray paint gun can spray horizontally, vertically, and in round motions. This gives you certain flexibility in terms of how the finished product will look. You will appreciate that this paint gun has replaceable filters, so the paint will always be clean.
Additionally, it includes a bunch of features that make it effortless to use and clean. For example, it has two cups of varying sizes. This makes it easier for the user to pick one that is more appropriate to the project.
What Could've Been Better?
Wagner is a well-known brand in the industry (and for a good reason). So, it was hard to fault the spray gun as it works perfectly, and there are many reviews to show for it. However, there have been instances where the hose has popped out due to a design flaw in the gun. 
Pros
Easy to clean

Replaceable filters

Smooth spray and excellent finish

Affordable
If you are just venturing into the world of spray painting, this is a lovely kit to consider. Everything you need to clean is included with the kit, so you do not need to worry about a thing. With the Scuddles paint sprayer, you are bound to find the process effortless and fun.
Sale
Why Did We Like It?
Another high-performance paint sprayer worth considering is the one by Scuddles. This particular spray gun has everything that you can imagine. To begin with, it includes an extensive cleaning kit along with five nozzles. But that's not all; the company can also provide replacements for containers.
We particularly like that this spray gun can be used straight out of the box and there is no need for assembly. This saves a lot of time and allows you to get to work as soon as the spray gun reaches you. Moreover, it has three spray modes – horizontal, vertical, and round – that you can choose from when using the paint gun for any project. 
You will also appreciate that this gun has a long power cord, so it does not restrict you while working – especially on big projects. Plus, the paint gun has a large paint container that can hole about 1000 ml of the paint, so no more unnecessary breaks due to constant refilling.
What Could've Been Better?
While there is nothing really wrong with the tool itself, taking a good look at the instructions is strongly advised. As this one seems to have a ton of elements, multiple users (and us too!) would recommend taking some time to mock-use the spray gun and understand it thoroughly before painting anything.
Pros
Long power cord

No assembly required

Large cup capacity

Precise and "no-mess" painting
Cons
Setting up and understanding the tool takes time
If you are looking for something that is easy to manage and can provide excellent coverage, the Campbell Hausfeld spray paint is ideal for you. Made for smaller projects, this is a high-quality spray gun made to last for a very long time. Now, let's take a look at some of the qualities that sets it apart. 
Why Did We Like It?
When you are getting two for the price of one, it would be foolish not to like it. The Campbell Hausfeld paint sprayer is a kit that comes in a sturdy box and includes a lot of useful tools including two paint sprayers. This inclusion ensures that the users turn to this toolbox no matter what kind of project they are working on. 
Additionally, it comes with ten paint filters, two adjusting valves, five in-line paint filters, and many other elements. Due to the sheer volume of the tools included, it is no surprise that there is a case to carry it around. Apart from portability, the case makes it a lot easier to store everything in one place.
Campbell Hausfeld takes pride in the fact that spray paint guns are designed to reduce wastage of paint. In addition, it aims to deliver precise results with maximum efficiency.
What Could've Been Better?
One common complaint regarding this particular spray paint is that it is not made for larger areas or projects. In addition, keep in mind that the spray gun has a few sharp edges and needs to be kept away from small children. Other than that, it works perfectly and provides excellent coverage. 
Pros
Precise spray with excellent finish

Reasonably priced

Good quality construction

Easy to assemble
Cons
Body of the gun has some sharp edges
For people looking for a heavy-duty beginner tool, the Wagner FLEXiO acts as an excellent product. This may be a big spray machine, but it is very comfortable to use and does not require a lot of physical strength. Plus, it can be used with interior and exterior paints and stains.
Why Did We Like It?
The days of carrying heavy-duty spray painting equipment are over, thanks to the Wagner FLEXiO 0529021 paint sprayer. This tool is ideal for a variety of projects – from detailed painting on furniture to wide spray painting on walls and decks. The reason behind its versatility is that it comes with two different nozzles which cater to both general and detailed painting. 
Working with this paint sprayer is effortless, thanks to the plethora of adjustable settings. To begin with, you can pick between horizontal and vertical patterns. You can adjust not only the pattern but also the pattern width based on your project. Additionally, the airflow and material flow can be controlled for more precise sprays.
You will also appreciate that this whole setup can be kept on the ground as you work, reducing hand fatigue. The turbine does not have to be lifted as there is a hose to spray the coating. Furthermore, cleaning this paint sprayer is a cakewalk as well.
What Could've Been Better?
This unit is excellent and works well for big projects. However, one of the things worth keeping in mind is that the hose is a bit stiff. While it is much easier to keep the whole unit on the ground the stiffness of the hose does not allow much movement. Also, there is a bit of overspray to adjacent surfaces, but it is minimal.
Pros
Great for big projects

Easy to clean

Multiple nozzles

Highly adjustable
Your search for an affordable yet high-end sprayer that offers a superior finish is finally over because the Neu Master spray paint gun is here. This HVLP gun is ideal for providing full coverage with the risk of overspray. Additionally, it is a top choice if you look for a spray gun that is not time-consuming to set up.
Sale
Why Did We Like It?
Overspray is a bit of an issue with tools like these, but that is precisely what the Neu Master paint sprayer is trying to tackle. This is an upgraded HVLP sprayer with a powerful motor that ensures 100% coverage by any paint material. It also aims to reduce overspray and provide maximum control to the user.
One of the great things about his paint sprayer is its superior finish. This is because it has three different-sized nozzles as well as three spray patterns. This variety allows the spray gun to provide precise and smooth finishes to any surface. Plus, you can adjust the volume of the material by increasing or decreasing its flow.
In a nutshell, this is a great paint sprayer for painting on decks, fences, cabinets, and many more. Additionally, it is compatible with not just lacquer but also stains, varnishes, and seals. 
What Could've Been Better?
One of the main issues with this is that the instruction manual is not too helpful. The pictures and the explanations are not clubbed together, so be prepared to do a ton of back and forth. Also, the paint container is a little small, so it is not ideal for painting large surfaces. 
Pros
Well balanced tool

Effortless to use and clean

Minimal overspray

Adjustable flow of material
Cons
Instructions are not easy to follow
Next on the list is this sturdy metallic spray gun by PNTGREEN. It is incredibly easy to use and is a deceptively simple-looking gun; but, don't be fooled by its looks. The PNTGREEN spray gun is professionally manufactured and offers precise and smooth sprays. Now, moving on to some more interesting aspects of the tool.
Sale
Why Did We Like It?
If you have had trouble finding good-quality, heavy-duty spray paint that is easy to use, your search ends here. The PNTGREEN spray paint is ideal for every project and is effortless to use. The best part is that it does not cost a fortune. This paint gun is one of the most affordable ones on the market. 
One great thing about this gun is that it comes with a complete kit that includes everything you might need. At a reasonable price, you get two cups, two tips, and two needles. Plus, the quality of these needles is like any needle from a high-end company. The paint gun is highly efficient with these needles and has an 86% transfer rate.
You will appreciate that not only is this gun easy to use but also easy to clean. This is because taking it apart and putting it back together is pretty straightforward.
What Could've Been Better?
We noticed that one of the most significant issues is that it tends to leak after a few weeks of continuous use. And because of the leak, the spray is not even or consistent, which can negatively affect any project. Some users also mentioned that the gun does not have a long lifespan.
Pros
Professionally made

Assembly is effortless

Easy to clean

Sturdy metallic construction
Next up, we have the Ingersoll Rand spray gun. If you are looking for a paint gun that is not too complicated to use and can help you with almost every project, this is the one. Plus, Ingersoll Rand is known for its durability, precision, and performance. Let's take a look at some of its eye-catching features.
Why Did We Like It?
The Ingersoll Rand spray gun is made for larger projects like furniture and car restoration. This is because it can offer a precise and easy spray painting experience that will not result in physical strain over long periods. Moreover, it features adjustment knobs that allow you to control the flow of material while spraying. What's even better is that you can control the airflow as well.
But that's not all; there is more. Since bigger tools tend to make a bigger mess, this particular spray gun has a no-drip cup. The lid on the cup is secured tightly to ensure that the paint stays confined within the cup. Additionally, it is pretty lightweight and has a suspension hook integrated into its design for easier storage.
Whether you are a beginner or a DIY expert, this spray paint gun is ideal for everyone. It is effortless to use, is compatible with most materials including lacquer, and is pretty well built.
What Could've Been Better?
A consistent complaint with this tool is that the instructions are a bit vague, making it difficult to install properly. Many users have also mentioned that the gun has no concrete user guide, so they had to figure it independently. This puts first-time paint gun users at a bit of a disadvantage.
Pros
Adjustable flow and spray knobs

Secure lid on the cup

Delivers professional-level results

Well-built and sturdy
Cons
Directions are not very helpful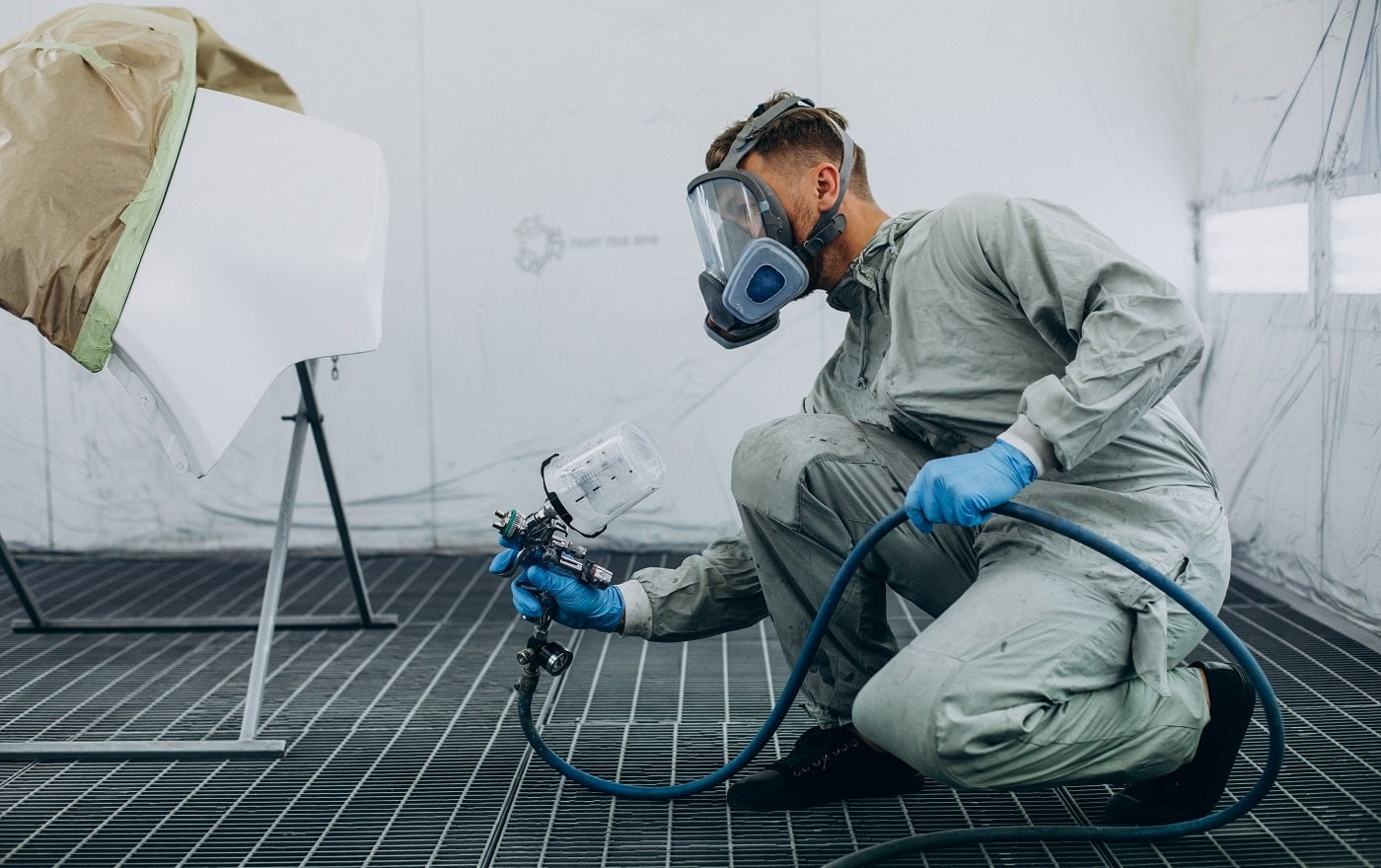 Paint Sprayer for Lacquer Buyer's Guide
Now that we are through with the reviews, let's get into why these particular spray painting tools were selected. As mentioned time and again, the thing about lacquer is that it isn't the easiest material to use, and spray painting with it requires a lot of precision.
This is why we have put together this small buyer's guide. We hope this helps you understand what to look out for to ensure a paint sprayer is suitable to use with lacquer. 
Pressure 
One of the first things to look out for is the pressure rating of the gun. When it comes to lacquer, high pressure is needed so that the material is handled properly. This is why the sprayer has to be able to provide and withstand a certain amount of pressure. 
Airless paint sprayers are ideal if you are looking for high-pressure tools to paint fences, decks, and shutters. On the other hand, you also have HVLP (high volume, low pressure) paint sprayers. These guns usually spray the paint out slowly but provide a thicker coat. 
Design 
The next important thing to keep in mind is its design. This is something to consider not just for lacquer sprayers but paint sprayers in general. Any paint spraying gun should be lightweight and have an ergonomic design to prevent hand fatigue. In case the equipment is heavier, it should have a hose so the turbine can rest on the ground.
Ease Of Cleaning 
These tools need to be easy to assemble and disassemble so that cleaning them is not time-consuming. Additionally, if the kit comes with cleaning tools, it makes it even easier to clean. 
Features
Some exciting features that make the paint sprayer even better are adjustable knobs and long power cords. The knobs mainly help ensure precise and smooth sprays, while the long power cords are ideal if you intend to work around big projects that need flexibility.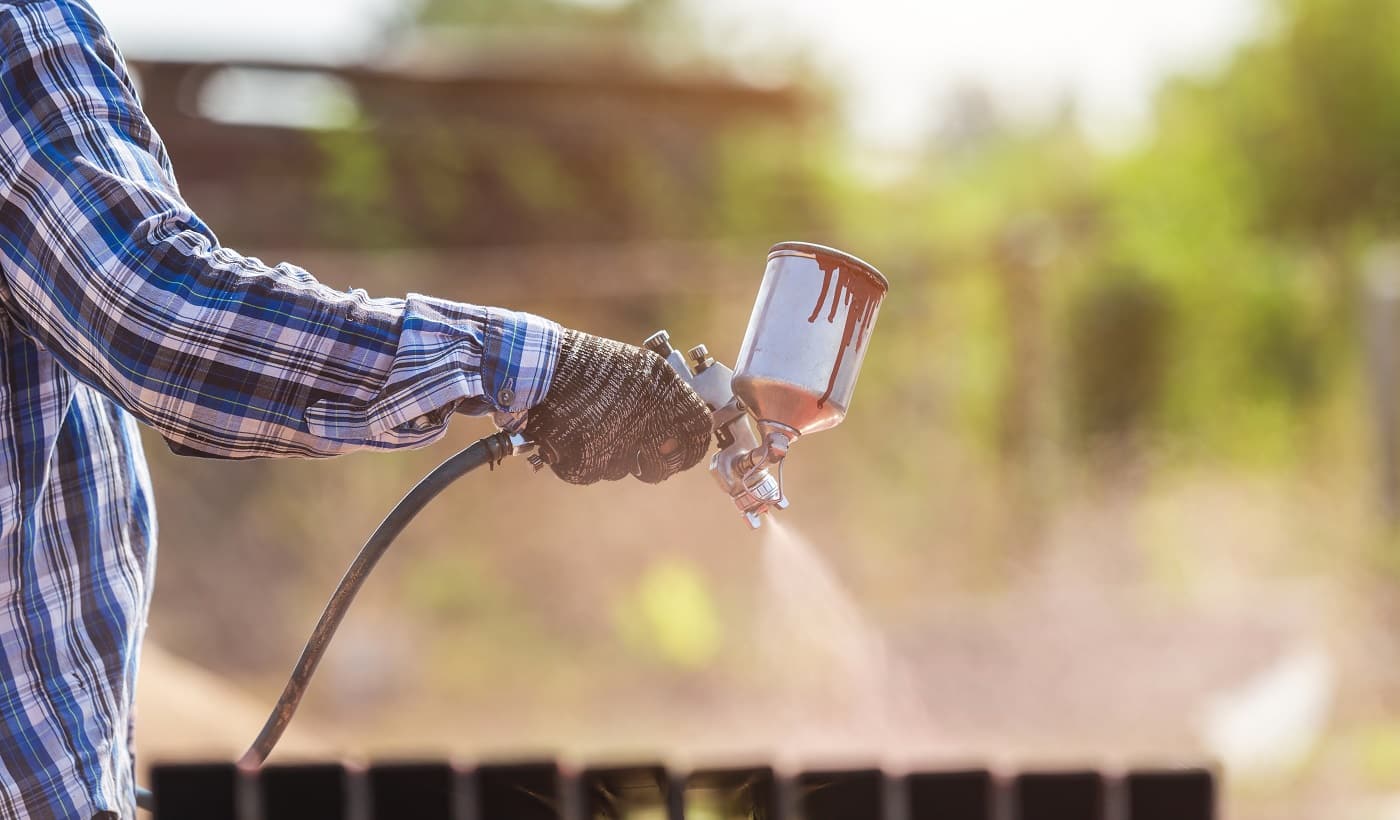 Verdict
Spray painting with lacquer is not like spray painting with any other material, which is why it is essential to look into lacquer-friendly sprayers. 
We hope this review on the 9 best paint sprayers has been helpful and will help you make an informed decision. That being said, we may have thrown a lot of information your way, so let us narrow it down for you. We highly recommend the Graco Magnum 257025 paint sprayer, followed by Neiko 31215A paint sprayer.
The reason we like the Graco Magnum one is that you can spray wide surfaces in less time. Albeit it is a bit messy and difficult to clean, but it is worth the investment. When it comes to the paint sprayer by Neiko, its durability is what steals the show.
On that note, we shall now sign off. Let us know which one(s) stood out for you the most.
See you next time!
Related Articles
9 Best White Face Paint For Cosplay, Clowns & Halloween
8 Best Face Paint For Kids Reviewed
6 Best Body Paint | Top Brands Compared
5 Epic Face Painting Supplies That Will Improve Your Designs
6 Best Body Paint For Cosplay Reviewed
Learn How to Body Paint With Brilliant Results Right Now
5 Best Airbrush for Body Painting Reviewed
16 Brilliant Face Painting Techniques to Feed Your Imagination
13 Best Paints for Bathroom Ceilings 
11 Best Polyurethane Protective Coatings  
What is the Best Wood for Outdoor Furniture 
13 Best Spray Paints For Metal
7 Best Airbrush for Miniatures & Model 
11 Best Epoxy Resin For Crafts 
5 Best Polyurethane for Floors  
5 Best Epoxy Resin for Tumblers  
9 Best Exterior Wood Stains Today 
13 Best Spray Paints For Metal
7 Best Airbrush For Models & Miniatures  
10 Best Clear Coat for Kitchen Cabinets [Buyer's Guide]
7 Best Polyurethane for Floors 
11 Best Miniature Primer [Reviews & Buyer's Guide]
9 Best Paint Brush For Polyurethane
7 Best Sprayers For Staining A Fence
9 Best Paint Sprayer For Lacquer
Graco X5 vs X7 Comparison Review 
9 Best Finish for Kitchen Table
Sherwin Williams Vs. Benjamin Moore [A Clear Winner?]