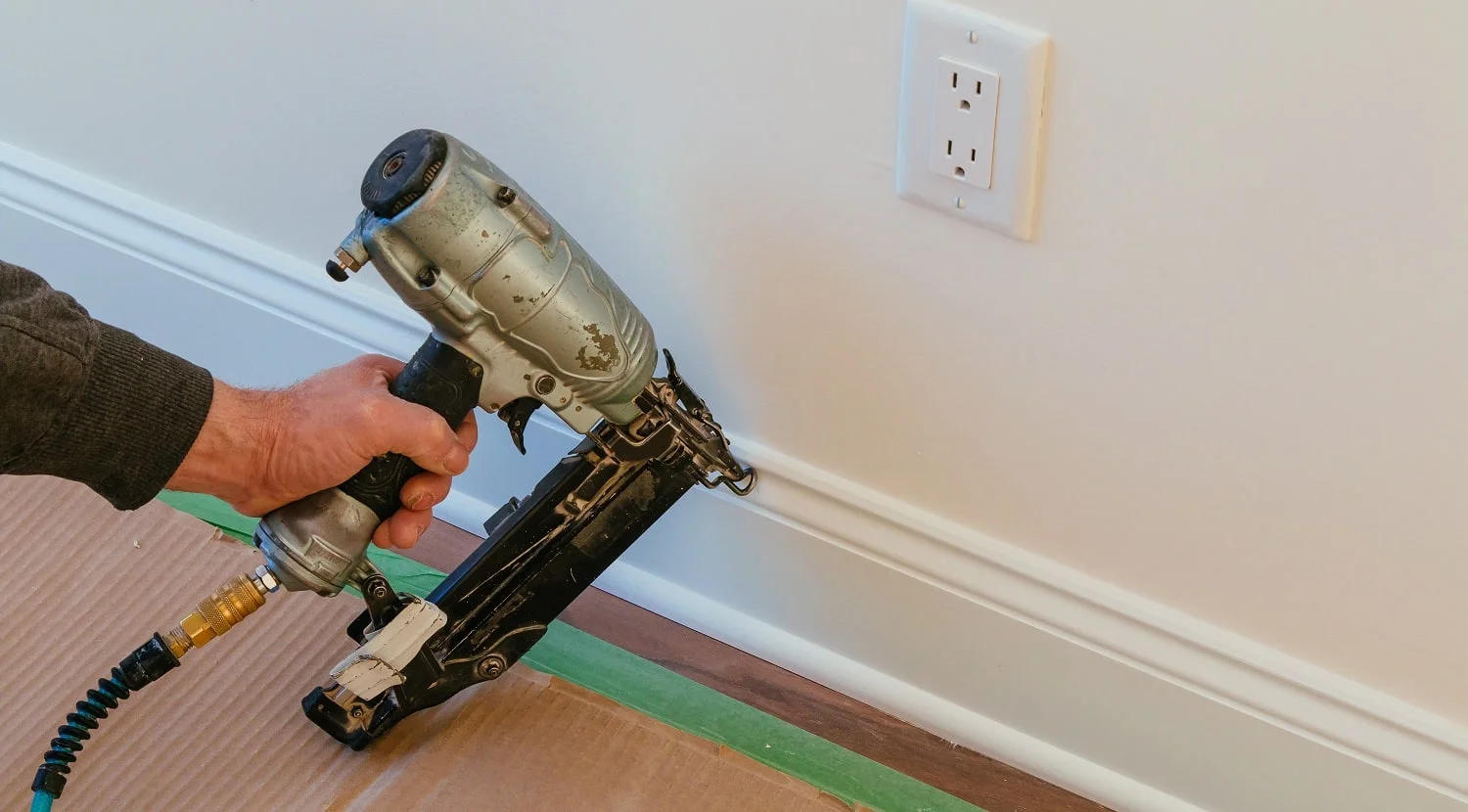 Nailers are known to be the ultimate bonding devices. Once you have nailed two surfaces, be assured that you have a long-lasting bond.
While some people still use glue guns for attaching surfaces, there is always a chance that it will come apart if they face too much pressure. But nails will save you from that hassle!
Now, the trick is to use a nailer, which will do the job correctly. And that's where the problem arises! You may have already decided to buy one, but more often than not, there is a lot of confusion with multiple choices in the market. We have been there and we promise not to let this be a hindrance for you.
With the price, quality, and usability in mind, we have listed the top 9 pin nailers with an unbiased and comprehensive review of each. And it is followed by a detailed buyer's guide to help you a bit more.
Let's get into the details without further delay.
Top Pin Nailers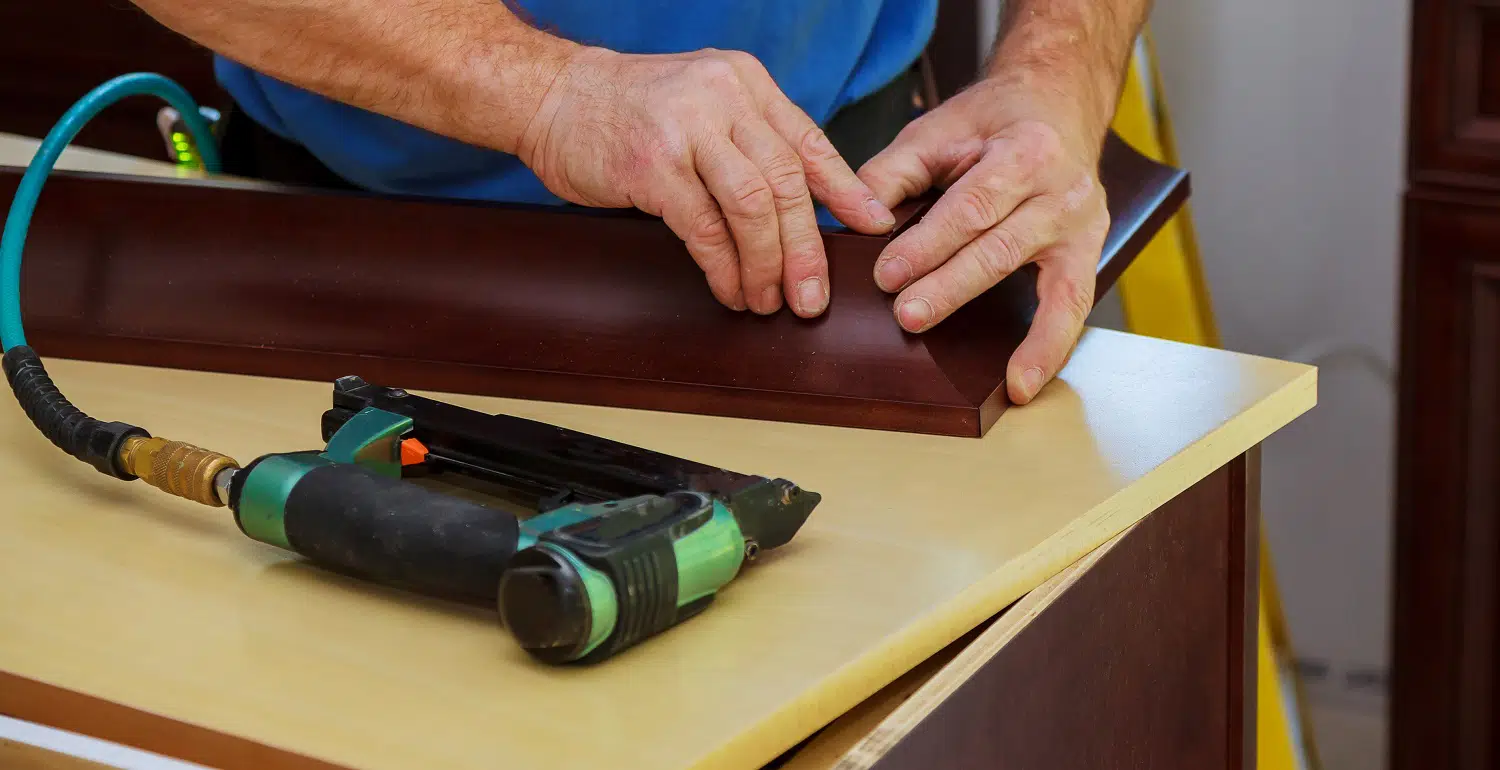 First up, from the house of Hitachi, this pin nailer is perfect for amateurs and professionals alike. Pairing versatility with affordable pricing, you will be pleased to witness the sheer excellence offered. Also, its top-notch quality combined with a super light body makes it easy to carry.
Why Did We Like It?
We will begin with the double-trigger system. Not only does it prove to be beneficial, but the company has taken care of safety too. One has to press the first trigger before the second one to get it working. This makes it more secure, though it works a little differently in comparison with other products.
The device additionally comes with a hex bar wrench, which enables you to control the depth easily. There is no need to buy it separately, and this reduces the total cost. 
To top it all, we were impressed with the smart magazine, which adjusted to the various sizes of nails. You would not have to do it manually, saving you a lot of time and effort.
Lastly, we will have to mention the reload indicator. Thanks to it, we never made the mistake of dry firing.
What Could've Been Better?
We took a little while to adjust to the dual trigger. Both of the triggers should not be pressed together; otherwise, it may cause injuries. Long story short, you'd have to be extra careful about it, at least initially.
Pros
Dual trigger helps in placing fasteners securely

Adjusts to different depths

Reload indicator helps prevent dry firing

Oil and debris do not blow into the face
Cons
It takes time to adapt to the dual trigger
Designed for professionals, the Cadex V2/21.55 21 Gauge Pinner provides some of the best features. It fastens nails flawlessly and works with high precision, making it one of the most sought after products in the market. Without further ado, let us get into the bells and whistles of it.
Why Did We Like It?
First and foremost, its user-friendly design comes with a properly balanced construction. The body is sturdy enough while also being lightweight and providing continuous operation capacity. You can easily work with it for long hours without any issues. The no-mar tip further prevents any kind of scratches on the surface.
Also, it features a 360-degree exhaust. We know how problematic it can be to have dust and air blown into your face. It can hamper work big time! But with this feature, you can work easily with the exhaust adjusted to face a direction away from your face. 
To top it all, the device comes with a magazine window. The window allows you to see the number of nails left so that you know when to reload. This feature, combined with nail lockout increases the durability.
What Could've Been Better?
One slight problem we found with this device is that the nylon tips are not sturdy. They may open easily, and it becomes challenging to put it back. This may cause a disturbance in your work process. We would suggest using it very carefully to prevent any mishap.
Pros
Easy to carry

No-mar soft tip to prevent scratches

Precision nose helps in perfect aiming

Anti-dry fire mechanism
Known for its splendid performance, the Grex P635 23 Gauge Pinner is one of the best pneumatic options that you will get. It comes packed with almost every feature you can imagine! You will be elated to see the versatility that is offered. 
Why Did We Like It?
The device comes equipped with a dual trigger mechanism. Here, the triggers are placed close to one another. This helps one to easily access both without needing to stretch your fingers too much, making it user-friendly. 
Paired with an auto-adjusting magazine mechanism, one has the benefit of being able to let the fastener adjust itself to nail lengths. You do not have to do it manually, thus saving a lot of time.  
To add on, we appreciated the rear exhaust, which came with a built-in silencer. The silencer muffled noises making the process quieter. Along with it, the exhaust worked in driving dust and air away from the face. 
It also comes with additional accessories including, no-mar tip, carry case and set of hex keys, tool lubricant, and a 1 ⅜ inch headless pinner. The company has truly thought it out and provided everything you may need. 
What Could've Been Better?
The product does not enable you to adjust the pin depth. This means that the pin length is of priority and you will have to depend on it for proper nailing. No manual adjustment can be made otherwise. But again, it is not a very big drawback, and we will not hold it against the brilliant features offered.
Pros
Can reach tight spots and narrow spaces

Has a no-mar tip

Equipped with reload indicator to prevent dry firing

Lightweight and easy to carry
Cons
No depth adjustment feature
Next up is an excellent product that will help you achieve the utmost precision and a tiny hole that is almost invisible to the eye. Such finesse is sure to impress you. The Senco Fastening Systems Headless Pinner is a treat to have with a combination of some of the best features.
Why Did We Like It?
This unit is a powerhouse that enables you to pierce through very hard surfaces with ease. It has an excellent capacity to place nails correctly without any damage.
Also, we were in awe of the power that it showed as well as the magazine adjustment. It is one of the most brilliant features of this product. Featuring automated adjustment, this fits various types of fasteners, ensuring the perfect placement of pins.  
Further, the last nail lockout system will keep the aforementioned working for a long. It prevents dry firing, which is detrimental to the nailer. This means that it does not allow the last nail from being fired until you have reloaded it with new nails. 
Lastly, we will mention the tip, which was extremely beneficial in reaching narrow and almost inaccessible places. It made it easier for us to work with tight areas and can be very helpful while working with trims. 
What Could've Been Better?
One issue we found with this product is the release mechanism. There is a tendency for it to jam far too often, leading us to spend time in opening the nail chamber and releasing the jammed nail. Though it does not cause any damage, it can be a hindrance, especially if it occurs in between tasks. 
Pros
Can be used to reach narrow spaces

Last nail lockout facility to prevent dry firing

Automatic adjustment to fit various fasteners

Can drive through hard surfaces with ease
If you are looking to work with longer nails, the BOSTITCH HP118K 23-Gauge Pin Nailer is the best product to choose. It combines reliability and functionality to give you a very smooth experience. We know how tiresome nailing can be, but with this in hand, the job becomes much easier.
Why Did We Like It?
We will begin with the magazine capacity of the device. It can hold up to 200 nails at one time! This is a great benefit, especially for professionals who are working for long hours at one go. You will not need to reload occasionally, providing you with a smooth and trouble-free experience. 
We were also pleased with the durable body of the nailer. When working at construction sites, it is exposed to constant wear and tear. We have dropped it many times, but the body has not been affected at all. It is made of aluminum and is pretty strong.  
Coming to usage, this gadget has one brilliant capacity. It can be used to work with delicate and sleek surfaces. What happens with thin surfaces generally is that they are prone to cracking even with the slightest of pressure. But this one works with utter precision and will not lead to cracking of the surface. 
What Could've Been Better?
The only issue we found here is the frequent jamming of this nailer. Now jamming is a problem that most faces, but this one was prone to frequent jamming leading to disruption of work. Other than this, it worked without any flaws. 
Pros
Ergonomic design for smooth and safe usage

Can be used with thin and delicate surfaces

Depth can be adjusted accordingly

Rear exhaust keeps dirt and debris away from the face
Cons
Problem with frequent jamming
Have a wide range of tasks that need a nailing gun? The PORTER-CABLE PIN138 23-Gauge Pin Nailer is here to your rescue. It offers a wide range of exceptional features and will please you with its impeccable work capacity. What more! It is known to be very durable and will last you for ages. 
Why Did We Like It?
First, we will have to mention that this gadget is the most compact one compared to all the previous types. It measures 9.5 x 2 x 7.5 inches and weighs only 3 pounds. This makes it extremely lightweight and easy to carry. 
But do not be fooled by the small size. It comes packed with all the essential features. The dual trigger mechanism is a part of it, and so is depth adjustment. You can easily work with nails of various lengths and control the depth to which they will pierce. It can smoothly go through the hardest of surfaces with ease.  
Also, with rear exhaust, the ease of working with it is incomparable. To add to the user's convenience, this product comes with a wrench to easily remove the nose piece and take out jammed nails. 
What Could've Been Better?
This comes with a capacity of 130 nails and thus will need to be reloaded often if you are using it for more extended periods. This will not be a problem for those with limited usage but may be a hindrance for professionals. 
Pros
Extremely affordable and versatile

Can adjust depth

Does not scratch surfaces

Rear adjustment feature makes it user-friendly
Looking for an affordable device which you plan to use infrequently? The PORTER-CABLE PIN100 23-Gauge Pin Nailer will be a brilliant fit in such a case. Though it may come with limited features, it gives a bang for the buck and provides everything you expect of a basic nailer. 
Why Did We Like It?
With a space to hold 170 nails, it has sufficient magazine capacity and will last long. The unit works with 0.5 to 1-inch nails, and though the range is not huge, it functions efficiently with nails falling in the range. 
Also, it comes packed with a low nail indicator, which ensures your device never dry fires. We are beginners, and it is difficult to keep count or estimate when it needs to be reloaded. But with this, one can work in peace. 
Additionally, the product also has a dual trigger mechanism and an easy way to release jams. Jamming occurs rarely, and when it does, one can quickly remove the nail and start working again. 
Lastly, to make the product more user-friendly, it comes with a comfortable grip. This makes it easier to work with for long periods as the straining is reduced.
What Could've Been Better?
This device features no rear exhaust. The rear exhaust is essential for keeping dirt and dust away from the face. But with the absence of it in this case, one needs to be careful during operations. Take extra precautions and make sure that the flow of air is not directly at your face by keeping it at a short distance away.
Pros
Works quickly and efficiently

Adjusts to different sizes of nails automatically

Comfortable grip prevents fatigue

Automatic adjusting magazine
Next up is a highly recommended device that will stand out in your toolbox. Suitable to be used with nails of a variety of sizes, the Grex P650L 23-Gauge 2-Inch Headless Pinner is truly an all-rounder. Read about the features to know more. 
Why Did We Like It?
Are you planning to work on hardwood floors? This product will make an excellent companion in the work process. Not only is it lightweight and easy to carry around, but it has the capacity to drive nails up to 2 inches. To make things simpler, it is equipped with auto fasteners, which allow easy length adjustments. 
Adding on, to enable safer usage, the device comes with an auto lockout feature, which we already know is hugely beneficial. There is a lockout overdrive button, too, which helps in removing the remaining pins from the inside.  
Lastly, to facilitate easy jam removal, all you have to do is take the nose out, and jams can be corrected easily in no time at all. At the affordable price that it came in, the unit satisfied us completely.
What Could've Been Better?
We have been using this device for a while, and we feel that the build quality could be improved. It shows signs of wear and tear, and the rate of jamming has increased within a few months. This was slightly disappointing for us.
Pros
Narrow nose allows easy access to corners

Auto fastener length adjustments

No dry firing

Lightweight and portable
Cons
Build quality could be better
Last up is an excellent product for professional workers. If you are a carpenter looking for the perfect option, the Metabo HPT Pin Nailer will leave you elated. With premium parts and a body made for rough usage, this product won over our hearts. 
Sale
Why Did We Like It?
Firstly, like the previous device, this one also comes with a capacity to work with nails up to 2 inches. It is equipped with a depth adjustment mechanism that ensures that the pins are placed accurately at the right depth. You can easily control how far the nail would pierce.
With professional workers, loud noises can get irritating as they are working for long hours. But voila! The company had thought of it too. The product has built-in noise mufflers, which reduce the emitted noise to a great extent.  
Also, it comes with additional features like a dry-fire lockout mechanism, increasing the durability of the nailer. The rear exhaust can further be adjusted to ensure your work is not hindered at all. We can truly say that it is worth its salt.  
What Could've Been Better?
The only issue with this product is that it works with high-quality pins only. If you were planning to buy something cheap or already have a cheaper variant of nails at home, it might not function well with them. We had cheaper nails bending or breaking off when used with this. 
Pros
Makes sure pins are placed accurately

Adjustable rear exhaust

Comes with noise mufflers

Made for professionals
Cons
Works with high-quality pins only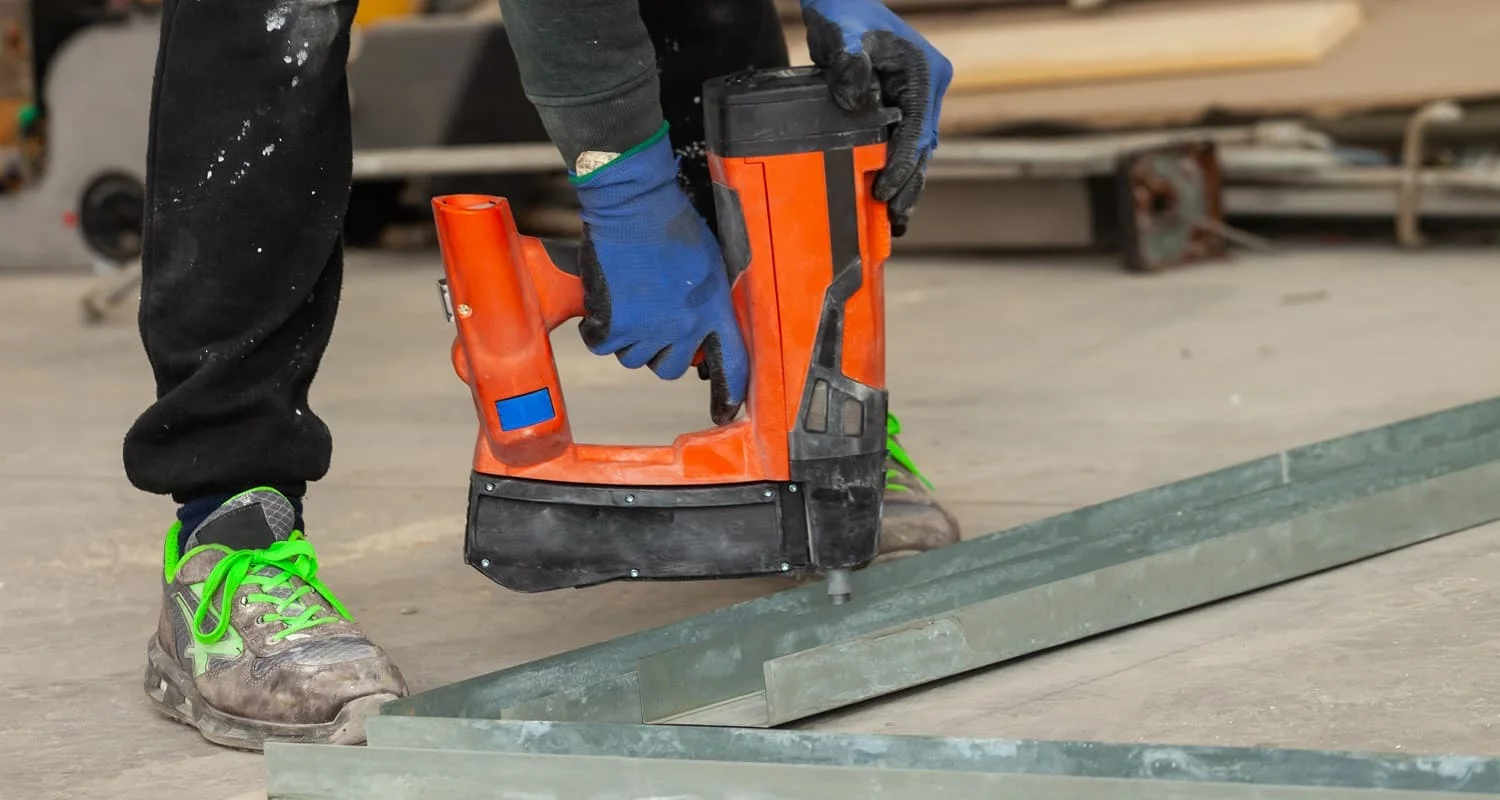 Pin Nailer Buyer's Guide
Now that you know about the various products pay attention to the following points before purchasing one. These will be helpful in finding the right option for you!
Types of nail sizes
This is a significant consideration that needs to be determined before buying a nailer. Some work with ⅝ to 1 ⅜ inch nails while others are compatible with 0.5 to 1 3/16 inch versions. Now it depends on what kind of nails you are looking at.
If you already have nails in the house, buy one which will fit their size. Otherwise, it is best to check the surface first and find out what size will be required to pin them accurately. Then proceed to purchase. 
Magazine capacity
Different nailers come with different nail-holding capacities. It is best to choose according to your requirement. If you are not going to use it frequently, the capacity should not bother you too much. A lower capacity of 100 nails will easily suffice and will be inexpensive too. 
But if you are a professional, it is best to go with a higher magazine capacity to prevent a constant need to reload from arising. 
No-mar tip
This is an additional accessory which you should pay attention to according to us. Most devices come with them in the kit, and these work wonders to protect surfaces. 
It is an essential part because the tip is otherwise very sharp, and even hard surfaces like wood can get scratched easily from it. A no-mar tip will protect that from happening. A device that comes with a no-mar tip can be used on any surface without hesitation.
Depth Adjustment 
Do you need to work on materials with varying depths? If so, the depth adjustment feature is a boon to have. It will ensure that you can set the depth to which the nail will be embedded to achieve your goal. 
Also, if you are planning to use different nail sizes, this will help adjust the depth depending on the length of a nail. 
Measure to prevent dry firing
There are some major ways to prevent dry firing. One way is the presence of a reload indicator. Another is a nail lockout mechanism, while the most basic way would be a small window for visibility. 
The reload indicator simply will send you signals that the nailer needs to be reloaded. It is not very commonly present and may make it expensive. 
On the other hand, the nail lockout mechanism is seen in quite a few devices, and this one provides an easy way to prevent dry firing. It stops the last nail from being fired and only allows it once you have reloaded. 
Lastly, a window on the side of the nail chamber makes it easier for you to keep track of nails inside. This will keep you informed about the number of nails left.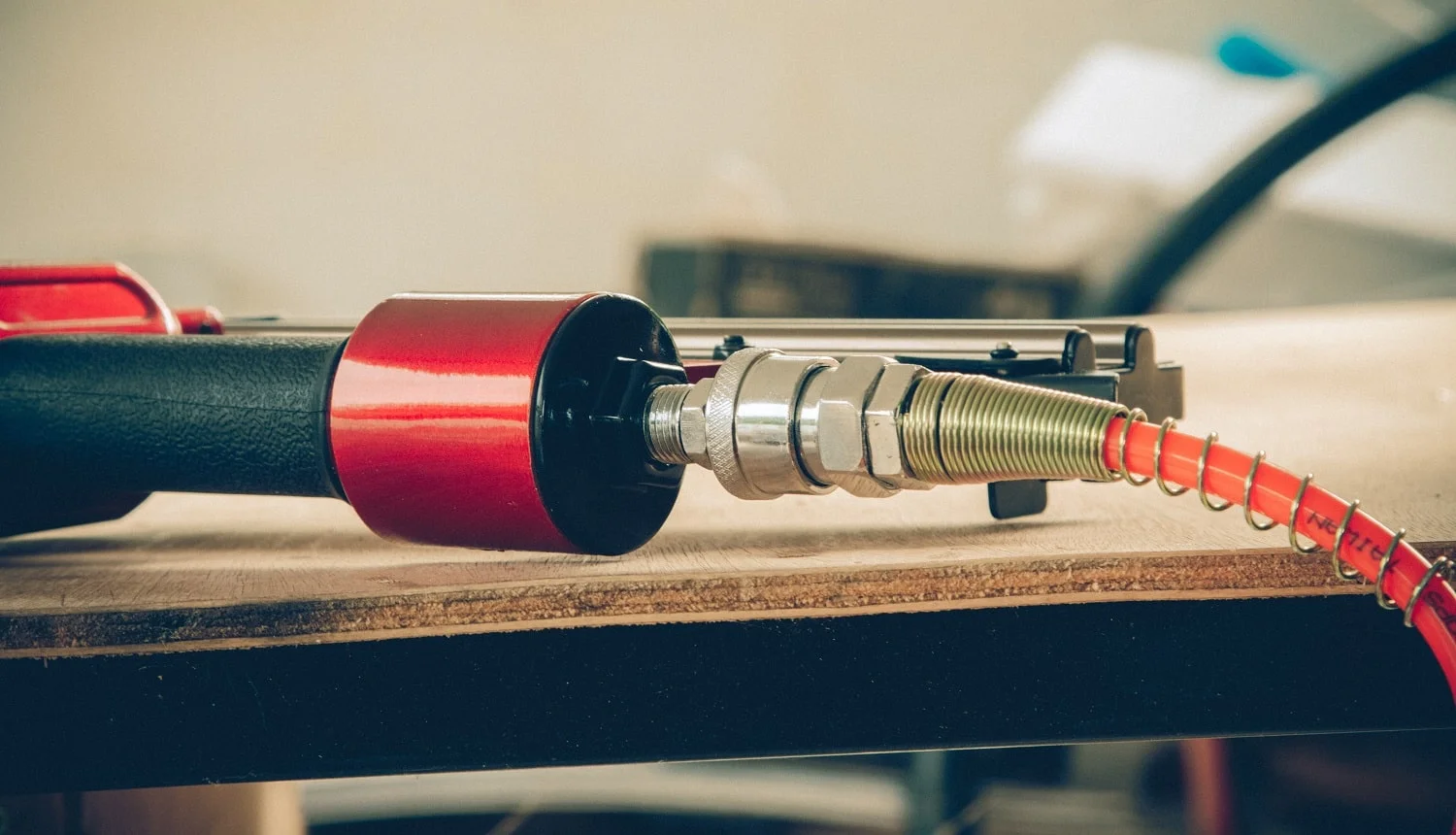 Verdict
Finally, it is time to pick our favorites from the list. The winner, according to us, has to be Hitachi NP35A Pin Nailer 23 Gauge. It has all the features that a good nailer needs to have and comes at a very affordable price. Such a combination makes it the most attractive choice in the market.
If you are looking for a product for professionals, the Cadex V2/21.55 21 Gauge Pinner is our choice. It is designed to function for long hours and has no significant hindrances in its operational efficiency.
A good nailer can be a boon to have, and you are ready to buy one of your own. We are confident that you are well informed about the features by now. Hit the online stores already and get a product that fits you the best.
Happy shopping!
Relative Articles
10 Highest CFM Air Compressors
9 Best 6-Gallon Air Compressors for Your Home & Garage
10 Quietest Air Compressors For Your Garage
13 Best 30-Gallon Air Compressor
Makita Mac2400 Air Compressor Review
10 Best 80-Gallon Air Compressor to Consider
13 Best 20-gallon Air Compressors 
13 Best Portable Air Compressors
How To Refill Co2 Tank with Air Compressor?
13 Best Quiet Air Compressors for Your Home 
10 Best 60-Gallon Air Compressors to Use 
13 Best 10-Gallon Air Compressors for the Buck 
10 Best Air Compressors For Impact Wrenches 
10 Essential Air Compressor Accessories You Need
10 Best Air Compressors For Nail Guns
13 Best 60-gallon Air Compressor 
12 Best Gas-Powered Air Compressors for the Buck 
What Do You Use a Brad Nailer For?
What Size Nails Do You Need for Framing?
Pin Nailer vs. Brad Nailer 101 | Key Differences, Advantages & Disadvantages
What Size Finishing Nails For Baseboards?