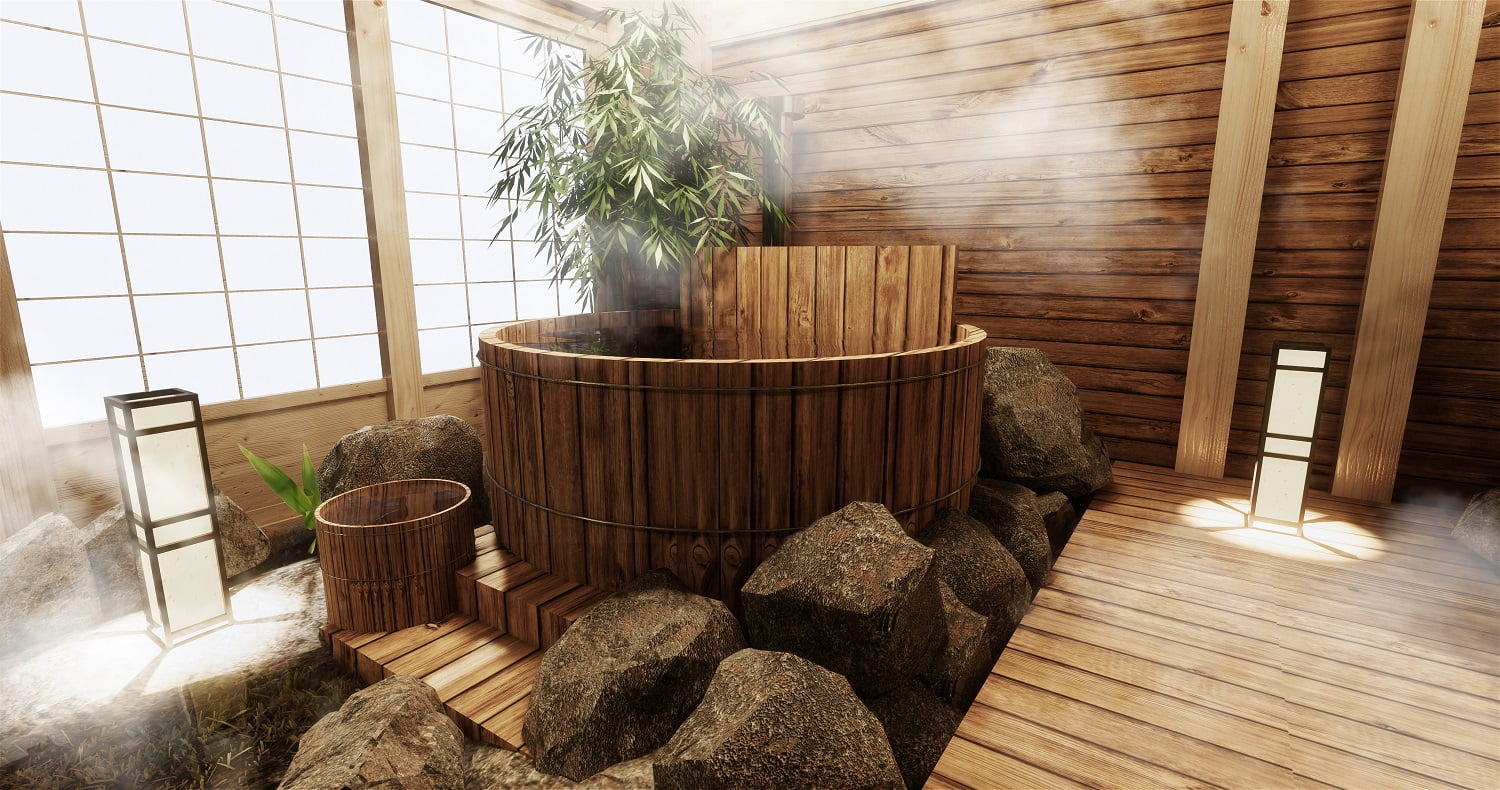 Is it even the ultimate relaxing session without a hot tub? 
There are very few things that can trump the satisfactory look on your face when you soak in a hot tub after a long and tiring day at work. So, now is the time to get one! However, that is no walk in the park! 
Besides finding the right model, you'd also need to find that perfect place that offers great deals and a convenient purchase experience. And that's where we come into the picture. After much research, we've compiled this list of the 19 best places to buy a hot tub. 
So, without any further ado, let's dive in! 
Best Places To Buy A Hot Tub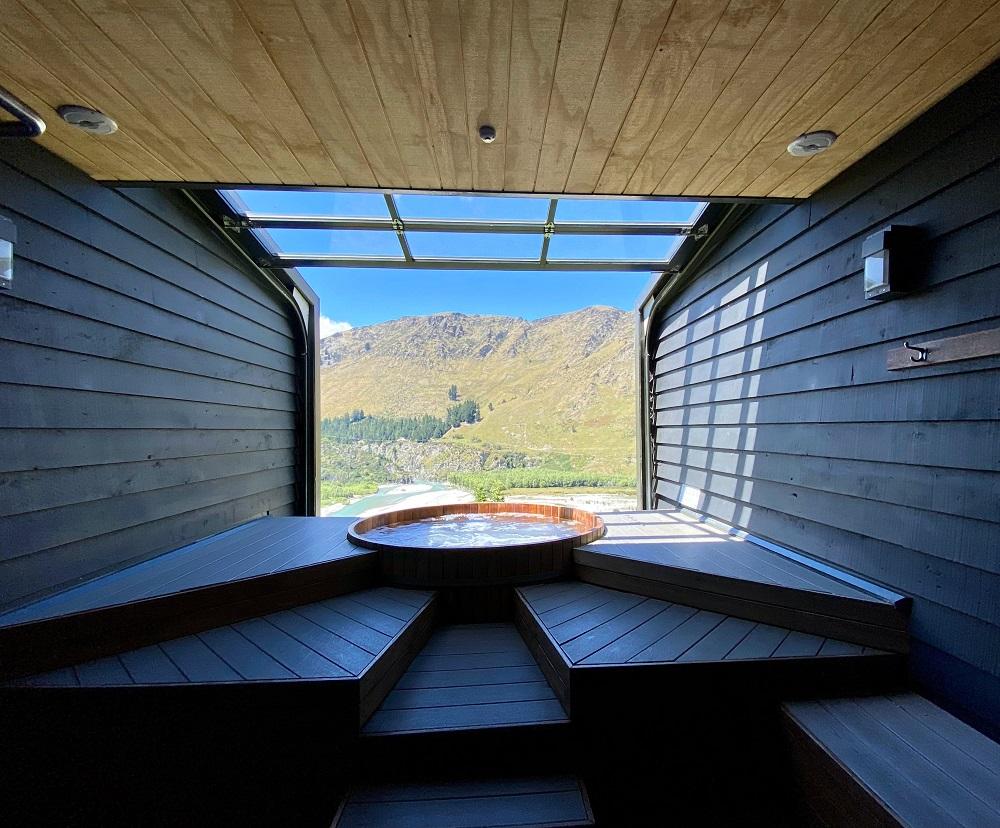 No surprises here as we begin the list with Amazon. It's pretty much a go-to site for every product type, and hot tubs are no exception. You'll find some of the best brands here, including Intex, Coleman, PPBathtub, and more.
One of the most popular models is the Intex 77-inch PureSpa Portable Bubble Massage Spa, and the whole set won't make you break the bank!
However, you may also check out the Coleman 71 x 26- inch Portable Spa that can accommodate up to 4 adults. Its low power consumption and temperature retaining capacities don't burn a hole in your pocket as you can get one at a rather affordable price. Plus, Amazon always has round the year discounts, so you may get a good deal!
Much like Amazon, Home Depot has something for all requirements and budget, so you'll not walk out disappointed. Their range of inflatable spas or hot tubs comes with a decent starting price, which is not a bad deal if you're looking for something simple.
But if you're feeling fancy, head to their high-end section for a model like the St.Lawrence 16 feet 15-Person 72-Jet Swim Spa with integrated bluetooth speakers. The experience will be second to none but, you may want to think twice considering the premium price tag. Other than that, there are some mid-budget options, though they are somewhat limited.
Another one of our top recommendations is Target, which provides a one-stop solution for all your shopping needs. They offer a wide variety of inflatable hot tubs, with the most affordable ones built to accommodate up to four people.
Of course, the prices will go up depending on the features, and you'll also find packs of multiple hot tubs at reasonable rates.
That said, the range is mostly dominated by Intex and Coleman products, with only a couple of models from other brands like Bestway and CleverSpa. We really liked the CleverSpa Tahoe 70 inch 4 Person Portable Inflatable Hot Tub, but you may look elsewhere for greater brand diversity.
You don't need us to tell you about the great deals at Walmart! Head into any Walmart discount store, and you'll be pleasantly surprised with the combination of competitive prices and attractive offers.
If you're on a severely tight budget, there are multiple models (with a capacity of four people) that are extremely budget-friendly. Likewise, the one that accommodates six people costs a little more, but is no less than a steal.
Beyond that, the website has a host of options to choose from, with most of them offering free delivery. You can also choose a convenient delivery option, like 2-day delivery, deliver to home, or store pickup.
If wholesale prices are on the top of your priority list, then Costo may well be your ideal match. Rightly known as the "king of wholesale prices," it's tough for anyone to ignore the amazing hot tubes that adorn their racks.
But since almost all the options are essentially upgrades of the traditional models, there are very few models that come at a pocket-friendly price. For instance, one of their most sought after top-of-the-line products is the Evolution Spa. It has features like neck and shoulder jets, and a UV dual water purification system, but be prepared to spend some extra bucks.
Although not as big a retailer as Amazon or Walmart, Wayfair still offers quite a lot of options at good deals. Moreover, buyers can choose to purchase a hot tub cash down or opt for a convenient financing plan like paying in installments. While at it, you may want to consider the Aleko Shop Oval 2 Person 130 Jet Inflatable Hot Tub, which is a cost-effective option.
Now, it's time to talk about the dedicated hot tub stores, and the first one in this regard is Hot Tub Works. It's probably one of the best hot tub and spa sellers that you'll find online with budget-friendly deals on a lot of models. For instance, the Splash Lay-Z-Spa Miami Inflatable Hot Tub is quite a hit among customers..
We also appreciate how the website has an intuitive interface with various accessibility settings for visually impaired users or people with motor skill disabilities. Additionally, you may avail a 10% discount with free shipping for all orders. Big savings, we say!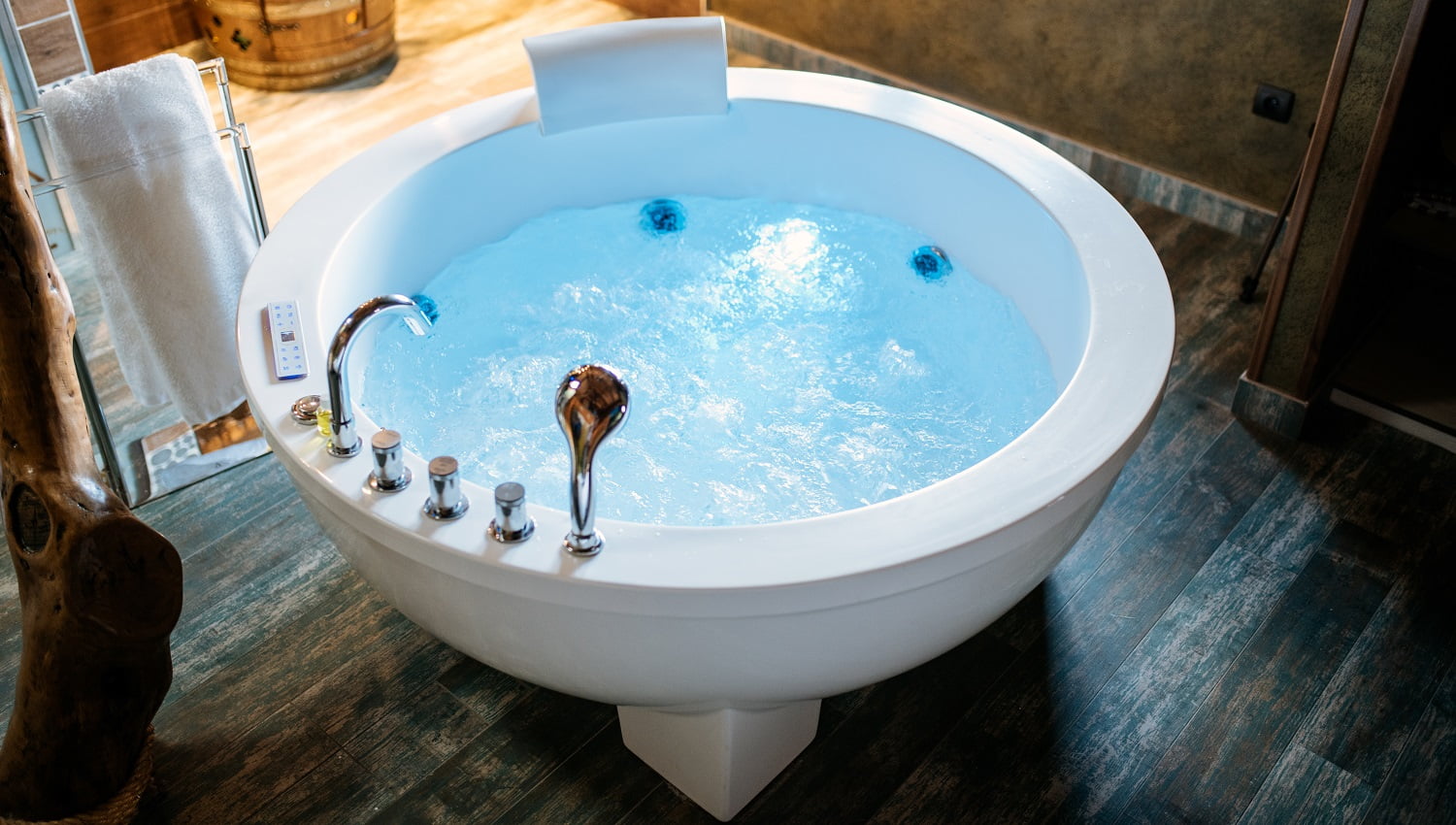 Looking to step up your spa game? Don't look beyond Take A Break Spas! They feature the top brands and the best series for offering a wide range of selection for potential buyers.
Apart from various luxury spas, they also have certified pre-owned hot tubs suitable for buyers who may be on a tight budget. Each such model passes 22 quality and inspection checks, and has a 30-day warranty.
However, what appealed to us the most is their special financing scheme, which allows convenient monthly payments, online account management, and fast bill payments. In fact, these services have earned them the award of Exceptional Customer Service from Sundance Spas six years in a row.
The website also has a trial service that lets you choose a hot tub or swim spa from some selected brands. Lastly, there's free shipping for all online orders above a said total, but you'll have to request a quote for the products that interest you.
How about a rejuvenating session in the hot tub of the future? Well, it may sound too good to be true, but Hot Springs has made this a reality that you can bring home. With high-tech features like a built-in wireless touch-screen control, we don't see a reason why you wouldn't consider this site.
Once you land on the homepage, navigate your way through the topmost tabs to read everything about owning a hot tube. From an elaborate buyer's guide, price chart, to therapeutic benefits- find it all together.
Furthermore, you can ask for a personal quote or find a local dealer for quick delivery and pickup.
True to its name, Royal Spa strives to make its customers feel like royalty with a diverse selection of hot tubs. Be it reliable industry-leaders, custom-made models, or the perfect blend of the two categories-this website can do it all. We bet you'll love how they incorporate the best features according to the specific needs of the users.
On that note, we should also mention that the prices aren't exactly what we'd call pocket-friendly. Although they claim that their prices to be significantly less than usual market rates, they are still expensive. However, quality isn't an issue.
One of the first things that got us hooked on this website is the intuitive interface. Upon reaching the homepage, you're welcomed by a short quiz that acts as a filter for your search. Long story short, the user feeds the algorithm with relevant information so that they have the best options according to their needs.
But if you have a specific model in mind or know exactly what you want, feel free to skip this part and dive directly into the hot tubs section. And similar to Take A Break Spas, there's the option to choose from pre-owned models. Moreover, the video reviews from existing customers will help put faith in their products and service.
Unlike most other websites, the Salida Stove Spa doesn't come across as a hardcore product seller. The homepage is adorned with sections that walk you through the benefits of owning a hot tub and an informational buyers' guide. And once you get the hang of things, explore the numerous options that are at your service!
It may also be helpful to know that the website divided their collection into three different categories. The first, called 'Highlife' consists of their top-selling models. Similarly, 'Limelight' focuses on the design and creation of a cozy ambiance, while the 'Hot Spot' is a nice combination of quality and reasonable prices.
Finally, don't shy away from asking for any assistance you might need while scanning the options.
There are more than one reasons why this website is rated highly by new and existing customers alike. With a vast experience of over two decades, you can trust them to answer all your hot tub needs, right from the perfect model to related accessories and more.
Just like the website of Lifestyle Hot Tubs, users begin their search by undertaking a quiz to keep their search narrow and clean. In addition, there's a live chat window at the bottom right side for assistance on the go.
Perhaps the biggest advantage of this website is the inventory check option, which gives you accurate information about what products are available at the moment. Plus, it provides an insight into the upcoming products and their availability.
One of our favorite budget-friendly sources is eBay, which houses a host of buyers who sell hot tubs of different shapes and sizes. The interface is straightforward, predominantly marked by a simple search bar. Just type the brand and model name, and related options will be displayed if available. The prices will vary according to the size, features, and the buyer.
Despite not boasting of an extensive inventory like some other names on the list, Overstock still has viable options available on this website. Judging by its diverse price range meant to cater potentially every customer who visits, you can make a guess about the variation on offer. Heads up: we absolutely loved the ones that come with 100 jets!
No matter how cheap or expensive your hot tub is, it can't serve its true purpose until you have all the necessary accessories to go with it. So, in the following sections, we list down four such places that will provide you with everything big and small.
Although the name may tell you otherwise, the CoverGuy doesn't restrict its service to providing only spa covers. Do a quick Google search, and you'll find so many things on their website- chemicals, filters, cover lifters, and others. Moreover, they make custom covers for almost all tub sizes.
You can choose from a collection of standard, deluxe, and extreme covers, each of which comes in different sizes. But one thing that's common for all the categories is the high-quality build sporting double reinforced folding hinges. Not only do they meet all ASTM standards, but users also get a 5-year warranty.
In case of any problem, get in touch with the professionals via call or different social media platforms, it's that easy!
As we near the end of the list, Pool Deals finds a deserving mention. There's hardly anything that this website doesn't provide. Right from custom covers, filtering systems, automatic pool vacuums, chemicals, and cleaning brushes, we can go on and on. They guarantee the lowest prices online, but we'd strongly recommend to hurry up if you want to avail a limited time discount offer on all products.
Pool Zone is almost identical to Pool Deals, both in terms of appearance and the products available. You will find many tools and accessories that will keep your tub clean, and also some important tools that will come in handy for maintenance and ensuring optimum comfort.
Pool Center is one such website that should be in your browser bookmarks if you own a hot tub or plan to get one soon. Apart from a wide range of accessories and tools, it also offers filter parts, pump parts, heater replacement parts, and discounted pool equipment.
Some Maintenance Tips
Before wrapping up today's guide, here are some quick DIY hot tub maintenance tips that'll help you in the long run:
To prevent the recirculated dirt and debris from entering the filter system, cover the lower return inlets with an old and discarded pantyhose when changing the water. This will reduce the pressure on the spa system while prolonging the service life. Plus, it results in balanced water chemistry.

Simply drop a few tennis balls into the spa skimmer or directly into the water for soaking body oils, hair products, lotions, and other such oily stuff. Otherwise, they may damage the filter. Also, change the balls frequently if your tub is used regularly by many people.

Mix nine parts water and one part bleach in a spray bottle, and use this solution to clean the underside of your tub every 90 days. You can also use it to remove dust and mildew from the cover, but make sure that the material doesn't react to it.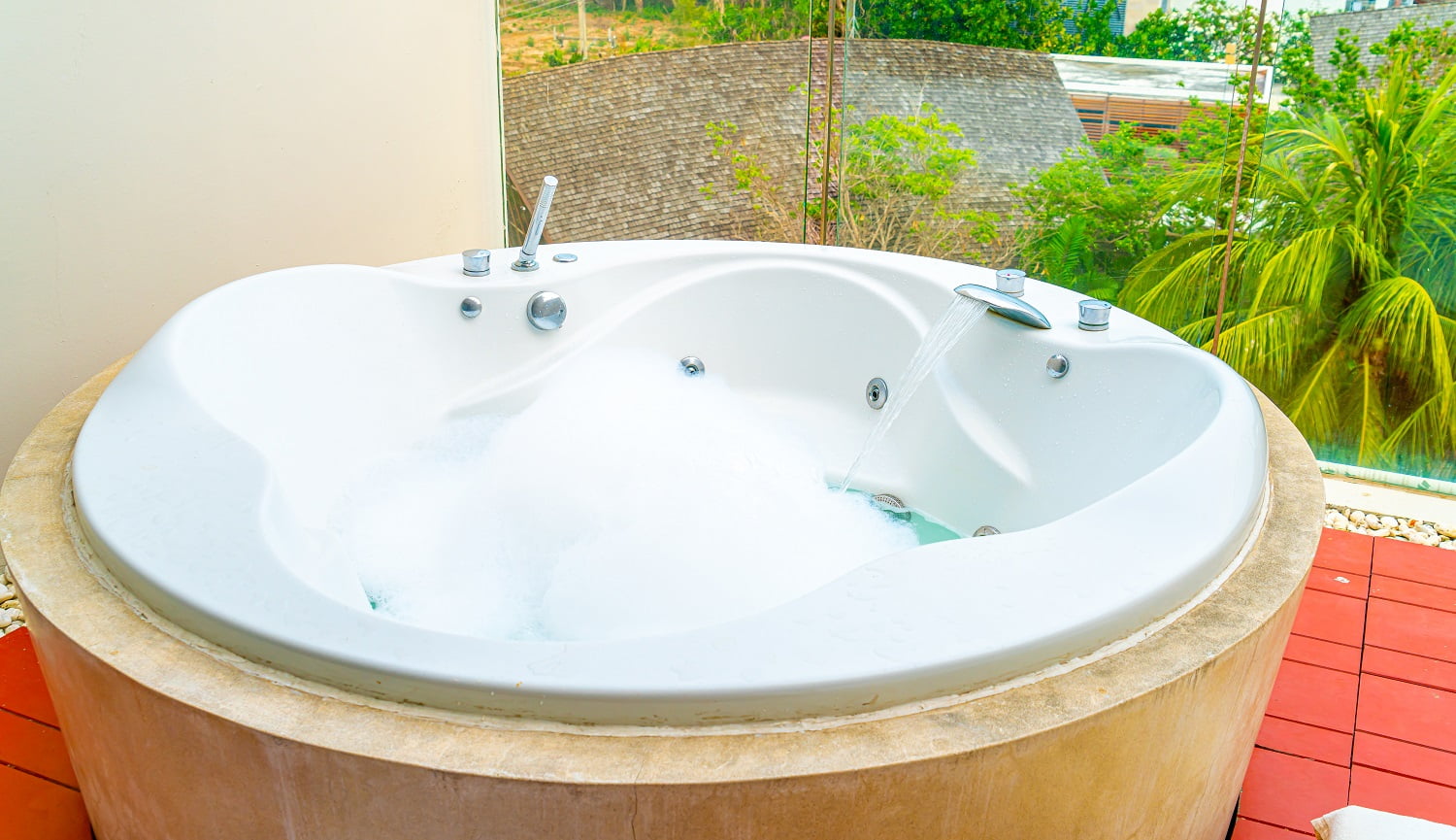 Best Places To Buy A Hot Tub Verdict
That's all on the best places to buy a hot tub! 
Hopefully, our effort helps you find the best model according to your needs and budget. But in our opinion, a hot tub is a worthy investment that will provide you with hours of relaxation and rejuvenation. Hence, we'd advise going for a model that assures quality, even if that requires you to stretch your budget a bit. 
And with proper maintenance and care, we're sure you won't regret spending those extra bucks. Just get the right accessories and products for the purpose, and you won't have anything to worry about. 
On that note, allow us to take your leave. We'd love to hear from you in the comments down below. 
Till we meet again, adios! 
Related Articles
33 Inexpensive DIY Wood- Burning Hot Tub and Sauna Design Ideas