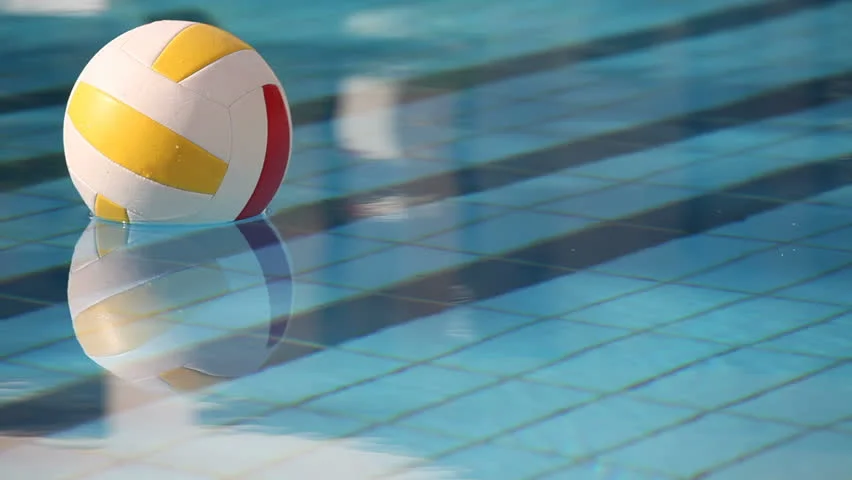 Pools are great for swimming and lounging around, you get to take a dip when the sun is hot and then lie beside it, tanning away. It gives you something recreational to do and spend some time with your friends and family; it's good exercise also.
But what about taking it up a notch? A quick friendly or competitive game can be the best way to bring in some energy to an otherwise lazy summer. You can still enjoy the cool water and get your exercise while playing a game you enjoy.
Pool volleyball is one of these games. You can see from movies and shows that it has been a long-loved game for the summertime. If you have a pool at your place or a commercial pool in your apartment complex, getting a volleyball net can quickly become a good way to enjoy your downtime.
If you've never purchased a pool volleyball net, it can be hard the first time you start looking for one. This article lists some of the best pool volleyball nets available in the market. There are options for both above-ground and in-ground nets, so everyone can enjoy the game no matter what kind of pool they have.
The list of pool volleyball sets also includes some combo options so people who love basketball and volleyball can get a 2-in-1 solution for their favorite pool games.
Without any further explanation, let's dive into the volleyball nets.
Best Pool Volleyball Nets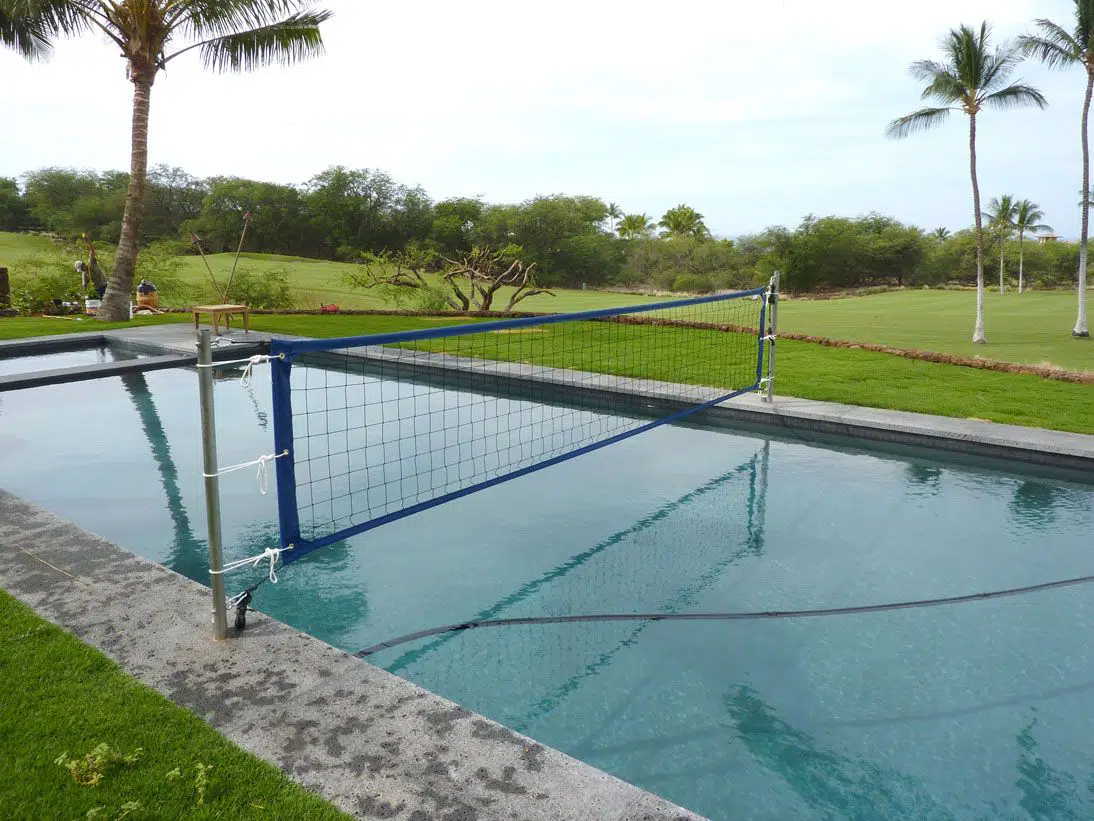 Here is the list of the 8 best pool volleyball nets that you can use to get the most out of your pool volleyball game.
This Swimline combo set is designed specifically for above-ground pools. The design is easy to install and fits most large pools in your backyard. Furthermore, you can convert the volleyball setup into a basketball hoop with a few clips.
You can attach the hardbody design to the pool's top rail. The breakaway brackets included makes this easy to do. It allows you to quickly convert the basketball hoop into a volleyball court.
The 20' net with additional 6-foot cords on each side can be strung on the support posts. The large size of the net makes the whole setup suitable for pools up to 30' in width. The overall setup is very sturdy, and easy to install and switch. You will be able to save time while getting to enjoy a friendly match with your mates.
Pros
Two-in-one combo.
Suitable for above-ground pools.
No drilling is required.
Cons
The setup needs to be stabilized.
The metal parts may corrode.
Dimensions: 33″ x 23″ x 11″ | Weight: 1lb | Material: N/A | Adjustable: No | Net Length: N/A
Sale
Nets specially designed for above-ground pools are hard to come by because most residential properties have in-ground pools. This Poolmaster net is an affordable yet quality volleyball net for a few homeowners with a raised pool.
One of the best things about this net is that it is very minimal. The clamps and support poles are not bulky. Also, installation is pretty simple. You can also reposition the bracket mounts for better placement of the net.
The net itself is 16 feet wide and comes with 10' side ties, which can work for large pools. The set comes with a deluxe vinyl ball that can be inflated using the inflating needle that comes in the kit.
What makes this net multipurpose is that you can also use it to play badminton.
Pros
Installation doesn't require drilled holes.
Quick net assembly.
Bases don't need to be filled.
Cons
The clamps can loosen midway through a game.
The ball that comes with the net is not well-made.
Dimensions: 2.5″ x 16″ x 1″ | Weight: 7lbs | Material: Aluminum | Adjustable: Yes | Net Length: 16′ – 24′
Who doesn't appreciate a fun game of pool basketball or volleyball with their friends? This 2-in-1 set comes with both volleyball and basketball accessories. You can transform one to the other and have a completely different pool court in a matter of a few minutes.
The set comes with two 17" wide and 3 feet tall bases that work with both games. For a volleyball setup, you fill both bases with water and keep them on either side of the width of the pool. The 16-foot volleyball net is attached to both bases.
You can convert this into a basketball court by simply removing the net and attaching the hoop and backboard to one of the bases. The net on the hoop and the volleyball net are both made of high-quality materials so they can take some rough play.
Even though you can't play both games at once, the set can be transformed quickly enough so everyone gets to play what they love.
Pros
Stainless steel adds sufficient weight to keep the setup upright.
No drilling is required.
East to convert.
Cons
Screws cab get rusty.
Rims need necessary maintenance to stay rust-free.
Dimensions: 37″ x 22.5″ x 20.5″ | Weight: 32.6lbs | Material: Stainless Steel | Adjustable: Yes | Net Length: 16′ – 22′
Sale
Since we have mentioned multiple combo sets in this list, it's telling of the fact that getting two games in one set is a great way of accommodating more people. It allows you to have two different activities for your guests.
The SwimWays 2-in-1 game offers two great set-ups for basketball and volleyball enthusiasts. You can install them around your pool and stay active this summer while beating the heat by being in cold water.
This kit is made of high-quality plastic that will serve you through many summers. The support posts for the net are attached to two bases that can be filled with water or sand. Just attack the net and begin a match with the volleyball in the set.
You can immediately transform the scene and make a pool basketball court by detaching the support and attaching the other base to the top of one of the support posts. Add the hoop and you're set to have a competitive match.
Pros
There is virtually no assembly required.
The absence of metal prevents corrosion.
Made with heavy-duty plastic material.
Cons
The weighted bases need to be emptied before you can switch.
Switching may be difficult.
Dimensions: 9.5″ x 30.5″ x 22.5″ | Weight: 18.81lbs | Material: Plastic | Adjustable: Yes | Net Length: 24′
Poolmaster's pool games have made a mark in the market. Whether people need something simple for an indoor pool party or for a pro match with their athletic friends, this Pro Rebounder game set is the perfect match.
The set consists of two different games. You get accessories for pool volleyball and pool basketball. Both volleyball and basketball nets are made with polyethylene material and are hand-woven.
Basketball's backboard and volleyball support posts have polyform bases. Depending on what is more convenient, you can fill them with sand or water to add weighted stability to the frames. The set also includes an inflating needle and a deluxe game ball that you can use to play either game. With two different games in one, this combo allows you to entertain more people with the games they like.
Pros
Two-in-one combo.
Can be used for in-ground and above-ground pools.
Comes with a ball.
Cons
PVC caps can come off.
Slightly expensive.
Dimensions: 192″ x 1.5″ x 29″ | Weight: 21lbs | Material: Hand-Woven All-Weather Material | Adjustable: Yes | Net Length: 30′
Sale
If you want a net suitable for both indoor and outdoor pools, this Park & Sun volleyball net system is a good option. It comes with added weights that can be used around both indoor and outdoor pools, they are even better if the pool is in-ground.
The volleyball net is 24 feet long and is made of durable material that can take a few players knocking into it. It comes with two 15-foot tension cords and ground stakes that can be used for additional tensioning.
It needs some assembly, which mainly consists of attaching the net to the two PVC support posts. The base of these posts needs to be filled. You can use either sand or water, depending on whatever is convenient for you.
Pros
Versatile for indoor & outdoor use.
Allows additional net tensioning.
Easy to assemble.
Cons
You have to fill up the bases each time before you use the net.
The bases can topple when not filled properly.
Dimensions: 24″ x 12″ x 6″ | Weight: 6lbs | Material: Plastic | Adjustable: Yes | Net Length: 24′
This Intex Pool volleyball net is the one to get when you have little ones around for the summer. Whether it's for your own kids to enjoy every day or throwing a birthday bash for your middle schooler, this floating net will liven up the party with a fun match.
The net is made of 10-gauge vinyl, which makes it durable and made to last. The net is attached to an inflatable structure, which is also of good quality. Don't worry; the net won't just float away as you can weigh it down with anchor weights attached at each end.
The set comes with a ball too. It is made of 7-gauge vinyl, so it is also as durable as the net. With this volleyball net game set, your pool will become the spot to be this summer.
Pros
Can be anchored with weights.
Suitable for younger children.
Comes with an inflatable ball.
Cons
Doesn't work well in larger pools.
Not easy to keep in place.
Dimensions: 4″ x 10″ x 12″ | Weight: 2.2lbs | Material: Plastic | Adjustable: Yes | Net Length: N/A
We have already mentioned a number of portable and basic pool volleyball nets. These are perfect for anyone who wants to have a friendly game and have some fun while staying cool during sunny summer pool parties. This one by S.R. Smith brings just as much fun but is one for the pros.
The net is 16 feet wide and can fit pools up to 20 feet in width. What makes the net better is that it is saltwater safe. It can work well in saltwater pools and allow you to have a good day in the water without getting rusty the very next day.
The 4-feet metal posts are made of sturdy stainless steel. It is further sealed and then coated with black vinyl. This makes the posts rust and corrosion-resistant and long-lasting. With this net, you and your pro friends can have a real match this summer.
Pros
Saltwater-tolerant material.
Plastic and metal anchors are easy to remove and attach.
Anchor caps lay flush with the patio.
Cons
Works only for some pools.
Too high for easy net installation.
Dimensions: 55″ x 9″ x 9″ | Weight: 21lbs | Material: Stainless Steel, Mesh | Adjustable: No | Net Length: 16′
Best Pool Volleyball Net Comparison Table
Buying Guide For The Best Swimming Pool Volleyball Net 
Before you go ahead and choose one of these nets for your pool, there are a few things you need to keep in mind when shopping for a volleyball net. It's important that you review the features and pros and cons of the product, but you also need to consider the following:
First and foremost, it helps to know the dimensions of your pool. There are various lengths of nets available. Some will work for your pool, while others won't. Having a measurement will ensure you don't get a net too large for your pool.
Second, you need to keep in mind whether your pool is above-ground or in-ground. It's important to know this because some setups need to be drilled into the patio around the pool. Also, there are some weighted setups that won't extend high enough to work for an above-ground pool.
Third, decide whether you want to fill up the bases or not. It can be tasked to do so as they can get quite heavy when they are completely full.
Also, decide whether you just want a volleyball setup or a combo. As you've seen in the list, there are some kits that come with a basketball hoop as well. If you don't like basketball, it won't make sense to have one collecting dust. Also, you would be wasting money.
Your budget is one of the most important considerations. If you want a net for one-time use, an inflatable net will be far cheaper to buy. If you want something that would last you a few summers, there are other setups that cost a little more.
Lastly, check whether you need special tools to set up the net. For instance, do you have the necessary equipment for nets that need to be bored into the patio? Or do you have enough surface on your above-ground pool to fit the clamps?
Pool Volleyball Nets FAQs
Can I use a regular volleyball net for my pool?
Using a regular volleyball net in a pool is possible, but not recommended. A pool volleyball net is specifically designed to withstand water exposure and float, ensuring better performance and durability.
What are the dimensions of a standard pool volleyball net?
The dimensions of a pool volleyball net may vary, but a typical one is around 16 feet in length and 3 feet in height. However, make sure to consult the specific product specifications or contact the manufacturer for accurate dimensions.
Can I use a pool volleyball net in saltwater or chlorinated pools?
Yes, most pool volleyball nets are designed to be compatible with saltwater and chlorinated pools. Still, it's essential to rinse and clean the net regularly to prevent damage from exposure to chemicals or salt.
How do I install a pool volleyball net?
Installing a pool volleyball net involves attaching the net to the supporting poles and then securing the poles either to the pool edge (in the case of in-ground pool nets) or to the provided flotation devices (for floating nets). Always follow the manufacturer's instructions for proper installation.
Can I leave my pool volleyball net installed permanently?
Pool volleyball nets can be left in place for extended periods, but it's better to take them down and store them properly when not in use to prevent damage from sun exposure, weather conditions, and pool chemicals.
Conclusion
To sum up, finding the perfect pool volleyball net can significantly improve your pool parties and outdoor activities, providing endless enjoyment for you and your guests. It is essential to consider factors like durability, ease of setup, and compatibility with various pool sizes before making your purchase.
From the above 8 best pool volleyball nets, here are the top three expert recommendations:
The Swimline Pool Jam Combo is an ideal option for above-ground pools, offering a two-in-one combo with easy installation and the flexibility to switch between volleyball and basketball. For multi-activity usage
The Poolmaster Poolside net is a good option, featuring a minimal design, simple installation, and the ability to play badminton as well.
Finally, the Dunnrite 2-in-1 Pool Sport Combo is the right choice for those who enjoy both basketball and volleyball, with its quick transformation between the two games and high-quality materials.
No matter which option you choose, the addition of a high-quality pool volleyball net is sure to elevate your poolside fun to the next level and create lasting memories with family and friends.
You can also check out our other articles on inflatable pool volleyball nets and small pool volleyball nets to get more products and information on these sections.
Related Articles
Learn How to Install a Spa Cover Lifter
9 Best Liquid Pool Covers and Why You Need Them
13 Best Chlorine Tablets for Swimming Pools
13 Best Salt Water Chlorinators 
5 Best Auto Chlorinators for Pool
9 Best Above-Ground Pool Ladder