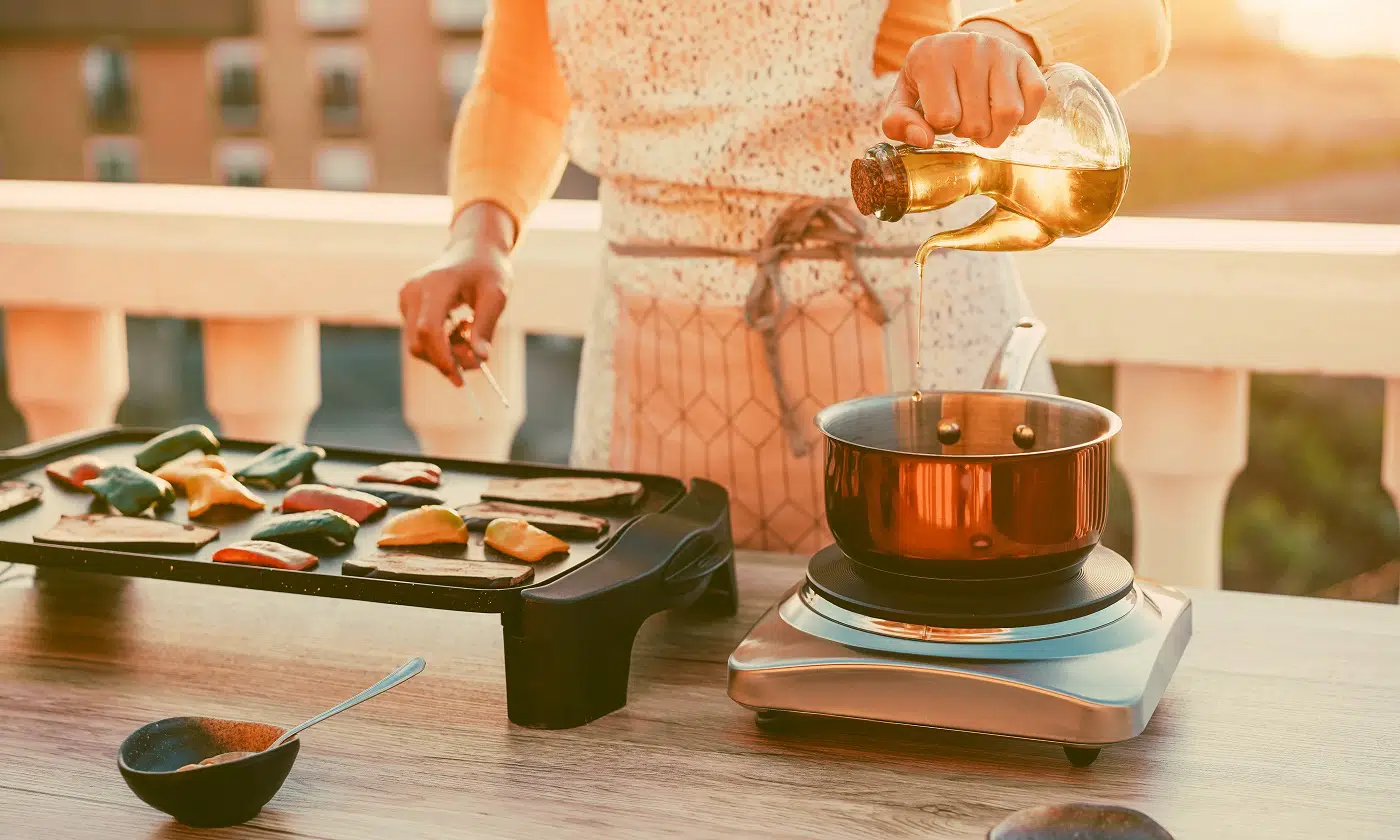 For many, cooking is a profession, while for others, it's a passion that excites them to experiment with new ideas. 
It's impossible to buy a new appliance for different cooking techniques. That's why portable induction cooktops are taking the market by storm, and both home and professional chefs like what they offer. 
You can even prepare a simple dish but with a twist, thanks to this well-rounded device. And several intricate functions allow you to make the necessary adjustments right down to the finest details. As a result, your dishes will leave guests licking their fingers at the end of the meal. 
But how to decide which model is best suited to your needs? Our guide features 8 quality options, which we feel will make a difference in the kitchen. Also, there's a buyer's guide section where we take a closer look at what makes the top models stand out. 
Best Portable Induction Cooktop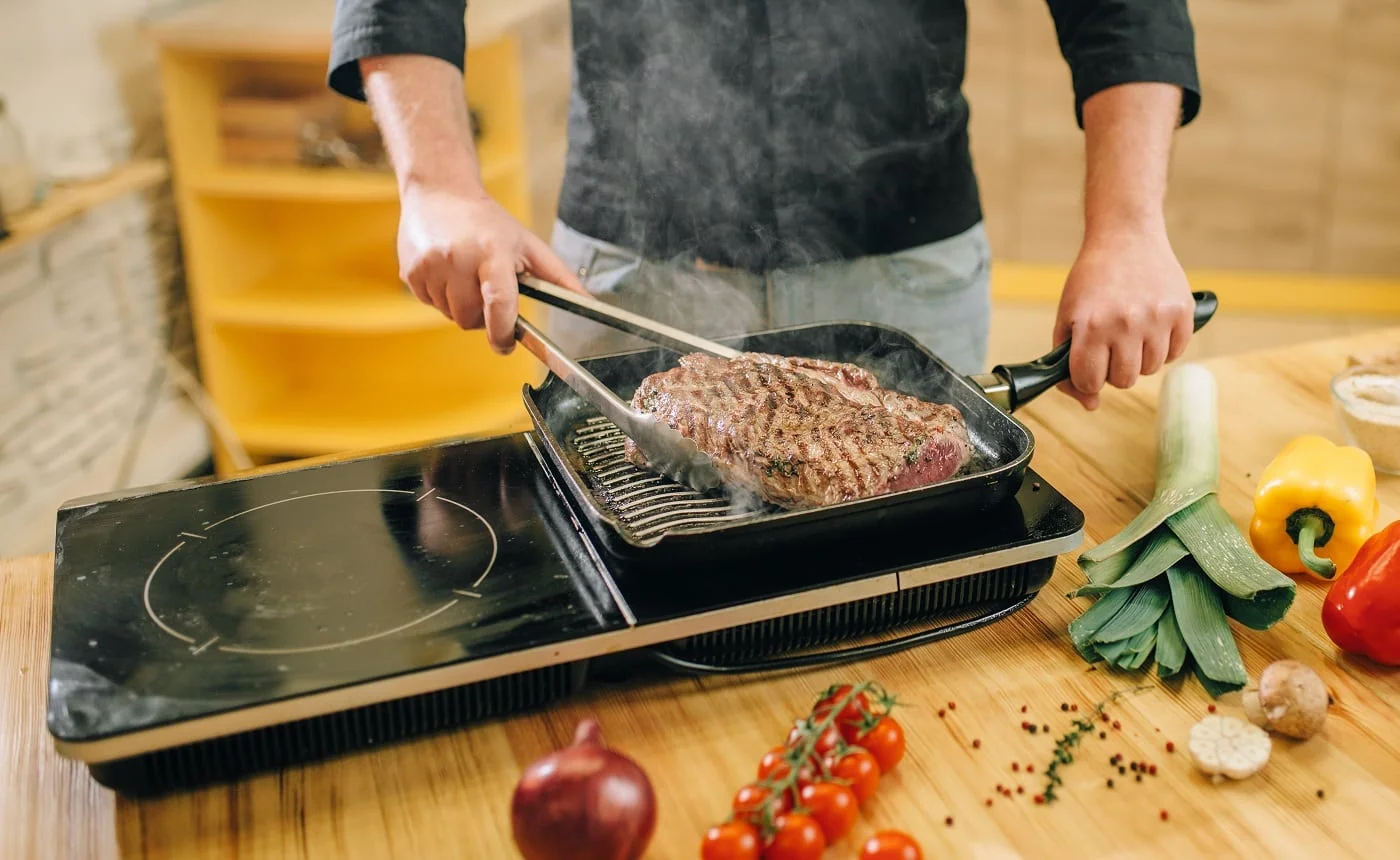 So, get ready to elevate your cooking experience and explore the world of portable induction technology. Without further ado, here's the list of the 8 best portable induction cooktops to consider for your culinary adventures.
Duxtop ensures that this induction cooktop reduces energy consumption by detecting the size and type of cookware you're using. Therefore, you're guaranteed efficiency, but that's just one of the many excellent attributes which have made it popular. Read on to find out more.
Sale
Why Did We Like It? 
First and foremost, it requires a 120V 15amp electrical outlet to deliver the desired results. It's a lightweight model that's built for easy maneuverability, thanks to its compact size. Consequently, after cooking your favorite meals, you can easily store this induction cooktop in the corner of the kitchen. 
Coming to the details, we liked the digital control panel featuring a built-in timer that counts down at one-minute intervals up to 170 minutes. In that regard, the ten power levels ranging from 200 to 1800W prove useful for cooking various recipes. Plus, the high-temperature range of 140-160 degrees Fahrenheit allows you to experiment with several cooking techniques. 
However, despite the high energy production, there are no chances of burnt food, making this induction cooktop easy to clean. And the 7-blade fan dissipates heat to prolong its lifespan. 
Finally, the auto-off function is especially pleasing as it shuts down when the sensor fails to detect any cookware for 60 minutes.
What Could've Been Better? 
The problem is that it gives off high-pitched frequencies, which little kids might pick up, despite being inaudible to adults. Many users have understandably expressed their concern with this issue, which the designers need to address. Plus, we feel that had there been scope for further adjustments in the smaller increments, the accuracy could have improved. 
Pros
7-blade fan

Auto-off function

Safe

Compact

Lightweight
Cons
High-pitched frequency

No scope for adjustment at lower temperatures
Power: 1800W | Control: Digital | No. of Plates: 1| Heating Coil Size: Standard | Safety Features: Auto Safety Shut-off | Dimensions: 13 x 11.5 x 2.5″| Weight: 5.1 lbs
It often happens that chefs like to have additional options or extra hands while cooking. Fortunately, this device has tackled these issues to act as a fantastic countertop cooking solution. Once you start working, you'll realize that CUSIMAX has developed a powerful, compact, and modern cooking appliance.
Why Did We Like It? 
The CMIP-C180N Cooktop is a type of ceramic hot plate, meaning it's perfect for preparing various recipes. You can use it with pots, pans, glass, and aluminum cookware since it effectively heats different components without much energy consumption. Plus, the reduced heat loss ensures that it's suitable for everyday use. 
Moving on, this cooktop acts as a replacement for gas-powered appliances, making it highly popular. And because it doesn't require a stove, it's possible to take it wherever you go. Besides, it's the ideal unit to have if there's a shortage of space as it allows you to dish out different cuisines without any hassle. 
The manufacturers have also added an auto-off function to keep you safe, in case the cooktop is left running. Further adding to the safety is the stainless-steel body that resists bumps and scratches to last a long time. 
Another thing to note is that it's easy to clean, thanks to the ceramic construction.
What Could've Been Better? 
For starters, the coating may wear off after regular use, making it difficult to clean the cooktop once you finish cooking. Additionally, we have seen that it takes longer to heat non-stick cookware than stainless steel or iron. But there's no need to panic because it doesn't affect performance or the food's deliciousness. 
Pros
Ideal for tight spaces

Durable

Delivers longevity

Reduces heat loss

Easy to clean
Cons
Coating may wear off

Non-stick cookware takes time to heat
Power: 1800W | Control: Knob | No. of Plates: 2 | Heating Coil Size: Standard | Safety Features: Overheat Protection | Dimensions: 21 x 14.5 x 4″| Weight: 7.5 lbs
This cooktop is quite similar to other products available out there, so what does it do differently to merit a spot on our list? You'll be pleased to know that most of the functions improve user experience and reduce stress while cooking. Irrespective of the type of cuisine, this device has got you covered.
Sale
Why Did We Like It? 
We'll begin with the 120V 15amp electrical outlet that supplies power. It allows you to choose from 20 preset power modes ranging from 100-1800W for cooking different dishes. In that regard, the preset temperature levels of 100-460 degrees Fahrenheit provide 83% more efficiency than standard gas-powered models. 
The compact size and lightweight design deliver high maneuverability, making it suitable for tight spots. Therefore, it proves useful in a dorm room, RV, boat, and home kitchen. The only thing that you need is to use cookware with a magnetic bottom as it provides a larger heating area. 
Other than that, the induction has a digital LCD sensor and a touch control panel with features like a fast boiling button, a warming button, and a timer button. The significant addition is that of the child safety lock to prevent children from misusing the touch panel.
What Could've Been Better? 
The size of the coils is an important factor in determining the size of the cookware you can use. So, you need to be patient because the heating rate may vary. Besides, the super-sensitive buttons make it challenging to achieve the correct setting on the first try.  
Pros
Temperature ranges from 100-460 degrees Fahrenheit

Lightweight

Compact

Touch control panel

Child safety lock
Cons
Tricky to work with

Heating rate may vary
Power: 1800W | Control: Digital | No. of Plates: 1 | Heating Coil Size: Standard | Safety Features: Auto Safety Shut-off | Dimensions: 14 x 11.4 x 2.5″| Weight: 6.2 lbs
We're progressing fast, and next up is the ISILER Portable Induction Cooktop, which is well-known for its attention to safety. Whether it be a long cook or a simple dish, you won't need to worry about kitchen mishaps or someone pressing the touch panel without supervision. This appliance ensures your safety along with that of the kids and the kitchen.
Sale
Why Did We Like It? 
The most noticeable feature of this model is the 18 power levels, giving it an edge over other products. You can swiftly switch between the different power modes ranging from 100-1800W with 100W increments, resulting in a smooth experience. As a result, it's the perfect tool for those who want to experiment with different cooking techniques. 
We also loved the 17 preset temperature levels starting from 140 degrees Fahrenheit and going up to 460 degrees Fahrenheit. You can fix the increments at 20 degrees with the large touch buttons delivering greater user-friendliness. What's more, the touch panel has the necessary safety features like child lock and overheating protection for maximum safety. 
Apart from that, the suitable dimension provides a large and uniform heating area for most standard frying pans. But that doesn't mean it's challenging to maneuver, thanks to the compact and lightweight design. Finally, the premium glass surface proves durable and is easy to clean. 
What Could've Been Better? 
One issue with this induction cooktop is the higher price, which is a letdown. Given the many quality functions, it will be money well spent, but the question is, do you have the budget to make the purchase? If the answer is yes, we assure you won't be disappointed. 
Pros
Large touch buttons

Overheating protection

Touch panel

Premium glass surface

Safe
Power: 1800W | Control: Sensor Touch | No. of Plates: 1 | Heating Coil Size: Standard | Safety Features: Child Safety Lock | Dimensions: 11.6 x 14.2 x 2.2″| Weight: 5.73 lbs
We are at the halfway point of our list, but there are several quality units that we need to review. Up next is the Amazon Basics Portable Induction Cooktop, which has received a positive response from customers. This device provides the ideal conditions and has terrific functions to let your cooking make all the noise.
Why Did We Like It? 
An important consideration for choosing an induction cooktop is cleanliness and maintenance. Once the dish is served, and the bellies are full, you need to clean your kitchen appliances, which could be quite taxing. Therefore, Amazon Basics have devised a glass panel stove that is very easy to clean. 
Further adding to the convenience is the LED display with preset cooking controls for experimenting with new recipes. You'll also find an extensive power setting, ranging from 200-1800W, which is well-supported by the 3-hour timer. Moreover, there's a pause button, overheat protection, and a voltage warning mechanism to keep you and your family safe. 
Another aspect that needs a mention is the longevity of this device, which has struck the right chord with customers. Although it features a glass construction, we assure you it lasts a long time for reliable output. Apart from that, cast-iron, aluminum, or steel cookware works well with the magnetic cooktop.
What Could've Been Better? 
The markings are an issue because they are drawn in a wide circle rather than around the heating area, which is misleading. Moreover, the user interface needs improvement because the power button helps select different cooking modes rather than switching the device on/off. 
Pros
Multiple power modes ranging from 200-1800W

Pause button

Overheat protection

Voltage warning

Easy to clean
Cons
Poor user interface

Misleading markings
Power: 1800W | Control: Digital | No. of Plates: 1 | Heating Coil Size: Standard | Safety Features: Auto Safety Shut-off | Dimensions: 12.5 x 13.9 x 2.6″| Weight: 5.95 lbs
NUWAVE has set the bar high for quality, and you can fix the exact temperature or heat at which you want to cook. Of all the exciting functions, it's the precise control and dependable output that makes all the difference to help this product stand out. Therefore, you can prepare the food just as intended.
Why Did We Like It? 
Interestingly, this product not only includes the relevant functions but also has additional components for convenience. For instance, the designers have added a hard-anodized frying pan to make cooking easier. Plus, thanks to the 12-inch heat-resistant cooking surface and 8-inch heating coil, you can serve mouth-watering dishes with ease. 
You'll notice that there are three wattage selections, which may not seem a lot but rest assured, it's suitable for most recipes. But the significant inclusion is that of 52 temperature settings, which is one the highest going around. From 100-575 degrees Fahrenheit, the temperature increases in 10 increments, leading to 70% less energy expenditure. 
But that's not all, as the touch panel offers more variety. At the push of a button, you can "delay," "sear," or perform multi-stage cooking. In that regard, the 100-hour programmable timer comes in handy with a "pause" and "resume" buttons for more flexibility. 
What Could've Been Better? 
Over time the coating may wear off, so you won't get the same non-stick function that makes it easy to cook and clean. The designers need to address this issue because most chefs would be unwilling to compromise. Plus, you may experience something called an 'E9 error', which customer service can solve. 
Pros
70% less energy consumption

User-friendly

100-hour programmable timer

Lightweight

Cook book guide included
Cons
May show an 'E9 error.'

Coating may wear off.
Power: 1500W | Control: Digital | No. of Plates: 1 | Heating Coil Size: Large 12″ | Safety Features: Auto Safety Shut-off | Dimensions: 14.4 x 15.9 x 6.3″| Weight: 8 lbs
Another efficient model that you can try out is the Salton Portable Induction Cooktop. When we say efficient, it relates to cooking and reduced energy consumption, making it an eco-friendly unit. So, along with good food, you can enjoy additional savings on the electricity bill.
Sale
Why Did We Like It? 
Normally, we wouldn't refer to cooking as energy efficient, but this product has made it possible. Not only does it have the necessary power, but the designers have also ensured that it doesn't use much energy. So, it proves highly convenient since there's no heat lost to the surrounding area. 
Coming to its other details, the LED display consists of eight temperature settings, ranging from 60-240 degrees Celsius. Additionally, you can adjust the power from a minimum of 300W to a maximum of 1800W.
However, the most important component is the touch panel, which delivers the desired control as you're cooking. It comes with a 3-hour timer supported by an audible signal, ensuring you can cook a lovely feast. Plus, the designers have also looked at safety to add an auto shut-off feature if it doesn't detect any cookware for a long time. 
Lastly, the lightweight design makes it ideal for indoor and outdoor operations.
What Could've Been Better? 
While it's easy to grasp how the functions work, users found it difficult to achieve the desired accuracy at low-temperature settings. It's not a major problem, but it could be challenging to simmer the food. Apart from that, make sure there's sufficient ventilation to prevent overheating. 
Pros
Lightweight

Suitable for indoor and outdoor use

3-hour timer

Auto shut-off feature

Steel body
Cons
Could overheat

Challenging to work in low-temperature settings
Power: 1800W | Control: Digital | No. of Plates: 1 | Heating Coil Size: Standard | Safety Features: Auto Safety Shut-off | Dimensions: 11.3 x 15 x 2.6″| Weight: 6.65 lbs
A common issue for chefs is getting burnt while cooking. However, this model from CUSIMAX proves useful as there are no hot coils or gas flames to deal with. But it still provides uniform heating and accuracy for preparing mouth-watering cuisines and experimenting with new menus; the reason for its growing popularity.
Why Did We Like It? 
Let's kick things off with the power and temperature settings, leading to glowing reviews about this unit. In total, there are nine modes for power and 10 for temperature, delivering greater accuracy. In that regard, the uniform distribution of the electromagnetic coils provides uniform heating throughout the cooktop. 
You need to remember that this model is compatible with only magnetic cookware. So, ensure you're using steel, aluminum, or cast iron utensils. 
Now, while cooking, you'll find the touch panel has several innovative functions to reduce stress. Among them, the child-safety lock is particularly useful for keeping your children safe and the food delicious. Similarly, the three-hour timer with five-minute increments permits you to cook various delicacies. 
There's no need for an open flame or gas, thereby considerably reducing cost. As a result, it's convenient to carry this product if you have outdoor activities like boating or road trips planned.
What Could've Been Better? 
Although there are numerous safety features, we suggest you refrain from running it at the maximum temperature. Like most induction tops, it has a transformer, which may blow if used at high temperatures. Also, the cooling fan is quite loud, which isn't ideal, leading to second thoughts about the purchase. 
Pros
Uniform heating

Child-safety lock

Three-hour timer

Reduces energy expenditure

Magnetic properties
Cons
Loud fan

Best not to run it at higher temperatures
Power: 1800W | Control: Digital | No. of Plates: 1 | Heating Coil Size: Standard | Safety Features: Auto Safety Shut-off | Dimensions: 14 x 11 x 2.8 inches| Weight: 7.96 lbs
Best Portable Induction Cookers
Buying Guide For The Best Portable Induction Cooker
Now, we come to the buyer's guide, which is specially curated to deal with any lingering doubts you might have. Here we offer a sneak peak behind our decision-making in choosing these 8 products. 
We also suggest you note the points mentioned below, which will help you choose between two similar units. Without further ado, let's begin. 
Range 
One of the first things you should look at is range – both in terms of temperature and power. The important thing to note here is that we are not looking at the maximum and minimum range offered by the model. What's essential is to check the increments allowing you to focus on the finer aspects of the cook. 
Something as seemingly insignificant as adjusting the temperature and power within five units or ten units could make all the difference. 
Price 
Secondly, you need to look at the price because, despite the numerous functions, there's no point burning a hole through your pockets. Every model must offer the relevant functions at an affordable price. 
If there are exclusive upgrades made to any device, a slightly higher price is understandable. However, at the end of the day, the product needs to sell and appeal to the customers; for that, reasonable pricing is critical.  
Durability 
Finally, the portable induction cooktop must be durable mainly because users will take it on outdoor excursions. The unit must have the desired sturdiness to withstand bumps and scratches. 
Other than that, sturdiness ensures more reliability and allows you to work with different cookware. Also, when you're cooking, there's bound to be spillage for which the touch panel must be waterproof. More durability guarantees a longer lifespan and proves cost-effective in the long run.
Portable Induction Cooktop FAQ's
How does a portable induction cooktop work
Portable induction cooktops work by generating an alternating magnetic field through a coil beneath the glass surface. When an induction-compatible cookware is placed on the cooktop, the magnetic field induces electric currents in the cookware, generating heat and cooking the food.
What are the advantages of using a portable induction cooktop?
Portable induction cooktops offer several advantages, including precise temperature control, faster cooking times, energy efficiency, safety (as the cooktop surface remains cool to the touch), easy cleanup, and portability, making them ideal for small kitchens, dorms, RVs, and outdoor cooking.
Is induction cooking safe?
Yes, induction cooking is considered safe. Since the heat is generated directly in the cookware, the cooktop surface remains cool, reducing the risk of burns. Additionally, induction cooktops have built-in safety features such as auto-shutoff and pan detection.
What types of cookware can be used with a portable induction cooktop?
Portable induction cooktops require cookware made of magnetic materials, such as cast iron or stainless steel. To check if your cookware is induction-compatible, you can use a magnet. If it sticks to the bottom of the cookware, it can be used on an induction cooktop.
Can I use any type of pot or pan on a portable induction cooktop?
Not all pots and pans are compatible with induction cooktops. Non-magnetic cookware, such as aluminum, copper, and glass, will not work. However, there are induction-compatible cookware sets available in the market specifically designed for use with induction cooktops.
Can I use a portable induction cooktop outdoors?
Yes, portable induction cooktops are often used outdoors. However, it's important to ensure they are placed on a stable and heat-resistant surface, away from moisture. Portable induction cooktops are convenient for outdoor cooking activities such as camping or backyard gatherings.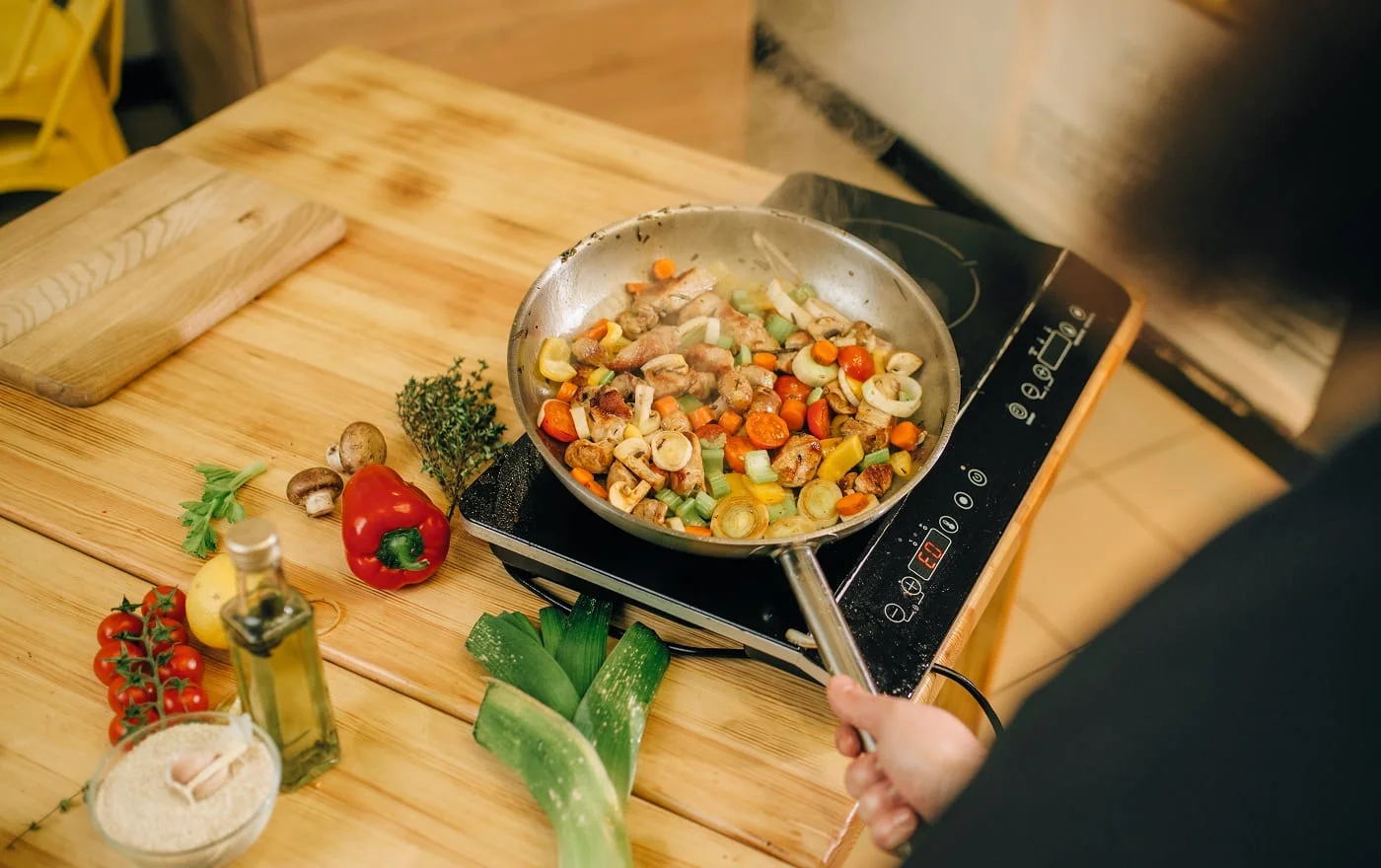 Conclusion
That's all for now;  hopefully, you now know what portable induction cooktops are all about. 
It's a useful cooking utensil that packs a punch and provides the necessary oomph for making tasty dishes. Now, before signing off, we have decided to highlight our favorite products in different categories to help you make an informed decision. 
Having looked at our selection of models, we felt that the Duxtop BT-180G3 Portable Induction Cooktop delivers the best overall performance. This is because it has a 7-blade fan that backs the excellent temperature and power range. 
Furthermore, the CUSIMAX CMIP-C180N unit is another attractive model that primarily focuses on durability while reducing energy consumption for an unmatched experience. Now, it's time for us to take your leave. 
Remember to be patient because once you understand the functions of a portable induction cooktop, it will help serve delicious meals in any indoor or outdoor setting. 
Related Articles
13 Best Small & Compact Microwave 
Waring Pro ICT400 Double Induction Cooktop [Reviewed]
Legendary Camp Chef Explorer 2 Stove Under the Microscope
Induction Cooktop 101| Consumption, Usage, Voltage, Temperature
7 Best Broan Range Hoods Reviewed [Buyer's Guide]
11 Best Gas Cooktop With Griddle