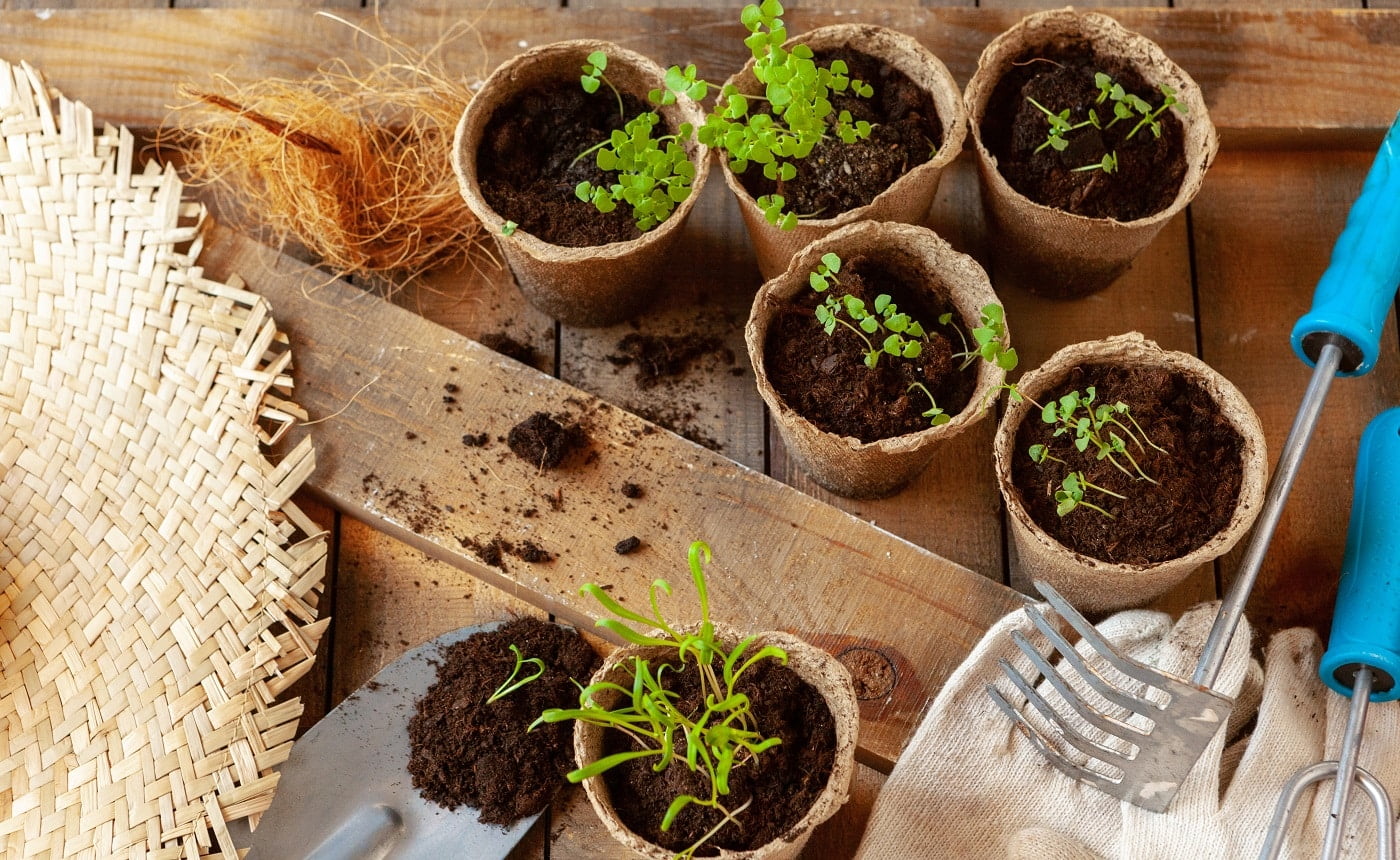 Can we just agree that herbs are godsend flavor saviors?
After all, who wouldn't like adding a few strands of home-grown rosemary or thyme to their perfectly seared steak? That just made your mouth water, we bet. But the sad part is, growing herbs can be both rewarding and frustrating at the same time, more so if you don't have the right medium. 
With our focus on making the process 100% rewarding, we set out to buy the right potting soil from the hundreds of options available, only to return without a product. And that's when we decided to shortlist the best names worth considering. So today, we have compiled this extensive list featuring the top 13 potting soil for herbs. 
Let's begin, shall we?
Top Potting Soil For Herbs 
IMAGE
PRODUCT
DETAILS

Our Top Pick

Our Top Pick

Miracle-Gro Indoor Potting Mix

Contains coconut coir
6 months feed time

VIEW LATEST PRICE →

Burpee Organic Premium Potting Mix

Designed for container gardens
3-month feed time

VIEW LATEST PRICE →

Espoma AP8 Organic Potting Mix

Myco-tone formula
Reduces drought stress

VIEW LATEST PRICE →

FoxFarm FX14054 Potting Soil

Mycorrhizal fungi
pH adjusted

VIEW LATEST PRICE →

Spade To Fork Indoor Herb Garden Starter Kit

Non-GMO seeds
OMRI certified soil discs

VIEW LATEST PRICE →

Dr. Earth Organic Herb Fertilizer

4-6-3 NPK ratio
Handcrafted blend

VIEW LATEST PRICE →

Miracle-Gro Water Soluble Plant Food

For vegetables and herbs
No-burn formula

VIEW LATEST PRICE →

Perfect Plant Organic Potting Mix

Conditions soil
Balanced pH

VIEW LATEST PRICE →

Mountain Valley Seed Company Compressed Grow Medium

Quick rehydration
Hassle-free storage

VIEW LATEST PRICE →

Black Gold 1302040 All Organic Potting Soil

Versatile use
Regionally formulated

VIEW LATEST PRICE →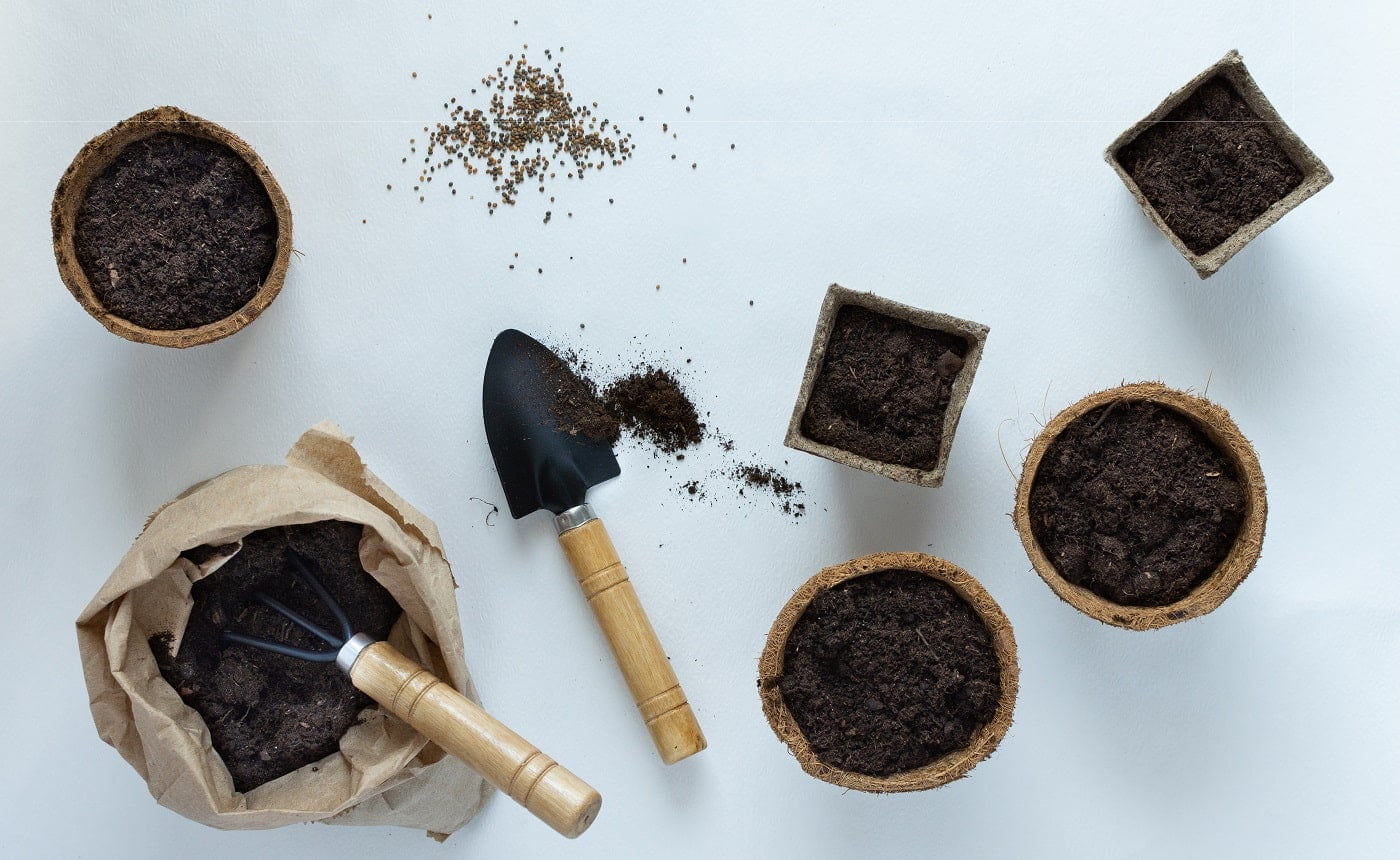 You can't possibly have a potting soil list without mentioning Miracle-Gro. As such, its Indoor Potting Mix is what we have to start things off. This easy-to-use formula is engineered to suit various varieties while negating pest infestation.
Sale
Why Did We Like It?
If the brand reputation wasn't enough, the positive customer feedback definitely helped us put our confidence in the product. Its specially blended formula provides the required nutrients to a wide variety of plants, be it indoors or outdoors. 
Among the main ingredients in this mix is the partially decomposed Canadian sphagnum peat moss, which has large cell structures for absorbing air and water. It soaks in the nutrients and releases them when required. Likewise, the lightweight horticulture-grade perlite forms air pockets to promote circulation while providing nutrients and moisture to the roots.
The sufficient amount of coconut coir means the soil can be easily rewatered. For this, it holds and releases moisture as and when needed. Moreover, it has a continuous release formula that feeds the plants for up to 6 months. 
To achieve the best results, add about 1-inch of the mix from the top of the container, press lightly and water thoroughly. For best results, the brand recommends an application 30 days after planting. And since there's no compost bark, you don't have to worry about fungus gnat invasion. Lastly, it's available in a 6-quart pack for trial purposes.
What Could've Been Better?
The fine soil particles mean that you need more soil to fill medium to larger-sized pots. Hence, a larger size may run out faster, depending on the number of plants to be fed. In that sense, the Miracle-Gro Plant Food comes across as slightly expensive.
Pros
Easy-to-water formula

Can be used for forcing all types of bulbs

Suitable for herbs and flowering plants

Long feed time
Cons
Less quantity compared to price
Next in line is the Burpee Organic Premium Potting Mix. Its all-natural formulation is ideal for gardeners who are wary of putting synthetic products in their greens. What's more, the soft and lightweight texture prevents strain on the roots.
Why Did We Like It?
There were quite a few similarities with the Miracle-Gro Plant Food that got us interested in this potting mix. For one, it's formulated with the same sustainable and renewable coconut coir, which accounts for optimum moisture retention without flooding the roots. It also reduces the need for frequent watering, thereby cutting down on the plant maintenance task.
Secondly, it releases the nutrients immediately upon application and maintains a continuous stream of food for up to 3 months. It has been certified by OMRI as safe to use for organic plants, vegetables, and herbs growing in raised beds or patio containers. The 6.5 pH offers maximum versatility for growing multiple varieties with varied requirements.
Unlike many organic potting soils on the market, this one doesn't shelter fungus gnats. This is a useful feature to have, especially when you're growing plants indoors or in cramped containers. Apart from that, the unstated perlite content makes the perfect growing environment for ZZ and fig leaf plants. And it comes in 5 size variants to choose from.
What Could've Been Better?
Being a "premium" potting soil, the Burpee Organic Mix is a tad bit expensive. But since its performance is worth those extra bucks, we don't mind the extra spend. Other than that, we don't have a lot to complain about.
Pros
High water holding capacity

OMRI labeled for organic use

Good for germinating large seeds

Grows colorful flowers and flavorful herbs
The Espoma AP8 Organic Potting Mix is a regionally formulated base meant for all indoor and outdoor plants. With appropriate moisture retention capacity, it aids the healthy development of plants throughout the year.
Sale
Why Did We Like It?
One of the first things that grabbed our attention was the myco-tone formula, a proprietary blend of endo and ectomycorrhizae that promotes strong root growth, increases water uptake, minimizes drought stress and transplant shock. Besides, it makes the potting mix absorb 30% less water compared to ordinary soils.
However, what really appealed to us is the regional consideration that goes into making the product. Simply put, the Espoma AP8 Organic Potting Mix has ingredients according to the environmental condition of a particular area. 
For instance, the key ingredients in New Hampshire, California, and Oregon include sphagnum peat moss, perlite, humus, and earthworm castings. It also includes copious amounts of feather meal, kelp meal, limestone, yucca extract, and aged forest produce.
Talking about the application, the first step is to take a potting container with adequate drainage. Then, to prevent the soil from escaping the drainage hole, cover it with rocks or pebbles. Finally fill 1/3rd of the container with the potting mix and carefully place the plant. Make sure to keep a 1-inch distance between the topsoil and the rim, and water thoroughly.
What Could've Been Better?
Much like its predecessors, this potting mix isn't the most affordable option out there. And considering the 3-month feed time, you may need more packs if you have a lot of plants to cater to.
Pros
Sealable pack

Enhances fertilizer utilization

Improves soil structure

Helps in transplant survival
FoxFarm is the proud owner of various gardening products, including fertilizers, supplements, soil conditioners, and potting soil mixes. Hence, we decided to give the FX14054 potting soil a go to see if it truly justifies the repute.
Sale
Why Did We Like It?
The FoxFarm FX14054 potting soil is a ready-to-use formula consisting of a unique mix of beneficial soil microbes and mycorrhizal fungi, which fast tracks stronger root development in plants. 
These microbes are exactly similar to those found in natural soil, which break down organic material for the roots. Thus, the mix mimics a natural environment that's otherwise missing for container plants. Additionally, the composted forest humus retains long-lasting moisture to prevent drought-related stress. It doesn't make the water merely sit near the roots but reinforces the plants' absorption power.
Not only does the adjusted pH facilitate greater nutrient uptake, but it also makes it suitable for use with almost any indoor or outdoor plant variety. The two main ingredients that work in this regard are dolomitic lime and oyster shell. 
Furthermore, certain plants like tomato and squash are susceptible to blossom end rot, and the calcium content in dolomitic lime will take care of this situation. At the same time, the perlite and peat elements bring in the right amount of aeration for the plant to extend its feeder roots system for optimal feed.
What Could've Been Better?
The increased water absorption rate may correlate to frequent watering to prevent drying of the roots. Also, the soil microbes indulge in some chemical processes that increase the soil temperature, often making it too hot for tender seedlings.
Pros
Offers sufficient calcium supplement

Replicates the natural environment for plants

Has earthworm castings and bat guanos

Water-like pH
Cons
May dry out faster

Soil temperature is not always suitable for sensitive varieties
How about an all-in-one kit for your herb garden? From the soil mix to seeds and containers, the Spade To Fork Indoor Herb Garden Starter Kit has everything required, especially for first-time gardeners. Plus, the product makes for a great holiday gift on a budget.
Sale
Why Did We Like It?
Without a second doubt, we appreciate the kit design but what we absolutely loved is that the brand doesn't compromise quality for quantity. Each sprouting box comprises 5 Non-GMO seeds, namely Italian large leaf basil, coriander cilantro (slow bolt), peione parsley, broadleaf sage, and thyme. 
Accordingly, the other components are 5 potting soil discs, 5 wood-burned custom markers (for noting sprouting dates), and a detailed instructions manual. 
Unlike many germination kits that only focus on organic seeds, the brand has adopted an all-round approach for eco-friendly and sustainable gardening. Hence, the soil discs and peat pots are free from harmful chemicals, thereby making them safe for use by everyone. You can use the peat pots as compost for recycling purposes.
We also liked how the soil comes in compact discs, which reduces the chance of creating a mess, especially if used by children. Complete with a 100% growth guarantee, the brand will offer a replacement or refund in case of any dissatisfaction. Considering its affordable price, we hardly could've asked for anything more.
What Could've Been Better?
Some users have reported that the peat pots developed mold after a few weeks. Hence, you may have to take special care in watering and light exposure to keep them as dry as possible. 
Pros
Can be placed in various places

Plastic-free packaging

No chemical additives or fertilizers

Guaranteed highest seed germination rate
Cons
Organic peat pots may grow mold
Not exactly a potting soil mix, but the Dr. Earth Organic Herb Fertilizer is just as effective as our other recommendations. Made from 100% organic and natural ingredients, it can be used for both new and established plants.
Why Did We Like It?
When it comes to gardening products, no list can be complete with a Dr.Earth product. Its organic herb fertilizer is backed by a 4-6-3 NPK ratio, which suits various plants like herbs, tomatoes, peppers, cucumbers, eggplants, potatoes, corn, beet, lettuce, and so on.
In addition, the specially handcrafted blend comprises eight strains of ecto and endo mycorrhizae for drought resistance, enhanced nutrient availability, and plant performance. The nutrients are released quickly into the soil and continue to feed the plants for several months without any hindrance.
Since the fertilizer doesn't contain any GMOs, synthetic chemicals, biosolids, chicken manure, or sewage sludge, it's marked safe for humans and animals. 
The package has detailed application instructions for specific plants and growth stages. For example, herb seedlings require about 6 cups per 50 feet during garden preparation. Similarly, use 1/4th cup per 1/2 cubic feet for container herbs and mix thoroughly with the potting soil.
On the other hand, established herbs need 3 cups for every 50 feet of row, while container plants require 1/4th cup per 5 gallons of potting medium. Apply every 2 months throughout the growing season.
What Could've Been Better?
We are disappointed with the almost non-responsive customer service. Although the package has all the instructions written on the back, there are no clear instructions about increasing or decreasing the concentration for exceptional situations. And that's when users are likely to hit a dead-end.
Pros
Probiotic ingredients

Grows nutritious and tasty vegetables

OMRI verified

Sustainably made
At the halfway mark, we are back with another Miracle-Grow product, i.e., the Water Soluble Plant Food. This instant feeding formula promotes healthy foliage and tasty produce without burning a hole in your pocket.
Why Did We Like It?
Having tried the Miracle-Gro Indoor Potting Mix, we were eager to see what this one had to offer. And it didn't disappoint a lot. To begin with, it has a host of natural ingredients alongside a near-ideal 18-18-21 NP ratio. Thus, it provides adequate nutrients for many plants, like tomato, basil, squash, cucumber, carrot, pepper, squash, etc. 
Many users have praised its efficiency for promoting big and healthy plants in outdoor gardens. On that note, the instructions state mixing 1-and-1/2 tablespoon with the 1-and-1/2 gallon water in a watering can (should cover 15 feet). 
As opposed to wetting the soil thoroughly, soak the base near the plants every 7 to 14 days. The 2-pound pack should last for roughly 800 square feet of garden area. When used as directed, the no-burn formulation will prevent the plants and seedlings from damage.
Overall, the Miracle-Gro Water Soluble Plant Food is one of the most cost-effective herb bases.
What Could've Been Better?
The instructions don't mention a particular quantity for small, one-pot herbs, meaning you have to eyeball the dilution. We strongly recommend diluting a little amount with the regular amount of water and applying once every 7 days before increasing the dosage if required.
Pros
Natural ingredients

Quickly dissolves in water

Long-lasting

Cost-effective
Cons
No specific instructions for single container herbs
Adhering to its brand name, the Perfect Plant Organic Potting Mix comprises natural ingredients to enhance soil conditions for maximum nutrient absorption. With a nice texture and adequate fluffiness, it can maintain the right moisture balance for different plants.
Why Did We Like It?
Getting straight into the ingredients list, the mycorrhizal fungus serves various purposes, like protecting the root system from extension damages. Apart from that, this naturally occurring growth agent boosts root establishment and nutrient levels without requiring artificial fertilizers. All of this ultimately results in higher plant yield and larger production of fruits and vegetables.
Like most other organic potting soils, you will find a healthy amount of worm castings that promote luscious, green foliage and thicker, longer root systems. The extract enzymes from these castings act as a barrier to stabilize the roots in less than ideal soil conditions. Moreover, they play a vital role in flushing out toxins from the soil. 
The fluffy texture can be accredited to the coconut coir particles, which help create air pockets for the soil trapped in containers. A great thing about this sought-after drainage medium is that it doesn't affect the pH balance of the mix. Similarly, the perlite creates enough room for the roots to grow and absorb nutrients to their full potential.
Finally, the Perfect Plant Organic Potting Mix can be used both for established plants and as a germination base for seedlings.
What Could've Been Better?
While we don't have a lot to crib about the performance, we'd have certainly liked the packaging to be better. Despite being resealable, it doesn't close all the way through, leaving scope for contamination. And at this price, this is the least we can expect.
Pros
Peat moss absorbs 20% more water

Composted pine bark retains and releases moisture timely

Enhances plants' durability for environmental change

For potted plants, trees, and annual outdoor bloomers
Cons
Poor packaging may cause contamination
Taking inspiration from the compact soil discs of the Spade To Fork Indoor Herb Garden Starter Kit, here's a compressed growing medium from the Mountain Valley Seed Company that may appeal to gardeners. This easy-to-carry potting medium provides a large amount of soil anytime, anywhere.
Why Did We Like It?
Unsurprisingly, we are awarding bonus points for wheelbarrow block design, which expands up to 15 times when watered. All you have to do is add approximately 5.5 gallons of water, and the resultant soil will yield about 15 gallons of deconstructed soil- enough for your indoor and outdoor gardens. In fact, it's specifically engineered for microgreens and wheatgrass, among other varieties.
This OMRI certified organic growing base is essentially raw and untreated fibrous coconut coir that's compressed into a moderately lightweight block. Not only does it save you from the trouble of carrying damp soil, but it also takes care of drainage and water retention. Hence, you can use it directly as potting soil or additive to existing soil to reinforce water holding capacities.
In the absence of chemicals or animal protein, it becomes easier to store the excess soil. Just keep it in an air-tight container, away from direct sunlight and moisture, and that's about it.
While we tried the block variant, you may go for the different-sized pellets if you don't have to cover a lot of area.
 What Could've Been Better?
Since the Mountain Valley Seed Company Compressed Grow Medium doesn't contain many nutrients, we feel it works better when used with other nutrient-rich media. Hence, the price comes across as somewhat expensive.
Pros
Proper drainage

Enhanced moisture retention

Certified for organic gardening

Available in blocks and pellets
Cons
More suitable for use with nutrient-rich soil
To add to the list of organic potting soils, we introduce the Black Gold 1302040 All Organic Potting Soil. The mix of several essential primary and secondary ingredients make it ideal for use in raised beds, containers, hanging baskets, window boxes, and others.
Why Did We Like It?
We were impressed with the choice of ingredients, which support the versatile utility of the soil. For example, the primary ingredients include peat moss, aged bark, compost, sun-coir, coconut coir, earthworm castings, dolomite lime, etc., for optimum nutrient intake. Besides, these elements ensure proper air circulation and drainage without disturbing the pH balance.
One of the best things that we observed during our trial is how easy it was to grow new plants from stems. We simply planted some basil stems bought from the grocery store, and they sprouted within a few weeks, doing away with the need for seedlings.
Much like the Espoma AP8 Organic Potting Mix, it's made from a proprietary blend of endo mycorrhizae. Apart from boosting the nutrient intake, it significantly improves the plants' tolerance to environmental stress. In addition, it contributes to processes like soil aggregation and microbial activity.
 What Could've Been Better?
Some organic soils tend to develop gnat fungi over time, and this soil falls in that category. In case you observe pests in the stored soil, we'd advise drying it out naturally before applying it to more plants.
Pros
Has organic-grade fertilizers

Perlite particles for aeration and drainage

Non-smelly

Also comes in a pack of three
Yet another compressed potting soil that made it on the list is this product from Organic Plant Magic. With 7 times expanding capacity, it helps your plants grow 3 times bigger, and at a faster rate.
Why Did We Like It?
The convenience of the Mountain Valley Seed Company Compressed Grow Medium made us want to try this one, and we were satisfied for the most part. It's made from 100% coconut coir, earthworm castings, and plenty of beneficial bacteria to provide your plants with some much-needed boost. 
The small block quickly expands as much as 7 times its size when watered. And it holds 50% more water than regular soil, which is a good feature for raised gardens and flower beds. Moreover, the biodegradable mix doesn't leave any residue on the plants. Hence, your herbs and vegetables grow healthier and tastier than before.
Going through the instructions, we discovered the Organic Plant Magic Compressed Potting Soil as a standalone base, soil conditioner, mulching, and topdressing. When used at a rate of ¼-inch expanded soil per square foot, it can cover up to 2,765 square feet.
Likewise, when used as mulching or top dressing, it insulates and conserves the soil to prevent the moisture from escaping for higher plant performance.
What Could've Been Better?
Although the instructions direct adding water in a 1:1 ratio, adding too much water can leave the soil in a puddle. Thus, we'd recommend adding little water at a time, wait, and then repeat until you reach the desired consistency or amount. And we aren't sure if the excess soil can be stored.
Pros
Feeds nutrients to roots

Amends depleted soil

Conditions poorly drained soil

No smell or taste residue
Cons
More water can leave the soil muddy

Excess decomposed soil may not be storable
As we have approached the end of the list, the Next Gardener Organic Seed Starting Mix finds a place. The professionally formulated mix has all the right ingredients for germinating seeds and initiating flowering in stems or root cuttings.
No products found.
Why Did We Like It?
First and foremost, the professional formulation means it has all the cream of the crop ingredients, including screened blonde sphagnum peat with frost gold. Additionally, there's a small amount of organic fertilizer, which aids fast development for stronger roots and vigorous plants.
With a balanced 5.5 pH, it's engineered for germinating most organic seedlings of vegetables, flowering plants, herbs, ornamental varieties, fruits, succulents, cactus, and more. The lightweight texture also comes in handy for leafing stem and root cuttings. Quite versatile, we say!
Unlike the packaging of the Perfect Plant Organic Potting Mix, the high-quality resealable pack on this one keeps the soil fresh and safe from pests when not in use. While we opted for the 2-dry-quarts pack, you will find a 4 and 8 quartz variant for more plants.
What Could've Been Better?
Perhaps its biggest drawback is that the soil retains moisture for much longer than is needed. Not only that, but the top layer becomes almost instantly dry upon applying water, which may compel users to use more water. However, the accumulated moisture in the bottom layers can lead to root rotting. 
We strongly recommend poking your fingers to an inch deep to check the moisture level before watering.
Pros
100% organic and natural

Doesn't attract bugs

Can be used for many plant types

Pack available in three sizes
Cons
Moisture retention may cause root rotting
Before wrapping up, allow us to give you an insight into the performance of the Organic Harvest Potting Mix Soil. Its water retention and nutrition capacities have been formulated to meet the requirements of container plants.
Why Did We Like It?
The Organic Harvest Potting Mix Soil is a simple product that doesn't claim to do wonders but stick to its core purpose. With several nutrients and development boosting agents such as peat moss, wood shavings, composted green waste, and perlite, it's a suitable choice for all your container plants, be it herbs, fruits, vegetables, or flowers.
It comes in a ready-to-use form so that you can apply it directly as a base or mix it with any other soil of your preference. We liked how, unlike typical organic potting mix soils, it doesn't emit an odor. On the contrary, the pleasant and fresh smell is what you'd want to have around in the house, especially in kitchen herb gardens.
Furthermore, the waste-free formula negates the chances of attracting pests and prolongs the shelf life of the soil. You can purchase 1,2, 6, or a dozen bags, depending on how many plants you want to grow.
What Could've Been Better?
We couldn't find the exact amount on the pack, but the quantity seems far too less compared to the price. Many users have reported that they could fill only a couple of 2 gallon potting containers with 2 packs of this potting soil. Moreover, the packaging doesn't have a resealable design, so be careful while storing the mix.
Pros
No odor

Can be used as for starting seed

Has worm castings and guano

Provides good aeration and drainage
Cons
Less quantity

Package is not sealable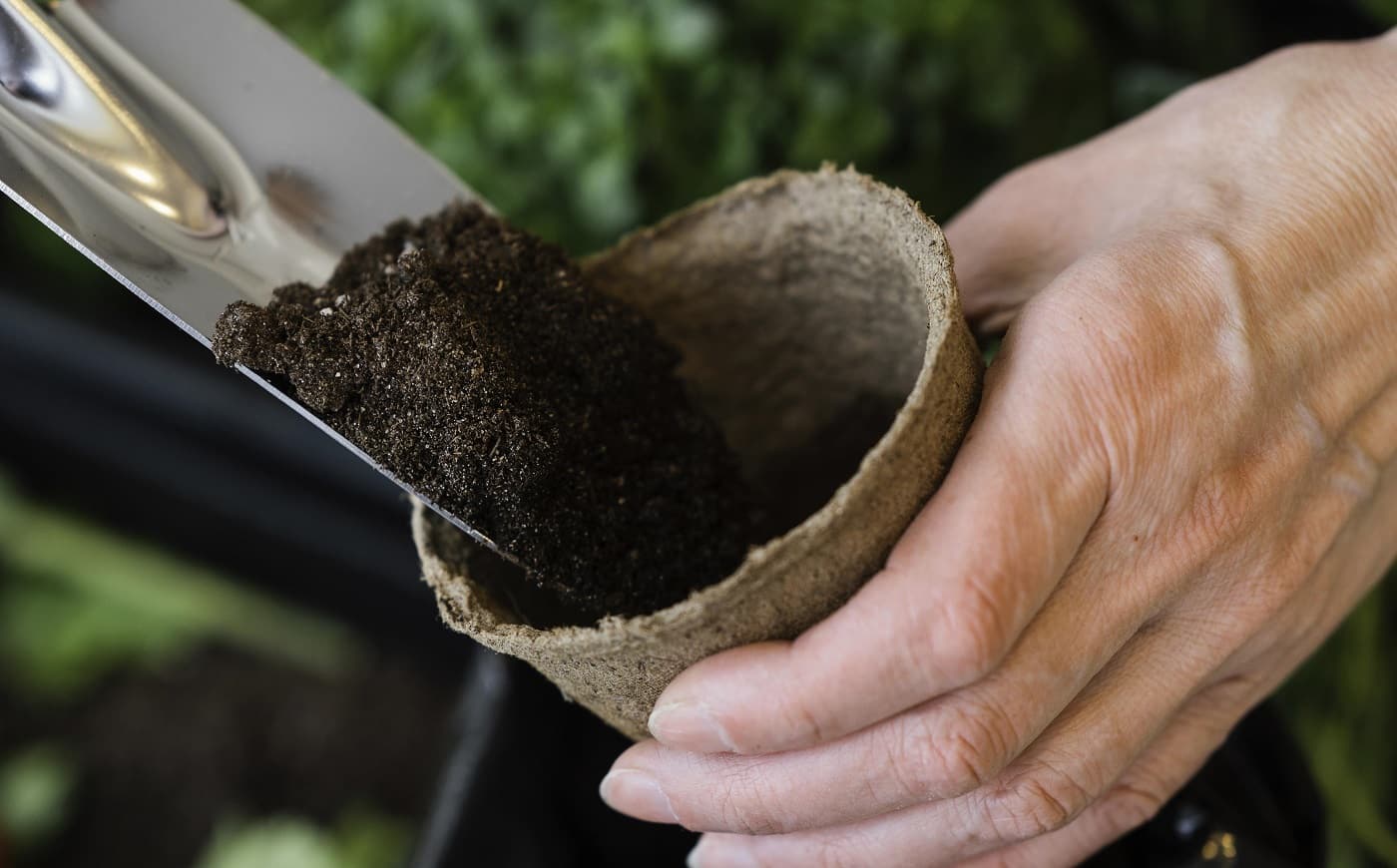 Herb Potting Soil Buyers' Guide
With so many close options, we understand if picking up the right potting mix takes longer than you expected. And after walking you through the best names on the market, our job will be incomplete if we don't take you one more step ahead to your "ideal match". 
How, you ask? Well, with this buyers' guide that contains the key factors to consider before making a purchase. So, hang in there!
Herb Requirement
If you have never tried herb gardening before, then let us ease your nerves by saying that herbs aren't the most demanding plants. However, the three main requirements for growing good herbs are:
Adequate moisture retention ability

Lot of nutrients

Well-drained soil
Most potting soils for herbs claim and deliver on the above-mentioned parameters, and the extent of delivery will ultimately determine the growth of your herbs. Coconut coir and perlite are two such ingredients with excellent water retention and drainage capacities, so make sure you get them on board.
Likewise, peat moss and earthworm castings provide various nutrients while maintaining the right pH. On that note, most gardeners prefer the pH of their potting soil to be between 5.5 and 6.5.
Soil Depth
Depending on the herb you choose to grow, most herbs require a depth ranging from 6 to 10 inches for their root system to absorb all the nutrients. Therefore, the soil must not be too compact, especially when moist. Otherwise, it may hamper the roots from extending to their full potential. Here again, ingredients like perlite will make the soil lightweight aid aeration and circulation.
Compressed vs. Deconstructed 
In our humble opinion, the only significant advantage that compressed soil blocks or pellets have over regular potting soil is the ease of use. Thanks to their compact portability, you don't have to strain your muscles carrying wet and messy soil. That said, we feel they lack the wholesome nutrient content, which can be balanced by adding a nutrient-rich soil.
Protection Against Gnats
As we have already mentioned, organic soils, in particular, are likely to attract some sort of pest due to the presence of several natural ingredients. However, soils that dry out well or don't have animal protein in them are less prone to pest infestation in the long run.
Verdict
How boring would food become without herbs! And what better if you had some in the vicinity? If you're thinking about starting your herb garden, now is the time!
Especially with the luxury of potting soil, which makes it possible to grow herbs round the year, there's no reason why you should hold off that decision any longer. So, we are encouraging our readers to go carefully through our reviews and buyers' guide, and take a final call.
Meanwhile, let us name our top three favorites from the list. The Miracle-Gro Plant Food is a premium yet effective product, and the Espoma AP8 Organic Potting Mix has a blend of mycorrhizae. Lastly, the FoxFarm FX14054 Potting Soil replicates the natural environment for herbs.
On a side note, the Spade To Fork Indoor Herb Garden Starter Kit is a complete herb growing solution for beginners. With that, we will take your leave. Let us know your verdict in the comments down below.
So long!
Related Articles
5 Best Self-propelled Lawn Mowers Right Now
The 5 Best Lawn Mowers for St Augustine Grass Right Now
Best Lawn Edging for a Legendary Garden 
4 Best Walk Behind Brush Cutter  
13 Best Trimmer Lines | Multi-Sided, Round, Square, Twisted & Serrated
13 Best Inexpensive Lawn Mowers For Small Yards
6 Best Electric Start Self Propelled Lawn Mowers 
11 Best Battery Powered Lawn Mowers  
11 Best Mosquito Fogger Insecticide
9 Best Fertilizers for Petunias Right Now
9 Best Fertilizers for Hydrangeas
13 Best Weed And Feed For Lawns
13 Best Weed Killer for Flower Bed Reviewed
How to Install Landscape Fabric for Weed Control
Does Grass Seed Expire? All You Need to Know
11 Best WiFi Smart Sprinkler Controller 
13 Best Backpack Sprayer [Buyer's Guide]
13 Best Fertilizer for Palm Trees 
13 Best Fertilizer for Zoysia Grass
13 Best Fertilizer Spreader For Lawn & Garden
13 Best Potting Mix For Orchids
How Long After Grass Starts Growing Can You Mow It?
Does Grass Seed Go Bad | Expiration Dates Explained
How To Water Succulents Without Drainage Holes
How to Get Rid of Pampas Grass