Whether you're a DIY enthusiast, a professional, or even an amateur, you'll most likely be looking for a versatile tool.
While there are numerous products in the market, screwdriver sets are all the rage right now due to their multi-purpose functions. These come with a range of components, meaning you don't have to make any additional purchases. This makes screwdriver sets extremely convenient tools.
Some of the units are battery powered and deliver the necessary rotations to get you through your work quickly. Other models have focused on the magnetic strength of bits, which ensures you get the best results on intricate tasks and can access hard to reach areas.
But despite knowing what tool you need, you may have trouble picking the right model because of the abundance of options. So, we've narrowed down the 11 top products for your benefits and have also added a guide to help you make an informed decision.
Let's get down to the deets!
Best Precision Screwdriver Sets
IMAGE
PRODUCT
DETAILS

Our Top Pick

Our Top Pick

XIAOMI Mijia Screwdriver Kit 

Aluminum & steel construction 
Skidproof 
Rotating head 

VIEW LATEST PRICE →

Wowstick Mini Power Screwdriver 

200 RPM 
500mAh lithium-ion battery 
Tool box included 

VIEW LATEST PRICE →

XIAOMI Mijia Electric Screwdriver 

200RPM 
Magazine design storage space 
TPU rubber 

VIEW LATEST PRICE →

iFixit Tool Kit

64-bit driver kit 
Anti-static wrist strap 
Suction cup 

VIEW LATEST PRICE →

Syntus Screwdriver Set 

63-in-1 set 
Plastic opening tool 
Triangle plectrum 

VIEW LATEST PRICE →

EZARC Screwdriver 

57-in-1 set 
Magnetic bits 
Aluminum case 

VIEW LATEST PRICE →

KerKoor Screwdriver Set

110-in-1 set 
Interchangeable components 
Chrome vanadium steel construction 

VIEW LATEST PRICE →

Royace Screwdriver Set 

119-in-1 set 
Anti Static tweezers 
Non-slip silicone handles 

VIEW LATEST PRICE →

JAKEMY Screwdriver Set 

43-in-1 precision set 
Replaceable magnetic bits 
Extension bar 

VIEW LATEST PRICE →

Apsung Screwdriver Set 

110-in-1 set 
Non-slip magnetic bits 
Aluminum handle 

VIEW LATEST PRICE →

Nanch Screwdriver Set 

22-in-1 precision set 
Made from steel 
4mm head

VIEW LATEST PRICE →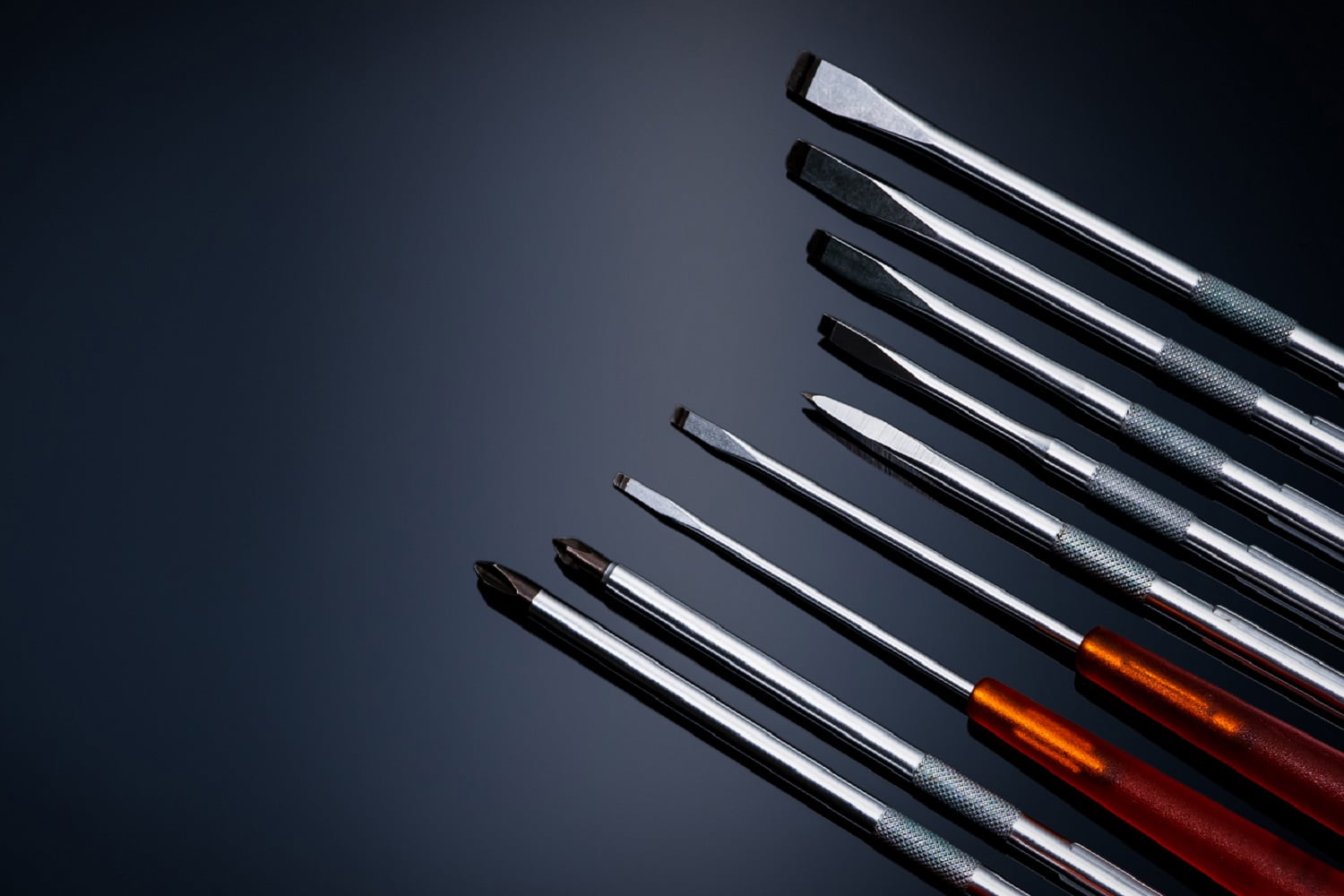 One of our top recommendations is the XIAOMI Mijia Screwdriver Kit, which comes from a well-known brand. It has received positive reviews because of the range of excellent functions to make work more manageable. So, read on to find out more about this fantastic model.
Why Did We Like It? 
First and foremost, it comes in durable construction, which is well complemented by the grey color of the individual units. Grey rightly conveys a sense of robustness with the box made from aluminum steel, while the bits consist of S2 steel. You get incredible reliability in your tasks, which comes in handy when you use it with electrical appliances.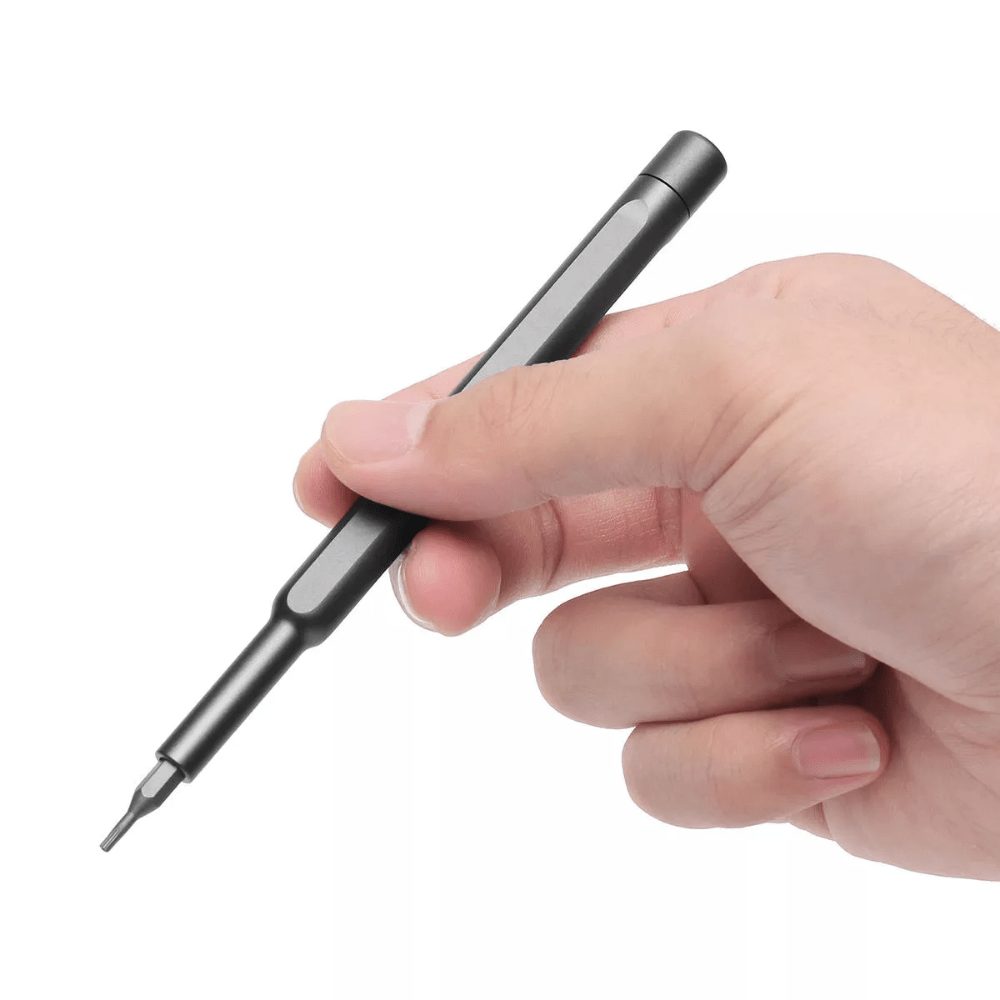 Furthermore, the set consists of 24 pieces, which speaks about the versatility on offer. Any task won't limit you, and the magnetic storage system allows you to quickly choose the unit of your choice. Similarly, every screwdriver provides a comfortable grip and is well complemented by a refined design to ensure you can work long hours.
We were also impressed by the rotating head, which provides the necessary precision in your tasks. In that regard, thanks to the skidproof nature, you won't have to worry about damaging your laptop or camera.
What Could've Been Better? 
It isn't the best tool if you choose to work in narrow spaces, given that there's no extendable shaft. You can still use it for various applications, but it's likely you won't get the desired result in tight areas.
Pros
Versatile

Comfortable grip 

Magnetic storage system

Highly durable

Total of 24 components
Cons
Not suitable for using narrow spaces
If you liked our earlier recommendation, then wait till you get a load of this one. For people who prefer durability to all the other aspects, you'll enjoy the exceptional reliability and long lifespan it delivers. Moreover, it's battery-powered, which allows you to handle numerous tasks with aplomb.
Why Did We Like It? 
If you ask us, the most striking aspect of the tool is that it runs on battery, something you don't associate with a screwdriver. The state-of-the-art unit has a 500mAh lithium-ion battery that's capable of producing 200RPM, which delivers an efficient output to complete your task quickly.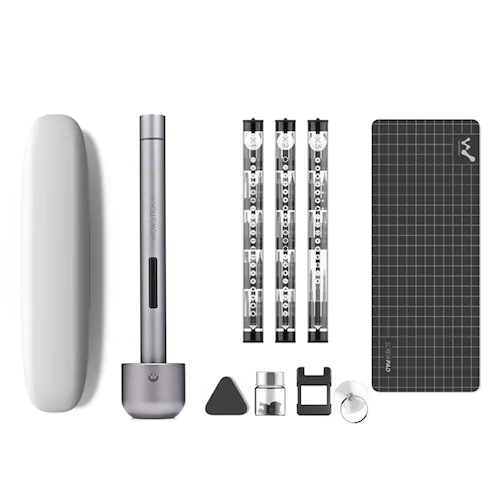 Moreover, the components that come with it are equally good, and the accessories are available in the toolbox for safekeeping. Among them, you'll find two types of pry bars and tweezers with the self-locking function providing stability. You can use it with the integrated ratchet structure for the best results. 
It's ideal for first-time users due to the series of user-friendly features like the hand-in-one dual mode. You also have the opportunity to try out the piano-key switch for greater convenience as it delivers tremendous precision.
What Could've Been Better? 
One of the main downsides to using the model is the high price. Given its numerous functions, we understand the substantially higher value of the unit. But you may have a tight budget, which could make it challenging to make the purchase.
Pros
User-friendly

Hand-in-one dual mode

Piano-key switch

Aluminum construction

Integrated ratchet structure
XIAOMI has been around for a long time and has built quite a reputation for being trustworthy. In that regard, the XIAOMI Mijia Electric Screwdriver is no different and is armed with a series of quality features to ensure you can complete your work quickly. It's highly efficient and is on most people's wish list.
Why Did We Like It? 
Straight off the bat, it's another terrific tool, and users are already excited given its range of sublime functions. We start by discussing the storage space that contains all the components and is held in place by the magnetic attraction. Additionally, it's available in a magazine design for you to systematically arrange your tools without any difficulty.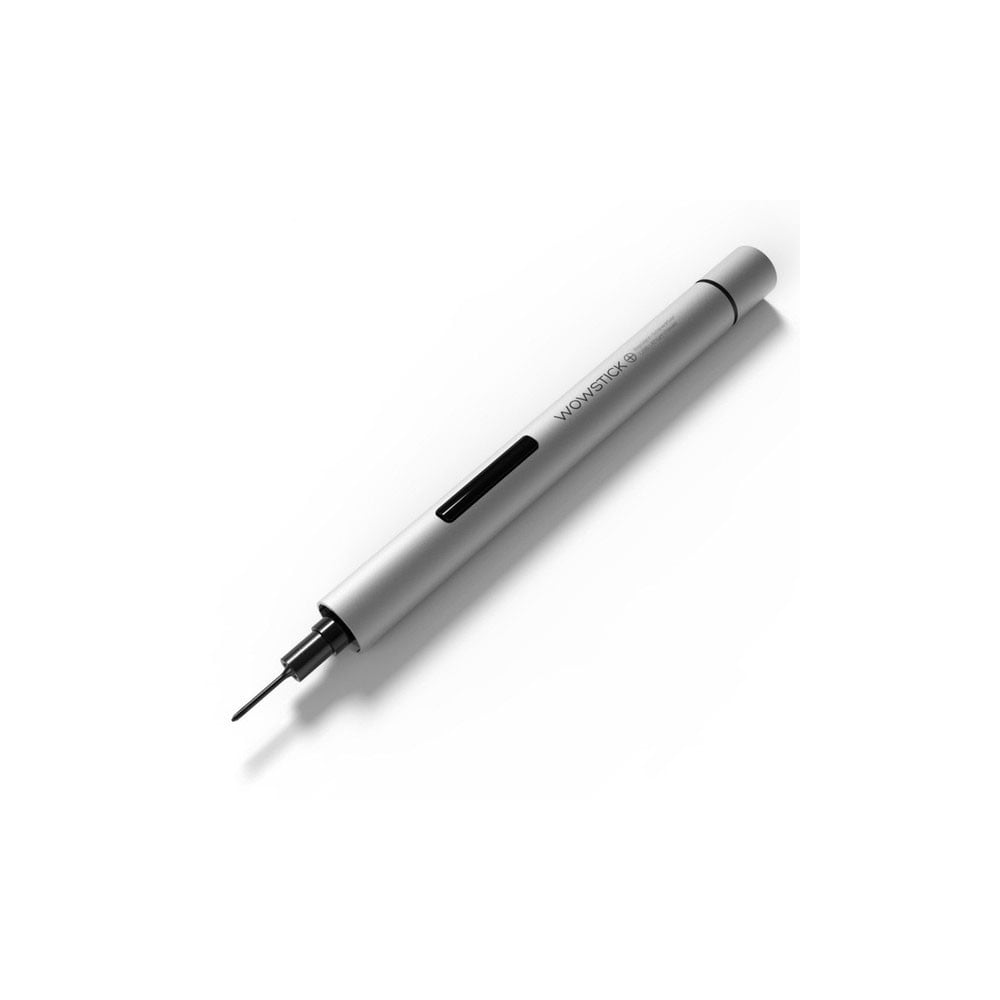 It is reasonably compact despite having numerous accessories, and it comes with a built-in lithium-ion battery to produce 200RPM. Once fully charged, you can use it to tighten over 400 screws in no time and without compromising on accuracy. The dual gears generate sufficient torque for the purpose, which is the reason for its popularity.
Furthermore, to allow customers to sustain usage for extended periods, the designers have added incredibly soft TPU rubber. You can, therefore, press down on it without feeling tired while the antiskid nature protects whatever device you're working on.
What Could've Been Better? 
In some cases, the button isn't responsive, and you'll have to press it a couple of times to change the function. Besides, the torque may be a bit low for your liking, but it isn't a significant problem as there's no let-up in performance.
Pros
Highly efficient

Sufficient battery life

Comfortable to use

Antiskid

Spring-loaded latching mechanism
Cons
Low torque

Buttons may not be very responsive
The iFixit Tool Kit comes with the usual set of functions, but the designers have made significant improvements to the minute aspects. It delivers a fantastic performance under most conditions, with users being very effusive in their praise for what it offers. You'll see it provides the necessary output to back up the positive reviews.
Why Did We Like It? 
A lot of planning has gone into making the tool, and no surprises then that the manufacturers have paid attention to every detail. It took five years to develop the unit, which features a 64-bit driver kit making it one of the best in terms of quality. In that regard, it comes in an aluminum construction to handle the demands of work.
We loved the precision output, thanks to the swivel cap, which offers a smooth performance. The precision is further enhanced because of the magnetic nature of the bit holder, which generates magnetic force through the tool. It comes in handy when you're working with small screws, while the ergonomic grip delivers the necessary comfort.
Besides, it has an array of components that allow you to handle various jobs without any difficulty. You can effectively work with it on your phone or computer without damaging the device.
What Could've Been Better? 
You may have trouble closing the case, although it has a magnetic lid. What you can do is add a layer of Velcro; otherwise, it's challenging to close it completely. Some users had to pull the material with their might but still found the components fell out of the case.
Pros
Nylon tipped tweezers

Magnetic pad

Swivel cap

Aluminum handle

Ergonomic design
Cons
The case doesn't close properly
Another terrific model for you to try out is the Syntus Screwdriver Set, which has quickly climbed the charts to be regarded as one of the best products. It has the essential features to top rival brands while you get exceptional versatility in your tasks, making it ideal for professionals and homeowners alike.
Why Did We Like It? 
For starters, it includes a component called a triangle plectrum, which comes in handy if you intend on using it for your iPhone. You also get a plastic opening tool along with a disassembling bit that's useful for working on the mainboard. All in all, you've 57 bits to choose from, which presents the incredible variety you get in your tasks.
The significant addition is that of a flexible shaft, which isn't seen with other models, and it plays a vital part when used on electronic devices. Furthermore, thanks to the multi-magnetic driver, you can efficiently fix bits and use it to pull out screws without any hassle.
You'll love the press and pull system, making it convenient for various types of users. Plus, combined with the ergonomic design, you can use it for extended periods while the excellent packaging allows you to take good care of all the components.
What Could've Been Better? 
After regular use, the different bits may start to strip, which isn't the ideal scenario. We've seen that while tightening or loosening the screws, the bits may stop working because the coating came off. As a result, it becomes rounded to deprive you of the necessary tightness in your projects. 
Pros
Flexible shaft

Multi-magnetic driver

Press and push design

Efficient performance

Versatile
Cons
The bits may strip off after regular use
We're at the halfway point of our list but still have several quality products to review. Next up is the EZARC Screwdriver, a simple unit, but there can be no doubt about the performance. It packs a punch and proves to be highly efficient in handling numerous tasks.
Sale
Why Did We Like It? 
Right away, you'll notice the exceptional variety on offer, thanks to the 56 bits made from S2 steel that are suitable for a wide range of applications. The numerous sizes of the accessories ensure you can operate on your electronic devices without much difficulty. In that regard, the robust construction delivers the necessary reliability.
All the bits have been carefully crafted to ensure there's no let-up in performance, and you get the desired precision. It allows you to quickly complete any repair work, thanks to the magnetic screwdriver handle providing greater control. It won't slip from the groove and is useful for picking up screws as well.
Likewise, with the magnet holder, you can store all the parts neatly and not lose them. You can even keep them in an inverted position while the compact size makes it ideal for carrying in your pocket.
What Could've Been Better? 
There are a couple of downsides to using it, and one of the things you need to look out for is the release mechanism. It may catch quite frequently, in which case you'll have to pry it open. Secondly, the marking on various components isn't the best, and you may find it challenging to locate the right bit.
Pros
Made from S2 steel

Magnetic holder

Easy to use

Ergonomic design

Free-spinning cap
Cons
Markings aren't clear

The release catches frequently
The KerKoor Screwdriver Set has covered most bases and proves to be highly useful when you're trying to get precise results. Moreover, it has a user-friendly design, which is seen in the lightweight nature. No surprises then that customers have had to say mostly positive things about the performance.
Why Did We Like It? 
If you're looking for a multi-function model, then you'll love what it offers, thanks to the 110-in-1 interchangeable nature of the tool for greater precision. Users have expressed their fascination with the lightweight and compact design, despite having the capacity to take care of various tasks. Therefore, you can use it to repair your computer and other electrical devices.
Another significant aspect of the unit is the incredible sturdiness that it delivers due to impact-resistant chrome vanadium steel. It's formed by mixing alloys, which enhances the resistance while ensuring it can withstand heavy loads. As a result, you get to use it for extended periods, making it quite a favorite for the people.
The significant improvement comes in terms of the extra flexible shaft allowing you to adjust the extension rod up to 6cms. Additionally, the magnetic tip delivers much-needed precision and prevents the screwdriver from slipping off the groove.
What Could've Been Better? 
There's a chance that the neckpiece may get caught while you're working in tight areas. If it snags into an object, the neck may come loose since it's held in place by a magnet rather than a screw. Therefore, we advise you to be careful when you've to work in narrow spaces.
Pros
Impact resistant heads

Lightweight

Compact

Extension rod

ESD coated tweezers
If your requirement is a multi-purpose tool, they don't come much better than the Royace Screwdriver Set. While it's predominantly a versatile unit, the designers have also paid attention to other aspects like durability and magnetic strength. You can rest assured you'll get your money's worth working with it.
Why Did We Like It? 
Firstly, it's a 119-in-1 screwdriver set capable of handling a range of tasks from iPhone repairs to home appliances. Gamers can also use it with their PS4, and the reason for the quality output is the addition of anti-static tweezers and non-slip silicone handles. It delivers comfort while allowing you to get the required precision in your tasks.
Furthermore, it comes with a total of 101 bits, all of which are magnetic, while the heads are made of chrome vanadium steel. Not only is it designed to handle the pressure of various tasks, but the magnetic ability ensures you can complete your work quickly without compromising on performance.
We particularly loved how the primary screwdriver holder can be adjusted to suit different users. In that regard, the designers have added a magnetizer and demagnetizer, which speaks volumes about the user-friendliness.
What Could've Been Better? 
Given how the drive handle is pressed into the shaft, you may encounter specific issues while operating it. To explain in detail, the shaft that's placed into the handle isn't straight, and similarly, when you rotate the handle, the end bit won't go in straight either. So, it wobbles quite a bit, which isn't ideal.
Pros
Chrome vanadium steelhead

Magnetic pad

Soft extension

Shockproof case

Magnetizer and demagnetizer included
Cons
Wobbles while working

The shaft isn't pressed straight into the handle
The JAKEMY Screwdriver Set has stuck to the basics while making the necessary additions to be regarded as one of the standout models. Not only can you work on various tasks, but even under challenging situations, it delivers the required precision, which is sure to please you. Users have loved all that it offers.  
Sale
Why Did We Like It? 
To highlight the essential aspects of the tool, we must start with the multi-purpose functions, which are made possible by the 36 screwdriver bits. It acts as a 43-in-1 repair kit with components for various tasks, thereby allowing you to use it with several tiny electrical devices or for more intricate jobs.
All the bits are tightly connected to the handle, which reduces vibrations and delivers stability while working. As a result, users have spoken positively about the precision output, thanks to the extension handle that permits you to work in tight places. JAKEMY has also focused on durability, which is visible in its chrome vanadium steel construction to provide longevity.
Meanwhile, despite having so many components, the unit is lightweight and compact to make work more manageable. It's suited for most people while the case provides the perfect storage space for all the accessories and all you need to is press the button to open it.
What Could've Been Better? 
Some users have expressed concerns over the magnetic strength, but that's not a significant issue. It's more of a personal opinion, and it is highly unlikely different people will enjoy the same intensity of the magnet. Meanwhile, some of the bits don't fit into the base, which renders the components ineffective.
Pros
Ergonomic design

Chrome vanadium steel construction

Optimum comfort

Lightweight

OPEN button for accessing the case
Cons
Particular bits may not fit the base

Magnetic strength may be off based on your preference
Some units like the Apsung Screwdriver Set may seem like a simple tool but don't be fooled. It has the required functions that come in handy to handle various tasks while providing comfort if you need to work for long hours. It's highly convenient, and you can carry it around in your pocket.
Why Did We Like It? 
You may be wondering how it's different from other multi-purpose screwdriver sets? While the essential functions remain the same, there are aspects, like the flexible shaft, where it has made significant improvements. The shaft can extend up to 60mm, and the adjustable length complements the anti-slip nature.
Consequently, you can work in narrow areas by extending the shaft while the magnetic tips prevent the screwdriver from coming out of the groove. Other high-quality features include the overall design made from chrome vanadium steel to offer much-needed longevity. You can employ it for various tasks without experiencing reliability issues.
Plus, it provides the necessary precision, which opens up avenues for working with intricate items like your computer or phone. It's also lightweight and compact despite having the ability to withstand greater loads, and you can effectively carry it in your pocket without any hassle.
What Could've Been Better? 
While the compact nature of the model has many benefits, the one disadvantage is that it becomes challenging to remove screws that have high torque. Consequently, we feel it might be an inconvenience for you to use it professionally, and it's best suited for domestic purposes and other small-scale projects.
Pros
Suction cup

Extension bar

Sim card removal tool

360-degree rotating ability

Anti-slip rubber
Cons
Tough to remove screws with high torque

Suited for light-duty purposes
There are several things to like about the Nanch Screwdriver Set, among which is the user-friendly design. You won't face any problems while operating it, while functions like the built-in telescope provide more range in your tasks. As a result, the positive reviews from people have cemented its place among the top models.
Sale
Why Did We Like It? 
There are many good things about it but what immediately grabbed our attention is the ergonomic design. The handle is made from aluminum and has a non-slip grip, which allows you to get the required precision in your tasks. It also makes extended periods of work more comfortable and, thanks to the swivel top design; you get a seamless experience.
Moreover, it scores high in durability, featuring an alloy S2 steel construction rounded off with anti-rust treatment. The designers have passed the unit through a heat test, which delivers the necessary hardness, but the significant upgrade comes with regards to the magnetic bits. The strength of the magnet is ideal for working with various electronics without harming your device.
As a result, it's a multi-purpose model that includes a built-in telescope rod. You can extend the rod up to a maximum of 207.5mm, ensuring you get to work in narrow spaces with ease.
What Could've Been Better? 
We've seen that most customers have reported problems with the T4 bits. It appears that the designers didn't pay much attention to the shape, which is the reason for the faulty exterior. When you look at it from above, you'll see that the indentations between the peaks aren't prominent, which makes it difficult for gripping the surface.
Pros
Magnetic bits

Heat treated for added durability

Built-in telescope rod

Compact 

Lightweight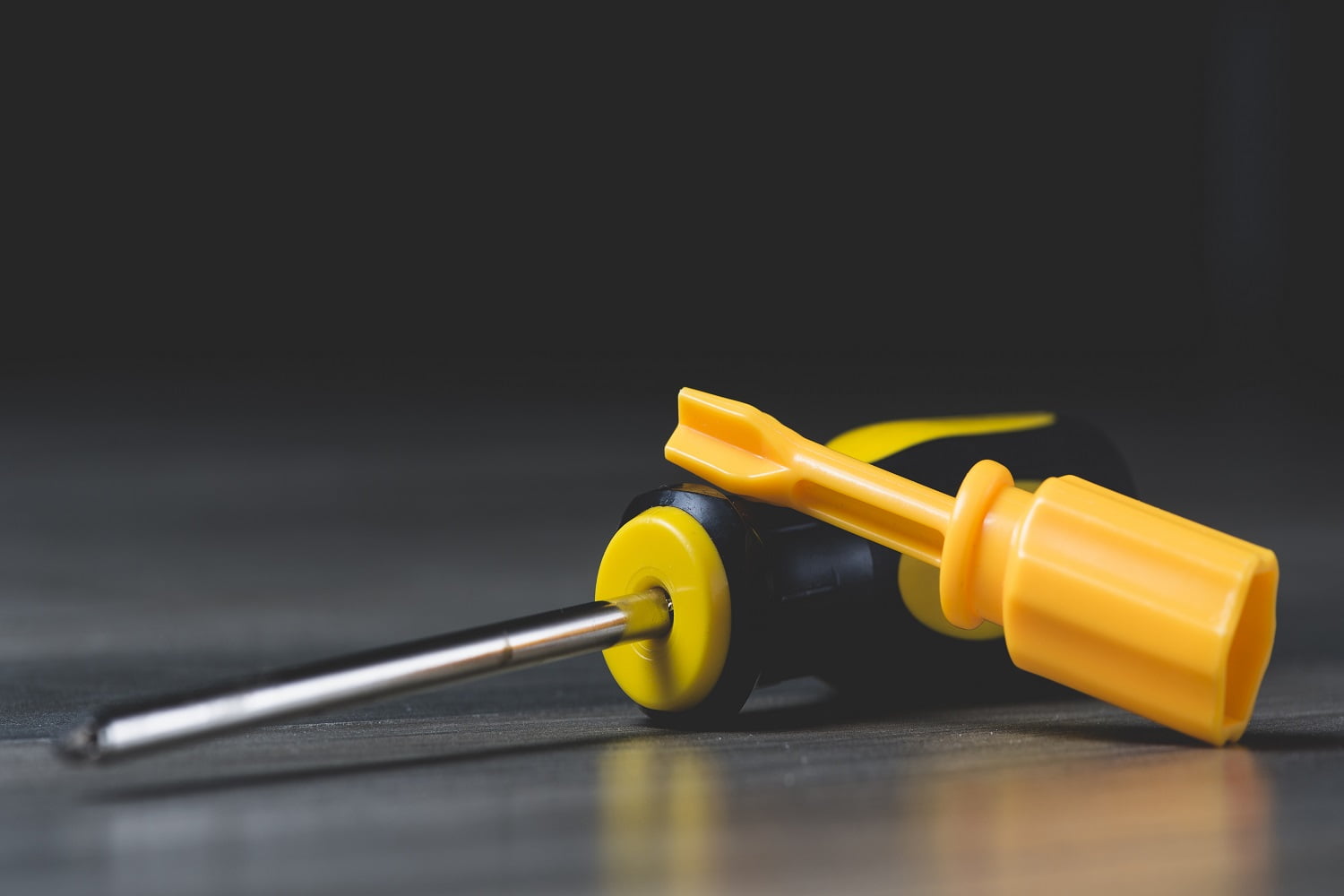 Precision Screwdriver Buyer's Guide 
Before you venture into the market, we would like to give you a couple of pointers to help you pick the right unit. As we've seen, precision screwdriver sets have many components that could make it difficult for you to distinguish between the top products and the merely good ones. 
We are here to discuss the essential aspects of the models based on which we have formulated our list. A piece of knowledge about these functions will place you in good stead and help you make an informed choice. 
Durability 
Your tool must be durable to handle the wear and tear of daily use. As a screwdriver set, it will have to deal with all types of tasks, from repair work to installation. It shouldn't be any surprise that only quality materials must be used for construction to ensure it doesn't break down. 
Buying any tool is an investment, and you can't afford to spend time or money ever so often on a new one. You must enjoy both the product and the components that come with it for a long time. 
In that regard, the manufacturers cannot afford to make any compromises. So, just having a steel or metal construction isn't enough. It must be rust-resistant as well to deliver faultless output. 
Ease of Use 
Screwdriver sets come in various sizes to handle multiple tasks, which is the secret behind the precision performance. But that shouldn't mean designers have to compromise with user-friendliness. The primary objective of any unit is to reduce your workload, and therefore you must be able to control it effectively to get the best results. 
All the components and functions must be understandable, almost at a glance. You should know what each part does rather than pondering over how to get it right. 
There is no point in having a plethora of functions if the users find it challenging to use. Rather any good model must keep the basics right and then add the necessary features to deliver a better performance. 
Magnetic Strength 
Finally, it must have sufficient magnetic strength to make sure that you get through your work quickly. Installing, removing, and pressing metal bits is tedious, so you can't afford to go about it at a leisurely pace. 
You have a lot of work to do, and your unit must be up to speed to ensure you get fantastic performance. More power doesn't always guarantee an improved output, so you must have the ability to control the force you need on various tasks. As a result, your tool will be versatile, enabling you to handle small-scale and large-scale projects.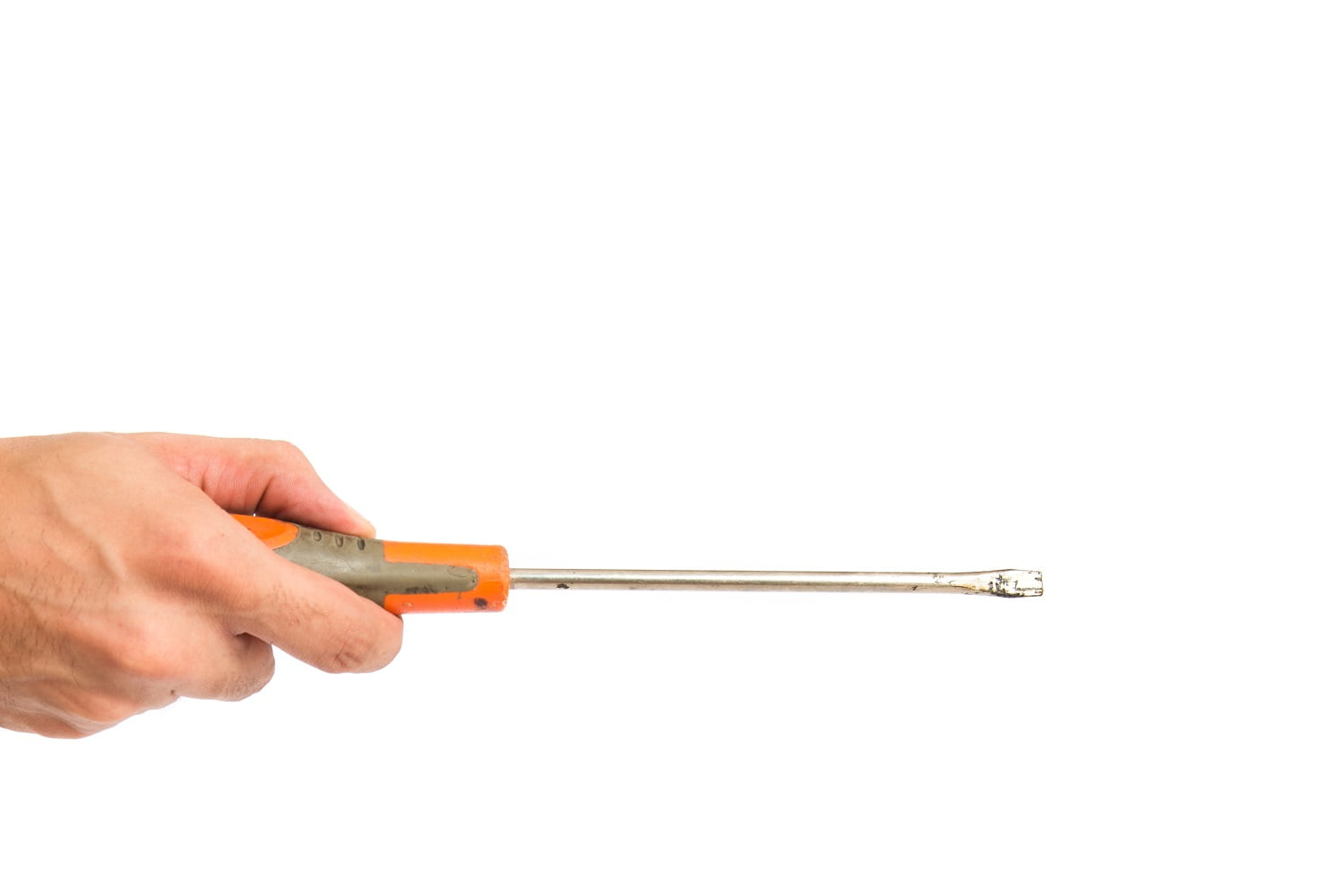 Verdict 
We've reached the end of our guide, and hopefully, you've got a better understanding of precision screwdriver sets.
The most suitable way to pick the right unit is to have in mind the type of work you need it for. A professional will require the model to meet the standards of heavy-duty applications – such as managing a load or getting into tight areas.
For regular household tasks, you'll be looking at the accuracy you get while using it for your laptop or smartphone. So, to assist you a bit more, we've listed down our pick of the top models in various categories. For the best overall performance, we recommend the XIAOMI Mijia Screwdriver Kit.
Apart from that, the Wowstick Mini Power Screwdriver is a high-end unit, while the XIAOMI Mijia Electric Screwdriver is exceptionally versatile. That's all the time we have, and hope you'll enjoy working with your screwdriver set.
Until next time. Take care and bye!
Related Articles
11 Best Precision Screwdriver Sets Right Now
11 Best Screws For Particle Board