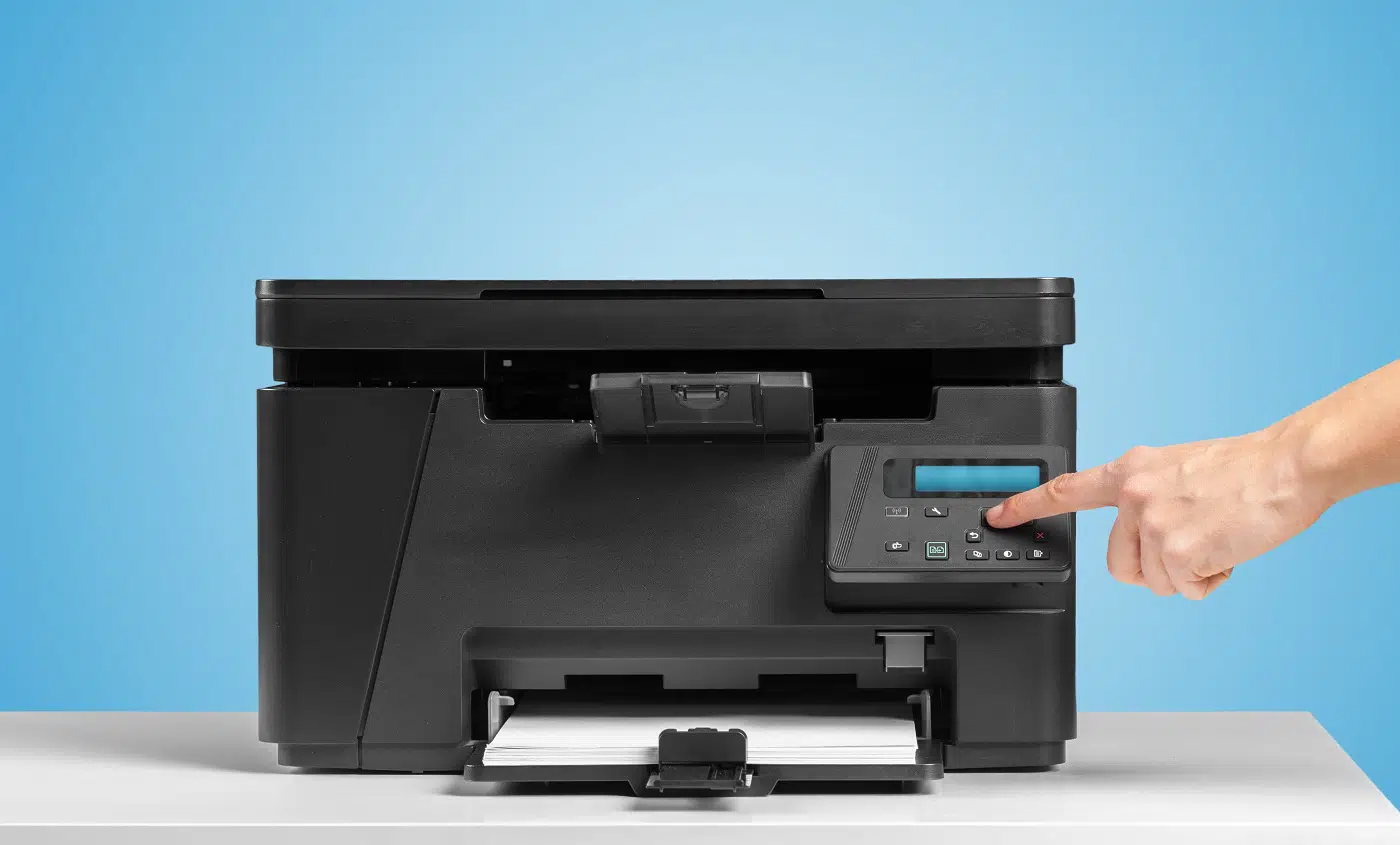 In recent years, cardstock printing has become quite popular, with a significant number of people pursuing careers as graphic illustrators, artists, and marketers. 
However, cardstock printing can prove to be tricky if you don't have the right printer. Using general home printers is not ideal as cardstock is thick, and the printer can get jammed if not designed for accommodating stiff paper. 
It's doable with general inkjet printers. But if you are running a business or are a professional photographer, you need something that can handle frequent and bulk printing on cardstock. 
Now, buying a printer involves investing a significant amount of money. So, in this article, we have compiled a list of the 12 best printers for cardstock printing. Read on and choose the best printer that suits all your printing needs – be it at home or the office! 
Top 12 Printers For Cardstock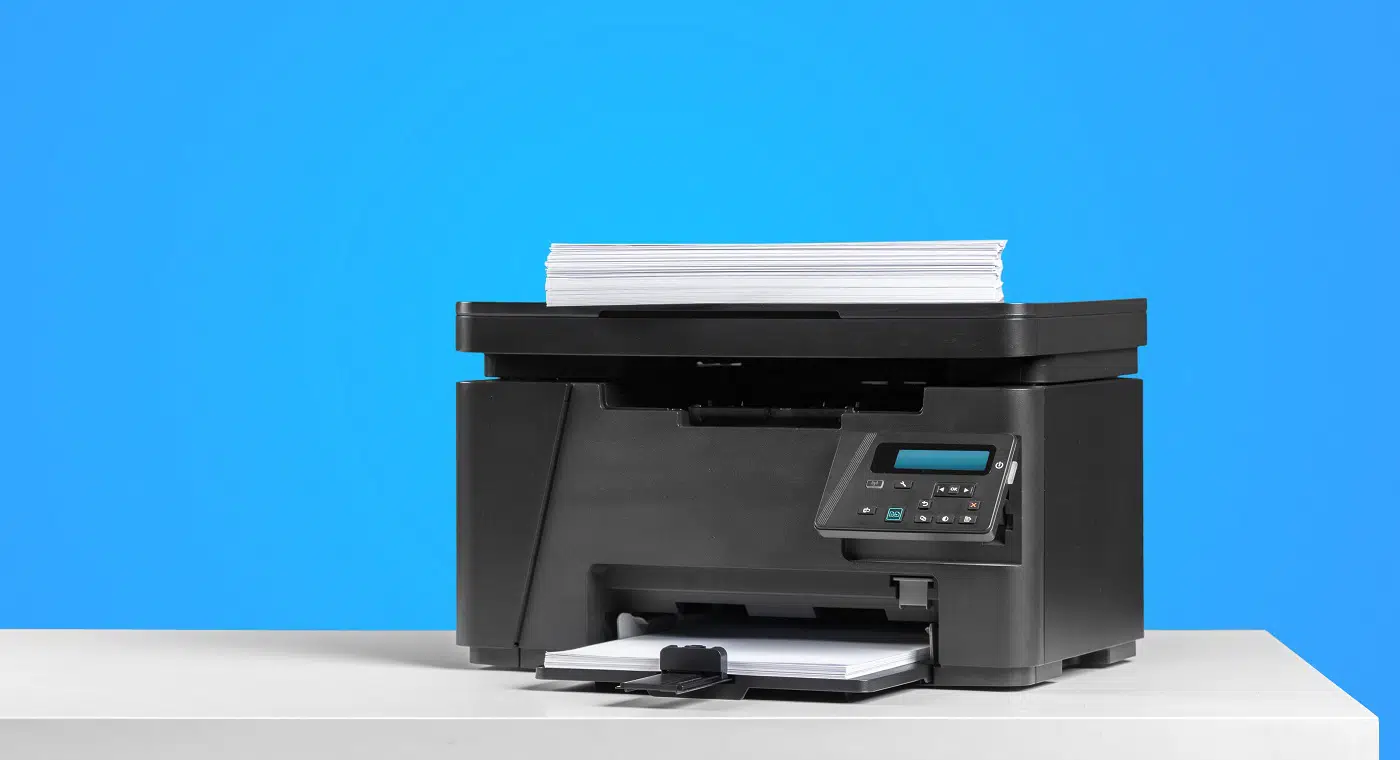 Starting the list with an excellent printer by a trusted and trendy brand, this HP OfficeJet 3830 All-in-One Wireless Printer lives up to its name. It's compact, multifunctional, and works on thicker as well as thinner paper with ease. From copying to air printing, this sleek printer lets you operate its wide range of functions with your smartphones or tablets. 
Why Did We Like It? 
HP OfficeJet is a multifunctional printer that seamlessly supports scanning, faxing, AirPrint, and wireless printing.  Such an all-in-one design will save you the hassle of buying and managing different gadgets for different operations. Weighing only 12.4 pounds, this HP product is lightweight, compact, and hence easy to fit on the work desk of your cubicle, any shelf, or any other place you need it. 
Just by scanning with the free HP all-in-one Printer Mobile app, you can operate and manage all your printing tasks remotely. Be it your child's school project on cardstock or your essential documents on regular paper, HP OfficeJet 3830 quickly does the job with the 35-page automatic document feeder. It also has an optional quiet mode, keeping unwanted and constant printing noise at bay. 
Last but not least, it also supports Alexa! So, considering the price range, this HP printer proves to be quite savvy and reliable. 
What Could Have Been Better? 
While it has quite a few fantastic features, the HP OfficeJet 3830 is not suitable for high-volume commercial printing. It also doesn't support ethernet networking. So, skipping this printer is best if you have an ethernet system. 
Another downside is that without subscribing to HP's instant ink program, feeding it ink becomes very expensive. 
Pros
Budget-friendly

Noise-control

Excellent laser and lab-quality printing on fine and cardstock paper

Supports Alexa

Compact and lightweight
Cons
No Ethernet jack or external memory

Not suitable for large volume printing
Are you looking for a printer that prints high-quality graphics on cardstocks? Well, the Canon Pixma MG3620 might just prove to be your best printing buddy. With a wide array of mobile connectivity options, this bare-bones printer is ideal for graphic and photo printing at home. It is the perfect printer for people who don't want to break the bank for functions they barely need. 
Why Did We Like It? 
The most impressive feature of this printer is its exceptional quality of graphic and photo printing. This printer upholds convenience and simplicity, making it ideal for home use. And thanks to the 4800X1200 dpi, your printed family photos will shine brighter than ever! 
As this budget-friendly Canon printer uses black cartridges and pigments, the result of graphic or photo printing on high-quality inkjet paper is a sight to behold. It also prints sharp texts on plain paper. Moreover, you don't have to stand in front of it waiting for the essential documents to come out. The on-the-go feature on this printer saves us that hassle.
Like the previous printer, the Canon Pixma MG3620 also offers remote management of all your printing tasks just with a touch on your smartphone. And that too at a significantly lower price!
What Could Have Been Better?  
The Canon Pixma MG3620 isn't really the winner when it comes to printing speed. Although perfect for graphic and photo printing, it can cause a little smudging while printing on plain paper. 
Moreover, this printer is not ideal for you if you frequently make multi-page copies. The running costs are also higher than the alternatives. 
Pros
High-quality printing of photos and graphics on cardstocks and ink-jet paper

>Wireless and remotely accessible

Budget-friendly printing

Affordable
Cons
Takes comparatively more time to start
One of the top-rated printers, the HP OfficeJet Pro 9015 is the one-stop device for the printing needs of your home and small-scale business ventures. Combining intuitive technology and effortless ink management, this nifty HP printer packs a lot of features in its compact form. 
Sale
Why Did We Like It? 
When we think of printers for our office, a bulky, slow, and noisy machine is the first thing that comes to mind. The HP OfficeJet Pro solves all those problems without taking too much space. It's sleek, lightweight, and can print high-quality images on cardstocks through USBs. It also works well on plain papers. 
Need to print a quick presentation from your Google Drive? This HP model can do the work for you in an instant with its innovative task feature. HP OfficeJet Pro also has a self-healing Wi-Fi feature that automatically detects issues and uses 3-step reconnection for uninterrupted network connectivity. 
If you are tired of the repetitive steps while managing a printer, the OfficeJet Pro can come to your rescue. It makes organizing receipts and documents 50% faster with its Smart Task Feature. 
What Could Have Been Better? 
Considering the alternatives, this HP printer does belong to the costlier side of the price spectrum. Another cause for pause is that the HP OfficeJet Pro 9015 comes with only one paper input source – just one input source that significantly delays your print work.
Pros
High running and printing speed

Comes with Smart Task Feature, syncing with multiple clouds and devices

Lightweight and compact

Value for money

Remote access
Cons
More expensive than the alternatives

Only one input source
Looking for an affordable printer for cardstock that's loaded with features? The Brother Wireless All-In-One inkjet printer would be the ideal match for you. Weighing only 18.1 pounds, this lightweight printer saves you time and paper costs. To put it simply, this Brother model is compact, efficient, and ideal for professional and personal use. 
Sale
Why Did We Like It?
Very few inkjet printers pack as many useful features as the Brother Wireless MFC-J895DW. It performs maintenance purges of the print head at regular intervals, so you don't have to keep an eye on any maintenance needs. Instead of button controls, this model comes with a 2.7" color touchscreen display that allows the user a quick navigation of the printing process. 
Another amazing feature of this printer is that the user can capture images and convert them into prints through the Brother Cloud application. 
The bypass tray is capable of handling both cardstock and plain paper. If you frequently require bulk printing of cardstocks, the automatic document feeder will make the process significantly easy for you. T
Moreover, the print quality on cardstock papers is quite satisfactory with well-defined colors and produces borderless prints. And as the unit is lightweight and compact in size, you can easily fit it on a shelf or a desk. 
What Could Have Been Better? 
The auto-feeder feature saves time but produces a limited resolution of 600 DPI. Prints on plain paper do leave a little smudge. The first page comes out pretty quickly, but the printing speed decreases from the second paper onwards. It also has a low yield for black and color pages. So, frequent cartridge replacement might be needed. 
Pros
Automatic document feeder and dual printing

2.7" color touchscreen display

Weighs only 18.1 pounds

Easy capture and convert through Brother Cloud application

Compact and desk-friendly design
Cons
Limited resolution of 600 DPI while using the automatic feeder

Needs ink cartridge replacement frequently
Another stellar product by Canon Pixma iP110 is an all-in-one printing solution, especially for heavy cardstock printing. With superior resolution, this mobile printer produces high-quality and crisp prints on both cardstock and thin paper. If environmentally sustainable brands appeal to you, but you don't want to compromise print quality, Canon Pixma is the right choice.
No products found.
Why Did We Like It? 
Due to its compact design and rounded edges, Canon Pixma can conveniently be set up on your desk. The best feature of this inkjet printer is the Easy PhotoPrint+, which supports five colors and produces sharp prints on cardstock paper with excellent color accuracy. 
The printed photos are high-definition and borderless. Ideal for small office or home use, Canon Pixma can hold 50 sheets at once, which is pretty reasonable for a mobile printer. 
Moving on, the portable Canon Pixma caught our eye for its convenience, printing speed, HD print quality on cardstock paper, and reasonable printing speed. This mobile printer is compatible with most devices and pretty easy to use. 
It also has a high yield for ink cartridges, saving you from the heavy expenses of frequent cartridge replacement. 
What Could Have Been Better?  
Canon Pixma has poor battery backup. While most cardstock printers can print about 450 pages, this one can last till 290. Plain paper prints are also not up to the mark. So, if you need a printer performing equally well on cardstock and plain paper, this one is not for you. 
Pros
Easy Photo Print+ feature supports five colors

High-yield per ink cartridge

Sharp prints on thick paper

Financially viable for small projects

Compact and portable
Cons
Not the best print quality on plain paper

Poor battery backup compared to the competitors
Need a durable, efficient, feature-packed printer for professional color printing? Our suggestion is the Epson WorkForce WF-7722. One of the top printers for professional photo printing, this unit is sturdy and easily accommodates heavy printing. Pricier than the alternatives, Epson makes up for it with its quality, speed, and energy efficiency. 
Sale
Why Did We Like It?
Considering its features, Epson WorkForce WF-7720 is one of the best printers for professional and heavy cardstock printing. This inkjet printer has fantastic printing capacity with a whopping 500-sheet capacity feeder tray. It can print up to 13″ X 19″ sharp and borderless pictures. 
The output tray is also relatively high-performing. It has a capacity of 125 sheets, making it easier to print cardstock in bulk. Moreover, Epson WF-7720 includes a rear tray designed explicitly for specialty papers. So, thick cardstock or media papers will not jam the printer. It also has a 4.3' color control panel that is touch-enabled, intuitive, and thus easy to navigate. 
The energy efficiency of this Epson piece is impressive, as it uses 80% less energy than any other color laser printer. It further provides seamless remote connectivity and access, as well as an industry-best scanner. 
What Could Have Been Better? 
The loud noise of the printing process is one downside of the printer. It is also not the most affordable option out there for those with a humble budget. If you are someone looking for a sleek in-design printer, you might want to consider other options, as Epson Workforce is a little on the bulkier side of cardstock printers. 
Pros
Simple navigation and control with a 4.3" color touch panel

Automatic two-sided print, scan, copy and fax

Borderless prints upto 13″ X 19″

Rear feeding tray for specialty papers

Economical and energy efficient
Cons
Louder printing process

Comparatively high-cost
Professionals who prefer printing with dye inks instead of pigments would love the Canon Pixma-100. This durable printer produces rich color prints with remarkable print life. With wireless printing and CD/DVD printing abilities, you can easily use Pixma-100 for all specialty media projects, be it for small business or home use. 
Why Did We Like It?
Although superseded by the updated Pixma-200, this printer stands out for its use of three shades of black for superior B&W printing. Thanks to the Optimum Image Generating System, Pixma-100 can reproduce colors as it is by logically selecting the optimum ink combination and placement. It is also ambient light correction enabled. 
The prints have remarkable durability and precise color accuracy. You can easily print borderless cardstock prints up to 13×19 inches of up to 4800 x 2400 DPI. And as the ink tanks are individual, you can refill only those inks that you have run out of. Canon Pixma also supports AirPrint. 
While there are updated versions available, no printer in this price range can possibly match the remarkable color fidelity. The prints catch even the slightest shifts of details and shadows. 
What Could Have Been Better? 
The most noticeable drawback of this cardstock printer is that it has become a little outdated with the updated Pixma Pro-200. The maximum print length is also limited. It also does not have a display screen. And if you consider the current retail price of this Canon model, there are cheaper yet improved versions available on the market. 
Pros
Low-maintenance

Excellent color accuracy

Two gray inks for superior black and white photos

Prints A3 size paper in 90 seconds

Only refill the inks that run out
Cons
Overpriced

Limited maximum print length
Do you want a printer that accommodates high-quality prints on both cardstock and plain paper? Then the Canon Pixma TS9520 will be right up your alley. It produces sharp and borderless cardstock prints and clear, smudge-free texts on plain paper. Overall, the Pixma TS9520 is feature-rich and efficient, a strikingly versatile printer. 
Sale
Why Did We Like It?
For those who are looking for a wide-format consumer-grade inkjet printer for family and small office use, Pixma TS9520 will be a feature-rich option. Notably, this model is one of the first Pixmas enabled with "smart" hands-free printing. With this feature, cardstock printing could not be more convenient. 
It also comes with an automatic document feeder and boasts the ability to print tabloid-size pages with sharp accuracy. So, you can expect high-quality and bulk cardstock prints in a jiffy. 
The quality of the cardstock prints showcases vibrant colors as well as sharp blacks. Scanning and restoring very old photographs can be tricky. But the flatbed scanner of the TS9520 is perfect for accommodating fragile photo scanning. 
Another perk of Pixma TS9520 is that it offers a wide variety of connectivity. You can use services like Mopria print to AirPrint. 
What Could Have Been Better? 
Unlike its alternatives, this PIXMA model does not have any duplex scanning feature. Printing speed is also relatively slow. 
Pros
Affordable cartridges

Wide range of wireless connectivity options

Durable

Easy printing of lengthy documents
Next up on the list is another multifunctional inkjet printer by Epson. While the Epson Expression Photo HD XP-15000 is one of the best printers for cardstock, it also accommodates a variety of paper finishes. Expression Photo HD XP-15000 is a compact, affordable, and durable cardstock printer that will perfectly serve your printing needs. 
Why Did We Like It?
The eye-catching feature of Epson Expression XP-15000's ultra-wide is its color printing abilities – rare to find in its alternatives. This inkjet printer has two trays – the front with a 200-sheet capacity and a 50-sheet rear tray for specialty media printing on cardstock. The rear tray is flat and ensures that cardstock papers don't get jammed in the process. 
The speed is quite captivating, printing 4″ x 6″ borderless photos in as fast as 27 seconds. It prints black and white documents at 9.2 ISO ppm and colored cardstock printing at 9.0 ISO ppm. It is further loaded with red and gray inks to support ultra-wide color as well as sharp black-and-white printing.
This remarkable cardstock printer supports remote operations and connects to ethernet as well. Considering its price, Epson XP-15000 delivers quite a splendid efficiency. 
What Could Have Been Better?
Despite being a fantastic printer for plus-size printing, Epson Expression XP-15000 does not have a memory card slot. The weight of 18.7 pounds is also a little higher than its counterparts. Another point to keep in mind is that Epson printers don't work with generic inks. 
Pros
Flat rear feed, ensuring thick paper won't jam

Easy to use 2.4″ color LCD

Remote printing using smartphones or tablets

Automatic two-sided printing

Budget-friendly
Cons
Slightly on the heavier side when it comes to portability

No memory card slot or cloud support
Our next Epson printer takes professional cardstock printing to the next level with its wide format and sharp color prints. Be it professional graphic design projects, arts, or just mere school projects, the Epson Artisan 1430 inkjet provides Ultra HD color prints without any spills or smudges. Even with an old-fashioned look, it can go head to head with any modern inkjet printer. 
Why Did We Like It?
The high-quality six-color ink system produces professional-quality HD photos. The CD/DVD-compatible tray gives the printer an edge over its competitors. Plus, the DX5 MicroPiezo printhead technology produces up to 5760 x 1440 dpi resolution. So, you can easily count on it for high-quality, borderless cardstock prints. 
Thanks to the Claria Hi-Definition Ink, Epson Artisan 1430 prints photos that are smudge, scratch, water, and fade resistant. 
The printer easily accommodates 13" wide media specialty paper, and the prints last four times longer than the photo lab prints. The ink droplets are as small as 1.5 picoliters, preventing any chances of major spills or smudges. True to its name, this Epson piece is a game-changer for every professional creative out there.
The user gets a variety of connectivity options. It is also fairly easier to fit in compact spaces than other wide-format printers. 
What Could Have Been Better? 
Epson artisan is an excellent cardstock printer but not the most feature-packed model. The printing speed is significantly slower than its counterparts. Running cost is also on the higher spectrum. So, if you want a quick and low-maintenance inkjet printer for cardstock paper, we suggest you avoid this one. 
Pros
Outstanding photo replication

Variety of connectivity options

Compact compared to other wide-form printers

Grainless sharp cardstock printing

Easy wireless printing
Cons
High running cost

Slow printing speed
The 4th Epson printer on our list is a multi-functional inkjet printer, accommodating plain papers to glossy photo paper. However, SureColor P600 is primarily designed for amateur and professional photographers who require HD-quality cardstock printing. It is a durable, high-performing, and affordable cardstock printer for professionals and regular users alike. 
Sale
Why Did We Like It?
Epson SureColor P600 stands out the most because of its Archival Durability feature. The print permanence of the photos rates up to 200 years for color prints and 400 years for black and white. It produces up to 13 inches wide and borderless prints in popular photo sizes. 
The advanced B&W print mode accommodates professional and high-quality black-and-white photo prints. Thanks to the 'Professional Media' option, it produces pro-quality prints on canvas, roll paper, CDs, art boards, etc. 
The feeding trays are high quality and can handle heavy usage, and thick papers don't get jammed in the process. The 3.5" LCD screen will not only act as the control panel but also provide you with handling guides and other important information. So no need to download PDFs or go through confusing manuals. 
What Could Have Been Better? 
Though Epson SureColor P600 is a steller printer for photographers, graphic designers, and other artists, it is significantly heavier than its counterparts. So, portability is not an option with this one. The bulky structure is also a barrier to setting it up in compact spaces.
Pros
Print permanence of upto 200 years for color and 400 years for black and white

Easy-to-use touchscreen interface

Comes with nine different colored print cartridges

Automatic duplex printing
Cons
Heavier than the alternatives
If affordability and home use are your major lookouts in a cardstock printer, the HP Smart Tank 7001 will be the ideal choice. The high-capacity ink makes high-volume printing seamless end-to-end for the whole family. Compact and durable, the HP Smart Tank 7001 is feature-packed and easy to use and integrates HP cloud platforms. 
Sale
Why Did We Like It?
While an average in-class tank printer color prints at a speed of 5 to 8 ppm, the HP Smart Tank 7001 generates a speed of 7 to 9 ppm for color prints. Made of over 25% recycled plastic, this cardstock printer sports a compact and sleek design. It also has ink and paper sensors. 
The automatic 2-sided borderless printing capability makes it ideal for cardstock papers. Plus, the assured HP quality delivers consistent and exceptional color graphics, photos, and crisp text for all your prints. 
One unique feature of HP Smart Tank 7001 is its strong cyber security measures that protect your system from malware and maintain privacy. 
Refilling is also a breeze with its spill-free system. All you need to do is plug in HP 32XL Black Bottles or Original HP 31 Color Bottles into the ink tank; no need to squeeze. Moreover, its high-capacity ink tanks include partially transparent windows, allowing you to check the ink levels from time to time. 
What Could Have Been Better? 
One downside of ink tank printers is if you don't use them regularly, ink can dry up and cause clogging. Even though the HP Smart Tank 7001 produces good quality print on thick paper, the accuracy is not high enough to be an efficient office printer for cardstock. 
Pros
Semi-transparent and high-capacity ink tank

Simple spill-free refilling system

Cartridge-free, low-cost printing

Automatic two-sided printing

Fast cardstock printing
Cons
Not suitable for business marketing prints or cardstock invitations

Ink may dry up in case of non-frequent usage
Printers For Cardstock Buying Guide
With so many options in the market, it is reasonable that many buyers find choosing the right printer a daunting task. To make it easier for you, we have compiled some essential pointers you should keep in mind before buying inkjet printers for cardstocks. 
1. Requirements
Understanding your printing needs is the first step toward choosing the right laser or inkjet printer for your cardstock. Many printers produce bulk professional quality cardstock prints, while some produce fairly good results on both plain and thick papers. 
If you need a printer for your school projects or a small business, choose one that works well on a variety of papers. But if you are a photographer or designer, printers primarily designed for media specialty paper will be the ideal choice for you. 
2. Ability To Handle Thick Papers
Many inkjet printers get jammed while printing on thick cardstock papers. Before buying a cardstock printer, carefully go through the features and see if the input and output trays are equipped to handle medium specialty and thick cardstock papers. 
3. Connectivity
One of the best parts about modern printers is that they offer wireless connectivity. Many of them even allow printing without connecting to a computer. But do check if the printer will be compatible with your devices. Preferably look for one that supports the popular cloud-based software like Google Cloud, DropBox, etc. 
4. Auto-duplex Printing
This feature allows you to print on both sides of the card automatically. Such printers will help you save money on paper-cost and be more environmentally sustainable. In a fast-paced world, the auto-duplex feature is like a cherry on top when it comes to printing efficiency. 
5. Print Speed
It should be one of the most important considerations while buying a printer. It is important to point out that inkjet printers are significantly slower than laser printers. As such, the suitable printing speed varies from user to user. But we can all agree that nobody wants to invest a big chunk of their day into printing. 
Suppose you need one mainly for printing graphics and images. Then it is always wise to invest in one with a standard IPM (Images Per Minute), capable of doing the job without exhausting your patience. 
6. Memory
If you have the budget, go for a printer with both internal and external memory. Storing the previous printing works becomes much more convenient with built-in RAM. On the other hand, external memory helps you to transfer any document or image from an external source without connecting to your computer. 
7. Affordability
Last but not the least, always consider the affordability of a printer with your requirement. Don't get blindsided with feature-packed expensive printers that you have no use for on a daily basis. There is a considerable number of affordable printers in the market that do the job with agility and precision. 
With that being said, you don't want to cut the cost too much and end up with a sub-standard printer. We suggest estimating your budget and tallying it against your requirements before you decide on which printer to choose.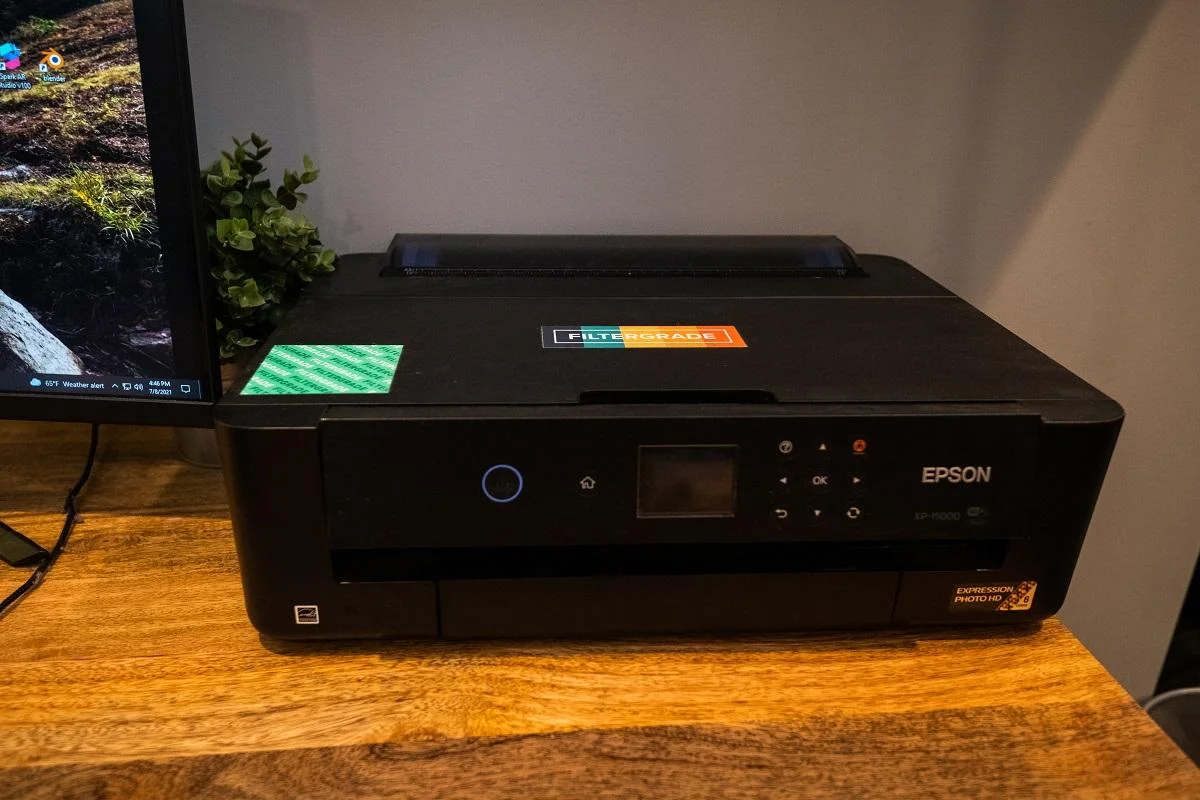 Top Printers For Cardstock Verdict
With the ongoing pandemic, remote working has become the new norm. Hence, compact but high-quality cardstock printers are a popular choice now. 
To sum it up, HP OfficeJet can prove to be a high-performance printer on a budget. But for professional photographers, the Canon Pixma MG3620 and HP OfficeJet Pro 9015 Wireless Printer are two stellar options. 
With an array of budget-friendly and high-performing options, there is no need for you to worry about getting the right printer for the cardstocks. Be it your office or for home use, choosing from the above options will not be a decision you will regret. 
Related Articles
Learn How To Print On Plastic Bags
How To Effectively Separate Colors For Screen Printing
13 Best Printer For Screen Printing Transparencies
9 Best Printers For Heat Transfer