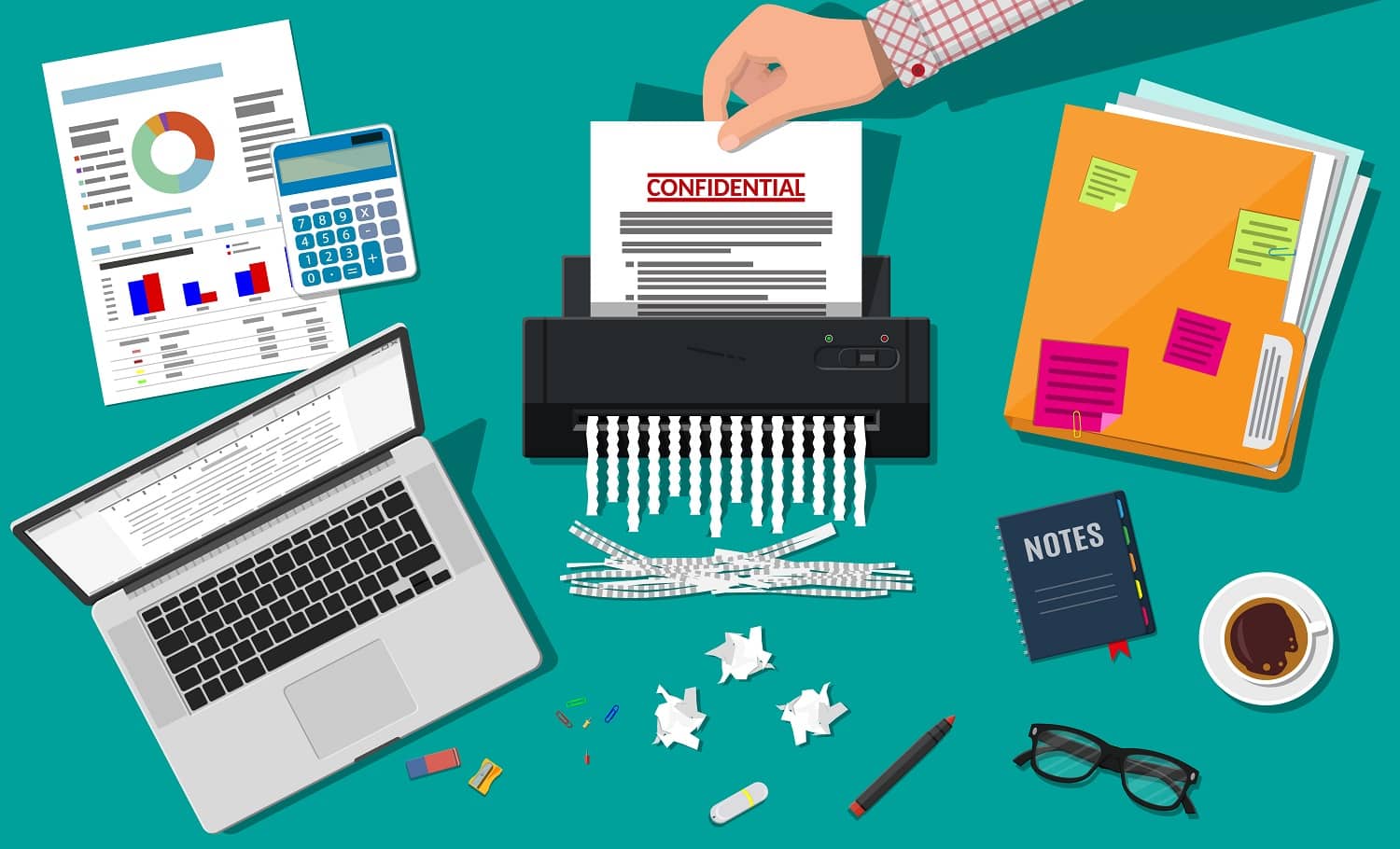 Maintaining that extra level of security is essential in today's technologically advanced world. And one of the best ways to do it is by destroying private documents safely.
A paper shredder is one of the most cost-effective ways to destroy old documents and prevent any kind of fraudulent crimes from harming you. It will shred your documents into tiny pieces or strips and make it impossible for anyone to put back together.
Not only does it shred paper, but is also capable of cutting through paper clips, credit cards, and CDs. A quiet shredder will eat its way through your documents without causing any disturbance in the workspace.
But the problem is that there are multiple choices, and choosing the perfect one can be quite challenging.
To save you from a taxing expedition, this comprehensive list of 9 excellent options has been curated. We have also included a buyer's guide to help you choose the right one for your needs.
So, without further ado, let's dive in!
 Top Quiet Paper Shredders  
IMAGE
PRODUCT
DETAILS

Our Top Pick

Our Top Pick

AmazonBasics 8-Sheet Capacity, Cross-Cut Paper, and Credit Card Shredder

Meets security level P-3 standards
Shreds up to 20-pound bond paper
Automatically turns off

VIEW LATEST PRICE →

Bonsaii 14-Sheet Cross-Cut Heavy Duty Paper Shredder

Has a patented cooling system
Cuts through 3500 sheets of paper
Jam proof system

VIEW LATEST PRICE →

Aurora AU870MA High-Security 8-Sheet Micro-Cut Paper Credit Card Shredder

High-security micro-cut
Manual reverse
Security level P-4

VIEW LATEST PRICE →

Fellowes Powershred 79Ci Medium, Duty Cross, Cut Shredder

100% jam proof device
Known to be ultra-quiet
Auto-reverse functions

VIEW LATEST PRICE →

Aurora AU1230XA Anti-Jam 12-Sheet Crosscut Paper and Credit Card Shredder

5.2-gallon waste bin
Resistant to jams
Security level P-3

VIEW LATEST PRICE →

GBC Junk Mail Super Cross-Cut Paper Shredder

Red and green LED lights
P-4 Level Security
Compliant with California Consumer Privacy Act (CCPA)

VIEW LATEST PRICE →

WOLVERINE 18-Sheet 6 Gallons Pullout Waste Bin SD9113

Jam reverse system
Patented cooling system
Security level P-4

VIEW LATEST PRICE →

Fellowes Powershred W11C, 11-Sheet Shredder

4.75- gallon capacity
Runs for 5 minutes
Patented Safety Lock system

VIEW LATEST PRICE →

Royal 112MX 12-Sheet Cross-Cut Shredder Black

Automatic start/stop
Pull out bin
9-inch paper entry slot

VIEW LATEST PRICE →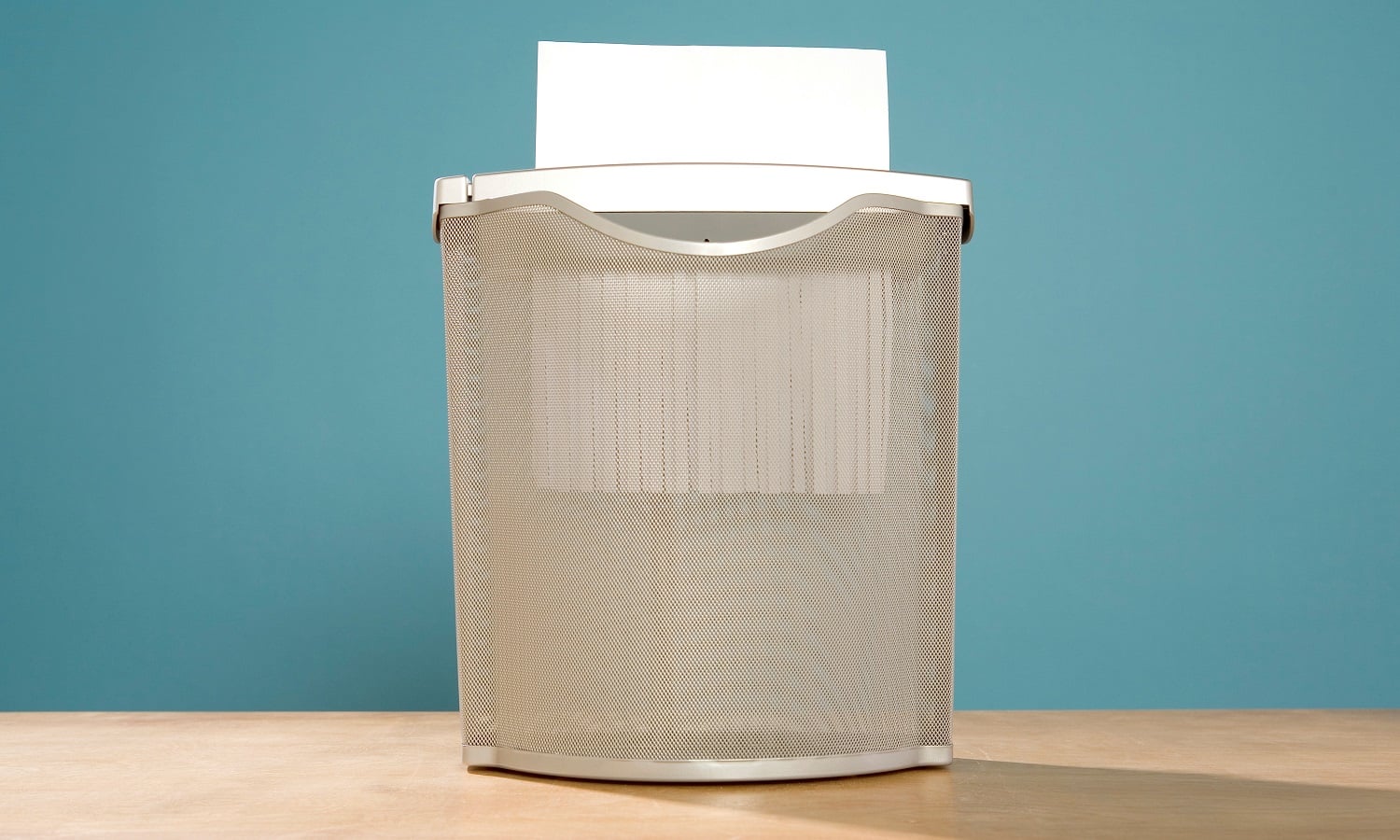 Perfectly shred multi-page documents with ease, thanks to the AmazonBasics 8-Sheet Capacity, Cross-Cut Paper, and Credit Card Shredder. It is excellent for home and office use with a large bin of 4.1 gallons, which holds the shredded papers. Equipped with a see-through window, feel the satisfaction of turning your old documents into shredded confetti.
Why Did We Like It?
We loved the auto mode, which detected the papers as soon as we put them inside, and it automatically started working. The machine shuts off when the shredding is done, saving power and making the entire process extremely convenient.
Another significant advantage is that you need not remove staple pins and paper clips. Just put in the bunch of paper that you do not require anymore, and it will shred it in minutes. Also, it has the power to cut through CDs, DVDs, and credit cards, destroying any kind of information stored.
In case you change your mind midway through the process, there is a reverse function that will stop the machine. Once this happens, you can take out the half shredded or un-shredded items. We loved how this prevented paper jams from occurring.
Overall, this is one of the most user-friendly products with a 3-mode control switch and an overheat LED indicator.
What Could've Been Better?
Although the product functioned efficiently, the only glitch we noticed was that it produced dust every time it cut through papers. But again, this will not be a significant hindrance, and all you need to do is clean the area once a day if you plan to shred a lot of paper.
Pros
Equipped with a 3-mode control switch

User guide provided

4.1-gallon bin

Overheat LED indicator
It should come as no surprise that this is one of our top recommendations. If you need a machine for a big office or a large household, the Bonsaii 14-Sheet Cross-Cut Heavy Duty Paper Shredder is an excellent choice. Equipped with a patented cooling system, it can run for 30 minutes at a stretch without overheating.
Why Did We Like It?
A vital aspect of the already mentioned patented cooling technology is that the cooling time is reduced to 10 minutes only. After every half an hour, pause for 10 minutes before you can begin shredding again.
Besides, what makes it even better is that it is a highly reliable and durable product with an anti-jam system. It will automatically reverse the machine any time you put in too many papers. Long story short, it is equipped to prevent jams from happening in the first place. Furthermore, it works well with thick papers and cards and will eat up credit cards in a jiffy.
It also has a rapid shredding speed of 1.9m per minute. There is a 22 cm entry slit through which you will be able to put in papers of any sizes. In case they are small, like postcards or receipts, it is best to put them in the middle for the most efficiency.
What Could've Been Better?
The device weighs 16.8 pounds, which is slightly heavier than some of the other options. But it has a larger capacity too, which compensates for the extra weight, and you can still move it easily from one room to another. So, we will not be holding it against this shredder, considering the brilliant features on offer.
Pros
Manual and automatic reverse options

Wastebasket capacity of 4.8 gallons

Transparent window for easy viewing

Overheating thermal protection
Known for its high-security micro-sized cuts, the Aurora AU870MA High-Security Paper Credit Card Shredder will make sure your personal information is completely destroyed. It cuts paper 6 times smaller than others and will give you the peace of mind of having destroyed every bit completely.
Sale
Why Did We Like It?
To prevent jamming, this device has an angled feed entry, which allows you to enter your papers at a certain angle. This avoids all kinds of accidents and provides smooth functioning. This is accompanied by overload protection which prevents you from putting in too many papers at once.
Ranking high on safety, it also comes with an overheating LED status indicator, which will inform you anytime the machine heats up beyond normal. We could run the machine for 5 minutes non-stop before having to pause and let it cool.
Besides, a reverse option that will immediately stop the shredding process midway and will allow you to take out the remaining papers from inside.
Coming to the collection bin, we got a 3.9-gallon capacity basket, which was where the shredded paper would collect. It had a lifting handle that can be used to remove the bin when you need to clear it.
What Could've Been Better?
The feed slot is only 8.5 inches wide, and thus you will have to look at it carefully while tossing in the papers. This is an area where the product can improve further as that will make it more user-friendly. With a wider feed, you will not have to be careful while aiming at it.
Pros
Basket capacity of 230 sheets

5-minute continuous run time

Features auto-start function

Backed by Aurora 1-year limited warranty
If you are looking for a shredder for your home, this product will fit in brilliantly well with a light body and superior performance. The Fellowes Powershred 79Ci Medium, Duty Cross, Cut Shredder is made to handle tough jobs and is 100% energy efficient. It stops automatically when not in use, saving any extra additions to your electricity bill.
Sale
Why Did We Like It?
First of all, we will begin with SafeSense technology. This is a brilliant attribute of this product as it disables the machine and stops functioning as soon as you touch the paper feed opening. We could safely use it around kids and pets for this reason.
Also, this unit will shred papers in criss-cross directions into tiny pieces. This is an alternative to strips, and it ensures that your documents are destroyed permanently. There would be no chances of putting together the pieces.
Along with this, it is also known to be 100% jam-proof and will not allow you to exceed the maximum number of papers that can be put in at one time. It can eat through CDS, plastic cards, and other thick materials easily, and they will never lead to jamming.
Furthermore, it does its job extremely quietly, and you can even place it in meeting rooms without causing any distractions.
What Could've Been Better?
We loved the performance of this product, but we have a complaint regarding the cooling period. It runs perfectly for 20 minutes but takes another half an hour to cool off. This is a pretty long period, and your work may get slowed down.
Pros
Optimal energy efficiency

SafeSense technology

Safe to use around children and pets
Cons
It takes time to cool down
Looking for an average-sized shredder for your home or office space? The Aurora AU1230XA Anti-Jam 12-Sheet Shredder is a perfect choice to stay protected from identity theft. Destroy every bit of information with this crosscut option that has the capacity to shred continuously for 5 minutes straight.
Sale
Why Did We Like It?
This product comes with a sufficient capacity of 5.2 gallons, which can effectively hold a lot of shredded paper at one time. We did not need to empty it very often, saving time in the process.
Furthermore, we found that the shredder works very well with paper clips and pins. It will eat through them too, and you do not have to take out staple pins separately.
To clear it out, the unit is equipped with a single handle. This makes it super easy to pull out the waste bin and throw away the waste paper.
Additionally, this product comes with a 4-mode control switch along with an LED status indicator for overload and thermal protection. This will tell you if the shredding is done or if the machine has become overheated. We did not have to keep a watch over it constantly, and this helped us concentrate on other work while it shreds.
What Could've Been Better?
This product does not work well with larger sets of papers. It will entirely cut through 8-12 sheets, but be careful about putting in a whole envelope with cards and paper bunches. This may lead the machine to stop working. So, we recommend you do not exceed 12 papers at one time.
Pros
LED indicator lights

5 minutes continuous run-time

4-mode control switch

Single handle for easy lifting
Cons
Not sufficient for broader shredding needs
Shred your entire box of receipts within 20 minutes with this exceptional unit. The GBC Junk Mail Super Cross-Cut Paper Shredder will cut through sheets and CDs with ease. It is also a very affordable option and will not burn a hold in your pockets.
Why Did We Like It?
The shredder has separate red and green indicator lights, which will tell you when the feed capacity has been reached. We found these lights to be helpful while filling it with paper. The moment you cross its limit, the red will indicate that you should stop, and this prevents jams from occurring in the first place.
We also loved the versatility that it offered. While the primary cutter works with the paper, there is another special cutter for discs and credit cards. This will prevent the main one from getting damaged or from losing its sharpness.
Additionally, it comes with a 5-gallon bin, which will collect all the shredded pieces. This bin is big enough to hold a lot of paper and can easily fit in materials obtained from 20 minutes of continuous shredding.
What Could've Been Better?
The container has a window, but this window is placed low, and one cannot see through it without having to bend over. It will not be visible from your chair, but again, this is not a deal-breaker, and we will still recommend buying this.
Pros
5-gallon bin for collection

Separate cutters for discs

Comes with a limited 1-year warranty

Cool-down indicator
Being one of the most affordable products available today, the WOLVERINE 18-Sheet 6 Gallons Pullout Waste Bin SD9113 will impress you with its large capacity and run time. We were pleased with the functioning and the large 6-gallon bin, which could hold shredded papers for more than a month.
Why Did We Like It?
The patented cooling system ensured that you could run this device for 60 minutes continuously. This is quite a long period compared to some of its peers, and we believe this would be a perfect fit for large offices.
Coming to the cutting efficiency, this product is equipped with a super alloy steel cutter which is self-lubricated and very resistant to wear and tear. This will not only shred paper but will slice through credit cards, and CDs too. The 40Cr steel grade gear wheel is very hard and is known to be durable too.
Also, with a noise level of 58 dB, you can expect ultra-quiet performance, and we could easily have a conference in the same room without any disturbance.
Topping it all, the jam reverse system turned out to be very beneficial as it was completely automatic. It had the ability to detect and clear paper jams on its own.
What Could've Been Better?
We felt that the product could have better wheels. When the rest of its body is so sturdy, we had expected the wheels to be so too. But one of them came off, and we had to fix it back again and this happened within the first month. It should not be a problem for those who are not planning to move it often.
Pros
Large transparent window

Powerful 40Cr steel grade gear wheel

Powerful alloy steel cutter

ETL Certified product
Cons
Wheels are not very strong
Now that we are nearing the end of this list, it is time to introduce the Fellowes Powershred W11C, 11-Sheet Shredder. Destroy 11 papers at one time with this powerful option. Secure your sensitive documents and make sure they stay confidential with this product at home.
Why Did We Like It?
This is one of the safest shredders to use around pets and children. We were very worried about having it around them, but the company had dealt with this issue well. The safety lock stops this machine from working every time someone touches the feed.
Also, we loved the 4.75-gallon capacity of the waste bin. The large capacity will save a lot of time as you do not need to empty it often. When you do want to clean it, a lift-off head and handle will ensure you do it easily.
Additionally, we found the size to be compact, and it could easily fit in beside our work desk. It will take up as much area as a small dustbin, and hence, the size will never be an issue.
What Could've Been Better?
We found that the product temporarily jams if it is overheated while functioning. So, it is best to stop it exactly after 5 minutes and let it cool down. But we felt that the 20 minute cooling period is pretty long and may not suit those who have to shred tons of papers.
Pros
Known to be very reliable

Child safe/pet safe shredder

Handle provided for easy lifting

Compact and fits anywhere
Compatible with medium to large offices, the Royal 112MX 12-Sheet Cross-Cut Shredder Black impressed us with a large waste bin and a 12 sheet paper loading capacity. We loved its automatic switch and off functions, and it turned out to be pretty energy efficient for us.
Why Did We Like It?
This product is resistant to jams, and we have rarely faced any problems with jamming. In case it does jam, there is an auto-reverse function that will stop the machine and release the papers. This ensures that the machine stays well, and there are no issues with the performance.
Coming to its functioning, you can work with it for 30 minutes before you have to let it cool down. In case it overheats before that, the machine will immediately stop operating. You can start it again once the body has reached room temperature.
Another impressive feature is the 9-inch paper slot that it has. The slot is big enough for you to fit in a bunch of sheets without any hindrance. But you must stay within the limit of 12 sheets at one time.
What Could've Been Better?
We felt that the customer service could have been a lot better. The first product we received had some issues with it, and on contacting the customer service team, we were asked to ship at our expense. This had us spending much more than we expected, which could have been avoided.
Pros
Automatic reverse function

Very efficient customer service

Shuts down if overheated
Cons
Unsatisfactory customer service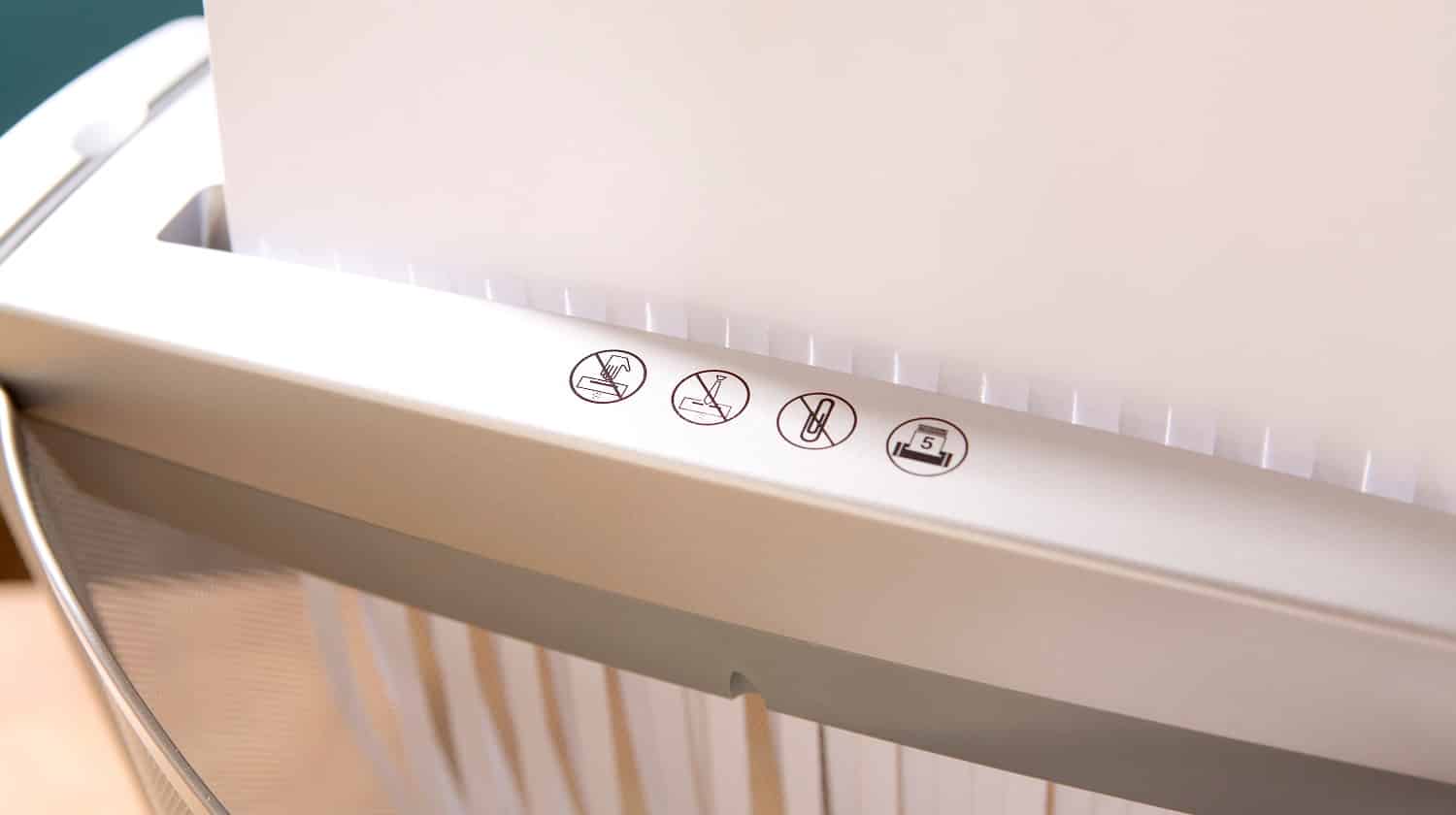 Quiet Paper Shredder Buyer's Guide
Shredding documents that have confidential information has become very essential today, and paper shredders are the best way to make it happen.
Now that you have gone through the 9 top products, you will know that each one is unique in its own way. They have different capacities and run times.
To help you make a choice, we have detailed down the critical points that need to be kept in mind. We hope this guides you towards buying the one that fits the best.
Size
Do you need to use a shredder daily or for occasional purposes? In case you have to use it daily, a bigger version will suit your needs perfectly. This is also a great fit for large offices or homes.
On the other hand, a smaller model will work better for small offices, as fewer papers need to be shredded. In case you do not need to use it every day, a smaller version will help save money too.
Jam-proof
Jamming has always been a major problem with these machines. They are prone to jamming when you exceed the maximum capacity of papers, and to prevent this, many companies have come up with a solution.
They have an auto-reverse feature that will stop the product immediately if you fill in too many papers and will only start working once you reduce the number. This will prevent unforeseen occurrences and will keep it safe.
Capacity and Run-time
This is a very vital point to keep in mind before purchasing a shredder. What is the capacity that you may require? While some feeds will allow you to put in 6-8 papers at once, others can fit 22 sheets at a time. If you are dealing with envelopes filled with sheets or larger bunches of papers, it is best to select one with a greater capacity.
Also, check for how long it can function without getting overheated. Some can run for 4-5 minutes, after which they need a cooling period; others can continuously run for 30 minutes and need a mere 10 minute cooling period. These are more expensive but will provide higher efficiency. So, make a careful decision before opting for one.
Indicator Lights
Make sure that the product comes with indicator lights, which will tell you if the machine is overheating or your work is done. These lights will help in understanding the status from wherever you are sitting in the room without you needing to come close.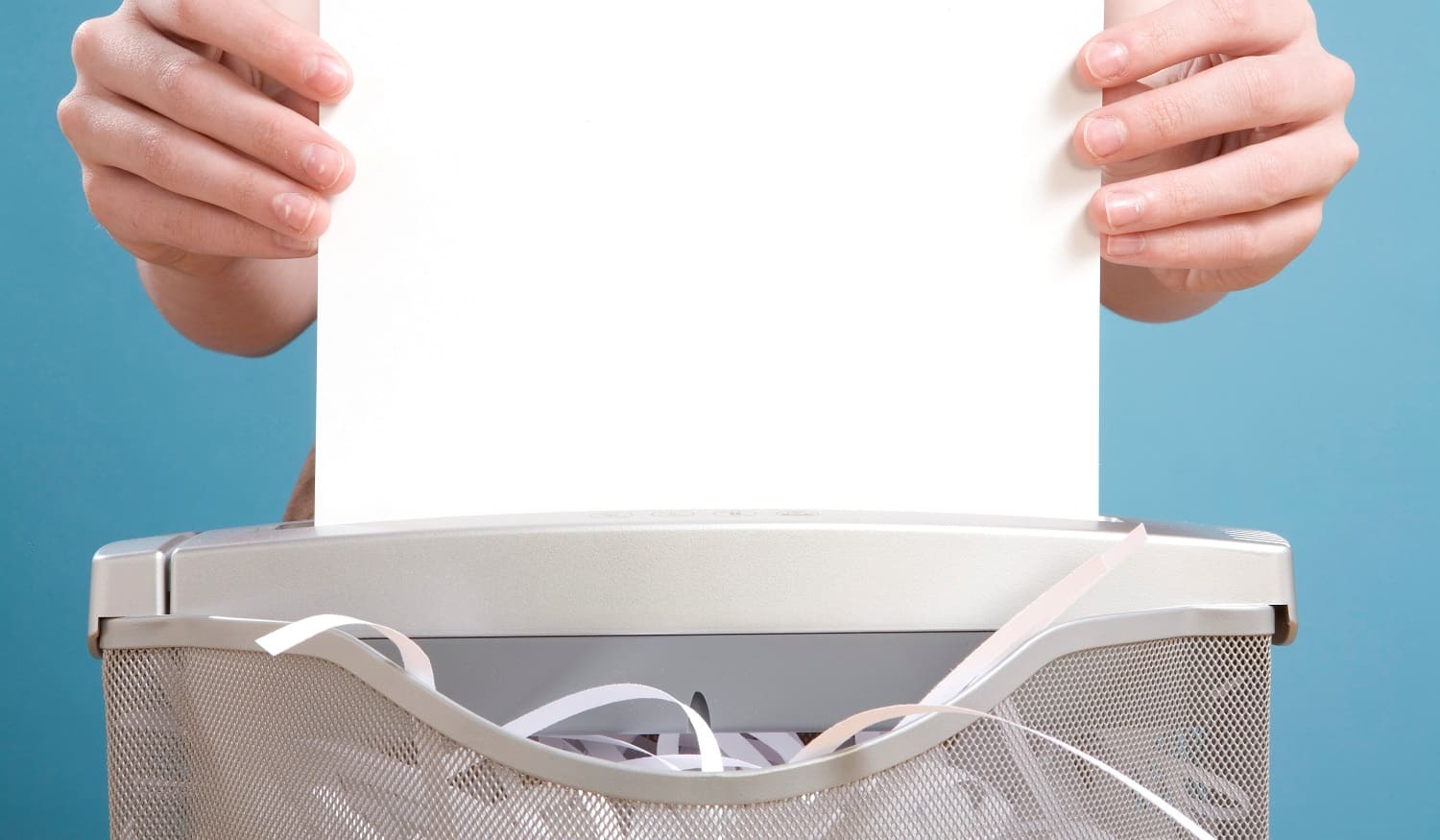 Verdict
Let's face it; even an ordinary receipt can be dangerous in the wrong hands. It is very important to prioritize security above all, and there is nothing better than a quiet paper shredder. It would work its way while also protecting you silently.
With this, we come to the end of our detailed guide of the best quiet paper shredders. We hope that it has given you enough insight and will help you make a decision.
On that note, we would take your leave. But here's a quick recap of our favorites . Nothing comes close to our overall favorite, which is the AmazonBasics 8-Sheet Capacity, Cross-Cut Paper, and Credit Card Shredder.
If you are looking for the best value, go for the Aurora AU870MA High-Security 8-Sheet Micro-Cut Shredder. And if you want an energy-efficient option, the Fellowes Powershred 79Ci is perfect.
Till next time!
Related Articles