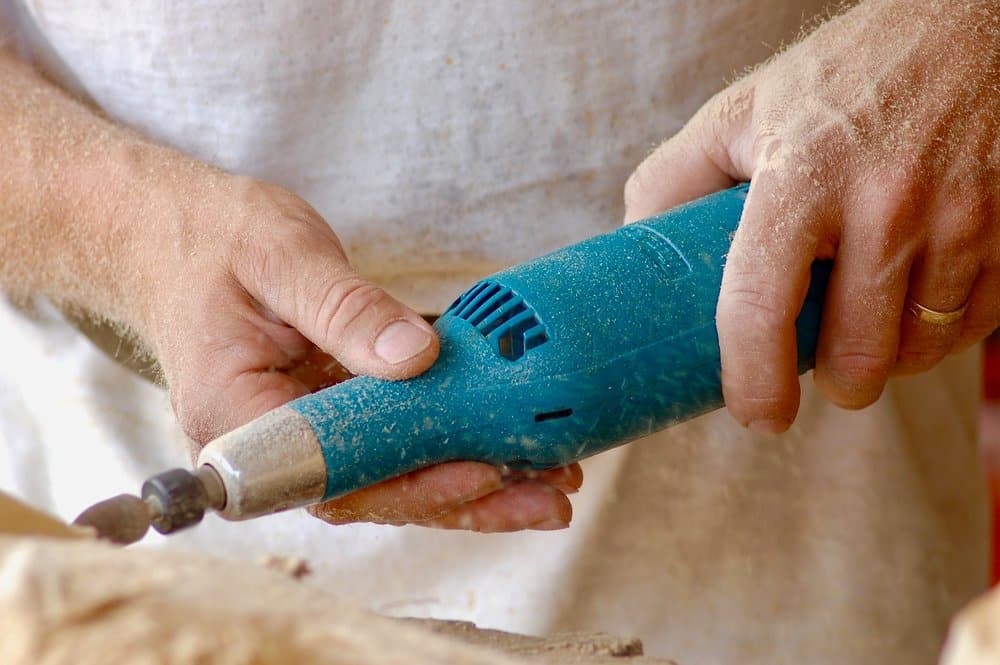 For the simplest to the most complex tasks, we require a variety of tools. A rotary tool is one that combines multiple functions in one.
Whether it's cutting, sanding, or engraving, this appliance can come in handy for numerous DIY or elaborate renovation projects. Along with its versatility, it also operates at high speeds and packs in utility in a compact body.
Easy to use and cost-efficient, the appliance makes for an excellent addition to your toolkit. However, a piece of machinery is not easy to decide on and each model comes with unique specifications.
In 2022, the market is teeming with a variety of rotary tools, each seemingly better than the other. To help you in your search for the ideal product, we have compiled a list of the nine best models available out there. Also, we have followed it up with a buyers' guide!
Let's get started, shall we?
Best Rotary Tools
IMAGE
PRODUCT
DETAILS

Our Top Pick

Our Top Pick

Dremel 4000-6/50 Rotary Tool

1.6 amp motor
Speed range of 5000 to 35,000 RPM
Compatible with all Dremel accessories

VIEW LATEST PRICE →

DeWalt DW660 Rotary Tool

Powerful 5 amp motor
Dust-sealed switches for protection
Sharp, precise cutting

VIEW LATEST PRICE →

Dremel 4300-5/40

High-powered motor
5,000 to 35,000 RPM
Unique airflow system

VIEW LATEST PRICE →

Hitachi GP10DL Rotary-Tool

1.5 Ah lithium-ion battery
5,000 to 35,000 RPM
Anti-vibration system

VIEW LATEST PRICE →

Dremel 4000-2/30

Ergonomic design
5,000 to 35,000 RPM
30 Dremel attachments

VIEW LATEST PRICE →

Dremel 8220-1/28

12V lithium-ion battery
Cordless with plastic storage case
360-degree grip zone

VIEW LATEST PRICE →

BLACK+DECKER RTX-B

Flip-lock handle 
Universal collet system
Powerful, high torque 

VIEW LATEST PRICE →

WEN 2305 Rotary-Tool

100-piece accessory set included
8,000 to 30,000 RPM
Variable speed dial

VIEW LATEST PRICE →

Dremel 4200-8/64

Comes with 77 attachments
Patented, integrated EZ change mechanism
Impressive electronic feedback circuitry

VIEW LATEST PRICE →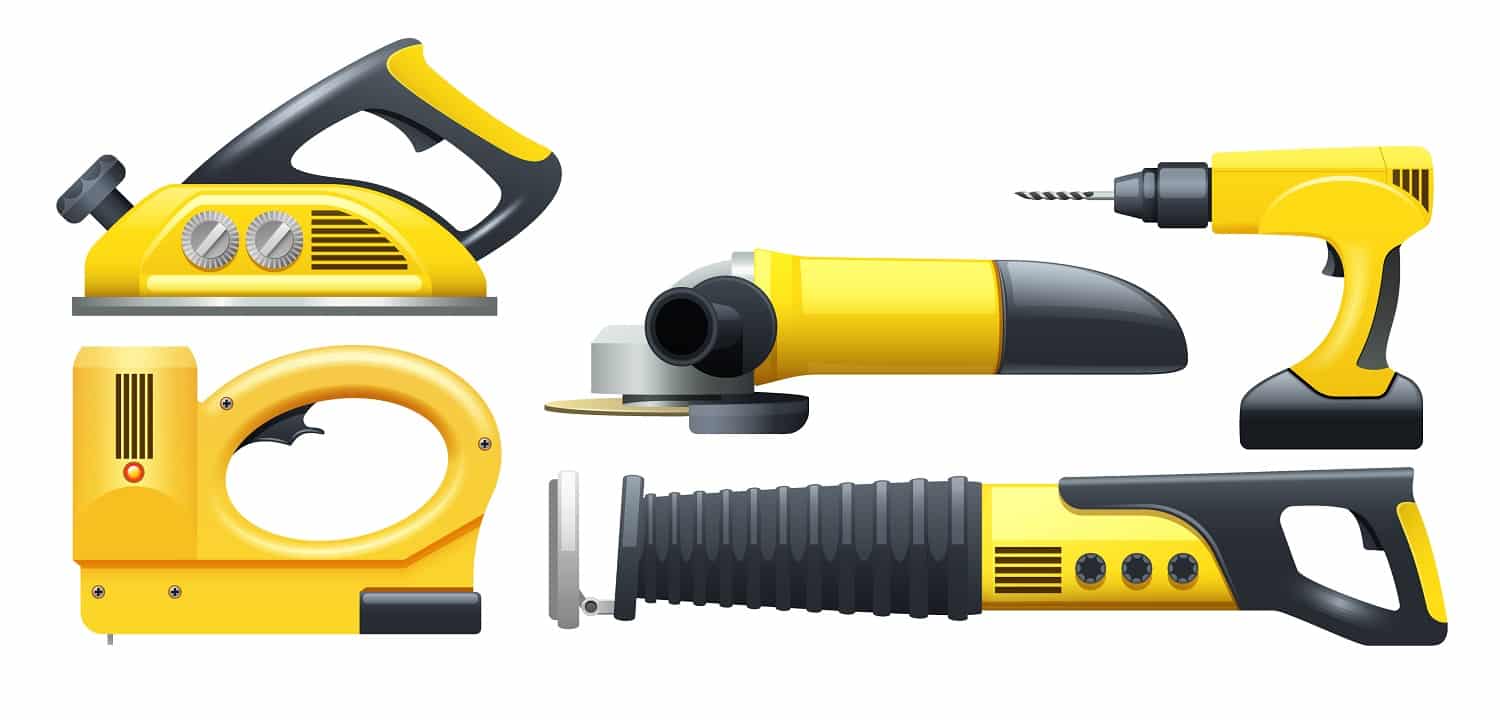 Dremel is a trustworthy brand in the field of power tools that places great emphasis on quality as well as performance. The 4000-6/50 is no exception to that and adds to the brand's credibility with its high degree of utility. Versatile and powerful, it makes quick work of heavy-duty tasks and is dependable.
Why Did We Like It?
When it comes to high-performing rotary tools, the Dremel 4000 takes the cake. As one of the best products in the market, it is fitted with a powerful 1.6 amp motor that is capable of handling a variety of tasks such as cleaning, carving, sanding, and sharpening. Reaching speeds of up to 35,000 RPM, it allows for precision with its auto-adjustment of power and speed.
Furthermore, the appliance scores high on operational efficiency given its compatibility with a wide range of attachments and accessories. The integrated nose cap is a useful feature that functions with one twist. In addition to that, the model features an ergonomic design that affords the user a good grip, and by extension, better control.
Last but not the least, the tool is a versatile one. It is accompanied by 50 accessories and 6 attachments which make any task a breeze to handle. Sturdy and well-constructed, the Dremel 4000 makes for a reliable companion for a variety of projects, be it at home or on a worksite.
What Could Have Been Better?
This is a product that's hard to find fault with. We gauged only a minor issue with motor and switch malfunction but these are extremely rare occurrences and the tool works just fine for the most part.
Pros
High-performing power-tool

Versatile and sturdy

Good value for money
Cons
Minor motor and switch issues
If there is one brand of power-tools that we know and love, it has to be DeWalt. Consistent in performance, its products pack a punch on a budget. The DW660 ticks all of the boxes and then some, and is a high-performing appliance that offers a ton of features for your money. Read our review to learn all about it!
Why Did We Like It?
Excellent for the more intensive jobs at hand, the DW660 is a power-tool that doesn't back down from tackling tough turf. Its 5 amp motor enables it to reach speeds of up to 30,000 RPM, which results in superior cutting in a timely fashion.
Furthermore, the unit takes care of itself and is fitted with a number of features that augment its utility. The dust-sealed switches are an example of this. They prevent dust from entering the device on prolonged use and keeps it functioning with consistent efficiency. Also, the cutting capacity is thoroughly impressive and works well on drywall.
Lastly, its build is sturdy and compact. Lightweight and comfortable, the 3.2 lbs body is lithe and prevents fatigue in the user. DeWalt ensures that its products last, and this one promises years of use over rough terrain and a variety of materials.
What Could Have Been Better?
The DW660 is a handy tool to keep around and hard to criticize. The only issue is that it may be hard to control which can make the work less precise than desired. However, this is a minor fault and in no way a red flag.
Pros
Cost-efficient option

Powerful, fast cutting

Sustainable and protective design
Dremel has been consistent enough for us to end our list with its product, the 4300-5/40. High-performing and sturdy, this rotary tool is well-suited to tackle a variety of tasks and popular for its ease of operation. Equipped with enhanced features, it makes for a worthy addition to any toolkit.
Why Did We Like It?
The last one on the list, the Dremel 4300-5/40 is by no means the least. Powered by a high-performing motor, it reaches speeds up to 35,000 RPM which allows for a great deal of accuracy in the most heavy-duty tasks. It is a premium appliance that comes with 5 attachments and 40 accessories, thus scoring high on versatility as well.
In addition to that, speeds may be adjusted according to individual needs. This augments the device's power-efficiency and also safeguards it from excessive strain. The controller works in tandem with an electronic feedback system to maintain consistency and control in performance.
Last but not the least, the appliance utilizes a 3-jaw chuck that secures its compatibility with the whole range of Dremel accessories. Also, there is a pivot light for work in conditions with poor visibility. All in all, this is a reliable product that can sustain hours of rough use and is built to last.
What Could Have Been Better?
The only slight issue that the customer may face is overheating. While working to its full capacity, the device may generate excessive heat which can be harmful. We'd suggest contacting customer care for assistance as this is nothing an expert team cannot resolve.
Pros
Efficient and versatile in functioning

Well-protected device

Suitable for work in low light
Over the years, Hitachi has become a household name, one that we can trust and for good reason. Although best-known for its home appliances, it also manufactures powerful rotary tools such as the GP10DL, which offer a promising performance and an equal degree of durability.
Why Did We Like It?
The biggest USP of this power-tool is perhaps the battery. The 1.5 Ah lithium-ion battery provides ample and a steady level of power to tackle the most heavy-duty tasks and is extremely light in weight. In comparison to other similar models, the battery also offers long hours of use and is resistant to malfunctioning.
Additionally, the device features a number of additions that enhance its performance on the whole. For instance, the anti-vibration system not only affords greater control to the user but also improves power-efficiency. Further, the variable speed dial and LED light allow for comfort as well as precision, and make the product one of the easiest to use.
With user comfort in mind, Hitachi would in no way compromise on design. Ergonomic with high aesthetic appeal, the device is also lightweight at an astonishing 1.1 lbs. This is a rotary tool for which accuracy and comfort are key, and it leaves no stone unturned to achieve a high level of both.
What Could Have Been Better?
The only issue with this otherwise reliable equipment is that the quality of its attachments doesn't match up to that of the primary unit. However, there is no inherent functional flaw and this is a point that is easy to overlook!
Pros
Powerful, durable battery

Extremely lightweight

Enhanced features for operational efficiency
Cons
Quality of attachments could improve
By now Dremel's excellence in rotary tools must be well-established. Our penultimate item is again one of its products, also one with a similar level of efficiency and ease of use. The 4000-2/30 is one of the best products from the brand and exhibits a high degree of utility combined with durability.
Why Did We Like It?
Fitted with an able power source, the 4000-2/30 from Dremel is a rotary tool with a high capacity for work. Speeds are variable and reach up to 35,000 RPM which allows for precision at a fast pace. Thus, operation is streamlined and little to no time lost. 
In addition to that, it offers great ease of use. The variable speed dial is simple in design and does not require specialized technical knowledge to operate. What further augments performance is the device's compatibility with all Dremel accessories and attachments. This also results in versatility, while the unit comes with 30 attachments of its own.
Furthermore, the tool's design that privileges user comfort while optimizing functionality. Although corded, the 6-feet cord allows for considerable mobility even when connected to a power source. Lastly, the unit is packaged in a sturdy carrying case and remains well-protected in any condition.
What Could Have Been Better?
The only minor problem is that the speed controller is sometimes prone to malfunction. In certain cases, this can strain the machine unnecessarily if high speeds are not required. However, it is a chance occurrence and for the most part, the device functions without a hitch.
Pros
Highly versatile machine

Good value for money

Lengthy cord allows mobility
Cons
Speed controller prone to malfunctioning
Another workhorse from Dremel, the 8220 is one of the best models for jobs that demand a high level of precision and effort. With a slim body and high operational efficiency, it makes for an excellent purchase and is worth a good look. Read our review to find out more about it!
Sale
Why Did We Like It?
Dremel's products are close to perfect in terms of functioning and versatility. The 8220 is no exception to the rule and equipped with a powerful 12V removable battery, it offers maximum performance with speeds reaching up to 30,000 RPM. Also, the battery charges in one hour which ensures there are no operational delays.
Speaking of which, this product features a number of attractive properties such as an EZ twist nose cap that eliminates the need for a wrench for switching between accessories. In addition to that, the sturdy plastic case contains 28 important attachments that are well-suited to deal with a variety of tasks.
Last but not the least, ergonomic design is a key factor when it comes to machinery and Dremel pays great heed to that. With a 360-degree grip zone and lightweight build, the 8200 offers incredible user comfort and precision in work. If that wasn't enough, it comes with a 2-year warranty. However, given the durable construction, a warranty is unlikely to be used at all!
What Could Have Been Better?
We tried to be critical, but there is no functional flaw in this device. However, we would recommend going for a larger model in case you need the rotary tool for more heavy-duty tasks, and not simply for occasional use.
Pros
Removable, fast-charging battery

Versatile functioning

Scores high on user comfort
Cons
Not the best model for heavy-duty tasks
Next on the list is another rotary tool stands both the test of time as well as tough terrain. Fitted with a number of additional features, it makes for a functional appliance with a single-minded focus on operational efficiency. Speedy and dependable, the RTX-B from Black+Decker is certainly in our best books.
Why Did We Like It?
If speed and accuracy in work are your primary concerns, then this is the device for you. Cordless, lightweight, and with variable speeds reaching up to 30,000 RPM it ensures a high degree of precision in all required tasks. Along with this, two more speed settings are available: 12,000 RPM and 24,000 RPM.
The motor of the tool offers a powerful torque which significantly reduces delays in operation. It enables the device to take on heavier duties without subjecting the internal mechanism to undue strain. In addition to this, the tool features a flip-lock system that eliminates the need for buttons for accessory changes.
Lastly, Dremel's appliance is built to endure. Long-lasting and sturdy, it proves to be a cost-efficient buy that connects to all standard rotary tool accessories. Therefore, it would be safe to conclude that this is an equipment that offers great compatibility and promises to deliver.
What Could Have Been Better?
The only inconvenience that users may face while using this device is with the collet. The tool often gets stuck and is difficult to extract from the collet. However, in comparison to what's on offer, this is a minor issue and can be easily resolved by contacting customer support.
Pros
Scores high on compatibility

Additional features for enhanced operational efficiency

Flexible in use
Cons
Occasional issues with the collet
One of the most popular products of the year, the 2305 from WEN has been making its mark in the market far and wide. It offers versatile functioning combined with a sophisticated degree of operational control and efficiency. A powerful workhorse, it makes for a worthwhile addition to your toolkit. If that's not enough, even Amazon vouches for it!
Why Did We Like It?
Powerful and versatile, WEN's product packs in an incredible amount of utility in a compact and lightweight body. Built with premium materials, the 2305 is a lightweight device at 3.5 lbs and offers ample control and precision to the user over long hours of work.
In addition to that, the unit comes with a 100-piece accessory set; the versatility of functions, then, is unparalleled. The appliance is ideal for cutting, sanding, and polishing, and with an adjustable speed of up to 30,000 RPM, it is one you can depend on without much doubt.
Lastly, among its counterparts in the market, it offers one of the best values for money. This is largely due to the flexibility it offers to the user. Alongside this, the device is incredibly durable and does not need repair or replacement even after continuous use for heavy-duty tasks. 
What Could Have Been Better?
This otherwise excellent appliance suffers from only a slight issue, and that is excessive vibration. This often leads to overheating which can result in loss of power. Regardless, it remains a top-notch tool to own that stands the test of time.
Pros
Highly durable for heavy-duty tasks

Versatile and high-performing

Great value for money

Flexible in use
Cons
Vibration is too strong

Prone to overheating
In terms of versatility, Dremel's products are unmatched. The 4200-8/64 is no different and offers a commendable performance that is augmented by the numerous attachments in its packaging. Built to last and consistent in functioning, this is a product that deserves to rank high on your list.
Why Did We Like It?
Fitted with a 1.6 amp motor, this rotary tool offers incredible performance that scores high on utility as well as operational efficiency. With 77 attachments in tow, it eliminates the need for multiple tools and reduces additional expenses for the same. In doing so, it combines versatility with cost-efficiency.
In addition to that, the 4200 offers variable speeds that allow for greater control over its functioning. It is also fitted with additional features such as the integrated EZ change mechanism that simplifies the changing of accessories while the electric feedback circuitry keeps the performance consistent.
Lastly, an ergonomic design ensures that the user may operate the machine for long hours without tiring from manual work. Also, the tool is of sturdy construction and built to last. All things considered, the 4200 is definitely worth your consideration as it puts up a fine performance at an affordable price.
What Could Have Been Better?
At 11.4 lbs, the DeWalt 4200 is not the lightest of rotary tools and may pose problems in ease of use or portability. Further, the EZ change mechanism is sometimes prone to malfunction. However, neither of the two is a deal-breaker and the advantages far outdo the drawbacks.
Pros
Comfortable, ergonomic design

Good value for money

Enhanced operational efficiency

Wide array of attachments
Cons
EZ change mechanism prone to malfunction

Heavier than its counterparts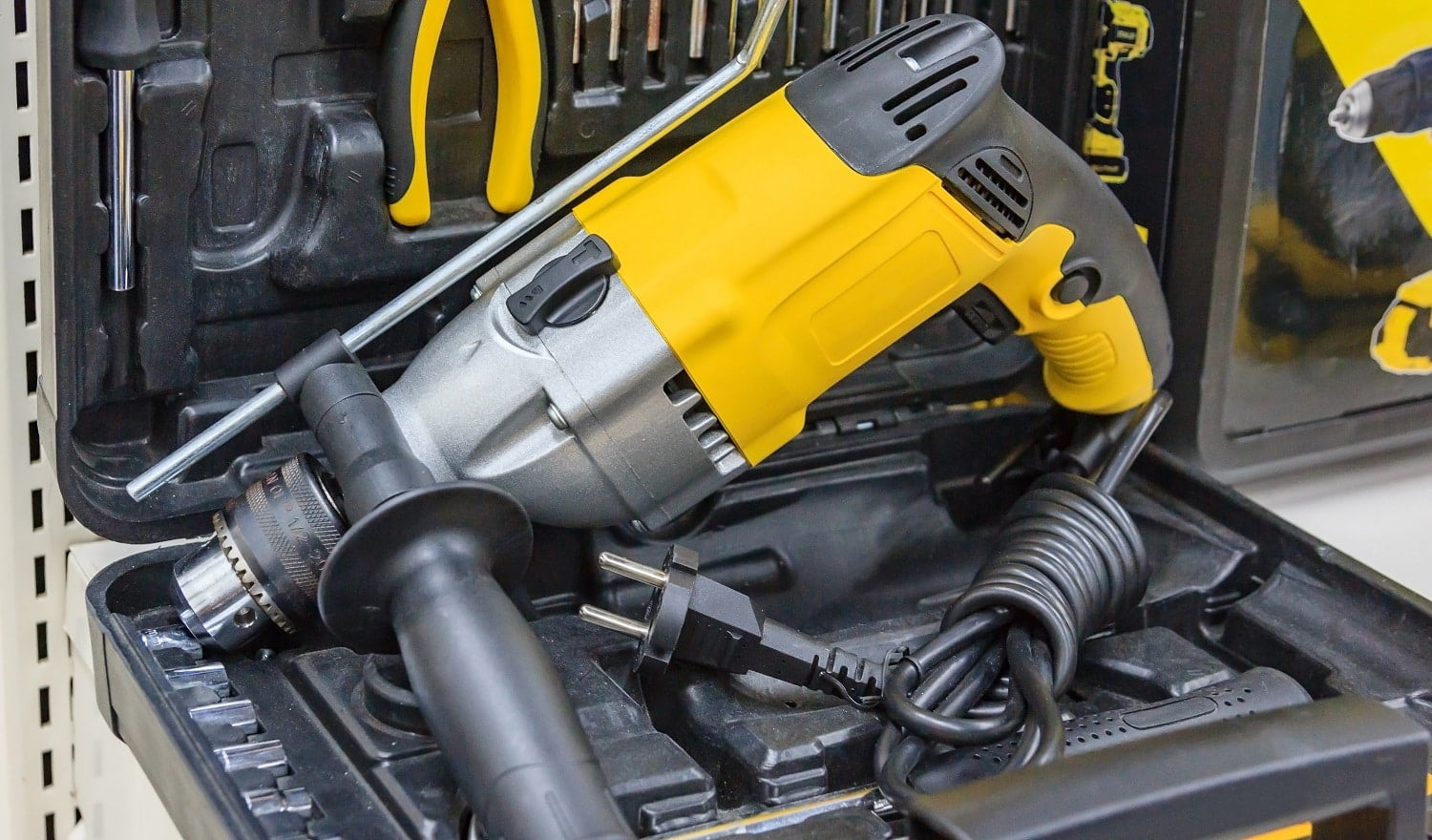 Rotary Tool Buyers' Guide 
By now, we hope to have given you a detailed overview of what a rotary tool does best. While it's important to consider one's own requirements for the appliance, it helps to have a broader understanding of the product's specifications in order to find the right match.
To this end, we have compiled a comprehensive buyers' guide for you, outlining certain points to check for while making a selection.
Portability
This is an influential factor in the choice of the rotary tool you purchase. Depending on the primary requirement, you can select a cordless or a corded one. For large worksites or even homes of considerable dimensions, a cordless one is preferable as you need not worry about keeping it connected to a fixed power source. 
However, cordless rotary tools need charging more often as they put considerable strain on the battery. They are also better suited for tasks that are lighter in intensity while corded ones make short work of the most heavy-duty jobs. Therefore, if portability is not the primary criterion, you can always opt for an electric appliance.
Job Requirement
For the regular user of the rotary tool, mostly professionals, a powerful, electric device would be the best option. These appliances come with unlimited power and work efficiently on the toughest of jobs. Be it cutting, sanding, or cleaning, electric rotary tools fulfill all functions with a commendable degree of finesse and ease.
On the other hand, if you're looking for a convenient appliance to take care of the occasional odd job, a cordless, battery-powered rotary tool makes more sense for a number of practical reasons. Although less powerful, it offers greater portability and requires no specialized skill to be used.
Ease of Use
This brings us to the next point. Power-tools often get a bad name for being complicated in function as well as operation. Therefore, it pays well to gauge this aspect before making a purchase. There is not much use for a well-equipped device if the user faces difficulty in operating those functions.
Design plays a part in this case. Ergonomic design offers greater comfort which is essential while carrying out heavy-duty tasks for prolonged hours. Lighter models are preferable, but do bear in mind their capacity for work. Lastly, check for the amount of vibration. A device may offer ample utility, but too much vibration not only mars functioning but it can also result in wear-and-tear.
Attachments
All the rotary tools in our list come with a formidable set of attachments; one even features a 100-piece set! The attachments you need will depend upon the use and separate kits are available in case the required attachment is unavailable as part of the rotary tool's package.
A good kit usually includes cutting wheels, sanding pads and saw attachments. It helps to go through user reviews as the quality of attachments may differ from brand to brand or even from one model to another.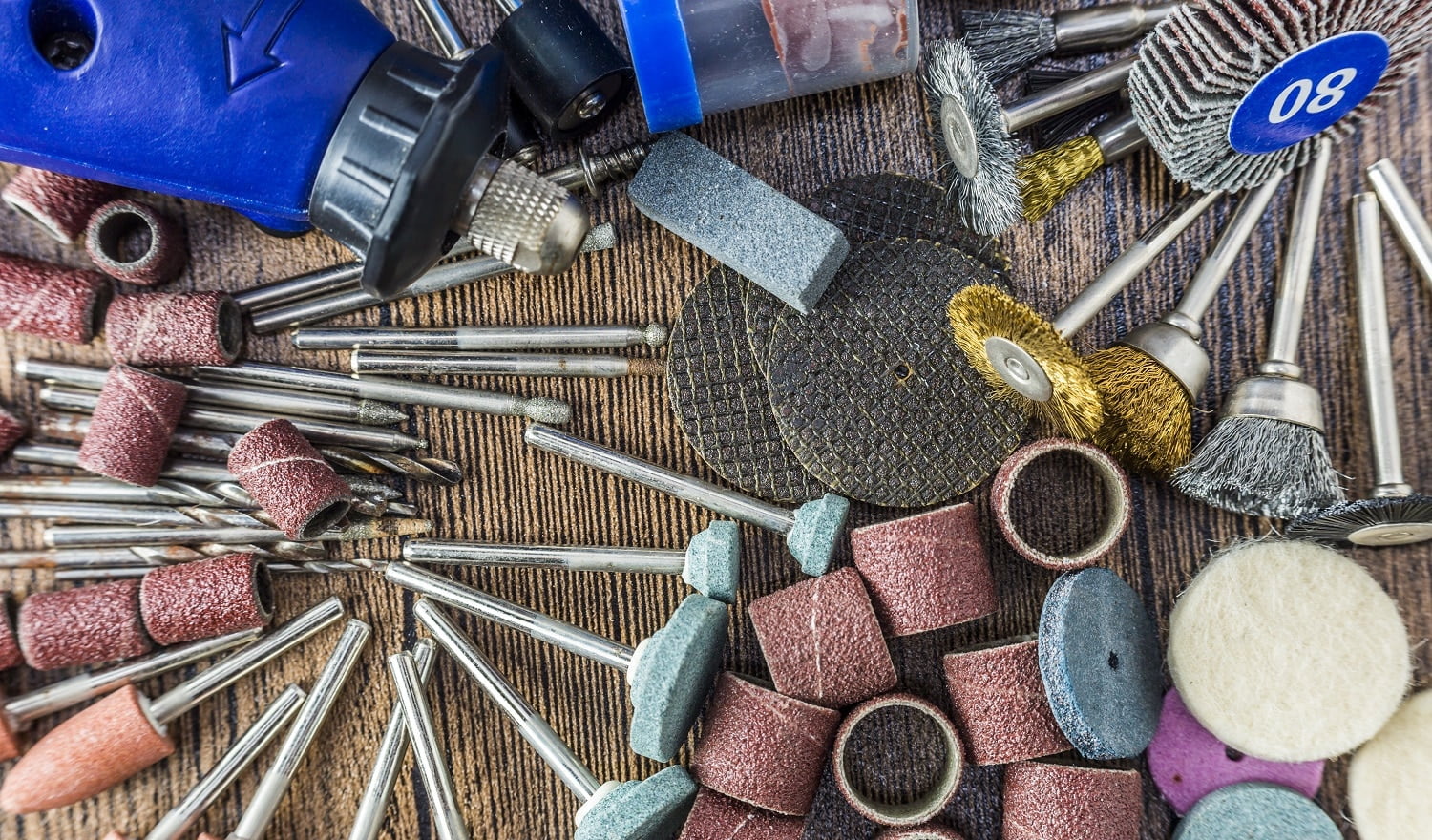 Verdict
With that, we come to the end of our list and we hope it has been helpful.
Rotary tools have various functions and are some of the most useful appliances to keep handy. There are a number of excellent models out there, each with its unique selling points and disadvantages. Selecting the best, therefore, is no easy task.
To bring you just another step closer to the ideal machine, we have rounded up our favorites in some categories.
Both theWEN 2305 and Dremel 4000-6/50 make for an excellent choice when it comes to heavy-duty tasks. They stand up well to tough material as well as to prolonged hours of work. On the other hand, DeWalt's DW660 is unique in the value for money it offers.
Also popular among discerning buyers, is Hitachi's rotary tool which features an outstanding battery and is a convenient appliance to use.
We would love to know what you think of our suggestions; do let us know in the comments section below.
Till next time!
Related Articles
13 Best Cordless Oscillating Tools of 2022
13 Best Screwdriver Sets on the Market Today
13 Best Wood Routers for Professionals & Amateurs Alike
Simply the Best Stained Glass Ring Saws in 2022 Reviewed
49 FREE DIY Router Table Plans For an Epic Home Workshop
10 Best Shop Vacs For Dust Collection in 2022
11 Best Hammer Drills on the Market Today
11 Best Tap And Die Set on the Market Today | Buyer's Guide
11 Best Torque Wrenches on the Market Today | Buyer's Guide
11 Best Multi Tools of 2022 Reviewed | Buyer's Guide
11 Best Angle Grinders on the Market Today
13 Best Chainsaws for the Money in 2022 | Reviews & Guide
13 Best Tile Saws of 2022 Reviewed | Buyer's Guide
6 Best Chainsaw Brands to Consider in 2022
11 Best Sliding Compound Miter Saws
11 Best Belt Sanders Right Now
13 Best Stud Finders – Review & Buyer's Guide
13 Best Bench Grinders of Saws of 2022 | Buyer's Guide and Reviews
11 Best Drywall Cutting Tool of 2022
9 Most Powerful Cordless Drills in 2022
13 Best Chainsaw Sharpener of 2022