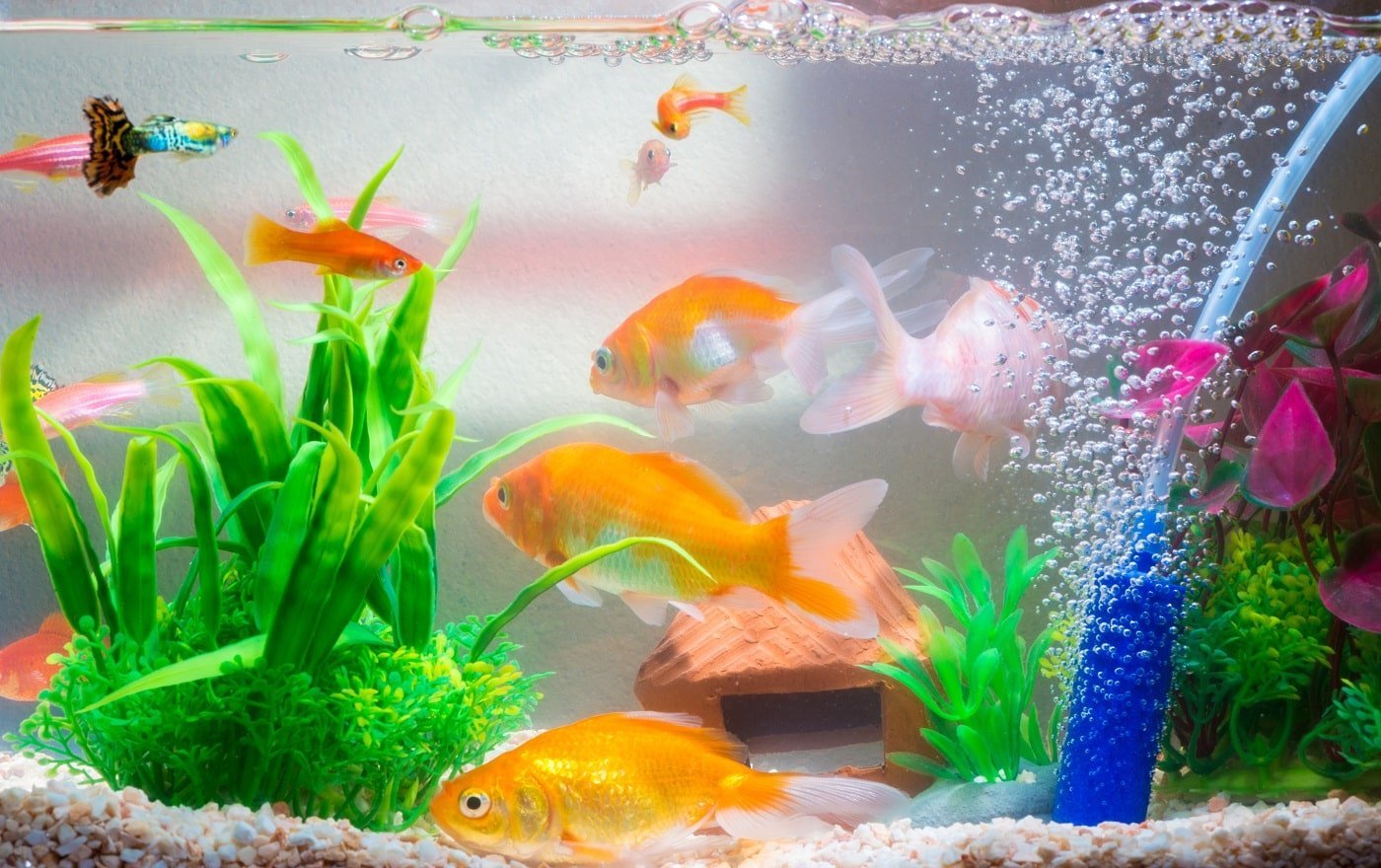 Imagine waking up on a weekday morning and being greeted by your marine friend in a beautiful fish tank right beside you! 
This will immediately lift your mood and will make you forget about midweek blues. What's more, a small fish tank can be kept right beside the bed or in your office on the desk. Having your friends from the marine world near you can significantly reduce stress, and improve focus on work. 
However, it can often become challenging to find the perfect fish tank from the numerous choices available in today's market. Hence, we have curated this list of the top 9 fish tanks and have highlighted their pros and cons in detail. This should make your search easier. 
So, what are you waiting for? Dive in! 
Top Small Fish Tanks
IMAGE
PRODUCT
DETAILS

Our Top Pick

Our Top Pick

Marineland Portrait Glass LED Aquarium Kit

Size: 11.81 x 11.62 x 17.05 inches
Weighs 12 pounds
Rectangular in shape

VIEW LATEST PRICE →

Koller Products AquaView 360 Aquarium

Dimensions: 10.25 x 10.25 x 10.5 inches
Weighs 2 pounds
Round in shape

VIEW LATEST PRICE →

Tetra Bubbling LED Aquarium Kit (29040-00)

6.5 x 6.5 x 8 inches in size
Weighs 2.28 pounds
Hexagonal in shape

VIEW LATEST PRICE →

Tetra LED 3 Gallon Aquarium

10.51 x 10 x 10 inches in size
Weighs 4 lbs.
Cube style fish tank

VIEW LATEST PRICE →

GloFish Aquarium Kit 29045

Dimensions of 11.25 x 16.56 x 6.71 inches
Weighs 1 pound
Semi-circular in shape

VIEW LATEST PRICE →

Aqueon Betta Bowl 100101206

9.1 x 7.2 x 5.1 inches in size
Weighs 1.75 pounds

VIEW LATEST PRICE →

Fluval SPEC Aquarium Kit, Aquarium with LED Lighting

15 x 13.5 x 16.3 inches in size
Weighs 2.2 kgs
Rectangular shape

VIEW LATEST PRICE →

FREESEA 1.4 Gallon Betta Fish Tank

Dimensions of 7.91 x 5.51 x 8.31 inches
Square in shape
Made of plastic

VIEW LATEST PRICE →

Aqueon Mini Cube Kit Black

Size: 10.75 x 10.75 x 10.75 inches
Weighs 4.25 pounds

VIEW LATEST PRICE →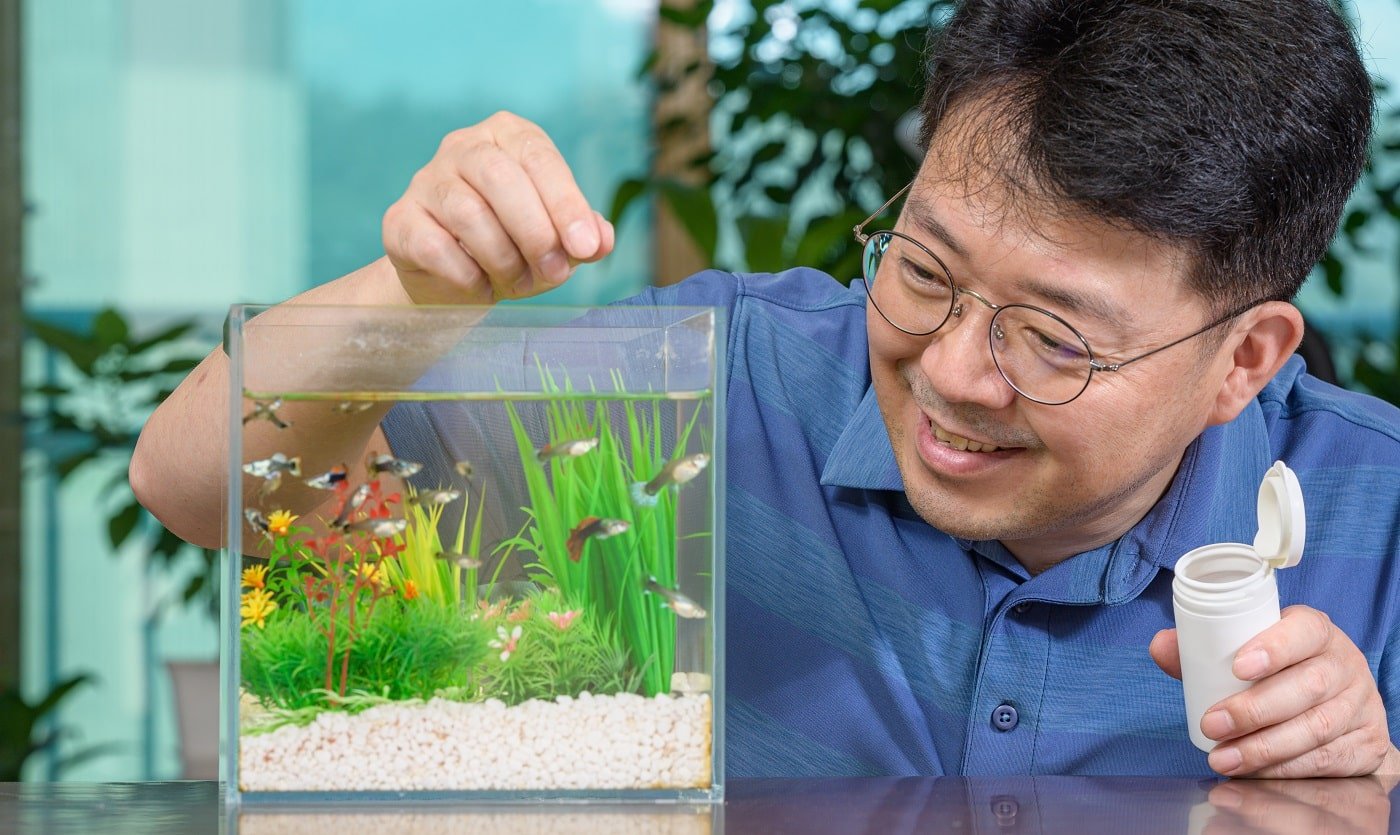 Are you looking for a medium-sized tank that is packed with features? The Marineland Portrait Glass LED Aquarium Kit is going to be a fantastic choice. Weighing 12 pounds, this will fit in any house easily and will provide your fishes with a beautiful and spacious home to live in.
Sale
Why Did We Like It?
This product comes with a 3-stage filtration system that stands out and adds to the benefits. It is equipped with a Marineland bio-foam, Rite-Size Z cartridge, and an adjustable filter pump. These will take care of immediate use, but you will need to buy more cartridges to replace them in the future. 
Also, this filtration system is placed in such a way that it stays out of the sight of viewers. This provides a better viewing experience. 
Coming to the design, it has sleek and rounded edges with a clear glass canopy. You can view the tank from many sides easily. We placed it in the middle of the room, and it looked good.
Moving on to LED lights, it has daylight and moonlight modes where the LEDs can create a shimmering effect on the water, resembling sunlight falling on it. There are blue LEDs, too, which can provide a moonlit glow. 
What Could've Been Better?
We found that on closing the cover, there were tiny gaps remaining in the corners. These are not problematic in general, but the tiny insects and critters can get in through them. So, we will suggest you check for these gaps and, if you have them, cover them up with tape. 
Pros
5-gallon tank

Rounded corners to prevent getting hurt

Hinged LED lighting for easier viewing

Shimmering sunlight effect created
Now that we have reviewed a rectangular option, it is time to introduce a round-shaped one. The Koller Products AquaView 2-Gallon 360 Aquarium is indeed one of our top choices and is perfect for keeping tropical fishes. It is compact and looks good in almost all places. 
Why Did We Like It?
Made of impact-resistant plastic, this product is lightweight and compact. It weighs only 2 pounds, and you can transfer it around the house with no extra effort. 
Coming to the filtration system, it has a powerful internal filter that works very well in cleaning and purifying water. The flow rate is 25 gallons per hour, which helps it remove most of the pollutants easily. We found that the water does not smell, get heavy, or contain organic pollutants. 
And as the water stays clear, you get a crystal-clear vision, while the plastic body also stays clean. So, you can keep tropical fishes in the tank and place them on a desk in your study room. That will give you a good source of distraction at any time you want to take a break. 
Further, the LED lights are attractive, and you can choose among 7 colors. There are blue, green, aqua, amber, red, purple, and daylight white to choose from. The lights are also energy-efficient so they will not consume too much electricity.
What Could've Been Better?
We found the filter to be pretty quiet in the beginning, but with time and over a period of 2 months, we noticed that there were noises coming from it. This did not affect its functioning. But the noise can be distracting so if it happens with your one, call up customer care for help. 
Pros
7 vibrant colors to pick from

Intense internal power filter

Crystal clear clarity and 360-degree viewing

Leakproof plastic used
Up next is a hexagonal-shaped option that will work out well for betta fishes. The Tetra Bubbling LED Aquarium Kit (29040-00) is an excellent choice for small bedrooms or flats and will fit in easily. This comes with a sturdy air driven Whisper internal filter, and that creates a beneficial environment for fishes. 
Sale
Why Did We Like It?
This product features a clear plastic canopy with a feeding hole in it. This is helpful in feeding the fishes without having to open the cover every time. 
Moving on, the most interesting part of this is the bubbling disc. This a light changing disc that will keep changing colors automatically. It follows the colors of a rainbow and looks beautiful. 
Next, as we have already mentioned, it has a Tetra Whisper Internal Power Filter, which plays a very important role in keeping the aquarium clean. It will prevent any organic wastes from floating around the water and will also prevent discoloration of water. This will ensure clear vision at all times, and your guests can see every fish easily from a distance. 
Now coming to the shape, this one is hexagonal and will provide you with multiple angles from which you can view the fishes.
What Could've Been Better?
This is a very small tank, and you will not be able to keep big fishes in it. Also, in the case of small ones, a maximum of 2 can survive at one time. We initially did not know this and were later disappointed. We will advise that you should read the description and the dimension carefully. 
Pros
Color changing disc with rainbow colors

Tetra Whisper internal power filter

Conveniently placed hole for easy feeding

Clear plastic body
Do you want something to keep your tropical fishes and goldfish in? The Tetra LED Cube Shaped 3 Gallon Aquarium will provide a safe and clean environment for them to live peacefully. It is the perfect product for beginners and works well for dorm rooms and small flats. Read on to know about its bells and whistles. 
Sale
Why Did We Like It?
This features a Tetra 3i filter which will ensure that the tank stays clean. It will provide a warm and cozy environment for the fishes. Betta, small tropical fishes, and goldfish can live well in this. 
To add to its features, this one had a LED light installed that will highlight the insides of the aquarium and will provide better visibility at night. The fishes can be spotted easily, even post dark. 
Also, though the space is limited, if you keep 2 fishes, there is ample space for them to move about. The item has been designed to look sleek and compact while there is enough room to swim inside. The sleek design stands out and will also add to the ambiance of any room. 
Further, there is a soft gurgling sound from the filter that is actually very soothing. It will not disturb you at all and will provide a relaxing environment. 
What Could've Been Better?
The product was not packed well, and it arrived with a big crack. We were very disappointed and called up customer care immediately. They did send a replacement within a few days, and this time there were no cracks. However, the packaging was still not up to the mark, and we were lucky to have gotten an unharmed product. 
Pros
Made of acrylic and glass

Perfect for goldfish and tropical fishes

LED light for better visibility

Tetra(R) Whisper Bio-Bag small cartridge
If you want to keep glofish, the GloFish Aquarium Kit 29045 will help you optimize the entire environment to highlight every fluorescent fish. It is designed with the right lights to provide these fishes with a comfortable home. And what's more, it is fun to watch them too. 
Sale
Why Did We Like It?
This includes a 5 gallons kit which comes with a Tetra Whisper Bio-bag filter cartridge and a beautiful and seamless plastic tank. There is a black canopy provided on the top, which is equipped with a feeding hole for ease of use. 
Adding on, there are hidden blue lights that are placed strategically to ensure that it highlights the fishes and creates a fluorescent effect inside. This looks great and will add to the charm of your living room. Keep it right at the center or on a side table by a sofa and leave your guests mesmerized by the tank. 
Also, it is made of clear plastic, which does not catch scratches easily. The surface stays clean, leading to better visibility. 
Moving on to the filtration system, the water is pulled by its filter and made to pass through a cartridge, which catches all kinds of dirt and debris. This keeps the water fresh and increases visibility. 
What Could've Been Better?
You will find that the product description mentions 15 blue lights while our aquarium had 9. Now, this was sufficient, and we do not really have a problem, but yes, the product description does not match with the real thing. So, make a note of this before purchasing. 
Pros
Tetra Whisper Bio-bag filter cartridge included

Black hood to prevent evaporation

Seamless plastic body

Hidden blue lights
Cons
Less number of lights than advertised
Are you looking for a kit that will go easy on your pockets? The Aqueon Betta Bowl 100101206 will be an excellent choice to make. It is a half gallon tank that is very economical and is a great option for beginners or kids to keep their marine pets in.
Why Did We Like It?
The best part about this product is the divider in its middle. You can use it to create 2 compartments for 2 betta fishes within the dimensions of 9.1 x 7.2 x 5.1 inches. 
Also, this is perfect for first timers because of the easy to access feeding door that can be used to feed the fishes. It can then be closed once the feeding is done. The lid is very easy to control, and even teenagers can do it without supervision. 
Moving on, you have to change the water every week, and that should provide the fishes with a warm and comfortable environment. Also, clean water increases visibility, and you can see your pets from a distance. This product will allow you to clean easily, and the side walls are not prone to discoloration or spots. 
What Could've Been Better?
This is a cheap product, and you should know that it cannot be used for years. First of all, it is pretty small, and you would want to give your fish friends a bigger place to go around. Also, the walls start getting dirty over time, and you will see a layer form on them over a year. But as a temporary option, this one works well. 
Pros
Does not need high maintenance

Very pocket-friendly

Conveniently placed feeding door

Samples of water and food care provided
If you are looking for a beautiful white option that will add to your pastel or white decor, the Fluval SPEC Aquarium Kit, Aquarium with LED Lighting, is perfect. It is rectangular in shape and can be viewed from different angles. Also, it is known to come with a hoard of accessories, and that is very helpful. 
Sale
Why Did We Like It?
The product comes with a high-output 7000K LED, which will ensure that the fish tank is always attractive and will surely draw your guest's attention. The bright light highlights the fishes and ensures that they are visible at all times.
Also, the product is made of glass with a white aluminum frame. This frame or casing is very strong and will protect your aquarium while it adds to the overall look. 
Coming to the filtration, this boasts of a strong 3-stage filtration divide that will ensure that the water quality does not deplete. There is a honeycomb wrap that traps the debris and organic wastes preventing the water from being cloudy. 
Not only this, the tank comes with a foam filter block, BioMax, and activated carbon insert, along with a circulation pump and a low-voltage transformer. All of this together ensures perfect water quality. 
What Could've Been Better?
We faced some difficulties with switching on the lights. There is a sliding switch, and it is placed in such a way that it becomes slightly problematic to manage. Most of its peers come with a simple on/off switch, and in comparison, this is more time consuming. 
Pros
High-output 7000K LED included

Efficient circulation pump with output nozzle

Waterproof aluminum casing

Foam filter block is added
Cons
Difficulty in switching on the light
Now that we are almost nearing the end of this list let us tell you about a great option for office desks. The FREESEA 1.4 Gallon Betta Fish Tank will be the perfect gift option for your friend or colleague. It is compact and looks great on desks. Give this to your friends so that they can keep their pet friends even at the office. 
Sale
Why Did We Like It?
This is one of the smallest products in the office, and it measures only 7.91 x 5.51 x 8.31 inches. You will be able to fit it anywhere with a small amount of space to spare. Being square in shape, it will make your desk stand apart from others because it adds to the desk décor too. 
Another great benefit is that it is made of clear plastic and hence there is no chance of breaking it. The body is not fragile and will survive bumps. 
Moving on, this comes with a hidden filtration system that can be plugged into a power bank or computer terminal. It requires a 5 volts source, and then it functions well. 
Last but not least, the brand has very efficient customer service. They are very responsive and will work with you to solve any query that you may have. 
What Could've Been Better?
We would have preferred if the instructions were clearer as that would help us in assembling the product faster. As there are many parts, we had to understand the use of each by watching YouTube videos. You can also call up customer care for help regarding this. 
Pros
Hidden filtration system

Good customer support

1.4 gallons water capacity

Perfect for office desks
Cons
Instructions provided were not clear
This is a cube-shaped mini option that might suit a small flat or a dorm room. If you want to give your kids a pet when they are off to college, the Aqueon Mini Cube Kit Black will prove to be a lovely option for fishes.
Why Did We Like It?
First of all, this one is equipped with a thermostat that will adjust the water temperature according to your preference, ensuring that the fishes live in a safe and protected environment. You can adjust the heat from 68 to 88 degrees Fahrenheit, and the thermostat is accurate up to +/- 1 degree. 
Coming to the material of this cube, the shell is non-corrosive and is known to be very durable. It is shatterproof and will not be damaged even if it falls from a height. We were able to transfer it on a flight and there were no marks on the body. 
Moving on to the LED lights, they are always turned on. The light turns red when this tank heats up, and it turns green when you stop the heating process. This will help you figure out from a distance whether the water is still being heated or not.
What Could've Been Better?
Although the light is a great indication of whether the aquarium is being heated or not, it is very bright, and your fishes might not really enjoy it. We will suggest you to put a filter below so that the light dims down and the fishes can live peacefully. 
Pros
Heat setting of 68-88° F

Electronic thermostat is accurate to +/- 1°

Indestructible and shatterproof

Auto shut-off when the machine overheats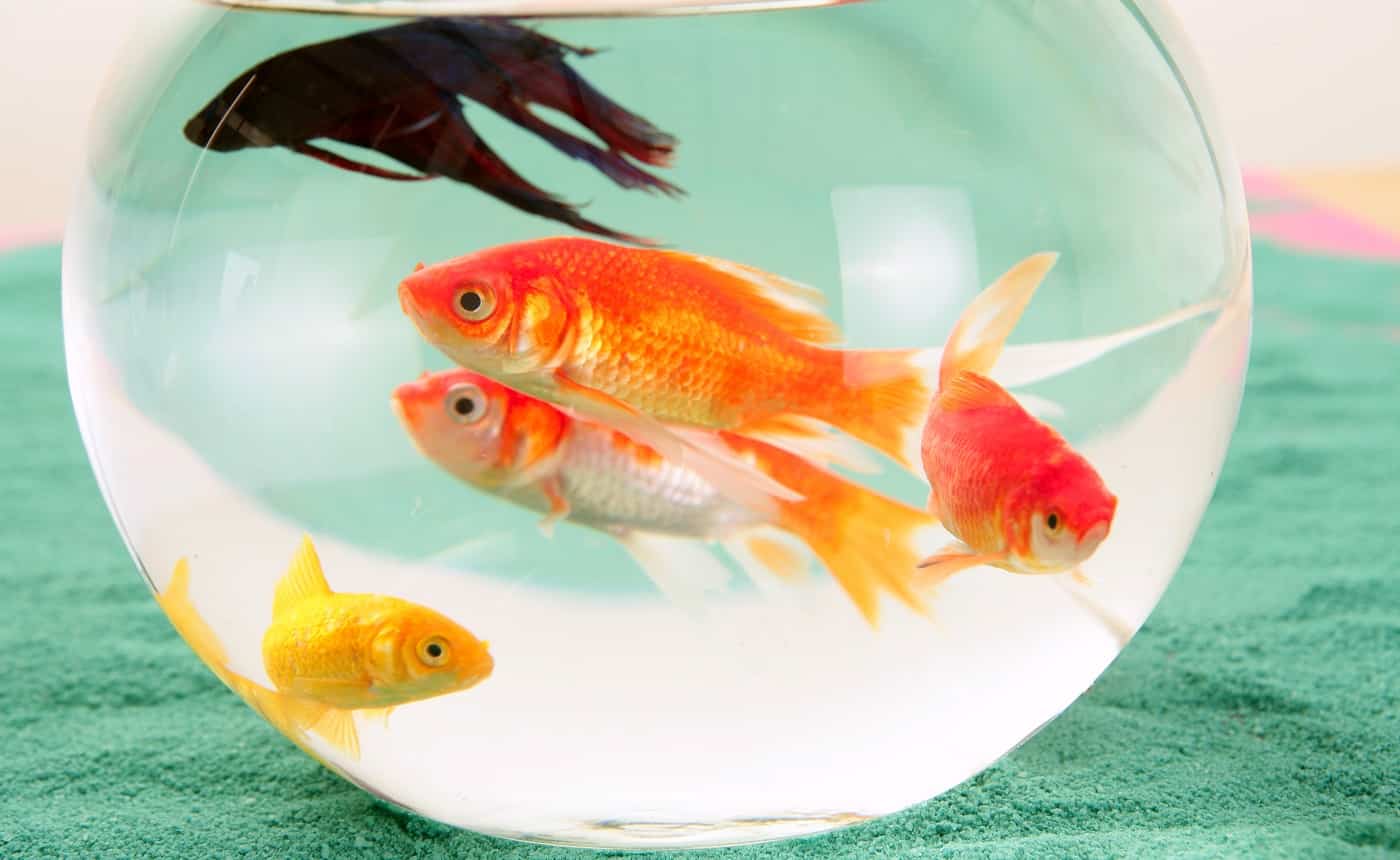 Small Fish Tanks Buyer's Guide
There are certain factors that you need to remember before purchasing a product. Always ensure that you know your requirements first and then go on to buy. Remember that a good looking product that catches your eye might be too big or small for you. Read on to know the factors to remember and you will be able to make the right choice. 
Number Of Fishes
How many fishes do you wish to keep? This is the first question to consider as the number of fishes play a major role. Depending on the number of fishes, you should decide the size of a tank. The general understanding is to consider 1 fish per 1-2 gallons of water. 
Please make sure that you do not keep too many fishes together in a small space. This will only kill the fishes as they do not have space or nutrients to grow and survive. 
Further, in case you have a goldfish, you will need about 10 gallons of water for 1 of them. Remember this before you purchase a tank and check the capacity. 
LED lights
Now, most products today come with LED lighting. Ensure that the light is not too bright as that will disturb the fishes. There should be a warm glow that spreads over the entire water surface. You can opt for incandescent or fluorescent lighting but again, make sure that it's not too bright. 
Cleaning
Now, check the filtration system as soon as it arrives. You might either opt for a 2-stage or a 3-stage filtration system, and there will be cartridges that need to be changed in time.
Moreover, we will suggest that you clean the tank every week and change the water. Although the filtration system works well, stale water is not good for fishes. Cleaning also ensures that the water does not get cloudy or discolored over time.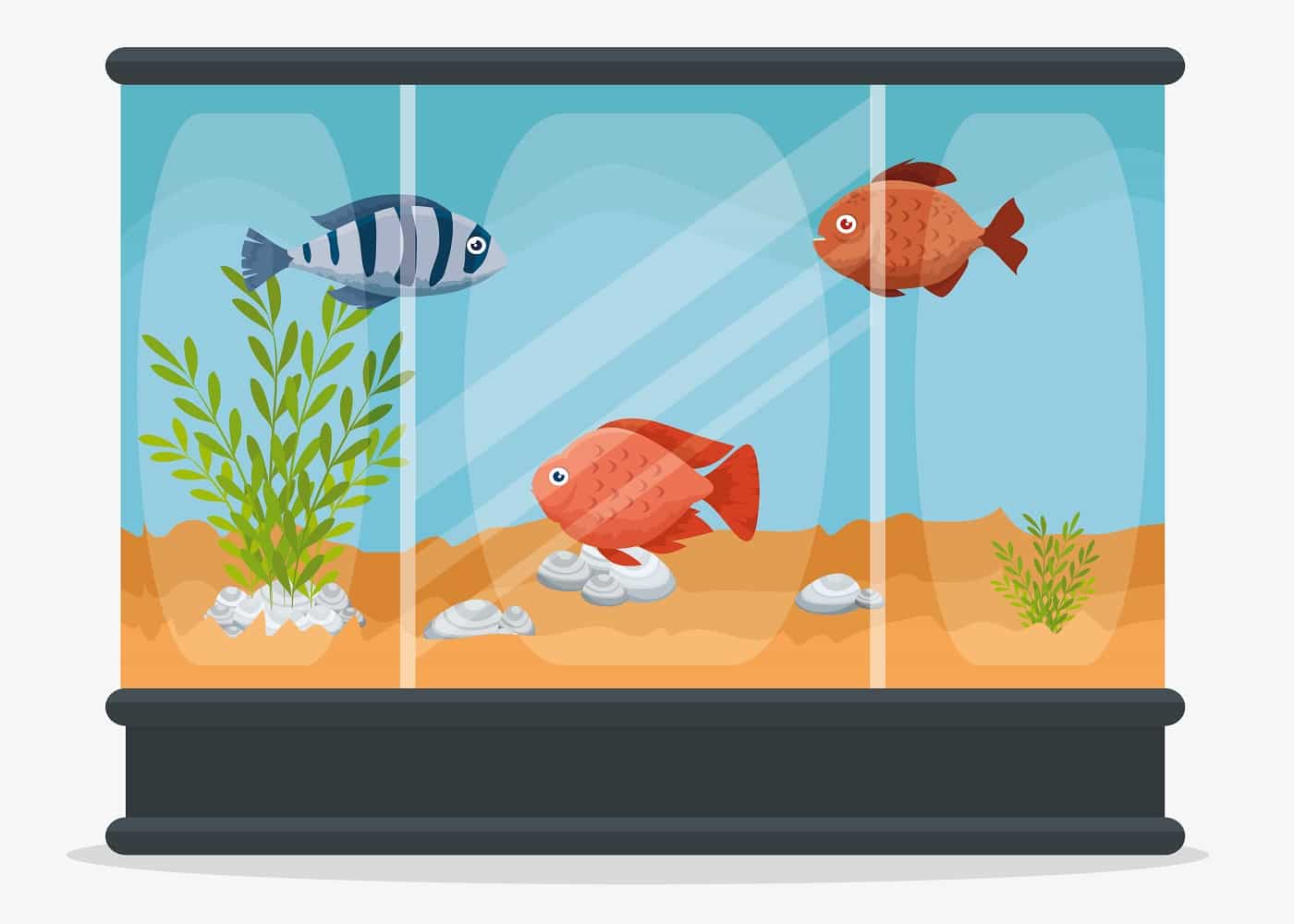 Verdict
Tropical fishes are very popular today as kids and adults both find them to be fascinating. So, having a small fish tank to keep them will please everybody in the house for sure. And now that you know all about the top 9 options, making a choice should be easy.
Before we bid you adieu, let us take you through our favorites. TheMarineland Portrait Glass LED Aquarium Kit is a great choice if you are looking for a middle-sized option. 
But if you are looking for a unique design, the Koller Products AquaView 2-Gallon 360 Aquarium will please you. Lastly, the Tetra Bubbling LED Aquarium Kit (29040-00)will fit well as a compact option. 
On this note, we will take your leave. Until next time. 
Happy shopping! 
Related Articles
11 Popular Small Saltwater Fishes
7 Best Substrates for Betta Fish Tank 
11 Best Aquarium Safe Silicone