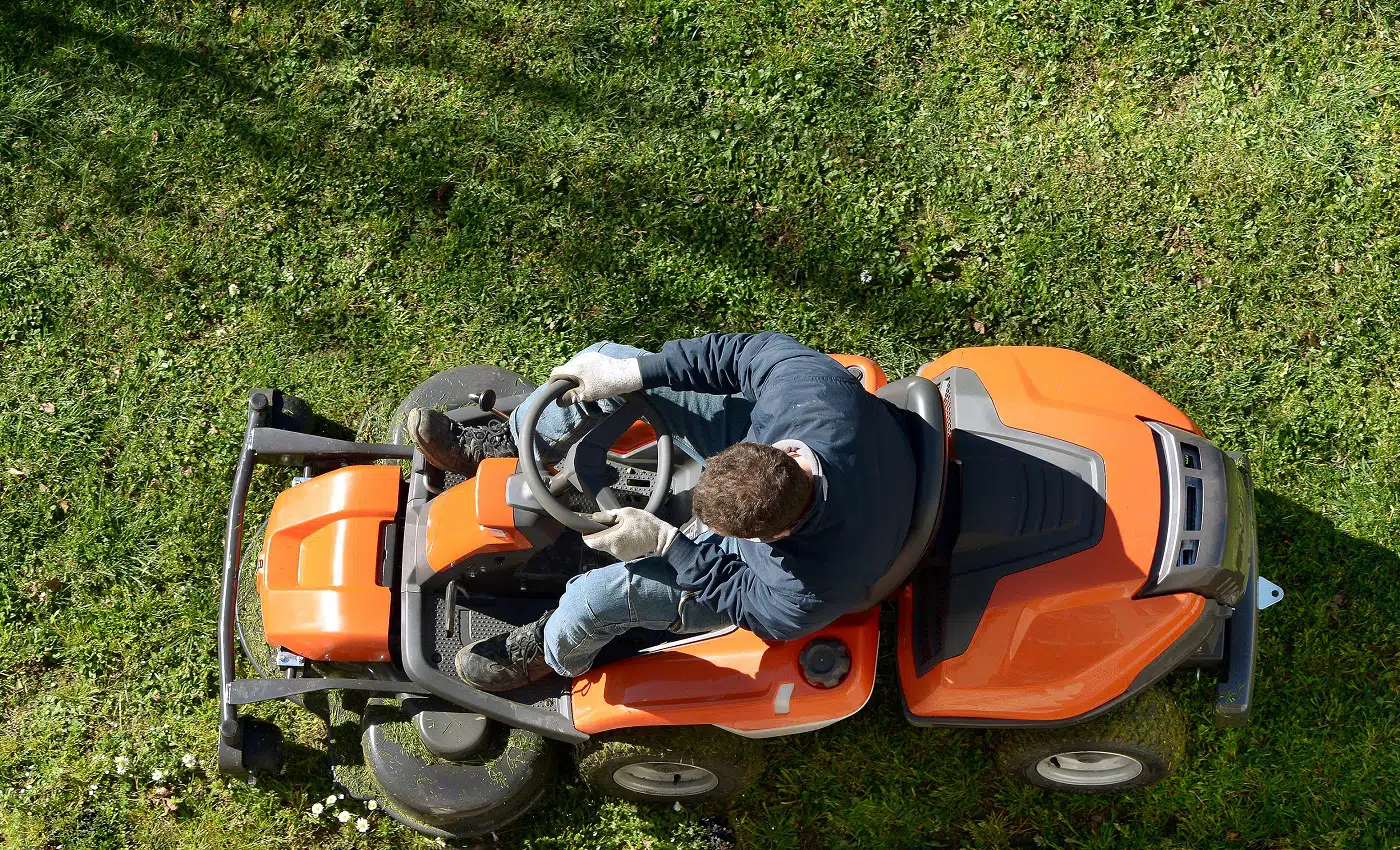 Are you unhappy with the unevenly cut grass on your lawn? In all probability, you are still using an average lawn mower.
Well, it's high time you switch over to an advanced riding lawn mower. Its powerful engine and efficient cutting deck will help you achieve a smooth and beautiful lawn with minimum effort.
But then, the obvious question is, which will be the best one for you? After all, there are hundreds of options available out there and choosing the ideal one becomes difficult.
Hence, we help you out by presenting this carefully curated list of the 9 best riding lawn mowers right now. Also, each option has its pros and cons mentioned, which will further help you in making a wise decision.
So, without further ado, let's dive into the reviews.
Best Small Riding Lawn Mower
John Deere is known for its range of intelligently designed lawnmowers that offer efficient performance. And this model from the brand is no different as it makes mowing almost effortless and gives you the results you desire. You can use it both for small and large-scale mowing purposes.
Why Did We Like It?
To begin with, this mower delivers perfect results both on small and large fields and gardens, cutting through high grass blades comfortably. And you will have no problem getting your job done even during rainy days as it performs with the same efficiency.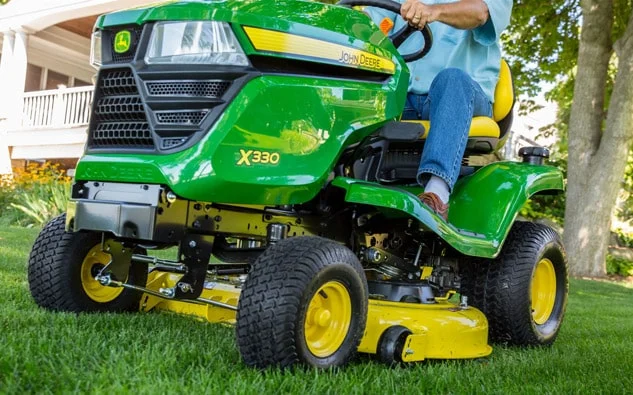 Moving on to its maneuverability, its Cyclonic engine produces 22 hp horsepower that is transferred to the wheels through K58 automatic transmission. Thus, it needs no extra gears, making it much easier for you to operate the mower. Also, the engine offers a speed of 5.8 mph and moves at 3.5 mph while reversing.
Long story short, it ensures that you get quicker results with less effort. You will also like the turning radius of just 0.4 m, which makes it very agile in small gardens though it has a width of 38.5 inches and is 72 inches long.
Its large width also gives it the ability to mow extensive fields with maximum precision. And by attaching a mowing deck, you can increase its width substantially. Additionally, this mower has 3 hitching points where it uses Cargo Mount attachment systems, allowing the use of a large array of attachments.
What Could've Been Better?
The only issue we had was with the fuel system of the mower. We often found that it took 3-6 turns of the key and re-choking the carburetor to restart after we turned it off. To deal with this problem, you can try turning over the ignition and then choking the carburetor.
Pros
Delivers perfect results for both small and large areas

Mows extensive fields with maximum precision

Allows the use of a large array of attachments

Easy to operate
Cons
May take longer to restart
The next product in line is this MZ61 Riding Mower from Husqvarna which offers commercial-grade performance. It is also equipped with amazing ergonomics that allow easy and convenient operation.
Why Did We Like It?
This machine offers quite a few impressive features that are worth explaining, so let's get started. What appealed to us the most was, of course, the excellent cutting width of 61". It made sure that large portions of the field were mowed with minimum passes, and that too, with utmost accuracy.
Plus, the commercial-standard hydraulic system and heavy-duty steel frame of the mower together offer an extraordinary mowing experience. The latter also consists of an 11-gauge steel cutting deck which facilitates effective collection. As such, this mower is equally useful for all your property maintenance needs.
Furthermore, the mower provides really precise maneuvering, thanks to the hydraulic wheel drive with 0° turn radius. Thus, you can rotate the mower around its own axis, without having to stop in the middle of a cut.
And that's not all; this machine facilitates a comfortable steering experience with the help of rubber isolators and ergonomic seats and controls. While the isolators reduce fatigue by separating the rider from the frame, the seats make your ride for extended shifts quite comfortable. Lastly, the controls make on-the-go adjustments and steering very simple. 
What Could've Been Better?
We have no complaints regarding the efficiency of this mower as it gets the job done with utmost precision and effectiveness. However, since our lawn was not very smooth, initially we had one of the rear wheels of the mower spinning and tearing out a chunk. You can rule out this possibility by steering the mower a bit more carefully and not too fast.
Pros
Mows large sections with minimum passes

Facilities effective collection

Provides comfortable steering experience

Offers precise maneuvering
Cons
Rear wheels may spin and tear out a portion of rough fields
If you are looking for a mower that requires minimal maintenance yet offers efficient performance, this model from Husqvarna will be a great choice. It is operated by pedals and provides a power output of 24 hp.
No products found.
Why Did We Like It?
As for its performance, we were absolutely impressed with how the mower ran for hours and cut grass with utmost efficiency. Behind this "magic" is its air induction mowing technology, which draws air from the top and bottom of the deck. This improves grass lift and also delivers a superb cut.
Also, it features a fast transmission controlled by pedals and hence requires less power to drive but cuts grass with more power. The 48" wide reinforced 13-gauge steel deck helps to deliver premium performance and keeps your lawns and gardens in the perfect shape.
Further, it is quite easy to get the mower operating, thanks to its automatic choke. All you have to do is turn the key once, and you are all set for yet another spectacular mowing experience. Besides, this machine comes with a 3-year warranty on the whole, plus a 10-year warranty on the cutting deck. 
What Could've Been Better?
We found the filter and oil drain tube to be harder to access than the old models of Husqvarna. In the old system, these parts could be accessed simply by lifting the hoof. However, in this model, a plastic panel is present in front of these parts and a retaining clip needs to be removed to get behind.
Pros
Keeps lawns and gardens in perfect shape

Improves grass lift and delivers superb cut

Automatic choke makes operation easy

Requires less power to drive
Cons
Filter and oil drain tube are hard to access
Our next pick for you is this lawn mower from Ryobi which makes for an ideal green alternative to traditional gas-riding mowers. Besides being a more eco-friendly option, it also offers performance and power that very few products can compete with.
Why Did We Like It?
What we liked most about this mower was that it was powered by 100 Ah batteries instead of gasoline. Thus, neither do you need to fill oil into the engine, nor do you have to withstand gas fumes? More importantly, each charge provides a run-time of 2.5 hours, which is enough for mowing as much as 2.5 acres of land.
Added to this, the machine comes with a 2-blade deck that is 38" wide and also has 12 position manual deck adjustments. So, ultimately you get a clean and level cut on your home lawn, which would impress any visitor.
Besides, this mower has a special quiet cutting feature that maintains the intensity of the cutting sound to 70 dB and hence makes this unit very quiet. As such, you can mow your lawn without disturbing any of the neighbors.
Furthermore, features such as LED headlights, cruise controls, and USB phone chargers make mowing as convenient as it can be. 
What Could've Been Better?
This machine will be a great choice for giving your home lawn a complete makeover. Though, we felt its tires could've been better, as they developed leaks within a year of use. This is probably because they don't have an inner tube. This problem can be dealt with by putting tubes in the tires along with liners between the tire surface and the tube.
Pros
Doesn't require gasoline for operating

Gives your home lawn a clean and level cut

Each charge provides a run-time of 2.5 hours

Produces minimal sound
Cons
Tires could've been better
This hydrostatic riding mower looks similar to the YTA24V48 model from the same brand but offers greater efficiency and more advanced features. It is yet another gasoline-powered mower and has a compact size, which makes it much easier to maneuver as well as store.
No products found.
Why Did We Like It?
First and foremost, this mower comes with a superior-quality 24 hp Briggs and Stratton engine that offers a powerful performance. Also, this engine has a ReadyStart feature, which makes it quite easy to start.
As for maneuvering and control features, it consists of a foot pedal-operated hydrostatic transmission facility that lets you change direction and speed as you want. So, you can keep both hands on the steering wheel to facilitate optimum driving control. Ultimately, this helps you to achieve just the performance that you desire. Besides, the cruise control lets you keep a consistent speed in rough terrain.
On top of all these advanced features, the electric cutting deck engagement lets any user turn on the deck just with a switch on the control panel. And you get a consistent and clean cut every time, thanks to the air induction mowing technology with which the deck operates. 
What Could've Been Better?
If you have thick grass on your lawn, it might take much longer with this machine to mow it down. That said, the results are as efficient as that in the case of lawns with thinner grass. The time taken can range from two to three months, so you just need to be a little more patient to witness the fruits of your labor.
Pros
Engine offers a powerful performance

Allows you to control speed and direction efficiently

Turn on the cutting deck just with a switch

Provides cleaner and more consistent cuts
Cons
May take longer to cut thicker grass
The Ariens 915213 mower is a perfect choice for dealing with stubborn lawns and overgrown yards. This is something that puts the zero-turn mower a step ahead of other products. Also, given the speed and power it has, it could do fairly well in mowing large lawns too.
No products found.
Why Did We Like It?
Straight off the bat, this machine comes with a Kohler 6000 twin-cylinder engine. This powerful engine is the secret behind its ability to cut more stubborn and overgrown grass. Also, the mower offers a speed of up to 6 mph, which is ideal for long and flat stretches of the yard.
Coupled with this amazing power source is an electric start hydro transmission feature. As such, this machine is one of the most efficient as well as easy-to-operate options on our list. Note that it also puts out very little vibration and noise while operating, which lets you carry out the job without any disturbance.
Moreover, the seat of the mower is adjustable, high-back, and padded, so that you have the most comfortable mowing experience. And the three-way adjustable armrest is the cherry on the cake! 
What Could've Been Better?
This model works perfectly to make your lawn as smooth and beautiful as you want it to be. However, being a bit bulkier than other models, this mower will need more storage space. So, it may not be an ideal choice for small homes.
Pros
Cuts the toughest and most stubborn grass

Great choice for long and flat stretches of yard

Provides a comfortable owing experience

Easy to operate
Cons
Is a bit more bulky than other models
Poulan Pro is a trusted brand among gardening enthusiasts, thanks to its range of high-performing lawnmowers. This model from the brand combines durability, performance, and comfort in one place, which makes it another excellent choice for all lawns, gardens, and fields.
No products found.
Why Did We Like It?
We found the maneuverability of this product to be the most striking among all its features. What does the trick be its dual wheel hydro transmission control. You can go backward, left, forward, or right by controlling each wheel independently. And for this, you just need to move your arms forward and backward.
Another great benefit of its maneuverability is that your mowing time is reduced to half. This may vary with the size of the yard, but there will still be a noticeable reduction in the time you are spending on your mower. That's because you can easily and quickly move around obstacles like houses and trees or change direction as you need.
Besides, as we mentioned earlier, this product is one of those select few that offer highly durable performance. Interestingly, it's an outcome of the reduced mowing time, as you don't require to work with your mower as long as ordinary products.
This creates less wear and tear and makes the Poulan Pro outlast many other riding mowers. Also, this mower lets you adjust the cutting height by six preset levels between 1.5" and 4".
What Could've Been Better?
Being a zero-turn mower, it is not ideal for steep or hilly slopes or yards. That's because it doesn't have much traction and hence turns faster on tight turns. Ultimately, you don't get the stability that is required for mowing on hilly slopes.
Pros
Offers great maneuverability

Reduces mowing time to half

Lets you adjust cutting height by six levels

Is highly durable
Cons
Not ideal for steep or hilly slopes
As a brand, Snapper is known for its lawn mowers featuring a streamlined design and easy convertibility and operation. This product from the brand is highly versatile and offers a fairly large cutting width of 48".
No products found.
Why Did We Like It?
What we loved the most about this mower was its set of features inspired from commercial products. These include the fully blended steel frame, easy access maintenance points, and a thick-walled front axle. Together, these features ensure that you get a perfect cut and great durability as well.
Another significant feature of this mower is the super-convenient cargo bed, which makes it more versatile than many other products. It offers added utility when you are out on the lawn by helping you carry tools, flowers, and any other implements that may be needed.
Besides, the machine has a heavy-duty mower deck with foot-operated lift that helps lift it easily. You can also adjust the mower deck height between 13 positions from 1.5 to 4.5 inches. And together with the high-performance Briggs & Stratton Professional Series engine, the deck gives you the power to keep mowing for years.
What Could've Been Better?
Although the machine will give you great results most of the time, in some cases the carburetor might not work properly. So, to be on the safer side, you should get it cleaned at least from the manufacturer within the warranty period.
Pros
Offers a perfect cut each time

Strong and durable

Cargo bed makes it highly versatile

Mower deck height can be adjusted
Cons
Carburetor may be problematic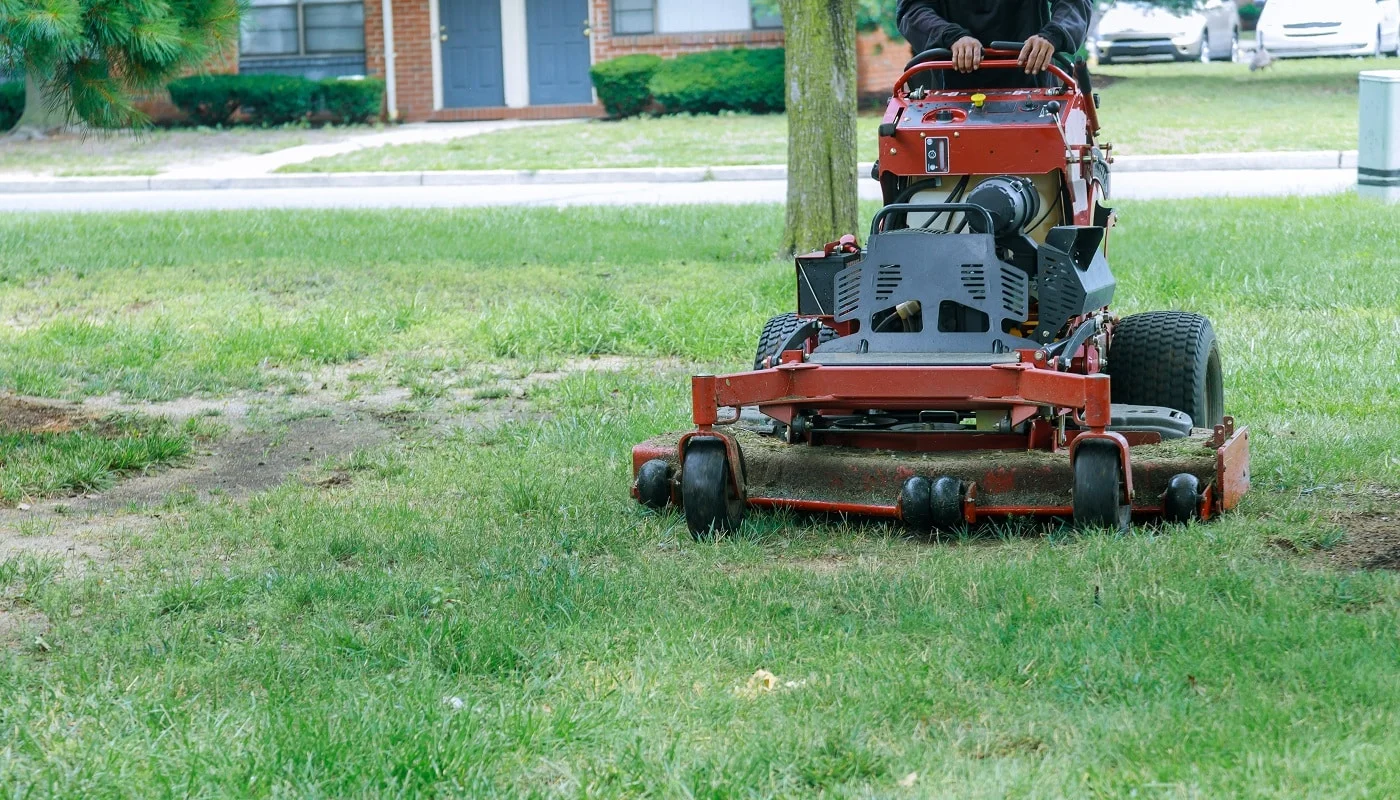 Small Riding Lawn Mower Buyer's Guide
Choosing the right lawn mower for your yard, lawn or garden is not difficult if you follow the right approach. Keeping in mind some essential factors would help you purchase a mower that offers the desired performance.
Transmission
Riding lawnmowers with automatic transmissions are much better than those with manual system. That's because the digital controls installed in those machines help you to shift up and down automatically when you step on their pedal.
However, the newer models use hydraulic transmission, which is even better since it doesn't need regular replacement. Note that if you have a smaller yard, choosing a mower with an automatic transmission will always be better.
Cutting Deck
This is another essential factor that should always be checked while selecting an ideal lawn mower. Note that a bigger cutting deck may not always mean that the machine is better. It signifies the width of the grass cut during each pass. Make sure that you consider the size of your lawn to ascertain whether a particular model is the best one to go for.
Type
There are several types of lawnmowers available nowadays, so keeping in mind the type that will be suitable for you is important. Maintaining larger lawns would need much more than just simple cutting. And in that case, a heavy lawn and garden tractor will be the best for you.
 Also, personal preferences play an important part in this regard. For instance, if you are looking to get the job done faster, then a zero turn mower will be ideal for you. Whereas, if comfort is more important for you, a rear engine mower will be great.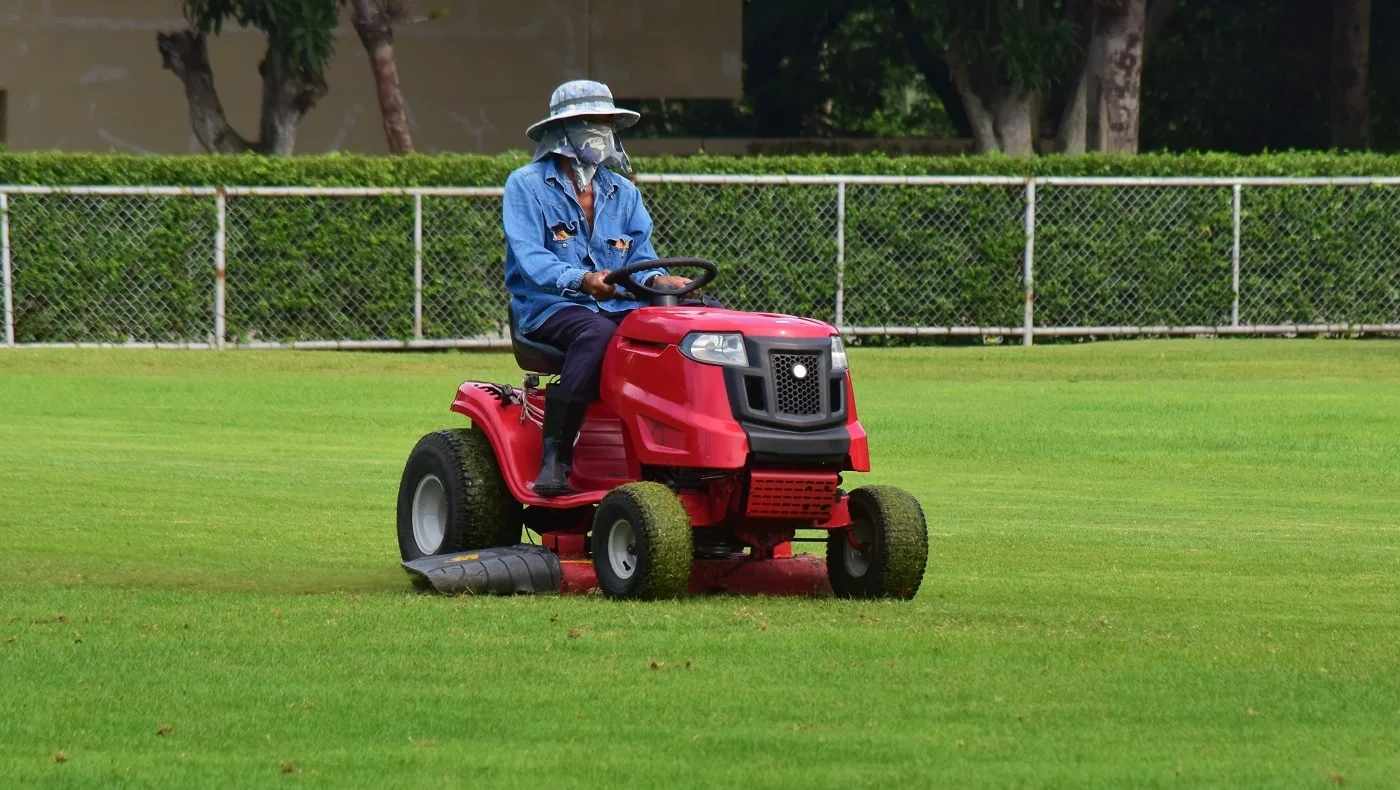 Verdict
With this, we come to the end of this guide and we hope it will be easier for you to choose the best riding lawn mower now.
But before we sign off, we would like to recap our favorites from the list. If you are specifically looking for an efficient zero-turn mower, the Poulan Pro Riding Mower will be a great option to go for.
However, if you have no such preferences and are just looking for a high-performing model, the Husqvarna YTA24V48 tractor mower will be the best one for you.
Let us know whether you agree with our verdict in the comments section below.
Till next time! Adios!
Related Articles
How to Sharpen Reel Mower Blades?
5 Best Self-propelled Lawn Mowers Right Now
The 5 Best Lawn Mowers for St Augustine Grass Right Now
6 Best Electric Start Self Propelled Lawn Mowers
Best Lawn Edging for a Legendary Garden
4 Best Walk Behind Brush Cutters | Buyer's Guide
3 Best Yard Hydrant | Buyer's Guide and Reviews
5 Best Stick Edger | Buyer's Guide
11 Best Battery-Powered Lawn Mowers  
13 Best Lawn Tractor Batteries  
Zero Turn Vs Riding Mower, Differences & Best Solution  
Who Makes The Best Lawn Mower Engine Today?
How to Clean the Lawn Mower Carburetor Without Removing It?
13 Best Brushless Cordless Lawn Mower
13 Best Potting Mix For Orchids