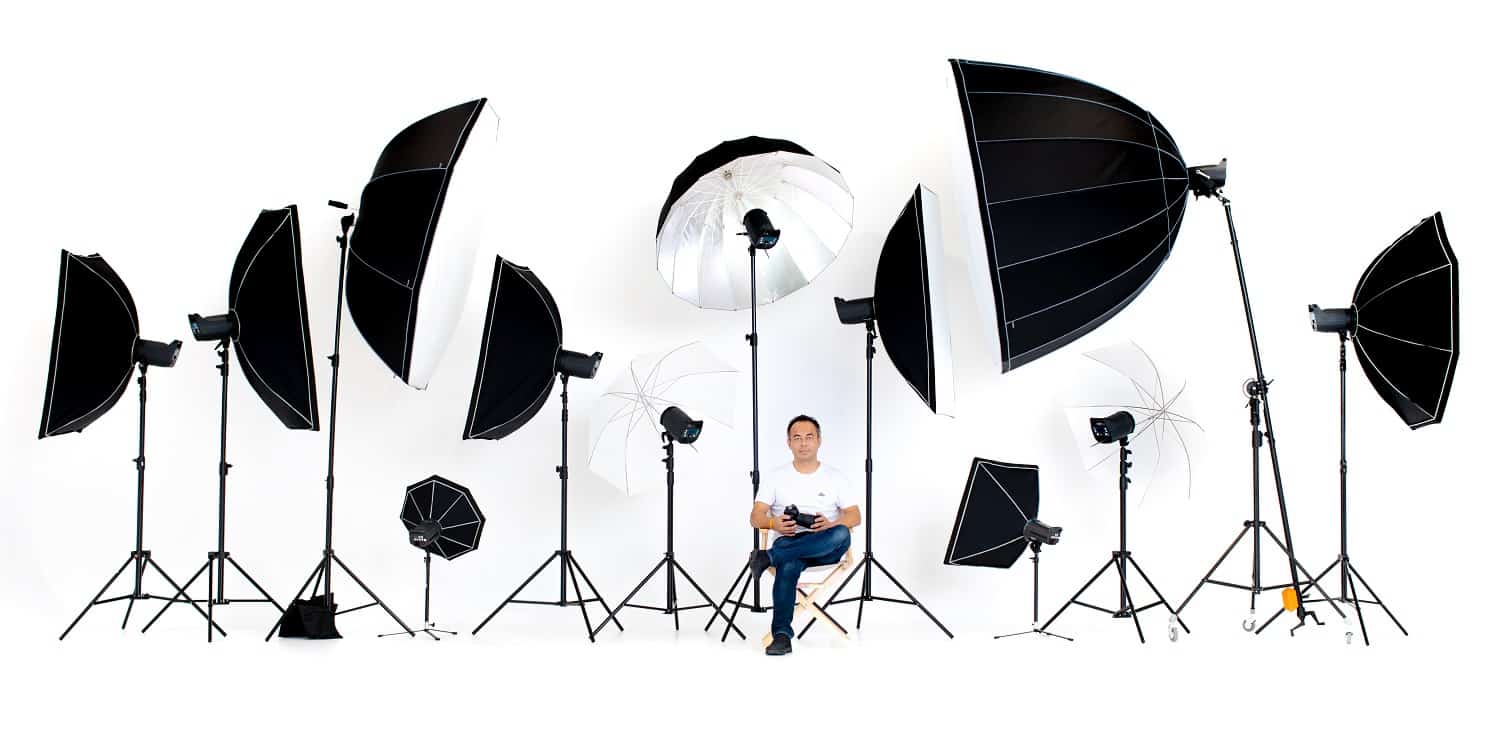 Tired of missing out on the perfect shot due to the overexposure or underexposure of light? It's time you invested in a quick fix for both these issues.
All you need is a speedlight softbox for diffusing the light and creating the ideal shooting environment. But here's where the main problem arises.
The market is flooded with a wide range of options to choose from. Some of these units are suitable for outdoor shoots while the others work well for studio photography, close-up shots, portraits, and more.
Having said that, finding the best light diffuser that fulfills your requirements is a challenging task. So, what should you do? Well, for starters, don't worry!
After extensive research, we have shortlisted and reviewed the 8 best softboxes for speedlight for you to consider. Furthermore, the buyer's guide provided at the end of this article will surely help you make an informed choice.
So, without further ado, let's dive in!
Top Softboxes for Speedlight
IMAGE
PRODUCT
DETAILS

Neewer Octagon Softbox Speedlight

Available sizes: 32'' or 47''
Octagonal in shape
Made using aluminum and nylon

VIEW LATEST PRICE →

Westcott Octagonal Rapid Box

Size: 26''
Includes tilting brackets and built-in speed ring
Flash mount

VIEW LATEST PRICE →

Altura Photo Flash Diffuser Light Softbox

Available sizes: 6''x5", 9" x7", and 11''x8"
Two layers of diffusion
Compatible with shoe-mount flashes

VIEW LATEST PRICE →

Neewer Round Magnetic Ring Flash Diffuser Softbox

45cm max and 13cm inner diameters
Magnetic ring diffuser
Ideal for portrait and macro photography

VIEW LATEST PRICE →

GODOX Mini Softbox Kit

Available sizes: 60cm x 60cm and 80cm x 80cm
Includes S-type speedlight bracket
Ideal for studio photography

VIEW LATEST PRICE →

Waka Flash Diffuser Lightbox

Includes 8" octagonal and 8''x6" rectangle softboxes
Universal flash diffuser kit
Made with premium-grade materials

VIEW LATEST PRICE →

Godox Umbrella Octagon Softbox

Includes two octagonal umbrella softboxes
Size: 95cm
Compatible with flash and S-type brackets

VIEW LATEST PRICE →

Fotocreat Collapsible Strip Light Softbox

Size: 20cm x 90cm
Comes with a detachable grid
Weighs 7.2 ounces

VIEW LATEST PRICE →
Neewer, a brand committed to offering premium equipment to photographers, music lovers, and videographers worldwide, comes forth with this octagonal softbox speedlight. Designed to meet the needs of every photographer, the softbox offers broad compatibility and exceptional functions at the most affordable price, standing out as our topmost recommendation.
Why Did We Like It?
In our opinion, the Neewer Softbox is the best option for any amateur or professional photographer. Why? Well, first things first, it offers wide compatibility, making it a valuable choice for most photographers. It can be used with the E27 single lamp holder, flash brackets, and studio flashes with an umbrella hole.
Moreover, the unit is designed with a silver reflective interior and a black cover to diffuse flashlight for better lighting and no light leakage. This ensures stunning photography results while shooting both indoors and outdoors.
Not only that, but we were also impressed by its sturdy and portable design. Built using high-quality nylon for uniform light distribution, and an aluminum shaft, the softbox is both durable and lightweight. 
You can also fold it like an umbrella when not in use for easy storage. On the other hand, the two-way zipper design makes it easy to pack while traveling. Furthermore, it comes with a powerful fastening tape to help you install and use it with ease.
What Could've Been Better?
There's no doubt that the Neewer Softbox deserves the number one spot on our list! However, we did face issues a few times while spreading it. The umbrella jammed up, making it difficult to open. This is not a significant concern, but you need to be careful to prevent it from breaking.
Pros
Durable and sturdy

Lightweight design

Easy to install

Easy to adjust the angle

No light leakage
Cons
Umbrella may jam up while opening
Our next option is yet again an octagonal softbox created by Westcott, a brand known for its innovative lighting solutions for photography, videography, and filmmaking. Equipped with a built-in speed ring and tilting bracket, it offers the fastest setup and tear-down facility for convenient use, especially during travel.
Why Did We Like It?
Featuring a robust metal framework, the Westcott Rapid Box is a reliable investment option that will surely last for years to come. Other than this, it comes with a nylon diffuser cloth with a black exterior and silver reflective interior. This, in turn, ensures soft and even lighting during both outdoor and studio photo shoots.
In fact, the unit is significantly easy to carry around, thanks to its lightweight and collapsible design. Simply fold it like an umbrella and pack it in your backpack, and you are good to go. Furthermore, you can set it up within minutes once you reach the location of the shoot. It comes with built-in mounting hardware that makes it easy to mount on, using adjustable flash brackets. 
That's not all! We were also impressed by its wide compatibility with some of the most popular camera brands, including Nikon, Sony, and Canon. This makes it an ideal choice for most photographers and videographers.
What Could've Been Better?
Despite ensuring the best portrait quality, the diffuser is not the strongest, especially for larger portraits. Apart from this, we also noticed that the shaft of the unit sometimes blocks the light, leading to underexposure during outdoor shoots. That being said, you won't face this issue, provided you set it up correctly.
Pros
Robust and durable

Compact and lightweight

Collapsible design

Fully adjustable flash mount

Ensures the quickest installation
Cons
The diffuser is not strong for large portraits

Shaft blocks light
Being a specialist in accessories for all types of cameras, be it Canon, Nikon, Pentax, or Olympus, Altura Photo is a trusted name in the world of photography. On that note, we decided to introduce you to this flash diffuser light softbox from the brand, using which you can take your photos to the next level.
Sale
Why Did We Like It?
The Altura Photo Softbox is a top-selling light modifier that fits most on-camera shoe-mount flashes. So, compatibility will never be a concern with this unit. From Canon to Nikon to Sigma, it is an ideal option for a variety of speed lights.
Apart from wide compatibility, the softbox ensures portability, thanks to its compact and collapsible design. You can easily fold and store it in the carry pouch, which is included in the package. This makes it the perfect accessory for your gear bag while traveling. 
Not only this, but it also features two layers of diffusion for an improved quality of light. Once you fit it securely on the flash using the elastic velcro strap, it's pro-grade reflective silver interior will maximize light output.
This makes it suitable for different types of photography, including macro, food, indoor, and portraits. In fact, it also manages to enhance picture clarity and quality.
What Could've Been Better?
Although the softbox is built using high-quality and durable materials for long-lasting use, we found its sides to be a bit flimsy. And the lack of sturdiness makes it prone to collapse during shoots. However, we didn't come across a situation as such. The unit may be floppy, but that doesn't compromise on overall performance.
Pros
Digital Goja 90-day satisfaction guarantee

Rubberized mounting grip

Durable construction

Universal compatibility

Portable design
As you already know, Neewer has dedicated itself to bringing you pro-quality photography equipment at the most affordable prices. For this reason, we come forth with yet another innovation from the brand. Best for intense close-up shots, the Neewer Magnetic Ring Softbox converts speedlights into ring flashes for perfect lighting.
Why Did We Like It?
Let's begin by discussing the compatibility of this round ring diffuser softbox! That being said, you will be pleased to know that it fits most DSLRs that come with standard or telephoto lenses and flash combos.
Simply place the camera in the center hole with the lens pointing through it. The nylon straps ensure that it sits securely, so you need not worry about a lack of stability. In fact, it also comes with a thread to fix and adjust the speed light. 
As a result, it creates a ring of soft and uniform light to fill in the shadows around the subject. This makes it highly useful during macro and portrait photoshoots. What's more? Well, the unit features a magnetic iron framework for sturdiness. Not only that, but it is also easy to fold and carry around for outdoor shoots.
What Could've Been Better?
The Neewer Ring Softbox is an excellent choice for close-up shots and portraits. However, we faced issues while adjusting the camera. And honestly, this didn't come as a surprise! Anyone will find it cumbersome to adjust the settings with a big doughnut-shaped ring around their head. For this reason, we suggest using the unit with a tripod.
Pros
Universal compatibility

Ensures perfect lighting

Foldable and portable

Robust and sturdy
Cons
Issues while adjusting camera settings
Godox is a photo equipment manufacturer that deals with the production of camera lighting and studio lighting systems like this mini softbox kit. Equipped with all the necessary accessories required for achieving creative lighting effects, this unit is the best choice for studio photography.
Why Did We Like It?
As you already know, this mini softbox kit from Godox is equipped with all the essentials required for flash studio photography. This includes a superior S-type speedlight bracket, which is small in size and easily portable.
In fact, you won't even have to worry about assembling or disassembling it. Simply mount all the lighting accessories, including the softbox, reflector, and beauty dish using the Bowens mount. It ensures stable and secure support as well as perfect lighting. Moreover, the mount is easily adjustable, so it fits all speedlights of different brands, even the Godox AD-360. 
Apart from being pretty easy to set up, the black cover and silver reflective inner surface of the softbox helps in ensuring uniform lighting. You can also adjust the lighting direction using the supported handle, and achieve desired photography results.
What Could've Been Better?
The Godox Mini Softbox Kit is probably the best deal you can consider going for. However, the only issue we had with it was related to durability. Now, this doesn't mean that the unit is built poorly. Since the bracket is made using plastic, it may not last through the years, especially if it is not kept well.
Pros
Easy to set up

Broad compatibility

Easily portable

Lighting can be adjusted
With the ultimate goal of customer satisfaction in mind, Waka has introduced a striking offer that no photographer should ever miss out on. It brings you two high-quality and reliable diffuser light boxes at an incredible price to meet all your requirements. So, let's see what else it has to offer!
Why Did We Like It?
The price of this diffuser lightbox is what caught our attention from the get-go. And the best part is that you get not one but two softboxes of different shapes at this price. Impressive, right? Well, It doesn't end here!
Both these units are made using premium quality material for enhanced durability. The outer black nylon cover and removable inner silver PVC diffuser make the light softer for better photography results. Apart from this, they come with stretch openings, allowing you to connect them to most shoe-mount flashes. 
Having said that, the diffuser kit is compatible with most brands of speedlights, including Nikon, Canon, Pentax, and Olympus, to name a few. You can use the velcro straps around the flash heads for securing the speedlight in position. Furthermore, the diffusers are easy to fold and store in the storage pouch for ease of portability.
What Could've Been Better?
We tried mounting a Nikon speedlight on the diffuser, and the fit was okay, but not perfect. This is understandable as it is a generic one-size unit. However, we would have preferred it to ensure a better fit. That being said, it is a reliable investment option that will not disappoint in terms of performance.
Pros
Durable construction

Foldable and portable design

Comes with a storage pouch

Two softboxes at a budget-friendly price
We decided to introduce you to yet another exceptional softbox from Godox, a brand dedicated to enhancing your photography experience. That being said, the unit is equipped with an umbrella hole so that it can be used with flashes and specific studio flashes for perfect lighting effects.
Sale
Why Did We Like It?
Made using high-quality polyester silk flash cloth, this diffuser from Godox minimizes light loss and maximizes its spread. Its inner reflective silver surface and translucent cover softens the light stream, making it more uniform. Additionally, it removes shadows in order to create the perfect shooting environment.
All you need to do is set it up whenever and wherever required, which is fairly easy, thanks to its collapsible and lightweight design. In other words, you can carry it around to various shoot locations conveniently by storing it in the included bag. In fact, Godox provides two storage bags for storing both the softboxes. 
That's not all! The diffuser offers broad compatibility, making it an ideal option for most photographers or videographers. Having said that, we were able to use it with flash and S-type brackets. Not only that, but it can also be used with most studio flashes because of the umbrella hole.
What Could've Been Better?
We consider this umbrella honeycomb softbox from Godox to be a noteworthy option on our list. However, the only issue we had with it was related to its size. Once we set it up, it took up most of the room space. So, it may also take up a ton of space in a small studio.
Pros
Lightweight design

Easy to install

Includes two carrying bags

No leakage of light

Superior build quality
Cons
Can take up a lot of room space
Finally, we come to the last but not least option on our list from Fotocreat. This collapsible flash diffuser is capable of converting speedlights into strip lights within seconds. For this reason, we consider this unit to be the best choice for portraits and still photography.
Why Did We Like It?
As you must have already noticed, the shape and design of this softbox make it stand out from the rest. Equipped with a detachable honeycomb grid, you can adjust the intensity of the lighting based on your requirements.
Apart from this, it provides effects such as backlight, rim light, edge light, and more. This makes it perfect for portraits, people, and still photography. In fact, we were also quite impressed by the quality, uniformity, and softness of light provided in various locations without the need for additional power supplies. 
Being lightweight and compact in size when folded, you can carry it around with ease. Furthermore, when used with a tripod or extra boom, it can work both vertically and horizontally. You can also combine it with another unit to gain a reach of almost 2m.
What Could've Been Better?
This strip light softbox from Fotocreate is in no way inferior compared to the other options on the list. However, we would have preferred it to be a bit longer with an additional compartment on top for dual speed lighting. Apart from the minor flaws related to its design, we couldn't find any other downside to this top-notch unit.
Pros
Lightweight and portable

Uniform and high-quality lighting

Lighting intensities can be adjusted

Honeycomb grid for effects
Cons
Minor flaws in the design
Softbox for Speedlight Buyer's Guide
By now, we hope that you were able to narrow down your options. But even then, choosing a softbox that best meets your photography requirements is easier said than done.
For this reason, we have decided to come forward with this buyer's guide to further help simplify your selection process. Read on to know about the critical factors that need to be considered when buying a speedlight softbox.
Shape and Size
Softboxes are available in various shapes, including octagonal, square, hexagonal, round rings, and long strips, to name a few. Each of these shapes can be applied to specific subjects in order to create perfect lighting effects.
That's not all! Softboxes are also available in a wide range of sizes. That being said, a larger unit ensures softer light and is suitable for capturing group photos or full-body shots. On the other hand, its smaller counterpart can be used with a handheld camera for capturing portraits or close-up shots.
For outdoor shoots, we would recommend a collapsible unit that is easily foldable. The compact size, when folded, will help you carry it around with ease.
Compatibility
Another important factor that plays a vital role in determining your purchase is compatibility. The unit you plan on buying should fit most flashes from different brands like Nikon, Canon, Olympus, Sony, Pentax, and others. In fact, a softbox that comes with an adjustable S-bracket for convenient mounting of lighting accessories is a win-win!
Material and Color
Ensure that the lightbox is made using premium quality materials so that it lasts you for the years to come. In fact, the quality of the unit also determines the quality of your shots. So, avoid choosing a softbox that will crease easily.
A speedlight softbox, featuring a black nylon cover and a reflective PVC interior ensures the uniform distribution of light. Now, for those who don't know, the inner surface of most units is white or silver in color.
Silver inner-lined options help in providing vibrant light projection with rich contrast. On the other hand, opt for a subtle white lining if you need to maintain neutral colors during a shoot.
Verdict on Best Softbox for Speedlight
If you wish to get more natural light for achieving the perfect shot, a softbox for speedlight is essential. It diffuses light, making it softer and uniform during both outdoor and indoor shoots. As a result, it fixes issues of accent shadows and overexposure.
Hence, it is a life-saver for every professional photographer or videographer. On this note, we come to the end of our informative and review-based guide to the best speedlight softboxes.
Before concluding, let's take a quick run-through of our favorites. Neewer Octagon Speedlight Softbox is our number one choice. Westcott Octagon Rapid Box is travel-friendly, while Altura Photo Flash Diffuser offers broad compatibility.
With this, we'd like to take your leave. Till next time!
Related Articles
8 Best Softboxes for Speedlight 
13 Best Light Meters on the Market Today | Buyer's Guide
The 10 Best Cameras for Photographing Artwork Right Now
Simply the Best Drones for Architectural Photography  
4 of the Best Large Format Printers for Photographers Today
7 Best Tripods for Macro Photography 
The 10 Best Cameras for Photographing Artwork Right Now
5 of the Best Tripods for Real Estate Architectural Photography
7 of the Best Cameras for Architectural Photography Today