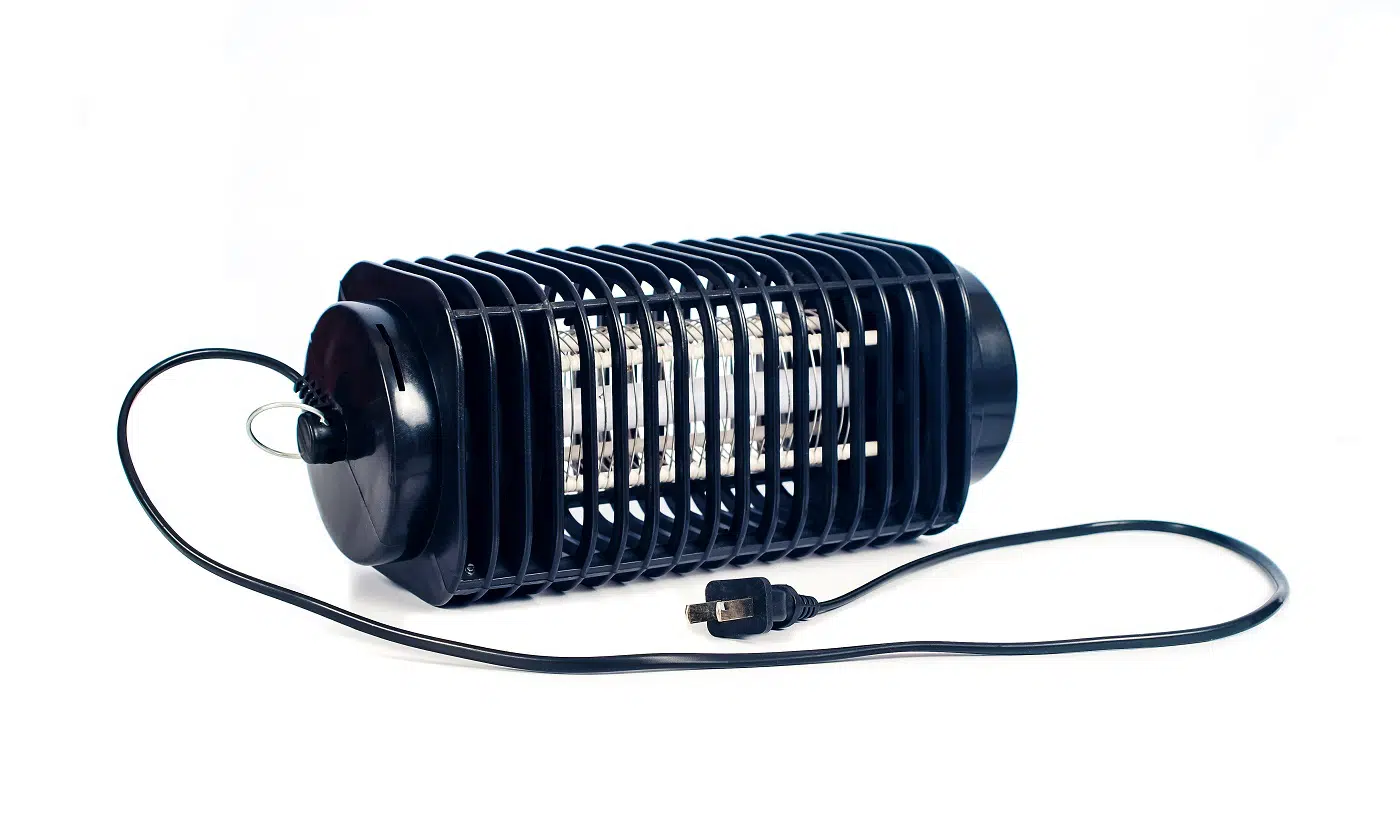 Say you're lounging indoors or outdoors, and an irritating hum starts near your ears. You swat away at a bug, only for it to return. 
We've all faced this problem, especially in certain seasons, when there are more insects around. Bug sprays and manual swatters are just not viable options. Therefore, you need solar bug zappers. 
These devices repel insects and those that get too close end up dead. Effective and compact, there are several zappers available in the market. If you're doubtful about which one suits you the best, we've got you covered. 
Check out the functionality and features of these zappers as we walk you through their upsides and downsides. You've come to the right place and we guarantee that by the time you're done, you'll be armed with enough knowledge to make the right choice. 
So, let us dive into the details without any further delay.
Top Solar Bug Zappers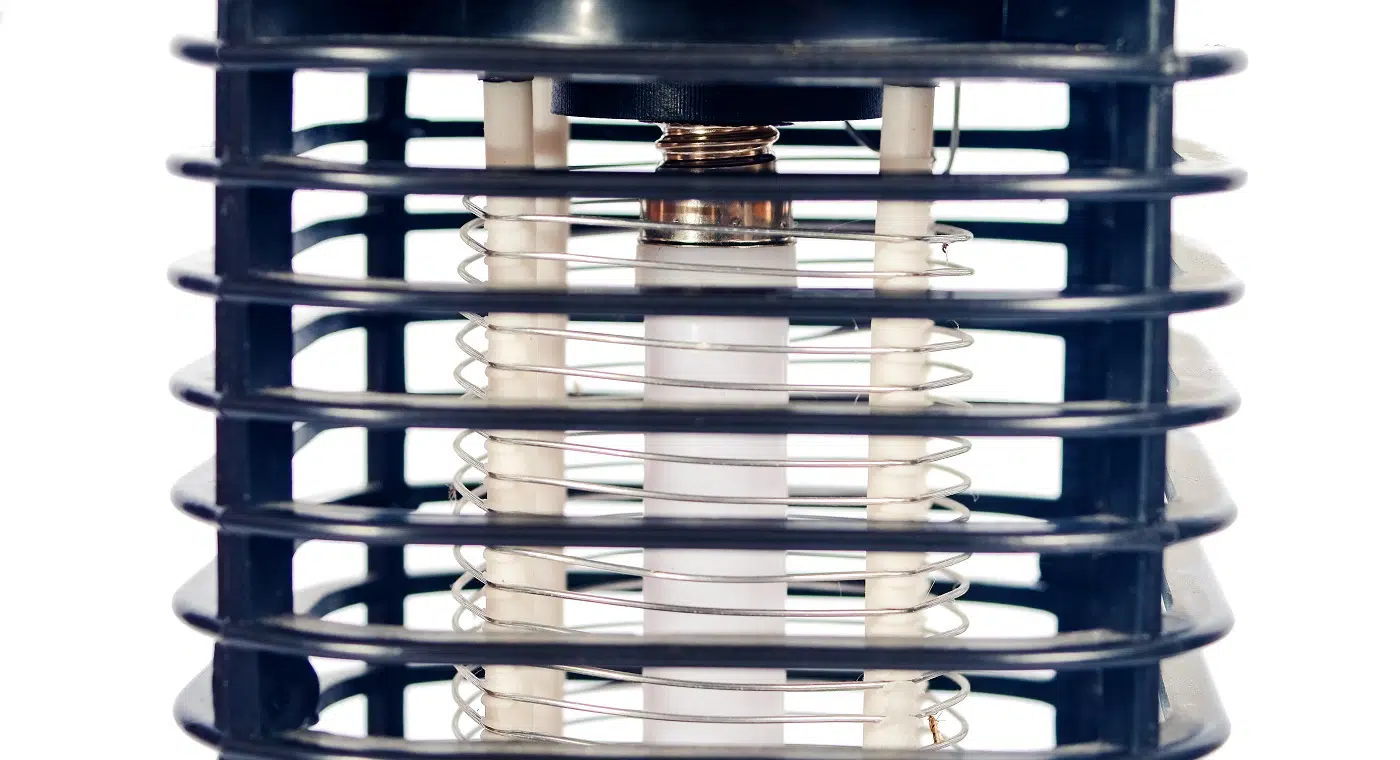 Expertise in controlling pests comes together with innovative outdoor styles in this insect killer. Using power from the sun, this product works from dusk to dawn to kill flying insects. Thanks to its flickering LED, it even gives off the effect of an open flame minus the risks of one.
Why Did We Like It?
While standard burning torches have hazards like inhaling fuels or creating pollutants, you can think of this as a green yet effective bug control tool. Forget refuels and emissions, as this solar-powered bug killer does its job with ease. 
Thanks to the UV LED light, flying insects are attracted to this device and quickly taken care of, so you can enjoy your outdoor seating arrangements. It also comes with a catch tray, so bugs don't fall on the ground and dirty your lawn or garden. 
As you can probably understand, it is meant for outdoor use. Accordingly, it is made of weatherproof materials, so you don't have to carry it inside every time it rains or snows. 
Its durability is only matched by its high functionality, making this a favorite among several users. Sturdy materials are used, ensuring longevity as well. Now, you can be environmentally conscious and still save yourself from bugs by choosing this amazing bug killer. 
What Could've Been Better? 
While these lights have good bug-zapping functions, users have noted that it needs to be left in the sun for at least five hours to work properly. While locations can be changed to ensure it gets the light that is needed, manufacturers could also improve the panels used for better absorption. 
Pros
Environmentally friendly

Suited for outdoor use

Easy to install

Efficient design
Cons
Solar panels could be better
As a portable lamp and bug-killing unit, this product outdoes itself. It is highly effective and well-suited for indoor as well as outdoor use. You can bid your bug problems goodbye while choosing an environmentally friendly option that won't let you down under any circumstances. Get instant results anywhere with the PIC solar bug zapper and portable lantern.
Why Did We Like It? 
Bugs are drawn in by the UV lights and once attracted, this zapper quickly dispenses of them. With a 500-volt grid, it is lethal for pesky insects who might irritate you in gardens. While it has solar charging options, some users might want quicker results. Thus, a micro-USB charging point is included, but the cable has to be procured separately. 
Apart from zapping bugs, you can rely on this product to cast light as well. Thanks to its superb design, there are three levels of brightness to suit every mood and need. Since it is mostly used outdoors, the item is made of durable materials to stand the test of time. It is also weatherproof, so you can leave it out in rain or snow. 
With an easy option to hang it or place it anywhere, this portable product has quickly become a favorite among users for its extreme efficiency. 
What Could've Been Better?
Although there aren't many complaints about its functionality, some users have pointed out that the design is too compact. Manufacturers could use a larger battery but there would inevitably be a trade-off when it comes to portability. 
That said, a slightly heavier lamp and zapper that works longer might be welcome to a wider section of users. 
Pros
Portable

Suited for external use

Easy to hang

Easy charging options
Cons
Battery could have been larger
This is the long-lasting solution you need to rid yourself of mosquitoes and other insects. Built to last, this zapper is suited for different weather conditions and is meant for outdoor use. Pure Garden has ensured that a unique design is incorporated, so the product stands out in terms of functionality, therefore guaranteeing customer satisfaction.
Sale
Why Did We Like It? 
If you're looking to illuminate your garden while taking care of bug problems, then this solar light comes in handy. It is extremely easy to fix and use, and you'll find no additional electricity is needed if you only keep it out in the sun.
When fully charged, the light and zapper function well; and due to energy-saving elements, this product lasts longer too. Since it is meant for outdoor use, its build is durable, and you'll find it resistant to inclement weather including rain, frost, and snow. At the same time, their design is sleek and stylish, which makes these lights a fantastic addition in case of different outdoor activities. 
Furthermore, there are protective layers thanks to the outer grid, rendering this product safe around children as well as pets. With a rechargeable battery and steady functioning over time, it has set itself apart as a light and zapper you can rely on. 
What Could've Been Better? 
The area covered by this bug zapper could be larger. Normally, this would mean that manufacturers have to incorporate a stronger light for attraction purposes, so insects can be eliminated by the electricity grid. However, as a downside, it would make the lights a little too hot when kept in close proximity. 
Pros
Suited for outdoor use

Easy to install

Long-lasting functionality

Safe around pets and children
Cons
Area of impact could be larger
Whether you want to lend an accented light to your garden or kill pesky insects that disturb your time outside, this product is extremely handy. Now, make an environmentally conscious decision with this efficient zapper. You can completely trust its functioning and only the best quality materials are used to design it, so you'll not be disappointed.
Why Did We Like It?
You can get numerous functionalities in this compact zapper and light. Built with sturdy materials, it lasts for a long time and delivers all a user could ask for. Now, you can enjoy outdoor activities in peace while the light attracts insects so the electric grid can eliminate them. 
Thanks to its great design, you can leave this outside without fear of damage due to inclement weather conditions. At the same time, there is no additional wiring, which makes the installation process easy too. Many users don't want to pay extra and hire professionals to set up such lights. Luckily, you can just take them out of the box and plant them in the ground. 
Even its usage is simple. There is a sensor in place that turns on and off depending on the darkness. Therefore, you don't have to worry about switches at all. The cherry on the cake is the rechargeable battery, which allows users to make the most of this product. 
What Could've Been Better? 
Some users have mentioned that the light could definitely be brighter. There are instances where the garden hasn't been well-lit when using these products. Manufacturers could definitely use something with a higher voltage so as to satisfy a wider user base. 
Pros
Made with good quality materials

Easy to install

Suited for outside use

Turns on and off automatically
When it comes to multi-functionality, GutReise stands out. It is not just used for killing bugs, but the light is actually bright enough for decorative purposes, both indoors and outdoors. You can rely on its sturdy build and effectiveness to leave an impression. This long-lasting item ensures you get a good return on your investment.
Why Did We Like It? 
No matter whether you're using it indoors or outdoors, this light is handy at all times. Be it for decorative purposes or to kill bugs, you can rely on this product. On top of that, there is more than one charging option. You can rely on solar energy or use electricity if you want quicker results. 
When it comes to its actual working, you'll find the light is bright enough to attract bugs which are then killed by the 3000-volt electric grid. Users often dread this installation process, which can be completely avoided here. At most, this light has to be hung if you so wish. Moreover, there is no additional maintenance needed either. 
With a sturdy build of stainless steel, you can be sure that this product will last a long time. Even the solar panels are water-resistant, so they can be left outside. Kids and pets are safe around this product too, due to its protective net. 
Finally, thanks to a 90-day warranty, users will find their investments completely secure, which creates a sense of trust in the product. 
What Could've Been Better? 
Although users are mostly satisfied with how this product works, there have been some complaints that the battery doesn't last as long. Therefore, manufacturers could try and include more powerful batteries or have higher charge retention abilities. This would make these lights function better, making it a preferred option among a larger base of users. 
Pros
Safe around kids and pets

Suited for outside use

No installation needed

Made of good quality materials
Cons
Battery life could be better
With a stylish appearance, this lamp does not compromise functionality either. It emits a soft light but manages to attract insects and kill them, therefore ensuring you have a hassle-free time outdoors. It is made with dependable materials, making this a product you can easily trust and choose each time you have a bug problem.
Why Did We Like It? 
Despite being great at killing bugs, this product stands out because the grid doesn't get clogged. Automatically, this means that lesser maintenance is needed. It can draw insects noiselessly and dispose of them easily. Now, power-saving goes hand in hand with efficiency, as low levels of energy are needed to operate this light. 
Due to its strong battery life, you can be sure of steady functioning on a full charge. We've found that after a day in the sun, it is likely to work well all night. But, if you don't want to wait that long or plan on using it on days without sun, then it comes with a USB charging option too. 
Users don't have to worry too much about installation and use. Simply set up the light and zapper to watch it function on its own once the sun goes down. Obviously, it is meant for use outdoors, which is why this product is made of sturdy waterproof materials. So, even if there is rain, you don't need to bring the lights in. 
What Could've Been Better? 
Although there aren't many complaints about its functionality, some users have pointed out that water can hit the zapper and make a hissing sound, which leads them to believe bugs are being killed when they're actually not. Manufacturers could improve the design to protect the zapper more from exposure to water. 
Pros
Energy saving

Easy to install

The charging process is simple

Suited for inclement weather
Cons
The design could be better
If you're in the market for a solar-powered light that also doubles as an efficient bug zapper then this product is bound to catch your eye with a stylish build. Made from superior quality materials, high functionality is guaranteed. Now, you can say goodbye to your insect problems and light up your gardens with this splendid item.
Why Did We Like It? 
Since the entire process is automatic, user interference isn't needed. These lights charge on their own and turn on and off automatically due to the presence of sensors. It is designed in a way that a protective cage makes it safe for children and pets. However, there aren't any compromises on functionality, and you can be sure that bugs are easily killed by this product. 
Moreover, you'll see the design is resistant to heat and waterproof. There aren't any problems with installations either, and users have found it extremely easy to set up these lights. When it comes to illumination, it has two modes and you can adjust the brightness as needed. 
Finally, there is a 30-day return policy in place in case you don't like the product. Of course, this secures investments for many users drawing them more to this light and zapper. Overall, you will never feel let down once you install this in your garden, and can enjoy all outdoor activities without being bothered by insects.  
What Could've Been Better? 
Though this product works great, the stake could be a little higher. At its present elevation, the zapper is too close to the ground to actually attract any insects. If manufacturers increased the height of the pole, it would function much better, and therefore become more preferred among users. 
Pros
Lights turn on and off automatically

Suited for outside use

Easy to install

30-day return policy
Pure Garden has come with an easy and natural solution to light up your outdoors and take care of insects at the same time. Built to last long, these products have sleek designs and are made with high-quality materials. Guaranteed to be genuine, this unique product is all you need to enjoy your time outdoors. 
No products found.
Why Did We Like It? 
When it comes to setting up, this solar light and zapper take the cake. All you have to do is place it on the ground and you're good to go. No additional electricity or power source is needed, as the solar panels get charged from exposure to the sun.
Obviously, this means that it is meant for outdoor use, and accordingly, it is made of sturdy materials. After a day in the sun, you'll notice how the low-voltage LED light can function well throughout the night. It is made with sturdy, high-quality plastic that can withstand different seasons. 
Even the design is well thought out, and it makes these lights safe around pets and children. Functionality is obviously taken care of, but there's something to be said about setting a style statement too. It is extremely decorative and portable as well. Overall, this is all you can need to add a touch of style to your lawns while dealing with insects at the same time.  
What Could've Been Better? 
There aren't many shortcomings when it comes to this product, but some users have pointed out that they felt its light could be brighter. Manufacturers could take note and include something of a higher voltage to satisfy the demands of a wider user base. 
Pros
Easy to install and carry

Safe around pets and children

Made with good quality materials

Decorative and highly functional
Cons
Brightness of bulb could be more
This solar-powered lamp is easy to use and install, and it serves the express purpose of most buyers. You can rely on its long-lasting functionality, which is a result of superior quality materials being used. Place them anywhere and get a bright light along with an option to manage insect problems.
Why Did We Like It? 
This product caught our eye simply because it brightens up the outdoors no matter where you're using it. Be it a patio or garden, it emits a bright and warm light. But that's not all, it is perfectly equipped to handle insect problems as well. 
But, when users get this item they begin to appreciate how easy it is to install. Once the lights are up, interference is reduced to a minimum because they turn on and off automatically due to sensors being present. 
Understandably, these are meant for outdoor use. Accordingly, they are made of good quality materials and are resistant to different kinds of weather. You'll also see how these lights have good waterproofing so you don't have to carry them inside in case of rain or snow. 
Ultimately, you end up with a product that suits all your needs while guaranteeing effective functioning as well as a decorative purpose. 
What Could've Been Better? 
Most users are satisfied with these lights, but you'll notice how the light emitted isn't exactly bright. Of course, this has resulted in complaints from some quarters and manufacturers should take note about incorporating lights with higher voltage to appeal to more customers. 
Pros
Easy installation

Suited for outside weather

Solid design

Decorative and functional
Cons
Light could have been brighter
Solar Bug Zapper Buyers' Guide 
Now that you're familiar with some of the most dependable products in the market, it is time to keep certain basic factors in mind before you make your purchase. 
Functionality 
In the case of zappers and lights, you have to choose what your product is ideal for. If you intend to decorate the exteriors, then go for lights that are stylish. However, if your main aim is to deal with insect problems, then try and choose products where the zappers are powerful. 
Installation 
Again, when buying these products check whether you can easily install them. Most customers are put off if they have to seek professionals to set up these lights. But the options mentioned here can be just driven into the ground and allowed to function. In some cases, this isn't necessary either. The lights can be hung or carried, depending on the buyers' wish. 
Weather Resistance 
Since most of these lights are intended for outdoor use, it becomes necessary to check whether they're resistant to different weather factors. Try and get waterproofed lamps, or at least check to see if they're made with good-quality plastic. Then, you'll know that these products can be left outside without compromising structural integrity. 
 Final Words
As we come to a close, we will leave you with some final thoughts that will help you decide on the perfect solar bug zapper. The PIC Solar Bug Zapper is extremely easy to carry for most outdoor activities and helps keep insects at bay. But, if you prefer something more fixed, you can always opt for the PIC Solar Torch Insect Killer.  
Basically, while these zappers are all extremely functional, you should comb through the upsides and downsides to see which one suits your needs the most. Of course, you can feel free to reach out if you have any queries during your purchase. 
Until then, goodbye! 
Related Articles
11 Best Solar Atomic Watches Right Now
11 Best Solar Battery Chargers & Maintainers
13 Best Solar Electric Fence Chargers
13 Best Solar Powered Solar Desk Lamp
13 Best Solar Powered Birdbath Fountain & Pump
11 Best Solar Powered Bluetooth Speakers
13 Best Solar Powered Motion Security Lights
9 Best Solar Address Signs & Plaques
7 Best Solar Powered Christmas Laser Lights
Why Are My Solar Lights Not Working? [Answers & Solutions]
9 Best Solar Generators for Camping & Home Use
10 Best Solar Powered Shed Lights
11 High Output Solar Spot Lights [Buyer's Guide]
13 Best Rated Solar-Powered Dusk to Dawn Lights