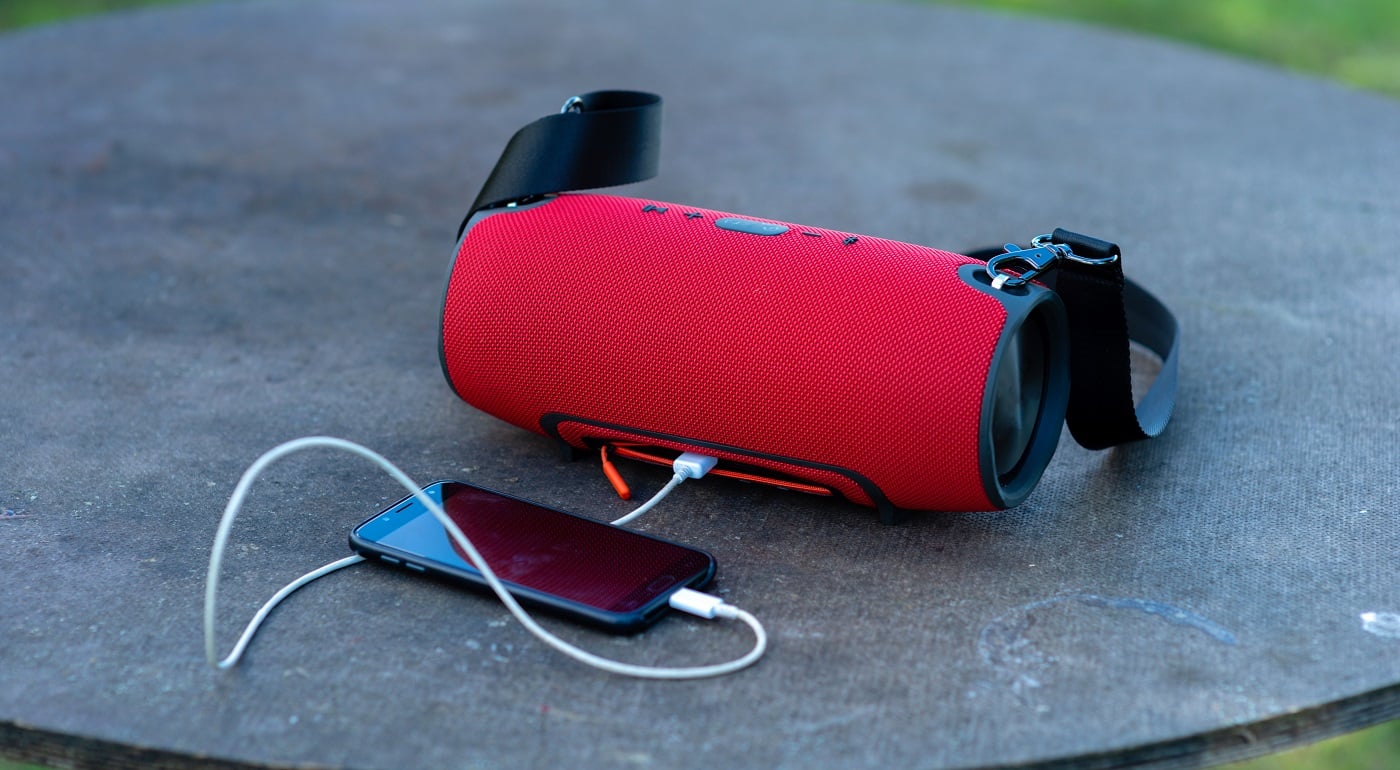 The problem with life is there's no background music!
Well, that's true to a certain extent, especially if you don't have a Bluetooth speaker handy. And not just any model, but a solar powered one. What can be a better way to utilize the power of the sun?
With this thought in mind, we ventured out to buy a solar powered Bluetooth speaker. However, it was not long before the plethora of options left us confused. To ensure that you don't have to face the same, we decided to shortlist the 11 best models to choose from.
Now, let's get down to business!
Top Solar Powered Bluetooth Speakers
IMAGE
PRODUCT
DETAILS

Our Top Pick

Our Top Pick

Eton Rugged Rukus Solar Powered Wireless Bluetooth Sound System

Dual charging
8-hour battery life
IPX4 splash-proof

VIEW LATEST PRICE →

ColorFODA Bluetooth Wireless Speaker

5000mAh li-polymer battery
50+ hours playtime
Super bass stereo

VIEW LATEST PRICE →

ABFOCE Portable Solar Bluetooth Speaker

60+ hours playback time
IPX6 protection
LED flashlight

VIEW LATEST PRICE →

Innovative Technology Outdoor Rock Speaker Pair

Rock-like design
50 hour playback time
2-way charging

VIEW LATEST PRICE →

ABFOCE Bluetooth Solar Speaker

Fully sealed design
15 hours playtime
IPX6 exterior

VIEW LATEST PRICE →

Reveal Solar Speaker

Sleek Bamboo design
Crystalline solar panels
Versatile compatibility

VIEW LATEST PRICE →

Goal Zero Rock Out 2 Solar Rechargeable Speaker

DarkBass chamber
Fabric-lined pocket
8-hour playback

VIEW LATEST PRICE →

Reveal Solar Powered Bluetooth Speaker

60-hour battery life
IPX5 splash-proof grade
Carbon Fiber body

VIEW LATEST PRICE →

Lukasa Portable Solar Powered Bluetooth Speaker

Multiple audio modes
SOS alarm
Dual LED lights

VIEW LATEST PRICE →

Eton Soulra XL Solar Powered Sound System

8 speaker drivers
Remote control operation
Enhanced monocrystal solar panel

VIEW LATEST PRICE →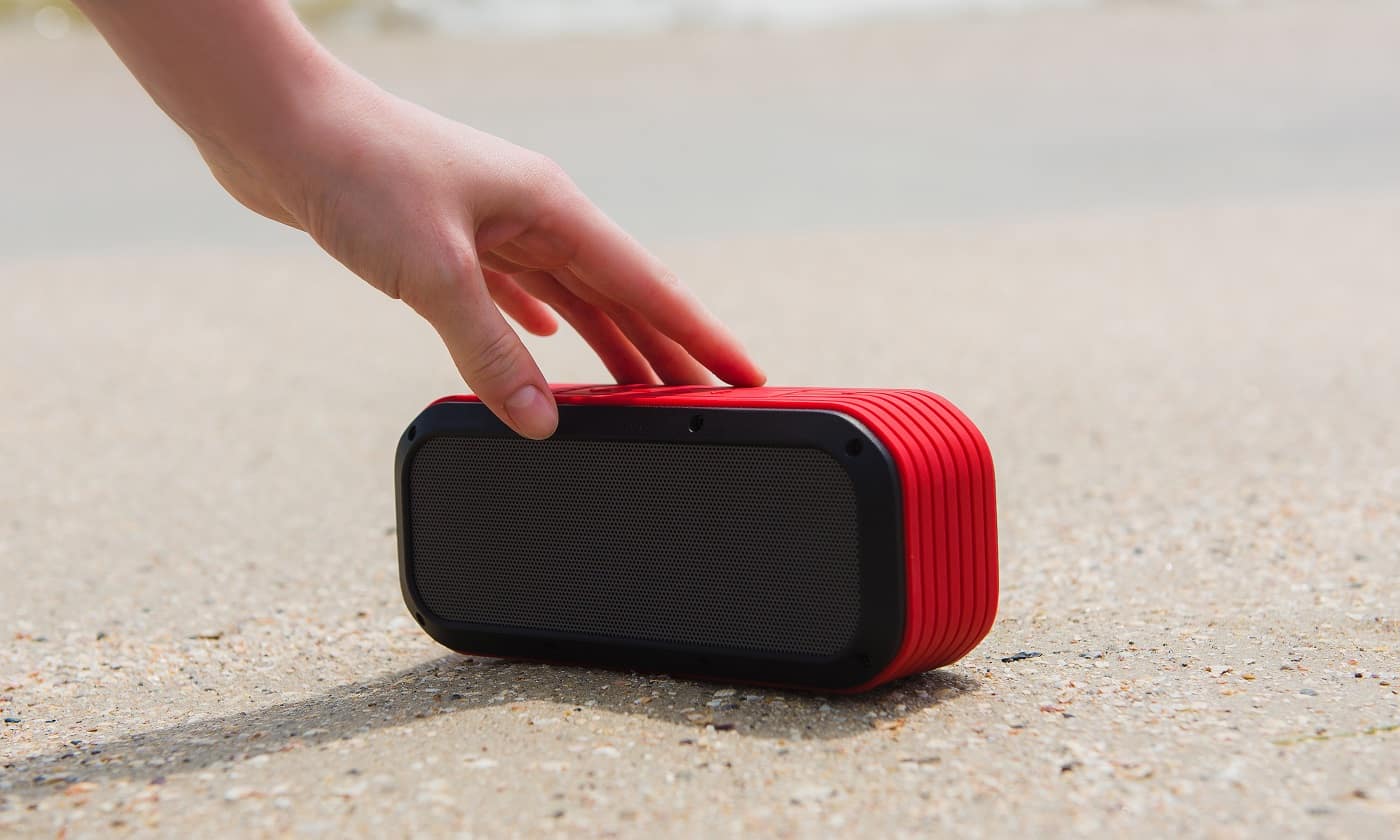 We get the ball rolling with the very popular Eton Rugged Rukus Solar Powered Wireless Bluetooth Sound System. With a legacy of over 3 decades, the brand has certainly changed the game with this product.
Why Did We Like It?
When a device is this versatile, it's hard not to love it! But before getting into that, let's talk about its primary purpose. For one, the rugged design keeps in mind rough outdoor use. As such, its durable, drop-proof body has an IPX-4 splash-proof certification. That said, be careful not to drop it in deep waters.
The solar panel with an integrated lithium battery is conveniently located at the top, along with some simple control buttons. And the front face has the speaker grille to avoid any obstruction. It takes about 5 hours for a full charge and 8-hour runtime. The LED panel with blue and red lights will tell you when the speaker is functional and charging, respectively. 
We are also impressed with the audio quality, which mainly focuses on clarifying the lower midrange. Apart from that, the vocals and guitars are pretty refined. But what takes its versatility a notch higher is the USB port, which makes it double up as a power bank to charge connectable devices. And we just couldn't ask for more!
What Could've Been Better?
The only thing that we would've changed is the annoying beep sound it makes every time you change the volume, switch it off or turn it on. While it won't likely be a problem otherwise, it's not the best feature to have if you're planning to use it in the kids' room.
Pros
Aux-in port for use with non-Bluetooth devices

LED operation indicator panel

Can be hooked on bags

Lightweight and compact
Cons
Has a loud beep operation sound
Up next is the Friengood Bluetooth Wireless Speaker. Boasting a super-long runtime, this affordable unit can solve your gifting woes or be the perfect addition to the next party. What's more, its robust design makes outdoor use a breeze.
Sale
Why Did We Like It?
For starters, the positive customer feedback got us interested in the product. And it didn't take us long to figure out the reasons behind its popularity.
Its biggest advantage is the built-in 5000mAh li-polymer battery that has a playback time of over 50 hours- at par with some of the best models on the market. In fact, this battery capacity makes it capable of doubling as a power bank for charging on the go, and you can do so while listening to your favorite music.
Similarly, you can simultaneously charge the speaker and listen to music, thanks to the monocrystalline silicon solar panel. 
Moreover, it's equipped with twin high-performing drivers (6W each) and passive subwoofers. Simply put, this super bass boom construction reduces harmonic distortion to less than 1%, thereby ensuring a long service life. No matter indoors or outdoors, you can enjoy 360-degree surround sound.
Last but not least, the 100 feet range connectivity is backed by a 3.5mm audio cable for compatibility with non-bluetooth devices.
What Could've Been Better?
The passive radiator between the two channels can create a bit of reverb, sometimes causing the music to become loose or sloppy. Also, we'd have liked a charging indicator as it's difficult to determine whether the device has been fully charged or not. We suggest charging it for at least 5 hours when the battery is low.
Pros
IPX4 waterproof exterior

Supports hands-free calling, integrated mic

TF card compatible

Multi-directional use
Cons
Slight reverb

No charging indicator
Another one of our top recommendations is the ABFOCE Portable Solar Bluetooth Speaker. With a compact and lightweight design, it will come in handy for not just listening to music but  for multiple reasons, especially when outdoors.
Why Did We Like It?
Just when we thought that the 50+ hour playback time was amazing, we got our hands on this model, and we must say that the 60+ hours runtime was impressive! Powered by 5000mAh lithium-ion batteries, the unit uses a crystal silicone sun panel to absorb the rays of the sun. And with so much power, how can it miss out on being a portable charger?
Beyond that, the dual 40mm loudspeakers account for low harmonic distortion, a powerful stereo, and independent bass. Even at the highest volume, we were satisfied with the audio quality. 
Moving on, the exterior comprises a strong ABS and silicon wrap-around design with no hard edges for convenient portability. We also appreciate how the brand has managed to incorporate a sturdy IPX6 coating, which makes it both water and snow-resistant for unobstructed outdoor use. 
As an added feature, you get a LED lighting system that has three different modes, i.e., lighting, burst, and SOS flashing. Simply double press the LED lighting button to activate, and then single click for your desired mode.
What Could've Been Better?
Depending on the intensity of the sunlight, it may take several hours to charge the battery, even partially. Hence, we'd recommend using the USB charging option if you're running short on time.
Pros
ETFE laminated solar panel

Includes detachable carabiner and velcro straps

3 mode LED lighting

Bluetooth 4.0 compatible with almost all devices
Cons
Long charging time in sun
True to its brand name, the Innovative Technology Outdoor Rock Speaker Pair is unlike anything we have tried. Sporting an extremely distinct design, it offers quality audio output with a long-range connectivity.
Sale
Why Did We Like It?
No surprises here as the "rock" design was the first thing that got us tempted. However, what's even more impressive is that the construction doesn't compensate durability for looks. 
The sturdy build is ideal for outdoor use and can tolerate a fair bit of rain, dust, or snow. Furthermore, it seamlessly blends in the garden, patio, or backyard. After all, what's better than keeping your guests guessing about the sound source? 
The solar panel is located right at the top so that there's no obstruction to the sunlight. A full charge is expected to last for about 50 hours, so that's a bonus! Besides, this pair of Bluetooth speakers can quickly connect with nearby Bluetooth sources, allowing you to stream internet radio and stored music. But you can also use a single speaker if you like.
Finally, the package includes charging cables and a USB adapter for indoor charging. If budget isn't an issue, then the  Innovative Technology Outdoor Rock Speakers are worth considering.
What Could've Been Better?
As we have already mentioned, this unit isn't the most affordable unit on the market. Moreover, some users have complained that the speakers need to be recognized every time you pair them with any Bluetooth device.
Pros
Designed for round the year use

Minimal maintenance need

Weather-resistant

33 feet connectivity range
Cons
Expensive

Needs to be paired every time when connected
The ABFOCE Bluetooth Solar Speaker is a popular accessory among travelers due to its compact and lightweight design. However, it's the battery power and audio quality that earned it a place on our coveted list.
Why Did We Like It?
Although looks should hold little importance in choosing a Bluetooth speaker, we quite liked the flat-edged box-like design. The body is made of environmental-grade silica gel and sports a fully-sealed structure that prevents water or dust from getting into the speaker. On top of that, the IPX6 coating means it's both shockproof and waterproof.
Apart from that, the 52mm magnetic speaker teams up with 5W high-performing drivers to deliver clear stereophonic audio with rich bass. When cranked up to the highest volume setting, there are almost negligible distortions.
Likewise, the monocrystalline silicon solar panel requires merely 10 minutes of solar charging for 30 minutes of playback (depending on the volume). Not only that, but it's also equipped with a DC charging port for situations where solar charging may not be possible.
On that note, the control panel has the buttons and AUX input located one after the other for easy access. And there's a screw hole for easy mounting on bicycle handlebars.
What Could've Been Better?
Much like the Eton Rugged Rukus Solar Powered Sound System, the functional beep sound may annoy some users. The sound at the optimal volume may be a little low for indoors, especially with surrounding sound. But considering its size and price, we aren't really mad about it.
Pros
Built for all-terrain use

2000mAh lithium battery, 15 hours playback

Charging indicator

Can be hooked on strap

Mic for wireless calling
Cons
Sound may be a bit too low for indoors
At the halfway mark, allow us to introduce a product that will please the eco-friendly enthusiasts. The Reveal Solar Speaker blends sustainability with power for superior performance in its price range.
Sale
Why Did We Like It?
This "eco-conscious" speaker goes well beyond its bamboo engineered design to deliver quality audio with minimum hassle. Firstly, the monocrystalline solar panel has a highly-efficient solar-to-electric energy conversion rate that powers the unit with a 15-hour playback time upon full charging. If you don't have access to direct sunlight, simply placing it near a well-lit window will also do the job.
And similar to many of our other recommendations, it comes with a USB port for indoor charging.
Since bamboo has a reputation for absorbing sound, we tried playing it both indoors and outdoors at different volume levels. To our delight, the sound was quite clear and loud (according to the volume level). So, brownie points awarded!
Apart from that, it can be used to charge any connectable device like a phone or tablet while the speaker is running. Complete with a 1-year warranty and responsive customer service, this product ticks most of the boxes for a hassle-free user experience. 
What Could've Been Better?
In the absence of any water-resistant certification, we aren't sure if it can be used near water, as bamboo is not generally for use in areas with high moisture. That said, the material can tolerate humid and temperature fluctuations to some extent.
Pros
Wireless and line-in audio output

4400mAh battery

Functional solar charging with partial exposure

1-year warranty
Cons
May not be water or splash proof
With an appearance that keeps users guessing, the Goal Zero Rock Out 2 Solar Rechargeable Speaker makes an entry. It's compactness and multi-purpose utility makes it the perfect accessory to have on outdoor trips.
Why Did We Like It?
Prior to walking you through the technical specifications, allow us to explain its design. The speaker essentially consists of two faces. While the front face is the speaker, the opposite face is integrated with the solar panel, and both are packed with a chained mesh bag. 
Upon unzipping, you will find a side pocket with the USB cord. Additionally, the empty pocket can be used to store whatever mobile device is connected to the speaker. It's finished off with a bungee cord running around the speaker on the outside for hanging off the bike handle or bag. The design alone deserves all the praise!
Beyond that, the DarkBass chamber does a good job at maintaining the sound quality. The audio is clear and doesn't miss out on either clarity or balance. In accordance with its compact size, the audio doesn't leave much for criticism.
The battery lasted for around 15 hours (at low volume) with an 8-hour solar charge during our trial. And if you're in a hurry, the USB cord will charge it in less than 3 hours.
What Could've Been Better?
We felt that the solar charging time is pretty long compared to some of its competitors, which can be a problem if you're outdoors. However, since the speaker can play and charge simultaneously, it saves some time there. Also, the speaker will drain out faster with high volume.
Pros
Has safe storage pocket

Long battery life

One-touch Bluetooth pairing

Deep and precise audio
Cons
Solar charging takes up more time
This Solar Powered Bluetooth Speaker is yet another model from Reveal that grabbed our attention. Featuring a chic appearance, it offers ample playback time with a dual charging mechanism for optimum user convenience.
Why Did We Like It?
Having tried the Reveal Solar Speaker, we wanted to see what this unit has to offer. And it did perform satisfyingly for the most part. The carbon fiber exterior makes it extremely durable to withstand regular exterior use. Moreover, the IPX5-grade construction protects it from splashing, dust, or shock-related damages. 
At the heart of it lies a monocrystalline solar panel, which efficiently absorbs the solar energy to provide 60-hour of playback time when fully charged. Alternatively, a 10-minute charge will power the twin 40mm speakers for 30 minutes. 
With the "play while charging" feature, users don't have to wait till the speakers get completely charged. We liked how the USB port is housed in a small rubber cabinet-like structure on the back panel of the speaker. You can use it to charge the speaker via or charge other connectable devices.
The integrated subwoofer provides a bass enriched clear audio output that reinforces the small detailing in the track. Last but not least, the AUX input facilitates connection with non-bluetooth devices with a 3.5mm audio line.
What Could've Been Better?
Some users have reported that the solar panel doesn't work very well despite keeping it under the sun for a full day. Hence, you might want to charge it via the USB, especially if you're planning to take it out for a trek or camp. 
Pros
Detachable carabiner and velcro straps included

Built-in LED flashlight and mic

Bluetooth 4.0 compatibility

Balanced audio with sufficient bass
Cons
Solar panel maybe faulty in some units
If multi-purpose utility is on your mind, then there's hardly a unit that can match the Lukasa Portable Solar Powered Bluetooth Speaker. With as many as 8 features, it's the ultimate accessory ensuring safety and entertainment anywhere, anytime.
Why Did We Like It?
When a device claims to have so many features, the prime consideration becomes its performance. And we are very satisfied with how the Lukasa Portable Solar Powered Bluetooth Speaker performs on all fronts. Firstly, the 4-inch bluetooth speaker works on a 5200mAh battery, which can be charged either via the solar panel or USB port.
Furthermore, the speaker has a clear audio output for all modes. You can pair it with a phone or tablet, or use it as a standalone radio. The strong FM reception supports a range from 87 to 108 MHZ. By long pressing the pause button, you can automatically search and save the preferred stations. Plus, the speaker runs on a TF card, making it an MP3 player.
Both the flashlight and SOS alarm are located on the side panels. Apart from that, there are two 3W bulbs that are connected to the unit via two 3 meter cables. Finally, the package includes a fabric bag, USB cable, the bulbs, and an instructions manual.
What Could've Been Better?
There are but a few things that we'd have liked to improve. Firstly, there's no indicator that'll tell if the device is charging with the USB cord. Secondly, we'd have preferred a knob instead  of the two-in-one volume-cum-channel navigation buttons for better ease of use. But at this price, these minor inconveniences are far from deal-breakers.
Pros
Telescopic antenna for clear reception

Handle-like top for easy transportation

Can be used as power bank

All accessories are included
The Eton Soluta XL Solar Powered Sound System is a heavy duty device that's the perfect solution for pairing your iPhone or iPod. With more than 2 speaker drivers and a host of other user-friendly features, it demands your consideration.
Why Did We Like It?
Beginning with the design, the Eton Soluta XL Solar Powered Sound System appears like a heavy duty speaker with 8 speaker drivers located on the front. Similarly, the solar panel is located on the back and can be lifted off the hinges for maximum exposure. 
But the most interesting aspect of this speaker is the central cavern, which is meant to hold the iPhone or iPod. The operational buttons are situated atop, just near the front hinge of the solar panel. And thanks to the remote control, users can operate the speaker from quite some distance.
Besides, the rubberized carven is protected with an anti-glare tinted panel. Despite locking it in place, we didn't face any problem in reading the screen. 
The audio output is ably supported by two tweeters, two woofers, and four passive radiators with a warm midrange and focus on vocals. It has a well-restricted bass that mostly doesn't distort even at higher volumes. Lastly, the packaging includes a removable gel-cushioned carrying strap for convenience.
What Could've Been Better?
Although not very heavy, this unit lacks compactness, meaning it may be a hassle to carry it on treks or hikes. But we are really disappointed with the low battery life, lasting just a little over 5 hours. Considering more affordable models have versatile compatibility and long playback time, you might want to look elsewhere.
Pros
30-pin dock connector

22W audio with bass boost

Charging indicator lights

5 hour playback time
Cons
Not very portable

Low battery life
Before wrapping up, it's only fair to include the Braven BRV-PRO+Solar Bluetooth Speaker. It's one of the more affordable models in the heavy duty category. With a rugged exterior and multiple charging modes, it's quickly becoming a customer favorite.
Why Did We Like It?
The Braven BRV-PRO+Solar Bluetooth Speaker has a rugged exterior in the form of an aluminum casing, which is a testimony of its durability. Additionally, the IPX7 rating makes it waterproof. While the brand claims that the unit can only handle splashes, water jets, and rain, we tried submerging it in about 1-meter water for 5 minutes. Gladly, there were no damages at all.
Performance-wise, it excels at highlighting vocals for clear melodies with clean treble notes. The loudness was enough not to get subdued in surrounding sound, especially on windy days outside. 
Its solar panel charges in about 6 hours in ideal conditions and provides a playback time of up to 15 hours. Moreover, the 2200mAh battery can become a portable power bank during emergencies- adequate to charge an iPhone one and a half times over. Just remove the protective cover from the back panel and connect the USB cable.
What Could've Been Better?
Much like its predecessor, this speaker is heavy and bulky, thereby taking considerable space in your luggage when carrying outdoors. And if you opt for separately purchased accessories, we highly recommend keeping it indoors due to the resultant size.
Pros
Ports are secured by a latched cap

Loud microphone

Long wireless range

Compatible with various mounts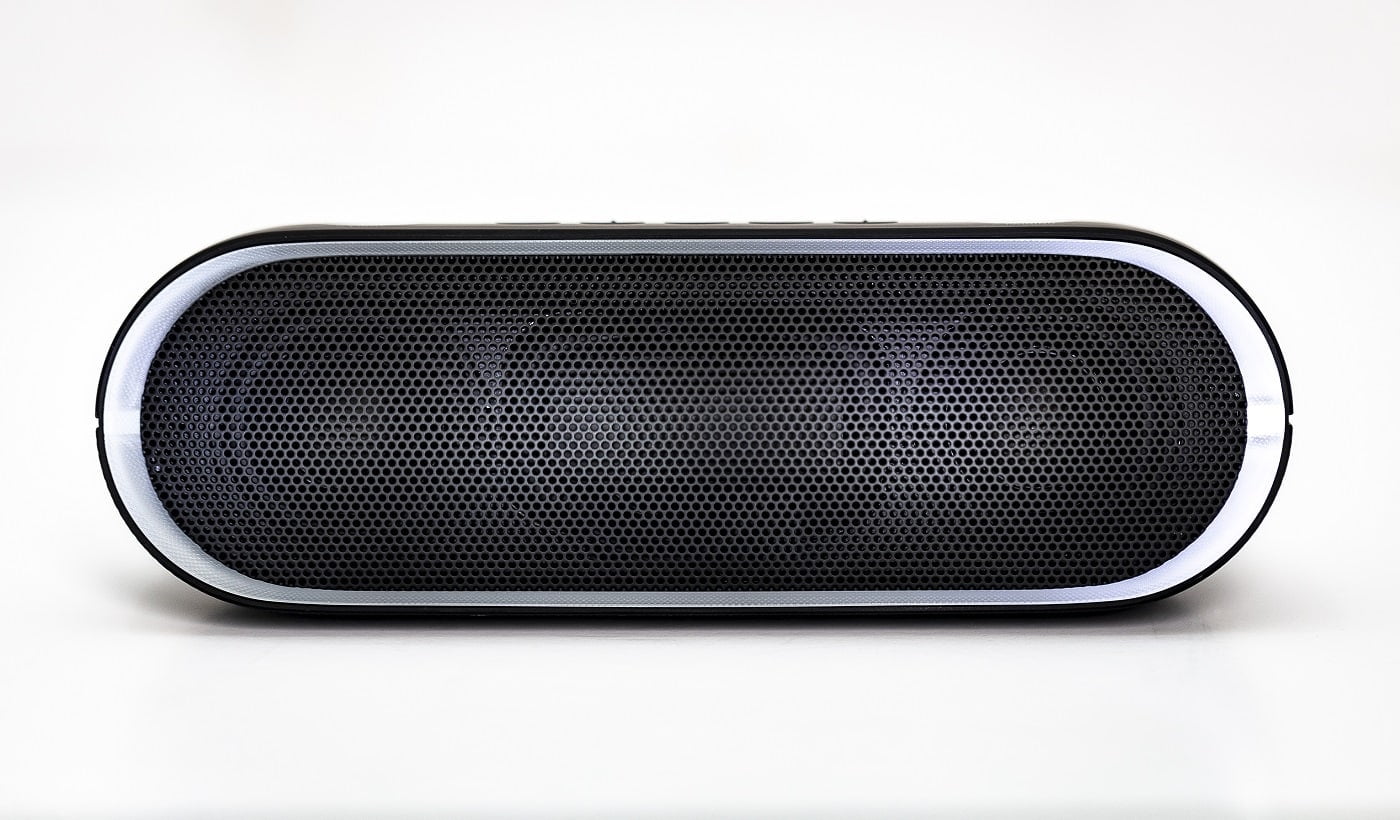 Solar Bluetooth Speaker Buyer's Guide
Despite having the best names at one's disposal, it may not be that easy to purchase the ideal Bluetooth speaker according to your needs. Since the different options have very similar specifications, we take it upon us to list the essential features that should be kept in mind before making a purchase.
IPX Rating
One of the most important things to look for in the design of a solar powered Bluetooth speaker is the IPX rating. Since it's highly likely that users will take one outdoors, you want to make sure that the device remains protected from water and dust. In this regard, an IPX4 splash-proof certification is the least you should opt for. 
Charging Capability
Almost all of our recommendations have twin charging modes, simply because you may not have access to sunlight everywhere. Especially if the preferred model serves multiple-purposes like a portable power bank, you'd want to ensure it's fully charged at all times.
Bass
If you're a bass lover, keep an eye for features like a Super bass stereo or DarkBass chamber.
Special Features
Some of the most popular special features include LED lights, SOS alarm, FM radio, integrated microphone, and so on. A protip: don't settle for a unit that compromises audio quality for additional features.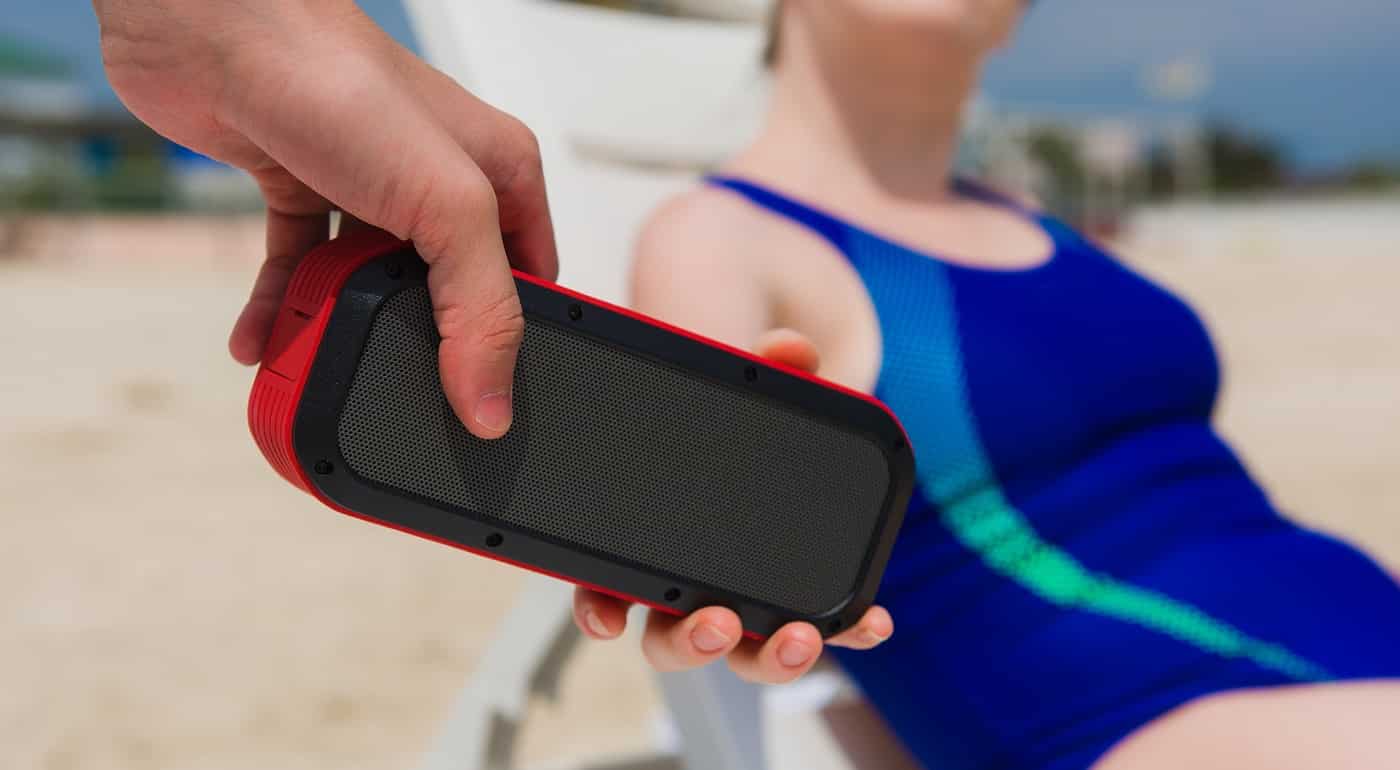 Verdict
Music may tie you down, but your speaker doesn't have to! That's why we'd highly suggest getting a solar powered bluetooth speaker today. And with our in-depth reviews, we hope that the job gets easy.
But we know it'll take you some time to process all that information up for grabs. So, in the meantime, allow us to assist you some more by naming our top 3 picks from the list.
The Eton Rugged Rukus Solar Powered Wireless Bluetooth Sound System is the best unit overall, while the Friengood Solar Bluetooth Speaker is equipped with a super bass stereo. Finally, the Reveal Solar Speaker has a sustainable and eco-friendly design.
With that, it's time for us to take our leave. Do let us know your thoughts in the comments down below.
So long! 
Related Articles
13 Best Solar Atomic Watches Right Now
11 Best Rated Solar Powered Shed Light | Buyer's Guide
10 Brightest Solar Spot Lights
11 Best Solar Atomic Watches Right Now
11 Best Solar Battery Chargers & Maintainers
13 Best Solar Electric Fence Chargers
13 Best Solar Powered Solar Desk Lamp
13 Best Solar Powered Birdbath Fountain & Pump
13 Best Solar Powered Motion Security Lights
9 Best Solar Address Signs & Plaques
7 Best Solar Powered Christmas Laser Lights
Why Are My Solar Lights Not Working? [Answers & Solutions]
13 Best Solar String Lights for Sustainable Designs
9 Best Solar Generators for Camping & Home Use
10 Best Solar Powered Shed Lights
13 Best Solar Pool Covers Reviews  
11 High Output Solar Spot Lights [Buyer's Guide]
13 Best Rated Solar-Powered Dusk to Dawn Lights