When winter knocks on the door, a good space heater can be essential to keep you warm and cozy indoors. 
Today, there are loads of options to pick from, ranging from portable heaters to large units that can heat big spaces. And if you want to cut down on electricity bills, you will find personal heaters that can be kept on tabletops or by the feet. 
These space heaters consume less energy, making them a convenient choice. Plus, there are ceramic and infrared space heater options on the market to look at. 
Now, we know that it can be challenging to choose one from among the multiple options available on the market. To make your choice easier, we have decided to review the best space heaters, which are popular among customers. Rest assured, we have personally tested them and reviewed them in detail. 
Read on to know more! 
15 Best Space Heaters Of 2022 Reviews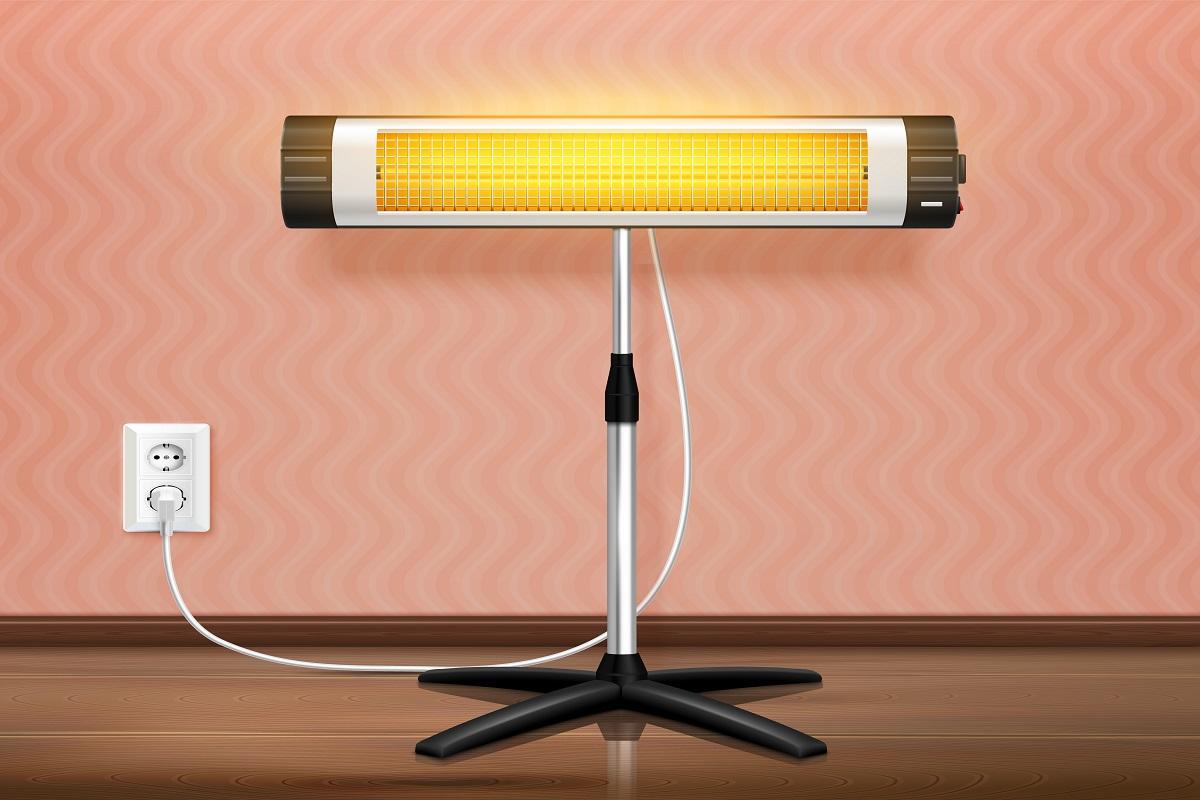 One of our top choices, the GiveBest Portable Electric Space Heater, will keep your room heated up so that you can work, sleep, eat, or watch TV in peace. After all, you can easily move it from room to room — thanks to its compact size. Read on to know about all its other features.
Why Did We Like It?
To begin with, the space heater comes with a two-in-one heater fan, which offers two heat levels along with a cool air fan. You can toggle between 1500 W and 750 W, depending on your preference. Therefore, you could use it in summers and winters, making it an economical purchase. 
Moving on, you can control the thermostat to ensure the room is always heated up just right. Set the thermostat between 0℉ to 158℉, and it will automatically switch off once it reaches the required temperature.
Aside from that, the space heater offers silent performance, ensuring the noise level always stays below 45 decibels. It uses PTC ceramic heating technology and a fast fan to keep the room comfortable and provide you with a sound sleep.
Lastly, the space heater is compact and can easily be moved around. Keep it right where it is needed, and you can effectively heat a specific area. 
What Could've Been Better?
When we started using the product, we noticed a strong smell of plastic drifting from the interiors. It took around a week for the smell to slowly fade out. Now, this should not be a big problem, and you can always use room fresheners along with the heater to keep the room smelling fresh. 
Up next is an option that offers automatic overheat protection. The Lasko Ceramic (755320)  Tower Heater is known for its safety features and efficient heat distribution. It can warm the entire room even as it sits in one corner. Customers also love the slim and well-designed body that adds to the aesthetics of the space. 
Why Did We Like It?
The oscillating space heater is equipped with a large digital display along with digital controls placed on top of the body. With this device, you will get a programmable thermostat, two heat settings, and a seven-hour timer. Apart from that, the space heater comes with a remote control that will help handle most heater functions. 
Moving on, the portable heater has a top handle, which makes it easy to carry around. You can also place the portable piece anywhere in the room or shift it between rooms. On that note, the six feet-long extension cord will ensure you can connect it to a nearby power outlet. 
To top it all off, the brand believes in providing all the needed safety features and offers overheat protection with a safe ceramic element inside. Plus, the exterior always remains cool to touch, making it an ideal option to use around pets and kids. 
What Could've Been Better?
If you are looking to heat large living rooms, then the Lasko space heater might not be the right choice. It can efficiently heat an area up to 300 square feet, making it perfect for small-sized rooms. Hence, we will ask you to measure the area that requires heating before opting for this unit. 
While the previous product was seemingly designed for small spaces, this one is perfect for larger rooms. After all, the Dr. Infrared Heater Portable Space Heater showcases an excellent heating performance and is known for surround heating. With this soothingly quiet device keeping you warm, you can sleep peacefully all winter. 
Why Did We Like It?
The space heater comes with a remote control to adjust the temperature from a distance, so you can settle in comfortably and then program the heater as needed. There is a nifty 12-hour timer that will automatically switch off the machine when programmed to do so. 
What's more, the space heater offers overheating and tip-over protection. Hence, in case the heater falls, a tip-over switch will automatically go off, preventing accidental fires. 
That is not all; the dual heating system is impressive as it consists of an infrared quartz tube plus PTC. This feature ensures you can enjoy consistent heating throughout a room when needed. 
Additionally, an electronic thermostat will give you the option to toggle between 50 to 85 degrees. Set the temperature and then keep the space heater in a secure place. And if you want to move its position, the caster wheels will help out.
What Could've Been Better?
If you are not looking to move around the space heater too much, then this can be a good option. Otherwise, know that it is pretty heavy and weighs 19 pounds. The wheels will help you roll it around, but carrying it up and down the stairs will be tough. 
Another excellent space heater with an efficient thermostat system is the Andily Portable Space Ceramic Heater. This device has been designed to maintain a comfortable temperature at all times. Plus, the carrying handle makes it easier to move it around. We loved its heating capacity and the safety features that complete the package. 
Why Did We Like It?
We were surprised to see that there were four modes in the heater, as most other options come with two heating modes. You can pick among high heat, low heat, fan, and E-save modes. This will always provide you with the desired temperature. Also, the E-save mode has been designed to ensure low electricity consumption, and it will not increase your electricity bills. 
Aside from that, the space heater comes with a ceramic heating element that heats up fast. The open coils allow easy heat dissipation keeping your room warm in very cold winters. 
That is not all; this is a personal heating device that can cover up to 260 square feet. It is compact in size and portable. Plus, the portable heater automatically shuts down when the required temperature is reached. Hence, you do not have to worry about overheating. 
What Could've Been Better?
Remember to keep the space heater in a safe position and not directly on a tabletop or the floor. It will heat the surface below and cause damage to it. We will recommend using a small stand on which the heater can be placed. Purchase a small stand beforehand so that you can immediately start using the heater on arrival. 
Up next is a room heater that is perfect for homes and office spaces. The Aikoper Space Heater is portable and sports an ergonomic design with a built-in handle. These handy features allow you to move the heater around without touching the body directly.
Why Did We Like It?
This space heater uses an ultra-efficient fan along with advanced PTC ceramic heating technology to heat up a room faster. It also distributes the heat throughout the room, ensuring everybody in the space feels warm. 
Now, one of the major problems with space heaters is that they consume a lot of electricity. However, you do not need to worry about that as this is an energy-efficient space heater with three heat settings. You can choose between low, medium, and high depending upon the requirement. The fan can also be switched on without turning on the heat. 
Apart from that, you will get an adjustable thermostat, enabling users to set the dial as needed. This will keep the surrounding air temperature warm and toasty all winter. In fact, there is no need for central heating with this device in the house. 
What Could've Been Better?
It is best not to use this product with an extension cord or a surge protector. The cord may not be able to take the heat, and it may catch fire if the heat goes unnoticed. Hence, always plug it into the power outlet directly to prevent mishaps. 
Do you want to step into the house and feel warm at once? Then, the PELONIS PHTPU1501 Indoor Space Heater will be an excellent option to pick, thanks to the three seconds instant heating capacity. The product is reliable and quite popular in areas with freezing cold winters. 
Why Did We Like It?
While most space heaters take longer to heat up, this one can reach 70°F within three seconds because of its ceramic heating technology. It offers a steady flow of warm air and a quick respite on snowy days. 
Next, you will love the stylish and sleek design of the tower fan heater. It will easily fit into your room and add to the aesthetics. Plus, the device offers three heating options; you can toggle between high, low, and the Eco mode. To make the heater energy efficient, the makers have allowed users to select the Eco mode to bring down the electricity bill. 
Apart from that, a remote control is provided and can be operated from a 20 feet distance. Hence, if you have already settled into your sofa or bed, there is no need to get up to set the temperature. 
What Could've Been Better?
We will recommend not letting kids or pets wander near this space heater when it is switched on. The front grills tend to heat up and can cause minor burns if someone touches them unknowingly. So, be careful around the heater; it is best to operate it with the remote control. 
While other space heaters are tall or box-like, this unit is an adorably-designed model. The GAIATOP Space Heater sports a unique design with a removable triangular wooden stand. It is specifically made for small spaces and dorm rooms where it can be kept on desks. 
Why Did We Like It?
This personal space heater is made of ​​Class V0 materials that are resistant to fire. The PTC ceramic heating element inside heats up very quickly, and it works at a very low noise level. Plus, it has a non-slip silicone base that will prevent it from slipping and causing accidents. 
Moving on, there are three heating modes, which include the normal cool fan for summers, 600W medium heat mode, and 1000W high heat mode. You should be able to adjust the settings depending on the outside weather condition. 
Unsurprisingly, the small energy-efficient space heater is portable and lightweight, enabling users to easily carry it wherever they go. All you will need is a working electric connection, and it should function just fine. 
What Could've Been Better?
While going through space heater reviews, we found one common problem faced by a few people. This option has a fixed six-hour timer, which cannot be altered. Now, we usually need to use it while working. Hence, we did not face any issues. But if you plan to sleep for more than six hours with the heater on, then there could be a problem. 
Imagine walking into your house and shutting out the cold immediately with a good space heater. The Dreo Portable Space Heater fits the bill and will effectively heat the surroundings as soon as it is plugged in. It is safe to use and will offer you worry-free performance all the while. 
Why Did We Like It?
This small heater provides advanced PTC ceramic heating and can be safely placed on the ground. We will recommend keeping it near the feet or the hands so that you can receive warmth directly. 
Unlike most space heaters with knob control, this one comes with a digital thermostat, LED display, and a control panel board with all options on it. You can easily customize the settings based on your requirements. 
Additionally, you get an auto-off timer, which will let you select between 1 hour to 12 hours. So, you can set the timer to shut off when you don't require heating to save energy and prevent high energy bills. 
Another unique feature is the detachable filter, which is pre-installed. It blocks out pollen, dust, and airborne impurities so that you can get clean and fresh air. Just remove and clean it at regular intervals to keep impurities away. 
What Could've Been Better?
This small space heater surely packs a punch but can be a little loud while functioning when compared with most other heaters on the list. This should not be a problem if you are not planning to sleep beside it. Otherwise, keep it at a distance from the bed so that you are not disturbed. 
For those busy people out there who do not have time to spend on maintenance, the DeLonghi TRD40615E Full Room Radiant Heater is the best choice. It will provide radiant heat and ensure you stay warm and cozy at all times. You can keep it in your room, desk, or office space to enjoy the heat. 
Why Did We Like It?
This product is made of patented steel, which is permanently sealed. It is of very high quality and requires no maintenance. The oil reservoir present inside does not need refilling, making it a very convenient choice. 
Adding on, the space heater allows for easy air circulation and can cover an area of 144 square feet. We loved the thermal cutoff safety feature, which prevented pipes from freezing on very cold winter days. 
Next, we will mention the digital controls, which will ensure personalized comfort at all times. You can control the energy consumption with the adjustable thermostat, heating settings, and timer. There are proper buttons for everything, making navigation simpler. Also, you can opt for the ECO mode if you wish to save energy in the long run. 
What Could've Been Better?
If you heat rooms for hours at a stretch, then you might find the power cable heating up. This worried us in the beginning, but then no harm was caused due to it. Keeping that in mind, we would recommend switching off the heater once in a while for the cable to cool down. 
Another small but powerful and consistent heating option is the Amazon Basics 1500W Ceramic Personal Heater. It is known for its 1500 W power delivery and can quickly provide you with warmth. We believe this is perfect for individual use, and you can read on to find out why! 
Why Did We Like It?
To begin with, this product comes with an auto shut-off button and a tip-over switch. Both of these will automatically shut the device in emergency cases preventing accidental fires. It has TUV certification making it absolutely safe for use. 
Furthermore, a carrying handle is provided to move the heater around. Please use this handle at all times so that you do not have to touch the body, which gets hot. 
Additionally, the body consists of a quick heating ceramic element that will provide you with immediate heat. It can start warming within seconds, which is very beneficial for people. Also, the adjustable thermostat will let you select the exact temperature that is needed. You can even opt between low, high, and fan mode, depending on the weather. 
What Could've Been Better?
Ensure that you do not use this space heater in bathrooms or laundry areas with high humidity. It is not meant for such spaces, and it may stop functioning, which would involve spending a lot of money to fix it. Keep this in mind, and you should not face any issues. 
Equipped with a multi-protection safety system, the VIIMI Electric Space Heater can be a savior during cold winter and hot summer days. It is an economical buy and can provide you relief at all times. Plus, customers find it easy to use and consider it to be value for money. 
Why Did We Like It?
To begin with, this space heater has two heat levels, and you can pick between 750 W and 1500 W. In the case of summers, there is a cool air fan mode that can be used to beat the humid and hot weather. 
Moving on to its extensive safety features, the portable heater shuts off in case the internal components have gone beyond the temperature needed. This prevents the body from getting overheated. Also, the space heater has a tip-over switch, which will prevent accidental fires. The device will be switched off immediately if the heater is tipped over. 
Moreover, like many other heaters, this one has a lower sound level below 45 dB, making it a convenient choice to keep in the bedroom. It is small and easily portable. So, you can carry it around with the handle from one room to another when you are shifting places. 
What Could've Been Better?
While the space heater does the job of heating efficiently, we found the thermostat to be malfunctioning at certain times. It keeps heating the place according to the temperature that you have set regardless of the actual room temperature. Hence, we will ask you to be careful while plugging it in. 
Another excellent device that might help you save energy bills is the Selanto Electric Space Heater. It comes with an ECO heat setting, which can help save 30% of the electricity bills. And you can easily use it for winter and summer, making it a versatile choice. 
Why Did We Like It?
This space heater is equipped with four heat settings along with a fan. The modes include high heat (1500 W), low heat (750 W), Eco, and fan mode. The Eco mode will help in saving energy, making it a very sought-after choice. 
Furthermore, we found that it ranks high when safety features are concerned. Flame retardant material has been used making it safe to be kept in any room. 
That is not all, this automatic overheat system switches off the heater if it overheats. Additionally, the tip-over switch will shut off the unit in case it falls. 
Aside from that, the space heater will arrive fully assembled, and you can simply plug it in to make it work. It requires no maintenance, making it a very user-friendly option. 
What Could've Been Better?
We noticed that an unpleasant smell was emitted every time the device was plugged in. This lasted for around a week or so, after which the smell slowly faded away. We will recommend keeping the space heater switched on in an open area after it arrives so that the smell disappears quickly. 
Another addition to this list is the Dreo Space Heater, known for its quiet and gentle performance. It can be installed in a library as the sound level does not exceed 40dB. Plus, you can keep the room warm and snuggly without spending too much money on it. 
Why Did We Like It?
The space heater makes use of Dreo proprietary Oblique Airflow technology, which brings down the noise level. You can enjoy a warm breeze without having to listen to the whirring sound that generally accompanies it. 
Moreover, the body is made of VO-rated flame retardant materials preventing any accidental fire. Also, like most space heaters, this one comes with a tip-over switch. In case you leave it on and forget about it, the device will switch off automatically after 24 hours. 
To top it all off, the portable heater provides a 70° wide oscillation, which spreads the hot air evenly throughout the room. You can even use the remote provided along with the pack to control the temperature and air movement from 26 feet away. 
What Could've Been Better?
If you are going to use this space heater for long hours, you might notice the plug heating up. We were initially concerned about this, and we switched it off for a while to allow the plug to cool down. It would be great if the brand can look into this issue and solve it. Otherwise, the product has no other defects. 
One of our final suggestions is the Kismile Small Space Heater, which is perfect for personal use. Choose the heating mode that you require to have a comfortable time, even on the coldest winter days. We have discussed the rest of the features in the following section. 
Why Did We Like It?
Known as a countertop space heater, this product can be placed almost anywhere due to its small and compact size. You will find a recessed handle on top that can be used for carrying it around. 
Next, there are three operation modes to select from, and we were very surprised to find a cooling option in such a small heater. You can choose among cool, warm, and hot wind depending upon the weather. Hence, this is perfect for use all throughout the year. 
And we should mention the safety features that are in-built. You can enjoy protection from overheating as the product will automatically switch off if the temperature rises. Moreover, it has a tip-over switch that will switch off the device if it tips backward or forward. 
What Could've Been Better?
While using this space heater, always keep it on an even, flat surface to prevent it from switching off. The tip-over switch is very sensitive and will switch off the device if it is kept on an uneven or soft surface. Be careful about this, and you should have a great experience. 
If you are looking for wide-angle heating, then the Asterion Space Heater will fit the bill. It is portable and comes with a carrying handle making it easier to handle. You can keep it on a desk beside your working space. This efficient heater will keep you warm as you continue with the day's work. 
Why Did We Like It?
To begin with, the space heater is perfect for houses with kids and pets. That is because of the overheat protection offered, which prevents the body from getting heated beyond 80°C. It will then automatically switch off to prevent fires or burns. Plus, PTC heating material is used, because it is completely safe and will keep the heater running for a long time. 
Apart from that, the device has a digital LED display, which will provide all the data needed. You can see the temperature and the time set. A 24-hour timer is provided that can be set depending on your needs. That is not all, the thermostat is adjustable, and you can set the temperature as needed. 
Moreover, it allows 72 degrees oscillation letting the warm air spread all around. Hence, two people can easily use this heater if needed. 
What Could've Been Better?
The display has a bright LED light that makes it easy to see the settings in the morning. However, you might find the light to be annoying at night, and there is no way to turn it off. We believe that the brand can work on this and provide an option to turn off the LED lights when not needed. 
Space Heater Buying Guide
Space heaters are a necessity in places with very cold weather. But the number of choices can be daunting, and you may still have a lot of doubts. Please know that the best budget space heater or the cheapest space heater may not be convenient if it does not last for a few years at least. 
If you are looking for more choices, there are Pelonis space heaters too on the market which are reliable. In this section, let us tell you about the factors to keep in mind while making a choice. 
1. Size And Portability 
How much space do you want to heat up? The answer to this question will help you understand which model to choose. There are various heater sizes available for different needs. Some are small, sleek, and portable. These can be kept on tabletops beside your bed or workspace. They do not weigh much, making them very easy to take around. You will find bathroom space heaters too which are meant only to heat up small spaces. 
On the other hand, there are larger products that come with handles and caster wheels. They can be pulled around but are heavier than the previous type. Hence, it is best to opt for them if you do not plan to take the heater up and down the stairs. 
2. Thermostat 
We will always recommend products that come with an adjustable thermostat. You should be able to increase or decrease the temperature as and when you please. The thermostat needs to be set at a certain temperature, and when it is reached, the space heater will automatically switch off. 
3. Safety Features 
This is an essential criterion that you need to check out before purchasing any model. A space heater has to come with tip-off protection as well as protection from overheating. With kids and pets in the house, it is very easy for someone to tip over the heater. 
And that should not lead to accidental fires. Instead, a tip-over switch should shut the machine down until you lift the space heater and turn it on again. 
Moreover, the space heater should shut down by itself in case it overheats. You can then let it cool down and switch it on again. Check what customers have to say about the outer body heating up. We will recommend choosing options where it stays cool all the time. 
Space Heater Frequently Asked Questions ?
Can you leave a space heater unattended ? 
Many space heaters can be left unattended if it is kept in a safe place. However, if there are kids or pets in the room, it is best not to leave them with the heater alone. They might touch the hot grills, which would not lead to good results. 
Do all space heaters distribute heat evenly ? 
Even heat distribution is very much needed, especially for large spaces where the heat needs to spread all around the room. However, if you are opting for small tabletop versions, the heated air needs to make you feel toasty and warm. In this case, heat distribution may not be an essential requirement. 
Top Space Heater Verdict
The best space heater will always make sure you can remain warm without emitting too much noise. And today, many space heaters come with cooling fans making them perfect for all seasons.
If you are specifically looking for energy efficient options, then there are options in this category too. Some customers even choose natural gas space heaters for heavy duty use. 
Now before we wrap up this guide, let us take you through our favorites one last time. The GiveBest Portable Electric Space Heater is our top choice because of its portability and compact nature. 
But if you want an aesthetically pleasing option, then the Lasko Ceramic Tower Heater can be a great choice. 
On the other hand, the Dr. Infrared Heater Portable Space Heater is known for surround heating. Hope you make the right choice. 
Take care and stay warm! 
Related Articles
13 Most Energy Efficient Space Heaters 
Dyson AM07 vs Dyson AM06 Fan Comparison
13 Best Portable Air Conditioner and Heater Combos
What Size Tankless Water Heater Do I Need?
Beacon-Morris "BRT" Residential Garage Heater
Ceramic VS Infrared Space Heaters