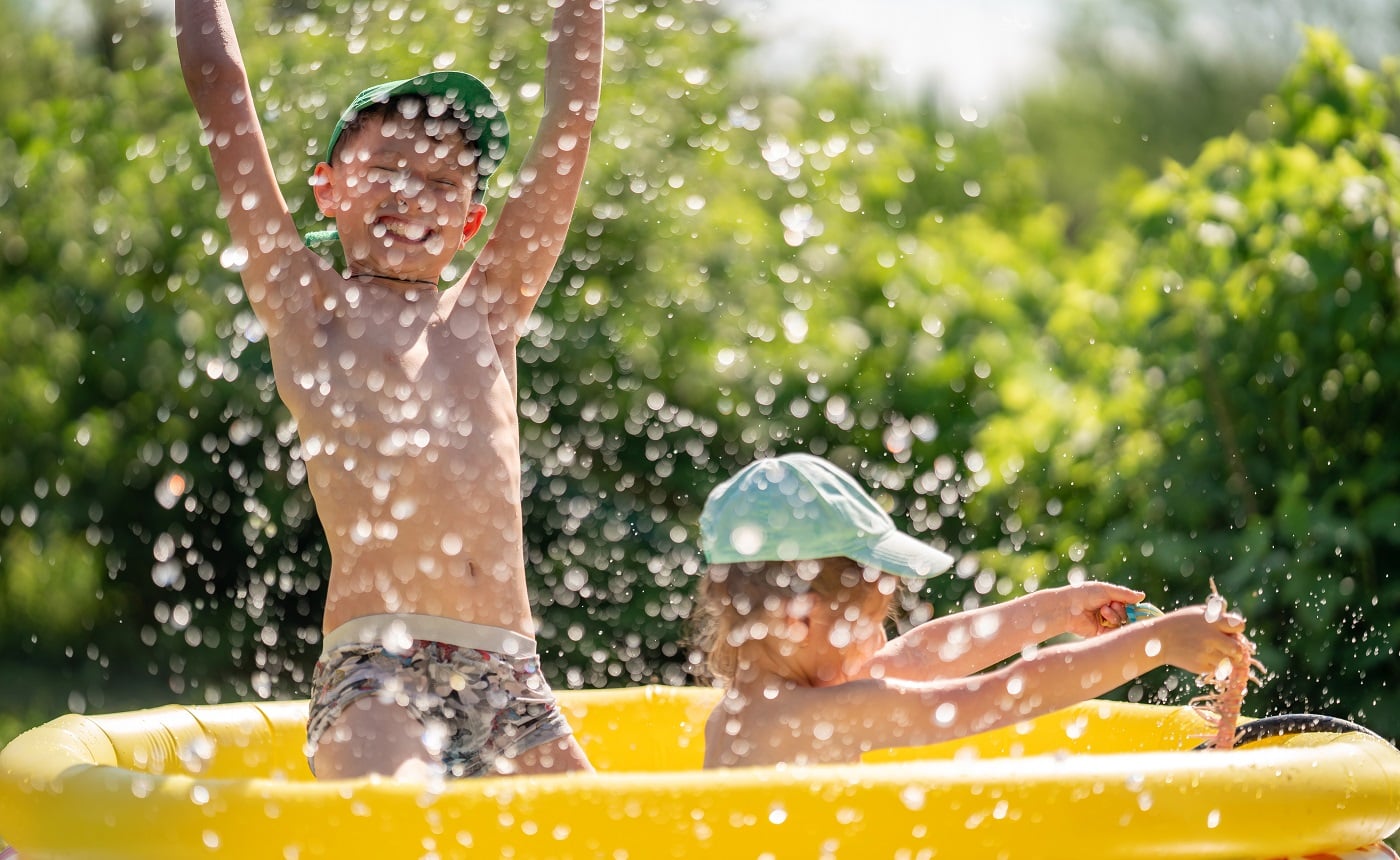 During summer, nothing can be more enjoyable and refreshing for a kid than running about in the midst of water spraying through a sprinkler.
Thus, a nice and attractive kids' sprinkler will be an ideal gift for any child on any occasion.
But then, there are hundreds of options out there, and as such, making the right choice becomes difficult. After all, not all of them are equally efficient and durable.
So, to make your task easier, we bring you a carefully curated list of the 11 best kids' sprinklers out there. We've also included a buyer's guide to help you further in making the ideal choice.
Read on to know more.
Best Sprinklers for Kids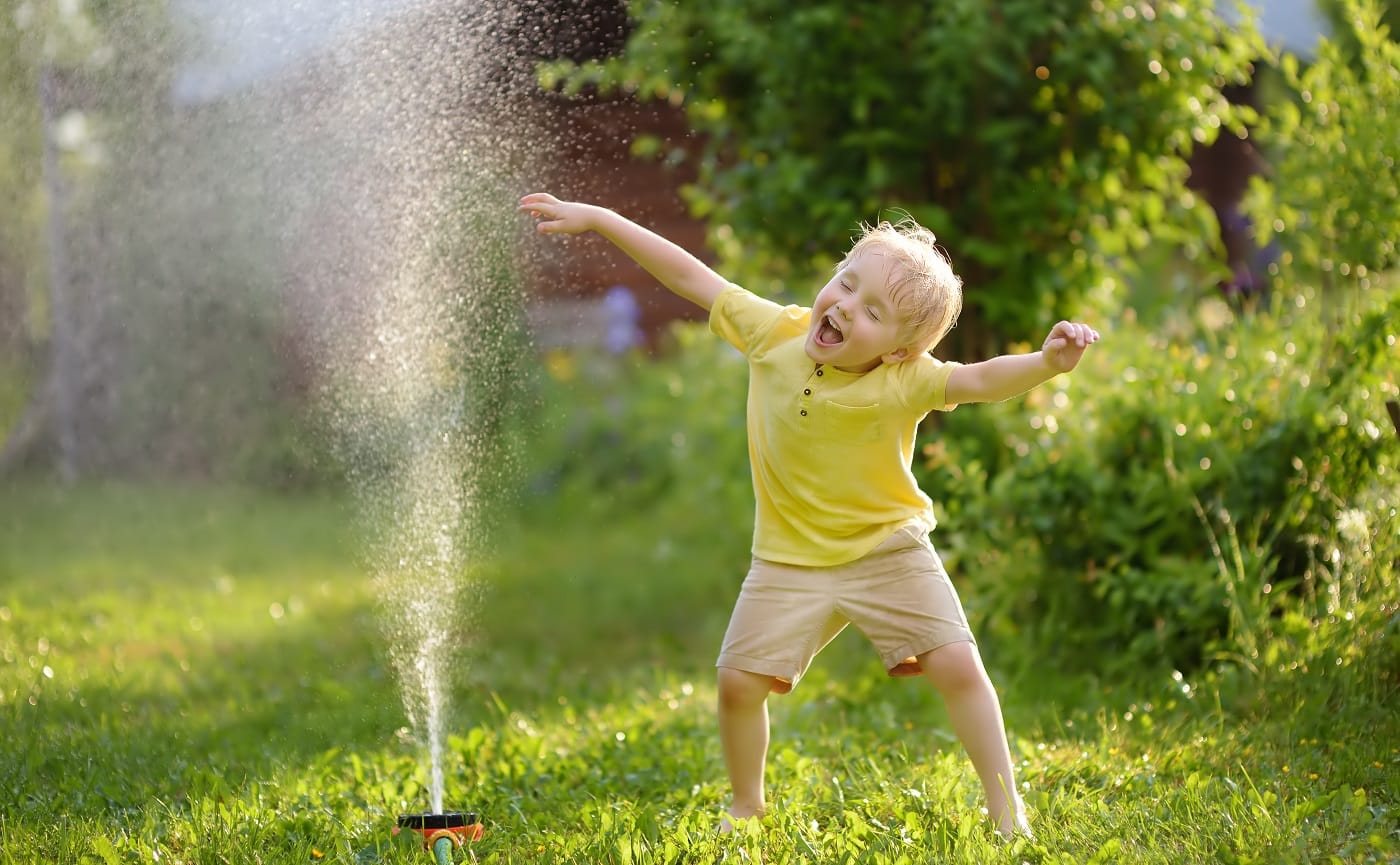 Want to gift your kid a fun pool which also offers lots of new things to learn? Then this educational sprinkler is one of the best options to go for. It has been created by loving parents to serve as a safe yet exciting way of keeping the young ones cool on a hot summer day.
Sale
Why Did We Like It?
With this educational pool, you can get your child a miniature water park which will offer them hours of splishy-splashy fun. Also, it helps to promote elementary learning in a fun-filled way.
This is made possible by the base mat, which features illustrations with three different themes, namely, "Color Balloons," "Around The World," and "From A to Z." Thus, it makes for the perfect way to keep them away from television screens.
Interestingly, this sprinkler has a spacious diameter of 60", giving your kids enough area to move about while enjoying their shower. Its supportive and soft rim shoots streams of water, giving them hours of pure fun that they need.
Plus, it can be placed on your lawn most comfortably, giving you the cozy family time by the water that you've desired for long. Besides, this pool offers a safe bath to your kids, thanks to its BPA-free and phthalates-free material.
What Could've Been Better?
This sprinkler acts as a great means of recreation for the little ones. However, after a few months of using this product, we noticed a leak at the spout where the hose connects. Soon, the leakage turned worse, but on reporting the problem to the customer service, we got a replacement pool.
Pros
Promotes elementary learning in a fun-filled way

Large diameter gives kids enough room to move about

Offers a safe bath to the kids

Can be placed on the lawn
Cons
The spout where the hose connects might have a leakage
Our next pick for you is this splash mat for toddlers and kids that lets them cool down and have some fun during the scorching summer heat. It consists of a sprinkler pad that acts as the perfect water toy for your little ones.
Why Did We Like It?
This sprinkler pad has a diameter 8" more than the SplashEZ educational pool, and hence, offers an area big enough to host friends and family. Besides, the pad makes for a shallow wading pool that minimizes risk and is also perfect for getting your feet wet.
Further, the water pools in the centre of the pad which makes it fit for the kids to sit in and splash around. They are also shielded from exposure to any harmful chemical such as ASTM, CPC, lead, BPA, and others.
Moreover, you can set up the sprinkler pad very easily by just plugging it to a PVC tubing or a garden hose. To lower or raise the spray height, you simply have to adjust the water pressure. Added to this, a shark-mouth design in the middle of the pad makes it look all the more attractive to the kids.
What Could've Been Better?
Although our little ones thoroughly enjoyed the summer mornings with this sprinkler pad, we smelled a strong odor while unboxing the product. It did stay for sometime, but was gone after a month. If you face a similar issue initially, you can try spraying a perfume on the rim.
Pros
Offers an area big enough for friends and family

Attractive shark-mouth design in the center

Pool in the middle for kids to sit in and splash

Easy to set up
Cons
Emanates a strong odor initially
QPAU is well-known for manufacturing quality products that are loved by children and parents alike. This product from the brand is yet another sprinkler mat that makes for a great little pool for your little ones. Setting it up involves a few simple steps and it is also quite environment-friendly in nature.
Why Did We Like It?
Thanks to the unique thick-edge ring wave design of the mat, the water inflates the ring fully and pushes it out through the sprinkler holes on the sides. Thus, your kids can enjoy to their fullest with a mini swimming pool fountain in the backyard or the garden. Also, the water collects in the middle play area, so that babies can splash in a mini baby pool there.
Besides, the sprinkler mat is constructed from thoroughly tested heavy-duty PVC, offers a sturdy performance and is also 100% kid-friendly. To set up the pool, you just have to hook the sprinkler to the garden hose with a gasket and a water pipe connector.
After that, attaching the hose to a faucet completes the process. Also, this mat is quite easy to store as it can be folded to a size as small as an iPad Mini and kept in any corner of the home.
What Could've Been Better?
Although the pool works perfectly to offer kids an enjoyable experience, we noticed increasing the water pressure led to a lot of water pouring into the yard. So, we had to lower the pressure a bit, which obviously gave the kids a lower stream height.
Pros
Kids get an attractive mini swimming pool fountain

Babies can splash in a mini baby pool at the center

The PVC material is 100%kid friendly

Offers a durable performance
Cons
Water may pour into the yard on increasing the pressure
This sprinkler toy is upgraded to provide your kids with the most fun-filled cooling experience on a hot sunny day. It comes with a diameter of 68 inches and thus provides an area big enough to host 2-4 kids at the same time.
Why Did We Like It?
With this sprinkler mat at home, you get a sturdy little swimming pool that is made from PVC material 30% thicker than most inflatable water toys. This reduces the chance of tearing and cracking substantially and makes the product stand the test of time.
Further, the mat is put together with superior edge sealing technology, which makes it more resilient to higher water pressures and thus less prone to burst. Also, the material of this high-quality sprinkler is completely noon-toxic in nature since it is free of BPA and phthalates.
Moreover, you also get a 100% satisfaction guarantee, thanks to which you can contact the manufacturer about any issues in the product within 24 hours. All in all, this is a perfect gift for 1 to 12-year-olds so that they can enjoy a cool outdoor water party in the backyard or garden.
What Could've Been Better?
This product works great most of the time, giving the kids just the fun that they want. However, connecting the mat directly to a garden hose might lead to water leakages. Hence, you should always ensure that the waterproof ring that is provided with the product is attached to the hose before connecting it to the mat.
Pros
Lesser chances of cracking and tearing

More resilient to higher water pressures

Completely non-toxic in nature

Offers great durability
Cons
Connecting mat directly to hose may cause leakage problems
This exciting water toy is something that any kid would love to own, thanks to its attractive unicorn design. It is an ideal option for backyard water games during a kids' pool party or any kind of celebration.
Why Did We Like It?
You can inflate and deflate this water toy quite easily with an air pump, thanks to the large double bed type fast valves. Besides, these also facilitate a 5 times faster deflation and inflation than the average inflatable water toys. And to use the sprinkler, all you have to do is connect it to a regular sized garden hose after inflating it.
Further, this attractive water toy is made from a high-quality, robust material that lasts much longer than most ordinary sprinklers. The material is also tested thoroughly and is much thicker than that of other water toys.
Additionally, this product comes with 4 free stakes, which help to secure it from being blown away during windy days. Hence, your kids' favorite water toy is completely protected from all kinds of damage and risk. Moreover, the height of the water sprinkled can be adjusted efficiently by changing the water pressure.
What Could've Been Better?
This product looks absolutely adorable and offers a great performance. However, sometimes we noticed water spraying out of the connection between the plug and the hose. Also, after using it for a long time, the horn and the face might start filling with excess water. In such cases, you should let the sprinkler rest for a while.
Pros
Inflates and deflates much faster

Easy to set up and use

Lasts longer than most ordinary sprinklers

Safe for use during windy days
Cons
Water may spray out of the plug-hose connection sometimes
The next product in line is this unique trampoline sprinkler from Bobor. It makes for an excellent gift for your little ones on any occasion, and you can be sure they will be thrilled with it. This sprinkler can be installed in the courtyard or the garden during warm summer days to provide your kids with a fun-filled cool-down session.
Why Did We Like It?
This sprinkler would need neither any splash mat nor any inflatable water toy, but just your existing trampoline. All you need to do is attach this product to the top circumference of your trampoline net, which just takes a few minutes. And you are all set to provide your kids with the ultimate summer recreation.
Interestingly, this sprinkler helps to decrease the temperature on the trampoline by 25 degrees, letting the kids cool down while they bounce on it. Besides, there is a convenient water flow switch on the sprinkler hose which lets you adjust the flow of water sprayed on the trampoline. This is a great advantage compared to many other products where you have to control the flow by adjusting the water source.
Furthermore, the hose is mounted on the outer portion of the trampoline net, so that your kid doesn't grab it accidentally while jumping. Note that this product is also available in two colors, black and blue.
What Could've Been Better?
This trampoline sprinkler does provide the little ones with the fun-filled water play session that they crave for. However, when the sprinkler is tied onto the trampoline too tightly, water may sometimes not flow through properly. Hence, make sure that the zip strips are not tied more firmly than is necessary.
Pros
Can be used with an existing trampoline

Installation just takes a few minutes

Sprinkler makes trampoline much cooler

Flow of water sprayed can be adjusted
Cons
Water flow is disrupted if sprinkler is tied too tightly
This bright red sprinkler designed like a fire hydrant with a silly face is sure to enthrall kids of all ages and pets too. Instead of opening a real fire hydrant, you just have to hook this sprinkler to your garden hose and provide you kids with non-stop fun on a hot sunny day.
Why Did We Like It?
Though this sprinkler has a size little larger than your palm, it can shoot water up to a height of 8 feet. This is more than what most other sprinklers can offer, making it a product highly sought for by all parents. Also, you can turn the water to a moderate level to get 3 to 4-foot high sprays.
Note that it is suitable for all kids aged three years and above and thus will make for a perfect birthday gift for your little ones. Besides, if the water pressure at your home is powerful enough, then you can also get the top of the structure to spin. And the sprinkler would never topple over as long as you keep it on a flat surface.
Furthermore, this product is made from high-quality, durable material and hence lasts much longer than the average sprinklers. And that's not all. It is completely safe for the kids and requires minimal supervision by adults. So, you can continue with your household chores without having to worry about the kids playing with it in the garden.
What Could've Been Better?
Although this sprinkler offers a great performance, sometimes the product delivered may not match with that shown on the online shopping sites. So, be sure to check the package as soon as you get hold of it. If it doesn't match, report this issue to the manufacturer immediately and they might send you a replacement.
Pros
Water is sprayed up to a height greater than most sprinklers

Higher water pressure might also make the top spin

Requires minimal adult supervision

Made from high-quality, durable material
Cons
Incorrect product may be delivered sometimes
The ideal sprinkler for your toddler should not have water spraying out at high pressure. That's because you are introducing the child to water and hence you must let her be accustomed to it at first. This Pretty Petals Sprinkler from Melissa & Doug will be the perfect choice for such little kiddos.
Sale
Why Did We Like It?
With this sprinkler at home, your kids get a pretty little patch of plastic flowers which consists of 12 petals in total. Each petal squirts water in the form of arcs for the babies to play in. You can attach it to a hose very easily to make for an outdoor fun activity for the whole family during summer.
Further, the pressure of the water can be adjusted at any time by just turning the water source for your hose up or down, as desired. On keeping the water pressure low, the little flowers produce small arcs of water that are ideal for the toddlers. However, once the kids get used to the water and can also play in taller water streams.
Additionally, the sprinkler encourages active play outdoors, sparks the imagination of kids, and also helps the development of gross motor skills.
What Could've Been Better?
This beautiful water toy works wonderfully and would appeal to any toddler. However, we noticed that the dark pink paint on the flowers had faded a bit after a few months of use. To avoid this issue, try not to keep this sprinkler under direct exposure to the sun.
Pros
Helps in developing a child's gross motor skills

Makes for an attractive water toy

Water pressure can be adjusted

Easy to set up and use
Cons
Pink color of the flowers may fade a bit over time
This water spray sprinkler from Chuchik gives your kids the fun and excitement of a waterpark in your own garden or backyard. By fitting this toy to a hose and turning on the water, you can also ensure that your lawn is watered at the same time.
Sale
Why Did We Like It?
This sprinkler comes in the form of a brightly colored cute turtle with googly eyes that would attract any child. Added to this, the spinning back of the turtle creates whirls and twirls in the water that is released through the rubber wiggle tubes. As such, kids would be thrilled to have a water toy such as this.
Besides, the water sprayed from this sprinkler can reach a height of maximum 8 ft, which is more than many other products. Also, the heavy duty material of the wiggle pipes and the holes on the back help to spray water in all directions, distributing the water pressure evenly. As a result, the turtle's back becomes completely safe for your children and pets.
Furthermore, you also get two connectors, which you need to attach to the product and then to your garden hose to start the sprinkler. And the rubber o ring at the rear end of the sprinkler prevents any leakage when fitted onto the connector.
What Could've Been Better?
Although this sprinkler offers an exciting water play session for the kids, we noticed that a few of the wiggle tubes were bent a little. This might have taken place due to the packaging and shipping. So make sure to check your product thoroughly when it arrives.
Pros
Water pressure distributed evenly through all tubes and holes

Sprinkler comes in a cute turtle-form

Swirls and twirls are created in the water

Rubber o ring prevents any leakage
Cons
Some of the wiggle tubes may be slightly bent
The next pick we have for you is this splash mat from Dualplex that can accommodate preschoolers, small children and even bigger kiddos. It will let your kids have a blast along with their friends all throughout the summer.
Why Did We Like It?
This sprinkler pad has a sturdy inflatable rim with a thickness of 0.25 mm that delivers a sound structure when filled with water. The material is completely non-toxic and is designed to bear high water pressures, which makes it perfectly puncture resistant.
Further, this product features a cute "deep-sea life" design that pictures corals, colorful fish, starfish, and more attractive illustrations. Such a design will appeal to the imagination of any child, giving them the chance to "swim along" with their favorite ocean animals.
Moreover, this splash pad is also quite convenient to store as it can be folded into a small size and would occupy minimal space in the home. And you can fit this product into all kinds of hoses, which rules out any concerns of compatibility as in some other products. 
What Could've Been Better?
Although we have no complaints regarding its efficiency, this product didn't seem too safe for very small children. After the water fills the pool completely, they might slip and land hard on the bottom. So it may not be ideal for kids aged below 4 years.
Pros
Non-toxic material

Designed to bear high-water pressures

Deep sea life design looks cute and attractive

Convenient storage
Cons
May not be safe for children age below 4 years
This unique and colorful sprinkler entertains kids all through the summer season, and also keeps them cool and healthy at the same time. It is suitable for kids aged 4 years and above and is also quite easy to use.
Sale
Why Did We Like It?
What we like the most about this sprinkler is that it makes all the streams of water swirl around, creating delightful "water patterns". This is made possible by the hydro-powered dome which spins faster with a higher water pressure, and releases the water streams through the strong wiggle tubes.
Also, you don't need to be worried about any leaks or cracks in the dome or the tubes; they are all made from a strong and sturdy material.
Additionally, this sprinkler is quite small in size; as such, it becomes easy to handle, use, and store. So, even if you have a small backyard for your children to play in, this toy would be perfect for their summer water play sessions.
What Could've Been Better?
Although we were more than satisfied with how this product turned out to be, sometimes we noticed that the dome stopped spinning. This was especially when the sprinkler was being used for a long stretch of time. In such cases, we had to walk up to it and make it spin with their hands to start it once again.
Pros
Makes streams of water swirl around

Minimal chances of leaks or cracks

Easy to handle, use and store

Also suitable for small areas
Cons
Dome might stop spinning sometimes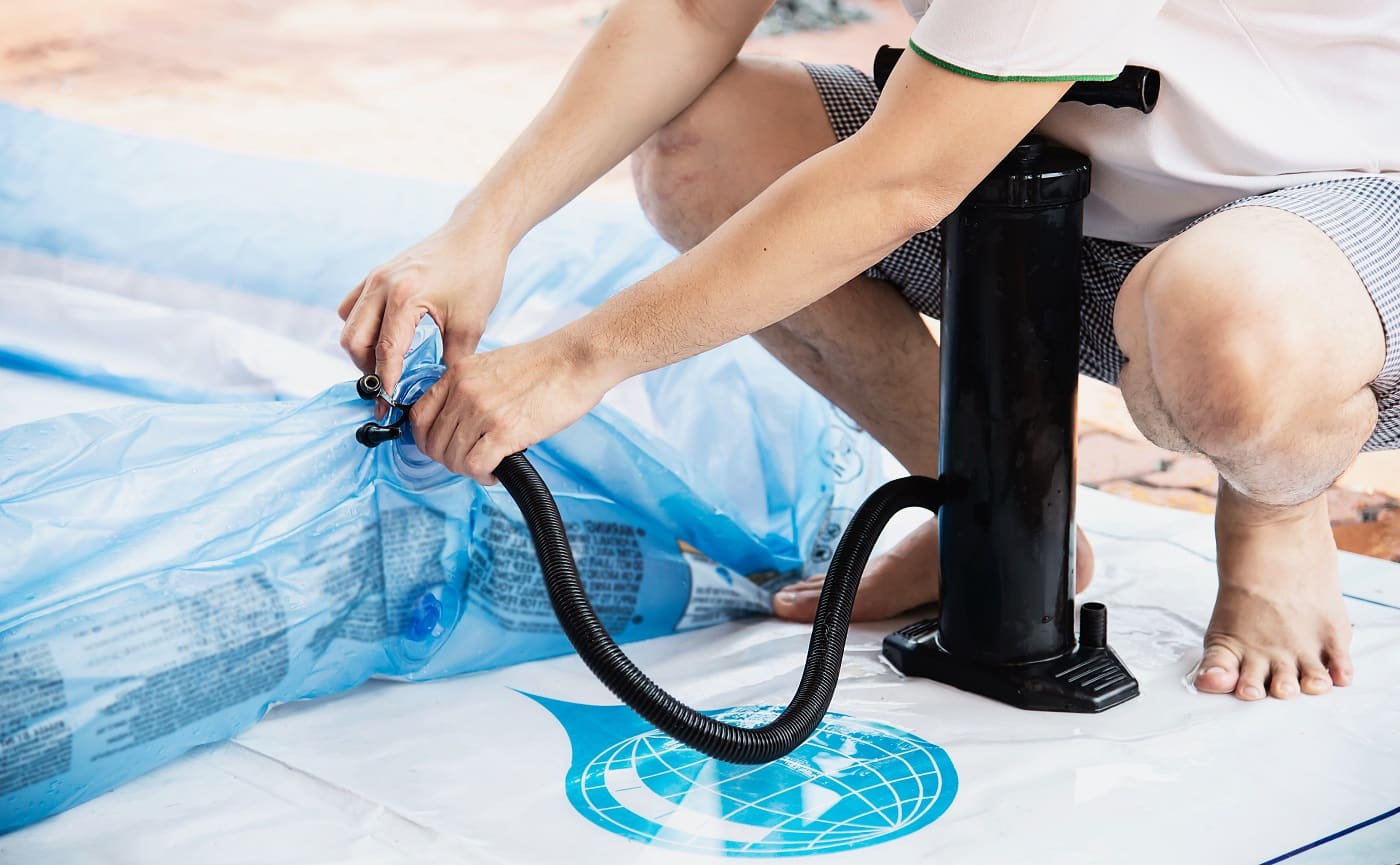 Sprinklers for Kids Buyer's Guide
Gifting your kids the right sprinkler would let them enjoy all summers to the fullest without having to stare at television or smartphone screens. But for that, you need to keep some essential points in mind which are crucial to making the ideal choice. Here are some key factors that should be considered before moving on to purchase a sprinkler for kids.
Variable Pressure
This is a vital point to consider as a consistent pressure may not be favorable to all. For example, all kids don't want their sprinklers to shoot too high. And surely, parents may not be comfortable with their babies being hit by powerful water streams.
Hence, good-quality sprinklers allow you to adjust the water pressure by different levels. So, you can get both tall streams for the older kids and the gentler and smaller ones for the toddlers.
Multi-Directional Toggle
Some kids may not like the static sprinklers which just produce straight streams of water. In such cases, any sprinkler that oscillates or rotates while releasing the streams will be much more exciting. Needless to say, all sprinklers are fun and it's just a matter of preference.
Number Of Sprays
Getting hold of a sprinkler with multiple spouts is much more advantageous as it offers a more fun-filled experience. Also, it doesn't depend on the number of kids you are getting it for, as a single kid will also enjoy multiple water sprays much more than single sprinklers.
Soft Materials
A great aspect of sprinklers is that they help your kids build muscles and fine-tune your motor skills. That's because they skip, jump and generally flail about in the mini-pools. Hence, sprinkler toys that are soft would prevent any injuries in case of any slips or falls.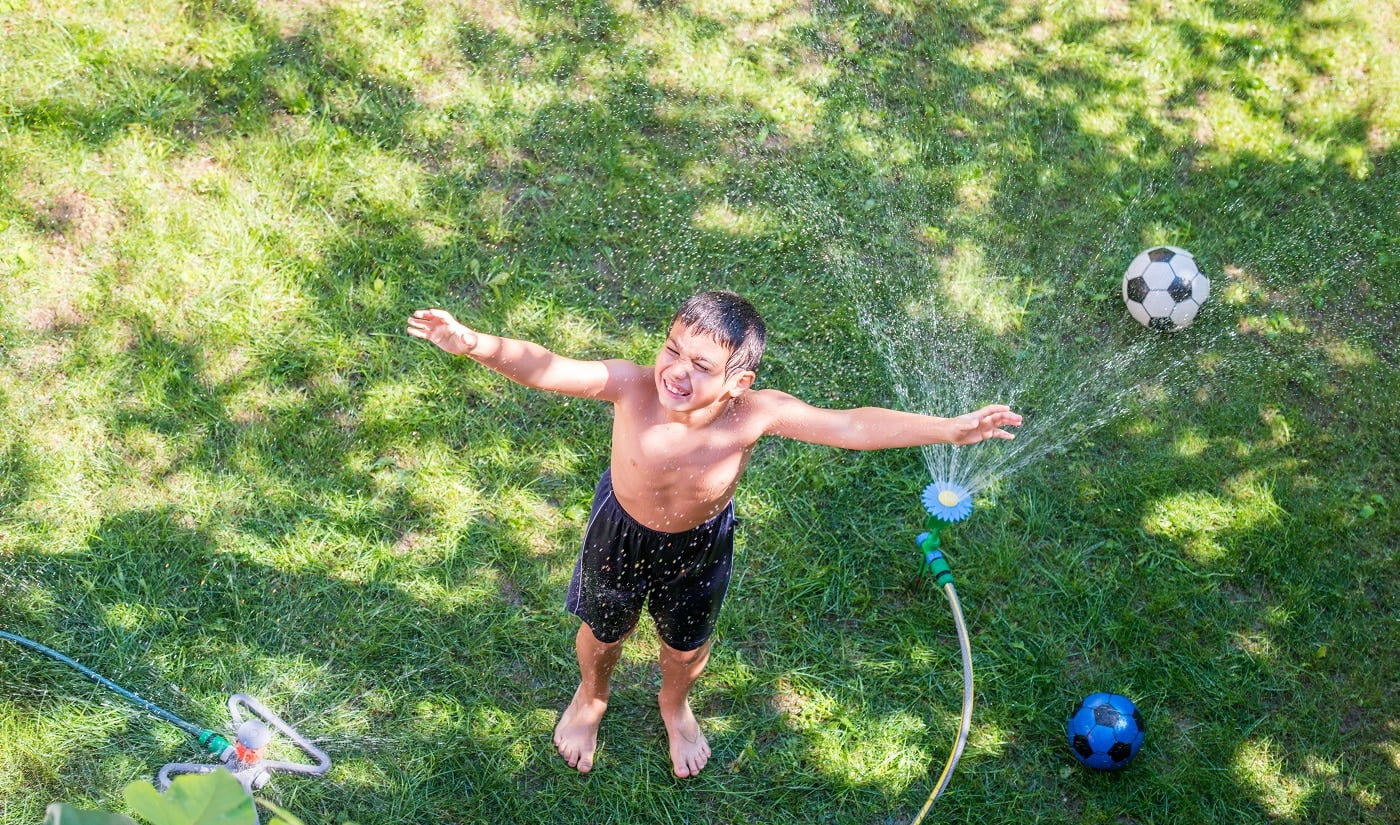 Verdict
With this, we come to the end of this guide and we hope it will be easier for you to choose a suitable sprinkler for your kid now.
But before we sign off, we would like to recap our favorites from the list. If you want to give your little ones a nice mini-pool, you can go for the Jasonwell Sprinkle & Splash Play Mat. It will be an efficient choice and is also available at an affordable price.
If you are looking for a more attractive water toy for your kid, the Chuchik Outdoor Water Spray Sprinkler will be a great option to go for. On the other hand, if you want something smaller and gentler for your toddler, the Melissa & Doug Pretty Petals Sprinkler will be an ideal choice.
Let us know whether you agree with our verdict in the comments section below.
Till next time! Adios!
Related Articles
10 Best Bubble Balls Reviewed | Buyer's Guide
8 Best Dump Cart for Lawn Tractor & ATVs