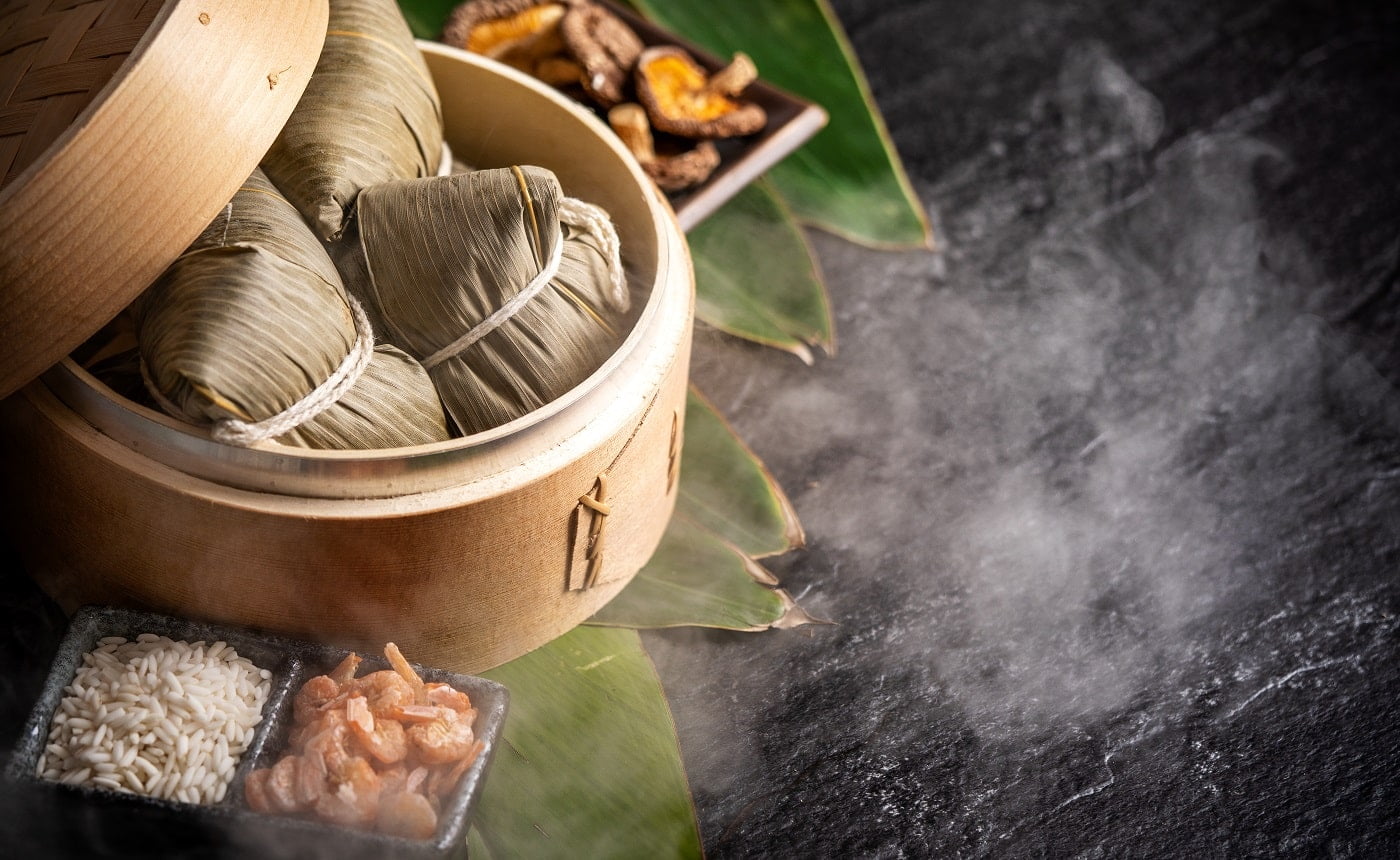 Love home-cooked meals, but feel too lazy to cook? A tamale steamer can be the best solution!
Not only do they assist trouble-free cooking, but they also prevent essential nutrients from escaping your dishes. Besides, they come in real handy when cooking a lot of food. Just set on the steamer and forget it!
Sadly, buying one isn't an easy job. With so many options up for grabs, don't be surprised if you find yourself all confused. That's why we've curated this list with the best tamale steamers. As a bonus, we have included a comprehensive buyer's guide at the end.
So, let's start!
Best Tamale Steamer
IMAGE
PRODUCT
DETAILS

Our Top Pick

Our Top Pick

Hamilton Beach 37530A Digital Food Steamer

2-tier steaming
Digital touchpad
LED indicator

VIEW LATEST PRICE →

IMUSA MEXICANA-24 Aluminum Tamale Steamer

Heavy-gauge aluminum
Removable steamer insert
Riveted handles

VIEW LATEST PRICE →

Oster Sangerfield 108132.03 Casserole Set With Steamer Basket

Stainless steel build
Glass lid
Riveted handles

VIEW LATEST PRICE →

BELLA 13872 Two Tier Food Steamer

7.4-quart cooking capacity
Water indicator 
Timer function

VIEW LATEST PRICE →

Granite Ware 6257-1 Tamale Pot With Steamer Insert

15.5-quart capacity
Inert surface
Removable steamer plate

VIEW LATEST PRICE →

Advanced Royal Challenge S24S Tamales Steamer

Food-grade stainless steel
Spout design
Steamer divider

VIEW LATEST PRICE →

Aicok HY-4401S Electric Food Steamer

800watt fast heating
Timer function
auto-shutoff

VIEW LATEST PRICE →

Kenmore Broadway Steamer

Steel construction
Stainless steel steamer insert
Glass lid

VIEW LATEST PRICE →

Secura DZG-D80A1 Electric Food Steamer

800watt
Delay timer
auto-shutoff function

VIEW LATEST PRICE →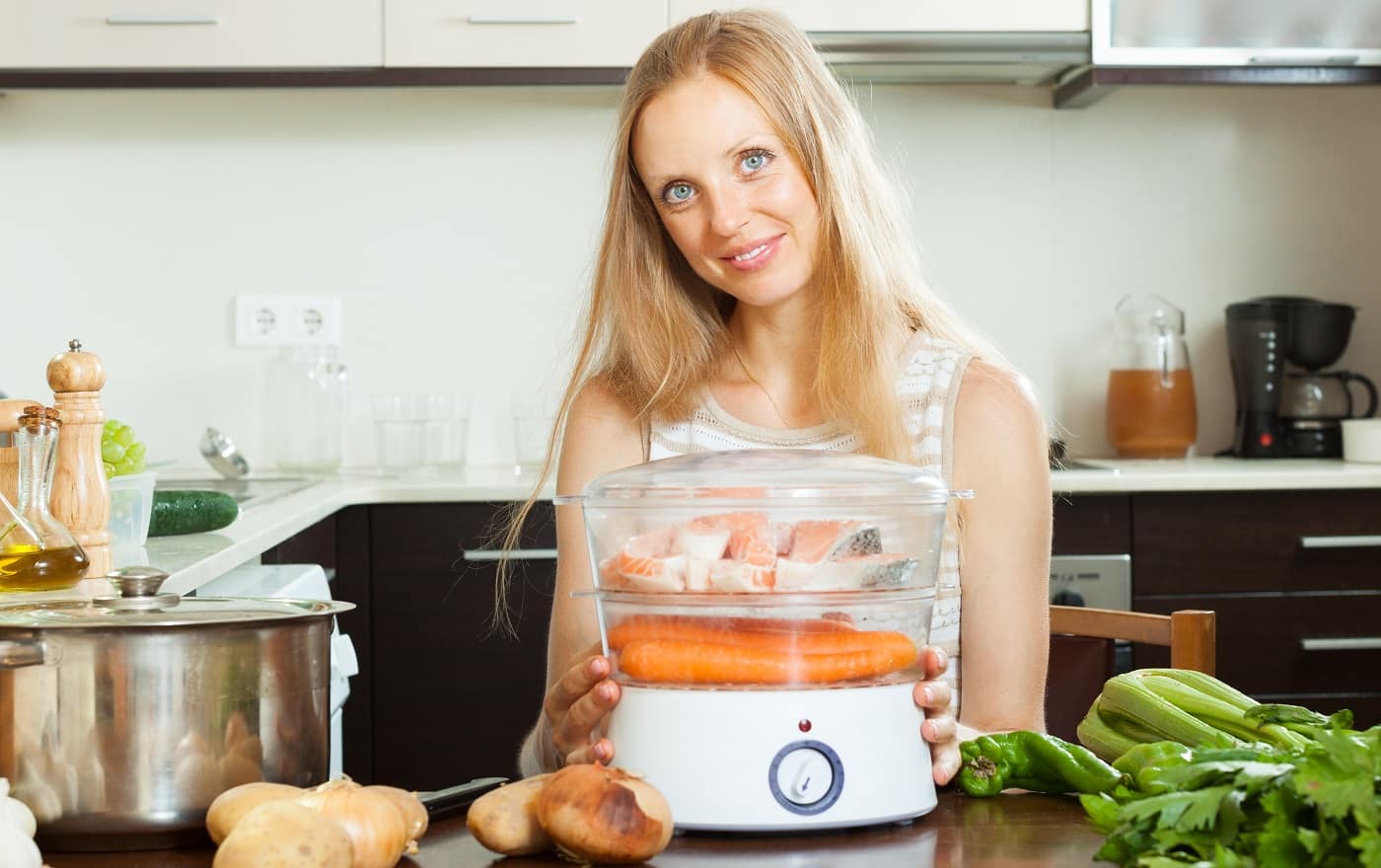 We'd like to begin with the Hamilton Beach 37530A Digital Food Steamer. Featuring a sleek yet effective design, it has a plethora of user-friendly features for trouble-free operation. What's more, it won't make you break the bank.
Why Did We Like It?
For starters, we fell back on the customer reviews, and most of them didn't disappoint. One of its biggest advantages is that there's practically no preparation needed. The brand recommends handwashing all parts with warm water and soap before use, and that's pretty much it!
On that note, the steamer comprises two stackable baskets and a small rice bowl for a combined capacity of 5.5-quart. Once it's filled with the food, set the timer using the digital control panel at the bottom. 
Moreover, removing the divider will make more space for dishes like corn on the cob. It will automatically switch to the warm mode upon completion and run for an hour before shutting down.
We also liked the fact that it comes with a delay mode, meaning you can program it to steam later. Just fill the water reservoir and set the delay timer. The LED indicator will notify you about low water levels.
What Could've Been Better?
While at it, we observed that the warm mode creates too much moisture to make the food mushy. Hence, you might want to take it out immediately after steaming. Other than that, we don't have any other complaints.
Pros
Nested storage design

Timer function

Delay start function

Comes with a rice bowl and drip tray
Cons
Warm setting turns food mushy
Our next recommendation is another affordable unit, this time from IMUSA. The Aluminum Mexicana-24 Tamale Steamer has a durable design and is ideal for those wary of cooking food in plastic containers.
Why Did We Like It?
At first glance, the humble appearance of this steamer didn't assure high performance, but that was till we tested it. The heavy gauge aluminum construction makes it capable of withstanding long hours of cooking without sustaining heat-related damages. 
Besides, the riveted handles on either side facilitate seamless handling. Similarly, the lid also has a handle to protect your hands from the heat.
Unlike its predecessor, this one has a single compartment that comes with a steamer insert. This feature makes it a multi-utility steamer as you can remove it for cooking taller food or making stock. We steamed a couple of mussels with the insert and corn on the cob sans it, and were pretty satisfied with the results.
Here, we should state that it comes in three quantity variants, viz., 12-quart, 20-quart, and 32-quart. And since there are no compact corners, you won't have a tough time cleaning it post-use.
What Could've Been Better?
In the absence of a water level indicator or separate water reservoir, it can be challenging to keep an eye on the water level and refill it when required, especially with the steamer insert. But for its price, this inconvenience is far from being a deal-breaker.
Pros
Silver interior and exterior

Double side handles

Can be used as a stockpot

Durable
Cons
Refilling water can be difficult
As you may have already guessed from the name, our next pick is also a multipurpose unit. The Oster Sangerfield 108132.03 Casserole Set With Steamer Basket is a lightweight and durable unit that solves all your cooking woes.
Why Did We Like It?
One of the first things that got us hooked was the lightweight steel construction that makes it easy to move around without compromising durability. Its two-tier structure consists of a casserole with a glass lid and a steamer, both of which can be used separately on the stovetop. With a 3-quart capacity, it's pretty suitable for cooking large meals at once.
The encapsulated stainless steel base ensures proper heat distribution for uniform cooking. Considering it isn't the biggest vessel that you'll find, it's a good feature for cooking with less water. The vented tempered glass lid facilitates easy monitoring throughout the entire cooking process.
Once the steamer insert is removed from the top of the bottom pan, it becomes shorter than standard stock pots for hassle-free storage in compact spaces. We'd suggest avoiding putting it in the dishwasher to prevent the color from fading.
Last but not least, it comes in three other sizes and vessel variants to suit different customer needs.
What Could've Been Better?
Since it's not dishwasher-friendly, hand cleaning may add to the maintenance time and effort. The lid tends to rattle when steaming for a long time, but turning it slightly should make it stable.
Pros
Lightweight and durable

Transparent glass lid with handle

Riveted side handles

Doubles as Dutch oven with lid
The Bella 13872 Two Tier Food Steamer is a heavy duty unit that can well be your go-to cookware when cooking for many people. With a user-friendly control panel, it's one of the most budget-friendly options on the market.
Why Did We Like It?
At first glance, it's similar appearance to the Hamilton Beach 37530A Digital Food Steamer compelled us to try it. And the performance wasn't too different either. 
The two-tier cooking system has twin steaming baskets for a combined cooking capacity of 7.4-quart. We used the lower basket for cooking vegetables and the upper one to steam salmon, and both dishes turned out extremely juicy. Thanks to the quick heating system, it can start steaming in as little as 30 seconds.
The control panel mainly comprises a timer knob, LED power indicator, water level indicator and water reservoir. Not only that, but it also has a picture guide to help you with the steaming time of 6 different dishes. Talk about being user-friendly!
In tandem with the water indicator, the clear baskets allow users to keep a close eye on the cooking. Finally, the auto-shutoff feature and boil dry protection accounts for a safe cooking experience.
What Could've Been Better?
Despite cleaning with warm water and soap, it took us some effort to eliminate all the grease and smell from the baskets. Some people may find the lack of a digital panel inconvenient, but we can't crib about it for the price.

Pros
Quick startup mechanism

Transparent baskets

Includes plastic tray with indents for eggs

Auto-Shutoff
Cons
Cleaning may take longer than usual
Halfway through the list, and we'd like to introduce the Granite Ware 6257-1 Tamale Pot With Steamer Insert. Sporting an all-black construction, it has one of the biggest cooking capacities on our list.
Sale
Why Did We Like It?
Before taking you through the details, allow us to shower some praise on its stylish appearance. The black ceramic steamer complements most kitchen counters and cooking tops. Furthermore, its large 15.5-quart cooking capacity means you can steam a lot of food in one go, especially for parties or get-togethers.
The glass-like surface employs a distinct technology for applied porcelain that apparently makes for a durable and chip-resistant vessel. On top of that, the inert properties prevent it from interfering with or altering the taste of food even during long hours of steaming.
Unlike the Bella 13872 Two Tier Food Steamer, it didn't take us a lot of effort to clean the pot with warm water and soap. The steamer plate sits at the bottom and elevates the food up to 8 inches. You can also remove it to create a large pot for regular cooking. Complete with a handle-equipped lid and side handles, it's quite the versatile cookware.
What Could've Been Better?
There are a couple of things that we'd like to improve. Firstly, the lid-handle gets very hot after some time, so we'd strongly recommend wearing mittens while using it. Secondly, it's not suitable for glass stovetops, which somewhat limits its utility. 
Pros
Chip-resistant surface

Easy to clean

Holds large amounts of food

Lightweight design

Side handles for portability purposes
Cons
Lid handle gets hot

Not for use on glass stovetops
The Advanced Royal Challenge S24S Tamales Steamer is a premium multi-utility unit that comes in different cooking capacities. It has a durable steel construction for prolonged service life. Plus, you don't need to strain your nerves to figure out the operation.
Why Did We Like It?
Boastful name aside, we liked its simplistic construction. It uses thicker, heavy duty stainless steel than its competitors for long-lasting durability. And being food-grade, it doesn't have any artificial coating, making it free from health hazards. Moreover, the steamer plate has just the right kind of perforation pattern for even steaming. 
A small pocket-like spout on the front replaces the water reservoir that is commonly found in digital steamers. If you feel that the water level has gone down, add small amounts of water at a time to continue steaming the food. 
We also appreciate the small removable steamer divider attachment that sits atop the plate. You can use it to create sections for steaming smaller foods like mussels, prawns, cherry tomatoes, bean sprouts, etc. Both the vessel and lid are integrated with carry handles for easy transportation. For the latter, the handles have a "spread-out" structure to keep your fingers away from the pot.
What Could've Been Better?
Although we don't have much to crib about the performance, we feel it's a bit on the pricey side. Besides, the solid steel build doesn't leave room for a monitoring system, meaning users have to remove the lid every time to check the process. This can be a little inconvenient while steaming dishes that need careful supervision.
Pros
Non-coated robust steel construction

Lid with handle

Heat-resistant side handles

Removal steamer plate and divider
Cons
Expensive

No monitoring system
Now that we are towards the end of the list, here's an electric food steamer from the house of Aicok. This 3-tier unit has all the features for a safe and hassle-free cooking experience. With a 9.5-quart cooking capacity, it's ideal for small to medium duty steaming.
No products found.
Why Did We Like It?
First things first, all the three steamer baskets are made of BPA-free plastic for high chemical and temperature resistance up to 284 degrees Fahrenheit. When combined with the 800watt fast heating system, it saves a lot of time while cooking full meals. Depending on the dish, you may also complete cooking in only 30 minutes.
The conveniently located control panel features a timer dial, LED indicator and water level indicator. All you have to do is pour water into the base, stack the food-filled baskets and set the timer anywhere between 1 and 60 minutes. There are two water inlets on either side of the base for refilling purposes.
We love how the unit utilizes an alarm to notify users about the completion of steaming or water depletion in the base. This way, you don't necessarily have to be in the vicinity while steaming. Once done, clean the baskets with warm soapy water and air dry. We'd also suggest intermittent cleaning of the reservoir base with vinegar.
What Could've Been Better?
Since the top baskets are larger than the one at the base, it's practically impossible to use them separately. If you need to steam larger quantities of food, you'll have to use the empty base basket for proper stacking. And for some reason, the lid collects a lot more precipitation than usual, so keep an eye on it.
Pros
Powerful steam design

LED power indicator

Compact storage

Alarm indicator
Cons
Baskets can't be used separately

Lid collects more precipitation
Broadway runs synonymous with class, and so does this steamer from Kenmore! The Broadway Steamer is an elegant and multipurpose unit that grabs eyeballs with its beautiful glacier blue color. It's worth considering for both first-timers and pros.
Why Did We Like It?
One of the first things that drew our attention was the unique two-piece design. Don't get confused here- it's essentially a single pot, but has been designed to look like two stackable units. In combination with the eye-soothing glacier blue color, count some brownie points for the appearance!
Coming to the other specifications, it includes a stainless steel insert that fits over the steamer pot for precise steaming of vegetables, seafood, meat, etc. It has a small lift handle for seamless attachment and removal. It also gives you an idea about the maximum water level to add. The haar enamel coating on the interior and exterior facilitates even heat distribution for fast cooking.
Similar to the Advanced Royal Challenge S24S, the spread-out handles prevent the fingers from burning. Likewise, the lid handle has an elongated shape optimum heat resistance. Lastly, the transparent lead helps users monitor the steaming.
What Could've Been Better?
Some users have reported the enamel chipping off after a few uses, while others have complained about the lid shattering during air drying. In hindsight, we feel the brand should focus on consistent quality manufacturing.
Pros
Removable steamer plate with handle

Transparent lid with handle

Works on both gas and induction cooktops

Easy to clean
Before wrapping up the list, we thought it's only fair to include another electric steamer. The Secura Electric Food Steamer has twin steaming baskets with a combined cooking capacity of 8.5-quart. Besides, it's compact design makes storage a breeze.
Sale
Why Did We Like It?
Having tried the Aicok Electric Food Steamer, we wanted to explore more options in the category. And we are glad we picked it up. To begin with, the two tier cooking system is made of two stainless steel pots with twin stay cool handles on either side. And each can be used as a standalone if required.
With an 800watt output, it begins steaming in under 30 seconds for fast cooking. The base is integrated with an analog control panel with the timer knob and the power LED indicator. Unlike most timers, this one can be programmed to run for a maximum of 90 minutes with 5-minute succession between 2-time stops. Besides, the delay timer feature allows you to initiate steaming at a later time.
The base water reservoir has clear water lines to keep users from guessing about the maximum water level. Last but not least, the non-slip upper lid completes the foolproof structure for optimum energy efficiency.
What Could've Been Better?
Perhaps the only things we missed were a water inlet and water level indicator for quick refilling. Without them, users have to go through the hassle of removing the pans to check the water level. Considering its price, the absence of these two features is a bit of a bummer, to say the least.
Pros
Anti-scalding handle

Anti-dry protection

Easy to clean, dishwasher safe

2-year warranty
Cons
No separate water inlet and water level indicator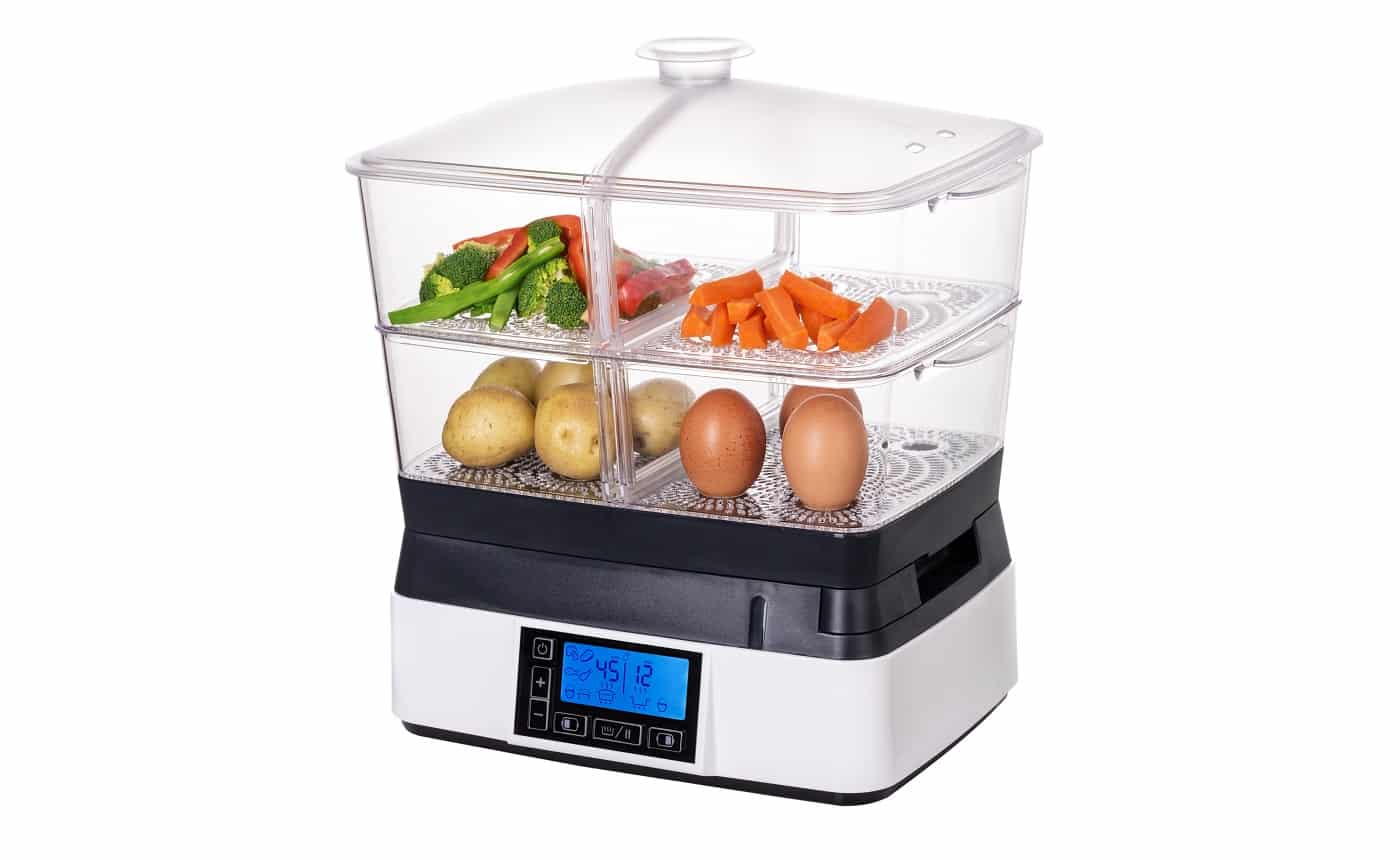 Tamale Steamer Buyer's Guide
Having the best names to choose from is the job only half done. Why, you ask? Well, without knowing your exact requirements, it's highly likely that you'll end up with the wrong product. And let's face it- no one likes to spend their hard-earned money for nothing!
So, we take it upon ourselves to list down the most important factors to be considered before making a purchase. 
Size
Undoubtedly, the size of the pots is one of the first things that you'd want to check. Now, there are two ways to do that. First, you can consider the combined capacity of the two pots, which is the total capacity of the steamer. For instance, if a steamer has 12-quart capacity, then that's the amount of food you can cook at once.
In this regard, we recommend going for one with at least 7-quart for everyday cooking for 4 people. But if you have more people to cater to or are looking to buy one for get-togethers, then a 15 or 20-quart steamer should be sufficient.
Another thing to factor in is the dimension of the pot, which will give you an idea of the type of food you can steam. For example, users would obviously need a taller pot for steaming something like corn on the cob. 
Material
Tamale steamers are always almost made of steel, aluminum, or plastic. While aluminum steamers heat up quickly and distribute heat more evenly, they tend to lose faster when not in use. However, stainless steel steamers solve this problem as they remain warm even after the heat is turned off. 
On the other hand, plastic tamale steamers are preferred by users because they are easy to maintain and lightweight. Most of them come with a warm setting, wherein the heat circulation continues after the heat is taken off. If you're opting for a plastic tamale steamer, then we'd advise looking for BPA-free, food-grade plastic as they are safe and hygienic. 
A pro-tip: no matter what material you go for, always check for high temperature and chemical resistance for enhanced durability. Also, don't forget to check its compatibility with different cooktops.
Lid
You will seldom find a tamale steamer without its lid. In fact, it's often said that a teamer is as good as its lid. So, make sure that it has the right fitting to keep the heat from escaping while providing adequate steam ventilation. Generally, metal tamale steamers come with a lid made from the same material. But we are slightly in favor of glass lids as they offer easy monitoring.
Handles
Be it for the pots or the lids, a handle is a feature that most users don't want to miss. But if the handle isn't heat-resistant, it doesn't really serve a lot of purpose. This is a reason why the spread-out handles are popular as they aren't closely connected to the pot or lid.
Timer
Most digital or electric tamale steamers come with a combination of timer and auto-shutoff function. Moreover, some of them also have a visual or audio indicator, especially to warn users about low water levels.
Removable Steamer Plate
By removing the steamer plate, you can virtually increase the size of the pot for cooking broths or taller food items.
Auto-Shutoff
Most electric or digital tamale steamers have a combination of timer and auto-shutoff functions for user-convenience. Some of them also come with a visual or audio indicator to warn users about low water levels.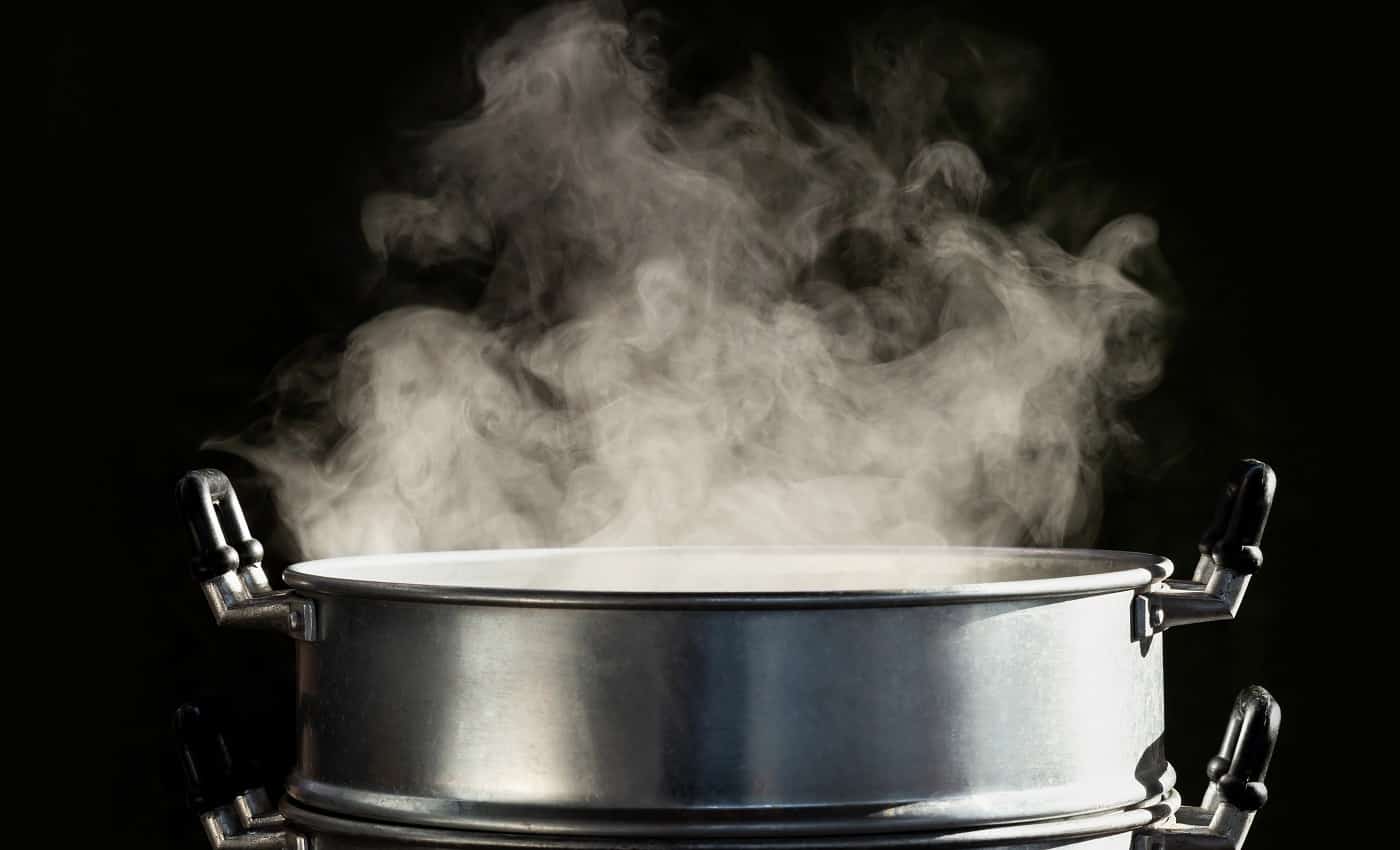 Verdict
With that, it's time for us to call it a day!
Frankly, we had a lot of fun cooking and tasting different dishes to test the efficiency of our recommendations. And at the same time, we hope our joy ride has helped you pick the right option for your needs. But if you're still in two minds, let us ease your troubles a bit more by naming our top 3 favorites from the list.
The Hamilton Beach 37530A Digital Food Steamer is one of the best budget buys, while the IMUSA Mexicana-24 Aluminum Tamale Steamer is a great metal unit. Lastly, the Bella Two 13872 Tier Food Steamer is a heavy duty model with 7.4-quart capacity. 
Now, allow us to take our leave. We would love to hear about your verdict in the comments section below.
So long!
Related Articles
11 Best Nonstick Cookware Brands
13 Best Pastry Mat [Reviewed & Buyer's Guide]
9 Best Chinese Cleaver [Reviewed & Buyer's Guide]
Are Red Copper Pans Toxic? [All You Need To Know]
Ceramic vs. Stainless Steel Cookware 101 [All You Need to Know]
11 Best Chef Knife Bags Under the Microscope
13 Best Steak Knives Right Now
11 Best Electric Knife Sharpeners
How to Build a Hidden Cabinet Knife Drawer Safe For Children