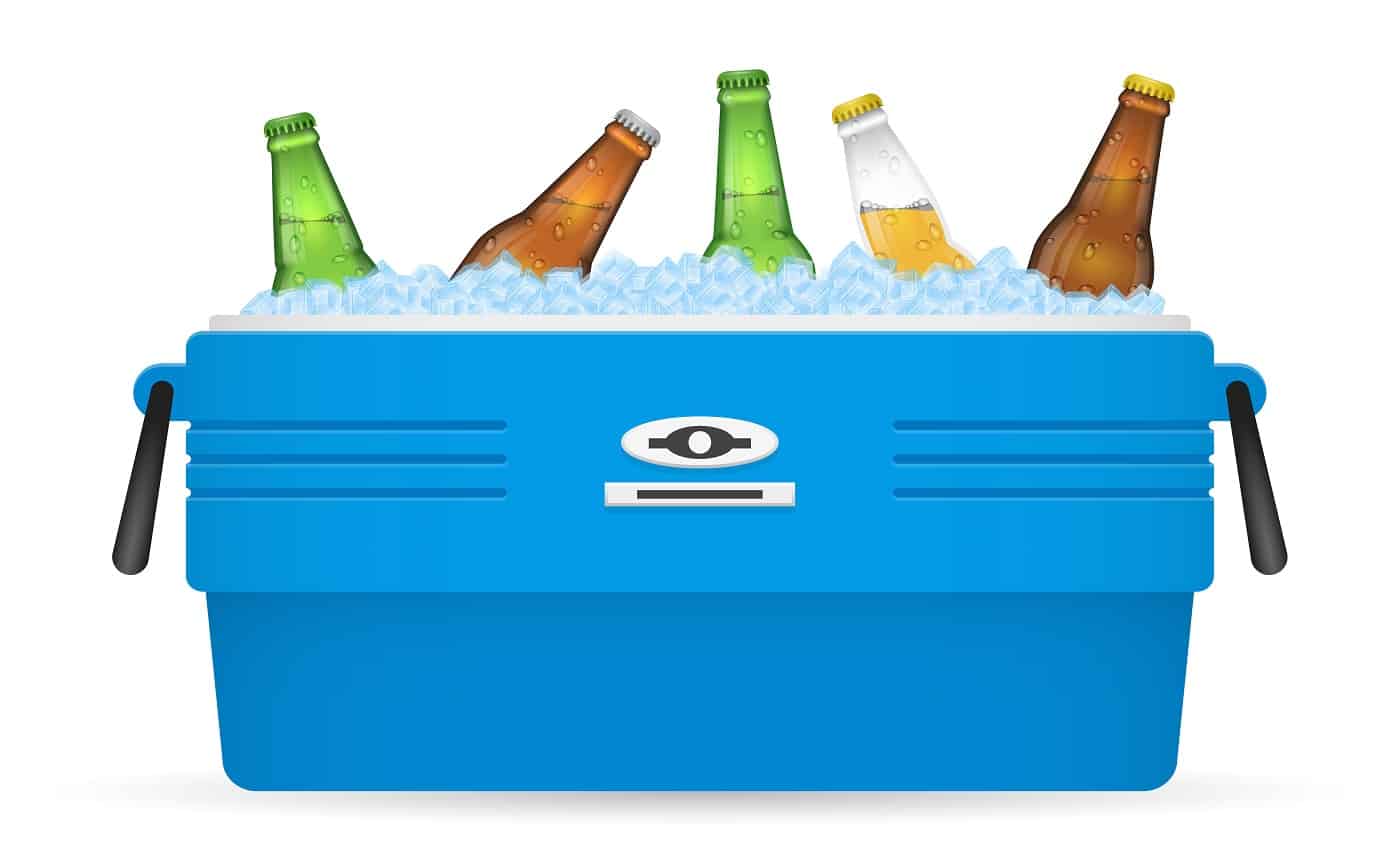 Are you truly ready for an outdoor trip if there are no snacks and drinks by your side? We don't think so!
The best thing about going on a road trip or a camping trip is talking to the people that accompany you while eating and drinking to your heart's content. But, for this plan to be successful, the beers need to be cold and the food warm (not the other way round).
And, this is why we suggest buying a good quality thermoelectric cooler to keep the food and drinks at the temperature they should be. To help pick the one best suited to your needs, we have reviewed the 9 best thermoelectric coolers of 2022 and included a buyer's guide as well.
So, without further ado, let's get right to it.
Best Thermoelectric Cooler 
IMAGE
PRODUCT
DETAILS

Our Top Pick

Our Top Pick

Igloo Iceless Thermoelectric Cooler

Molded-in handles
Easy to grip
Universal fit plug outlet

VIEW LATEST PRICE →

Koolatron Electric Cooler

27 liter capacity
Cools air 40°F below surrounding air
Can be used to heat and cool

VIEW LATEST PRICE →

Wagan Cooler/Warmer

Cools in 30 mins
Heating temperature goes up to 140℉

VIEW LATEST PRICE →

Coleman Portable Thermoelectric Cooler

48 liter capacity
Temperature can go up or down 40℉

VIEW LATEST PRICE →

K-Box Electric Cooler and Warmer

Large storage space
Connects to wall and vehicle outlets

VIEW LATEST PRICE →

Koolatron Kargo Portable Cooler

Two removable storage trays
33 quart capacity

VIEW LATEST PRICE →

Ivation Electric Cooler & Warmer with Wheels & Handle

45 liter internal storage
Equipped with wheels

VIEW LATEST PRICE →

Guay Insulated Thermal Bag Cooler and Warmer

Insulated bag
Low energy consumption
Silent fan

VIEW LATEST PRICE →

Michelin Hybrid Portable Thermoelectric Cooler Warmer

Single switch to alter between cool/warm
Insulated quick flip lid

VIEW LATEST PRICE →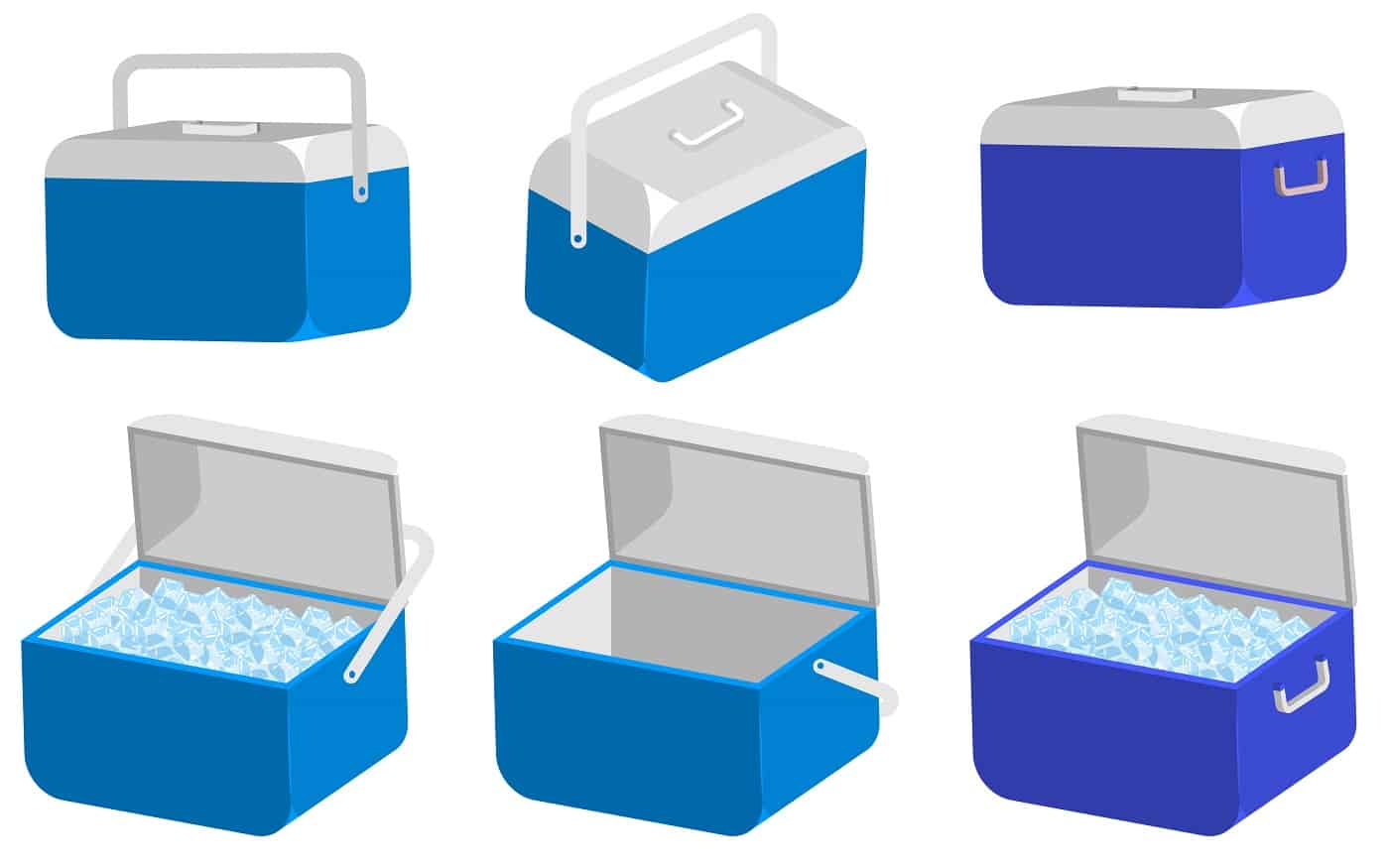 The Igloo iceless thermoelectric cooler is an excellent option to consider if you are looking for an affordable cooler. It can keep food and drinks cold without the hassle of dealing with ice and has ample space to store anything. It is also quite lightweight, making it easy to carry.
Why Did We Like It?
One of the main reasons this thermoelectric cooler stood out was the molded-in handles that enabled ease of use. Now, coming to the ease of use, this particular product operates quietly and will not disturb anyone. Plus, the cooler also has 2 handles that make it easy to grip and rather portable.
The Igloo iceless cooler has a 12V DC receptacle and universal fit output, making it ideal to be used in any situation. For vehicles, it can be plugged into the cigarette lighter. The 8 feet long cord ensures the cooler can be placed comfortably in any part of the vehicle and even between the seats.
Overall, this is a great cooler that does not require any ice to keep pre-chilled drinks cold. It has a 24 liter capacity and can be filled to the brim with more than 30 12-oz cans. And it is capable of cooling 36°F below the surrounding air.
What Could've Been Better?
Amongst some of the glowing reviews, some reviewers mentioned that while it works like magic, they faced a little problem with the overall make. It is worth noting that the handle, albeit helpful, is not very durable and tends to break easily.
Pros
Equipped with multiple handles for easy gripping

Portable and lightweight

Ample storage space

Easy to plug-in
Next on the list is the Koolatron electric cooler. This one is slightly on the expensive side but is worth the added cost. It has ample storage space and has two temperature settings. Apart from this particular model, there are two other variants – 18 and 26 quart – also available to cater to people that need smaller models.
Why Did We Like It?
The Koolatron electric cooler can be used not just to keep drinks cold but also to keep food and drinks warm. This electric cooler has dual functionality wherein it can go down 40°F below surrounding air and increase the heat to up to 135°F, making it ideal for every season.
Another fantastic feature is that it comes with a shelf that can divide the cooler into two compartments, making it easier to organize the contents inside. Moreover, it can be used vertically and horizontally, depending on the amount of space available. This makes it easier to carry it wherever needed since it does not take up a lot of space.
Lastly, this is ideal for camping trips and boating with friends and family since it has ample space inside, thanks to the 27 liter capacity, to store everyone's beverages. It has a 12V outlet with a plug, making it easy to set it up in any vehicle.
What Could've Been Better?
This cooler is efficient when it comes to it doing its job. There are, however, small issues with it. The latch of the cooler comes off easily but barely takes a few seconds to re-attach. Also, the power cord tends to fall out, so there is a need to keep an eye on it.
Pros
Performs heating and cooling function

Easy to carry and plug-in

One year warranty

Great capacity
Cons
Latch tends to loosen with time
The next item on this list is the cooler/warmer by Wagan. Ideal for anyone that loves snacking on the go, this cooler/warmer is a mid-ranged product with lots to offer. It has ample space making it portable and easy to adjust in any vehicle. Plus, it does not need any ice to keep food and drinks cold.
Sale
Why Did We Like It?
If you are looking for a cooler/warmer with a lot of space inside but do not want to spend exorbitant amounts of money, then this is the product to go for. The Wagan cooler/warmer has a capacity of 24 liters. This means it can accommodate up to 27 cans or 4 2L bottles vertically and still have space for snacks.
Moreover, it has a 7.5 feet long cord that allows it to be comfortably placed on the back seat or between seats. The ample space inside makes it ideal for families that love road trips. Plus, people of all ages utilize this like new mothers who keep milk cold or elderly people who need to keep their medicines cold.
Additionally, this cooler/warmer is also quite easy to clean as it has a removable lid. The cooler does what it says and accurately brings the temperature down as it claims to.
What Could've Been Better?
While this cooler has many beneficial features, it is not easy to set up and use. The biggest setback is that the cooler/warmer needs to be turned off and unplugged before starting the vehicle and before turning off the vehicle.
Pros
Accurately heats and cools contents

Lots of space inside for cans and big bottles

Long cord allows easy placement in the vehicle

Easy to clean
Another great portable cooler that performs a dual function is this one by Coleman. This thermoelectric cooler is a little high on the price range but offers a lot of value. It has many unique features that prove that this is easy to use, flexible, and a spacious cooler/warmer.
Sale
Why Did We Like It?
A major reason this cooler caught our eye was because of its large storage space. This cooler's capacity is 48L, which means around 44 cans can fit into it. Despite having a large storage capacity, the overall make is not that big and can easily fit into any vehicle vertically or horizontally.
Additionally, it comes with a storage tray that makes it easy to compartmentalize the whole cooler and organize the contents inside. This cooler is perfect for road trips as it can be plugged into the cigarette lighter of any vehicle using the 12V plug. The power cord is 8 feet long, which means it can be comfortably placed in the vehicle's back seat.
Another great feature it has is the convertible door. This cooler's door can be adjusted to open from the right or the left, depending on the needs. A lot of truckers highly recommend this one.
What Could've Been Better?
While looking for a downside to this cooler, we found that many reviewers mentioned it does not have good retention capacity. This means that the cooler does accurately cool down the contents but does not retain the temperature for a very long time.
Pros
Can be used as a chest or an upright cooler

Includes storage tray

Has a convertible door enabling ease of usage

Great storage capacity
Cons
Does not retain cold temperatures for long
If you are looking for a cooler and warmer that is ideal not just for vehicles but also at home, then the search ends with the K-Box electric cooler and warmer. Although, price wise, it tips towards the expensive side but has many unique features to offer, starting with the versatility in usage.
Sale
Why Did We Like It?
This particular cooler/warmer can be used at home and on the road; what's not to like about that? Plus, it can maintain cool temperatures without ice, which is an added benefit. It can also keep food and drinks warm as it raises the temperature to 130℉.
Moreover, it can store up to 48 cans to the brim or one 2L bottle with more than enough space for food. And since there is no need for ice, you do not have to worry about the ice melting and spoiling the food inside. The design is quite ergonomic yet straightforward, making it easy for anyone to carry it around.
As mentioned, it can be plugged into vehicles using the plug-in provided and can be comfortably stored in the back of the car or even between seats for easier access.
What Could've Been Better?
Overall, this is a great cooler/warmer that is versatile in terms of place of usage. However, the fan is quite loud and can cause a bit of disturbance. Moreover, reviewers have mentioned that it does not have a long life span.
Pros
38 quart storage space

Can be connected at home and in vehicles

Ergonomic design

Easy to store and use
Another excellent cooler to consider by Koolatrol is the Kargo portable cooler. Unlike the Koolatron cooler previously reviewed, this one has a bit more storage space along with few other additional features. Plus, it includes more storage trays for organizing the contents.
Why Did We Like It?
The Koolatron Kargo cooler is a fantastic option to consider if you are looking for something that will ease the organization of the contents inside. This cooler/warmer comes with two removable trays that can be utilized if you wish to keep certain food items separately. It also has a large storage capacity of about 33 quarts (31 liters), which translates to 42 cans.
Coming to the design of this cooler, it looks more like a mini-fridge than a cooler. The cooler has a split lid that divides into two making it easier to access if it is stored with a lot of luggage or in narrow spaces. Plus, this product can be placed vertically like a fridge or horizontally like a chest, depending on the space.
Overall, it is a good quality cooler that will cool the contents down by dropping the temperature 40℉ below the surrounding air. And, it can also keep the contents warm by raising the temperature to 135℉.
What Could've Been Better?
A major downside of this product is that it takes a lot of time to heat or cool the food. So, while it does reach the mentioned temperatures, it will take hours to get there. Also, reviewers advise keeping this in a well-ventilated area as it tends to overheat.
Pros
Generous storage capacity

Can keep food organized

Works like a mini-fridge

Compatible with an adaptor for wall outlets
Cons
Takes a long time to reach the desired temperature
The Ivation electric cooler and warmer is a great product to consider if you are looking for a user-friendly and easy to carry cooler. This requires very little maintenance and can maintain food and drinks' temperature, keeping it fresh and ready for consumption. It is ideal for picnics, road trips, and camping trips.
Why Did We Like It?
One of the main reasons this product is featured on this list is because of how effortless it is to use. The cooler/warmer has wheels and a handle that allow it to be moved easily. Once it is done being used, the handle can be folded, allowing it to be stored in even the tightest spaces.
Another unique feature is that the shift from cool to warm is quite smooth and can be done by just flipping one switch. Since there are no wires involved to use this feature, it ensures safe and effortless operation.
Additionally, this cooler is equipped with two connectors making it easy to use not just when you are on the road but also at home via a wall outlet. It has a 45 liter capacity, which means around 60 cans can be stored in it to the brim or 6 2L bottles with enough space for other contents.
What Could've Been Better?
This cooler has a lot of unique products that make it easy for anyone to use. The only issue is that it does not go down to 40℉ like it claims it would even on a cold day. Also, the lid is not airtight and the inside cooling tends to escape.
Pros
Has wheels and foldable handle

One switch to alter between cool and warm

Ample space inside

Dual connectors
Cons
Does not cool down to 40℉
Now, we have the Guay insulated thermal bag, which is slightly different from regular cooler/warmers. Not only is this one the most affordable on this list, but it is also quite portable, allowing you to carry it wherever you go. It is ideal for road trips, hikes, camping trips, etc.
Why Did We Like It?
The Guay insulated thermal bag is one of the most user-friendly cooler/warmers we have come across so far. It weighs a little over 3 pounds and has dual handles that make it portable and comfortable to carry. Moreover, the shoulder straps are adjustable, making it convenient for anyone to carry the bag with ease.
Another great thing is that it has a 13L capacity, which means around 20 cans can fit inside it. It is advised to stick to the capacity so that the performance is not affected. The bag also has multiple pockets for more storage on the outside of the bag.
In terms of cooling/warming, the bag can cool the food down by 40℉ below ambient temperature and warm it to 149℉. The fan on this bag does not make noise, and the whole product has low energy consumption.
What Could've Been Better?
One thing to keep an eye out for with this product is the zipper's quality on this bag. A lot of reviewers have mentioned that the zipper broke quite soon. Moreover, this particular cooler/warmer functions better as a warmer.
Pros
Very easy to carry

Ample storage space inside and outside the bag

Dual handles for easy carrying

Noiseless operation
Cons
Zipper quality is not good
Finally, we have the Michelin thermoelectric cooler/warmer. This one is a bit higher in price compared to a similar product we previously reviewed. However, it has many unique features that ensure easy usage, portability, and comfort. It also guarantees ample storage space and is safe to use no matter where it is taken.
Why Did We Like It?
We found that this particular thermoelectric cooler was packed with features that make it very easy to use. It has a cord storage slot so that no loose wires are hanging about when it is plugged in, making it safe to use. It also has a USB port that can charge any device when the cooler is plugged in.
Additionally, it has a very sturdy handle plus adjustable shoulder straps, giving it enough flexibility when carrying it. Apart from the 14L capacity it has on the inside, it has multiple compartments on the bag's outer surface. It is ideal to be carried for camping and trips.
Overall, it is a lightweight and portable bag that will keep the contents cold or warm by cooling the ambient temperature by 40℉ or warming it up by 135℉. Since it has an insulated quick flip lid, it is easier to maintain its temperature as it does not escape.
What Could've Been Better?
There weren't many complaints about this heater/cooler. But, reviewers have mentioned that this is not ideal for prolonged trips and will work better and longer if occasionally used rather than 24×7 as truckers do. It is also worth noting that the plug-in that is included with the bag tends to overheat and melt.
Pros
USB port to charge devices

Shift from cool-warm with one switch

Multiple pockets and handles

Quick access lid
Cons
Not ideal for regular use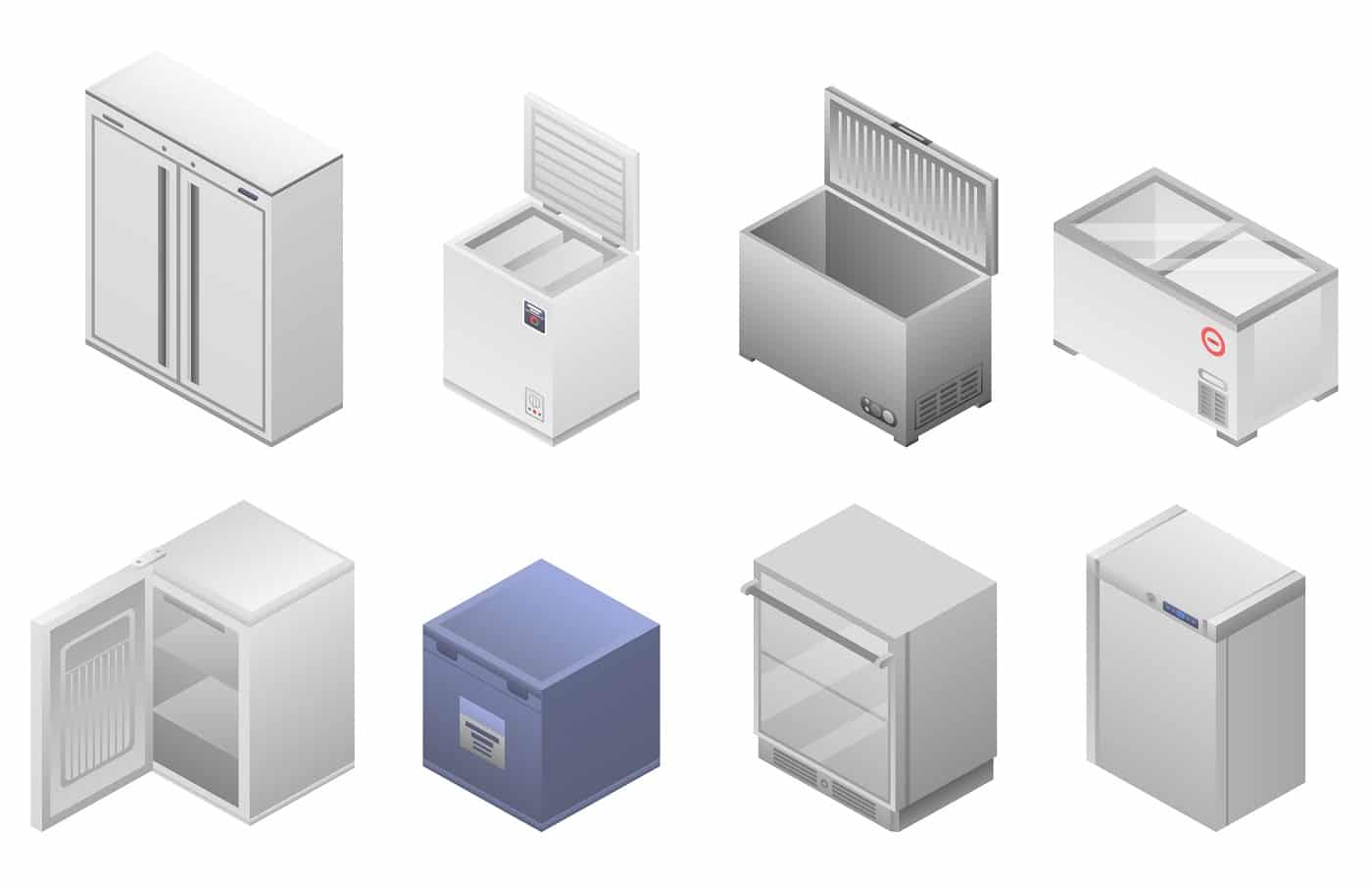 Thermoelectric Cooler Buyer's Guide
Now that we have come to the end of the product reviews let's talk about why these are the recommended ones. Much like every other product, these have certain features that make it stand out from its competitors. But, what are those features?
If that is the question that's on your mind, we are here to answer everything. Below are some important features to consider when trying to find the ideal thermoelectric coolers. These features allow the product to differ from the rest and enable it to perform to its maximum ability.
Let's get right into it!
Temperature Modes
Unless you are specifically looking for a cooler only, we suggest looking at a cooler that has a dual function and can work as a warmer during the winter. This way, it will be used in every season , and you wouldn't need to buy a food and beverage warmer separately. This is ideal for people who need these products through the year.
The ideal temperature for cooling and heating these products should be aiming for is at least 35°F below ambient temperature and up to 135℉. It could vary depending on the cooler/warmer brand, but 35℉-135℉ is a standard range.
Internal Storage and Placement
There is no point in getting a cooler if it does not have ample storage space, especially if a family intends on using it. Ensure that the cooler does not need ice to keep the contents cold. If it is being used only by one person, then even a 4 quart storage capacity is enough. But, for families, we recommend nothing below 18 quarts.
However, it is essential to remember that coolers with large capacities will also require a lot of place in the vehicle. So, if you want to place the cooler/warmer between the seats in the backseat, then look for a compact cooler, which will most likely have between 25-30quart storage space.
Power Source
All these electric coolers are usually equipped with at least one 12V DC cord that can be plugged into any vehicle's cigarette lighter. However, if you are looking to have a cooler that can also be used at home or a hotel room, we suggest looking for coolers with dual connectivity options or an adapter.
Shelves and Additional Features
Most coolers come with one or two trays that help to compartmentalize the contents inside. This is particularly useful if there is a need to store items at different temperatures and hence, can be placed accordingly. Plus, if the cooler can be used as a mini fridge then having shelves is helpful.
And while these are not necessary and often not included, you can look for coolers with additional features. Things like adjustable straps, wheels, USB port for charging, and multiple pockets on the outside, can all enable ease in usage.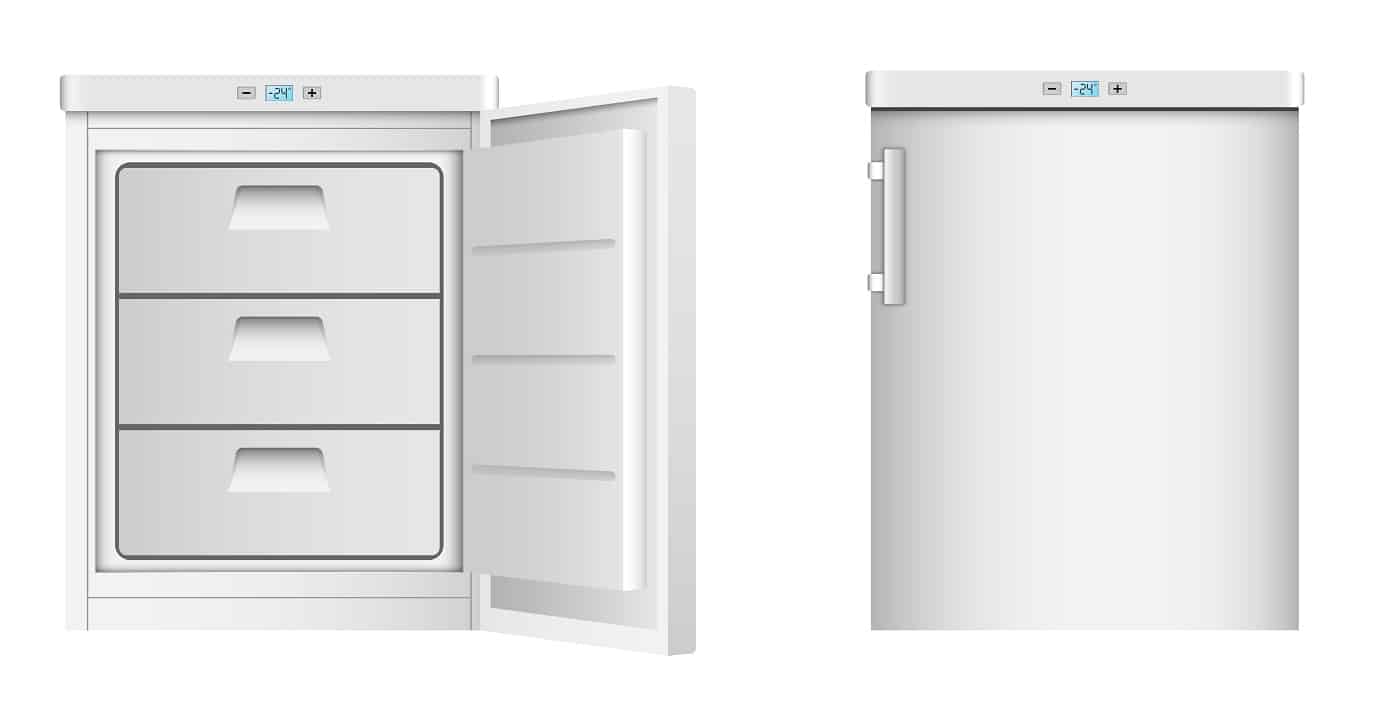 Verdict
So, there you have it! The ideal thermoelectric cooler is waiting for you to bring it home.
However, we understand that this is a lot of information to process! So, allow us to summarize it quickly. If your ideal thermoelectric cooler is one with dual functions and ample storage space, we suggest getting the Koolatron electric cooler.
That said, if you are on a tight budget yet want a cooler/warmer that can be carried anywhere, we suggest getting the Guay insulated bag. That one is effortless to carry and has a good amount of space for all types of food and beverages.
With that, we shall now take your leave and see you next time with more reviews and guides!
Until then, stay safe!
Related Articles
Igloo Iceless Thermoelectric Cooler Review
Koolatron P-20 Thermo-Electric Cooler Review
5 Best Lunch Boxes and Coolers for Construction Workers
13 Best Wine Coolers Right Now
Learn How To Build A DIY Patio Table With Built-in Beer/Wine Coolers
28 Best Fire Pit Accessories to Consider