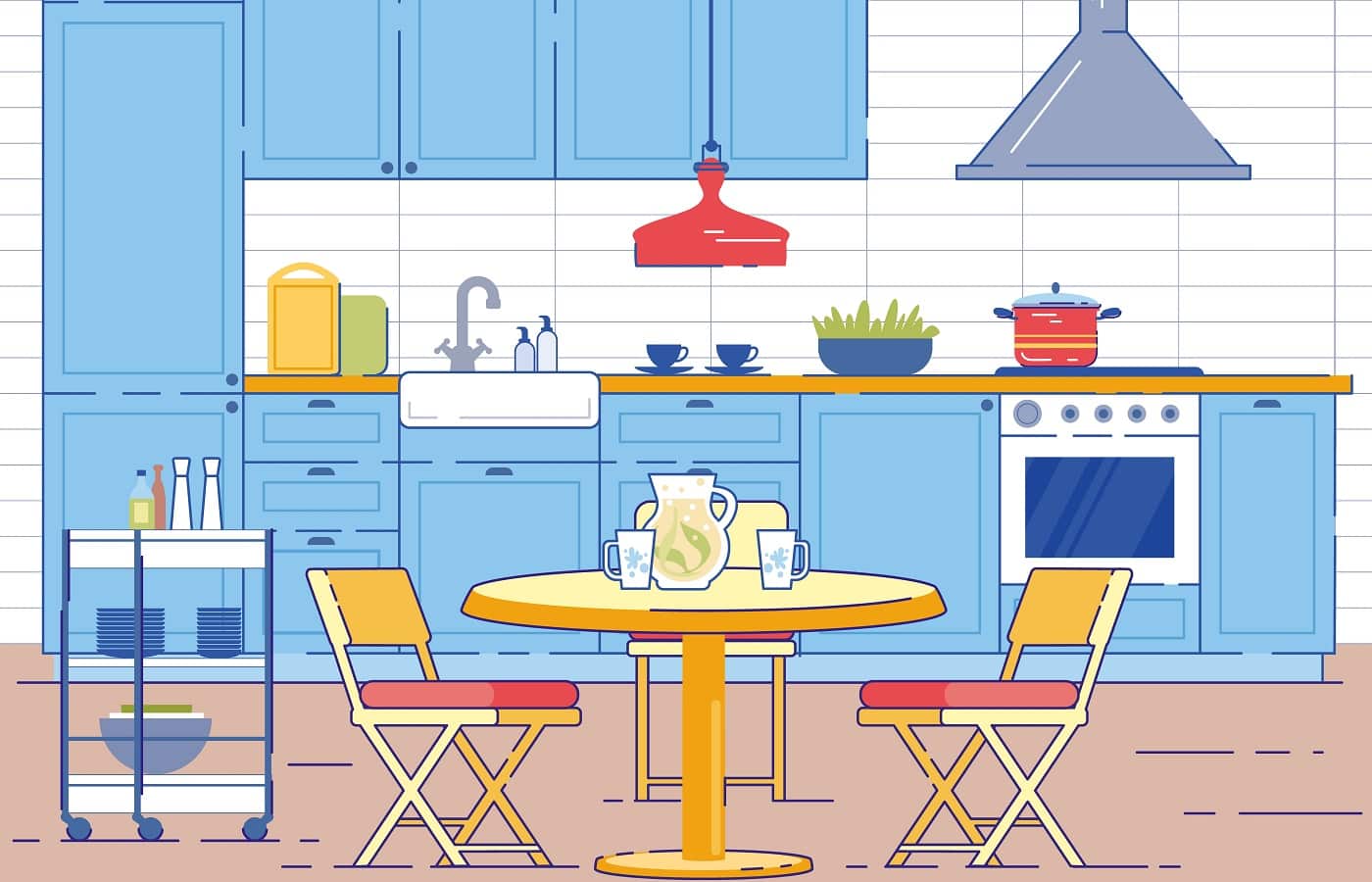 The kitchen is the heart of a house, and it is a high-traffic area. So, you wouldn't like it to be filled with odor! 
Now, even if you have had to pick between delicious dishes and a hygienic kitchen before, it is time to make a shift and choose both. With under cabinet range hoods installed, you can get rid of smoke, grease, fumes, or any other chemicals in the air. This will take care of stoves, ovens, and induction cookers, while absorbing all the unnecessary elements from the air. 
Moreover, a good hood will have great suction abilities and will ensure that there is no smell remaining after you finish cooking. Having said that, we know there are a number of options in the market today, and it might be difficult to choose. To make it easier, we have curated a list of the top 11 cabinet range hoods. 
So, grab your favorite snack and start reading! 
Top Under Cabinet Range Hood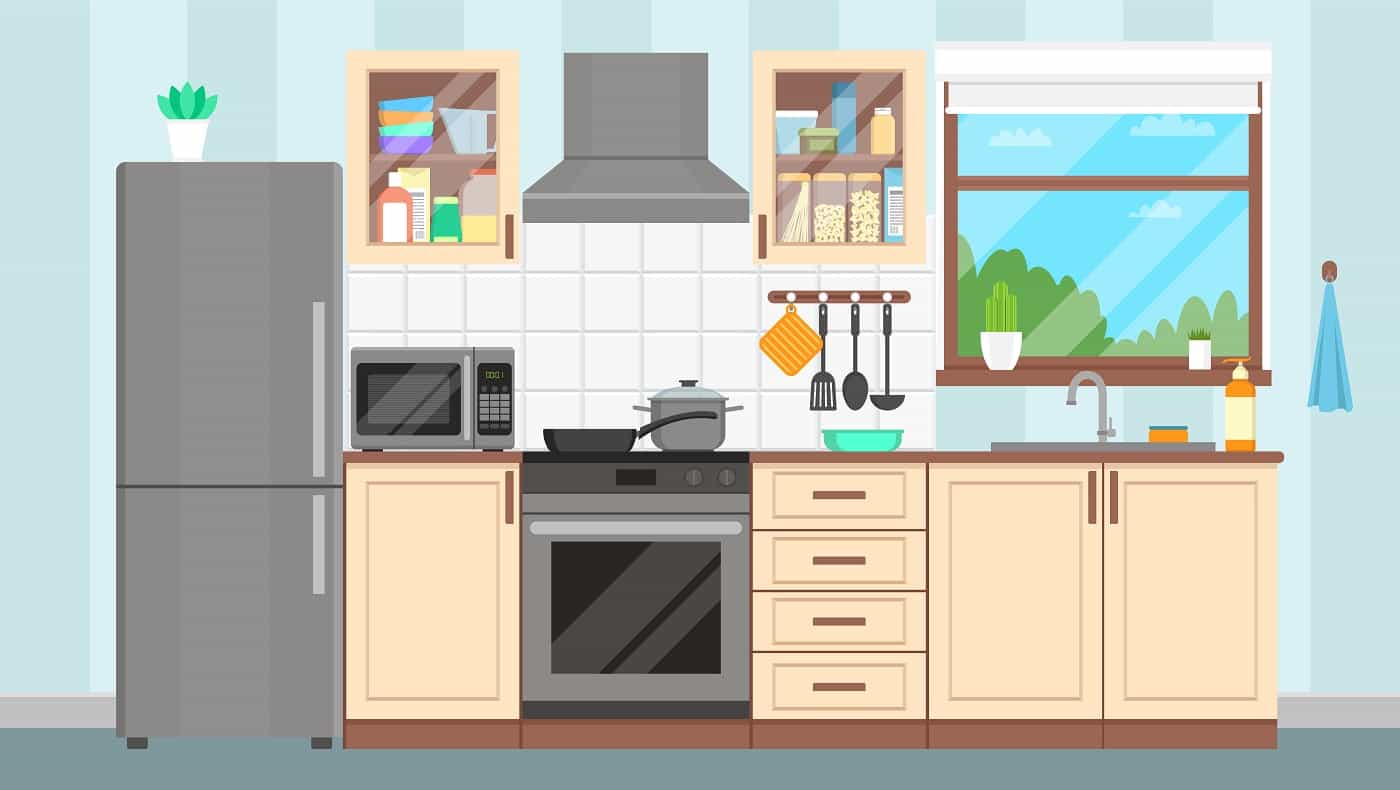 If you are looking for 4-way convertibility, then the Broan-NuTone F403004 Insert will serve you excellently well. It is one of the most versatile options and will get rid of all the odor and smoke from your kitchen. Enjoy a fresh-smelling kitchen after cooking, thanks to this.
Why Did We Like It?
First of all, it comes with 4-way convertibility, so you will be able to work with it in any way. By this, we mean you can use it in a vertical 3.25 x 10-inch ducted, 7-inch round vertical ducted, horizontal, or non-ducted form. It also has 2 fan speeds that you can choose between depending on your requirement. 
Next, the noise level is well under control, and it will not prove to be a hindrance. Because the product is well-lubricated, the noise is reduced, and we were very happy with this. You can cook at odd hours and turn this on without waking anybody around. 
Plus, it comes with a protective lamp lens which ensures that the light spreads all over the cooking area. You will be able to see easily without needing any other form of illumination. 
Lastly, you can clean the aluminum mesh filter in a dishwasher. This saves a lot of effort and time, and you will be able to clean it regularly too.
What Could've Been Better?
The only downside to this product is that it takes time to install. The process is time-consuming and can be slightly challenging if you are doing it for the first time. We will recommend calling the brand's customer service and asking for help. Once you have set it up well, there should be no further problems. 
Pros
Protective lamp lens

Boasts of 4-way convertibility

Works in removing odor quickly

Aluminum filter and damper provided
One of our top suggestions to combat unwanted smoke and fumes is the Cosmo 5MU30 Under Cabinet Range Hood. It is known to neutralize odor fast and can let you work without any harmful or disturbing smell around. We were very happy with its performance and how easily it traps grease.
Sale
Why Did We Like It?
This is the perfect option for a modern kitchen, and its sleek and stylish surface adds to the décor. It is made with brushed stainless steel, and the surface looks new even after months of use. We will just recommend wiping the top once in a while, and that should help in its maintenance. 
Next, it comes with dual aluminum mesh filters which are dishwasher-safe. You can clean it every week, and the process will not be time-consuming at all. This device is known to have great suction power, and it collects all the grease and dirt in the mesh filter. Hence, if you indulge in a lot of cooking, simply clean the filter every 3-4 days. 
Adding to this is its low sound level that will not disturb anybody while you cook. This is important, especially for those who like to cook and experiment at odd hours. 
Plus, the built-in LED lighting will provide proper illumination at all times. 
What Could've Been Better?
You will be getting 4 drywall screws with this pack, but that is not enough. We needed a bolt and washer for extra support, which helped ensure that the device stayed in place. Now, if this is your first time installing this, then it is best to take professional help as it can be slightly tricky. 
Pros
Sports a space-saving design

Sound level of 56 dB

Reusable aluminum mesh filters

Known to neutralize odors
Cons
All hardware not provided
If you are looking to upgrade your kitchen, the Broan-NuTone 413004 Range Hood will be an incredible addition. It will ensure proper ventilation and will provide you with enough light. We were able to work in a smoke-free kitchen at all times, thanks to this.
Why Did We Like It?
This one sports a non-ducted filtration system, and it comes with charcoal filters. Charcoal filters work very well in removing odor and smoke from the kitchen. It can also be replaced once the filter is completely filled, and that will ensure hygienic cooking. 
Plus, we loved the fact there were no sharp edges anywhere around the product. The bottom is hemmed, and the sides are properly mitered to prevent anybody from getting hurt by it. 
Moreover, it comes with a protective lamp lens like most of its peers, and this ensures that the light spreads well over the surface. Good vision is essential while cooking, and this will provide you with exactly that. 
What's more, the hood comes with a 2-speed motor that will allow you to shift between 2 fan speeds. This makes it versatile and will match your ventilation needs.
What Could've Been Better?
The only downside to this product is that the fan takes time to capture all fumes and smoke. It is best if you switch it on before you begin to cook. This will ensure that the fumes are captured immediately. The kitchen might still smell for some time before the odor disappears. 
Pros
Replaceable charcoal filter provided

Protective lamp lens

Rocker switch to control lights

No sharp edges for safety
Do you want a product equipped with the most modern technologies? The Cosmo COS-QS75 Under Cabinet Range Hood will make for an incredible choice, and it boars of cutting edge technology and a backlit touchscreen. This looks beautiful and will also add to the decor of the kitchen.
Sale
Why Did We Like It?
First of all, this is equipped with stainless steel permanent filters, which are dishwasher safe. You can easily clean them without having to wash each one separately by hand. Also, these filters are extremely durable and will last for long. 
Next, it comes with 4 speeds, and you can toggle among them depending on what you are cooking. This allows for more versatility, and you can easily meet your requirements. 
What's more, the hood is equipped with 1.5-watt LED lights which last for a long time and will provide enough illumination. They are bright, and the light spreads evenly over the entire surface. These are energy-efficient and will not lead to huge electricity bills. 
Plus, the Cosmo COS-QS75 is a very affordable option, and it will not burn a hole in your pockets. Overall, we feel that this is a very powerful option to choose for kitchens. 
What Could've Been Better?
This product is on the heavier side, and you will need to install it properly. The weight is more than 50 pounds, and hence it is best to call up customer care and consult. The installation process will depend on the kind of wall that you are attaching it to. 
Pros
Stainless steel permanent filters

Energy-saving high lumen lights

Affordable

Auto shut-off timer
Now that we have made it to the middle of this list let us introduce the VESTA Range Hood. This is one of the quickest options in the market and is a great choice for cooking enthusiasts and chefs. If you like to experiment with food, this will ensure that the smell and odor do not bother you in the process.
Why Did We Like It?
This item comes with a broad chamber that ensures that all the smoke and odor from your food enter the smoke chamber. A negative pressure zone is created that helps in the easy redirection of the odors. 
Further, the hood sports a 700 CFM airflow, and it is indeed one of the quickest options available. We were able to get rid of all the smoke and odor immediately. 
Plus, the blades of the fan come with an oleophobic coating that prevents grease and moisture from building upon it. This keeps the blades functioning well, and it increases durability. 
Moving on to user-convenience, there are 3 levels of speed, and there are buttons on the top to adjust the speed level. The buttons are conveniently placed, and you will be able to reach them easily when needed. 
Moreover, the steel filters provided are sturdy and are dishwasher safe. You do not have to clean by hand, and that adds to the benefits. 
What Could've Been Better?
We found that the product makes a loud humming noise while operating. Now, if you do not have a problem with the sound, then this should not be an issue. However, we found it to be slightly irritating, and we would have preferred a quieter performance. 
Pros
Dissipates odor fast

Oleophobic coated blades

2 halogen lights

Stainless steel body
Do you want a product that boasts of superior filtration capabilities? The Cosmo 5U30 Under Cabinet Range Hood is very slim and will help you save space. It boasts of a size of 29.5 x 18.8 x 5.3 inches and can fit into small spaces easily.
Why Did We Like It?
We were very happy with the aluminum mesh filters and the efficient airflow. It will easily pull all the grease, smoke, odor, and pollutants from the air into its filter. The filter then traps all grease and dirt and prevents them from settling anywhere else in the kitchen. Also, this sports a stainless steel body that is sturdy and attractive. 
Next, you can control the fan speed with 3 push buttons that are placed in the front. Its buttons are clearly visible, along with the power switch and the motor switch. 
Plus, this is known for its silent performance, and the noise will not be bothersome. Yes, we agree that it is not absolutely quiet, but the sound level is below 56 dB and is tolerable. 
What Could've Been Better?
We found that the lights were pretty dim and hence, we were unable to work in it. You will need an external source of light for an error-free experience. Having said this, there were no other drawbacks, and the uint worked fine throughout. 
Pros
2 exhaust ports

Low sound level of 56 dB

Lightweight at 20.4 pounds

29.5 x 18.8 x 5.3 inches in size
Up next is a very powerful option equipped with cutting edge technology. The Hauslane Chef Series PS18 shows immense suction power and will ensure all the fumes and odor leave your kitchen immediately. We were finally able to experiment with food, thanks to this.
Why Did We Like It?
First of all, this has 3-way venting options and comes with a set of 3 different adapters. This can fit a 10 x 3-¼ inches rectangular duct and a 6 inches round one. It will also vent from the rear when needed. 
Next comes the stainless steel baffle filters, which are sturdy and durable. They can be washed in a dishwasher, and hence you do not have to spend a lot of time on them. Plus, the filters have deep grooves where the grease accumulates, and they can collect a lot of it at one time. 
Moreover, this has a sleek front with a buttonless design. You will be getting a touch panel with a LED display. The buttonless surface looks attractive and is very easy to clean too. Wipe it at intervals, and you should be done. 
What Could've Been Better?
The sticky label on the body does not come off easily, and we had to struggle a lot with that. Now we are not going to hold this as a drawback, but it could be frustrating to struggle so much to take off a label. If you do not do it in the right way, marks will remain on the body. 
Pros
Powerful suction abilities

Buttonless design

Perfect for heavy-duty cooking

Stainless steel baffle filters
Cons
Sticky label is difficult to remove
Do you want a stylish product that will get rid of saturated grease fumes? The BV Range Hood BV-RH-801 will serve you just right with its beautiful sleek body and exceptional performance. It can also be cleaned easily as the parts are easy to disassemble. We were able to cook all kinds of dishes without having the kitchen smelling of them.
Sale
Why Did We Like It?
This has great suction capabilities and will ensure that all the grease-saturated air is pulled and directed towards the filter. The grease then condenses to the metal blades and collects in its filter. This filter can be taken out and cleaned in a dishwasher. They are made of steel to ensure durability, and they will last you for years to come. 
Secondly, the hood has dual motors with a 750 CFM airflow. This pulls grease and odor fast, and you can leave the kitchen smelling nice and looking clean just after cooking.
Also, this comes with 3-watt LED lights which will provide enough illumination while saving energy. The lights can also be changed in case you want to opt for a different color. 
Plus, it is equipped with a stainless steel body which adds to the modern look of the kitchen. It will fit in well and add to the décor.
What Could've Been Better?
We had some issues with the filter that we received and wanted to get it fixed. However, the customer service was pretty unresponsive, and we could not get through to them. Ultimately, we ended up taking the help of a local workshop owner. 
Pros
2-year product warranty

Contemporary design

Filters are dishwasher-safe

Sleek modern design
Cons
Inefficient customer service
If you are looking for an option for your apartment or condo, the CIARRA CAB75918B Range Hood will suit you very well. It has a slim profile and will look good in small kitchens. With a dimension of 29.76 x 19.68 x 3.94 inches, it will fit into all kinds of space easily.
Why Did We Like It?
This one comes equipped with a 3-speed exhaust fan, and you can toggle between the different does depend on the amount of smoke released. We loved the efficiency offered and how it functioned without any sounds. Anybody sleeping in the next room will not be disturbed at all. 
Furthermore, the vent has 2 LED lights that offer enough illumination, and you will not need other sources of light. Switch both of them on, and you can even work in the dark. The light diffuses well and spreads evenly over the entire cooking area. 
Plus, it has got push buttons which are easy to operate. They are also placed well, and you can easily reach out without any hassle. 
Next, the aluminum mesh filters are durable and reusable. It traps all the oil and grease and prevents them from making the kitchen dirty. 
What Could've Been Better?
The packaging was not done well, and the screw assembly area was slightly warped. Now we did not ask for a replacement as that part was not visible on installation. Also, the metal body is thin and can get dents easily. So, be careful during the installation process. 
Pros
Push buttons for easy control

2 LED lights

Durable filters

Easy to clean

Known for its quiet operation
Cons
Inefficient packaging

Thin metal body
One of our final options is the KOBE RAX2136SQB-1 Brillia which is known for its commercial-grade body and sleek design. This is one of the sleekest options on this list and will take up minimal space. Attach it under a cabinet and look forward to a smoke-free experience.
Why Did We Like It?
This sports a satin finish that looks amazing in a modern kitchen with a contemporary design. The satin stainless steel surface is very attractive, and you can pair it up with black, grey, white, or wooden colored furniture and cabinets. 
Next, it comes with a 3-speed push button that will let you shift among the different speeds. It works very silently when you keep it in low speed mode. 
Further, the hood is equipped with 2 LED lights for proper illumination. The lights are 3 watts each and will not add to the electricity bill. 
Plus, it has a sturdy stainless steel body that is durable and is not prone to dents. You can install it easily if you follow the instructions. 
What Could've Been Better?
Although this product works silently when you are using the low mode, the noise increases a lot when you shift to high speed. The sound can be irritating while working, and hence, we generally use it only for large scale cooking. At odd hours, it is best to use the low mode for a silent experience. 
Pros
Satin finish and seamless design

3 Watts LED lights

Known to be very slim

Stainless steel body
The next option is another beautiful and elegantly designed product that will run stably without any vibration. The EVERKITCH Under Cabinet Range Hood is pretty powerful and comes with 3 speeds for easy and efficient performance. Read on to know all about its bells and whistles.
Sale
Why Did We Like It?
We were very impressed with its 5-inch slim body that looks brilliant below the cabinets. It is perfect for small spaces and will take up minimal area once installed. Also, the body is made of stainless steel and looks very premium. It has no marks, and the flawless surface goes very well with all kinds of kitchen décor. 
Next, this one sports a copper motor which is very powerful and does not rust. It is backed by a 5-year warranty, so rest assured it will be in a great condition, even after using it for years. 
Moving on, we loved its permanent steel filters too. It already has great suction abilities, but the mesh filters collect all the grease and store it. Once they are full, you just have to take them out and put them in a dishwasher. 
What Could've Been Better?
The instruction manual is not going to be very useful, and you will have to contact the brand's customer service for better instructions. You could also choose to look up YouTube videos for help regarding this matter. We hope the company looks into this and provides a better manual. 
Pros
Noise is less than 65 dB

Copper motor is durable

Dishwasher-safe filters

2 LED lights
Cons
Inefficient installation instructions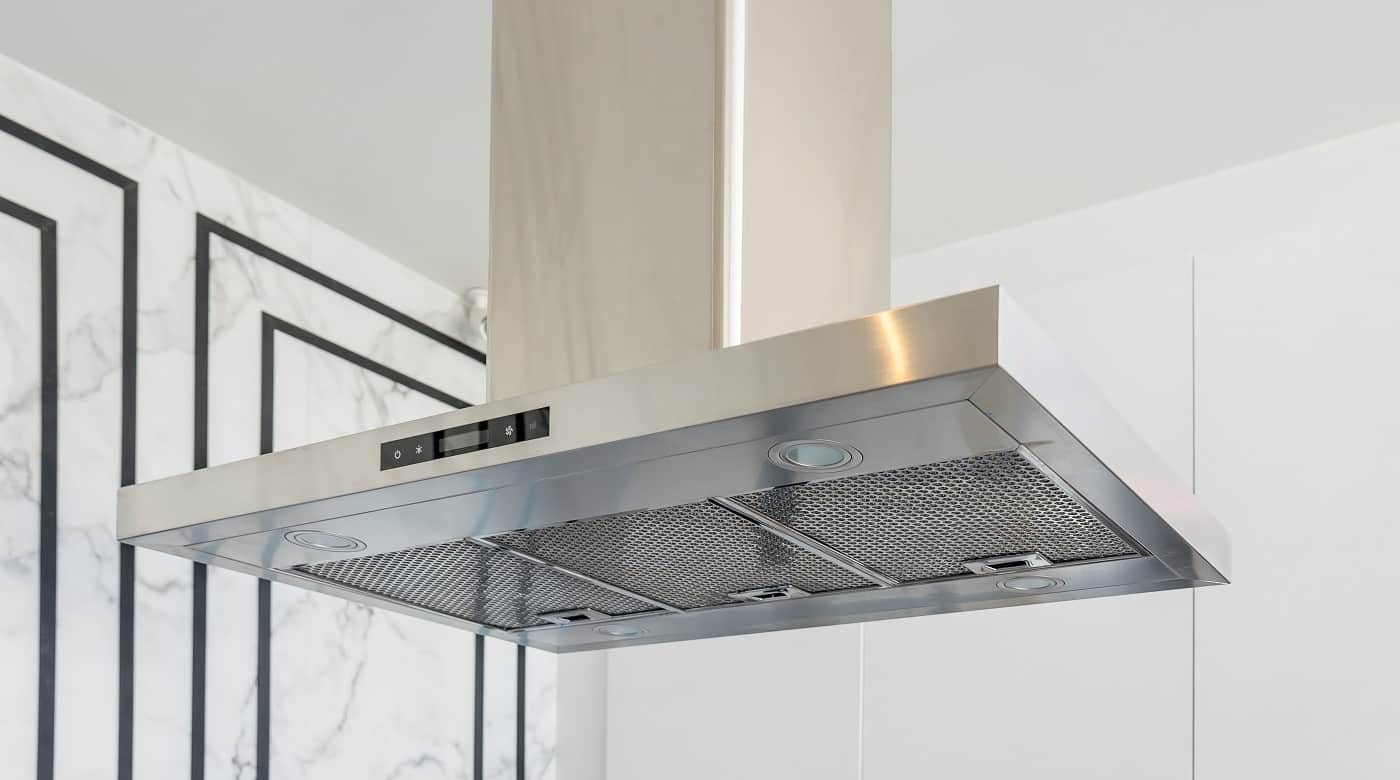 Under Cabinet Range Hood Buyer's Guide
 Now that you know all about the top cabinet range hoods in our market, it is time to look at the following factors. There are differences in performance, noise level, operation, and fan speeds, to name a few. You should know about all these before making a choice. 
Filters
The filter is a very important part of a product, and it helps in ensuring that all the grease is collected and stored away. We will suggest checking the kind of filter provided. Some offer replaceable filters which cannot be washed. It will need to be replaced after a certain period of time. 
On the other hand, there are filters that are made of stainless steel and which are reusable. We will suggest opting for one that can be washed in a dishwasher as that will save you a lot of effort. 
Noise Level
There is going to be some amount of noise when you switch on the device. Most products produce low noise when you are using a lower fan speed. The noise level increases as soon as you increase the fan speed. 
Lighting
When we talk about lighting, the first thing that should be checked is how the light spreads. If it spreads over the entire cooking area, then you should not have any problems. Also, see how bright the light is. In most cases, you can replace it with brighter bulbs if you need more light.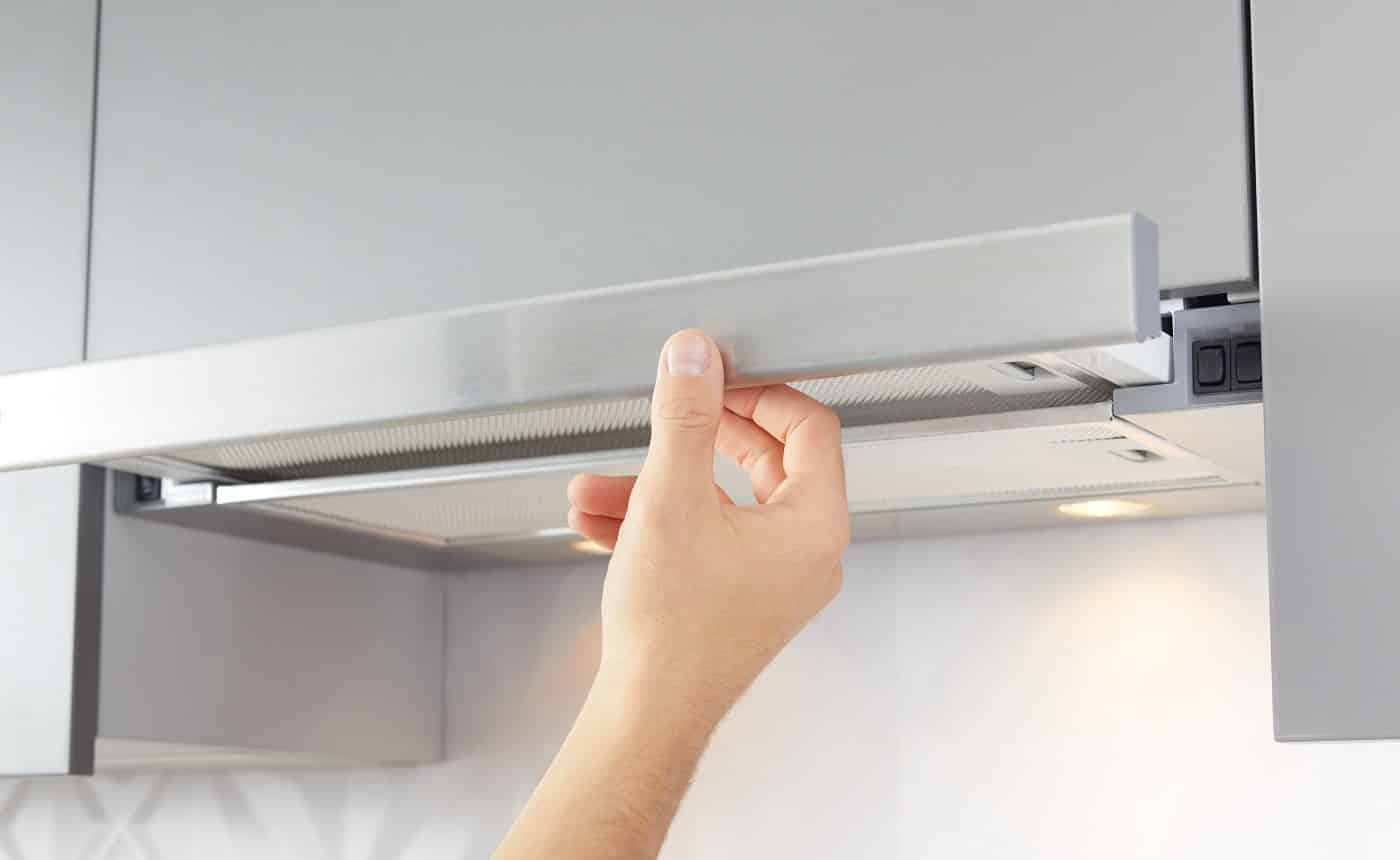 Verdict
A good cabinet range hood will combine performance and style to ensure healthy cooking. The kitchen cabinets and furniture should remain clean without any grease. Also, check for the airflow power and then compare the prices. This should help you in the selection process.
Having said this, we will take you through our favorites one last time. The Broan-NuTone F403004 Insert is one of our favorite choices because of its 4-way convertibility. 
On the other hand, the Cosmo 5MU30 Under Cabinet Range Hood is known for its quick performance. While the Cosmo COS-QS75 comes loaded with modern technologies. 
With this, we will get going. Let us know about your favorites in the comment section below. 
Related Articles
13 Safest Electric Kettles without Plastic 
Vitamix 5200 vs Vitamix 5300 [All You Need to Know]
4 Best Ways To Reheat Chicken Wings [Oven, Refrying, Sauté, Microwave]
13 Best Electric Kettles Right Now | Buyer's Guide
10 Best Food Scales Buyer's Guide and Reviews
15 Best Electric Smokers – Guide & Budget Picks
13 Best Kitchen Shears Right Now Reviewed
13 Best Mini Freezers for a Chilly Year
10 Best Hot Dog Rollers | Buyer's Guide and Reviews
13 Best Cappuccino Makers to Enjoy Today | Buyer's Guide
11 Best Range Hoods to Consider
11 Best Bar Stools Today | Buyer's Guide and Reviews 
13 Best Wine Coolers Right Now
7 Best Hand Crank Ice Cream Maker