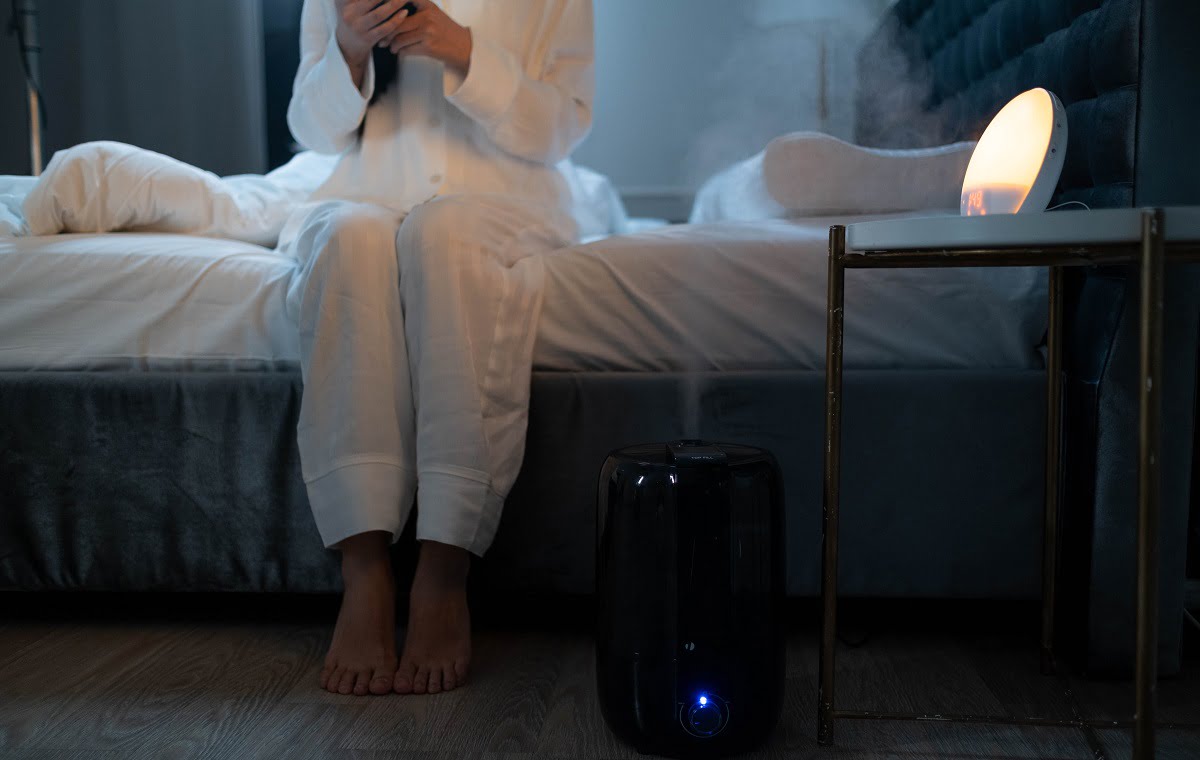 Did you know that an imbalance in humidity can adversely affect your health?
Most of us have had instances where there's a cough that doesn't want to go away. Similarly, others face allergy-like symptoms and get congested nasal sinuses.
However, it has been observed that when there's an optimum humidity level of 40-60% in an environment, people seem to have lesser flu-like issues. And, to maintain this humidity level at your home, you need to use a humidifier.
You may know Vicks through the VapoRub, a product that has helped millions of babies and adults to breathe freely. So, as humidifiers also help to make an environment breathable, we thought of bringing you some excellent options from the Vicks brand.
And as choosing between the various options might be confusing, we have also added a buying guide to give you a crash course on selecting the best vicks humidifier. So, without further delay, let's check out the products!
Best Vicks Humidifiers
IMAGE
PRODUCT
DETAILS

Our Top Pick

Our Top Pick

V4600 Filter-Free Ultrasonic Cool Mist Humidifier

Tank capacity of 1.2-gallons
Runtime of 30 hours
Adjustable nozzle

VIEW LATEST PRICE →

V105SG Nursery 1 Gallon Warm Steam Vaporizer

Built-in night light
Auto shut-off
Protective steam guard

VIEW LATEST PRICE →

VUL520P Mini Filter Free Cool Mist Humidifier

Wide-mouthed tank
Built-in night light
Tank capacity of half-gallon

VIEW LATEST PRICE →

VUL600 Filter-Free CoolRelief Cool Mist Humidifier

Variable mist control
Runtime of 40 hours
Heated medicine and essential oil cup

VIEW LATEST PRICE →

V3700 Starry Night Filtered Cool Mist Humidifier

Runtime of 24 hours
Projecting night light
VapoPad slot

VIEW LATEST PRICE →

VEV400 Filtered Cool Mist Humidifier

Protec filter with antimicrobial properties
Adjustable moisture output
Space for two Vicks VapoPads

VIEW LATEST PRICE →

V5100NS/V5100NS-JUV Ultrasonic Cool Mist Humidifier

Variable mist control
Directional mist outlet
Runtime of up to 24 hours

VIEW LATEST PRICE →

V3700-M Starry Night Cool Moisture Humidifier

Color changing protector
Wide tank opening
Two mist speed settings

VIEW LATEST PRICE →

VUL575P Sweet Dreams Cool Mist Humidifier

Theme projector
Runtime of 24 hours
Quiet operation

VIEW LATEST PRICE →

VUL520W Filter-Free Cool Mist Humidifier

Portable
Quiet operation
Auto shut-off

VIEW LATEST PRICE →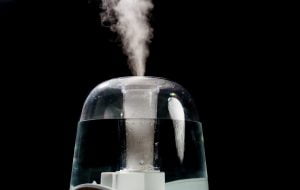 Are you looking for a humidifier to use throughout the day? If yes, then this ultrasonic cool mist humidifier from Vicks will always have your back. It works with Vicks VapoPads, so the device will also help you get instant relief from clogged sinuses for a good night's sleep.
Why Did We Like It?
The first thing we liked about this ultrasonic cool mist humidifier was its tank size. It gives a runtime of up to 30 hours on the lowest setting, which is excellent for running the device all day long. Also, the mist control dial on the front lets you choose a moisture level according to personal preference.
Moreover, the large opening on the tank helps in proper cleaning, and it also minimizes the time taken to refill it with water. And as this humidifier doesn't have a filter, you wouldn't even need to worry about replacements.
Another thing that caught our attention is the adjustable nozzle present on the top. The narrow mouth of this nozzle helps to create a concentrated mist stream. Additionally, if you feel sick, add a VapoPad into the device and direct the nozzle towards yourself to feel better.
What Could've Been Better?
We really like this Vicks humidifier because it's simple to use and has a large tank capacity. Our only gripe is that it lacks the night lamp function, unlike other humidifiers available at a similar price. But, it does have an indicator light on the dial to let you know if it's running.
Pros
Simple to use

Good cool mist output

Noiseless operation

Portable and lightweight design
Cons
Doesn't work as a night lamp
If you or your child often suffer from cough and cold, then the warm steam of this vaporizer will come as a respite. The unique design of this humidifier also gives it a larger tank capacity. So, let's have a closer look at this device.
Why Did We Like It?
Rather than describing it as a humidifier, Vicks chooses to call this a vaporizer as its warm steam helps to alleviate your cough and cold problems. You can place the device in a kid's nursery when they are sick, and rest assured that the steam will open up their blocked nostrils and decrease the inflammation.
Along with being helpful while you're sick, this vaporizer produces steam that's 96% devoid of any bacteria. Hence, it will make the environment of your house cleaner and lessen your chances of falling sick, especially during the flu season.
Even though it's necessary to keep your kids away from coming in contact with the warm steam, the protective guard at the top does cut down on the mist's temperature. Also, there's a night light on this vaporizer which provides a faint glow to know if it's working. And, when the water is almost empty, this device will turn off on its own.
What Could've Been Better?
If you are looking for a warm mist humidifier, this will be a great choice. However, on reading the customer reviews, we learned that cleaning this device can often take a long time. So, to get a better steam outcome, make sure you clean the tank frequently.
Pros
Soothing steam

Easy to control

Portable and space-saving design

Great for sufferers of frequent cough and cold
Cons
Cleaning the tank is time-consuming
Are you looking for a small and compact humidifier for your home? If yes, then this mini ultrasonic humidifier from Vicks will surely make your home more comfortable by spreading the right amount of moisture throughout the day. So, let's look at the reasons for it being a great device.
Why Did We Like It?
When it comes to choosing a humidifier, we especially like those units having a portable and lightweight design. As Vicks has imparted those qualities to this mini humidifier, you won't need to worry about moving it around the house.
And despite having "mini" in its name, the half-gallon tank of this humidifier is enough to last you through the night. Also, the dial present in the front of this device can help to bring down the mist strength. So, you will be able to prolong the running time of this humidifier without needing to fill it frequently.
Another great feature of this humidifier is its nozzle. The small opening placed at the top of this device helps to concentrate the mist to give it a consistent output. Moreover, while using the Vicks VapoPads, the potent steam of this humidifier is excellent for providing you relief from congestion in the nostrils.
What Could've Been Better?
The only drawback we found about this device was that it's noisier than other similar cool mist humidifiers. However, you can easily solve this issue by placing this device in a corner so that its sound gets subdued and doesn't disturb anyone.
Pros
Good for small rooms

Easy to clean tank

Compact design

Doesn't require filter changes
If you are looking for the best humidifier to increase your home's moisture level, then look no further than this device. This humidifier has been specially crafted to bring comfort on the days when you feel under the weather. So, let's have a look at it.
Why Did We Like It?
We were especially drawn to this humidifier because of its size. The large 1.2-gallon tank gives this device a runtime of 40 hours which is incredible as there's no need for frequent refills. Moreover, as it has a large opening, you won't have to wait for a long time for it to fill up.
Usually, humidifiers that come with a large tank tend to take up more space and be heavier. But, you won't face that issue with this device, as Vicks has made sure to give it a portable and lightweight design.
Furthermore, the feature that we liked the most was the medicine cup. On the days you feel sick, fill it up with Vicks VapoSteam to have a good night's sleep. Alternatively, you can add essential oil to this cup to have a fragrant room.
What Could've Been Better?
As this cool mist humidifier has a large tank, you will need to spend some time cleaning it thoroughly. It's best to clean before every refill to reduce mineral accumulation in the crevices of the device. Other than this minor issue, we didn't find any other complaints about this humidifier.
Pros
Long operation time

Mist comes out quickly

Almost noiseless

Great for medium and large rooms
If you happen to have kids at your home, they will surely fall in love with this humidifier. However, more than that, this device helps them remain healthy throughout the year and even during the flu season. Hence, let's check out the benefits of this humidifier.
Why Did We Like It?
Before getting into the intricacies of this humidifier, let's start by acknowledging the fascinating projector present in this device. You can turn on the soothing lamp in a dark room and enjoy the view of a starry sky. Don't worry, the light is not bright enough to disturb a sleeping child.
Moving on to its key features, we like the sleep mode of this product. On turning on the sleep mode, it will be able to add moisture to the air for a prolonged time. This is great as no one likes to get up at midnight to fill a humidifier.
We have also noticed that many people find it difficult to change the filters. But, Vicks has made the process easier when it comes to changing the porous wicking filter in this model. Moreover, the filter has antimicrobial properties to prevent mold growth in the humidifier tank.
What Could've Been Better?
This isn't really a drawback, but as this humidifier has a filter, you will need to change it when required. But considering that the brand is meticulous with instructions, changing the filter won't be difficult. Also, it's great that the filters are readily available on the market.
Pros
Helpful sleep mode

Quickly adds moisture to the air

Easy to operate

Good for children's rooms
Cons
Requires frequent filter changes
If you are searching for a moisture humidifier that's easy to use and effective, then do have a look at this device. Moreover, if you often face trouble breathing or have a congested nose, this device will help you breathe easier. Let's check out its different features.
Why Did We Like It?
When it comes to looking for a humidifier for the first time, getting a simple device matters a lot, and this is one of the most easily usable models that we have seen on the market. On top of that, Vicks is great at giving clear and uncomplicated instructions for everything from operating the unit to changing the filter.
However, the feature that stuck with us the most was the varied moisture options. You can adjust the humidity level of your home's interior by turning the dial to either high or low settings.
Also, this humidifier is excellent at providing moisture in environments with extremely dry air, making it an excellent device to have during the hot summers. Additionally, on the days when you have a runny nose or a dry cough, add a couple of Vicks VapoPads for soothing comfort.
What Could've Been Better?
Even though Vicks has specified that this humidifier is meant for small rooms, we still find its runtime to be shorter than other similar models. However, it can still last through the night, especially when you fill the tank before going to bed.
Pros
Portable design

Safe for kids and pets

Changing the filter is simple

Easy to clean
Are you looking for a humidifier that will take care of the dry air in your house? If yes, then this Vicks ultrasonic cool mist humidifier is something that would be helpful to you. Moreover, if you have plants at your home, they will also love having this device nearby.
Why Did We Like It?
We especially like this cool mist humidifier because of its nozzle. You have the option to direct this nozzle towards a specific area to make the mist reach readily. This model is a favorite among plant lovers, as it helps to take care of the tropical beauties.
Moreover, the 1.2-gallons tank size of this device helps it to run throughout the day or night. Also, you can set it at the lowest mist level to get a runtime of up to 24 hours, which is excellent for times when you're sick.
Another great feature of this device is that it's easy to clean. Vicks even includes a demineralization cartridge so that the mist doesn't spread white dust. Other than that, refilling the tank is also simple, and the locking mechanism on the tank's mouth prevents any spillage.
What Could've Been Better?
If you're a person who cannot stand even a bit of noise while sleeping, this humidifier may not work for you. Other than that, everything about this device is great, and we really like the fine visible mist emitted by it.
Pros
Easy to clean and maintain

Free demineralization cartridge prevents white dust

Durable body

Good for large rooms
Are you tired of looking at boring humidifiers? You don't have to wait any longer, as this unit from Vicks comes with a splendid projector. Also, it's great at opening up those blocked nostrils that bother us during the flu season. So, let's have an in-depth look at this humidifier.
Why Did We Like It?
First of all, the cool mist emitted by this humidifier is quite soothing. Only a while after turning on the machine, you will feel the moisture creating a better environment in the room. Moreover, the sleep mode is perfect for the kids as it helps to balance the humidity level while letting you sleep at peace.
However, the best feature of this humidifier has to be the starry night projector, as it can make a kid's room more fun. This humidifier will help to protect your child from getting the flu while letting them enjoy the view of its color-changing projector.
Besides, if you aren't fond of cleaning things, don't worry, as the wide mouth of the tank makes it easy. You just need to insert a brush or even your hand to wipe it down.
What Could've Been Better?
Even though this humidifier doesn't produce any noticeable noise, some customers have mentioned a gurgling sound when the water level is low. This sound can be annoying when you are sleeping, so it's best to fill the tank before going to bed.
Pros
Great for a kid's room

Easy to clean and fill

Filter removes pollutants from water

Works well for medium spaces
Cons
Makes gurgling sound at a low water level
Do you have a child who often gets flu-like symptoms? If yes, then imbalanced humidity levels can be a crucial reason behind it. And, the best way to minimize it is by using a humidifier like this one that helps equalize the moisture level. So, let's have a look at it.
Why Did We Like It?
One of the first things you will notice about this humidifier is its portable design. You wouldn't need to make extra space for this device as it easily fits on a bedside table or even on the floor. However, keeping it on the floor will give you the best view of the projector.
Even though most people don't consider lights to be a necessary part of humidifiers, we don't agree with that. Kids love lights, and the soothing light emitted by this humidifier will help them to sleep better. Moreover, the different colors and the vivid projections will surely keep the kids engaged.
As an ultrasonic humidifier, the cool mist given by it is safe for your kids and pets. The kids will also love this humidifier during summer, as its mist doesn't add heat to the environment.
What Could've Been Better?
Overall, this humidifier from Vicks is one of the best products we have seen that's made for kids. However, the only issue we came across was that some people found it a little loud, especially when the water level is low.
Pros
Easy to use controls

Works well for medium-sized rooms

Projections are interesting for kids

No filter change required
Is your kid moving into a college dorm? Consider giving them this portable humidifier to avoid catching the flu. Also, this device is quite cute, so it wouldn't look bad or out of place. So, let's have a look at what makes it stand out among other humidifiers.
Why Did We Like It?
We have to say that the thing that impressed us the most was its cute size. It's portable enough to keep in your home or on the office desk. Moreover, it's especially great for people who live in small rooms like a college dorm.
Most cool mist ultrasonic humidifiers have a small tank and are unable to run for the whole day. However, Vicks has made the change by giving this machine a runtime of up to 20 hours. So, it will let you sleep peacefully without needing to refill it.
Moreover, the best thing about this humidifier has to be its nozzle. The small opening gives out a concentrated stream of mist that never fails to impress us. When you have a blocked nose, all you need to do is add a Vicks VapoPad to the machine and relax by breathing in the soothing mist.
What Could've Been Better?
We don't really have any complaints about this humidifier as it seems to work great. However, some people find the bubbling sound of the water on the louder side. So, you may want to keep it at a distance from your bed while sleeping.
Pros
Portable and lightweight

Easy to maintain

Good for small spaces

Long runtime
There is a dearth of good warm mist humidifiers on the market, and this one from Vicks does keep up with all its claims. Having this device, especially during the flu season, will help you to relieve yourself of clogged sinuses and constant coughing. So, let's know a bit about it.
Why Did We Like It?
Do you often end up making a steam bowl during the flu season? That won't be necessary when you have this humidifier. The comfortable, warm mist emitted by this device helps to clear out your nose and throat.
However, the beneficial aspect is that the warmth of the mist will get rid of most pesky bacteria and viruses present around you. So, if there are kids at your home, turn the device on and let them enjoy the soothing mist for a while.
You may not run the warm humidifier throughout the day, but when you're sick, keeping it on for 24 hours will surely help in better relaxation. Besides, this device has two mist settings, and the dial makes toggling between them easy.
What Could've Been Better?
As this is a warm mist humidifier, its tank tends to retain mineral deposits. However, regular cleaning will help solve that issue and try to use distilled water to avoid having the problem.
Pros
Soothing and powerful warm mist

Portable design

Good for medium-sized rooms

Noiseless operation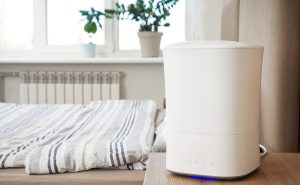 Vicks Humidifiers Buying Guide
Is this your first time shopping for a humidifier? Don't worry, as we have assembled a few points to make your process of choosing the device easier. Even though we have recommended some items, this buying guide will help in figuring out the features of a humidifier that matter to you the most.
So, without further delay, let's have a look at the things that you must know before purchasing a humidifier.
1. Filter Or Filterless Humidifiers
Vicks offers two types of humidifiers, the filtered or evaporative humidifier, and the filterless or ultrasonic humidifier. So, to choose one of the devices, we need to first know how it works.
Like most other humidifiers, both of these variants turn water into the mist to balance the moisture level of an environment. But, the difference lies in how the device forms the mist.
In the evaporative model, heat is used as energy to turn the water into mist. You will also notice a filter in these models that helps trap the impurities and minerals before it's turned into mist. To maintain the health of a humidifier, you will need to change the filter regularly.
On the other hand, the ultrasonic humidifiers turn water into a visible mist with the help of sound. After opening up the base of this humidifier, you will see the water jumping on an ultrasonic disc. These come without a filter as no heat is applied to the water, but Vicks recommends using demineralization cartridges to keep the tank healthy.
While getting the humidifier, you have to pay attention if there's a filter or not, as regular filter changes will be a recurring cost. However, you don't need to worry about the effectiveness of a humidifier, as both variants produce equally beneficial mists.
2. Room Size
Vicks categorizes its humidifiers by three room sizes: small, medium, and large. The small one works for a room of up to 250 sq ft, while the medium works for a room with an area of up to 400 sq ft, and the large one works for rooms with an area of up to 600 sq ft.
You may be wondering why the room size should matter, and the answer to it's pretty simple. Having an appropriate humidifier for your room helps to maintain the correct moisture level. If the device is too small for your room, it may fail to spread the mist throughout the space. Whereas, if the humidifier is too big, the extra moisture may damage your furniture or lead to mold growth.
Hence, you should have an approximate idea about your room's area before buying the humidifier. And, if your room is bigger than the area covered by the large size, you may use multiple devices to get better coverage.
3. Water Tank Size And Runtime
Another essential feature to look for in a humidifier is its tank size. This determines the runtime for the device, and if you get a humidifier with a larger tank size, it won't be necessary to fill it every day.
Vicks mostly offer humidifiers with 1-gallon tanks that have a runtime of 24 hours. Additionally, it also has some 1.2-gallons and 1.5-gallon variants, which can run for up to 30 hours.
However, you should also note that the total runtime of the humidifier will also depend on the choice of mist mode. The devices run the longest on a low setting, releasing a small amount of mist into the environment. So, don't forget to check the runtime of the device when it's kept on the highest setting.
4. Temperature Of Mist
Do you live in a place where it's hot almost the whole year? If yes, then even though a warm mist may feel good during the cold days, you won't be able to use it throughout the year. This illustrates the importance of choosing between warm and cool mist humidifiers.
The best thing is that Vicks provides various options in both warm and cold humidifiers, so you will be able to find a device according to your preferences. Even though both types of mist come with benefits, it's also necessary to do some research about the temperature level that would suit your problem.
5. Precision Control
As the humidity levels keep on changing, it's always better to have the option to set different levels of mist on your humidifier. Most devices either have a low and high mode or a dial that helps choose different mist output levels.
Most humidifiers from Vicks give you a variable humidity control to customize the mist output. Also, setting the mist on a low level prolonged the runtime, so it will run several hours before needing tank refilling.
6. Ease Of Filling And Cleaning
Cleaning is a pain point for many people as humidifiers often come with a narrow mouth, and it takes a lot of time to clean the water tank properly. Skipping cleaning the device often leads to sediment and mineral accumulation in the tank, limiting the device's lifespan.
While checking out the Vicks humidifiers, we saw that most models have a large opening that enables easy cleaning. Moreover, refilling the tank of these devices also gets pretty simple. The humidifiers come with easy-to-understand instructions for better maintenance.
If you dread filter changes, there's no need to worry, as Vicks has made the process pretty simple. Also, the company suggests you change the filter when there's a color change or an odor.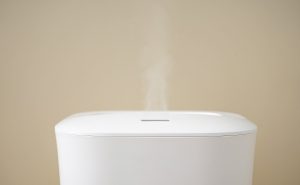 Final Words On Vicks Humidifiers
So, that's everything we had to tell you about the Vicks humidifiers. We hope that this informative guide will help you to find a device from the various options offered by Vicks. Do refer to the buying guide whenever there's any confusion about the features of a particular humidifier.
Among our recommendations, we will suggest the Vicks V4600 filter-free ultrasonic cool-mist humidifier to anyone looking for an excellent device that's also easy to use.
On the other hand, the Vicks V105SG nursery 1-gallon warm steam vaporizer is great for those who want to have a quick remedy for nasal congestions. However, this vaporizer only works for small rooms.
With that, we have come to the end of this guide. Do let us know if you have any further queries related to the Vicks humidifiers.
Till then, take care, and stay healthy!
Related Links
8 Best Crawl Space Dehumidifier
13 Best Dehumidifier For Basement
Best Dehumidifier For Apartment
10 Best Humidifiers For Asthma
10 Best Urpower Essential Oil Diffuser
What Size Humidifiers Do I Need?
9 Best Dehumidifiers for Basements
10 Best Dehumidifiers for Mold
TrueMist Top Fill Cool Mist Humidifie
15 Best Commercial Dehumidifier