From vivid color choices to self-moistening nylon brushes, my review of the best watercolor markers will have you creating stunning artwork in no time. Say goodbye to bleeding ink and hello to vibrant, long-lasting masterpieces.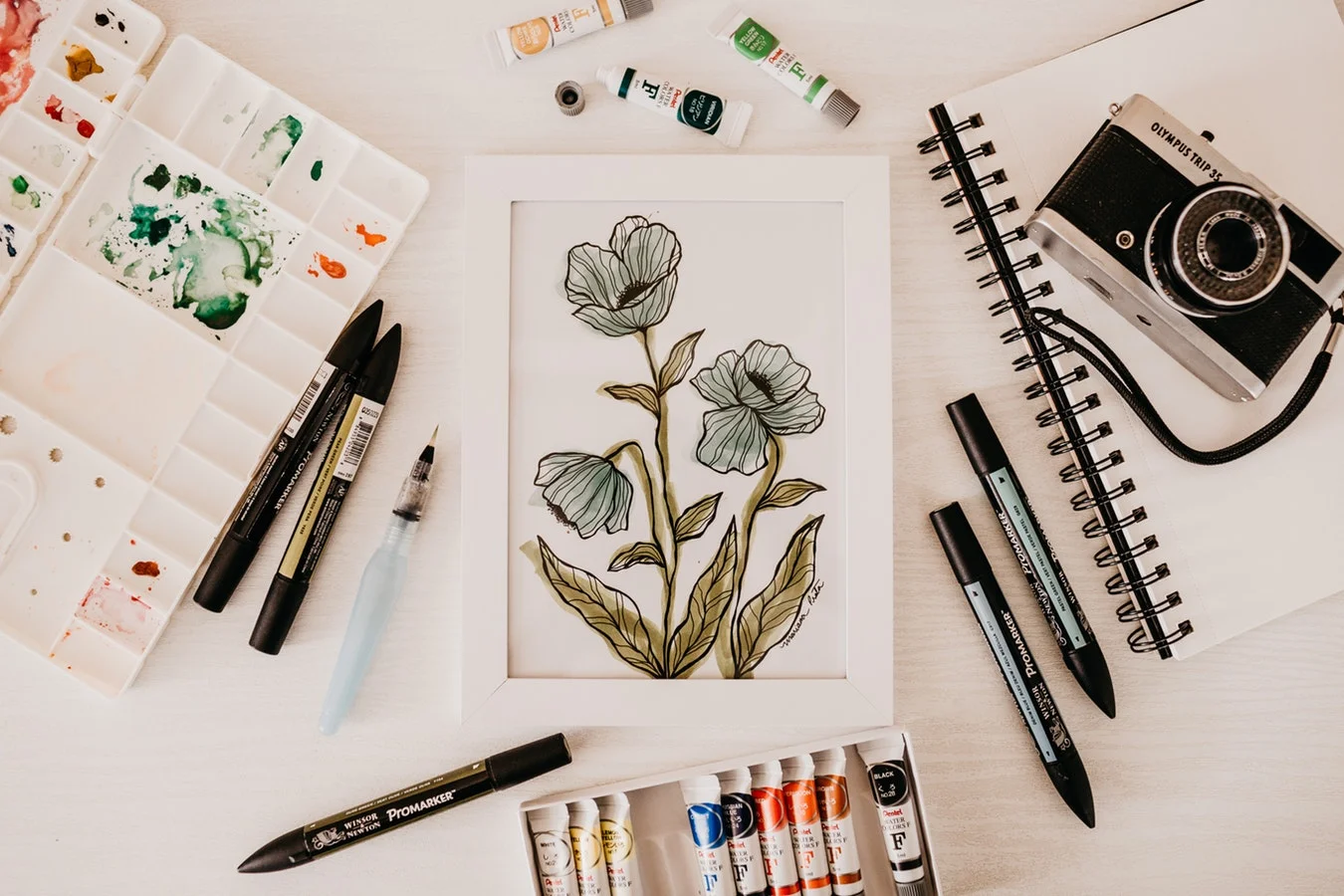 Ever looked at a watercolor painting and thought to yourself, "Wow, that's so beautiful! I wish I could create something like that…" Well, you're not alone.
With the right tools in hand, we can all channel our inner Monet and create masterpieces that will make us proud. And that's where watercolor markers come in. Read my review of the top watercolor markers out there, complete with all the information you need to make an informed decision.
Artistic Brilliance with these Best Watercolor Markers
Whoever said money can't buy happiness clearly never tried buying a set of watercolor markers. Join me as we talk about the best ones out there, and let's unleash our inner Picasso (or at least try to)!
Sale
What I like
Self-moistening feature 

48 highly pigmented colors

Non-toxic

Doesn't smudge or bleed
What I don't like
The bristles may fray over time with heavy use
These watercolor markers with flexible nylon brush tips are perfect for creating beautiful illustrations, calligraphy, and watercolor effects.
The brush pens come in a set of 48, and each watercolor marker has a 0.5-mm line size, which gives you a lot of options to play around with. What I love about these brush pens is that they're self-moistening and self-cleaning, so you don't have to worry about getting your hands dirty or constantly cleaning your brushes after blending with these colors.
One of the best features of these watercolor pens is the highly pigmented water-based color that won't bleed, making it perfect for creating vibrant and vivid artwork. They offer a similar blending experience to Copic markers but with the added benefit of being water-soluble. 
What impressed me even more is that these watercolor pens are completely non-toxic, easy to use, and mess-free. As an artist, it's important to have art supplies that are safe for you and the environment, and these watercolor pens fit the bill perfectly.
Number of Colors: 48 | Point Type: Brush | Special Feature: Flexible | Style: Assorted Colors
Sale
What I like
DIY color card

Duo tip brush markers

Odorless, non-toxic, and acid-free

Fast-drying, no smudging or blotching
This watercolor marker set comes with a whopping 100 unique and vibrant color options to choose from, and each watercolor brush pen has two different tips: 0.4mm fine tips and 1-6mm brush tips, which are perfect for all types of art projects.
I love that these markers are made with nicely pigmented dye watercolor ink that is odorless, non-toxic, and acid-free, making them safe for everyone to use. The colors can be dispersed and mixed with water, which is great for blending and creating gradients. I found that the colors dry quickly, so I didn't have to worry about smudging or blotching my artwork.
One of the best features of this product is the included waterproof canvas bag container that helps keep the markers organized and easily accessible. This makes it convenient to carry around and perfect for on-the-go art projects. I also appreciate that this set makes for a wonderful gift for anyone who loves drawing, doodling, and illustrations.
The only drawback that I noticed is that some of the watercolor pens tend to bleed through the paper if too much pressure is applied, so it's important to test them out on a separate sheet of paper before using them on your actual art project. However, this is a minor issue that can be easily resolved with a little bit of practice and adjustment.
Number of Colors: 100 | Point Type: Fine and Brush | Special Feature: Non-toxic | Style: Art Marker
Sale
What I like
2 refillable blending brushes

Specially formulated xylene-free opaque watercolor ink

Environment Friendly

Precise and clean finish
What I don't like
Many users have complained about receiving dry colors
Let's start with the basics. The set comes with 48 unique colors, including three neon shades. The colors are vibrant and eye-catching, and they blend together beautifully. You will be able to create some stunning gradients and watercolor effects with ease.
The nylon brush tips on these watercolor pens are a dream to work with. They're self-moistening and self-cleaning, so you don't have to worry about constantly dipping them in water or cleaning them off. Plus, they're flexible enough to create thin lines or bold strokes, depending on your preference.
I also loved that the set came with two refillable brush pens and watercolor paper. It's always great when a product comes with everything you need to get started right out of the box.
One of the best things about these watercolor pens is that they're suitable for beginners and professionals alike.
The watercolor pens are also non-toxic and acid-free, which is always a plus. And they meet all USA and EU safety requirements, so you can feel good about using them.
If I had to nitpick, I'd say that the set could benefit from some more earth-toned shades. But that's just a preference, and it certainly won't detract you from the overall enjoyment of the product.
Number of Colors: 48 | Point Type: Brush | Special Feature: Nontoxic and acid-free | Style: Solid
Sale
What I like
Resistant to fading for 100 years

Fine bullet nib for sharp, detailed lines

Highly pigmented water-based color

Dual tips
What I don't like
A bit on the expensive side
One of the coolest things about these watercolor markers is that they have dual tips, which means you can create both sharp and detailed lines with the fine bullet nib, as well as broader strokes and full coverage with the flexible brush tip. It's like having two markers in one!
Not only that, but these watercolor markers also have great color quality. They're highly pigmented and water-based, which gives them an incredible tonal range and vibrancy. Plus, all the colors are inter-mixable and resistant to fading for up to 100 years - that's some serious longevity!
The only downside is that the Winsor & Newton ProMarker Brush Set is a little pricey. But honestly, I think the quality of the product justifies the cost.
Overall, I would highly recommend this watercolor marker set to any artist who wants versatility, ease of use, and vibrant colors. Whether you're a professional artist or a student, these markers are perfect for creating beautiful artwork.
Number of Colors: 24 | Point Type: Fine | Special Feature: Non-fading | Style: Flexible, Fine
What I like
Smudge free experience

Soft, supple brush tips 

Compact and convenient

Non-toxic, odorless, and quick-to-dry ink
The set includes 24 brilliant and vivid watercolor brush pens, along with one blending brush pen. The best part? They are all filled with highly pigmented, odorless ink. Whether you're a professional artist or a beginner, these brush pens offer many creative possibilities to color, illustrate, paint, sketch, blend, and doodle.
The ParKoo Watercolor Brush Pens come with real flexible brushes. These real tip brush pens are like traditional watercolor paints with soft, supple brush hairs that you can use to create thick lines and strokes.
The ink in these watercolor brush pens dries quickly, and I experienced no smudging or streaking. The set doesn't come with refills for the watercolor brush pens, but they last long enough to create many art pieces.
I highly recommend the ParKoo Watercolor Brush Pens set to anyone who wants to explore the possibilities of watercolor art.
Number of Colors: 24 | Point Type: Tapered | Special Feature: Non Toxic | Style: Flexible
What I like
High lightfastness

Even color laydown

Dual-tip design with brush and fiber nibs

Water-soluble ink
These watercolor markers are a versatile take on traditional watercolor painting. The fully water-soluble inks provide even color laydown when used wet or dry. 
One of the things that impressed me about these markers is the 20 vibrant colors they come in. The dual-tip markers are another excellent feature of these markers. The brush nib is perfect for all-over color and dynamic sketches, while the fiber tip (1-2mm) is ideal for outlines, detailed drawings, and precise lines. This feature provides versatility while creating watercolor paintings with art markers.
I'm particularly impressed with the quality of these markers. They have a high lightfastness and won't bleed through the paper. The ink is also water-soluble, which makes it easy to work with and clean up afterward.
If I had to point out any drawbacks, I would say that the price is a bit steep, but the quality of the product more than justifies the price tag. Also, it would be great if the set came with more color options.
Number of Colors: 20 | Point Type: Dual Tip | Special Feature: Brush Tip | Style: Solid
What I like
96 Rich and Pastel Colors

Superior blendability of colors

Dual twin-tip brush pens

Color-coded caps
What I don't like
Can bleed through thin paper
The set includes 96 unique and vivid colors that are perfect for any art project, from fine art to calligraphy and doodling. The watercolor pens have both fine and flexible nylon brush tips, making it easy to create broad strokes, fine lines, and everything in between.
One of the things I really appreciated about these watercolor brush pens was the color-coded caps, which made it easy to find the color. The caps are air-tight and anti-roll, ensuring that the watercolor pens stay in place and don't dry out.
The ink is water-based and blends easily, allowing you to create unique shades and watercolor effects with the colorless blender pen. Plus, the brush pens are acid-free, non-toxic, and odorless, which is always a plus in my book. I also love that these watercolor brush pens are versatile and durable, making them perfect for any art project or inspired moment without the mess of traditional watercolors.
Overall, I would highly recommend the KINGART PRO Dual Twin-Tip Brush Pens set to anyone looking for high-quality watercolor markers. The only potential drawback is that the set is a bit on the pricey side, but in my opinion, it's worth the investment for the range of colors and the quality of the brush pens.
Number of Colors: 96 | Point Type: Dual | Special Feature: Flexible | Style: Unique, Fine
Quick Comparison Of Top Watercolor Markers
Buying Guide
Ah, the sweet smell of watercolor markers - it's like a bouquet of colors just waiting to be unleashed onto your paper canvas. But before you get too excited, let's talk about the important stuff to consider while buying them. So, to avoid any post-purchase regrets and artistic meltdowns, let's understand markers and explore what makes the best of the best.
1. Quality and Performance
Quality and performance are crucial factors to consider when purchasing watercolor markers. The ideal color vibrancy, along with the ink's lightfastness, is important for achieving long-lasting artwork that won't fade or change over time. Having a reliable and portable sketchbook is crucial. The best watercolor sketchbooks for watercolor markers are ones that are durable, compact, and able to handle the wet medium without bleeding or warping the paper.
Lightfastness refers to the ability of a color to resist fading when exposed to light. Watercolor markers with high-quality pigments and strong lightfastness ratings will ensure that your artwork retains its vibrancy and color for many years to come.
2. Blendability
Having blendability and water solubility in your watercolor markers is important because it allows you to create unique and interesting artwork. You may use a colored pencil to sketch out an initial design before using watercolor markers. Without these features, you may find it difficult to blend colors together or to create the desired texture or effect in your painting.
For example, imagine you are trying to create a painting of a beautiful sunset. With watercolor markers that have good blendability and water solubility, you can easily blend together different shades of orange, pink, skin, and green to create a stunning and realistic sunset. Without these, your artwork may appear dull and lack the subtle nuances that make watercolor paintings so unique and beautiful.
3. Flow and Coverage
When it comes to watercolor markers, flow, and coverage are two crucial factors that can make or break your artwork. Flow refers to the consistency and amount of ink that comes out of the marker. A good quality watercolor marker should have a consistent flow that allows for smooth and even application of the paint. 
Coverage refers to how much area a marker can cover with a single stroke. A high-quality watercolor marker should provide excellent coverage, allowing you to cover large areas with ease. It should also be able to create fine lines and details, allowing you to create intricate designs and patterns.
4. Drying Time
The drying time of the markers affects the ability to layer and blend colors effectively. If the marker dries too quickly, it can make blending colors a challenge, resulting in an uneven and patchy look.
The importance of drying time becomes particularly apparent when layering colors and in travel art. When it comes to using watercolor markers on the go, having a reliable travel sketchbook is crucial.
Watercolor markers that dry quickly allow artists to layer colors on top of each other without the colors blending together. This means that each layer remains distinct, which allows for more vibrant and rich color combinations. 
Watercolor mediums can also affect the drying time of watercolor markers. For example, adding a medium like glycerin to your paint mixture can slow down the drying time, allowing for more time to blend and layer colors with your markers. 
FAQs Related To Watercolor Markers
What are watercolor markers?

Watercolor markers are like regular markers, but they use water-based pigment instead of dye. You can use them for watercolor painting, illustration, and other artistic applications.

How are watercolor markers different from regular markers?

Watercolor markers are different from regular markers in that they use water-based pigment, which can be blended and diluted with water to create unique effects. They're great for painting and illustration and are perfect for artists who want more control over their work.

Can watercolor markers be used on different types of paper?

Watercolor markers can be used on a variety of paper types, including acid-free paper, thicker paper, and even thin paper. Just make sure to test the paper before using the markers to ensure they won't bleed or damage the paper.

How do you use watercolor markers?

To use watercolor markers, simply apply the watercolor marker to the paper and use a water brush pen or paintbrush to blend and dilute the colors as desired. You can also layer colors and create interesting effects by experimenting with pressure and stroke.

Can watercolor markers be blended?

Yes, watercolor markers can be blended and diluted to create unique effects. The flexible nylon tips allow for precise control over the amount of water and pigment used.

How do you care for your watercolor markers?

To care for your watercolor markers, make sure to store them in a cool, dry plastic container and keep them capped when not in use. You can also refill some brands and clean the tips with water to keep them in good condition.

Are watercolor markers suitable for beginners?

Yes, watercolor markers are suitable for beginners. They offer a great way to experiment with painting and color blending and can help improve your drawing and painting skills. Just make sure to choose a good quality brand and practice using them on different paper types.
Final Verdict
After thoroughly researching and testing various watercolor markers, I find the ARTZ-8090 Arteza Real Brush Pens & Markers are the best choice for artists looking for high-quality watercolor markers. With their flexible nylon brush tips, water-based pigment, and non-toxic formula, these markers provide the perfect combination of versatility, ease of use, and safety. 
That being said, I also want to acknowledge the Winsor & Newton ProMarker Brush Set as an excellent option for those willing to spend a little extra for unparalleled color quality and dual tips. Both of these options have their unique strengths and are well-suited for different types of artists and projects. 
My top picks for the best watercolor markers are finally revealed. Now, it's up to you to choose the one that fits your unique style and needs. I'm pretty sure your hands are already itching to grab your own set and start painting. 
Related Articles
Cold Press vs. Hot Press vs. Rough Watercolor Paper
Best Watercolor Painting Books Everywhere
10 Best Watercolor Palettes for Beginners & Professionals
13 Best Watercolor Pencils and Water Soluble Art Supplies
15 Best Watercolor Paints in 2023
12 Must-Know Watercolor Tips for Beginners & Pros
Why and How to Use Watercolor Mediums to Enhance Your Painting Game
Learn How to Use Watercolor on Wood
13 Best Watercolor Sketchbook for Creatives
11 Best Watercolor Brushes for Beginners & Professionals
15 Must-Have Watercolor Supplies for Beginners & Artists
Stretching Watercolor Paper & How To Keep Watercolor Paper From Warping
Learn How to Paint Watercolor on Canvas Easily & Successfully
16 Must-Know Painting En Plein Air With Watercolors Tips & Tricks
Learn The Basic Watercolor Painting Techniques For Beginners
Expand Your Knowledge With Watercolor Painting