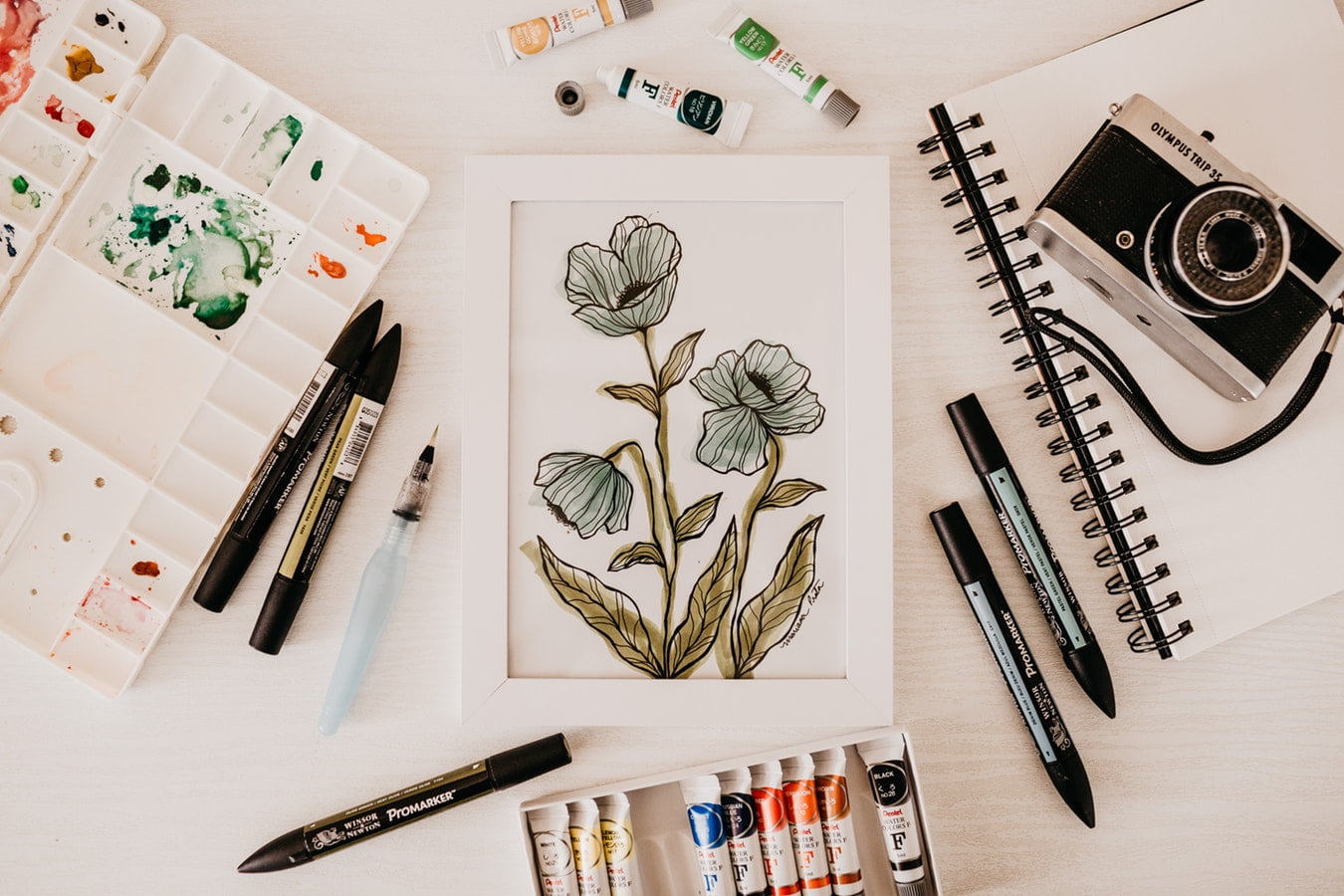 You've used a brush, and you've used a pen. But have you ever tried a watercolor marker?
No, this isn't a post for the elitist who would rather stick to their old ways of producing art. The world has progressed after all and "art" is now no longer confined to an archaic set of rules and regulations.
And that's exactly what the watercolor marker embodies!
At A Glance: Our Top 5 Picks for Watercolor Markers
With the right watercolor marker, you can get the best of both in the world of art. The quality and grace of painting with a brush and the convenience of a pen.
And this tool is especially important when you need to do a lot of detailed work and you're not quite 'not there' yet with the strokes of a traditional brush.
So, with a humble understanding of the gravitas of this medium, we decided to present to you the best watercolor markers we could find!
Here are the best watercolor markers for legendary results for artists everywhere! Go ahead and give it a read.
Best Watercolor Markers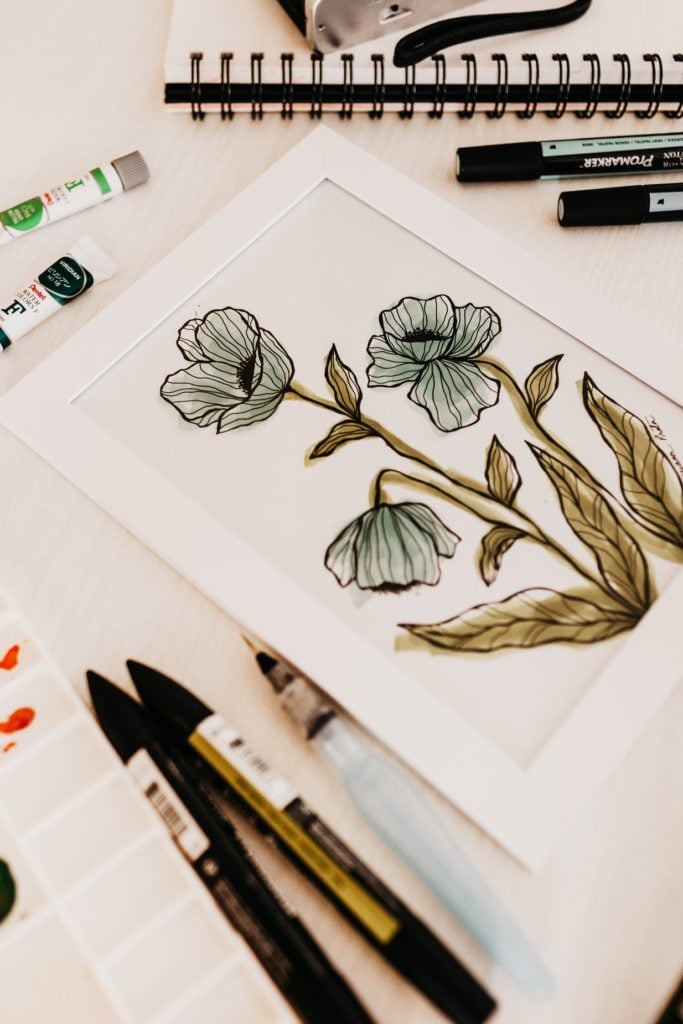 Letraset Aqua Marker is a perfect entry for people who are new to using watercolor markers. It is also excellent for watercolorists who want a little bit of modularity and uniqueness in their artworks. It's an incredibly well-built marker perfect for people who are more familiar with markers than watercolor markers.
Experience
The markers have two tips that offer immense versatility. There's a fine tip for detailed work as well as a chiseled tip for broader strokes. Their durability is also astounding and by our estimation, it should withstand a significant amount of abuse.
Coupled with this is its wide barrel that stores more ink and gives better control to beginner artists. Its design makes it easily suitable for beginners and casual artists but the performance of it makes it worthy for intermediate artists as well.
The ink blends flawlessly when exposed to water which makes it possible to achieve accurate hues that give a soft appearance.
The ink is also extremely durable. It is extremely lightfast, i.e., doesn't dilute easily under prolonged exposure to light.
Overall, the marker set is really splendid in terms of performance, design, and durability. But one gripe we did have was the lack of a brush-like tip. The tips, although of satisfactory quality, resemble a conventional marker than watercolor brushes.
That's why we recommend professional watercolorists to stay away from this set.
Pros
Two tips – one fine tip for detailed work and one broad tip for fat strokes

Markers are extremely durable as well – sturdy tips and lightfast ink

Ink mixes beautifully with water as well and blends beautifully

The set is extremely affordable as well
Cons
Tips resemble more to a traditional marker than a brush
Sale
Tombow Dual Brush Pen Art Markers have one of the highest numbers of color options in a set. With a set of whopping 95 colors (+1 Blender marker), this set is one of the most fleshed-out set in terms of variety and hue options that we know of. And with a dual tip design – a fine tip and a brush tip, this watercolor marker has got all the things it needs.
Experience
With the wide selection of colors, mixing hues almost become obsolete because you can already find the hue you want in the box with such a huge variety of colors.
The markers also feature dual tips. One of which is a fine tip which is great for detailed work and the other is a brush tip which has better control and flow than a broad stroke chiseled tip.
The ink is fantastic as well. It flows well, blends perfectly and mixes accurately. It is also extremely lightfast and completely acid-free.
As a professional watercolorist, you can also work out your painting over several days with this marker set. The pigments lift up with no problem when in contact with water.
It comes with a desk stand to store all the markers together. It also has a smart cap design. A small notch on the cap prohibits the marker from rolling around.
The tips also come with a feature of self-cleaning. With other markers, the tips will get muddy and dirty over time. But with Tombow markers, you'll never have to face this problem because the markers will clean itself.
Pros
Wide selection of colors – 95 colors + 1 blender

Amazing performance that is unrivaled by any other

Comes with a desk stand for easy storage

The tip can clean itself and will remain consistent over a long time

The markers can be purchased individually
Winsor & Newton has brand recognition in the art community that is second to none. And they have always produced remarkable art products that artists around the globe vouch for.
These markers come in a set of 12 and the quality of each of the markers is nothing less than excellent. Winsor & Newton never fails to amaze artists with the quality of their products and this marker set is not an exception to that.
Experience
Like the entry from Tombow, these markers also come with dual tips. One of them is a fine tip for detailing and fine lines, and the other one is a brush tip that is great for watercolorists and calligraphists.
The bristles of the brush tip are made from synthetic fibers. They are springy and hence, provide an incredible amount of feedback to the user.
But the more important part is the performance of the ink. And of course, Winsor & Newton wouldn't skimp on the part of quality.
The ink's dissolvability is incredibly good. The pigments mix effortlessly even without the use of blender marker. You can simply use a wet brush to mix the inks effortlessly.
The colors are also extremely vibrant and attractive. In terms of vibrancy, they match Tombow's offering. The pigment count is remarkably high and hence the colors produced are very saturated and attractive.
The marker set comes in a tin box and hence can be carried around without any hassle. This makes this marker set incredibly for plein air painting.
The only downside is the rather limited number of colors in the set – 12. You'll need to do a lot of mixing to get the color you need and with watercolor markers that's a lot of hassle.
Pros
Two tips – one fine tip and one brush tip

Incredibly lightfast ink and professional grade quality

Colors are incredibly vibrant and gorgeous

Set comes in a tin box that is great for traveling and plein air painting
Cons
Colors available in the set is rather limiting
Tanmit Dual Tip Art Markers are amazing quality markers that give the wide selection and design like Tombow Markers at the price of Bienfang markers. The set comes with 60 different colors that offer astounding variety at this price point. The markers also have a dual tip design with a micron style fine tip and a brush tip.
Experience
This marker set come with 60 different colors at an incredibly affordable price. This kind of variety is not even witnessed in some of the higher priced professional grade marker sets.
These markers also have dual tips – one Micron pen style fine nib and a brush tip that is made out of synthetic fibers. The dual tip design is extremely necessary for watercolor markers, even though we have mentioned some entries on this list without dual tips.
The fact that this marker set is geared towards novice artists is astounding to us. But when it comes to ink performance and durability, you'll have to keep in mind that it's meant for beginners.
First of all, the colors won't be as vibrant and saturated as some of the other entries on this list, like the Winsor & Newton or the Tombow.
And the dissolvability of the ink is also not that remarkable. What it means is that the ink won't completely spread when mixed with water.
Ultimately though, these markers are a great bargain for beginners and way more worth than the price.
Pros
Incredibly affordable

Markers come with dual tips – one fine tip and one brush tip

There are 60 colors in a set

It is extremely beginner friendly
Cons
This set is not meant for professionals
Sale
Spectrum Noir Aqua Markers might just be the best value-for-money marker set on this entire list. It is geared towards non-professional artists – both beginners and intermediate artists.
There are various kinds of sets that come from Spectrum Noir. You can get Primary, Essentials, Floral or Earth sets to cater to any need according to your subject.
Experience
The way these markers are packaged and sold in sets make them extremely handy in terms of purchase and eliminates wastage of markers.
And no matter the set you get, it'll always be light on your wallet. These extremely affordable markers come with a dual nib design. Something that has only been limited to expensive marker sets like Tombow and Winsor & Newton.
And there are a lot more areas where this marker set seems more akin to expensive brands. One of which is the durability of the ink. The ink used in this set has one of the highest lightfast ratings that is only evident in high-end brands.
The ink also flows incredibly well and blends flawlessly. The quality and performance of the ink surprised us because we didn't expect it coming from such an inexpensive brand.
The markers also have a anti-rolling cap design which is rare to see in this price point.
Overall, for an artist who is somewhere in between being a beginner and an intermediate, this marker set is the best. And anyway, we are more than satisfied with this product.
Pros
Incredibly cheap

The colors are vibrant and poppy

Ink is extremely lightfast

The markers have a smart cap design that prevents it from rolling
Cons
It can't be bought individually
Best Watercolor Markers Conclusion
So that's all for this article. We hope that this guide helped you find the best watercolor marker set for you.
We tried to keep all the entries on this list as unique as possible, i.e., catering to different needs. So that, everyone can find what meets their needs.
With that, we wish you well in your creative endeavors and thank you for reading!
Related Articles
Cold Press vs. Hot Press vs. Rough Watercolor Paper Compared
What is Watercolor Paper & How is Different From Other Papers
Best Watercolor Painting Books Everywhere | Beginner to Expert Grade
10 Best Watercolor Palettes for Beginners & Professionals
13 Best Watercolor Pencils and Water Soluble Art Supplies
15 Best Watercolor Paints in 2023 | Students & Artist Grades
12 Must-Know Watercolor Tips for Beginners & Pros
Why and How to Use Watercolor Mediums to Enhance Your Painting Game
Learn How to Use Watercolor on Wood | Professional Tips & Tricks
13 Best Watercolor Sketchbook for Creatives Everywhere
11 Best Watercolor Brushes for Beginners & Professionals
15 Must-Have Watercolor Supplies for Beginners & Artists Everywhere
Stretching Watercolor Paper & How To Keep Watercolor Paper From Warping
Learn How to Paint Watercolor on Canvas Easily & Successfully
16 Must-Know Painting En Plein Air With Watercolors Tips & Tricks
Learn The Basic Watercolor Painting Techniques For Beginners – Ideas And Projects
Expand Your Knowledge With Watercolor Painting Ideas