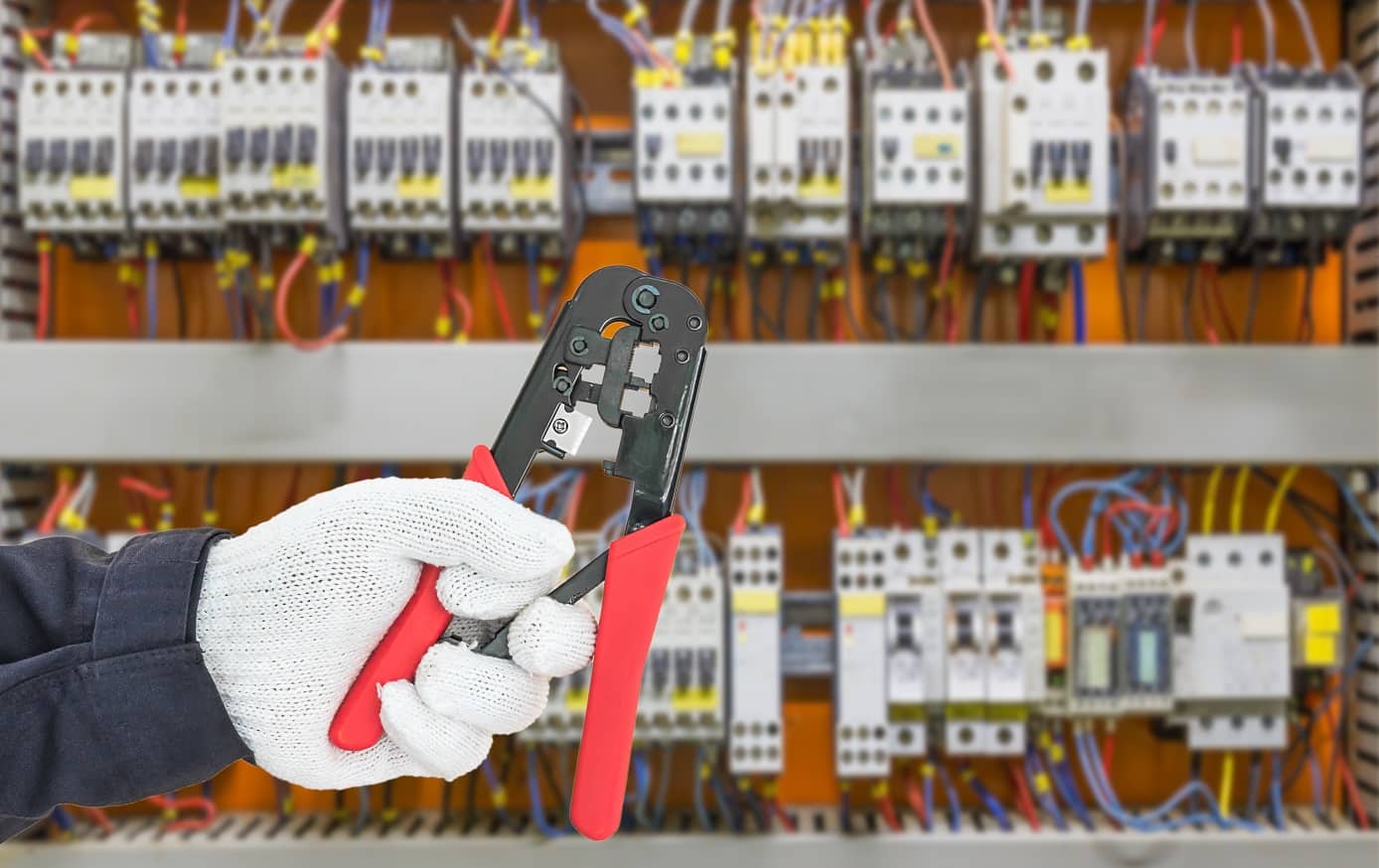 Making a versatile workbench requires more tools than what generally comes to mind. We can always be resourceful and creative, but having the right tools saves a lot of time, and you know what they say about time, right? 
Time is money! 
So, in case you have been on the internet for the past hour searching for the perfect wire stripper buying guide, you have landed on the right page.
Finding good wire strippers is quite a task, and apart from your needs, other factors also deem importance, such as choosing between manual and automatic wire strippers, or the material you're planning to work on.
Thus, to make your life easier, we have come with a comprehensive list of wire strippers, and also a buyer's guide for all those who want to know how to make your choices.
Read on and fill your workspace with the precise tools.
13 Best Wire Strippers
We have reserved the numero-uno spot on this list for IRWIN VISE-GRIP 2078300 Self-Adjusting Wire Stripper as it incorporates all the latest innovations to meet your daily needs. The product comes with a lifetime guarantee and can be a great choice if you are looking for a premium-quality, durable, self-adjusting model.
Sale
Experience
As per our experience, one of the most impressive features of the IRWIN VISE-GRIP Wire Stripper is its swivel knob. This knob allows you to make micro-adjustments for cutting gauges even smaller than 20 AWG. 
As the name suggests, the self-adjusting jaws of the stripper measure the cutting and stripping depth perfectly. It takes away only the upper sheath of coating, never damaging the metal itself. Additionally, it has a plier nose that you can use to loop and pull the wires.
The wire stripper is equipped with induction hardened edges for accurate and measured cuts. It cleanly removes the rubber casting of the exterior cable exposing the secondary layers of copper wires of the inner casting and requires just a slight pressure to operate.
Also, we really liked its ProTouch grip feature. When you use the product for two-three hours straight, the soft and smooth ProTouch grip ensures your hands don't get tired while working. The user-friendly design also reduces weariness and, as a result, lets you work efficiently, for prolonged periods of time.
However, on the flip side, we found it to be unsuitable for tougher and thicker insulations, and one of the Amazon shoppers reported of a pinched finger while working on stiff wire coatings.
Pros
Has a built-in adjustable stopper to control the core strip

Smooth stripping as well as crimping

Works perfectly on non-insulated, insulated, and ignition terminals

Has a swivel knob for micro-adjusting smaller gauges

Comes with a lifetime guarantee
Cons
The tension of the measurement gauge needs to be adjusted before each use

Don't work for tougher insulations of over 32 gauge
Irwin Vise-Grip Multi-Tool Wire Stripper is one of the most efficient and versatile strippers of its kind. This all in one tool lets you perform a wide variety of wire-altering tasks like crimping, cutting, stripping, bending, and looping wires.
Sale
Experience
Though upon first glance, the multi-purpose tool features a complex design but, let us tell you that it's remarkably easy to use. The versatility of functions allows you to use the strippers in different applications. 
Besides using the tool for just stripping the wires, you can also use its quick-release locks, bolt cutters, built-in crimpers, and the plier-styled nose for pulling and looping wires. This wire stripper also showcases an advanced level of construction. It is made up of high-quality materials, which ensures durability and reliability beyond expectations.
Also, like most Irwin appliances, the wire stripper consists of comfortable textured handles with easy-grip design. Thus, the tool can be used extensively without causing strain, fatigue, or injury. Its ergonomic design will help you complete work faster and with more precision. It has fantastic manoeuvrability and strips and cuts 10-22 AWG with great efficiency.
However, some users reported that they faced problems while using the tool on larger wires.
Pros
The wire cutter comes with induction hardened cutting edges

It is extremely durable, and the blades stay sharp for many years

You can strip and cut 10-22 AWG wires with precision

You will be able to pull and loop the wires using the plier style nose

Bolt cutter cuts bolts to precise size and leaves perfect lead thread
Cons
The stripper isn't much effective with large wires.

You need to pull the levers open after every use.
The next recommendation we have for you is the Klein Tools 11057 Wire Stripper and Cutter. If you want to buy a wire stripper that focuses on accuracy and precision, this tool can be your best choice. It is specially made for working on thin and small wires and is smaller and more compact than most of the wire strippers out there.
Experience
This is a compactly designed tool can be an ideal choice for beginners and professionals alike when it comes to stripping small, thin wires that demand extra care and precision. Also, Klien provides no less than nine separate type and size options, so there will be no problem in finding a model that meets your exact requirements.
Unlike large wire strippers that produce much more force than required to strip small wires, Klein Tools 11057 Wire Stripper provides smooth, accurate cuts.  It removes 20-30 AWG Solid and 22-32 AWG Stranded wires accurately without damaging the cable, which in turn reduces the chances of mistakes.
It features a rubber handle and grooved grips for ease of use and can be used by people with all hand sizes. Also, the product is made of high quality, durable materials that deliver smooth and reliable functioning for years.
Besides its improved quality materials, what really impressed us was its top-notch design and construction style. We also liked the coil spring that provides a reliable and swift self-opening action.
The tool consists of an adjustable head that you can scale down to any size according to the wire you are working on. There's a small wheel on the unit that allows you to manually adjust the tension, making smaller strip jobs possible.
However, it doesn't work that well with heavier gauge. So, in case you mostly work with a heavier gauge, you should look for other alternatives. 
But, the positive side over here is that the product does work on certain heavier Romex wires. We tested it with Romex wires of sizes 14/2 and 12/2 and saw it produce impressive results.
This versatile tool also includes a built-in wire cutter and a built-in looper, which features clear markings to help you operate it with ease.
Pros
Strong-gripping nose for shaping, bending, & pulling the wire

Precise and accurate cutting holes

Can be used for shearing 6-32/ 8-32 screws

Coil spring for fast self-opening action

Easy-to-read markings for accurate results
Cons
In some models, the gauge holes are not entirely accurate
This colorful and attractive wire stripper is apt for automotive and electrical repairs. It works perfectly on a single-conductor wire and comes with an adjustable stop, which helps you adjust the consistency of the length of the wire strip. You will be able to strip all sizes of wires using the Knoweasy automatic wire stripper.
Sale
Experience
If you are looking for a handy wire cutter at an affordable price range, we highly recommend you to buy the Knoweasy Automatic stripper and cutter. 
The unique combination of glass fiber nylon and steel strips makes the product extremely lightweight and compact as compared to most of its competitors. Apart from portraying an innovative combination of durable materials, the product also features an advanced level of construction. 
This cleverly designed tool can deal with cables of all types and sizes without any complicated adjustment. When being used, the tool provides enough power and maneuverability to strip extensive lengths of wire quickly and efficiently.
However, we noticed that it doesn't deliver desired results if you use it on slippery Teflon surfaces. 
Pros
Adjustable stop for consistent stripping diameter

Replaceable blade system

Adjustment dial for maintaining blade pressure as per insulation thickness

Comes with a 12 months warranty
Cons
Isn't that great for working on harder slippery Teflon insulations
This 3 in 1 automatic wire stripper from Neiko surely deserves a special mention in this list due to its gripping teeth that are specifically engineered for precise and accurate cuts. It also consists of an in-built thumb wheel that micro adjusts the jaw tension and makes room for more accurate stripping.
Sale
Experience
It surely does become challenging to live up to the buyer's expectations once you put the tag "three-in-one" in the very name of your product. Fortunately, we have no qualm saying, Neiko certainly delivers what it promises.
It takes out the guesswork of adjusting the blades according to the thickness of the insulation every time. It automatically selects the correct tension of holding the wire, without damaging the fine wires, while pulling the insulation away. 
One just needs to place the wire between its two jaws and use the flip-up stopper to select the required wire length, then gently squeeze to get the work done.
We were especially impressed by spring-loaded handle of this device, which helps you conveniently strip the wires without straining your hand. It has heat-treated, sharp blades, measuring half an inch, that cleanly cut through 10-24 gauge wires. And, it also includes a micro-adjustment wheel for stripping smaller gauge wires beyond 20 AWG.
What's also impressive is that it gives you the opportunity to crimp wires like a pro! The handle-integrated crimping teeth are capable of crimping 4-22 AWG wire, 7-8 mm auto ignited terminals and 4-22 non-insulated wire smoothly.
It also includes a color-coded guide for insulated wires to guide you through the overall process.
Pros
Crimps insulated, non-insulated as well as auto ignited terminals

Has sharp spring-loaded jaws

The heat-treated cutting blades enables precise cutting

Has a comfortable handle design
Cons
Does not come with a warranty
Zoto Wire strippers boast some attractive designs that stand out in an otherwise ordinary toolbox. It has also got some appealing features up its sleeve. Its ultra-fine jaws smoothly cut wires between 10 and 24 AWG and the stripper comes with a straightforward and effective design that's easy to hold onto.
Experience
We used several other hand-held wire strippers in this price range before arriving at the conclusion that this one seems to do the job best when it comes to quick wire stripping. Its built-in crimper works fine on insulated wiring of 10-22 AWG and also has the mechanism of self-adjusting to the wire!
The wire stripper is sturdy, well made, and seems like it should last quite some time even under heavy use. The grips/ handles have a non-slip element with a rubbery coating that makes them comfortable to hold, and provide maximum leverage.
Also, the micro-adjusting swivel knob is made of specially heat-treated chromium-vanadium alloy steel that stays sharp for longer periods of time and offers efficient cutting. This can be used to strip wires even smaller than 24 AWG.
Pros
High-quality carbon alloy steel guarantees longevity

Comes in bright, eye-catching designs

Includes a built-in crimper

The crimper self-adjusts to the wire
Cons
Does not work well on plastic-coated wires
This easy-to-use wire stripper is completely padded with soft cushioned handles that are curved in a "dolphin style" for the best grip. It comes with a top-notch internal spring system coupled with the precision blades that provide a smooth cut every time, while the springs play their part to reduce operational fatigue.
Experience
While testing the product, we were particularly pleased to see that Hakko has not compromised on the quality of its products over the years. This wire stripper has a sturdy body made up of 2.5mm heat-treated carbon steel that ensures durability and lasts for a long time. Also, it has a "parkerized surface" that strongly resists corrosion and also prevents glare.
Hakko offers CHP 170 micro soft-wire cutter that effortlessly handles terminal wires up to 16 gauge (1.3mm).  It also has non-slip grips that provide control and comfort, whereas the dolphin-style handles protect the hand from its cutting surfaces.  
We loved the internal spring system that facilitates easy functioning as it returns the tool to its original default position after each cut, eliminating the need to apply much manual effort. This allows you to work for prolonged hours without tiring your hand.
The wire-stripper features 8mm long jaws, and as an added advantage, the jaws are set at a 21-degree angle that makes way for fast-cutting. Another excellent feature of precision-ground holes and surfaces provide smooth movement.
Pros
Angled head for smooth-cutting of 16 gauge copper wire

Has a 2.5mm heat-treated carbon steel construction

Hassle-free spring system provides smooth movement

Dolphin-style non-slip hand grips for comfort and control
Cons
Prolonged use on steel wires tend to dull the blades sometimes
WGGE wire strippers are not only effective and durable but are elegantly designed in a bright mix of red and black that adds an extra note of elegance to your toolbox. Also, if you are looking for a cheap yet sturdy wire stripper that will last a few years, this can be an excellent option to consider.
Sale
Experience
Many a time, we end up paying hundreds of dollars for just a 10-minute job like mending a fuse or replacing a wire or two of the family heirloom lamp. But with the WGGE professional wire stripper in your toolbox, you will be able to save your hard-earned money and fix those cables yourself, like a true professional.
Let us tell you that the one aspect of this wire stripper that caught our attention was the precision of its cutting holes. The blades are made of durable carbon alloy steel that accurately cuts, loops, and strips 10-22AWG solid copper wire as well as 0.6MM-2.0MM aluminum cables.
And needless to say, we tested the handle for two hours straight to determine its ease of use, and we can assure you it lived up to all our expectations. We found the product to be ergonomically designed with a PP+TPR material for optimal force-transmission. It also felt comfortable in the hand even after extensive use.
Also, it's just 8 inches in size and weighs 8.2 ounces, which makes it lightweight. So, it's an apt tool for older people with arthritis or bone-generating diseases.
Pros
The serrated nose is easy for bending, shaping, and pulling wires

Great appearance with an easy-to-handle design for a lesser effort

Accurate stripping with lifetime durability

Crimps both insulated and non-insulated terminals accurately

Pros
Cons
None that caught our attention
After reviewing multiple wire strippers, we have come to this conclusion that the Capri 20011 automatic is the best one for working on strong and tight wires. Its user-friendly stripping blades self adjusts to different gauges automatically, and the pistol-shaped design makes this tool remarkably comfortable to work with.
Experience
The automatic gripping mechanism of the tool is genuinely appreciable. The very shape of the handle ensures that one can exert pressure without much effort, which reduces the strain you would normally feel from this type of work.  
Though it doesn't have a rubber-handle like the other ones on the list, the pistol-shaped design, and automated grip allows you to work quickly and precisely on various types of cables. You can strip wires from 24-10 AWG with just a single pulling motion, and the built-in wire cutter will completely remove the section of the cable smoothly.
The tool is also convenient to hold and is made of plastic and steel, which makes it lightweight (it weighs just 4 ounces) and is easy to use. This stripper-cum-cutter is a highly versatile product and comes with a stylish and user-friendly design that makes it easy to maneuver.
In short, this one is a must-have for any electrician who wants to finish their job quickly and effortlessly.
Pros
The stripper self adjusts to different gauges

Strips 24-10 AWG wires effortlessly and consistently

The ergonomic design is effective for stripping tight wires
Cons
Does not have a crimper

Does not have rubber-coated handles
This 3-in-1 tool is quite versatile and can be used as a wire stripper, cutter, as well as a crimper for wires and cable of 10-24 AMU. Also, the self-adjusting jaws and adjustable stopper won all the points by making the whole process of cutting and crimping a lot faster than the rest of its competitors.
Experience
We thoroughly scrutinized the self-adjusting jaws and found that it cuts a wide range of wires (10-24AWG) very smoothly. And, in case you need to use it on wires even smaller than 24AWG, just use the micro-adjusting swivel knob to get your job done. It lets you strip wire as small as 26 AWG. The adjustable stopper perfectly adapts to the length of wire so that you can strip it easily to get the required portion.
The cutter is made up of stainless steel and an anti-skid material. It also comes with insulated handles that offer comfort, protection and reduce hand exhaustion considerably. We believe, once you get adjusted with the remarkable functionalities of the OYISIYI wire stripper, you won't go back to a traditional wire stripper ever again.
Also, the crimper is designed with bold letters that clearly state the exact terminal that will be appropriate for your specific purpose. This saves a considerable amount of time when you have a lot on your plate and need to finish stripping multiple wires within a short span of time.
And unlike any of its competitors, OYISIYI offers a 3-Year Replacement Warranty on the product (and you don't even need to return the previous one you have been using).
Pros
Useful for crimping, stripping as well as trimming wires.

Made up of hardened stainless steel

Has a spring system to meet the specific gauge size

Equipped with soft, rubber grip

Capable of stripping multiple wires at once
Cons
A little more expensive than the ones which come with similar specifications
You can rest assured that your wire strippers will deliver top-notch performance for many years to come, when you buy them from Channellock. This cable cutter is made up of long-lasting, hardened steel, and is capable of withstanding a fair amount of wear and tear.
Experience
We felt that the most admirable aspect of this wire cutter is its scissor-type blades, which are precision-ground and specially heat-treated to hold their edge. This ensures the blades stay sharp even after rough use and helps you to strip wires with absolute precision and accuracy every time.
Also, to make it user-intuitive, the handles are adorned with laser markings embossed in the metal. It's equipped with a comfortable rubber grip that is suitable for all hand sizes and strengths and almost doesn't fatigue your hand at all.
Additionally, it consists of a lean plier nose that makes it easy for the users to pull and loop wires whenever necessary.
Pros
Has an ergonomic rubber grip handle for comfortable handling

The product is reasonably priced

It is capable of cutting, stripping, as well as crimping

Has a lean plier nose for pulling and looping wires
Cons
Some users reported of faulty latches

Can only be used for mid-level gauges
Like all Klein tools, this wire stripper is made up of premium-quality materials that deliver a significant performance, ensuring precision and durability. It also lasts for a long time due to its heavy-duty design that also includes an Ecoat corrosion-resistant finish.
No products found.
Experience
Klein manufactures high-quality tools that live up to the expectations and demands of the professionals and, as always, has not failed to impress us this time as well.  You will be able to cut and strip stranded wires between 10 and 22 AWG and 8 to 20 AWG-sized solid wires smoothly. It doesn't damage the inner layers of the copper wire in any way.
Adding to the convenience of the users, it has an automatic spring system that is capable of removing an entire inch of insulation with just a single motion.
Also, the tension loader makes it easy to operate, and you won't require to clamp the wires with excessive force, which in turn, helps to avoid breakage of the wires. The precision mechanized stripper blades of this tool help you to strip smaller gauge wires as well, ensuring just minimal amount of damage. 
Pros
Cuts and strips 8-20 AWG solid and 10-22 AWG stranded wire

Enables compound action stripping with a single-action squeezing motion

Easily removes insulation without damaging the wire

Tension loaded wire-grip gently holds the cable and retains cable geometry

Cast alloy chassis and heavy-duty Ecoat resists corrosion
Cons
A little expensive

Doesn't come with a warranty
Finally, we have arrived at the last recommendation of our list of the 'best wire strippers'. We have decided to conclude it with this elegant and versatile 6 in 1 multi-functional wire stripping tool. There's no point wasting your hard-earned money in buying six different tools when you can just opt for the one that alone does the job of six, and does it even better. Right?
Sale
Experience
Milwaukee is an electrician's multi-tool. It has provisions for bolt and screw cutting, allows you strip wires, helps you to make loops, aids reaming, and has a curved cutting blade for stripping much larger wires than the template allows.
It has accurate markings embossed in steel which makes it super handy for wire stripping that requires precise and close-in work.  It covers a wide range of wire sizes and allows you to strip 8, 10, 12, 14, 16, and 18-gauge bare wire and 10, 12, 14, 16, 18, and 20 gauge stranded wires.
Another feature that deserves a special mention is its ability to cut through #6 and #8 bolts to whichever length you prefer. Also, the head design helps you to smooth Metal Pipe edges from 1/2-Inch to 1-Inch.
If you are on the lookout for a small tool that does a handful of things but doesn't want to spend a lot of money, this one is an excellent option. 
Pros
A 6 in one tool and at an affordable price range

Locking mechanism keeps the tool locked when not in use

Spring-loaded for easy opening

Rust protection layer reduces corrosion
Cons
The stripping is not exactly accurate but mediocre

Is not rubber coated which results in loose grips
Buyer's Guide for Wire Strippers
Just knowing the 13 best wire strippers is only half the game won! You must have noticed that there are various kinds of wire strippers available in the market, and each has its own unique specification. And more often than not, it becomes extremely challenging to pick the right kind of tool given the gamut of choices.
This handy guide will provide some valuable insight to help you determine what you should be looking for while you shop your wire strippers.
 Here are some of the factors you should be looking at while choosing the best one for your job:
1. Wire gauge
The first and foremost criterion of buying a wire stripper is having a fair idea of the type of gauge you're going to strip. The term 'gauge' is generally used to determine the diameter of the wire. This means the lower the gauge size, the bigger its diameter and thus the bigger the wire. And, on the contrary, the larger gauge size means smaller wire diameter, and therefore the smaller the wire.
So, if you are buying the tool for a specific project, carefully analyze the specific size of gauge you'll be working with to pick the best one for your job.
2. Type of cable
Besides the gauge, you must also have a clear understanding of the insulation type of the cable you'll be cutting i.e., whether they are stranded, solid, sheathed or unsheathed. Often, thick cables are comprised of different types of materials that can be hard to strip if you do not use the right tool. 
For example, Coaxial has a very thin wire at its core, but the wire is surrounded by three layers made of different types of materials, each of which has its own thickness and strengths. It is advisable to buy one that covers a range of 12 to 26 AWG to efficiently and easily work with thicker as well as thin wires.
3. Safety and comfort of the grip
You must keep in mind that the best grip is not just about preventing slippage while handling the tool. You will be ultimately stripping wires to conduct live electricity. So, you must check whether the handles are insulated with rubber properly, and if the stripper is made of non-conductive materials.  
Even if these non-conductive models cost a little more, a protective pair could literally be a lifesaver in case something goes wrong while working. Also, we have observed that most electricians tend to overlook the aspect of comfort while choosing their strippers. 
But, if you do not buy one that provides comfort to your hands, you are likely to get fatigued, which will result in mistakes during operation. So, in case the project demands you to work for long hours, you'll want to buy a wire stripper with contoured handles for comfortable use.
4. Construction
You must check the build quality carefully. While some wire strippers are made up of materials that are more prone to rust and corrosion, there are plenty of options that are anti-corrosive and rust-proof. 
Also, the strong and elastic cables or wires put strain on any wire stripper, and it suffers wear and tear, no matter how great the quality. So, you must take note of factors like adjustability of the cutting surfaces and whether or not the blades can be sharpened from time to time. 
5. Durability and cost-efficiency
Lastly, considering everything we've suggested till now, it might make sense to just go for the most expensive one available on the market to get the quality right. Though it's a good rule of thumb, we believe it's even better and smarter to know the specifications you should be looking for before you settle on how much you need to spend.
Basic models are a lot cheaper and affordable than the ones built for specialized needs. They also do the job equally well and survive your pocket pinch. So, a DIY enthusiast can opt for a cheaper pair of wire strippers while a person who works with electronics professionally should focus more on buying one with better specifications even if it costs a little more. Once you where you fit into, you'll be able to determine how much you legitimately need to spend.
Also, make sure that you aren't over-paying for a short lifespan. Some of the specialized tools are very expensive but last only a few uses before they need a significant amount of maintenance charge or even replacement.
Conclusion
Well, that finally wraps up our run-down of the 13 best wire strippers available on the market. We sincerely hope our reviews and buying guide helped you find a stripper that's best suited for your needs. Working with electronics is a risky affair, and we would encourage you to put some thought into what kind you model you need. Remember that buying smart will be a much better approach than casually buying a budget tool.
Surely, the tool industry will keep coming up with new ways to make wire stripping easier, and soon we will prepare a new guide with the latest innovative products. Until then, we hope to have made shopping for your next wire stripper simpler.
 


Related Articles
13 Best Screwdriver Sets on the Market Today
11 Best Tap And Die Set on the Market Today | Buyer's Guide
11 Best Multi Tools of 2022 Reviewed | Buyer's Guide