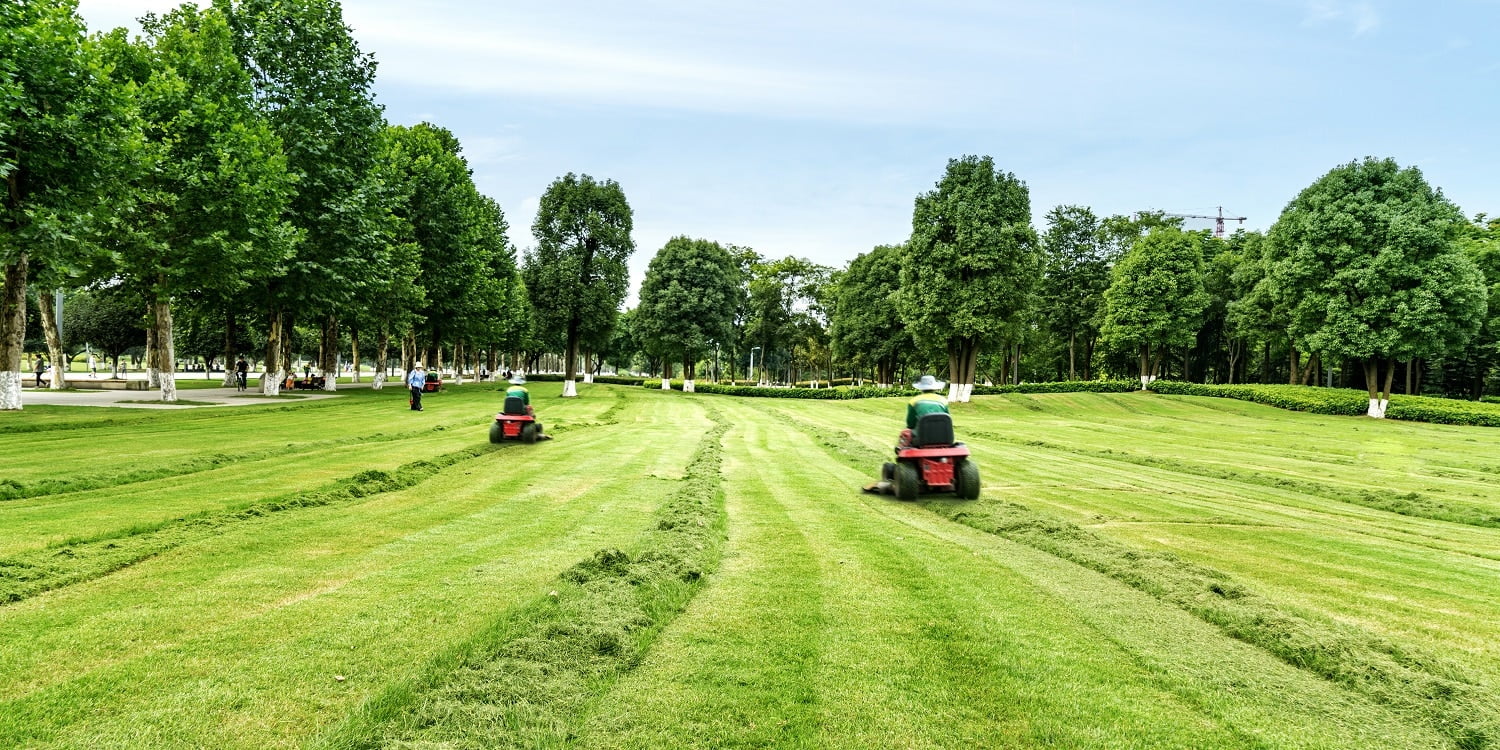 Admit it – our dream residence is incomplete without a pristine-looking lawn!
As the saying goes, a beautiful lawn doesn't happen by itself. True, lawn maintenance is no easy job. But we certainly don't mind some technological assistance, especially if it means having a zero turn mower.
Indeed we are indebted to these mowers for their easy operation and ability to reach for those tight spots. Sounds all smooth, right?
Sadly, making the right call is far from being as easy as riding a zero turn mower. There are a lot of brands, each with multiple lines of mowers to choose from. We bet that selecting the right one will be no walk in the park.
To declutter your mind and help you choose the right mower as per your needs, we are here with the top 13 zero turn mowers of the year. One look at the reviews, and you'll have every detail that aids decision making.
Let's jump in!
Top Zero Turn Lawn Mowers
IMAGE
PRODUCT
DETAILS

Our Top Pick

Our Top Pick

Husqvarna MZ61

27 horsepower V twin engine
High-back seat
6-inch caster wheels

VIEW LATEST PRICE →

Ariens IKON-XL 60" Zero Turn Mower

24 horsepower engine
4.5-inch deep cutting deck
Anti-scalp wheels

VIEW LATEST PRICE →

HustlerTurf Equipment ZeroTurn Riding Lawn Mower

V twin engine
SmoothTrak steering control
Welded deck

VIEW LATEST PRICE →

Husqvarna Z248F

V twin 4-cycle engine
ClearCut technology
Anti-slip foot pedal

VIEW LATEST PRICE →

Ariens Zoom 915213

Welded steel frame
Dual deck-lift levers
Minimal vibrations

VIEW LATEST PRICE →

Snapper 360Z Zero-Turn Mower

Fully welded steel body
Thick-walled front axle
Anti-scalp wheels

VIEW LATEST PRICE →

Husqvarna Z142

Spring aided deck lift
Maintenance-free transmission
Air induction mowing technology

VIEW LATEST PRICE →

Husqvarna Z254 Zero Turn Riding Mower

Equipped with ready-start system
Automatic park-brake
Air-induction mowing technology

VIEW LATEST PRICE →

Swisher ZTR2454BS

24-horsepower engine
Rapid response control system 
54-inch cutting deck

VIEW LATEST PRICE →

Troy-Bilt XP Mower

Power take-off technology
Side discharge capability
Caster wheels

VIEW LATEST PRICE →

Ariens Zoom 34 - Kohler 6000 Series

4-cycle 660cc engine
Large tank
High seat

VIEW LATEST PRICE →

ARIENS APEX 60-inch Mower

7000 V-Twin Kohler engine
Optical smart-choke technology
5-gallon fuel capacity

VIEW LATEST PRICE →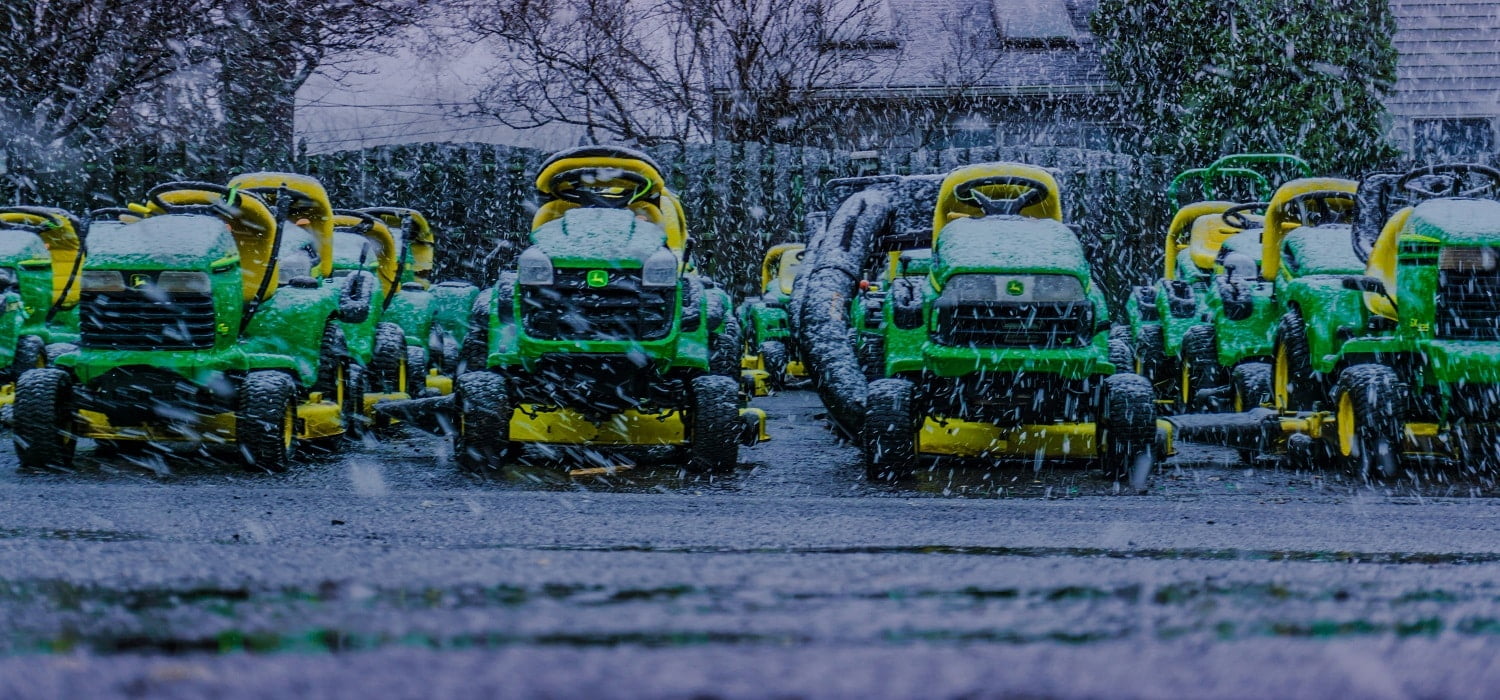 Next up on the list is the Husqvarna MZ61. Durability and productivity run synonymously with this commercial-grade lawn mower, at the heart of which lies a robust Briggs and Stratton engine. Designed for optimum rider-comfort and efficiency, MZ61 takes equal care of mowing and clearance.
No products found.
Why Did We Like It?
As compared to the Swisher ZTR, this zero-turn lawn mower has but a slightly better top speed of 8.5 MPH. For a mower that is considerably fast, a set of dual padded levers reduce the vibrations to a negligible level, so brownie points for that!
An all-out highlight is the quadruple of 6-inch wide caster wheels, which provide the mower with just the right balance so that it doesn't slip on flatter terrains. Besides, the design has been tweaked to reinforce the bottom for better stability.
Talking about its mowing function, the MZ61 is equipped with a durable steel 54-inch cutting deck for precise trimming. This deck, which can be lifted via a foot-pedal, can be also adjusted to achieve 12 cut-heights, so that no part of the lawn is left unattended. Additionally, the deck can also hold a bag for picking up all the debris.
Lastly, the user interface, with all its control gears, sits at a vicinity to the cushioned high-back seat for easy access.
What Could've Been Better?
Our biggest concern is that the MZ61 tends to leave lines on the lawn, even when it's not mowing. Also, the deck and discharge chute may clog frequently. Hence, you need to keep an eye for debris accumulation.
Pros
5-gallon gas tank

Greasable aluminum spindles

Removable foot pan

Comfortable seat with foam-padded hand grips
Cons
Maneuvering down the slope is difficult
The Ariens IKON-XL 60-inch mower has earned the third spot in our list. Powered by a 726cc Kawasaki FR twin-engine, this zero-turn mower is an appealing combination of rugged design and user-friendly operation. If premium pricing is not an issue, then the IKON-XL 60-inch is worth your consideration.
Why Did We Like It?
The first thing that we came across was high customer ratings for the IKON-XL 60-inch. Ariens has designed the XL series of zero-turn lawn mowers for enhanced productivity, and this mower is a good example of that. A durable steel body, coupled with a potent Kawasaki twin FR engine makes this mower a top choice.
Unlike the Swisher ZTR, this zero-turn lawn mower does not leave unwanted scars or lines on the lawn, thanks to its anti-scalp wheels. Besides, this set of wider tires also facilitates a smoother ride.
Ariens has made no compromise with the most essential feature of a mower, i.e., its cutting deck. The 60-inch deck is built from a heavy-duty 10 gauge steel, and can operate from a range of 1.5-inch to 4.5-inch height. Like many other models, the deck-lift mechanism depends on a foot-pedal for easy control.
So that long hours of lawn maintenance do not hurt your back, the Ariens IKON-XL 60 inch has a high-back padded seat, complete with armrests and shoulder support for a comfortable experience.
What Could've Been Better?
No doubt that this zero-turn lawn mower is a suitable option for bigger lawns, but its overall size will require a large housing or parking space. But that is not really a deal-breaker because riding lawn mowers aren't known for portability in the first place.
Pros
7 MPH forward top speed

Tough exterior

13 adjustable deck position

Easy ride
The Hustler Turf Equipment 52-inch zero-turn mower is one of the more user-friendly riding mowers in the price range. Although the tough steel frame can give you an impression otherwise, the comfortable steering controls and wide cutting deck complete the task to render an immaculate lawn in no time!
Why Did We Like It?
For the starters, the powerful Kawasaki FR691 27 horsepower engine packs a punch. It comes across as the perfect source to deliver a smooth, quick and noiseless operation. Also working for the cause is the Hydrogear ZT2000 transmission system and a pair of hydrostatic drive mechanisms that give the Hustler Turf a top speed of 6.5 MPH. 
The brand boasts of having a welded steel deck, and we could figure out why this was such a product-highlight. The 52-inch cutting deck is designed to provide a clear, finished cut while evenly distributing the grass clippings. This is also made possible by the trio of razor-sharp blades which are capable of running at 16,600 fpm. Talk about quick mowing!
Given the Hustler Turf's steel deck, heavy-duty wheels and an overall strong build, this zero-turn lawn mower may appear to be rugged. However, the brand's eye for finer things makes this lawn mower extremely likable. For instance, its low-height, cushioned seat along with the Smooth Track steering perform well for easy operation and mobility.
What Could've Been Better?
For an otherwise near-perfect productive design, there is something we would've wanted to improve. Holes in the foot-deck allow grass clippings and dirt to enter and settle near the legs. For its price, operators may not like the added task of cleaning the deck.
Pros
Foot-operated deck lift

Automatic parking brakes

Lumbar support seat

Durable
Cons
Accumulation of debris on the foot deck
One of the most fuel-efficient zero-turn lawn mowers, the Husqvarna Z248F is designed for a chokeless start and subsequent hassle-free operation. The decent 21.5 horsepower engine and economical transmission system give the look-and-feel of a top rated industrial-level mower, while you save on the big bucks.
Why Did We Like It?
The first and foremost thing that won our praise was its light-weight Kawasaki 4-cycle vertical shaft engine. Not only does this facilitate a secure and reliable start, but also furnishes smooth power output for improved fuel-economy. In addition, the hydrostatic transmission generates a tremendous amount of force, especially while working in forward or reverse on slopes. 
The 48-inch cutting deck is constructed from durable 10-gauge steel and has been fitted with extra welded strips for strength and better precision. However, the most striking feature of this deck is its ClearCut technology that improves the air-flow around the deck, and reduces debris clumps. Its level of grass lift is ideal for professional-looking cuts through minimal effort.
While at it, we also observed the perfection of the mower's triple blade-cutting system, which has 6 adjustable heights, ranging from 1.5 inch to 4 inch. This means that the remotest parts of the lawn can be easily accessed for trimming and clearing.
All in all, the robust design with easy-to-control mechanisms make this mower worth your consideration.
What Could've Been Better?
That the 48-inch cutting deck is strongly built to withstand regular use is a no-brainer, but its non-adjustable rollers do not serve the purpose of preventing scalping on uneven terrains.
Pros
Spring-assisted deck-lift

Mowing on hills doesn't require manual gear-shift

Non-slip foot area

Wash-out port on deck area
Cons
Uncontrollable scalping may expose soil
For the sixth position, we have yet another zero-turn mower from the house of Ariens. The Zoom 915213 with a 42-inch cutting deck is a simple, smart and effective solution for all your mowing needs. A sturdy body and powerful engine make this mower a total value-for-money deal. 
Why Did We Like It?
The Ariens Zoom 915213 is a reputable homeowner's mower, and it does full justice to the purpose. Its 19 horsepower 660cc Kohler engine is the perfect power-source for mowing a medium to smaller-sized lawn with ease. Furthermore, this zero-turn mower works just as well for hilly terrains.
The 42 inch light-weight cutting deck is made from a single piece of stamped 12 gauge steel for maximum air-flow and better performance. Similar to the Husqvarna Z248F, this mower is also equipped with a 3 blade system for precision cutting, besides a set of sturdy spindles.
A distinct feature of the Zoom 915213 is that the deck can be adjusted via both foot pedal and lever. While the foot-pedal lifts the deck, the lever adjusts the cutting length of the grass.
Ariens, like always, has paid full attention to ultimate user-comfort. The control handlebars which are located adjacent to the seat have three different adjustable positions to suit the operator's height. Additionally, the armrests can also be adjusted to three positions to prevent arm fatigue.
What Could've Been Better?
In case you forget to adjust the cutting length, especially for longer strands of grass, then be prepared to run the mower multiple times over the area. 
Pros
Sliding seat

Spacious leg-room

Top speed of 6 MPH

Dampers installed hand bars for less vibration
Cons
Longer strands of grass maybe tricky to handle
Inspired by the industry's best industrial-grade zero turn lawn mowers, Snapper has designed its 360Z mower for being a skillful member of the mid-level zero turn mowers. With a reasonably powered engine and durable frame, this Snapper mower is meant for seamless operation on medium and small lawns.
Why Did We Like It?
The 21.5 horsepower engine may not sound like a heavy power-source, but this Briggs and Stratton engine has a host of additional features to enhance the overall prowess of the mower. There is an in-built ReadyStart technology that automatically senses the engine-temperature to release just the right amount of fuel for an easy start. Additionally, the overhead valve construction reduces carbon deposits to maintain productivity.
The Snapper 360Z might not be the most superior mower on the market, but its design does enough to help you level out uneven and hilly lawns. Firstly, the 42-inch welded steel cutting deck is strong and reliable to mow on uneven terrains. Secondly, the thick-walled durable front axle makes it easier to clean up those hard-to-reach areas on the lawn.
The presence of 2 anti-scalp wheels relieves you from the stress of having the lawn being unnecessarily scalped. This is a feature that has been missing in some of the more premium-priced mowers.
On the other hand, this mower too, like many others in the category, has a foot pedal operated deck.
What Could've Been Better?
Given all its features, we were tempted to test this mower on a slightly larger lawn. However, it took us a fair bit of time to go over the lawn. Having said that, the 360Z is far from being a deal-breaker.
Pros
Even sized cuts throughout

Ball bearings to reduce friction

Fuel-efficient

Affordable
Cons
Takes longer to mow bigger lawns
As we near the end of this list, here's another Husqvarna zero-turn lawn mower suitable for personal use. This Z142 mower runs on an adequately powerful Kohler engine and has a solid steel deck for easy and affordable lawn maintenance on the go.
Why Did We Like It?
While looking for residential-grade zero turn mowers, we stumbled upon the Husqvarna Z142 which was decently priced for the purpose. Starting with the power source, its 17 horsepower Kohler engine delivers a max speed of 6.5 MPH, which is pretty likable in our humble opinion. Besides, the zero-maintenance transmission enables the user to undertake a variety of cutting chores with absolute ease.
Speaking of its mowing ability, we are compelled to mention the noticeable air induction mowing technology. To break the jargon, this system draws air from the top and bottom of the deck to deliver even-looking cuts with every mowing session. It was amusing to find that the result was superior as compared to other mowers in the price range.
There is hardly a time when the brand doesn't stand the test of user-comfort, and the Z142 is no exception. Its plush seat has a rubber isolator underneath to separate the operator from the frame. Moreover, this mower is also equipped with a park brake system that automatically activates or deactivates upon sensing simple horizontal movements.
What Could've Been Better?
Perhaps our biggest regret was not being able to work on uneven surfaces, for its productivity nullifies in no time on rugged lawns.
Pros
Compact design

Anti-slip foot-rest

6 adjustable mower heights

Compound wheels for stability
The last zero-turn mower being reviewed today is the Husqvarna Z254. This mower from the Husqvarna range is one of the most in-demand products for residential lawn maintenance.
Its affordable price, coupled with a fast and reliable design for easy control and mobility. 
Why Did We Like It?
The Z254 zero turn mower is another one of our favorites for medium-sized lawns. At the heart of this machine lies a competent 26 horsepower Kohler engine that is both fuel-efficient and forceful. If you are looking for an industrial-level mower within a budget, the Husqvarna Z254 is a good option to watch out for.
The 54-inch wide cutting deck has been carved out from a single piece of stamped steel, and is fitted with heavy-duty flat-stock steel for improving its strength and durability on harsh terrains. Furthermore, a triple-blade system, which is a common feature in other Ariens mowers, clears the lawn in noticeably fewer passes.
While we were impressed with the quick-key start of the Z254, particularly helpful in lower temperatures, the patented park-brake system also earns a fair share of praise. What this does is it simply engages the brakes when the steering levers are pulled inwards or outwards, and arrests them otherwise. This is a good additional feature to ensure operator safety with minimal effort.
What Could've Been Better?
It may be helpful to know that this mower may not be too helpful for smaller sized lawns, as the over design is comparatively large. This may cause unwanted wear-and-tear to the lawn.
Pros
Good for mowing sloped terrains

Top speed of 6.5 MPH

Superior air induction

Responsive brake mechanism
Cons
Reduced efficiency on wet surface
Swisher has raised the game for zero-turn lawn mowers by introducing its ZTR2454BS, which is our top pick of the day. A perfect blend of power, comfort, and speed, this beast is a trendy choice among homeowners and professionals alike, especially for bigger yards and lawns.
Why Did We Like It?
The ZTR2454BS is one of the brand's premium-priced zero turn lawn mowers that performs at par with its price tag. Powered by a smooth 724cc 24-horsepower engine, this machine can eat through the grass at a top speed of 8 MPH. We hardly broke a sweat while riding up and down the slope.
For its well-built design, the overall operation was extremely user-friendly. As for its clearing ability, a robust 54-inch cutting deck with 3 Gator mulching blades ensures high precision and uniform edging. Besides, the deck has an adjustable height range of 1.5 to 4.5 inches and also supports foot-lift.
We were thoroughly impressed with the model's attention to detail, viz-a-viz a front debris shield. What this feature essentially does is that it prevents the grass from escaping the front mower and being thrown back to the operator, thereby improving dispense and air-flow.
Owing to a low center of gravity and seamless 360-degree turns, the ZTR2454BS makes maneuverability feel like a breeze!
What Could've Been Better?
The Swisher ZTR2454BS lawn mower is not the smallest or cheapest machine on the market, but then again, it's a premium product with top-notch performance. However, this lawn mower needs frequent maintenance to be able to perform efficiently. If you are running low on time and wish to avoid extra effort, then this might not be your go-to mower.
Pros
Balanced weight distribution

Comfortable seating

8-gallon fuel tank

Effortless driver controls
Cons
Regular maintenance is a must
The Cub Cadet Ultima ZT1 is a sought-after option in the residential category of zero-turn lawn mowers. This durable mower has a formidable steel body and easy to fathom user controls for the ultimate mowing experience. Whether you're a first time operator or looking for a new machine, this mower serves it all. 
Why Did We Like It?
Though the Cub Cadet Ultima ZT1 is more of a residential mower, its 23 horsepower Kawasaki FR691V engine is no less than a commercial-grade powerhouse. This is evident from its top speed of 7.5 MPH, which is more than enough for clearing even a big-sized rolling lawn.
We liked how the brand has not compromised with the machine's mowing ability, despite having a robust frame. Its 50-inch deck fabricated steel deck makes use of a special AeroForce cutting system for increased evenness and finer clippings with negligible clumpings. In addition, a separately available bag can be attached to the discharge chute for collecting debris.
The 18-inch adjustable operator's seat is equipped with a polymer seat suspension for enhanced comfort. Our hands were relieved from the fatigue of working for long hours-thanks to the padded handlebars. 
A distinctive feature of the Ultima ZT1 is its removal floor pan, which can be dismantled to clear the dirt and clippings from underneath the mower using a high-pressure water jet system.  
What Could've Been Better?
While this lawn mower is worth investing in, its price seems to be a bit on the higher side for its design. Nevertheless, this model should be on your list if budget is not a constraint.
Pros
Triple guard corrosion defense system

Hydrostatic transmission

Wide and large wheels for easy maneuverability

One-touch blade engagement mechanism
The next product in line is a 60-inch deck zero-turn lawn mower from Troy-Bilt. Operating on a potent Briggs and Stratton engine, the mower comes with a variety of features for both durability and user-comfort, while ensuring high-class trimming for neat looking lawn with every ride.
Why Did We Like It?
After dealing with a considerable number of Kawasaki engines, the Briggs and Stratton 25 horsepower engine was a monotony breaker. Its top speed of 7 MPH, productivity and power was everything that we expected from the house of Briggs and Stratton. 
We were extremely pleased to see that this powerful engine has been paired with an electronic power take-off (PTO) system for rapid blade engagement. This mechanism is perfect for a quick mowing down the lawn, when you do not have a lot of time for extensive fine-tuning.
Another feature that sets this mower apart from its contemporaries is a side discharge chute. This means that the grass clippings and accumulated dirt particles have a lesser chance of obstructing the field of view. 
For its modest but robust design, the Troy-Built XP has done a good job of ensuring user-comfort and mobility. While a premium 18-inch high seat puts you in proper control of the mower, a set of high-quality greasable caster wheels at the front helps with mobility for long hours of mowing.
What Could've Been Better?
Only if this zero-turn mower had a little stability while operating on the top-speed, we would have been assured of complete operator-safety.
Pros
60-inch steel fabricated deck

Smooth blade adjustment

Adjustable height settings

Comfortable seating
Cons
Slightly shaky at top-speed
Ariens Zoom 34 is an equally effective zero turn lawn mower for residential and low-scale commercial use. Backed by a solid construction and durable Kohler engine, the Zoom 34 mower is a no-nonsense zero turn mower that delivers considerably well for its design and price.
Why Did We Like It?
This proud member of the Ariens Zoom series does not make fancy promises, but stays true to its humble design and specifications. We quite liked its utility for comparatively smaller lawns, including the ones with multiple gates and other apparent obstacles.
To begin with, the gasoline-powered 19 horsepower engine seems to be the perfect fit for the simple design. In ideal conditions, this mower can reduce the mowing time by 30 minutes. 
As far as the frame is concerned, the Ariens Zoom 34's body is constructed with the right blend of steel and heavy plastic. We were quite satisfied with the durability that this mower has, especially on flatter terrains. 
The 34-inch cutting deck is made of solid steel, so that the main purpose of the mower is not defeated. With a depth of 12-inch, the deck can be adjusted to achieve 7 different cutting heights, from 1.5 to 4.5 inches. Each adjustment increases the height by 0.5 inch. 
What Could've Been Better?
Though the mower has commendable durability on flat grounds, its light-weight body may not have enough stability to tackle the slopes. Also, the cutting deck has to be lifted manually, unlike most other mowers. Nevertheless, the Ariens Zoom 34 is a good budget-buy that demands some sacrifice.
Pros
Affordable

Deck is resistant to corrosion and heat

Filter to eliminate adulterated oil

Triple sharp blades
For our penultimate pick in today's list, we have the well-known Apex 60-inch zero turn mower from the brand of Ariens. The Apex 60 is a  commercial-grade, heavy-duty mower that is bigger, better and more equipped to conquer the biggest of lawns without an issue.
Why Did We Like It?
Keeping everything else aside, its strong and massive build assured us of reliability like no other mower on the list. The interesting thing to note here is that the heavy-duty frame does not affect the mower's maneuverability and user-friendly features.
With as robust an engine as the Kohler 7000, overheating is not an unusual phenomenon. However, the free-aluminum spindles counter this problem by minimizing the overall temperature of the mower for a cooler operation.
The broad 60-inch cutting deck can easily be lifted by a foot-pedal to overcome any obstruction, as well can be adjusted for attaining 15 positions. All you have to do is use the simple vertical pin selection to increase the height by a quarter inch, until you reach the desired length.
User comfort and hassle-free mowing are two of the most important factors that run in the Ariens lineage. While the high back padded seat and cushioned armrests provide for a cozy seating, an operator-controlled chute located nearby allows the user to adjust the flow of the side clipping-discharge.
What Could've Been Better?
The commercial-grade durability and productivity is bound to lure the homeowner community, but its hefty price tag may put a check on the desire. In that sense, the Ariens 60-inch mower should be considered for professional use.
Pros
Key-ignition start

Sturdy front and rear tires

8 MPH forward speed

Sufficient airflow for heavy load lift-and-cut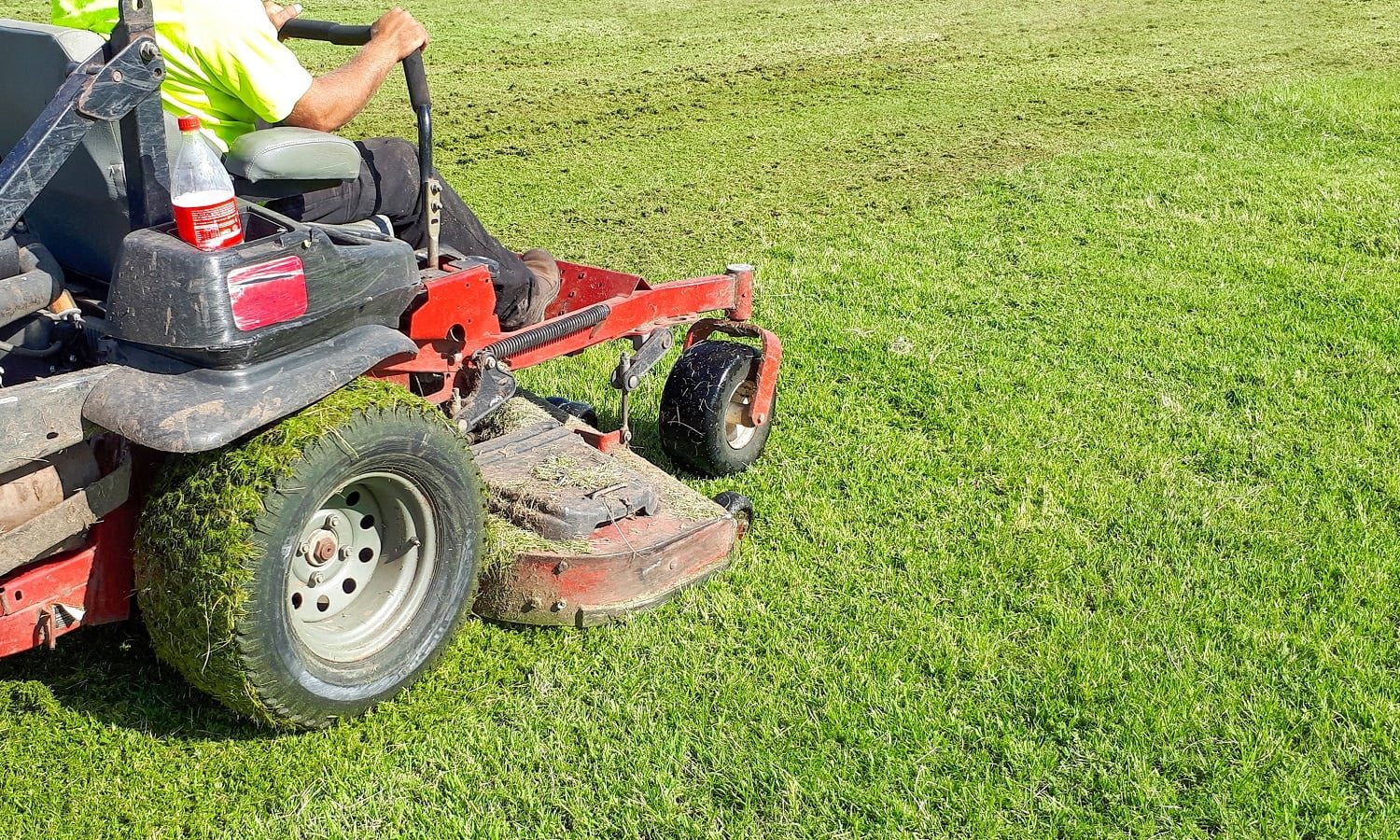 Zero-Turn Mower Buyers' Guide
While a zero-turn mower is meant to make lawn maintenance easy and comfortable, choosing the right mower is an equally demanding job.
Multiple factors need to be considered before buying a zero-turn mower. Even the cheapest machine has a 4-digit price tag, so investing in one requires precise planning.
To cut out your task, we've jotted down some essential features that should be on the top of your mind before you select the ideal mower.
Read on….
Power
A vital feature that should influence your choice is the power of the engine or its horsepower. The amount of power at the heart of the mower decides the speed and efficiency with which the machine goes about the job. 
If you have an average sized lawn, you can opt for a decently powered mower, something in the range of 15-20 horsepower. However, a bigger lawn is better off with an engine having more than 20 horsepower.
Width
The width of the cutting deck is another point to be considered. A general understanding is that a wider deck saves time and effort. This is partially true, as a larger width will be able to cover more area. But there is a catch- the width of the deck may affect the delicate plants and shrubs while trimming the required area.
A practical solution to this problem is that if your lawn has a lot of open spaces, then we suggest you invest in a mower with a wider deck. Alternatively, if you have areas to protect, go for a narrower deck. It may require some extra time and effort, but is a safer option.
Wheels
The mobility of a zero-turn mower largely depends on its wheels. While many of these mowers come equipped with caster wheels for durable and easy maneuverability, we would recommend looking for a mower that has some additional features like anti-skid or anti-scalp tires.
User Comfort
Since the user is at the helm of operating the mower, it is imperative that the operator feels comfortable and secure in the seating area. Most mowers come with cushioned seats and padded armrests for a pain-free experience. 
Here again, we suggest buying a mower that has an adjustable seat, so that you have a clear field of view even when the machine hits a bumpy terrain. 
Besides, people looking for extra room may choose a mower that does not have armrests. In such a scenario, you may consider looking for additional support features to relieve your hands from the fatigue of driving for long hours.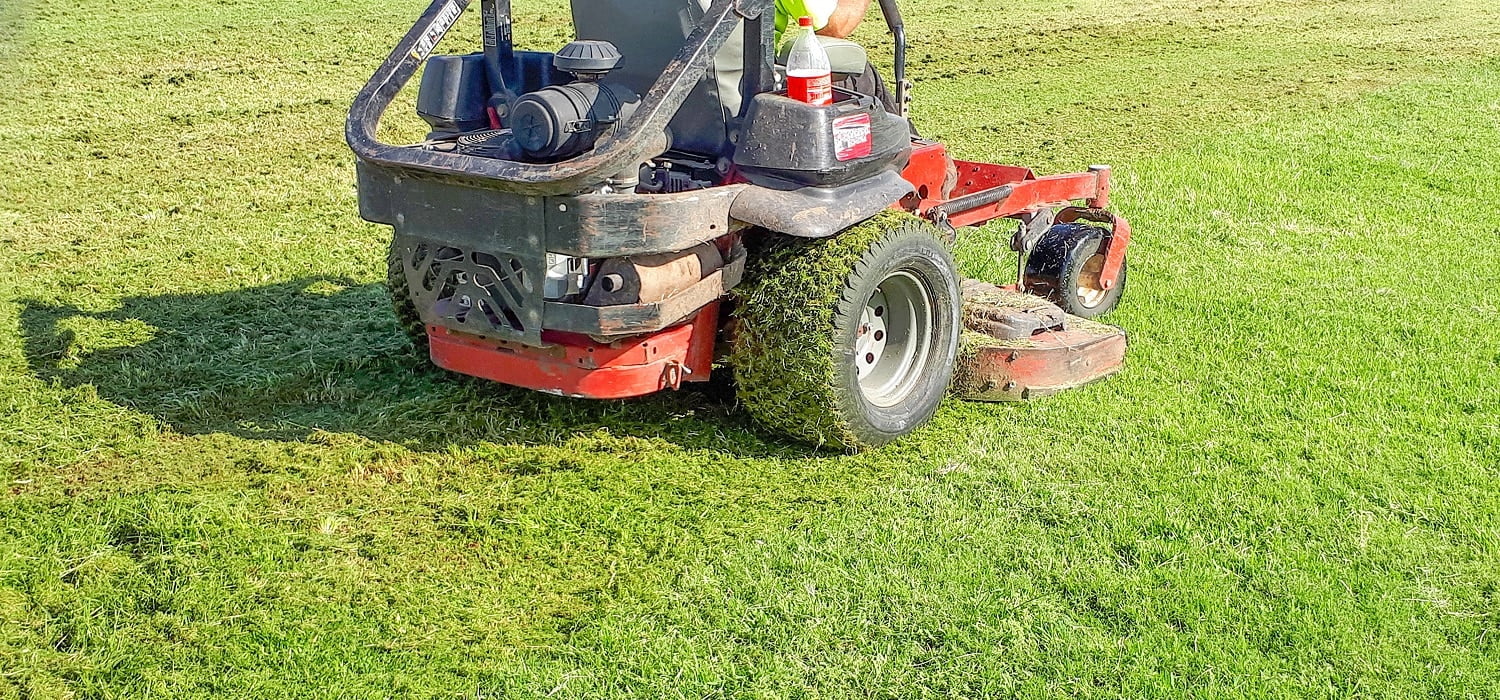 Verdict
Big or small, affordable or expensive – a zero turn mowers is the perfect care-taker of your beloved lawn.
Our list for today was an attempt to bring together the most effective zero turn mowers, complete with their features and drawbacks. But before we take your leave, here's a quick recap of our reviews.
The SwisherZTR, though expensive, is a genuinely superior-grade mower with indisputable productivity. On the other hand, the Ariens Zoom 34 mower is a more affordable and residential friendly mower on the market.
The Ariens Apex 60-inch mower is more suitable for heavy-weight commercial needs, while the Husqvarna Z254 is a popular choice among homeowners.
With this, we end today's top 13 list. Hope our assistance was worth your time, and is subsequently worth your money! Do let us know about your favorites in the comments down below.
So long!
Related Articles
5 Best Self-propelled Lawn Mowers Right Now
The 5 Best Lawn Mowers for St Augustine Grass Right Now
Best Lawn Edging for a Legendary Garden
4 Best Walk Behind Brush Cutter 
13 Best Trimmer Lines | Multi-Sided, Round, Square, Twisted & Serrated
6 Best Electric Start Self Propelled Lawn Mowers of 2022
13 Best Inexpensive Lawn Mowers For Small Yards
11 Best Battery Powered Lawn Mowers
13 Best Potting Mix For Orchids
9 Best Small Riding Lawn Mower