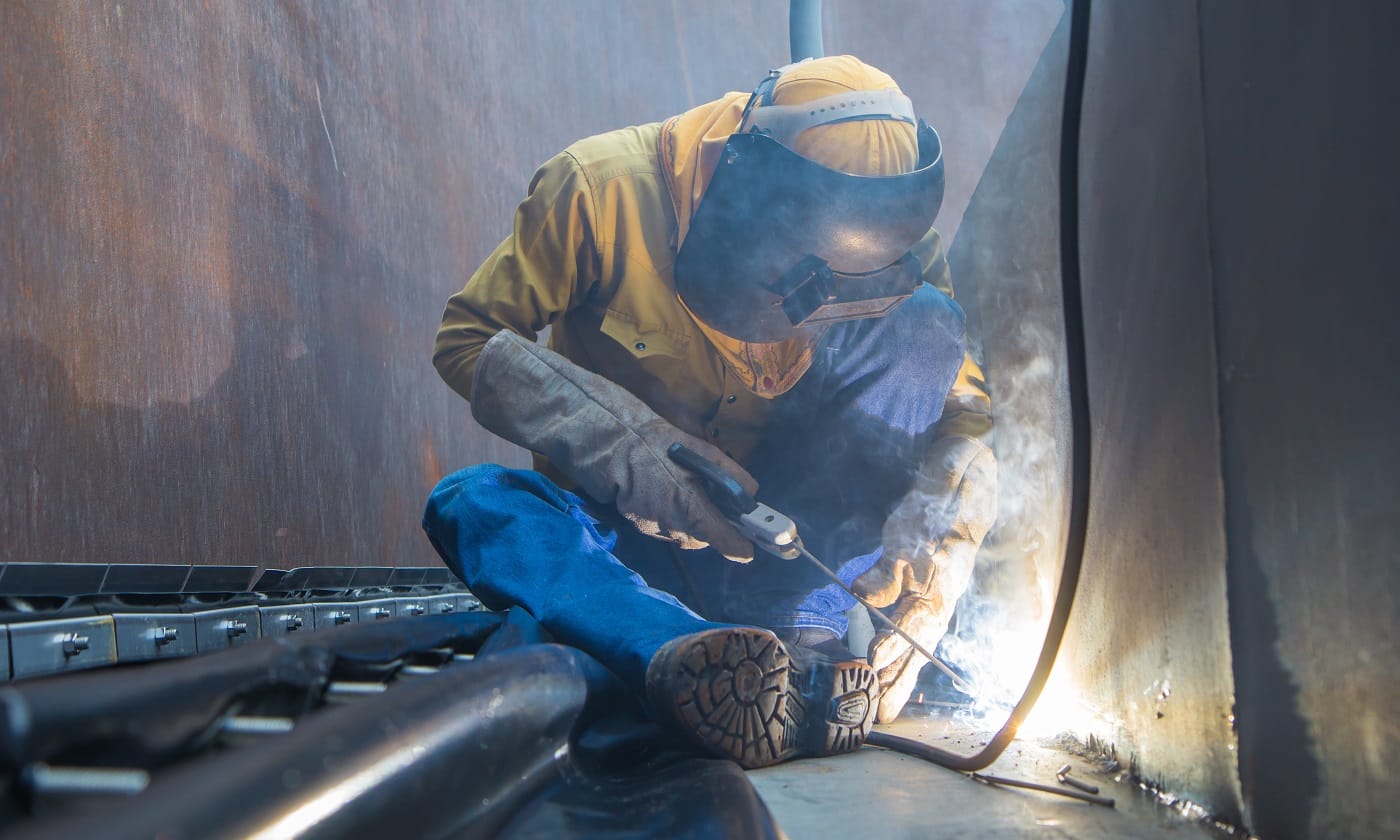 Is it that difficult to learn the ideal way of TIG welding? Not if you choose a tool that lets you weld effortlessly with precision. 
However, it is not as simple as it sounds. With the market inundated with various cheap variants that provide sub-par service, choosing the right product can often get a tad complicated. 
So, to make things easier for you, we have reviewed the TIG 200 AC/DC 20565 welding machine from Eastwood in this article. It is considered to be one of the best out there as it lets you weld aluminum, nickel alloys, and stainless steel of various widths. This makes it an ideal choice for DIY-ers and welding enthusiasts.
That being said, we have covered everything that you need to know about this product. So, make sure you read till the end to know what we think of this product and whether you should buy it or not. 
So, without further ado, let's get started! 
Sale
Specifications
Before we proceed any further, let us take a quick look at the specifications of the TIG 200 AC/DC 20565 from Eastwood.

Materials that it can weld:

Stainless steel, nickel alloy, aluminum

Welder class:

TIG and STICK

Input voltage:

110 V or 220 V at 50 – 60Hz

Output amperage:

10 A – 200 A, AC/DC

Duty cycle of stick welding:

120 V, 60% at 140 A | 220 V, 60% at 185 A 

Duty cycle of TIG welding:

120 V, 60% at 145 A | 220 V, 60% at 190 A

Pre gas flow:

Between 0.1 seconds and 1 second

Post gas flow:

Between 2 seconds and 8 seconds

Weighs:

45 pounds

Product measurements :

19.1" by 9.8" by 20.0"

Warranty:

Yes, 3 years
Top Features Of TIG 200 AC/DC 20565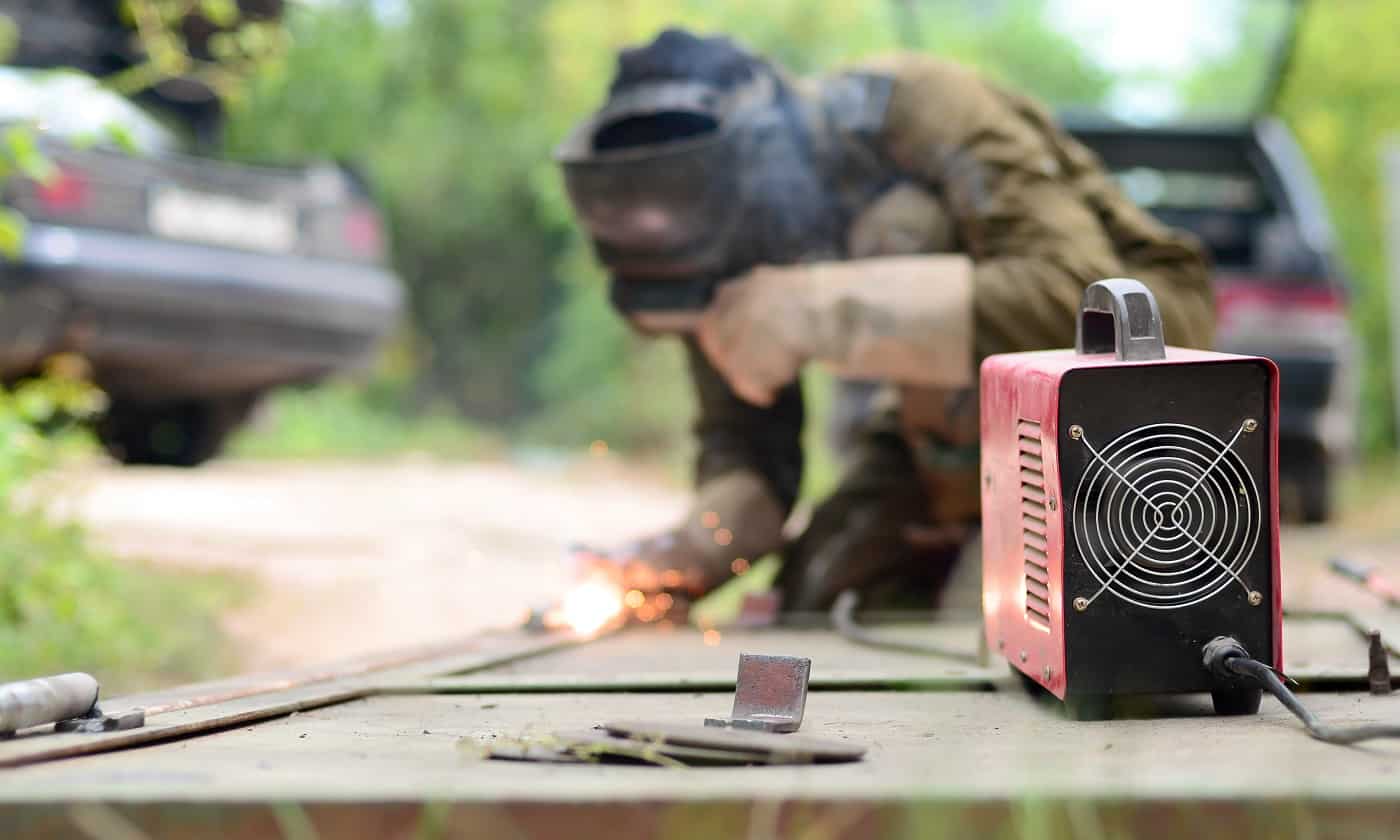 As you already know, Eastwood is a brand known to deliver highly affordable welding machines that give a top-notch user experience. On that note, the TIG 200 AC/DC 20565 from Eastwood is certainly no exception. Now, obviously, that's just one feature, so keep reading to know more. 
Warranty
This is one of the most important highlights of this product; it is backed by a 3-year warranty from Eastwood. Plus, you get a lifetime of customer support with this welding machine. However, keep in mind that the warranty is limited to manufacturing defects only; damage due to wear and tear or poor maintenance will not be covered by the brand.
Portability
Weighing around 45 pounds, the Eastwood TIG 200 AC/DC 20565 is one of the most compactly designed welding machines available on the market. It features a top handle and is quite similar to a suitcase. So, you can conveniently move it around as per your requirement.
Price/Affordability
In general, TIG welders are quite expensive, but thanks to Eastwood for making the TIG 200 AC/DC 20565 so budget-friendly. You can get it for under $700, which is quite affordable compared to other welding products on the market. 
Sale
Welding Capacity
The welding capacity is one of the significant features of this product. It is compatible with input voltages of both 110 V and 200 V. That being said, keep in mind that it has a duty cycle of 60%, no matter what the input voltage is. 
When the voltage is increased, the duty cycle reduces significantly. Out of 10 minutes, you should be able to use it for 6 minutes straight, and the remaining 4 minutes should be used to let it cool down.    
You can lower the output's amperage to increase the product's duty cycle; however, ensure you don't overheat it. Operating between 10 A and 200 A, the product is capable of welding materials up to ¼ inches thick.
Apart from this, the AC mode can be used to weld aluminum, whereas the DC mode is appropriate for fusing tubes and sheets of stainless steel.     
User-friendly
You don't need to be a professional to use the TIG 200 AC/DC 20565. However, if you have some previous welding experience, it will make things a lot easier. 
The device sports a foot pedal, which can be used to set the current amperage as per your requirements. However, If you want to use it as a stick welder, you will have to buy the stick welding torch individually. The product also features an AC/DC adapter for effortless transition between the modes.
Overall, it comes with a ton of adjustable settings for an optimal welding experience. 
Overload Light
Even though the welding device sports an overload light, it doesn't automatically turn off on being overheated. So, ensure that you don't run it beyond its duty cycle; otherwise, it will get damaged.
As mentioned before, out of 10 minutes, it can be used for six minutes, and the remaining 4 minutes should be used to allow it to cool down. 
Sale
Additional Accessories
The TIG 200 AC/DC 20565 comes with a ton of handy equipment and accessories that help you have an effortless and hassle-free welding experience. These are:-
Shielding gas hose

Shielding gas regulator

2 collets: 1/16" and 2 mm

Red thoriated tungsten of 3/32″

Green pure tungsten of 3/32″

Gas nozzles of 7/16″ and 3/8″
Pros
Features a control panel

It can be used for a lot of welding techniques

Comes with adjustable amperage settings

Can weld a wide variety of thick and thin metals

It features a very reasonable price tag

Backed by a 3-year warranty from the manufacturer
Cons
Not suitable for large-scale, heavy-duty projects

Doesn't include a stick weld torch

The foot pedal is not easy to use
Things To Know Before Buying The Eastwood 
These are some of the things you need to know before buying the product. 
Pulse Mode
The pulse mode is an important feature that lets you change between a low and a high current during welding. The main purpose of this feature is to ensure that the machine doesn't overheat and to prevent thin materials from warping.
Furthermore, the pulse mode consumes less current and provides a better and longer duty cycle; not only that, it helps you achieve a better penetration on thick materials. 
That being said, this particular product doesn't have a pulse mode; however, it does feature a clearance knob that lets you control the arc's heat. Plus, it also lets you adjust the amount of cleaning and penetration. 
You can adjust the penetration to a lower setting to increase the cleaning action or tweak it up for lower cleaning action. Overall, the control knob can be viewed as a cheaper version of the pulse mode.  
Stick Welding
The Eastwood TIG 200 AC/DC 20565 does support stick welding but do note that it doesn't come with a stick electrode holder; you have to purchase it individually.
Foot Pedal
Most welding enthusiasts would agree that foot pedals are very useful. However, they may not feel the same about the adjustable amperage dial positioned on the foot pedal. This means they have to bend over every time they want to change the settings. 
Eastwood allows you to upgrade the foot pedal if you do not like the one that comes along. However, it is a tad bit expensive, which might not be suitable for those who are on a modest budget.
Where To Buy From?
You can buy the Eastwood TIG 200 AC/DC 20565 from Eastwood's official website. Plus, it is also available on Amazon. 
Sale
General Opinion About TIG 200 AC/DC 20565
Most users find this product to be fairly easy to use as it comes with clearly labeled switches and dials. So, it can be said that this welding machine is an ideal choice for first-timers and occasional welders.
People did not like the foot pedal of this product; many found it a little tough to control. However, for some, it worked just fine. It is certainly not that big of a con if you ask us, especially when considering the price. Furthermore, it can be upgraded if welders are not comfortable using it.
Coming to the duty cycle, it is by no means perfect for large-scale professional welding projects but it is enough to nail light-duty projects done at homes or small to moderately sized shops. 
Overall, most users agree that it is very easy to use and offers all the handy features that one would expect from an expensive welding machine.  
So, the general opinion about the Eastwood TIG 200 AC/DC 20565 is mostly positive. 
Alternative Products That You Could Consider
After reading this far, if you think that the TIG 200 AC/DC 20565 from Eastwood is not the right welding machine, you can consider these options. These welding machines are just as efficient, so keep reading! 
Longevity Tigweld 200SX
Founded in 2005 in North America, Longevity is among the world's largest manufacturers of reliable and professional welding supplies. And on that, we wish to introduce you to one of the most popular welding machines from the brand, the Tigweld 200SX. 
Even though Tigweld 200SX from Longevity and the TIG 200 AC/DC 20565 from Eastwood feature a similar output range, the former's duty life is slightly on the shorter side. It is 60% @ 200 A, thereby allowing welding sessions to last above 10 minutes. 
One of the major highlights of this product is that it uses a high-frequency start which guarantees a steady arc irrespective of the difficulty of the task itself. Apart from this, it comes with an inverter feature that helps in enhancing its functioning while welding materials like aluminum. 
AHP Alpha TIG 200X
Next up, we have another popular product from a US-based brand called AHP Alpha. This brand is known to deliver top-grade welding machines that can weld various materials with ease. Having said that, the TIG 200X from the brand lets you weld stainless steel and aluminum with high precision. 
This product has an output amperage range between 5 A and 200 A. It is capable of welding 3/8″ steel or 1/4″ aluminum with similar precision and efficiency. 
Plus, the duty cycle of this product is 60% @ 150 A. And, you will be pleased to know that it is both a stick and TIG welder, just like the Eastwood TIG 200 AC/DC 20565. 
Furthermore, the AHP Alpha TIG 200X comes with a dual-voltage feature that lets you select between 220 V AC input and 120 V AC input. The machine sports a square-wave inverter technology, enabling you to tweak the pulse frequency according to the material's width. 
And lastly, it features a foot pedal, thereby allowing you to adjust the output amperage while welding.
PRIMEWELD TIG225X
PRIMEWELD, another popular brand that is dedicated to manufacturing products that deliver the best possible welding experience. Having said that, allow us to introduce you to the TIG225X welder from the brand. Backed by a 3-year warranty, this product can effortlessly weld 1/8″ steel bars or 1/2″ metal sheets.
It has an output amperage range between 10 A and 225 A; thanks to the foot pedal, you can tweak it as per your requirements. However, the thing that we liked the most about this product is that it has a duty cycle of 100% @ 108 A. That being said, it comes down to 40% when used at the highest power rating. 
Apart from this, the PRIMEWELD TIG225X comes with a control panel that lets you adjust the pre or post-flow and the pulse frequency. And lastly, it features a CK super flex hose and a TIG torch with a bent head. 
Sale
How To Weld Safely With The Eastwood TIG 200 AC/DC 20565
There are a few safety precautions that you need to follow while welding. Therefore, we strongly advise reading this part carefully especially, if you are a DIYer or someone who wants to learn to weld.
Wear A Welding Helmet
You should always wear a helmet while welding as it generates a lot of lights and sparks that can potentially damage your eyes. Also, while welding, there is a good chance that sparks and metal debris may hit your face, so wearing a helmet becomes all the more important. 
We recommend buying an auto-darkening helmet as it does a good job of protecting your face and eyes. 
Always Weld In A Well-Ventilated Room
As you already know, welding produces loads of fumes; as a result, it contaminates the air to a great extent. This is why you must always work in an open area or at least in a room that has adequate ventilation. Also, keep the doors and windows open while you are working. 
On that note, we absolutely advise against welding galvanized steel as it generates toxic gases.  
Wear Welding Gloves
It is important to wear a good pair of welding gloves as well in order to safeguard your hands. Made using pig or cowhide; the welding gloves protect your hands against harmful radiation, heat, and electric shock. You should easily get them at your local hardware store.
Get A Leather Apron
A leather apron protects your clothes from the sparks generated from the welding machine, thereby safeguarding you from the risk of burning. You can easily get a heavy-duty apron at your hardware store nearby or on online e-commerce platforms. 
Check The Welder Before Starting
You should inspect the welding machine before you are about to start welding. Check the connections, hoses, and most importantly, the wires. Ensure that no component is worn out; if they are, however, get them replaced as soon as possible.  
 

Frequently Asked Questions (FAQs)
These are some of the most frequently asked questions regarding the Eastwood TIG 200 AC/DC 20565 and TIG welding. 
What are some of the advantages of TIG welding?
TIG welding provides various advantages; the biggest of them is that you can weld a wide range of materials through this process. Not only that, it has the potential of producing some of the strongest and cleanest welds out there. 
One of the biggest advantages of TIG welding is that it does not generate any smoke, slag, spatter or spark while in operation. However, if it does, it means you are either welding metal of very low quality or the project is not well cleaned.   
What is the TIG 200 AC/DC 20565's country of origin?
The TIG 200 AC/DC 20565 is made in China, but it is designed in the US. 
What are the various models of the TIG 200 series?
The various models of the Eastwood TIG 200 series are:-
TIG 200 Digital AC/DC

TIG 200 DC

TIG 200 AC/DC
What type of gas is compatible with the product?
Argon is that one gas that is compatible with all TIG welding machines. That being said, you can also use Helium when you need a substantial penetration or higher welding speed.   
What is the purpose of a square-wave inverter?
A square-wave inverter helps in switching between positive and negative polarity very quickly with no transitional period. Not only does it provide better arc stability, but it also gives you full power while you are welding.  
What is the difference between a high-frequency start and a scratch start?
In this day and age, most TIG welding machines use high-frequency start. It is nothing but using an alternating current of very high frequency just at the beginning to minimize the resistance so that the electricity passes directly between the torch and your worktop. 
On the other hand, scratch start means scratching the work surface with the TIG tungsten's hot electrode to start the process of welding. This process is mainly found in less expensive welding machines.
Is a DC model sufficient, or do I need an AC/DC one?
It all comes down to the kind of welding you will be doing. If you weld only stainless steel, a DC model should work just fine. 
However, if you intend on welding materials like aluminum, then it is best to go with an AC/DC model. The difference in cost is that big, and it really helps if you might need AC welding in the future.
Can I use the Eastwood TIG 200 AC/DC 20565 for heavy-duty professional projects?
This product is an exceptional choice for welding enthusiasts and for people who want to learn to weld. However, keep in mind that it cannot weld metals thicker than 1/4″, so it may not be a suitable choice for large-scale and heavy-duty professional projects. 
When to use DC and when to use AC?
You need DC to conveniently weld materials such as iron alloys and stainless steel. However, materials such as magnesium and aluminum are better welded with AC.  
Is it possible to TIG weld cast iron with the Eastwood TIG 200 AC/DC 20565?
It is indeed possible to TIG weld cast iron with this product. However, the process is slightly different from conventional aluminum or stainless steel welding. The part that you want to weld needs to be preheated, and only then can it be welded while it is piping hot. 
Why are my welds being contaminated by the tungsten?
This could happen because of two reasons. Either you are using a very small electrode or you are holding the torch too close to the puddle.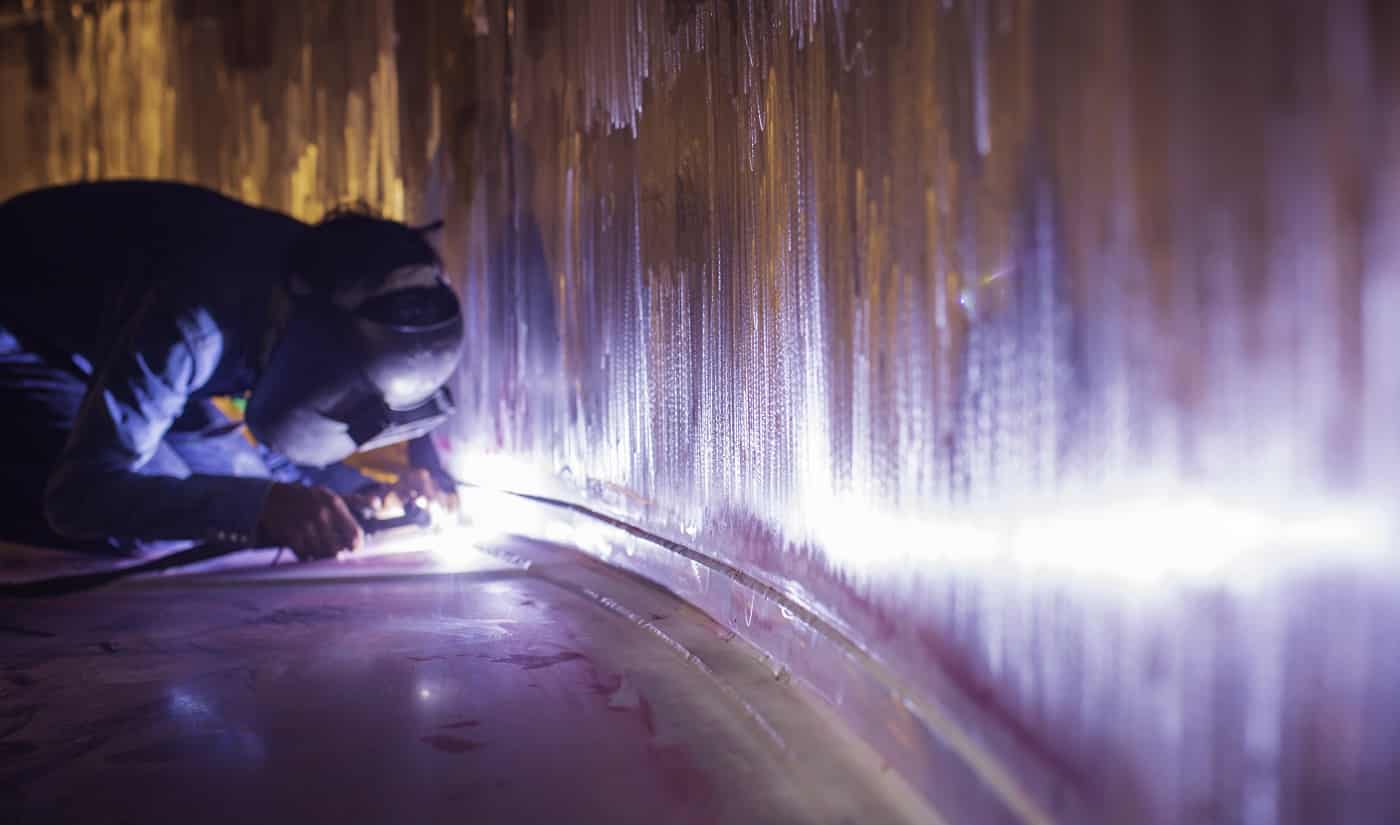 Conclusion
The TIG 200 AC/DC 20565 comes with loads of features at a very affordable price, making it an ideal choice for welding enthusiasts and first-timers. 
According to us, the biggest highlight of this product is that it offers a broad amperage range. Thus, it helps in welding various metals, including aluminum or stainless steel, at different temperatures.
When you consider the price, it is indeed a bang for your buck! Furthermore, it is backed by a 3-year warranty, which clearly shows that the manufacturers are confident about their product. Also, you get peace of mind knowing the brand has you covered, should any problem arise with the machine. 
So, coming to our verdict, it is a big yes! You should buy the TIG 200 AC/DC 20565 from Eastwood, especially because it offers many features at a very competitive price. 
On that note, it is time to wrap up. Till next time, keep welding!
Related Articles
How to Wire a 220 Outlet For a Welder  
Eastwood Welder Reviews, Tests & Buyer Guide