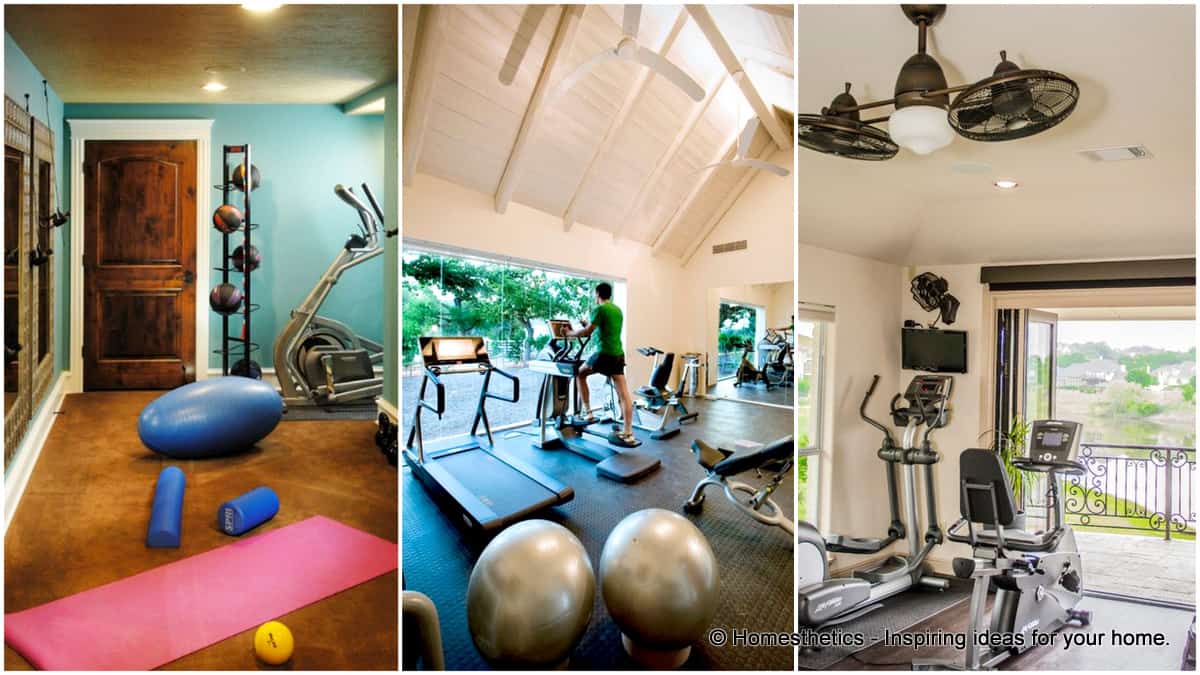 Popular resolutions for the upcoming year often revolve around our physical health, a very natural, great thing to desire and whether we want to lose weight or get fit, the gym is a great solution. In this equation, time is always problematic and as a result of convenience and increased comfort, the individual that has the possibility pursues the much-desired home gym. The solution requires creativity, will, and early investment in equipment.
Starting slowly with your home gym is always recommended, as you progress with your workout routines you discover what you actually need from an actual gym, what you actually can use, and how you can progress. Push your boundaries and demolish your New Year`reads resolution by getting your home and yourself fit this year. You don`t need complex machines or huge amounts of space, an exercise wall and simple weights are a great start.
Home Gym 101
Definition of a Home Gym
A home gym is a place for exercise, within the home, that is equipped with various pieces of exercise equipment and it goes without saying that home gyms look different, for different people. Home gyms are becoming increasingly popular due to their convenience, affordability, and wide range of exercise options, one can create the perfect setup for his or her exercise with minimum equipment, only what one would use. Home gyms can range from a simple setup with just a workout mat and maybe with a set of adjustable weights and a pull–up bar, to more advanced setups with multiple pieces of equipment such as treadmills, ellipticals, air walkers, rowing machines, and more.
Types

of

Home

Gy

ms
Equipment-Based

 Home

Gy

ms
Equipment-based home gyms are the most common type of home gyms, and they typically consist of a range of weights and your favorite machines, basically, your favorite gym equipment, or just one piece of gear, as the best all-in-one home gym racks are extremely versatile and the best ones can accommodate countless exercises in relatively small space.
The main advantage of equipment-based home gyms is that they allow you to perform a wide range of exercises in the comfort of your own home. The downside is that they are also more expensive than app-based home gyms, and they require more space.
App-based home gyms are a more affordable option than equipment-based home gyms, as they require minimal space and can be set up with just a few pieces of equipment. App-based home gyms typically involve using a range of apps, such as fitness trackers, to track your progress and provide guidance. They also come with a range of different exercises, so you can tailor your workouts to your individual needs.
The main advantage of app-based home gyms is that they are more affordable and require less space than equipment-based home gyms. However, they may not be as comprehensive as equipment-based home gyms, some popular high-end options that create a hybrid between the two styles are Tonal and Mirror.
We have created a review comparing Tonal vs Mirror that you can find here.
Home Gym Essentials
1

.

Location
It goes without saying that one will choose a space for your home gym that is available, first and foremost. Ideally, the home gym location should be well–ventilated, it would have plenty of natural light and would be away from any distractions.
Common home-gym locations in the house are the basement, garage, spare bedroom, backyard (highly recommended, especially during the summer), shed, attic, and probably the most common location of all: the living room.
2

.

Floor

ing
The most underrated part of a home gym is the flooring, a proper rubber flooring will protect your floors and reduce noise from the gym. More importantly, though it also allows you to exercise in a safe environment as the cushioning reduces the strain on your joints and the non-slip surface will prevent injuries.
Gym flooring mats can also make your job easier on maintenance but do learn how to clear gym mats from the get-go to avoid odors.
3

.

Storage
Storage just like the gym itself will match the needs of the user. While some equipment-heavy gyms might become a hassle, an air walker in the living room or guest bedroom doesn't need much initially. Regardless of the size of your gym, storage should always be taken into account, your family will help you for keeping your toys away from the rest of the house.
4

.

Mir

rors
Mirrors are key in a home gym because they allow you to monitor your form and check for proper technique when performing exercises. They also help to provide motivation by allowing you to admire your progress and improvements in your body, and that will help you to stay focused and keep motivated.
5

.

Lighting
Lighting in a home gym should be bright and even but always avoid excessive bright spots, as they can be distracting and make it difficult to focus.
Natural light is best in an ideal home gym, but if it's not available, use bright fluorescent or LED lighting and make sure to place lights higher than the user's head to avoid glare.
If possible install a dimmer switch to adjust the light levels for different activities as needed.
6

.

Equipment
On the equipment list, you know better than anyone what you need. From the best dumbbells for home gym and super cool adjustable dumbbells like NordicTrack and Bowflex, a rowing machine, a huge all-in-one rack, or just a yoga mat, you do you!
7

.

Music
Music is a very personal matter but the general consensus is that surely it helps in workouts. Whether you use it or not, do try to take it into account when designing your space, you can go the complex route of built-in audio or the simple way and just move your portable Bluetooth speaker with you into the home gym.
Benefits of a Gym Over a Regular Gym
Convenience.

 With

a

home

gym

,

you

can

work

out

whenever

you

want

,

in

the

comfort

of

your

own

home

.

Cost.

 A

home

gym

can

save

you

money

in

the

long

run

,

as

you

won

't

need

to

pay

for

a

gym

membership

or

costly

equipment

.

Privacy.

A

home

gym

gives

you

complete

privacy

,

allowing

you

to

focus

on

your

workout

without

any

distractions

.

Variety.

 You

can

choose

from

a

wide

range

of

home

gym

equipment

to

suit

your

needs

and

goals

.

Customization.

 You

can

customize

your

home

gym

with

the

equipment

and

setup

that

best

suits

you, and you alone.
Basic Home

Gym

Safety

Tips
When working out at home, it is important to focus on proper form to ensure safety. It is important to keep your back straight and your core engaged when doing any type of exercise. Make sure to keep your feet shoulder-width apart, and keep your knees slightly bent. Avoid arching your back and keeping your arms too close to your body. Be mindful of the range of motion you are using and don't lock your joints. Lastly, it is important to know when to stop and take breaks during your workout.
Before beginning any workout, it is important to do a proper warm-up and cool-down. This can help to prevent injury, improve performance, and reduce soreness. For a warm-up, you can do light stretching, jogging in place, jumping jacks, or any other low-impact exercises. For a cool down, you can do some light stretching, yoga poses, or light walking.
Breathing correctly during exercise can make a big difference in your performance and safety. Make sure to take deep breaths in through your nose and out through your mouth. Exhale during the hardest part of the exercise, and focus on breathing evenly throughout the workout. This will help keep your heart rate low and prevent dizziness or lightheadedness.
Inspiring Home Gym Design Ideas
Home gym ideas for fitness enthusiasts
If you show up in the gym, half of the work is done. In the beginning in the particular, enthusiasm to exhaust yourself in the gym is hard to acquire, but as soon as results start showing, enthusiasm arises so keep your focus and create your routine, circle through it and very soon you`ll hit your New New Year`s resolution, all fit and healthy from a great year. In this process, home gyms do help greatly, being highly convenient and comfortable.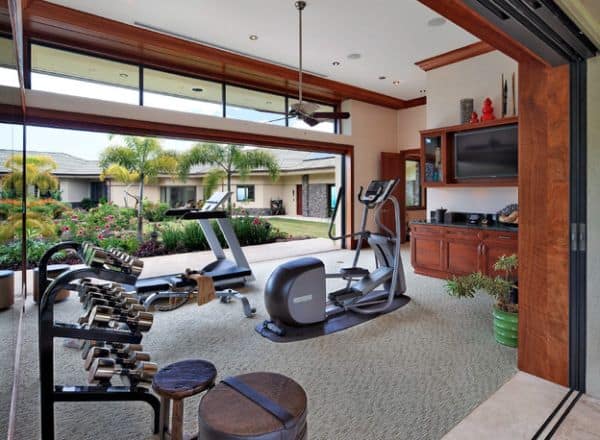 If you are lucky enough to enjoy a gym that opens up towards a backyard full of greenery, take advantage, and exercise in the fresh air.
by Rick Ryniak Architects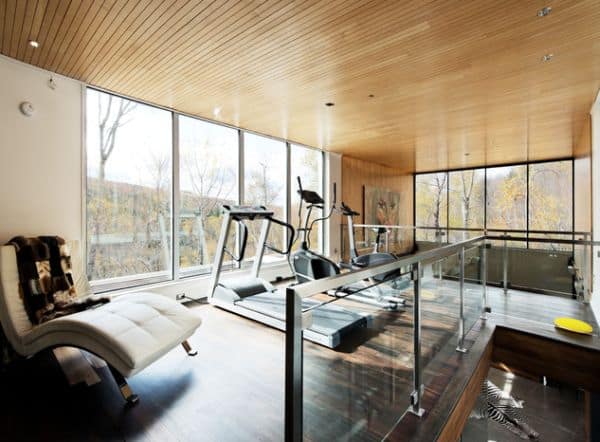 A home gym with wooden ceilings and floors and expansive views can greatly inspire and encourage the individual.
by David Giral Photography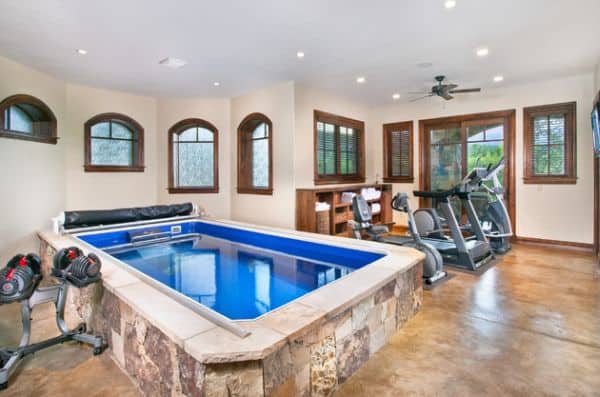 Exercising in a gym with water features can greatly diversify your routine.
by Pinnacle Mountain Homes
An individual that sees the benefits of working out at home with equipment at his disposal, comfortable will without a doubt transform into a very healthy enthusiast soon. It can boost your workout performance even if the schedule becomes a little chaotic, it is important to count those five extra repetitions that you make in the time you would have spent towards the local gym or simply the late workouts that you would have missed if the gym was not in your reach. As we adapt our daily schedule to make room for a movie we can adapt to insert a 30-minute workout as well.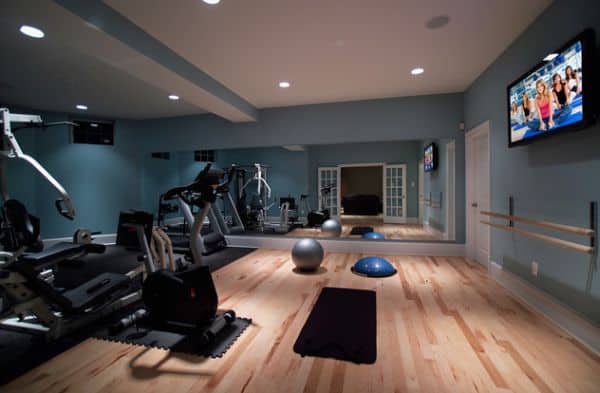 You can combine two hobbies, plant a small gym in your dance studio and make the best out of two worlds that keep you healthy, safe, and sound.
by Rule4 Building Group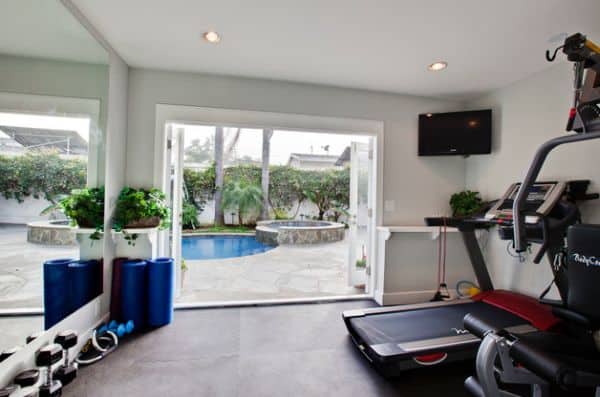 Connect your home gym with the outdoor realm and breathe fresh air during your workout.
by Lane Design + Build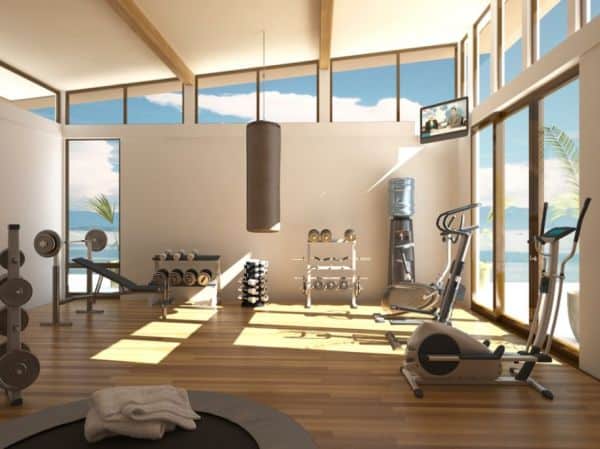 A gym flooded with light and fresh air has some clear advantages.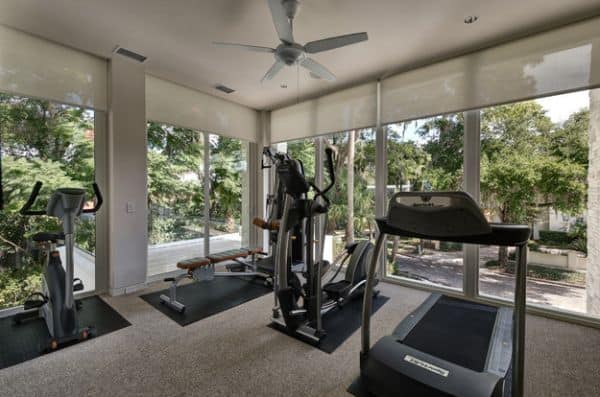 An ethereal airy ambiance can be obtained with huge glass walls in your home gym.
by Phil Kean Designs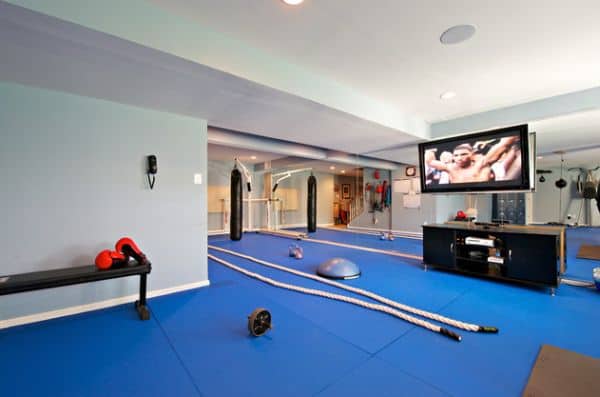 A work playlist greatly influences you during a workout, it gives you a rhythm to focus on. The home gym above has speakers in the ceiling house to greatly enhance comfort.
by World Wide Stereo
Exclusive gym experience on a budget
As soon as you get a handle on things and you start working out regularly you will realize that you can actually take your home gym to the next level by beautifully tailoring it to your advantage, building out only what you actually need; this helps you keep the budget low and have full control over your expansive plans. A list of needs and desires can help you a great deal with both the gym design and workout routine. Don`t imagine that you need an extensive space to achieve your dream home gym, plan everything thoroughly and surge inspiration from your own workout routine.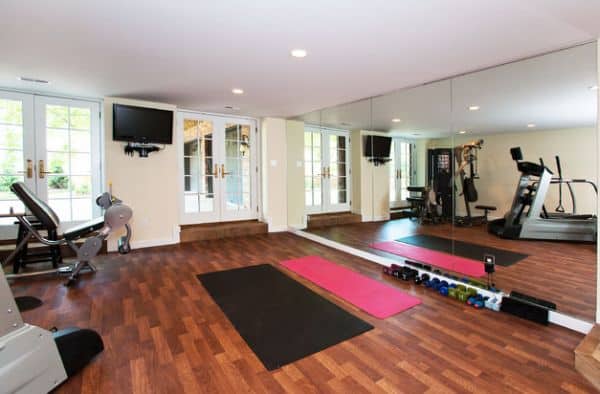 You can turn a garage into a spacious home gym, here a two-car garage has been converted.
by Hibbs Homes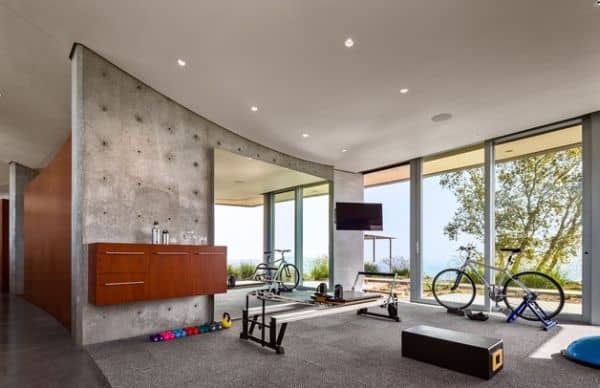 An industrial home gym design with expansive views.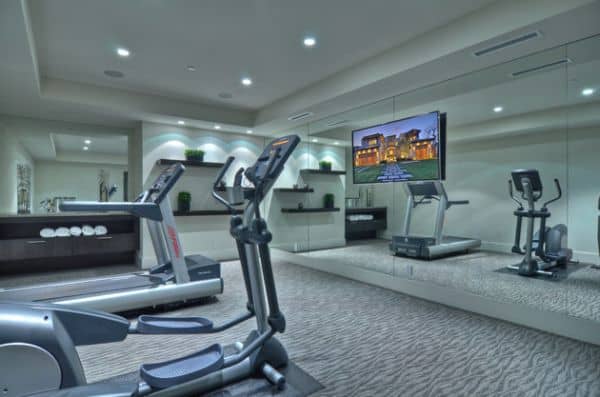 A futuristic gym in grey hues emphasized by a mirror wall
by Brandon Architects
Self-control is a highly important aspect of both aesthetic values and functionality when you get to design your own gym. The online offer is immense and at first glance you might stumble across the idea that you need every single item in the store, and that you can work out all of them, at once. It this is not the case, a dedicated home gym should be tailored to your routine and as a result, you should be able to trim a great deal of equipment off the regular gym setup. Do not replicate a gym, adapt and build for your own realm. You can start with a simple bench and a few weights. Be versatile and progress.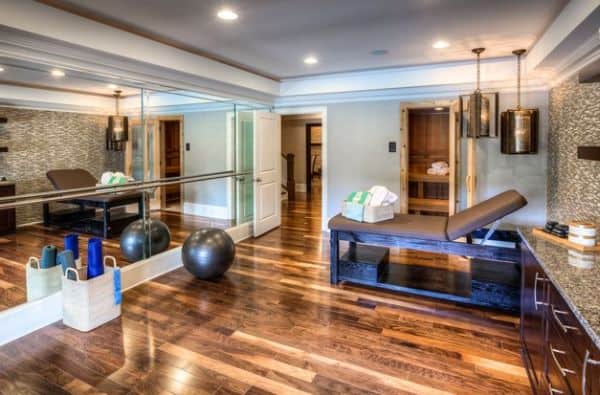 Elegant wooden floors and a mirror wall can forge a welcoming ambiance in your home gym.
by Ashton Woods Atlanta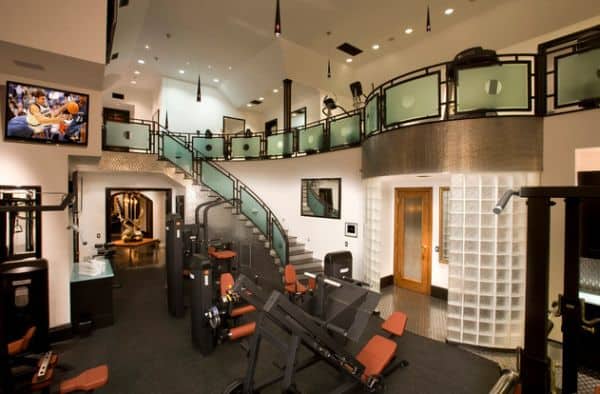 Custom two-story home gym offering everything that you would need.
by Arc Design Group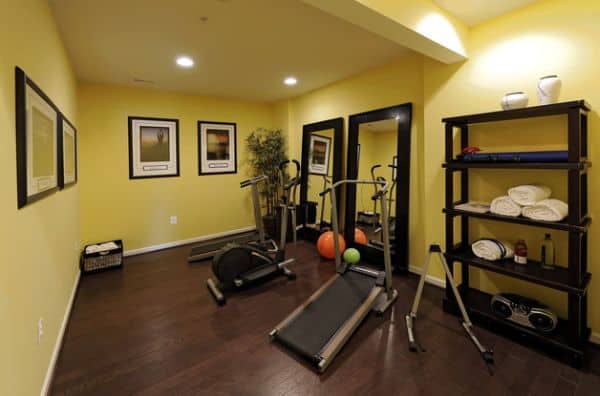 Inspire calm in your home gym with a light color.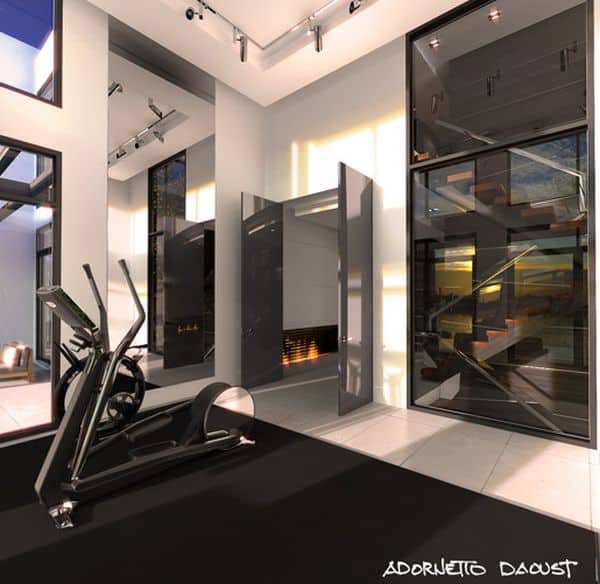 Black and white elegant contemporary home gym calling to action in a minimalist home.
by Adornetto Daoust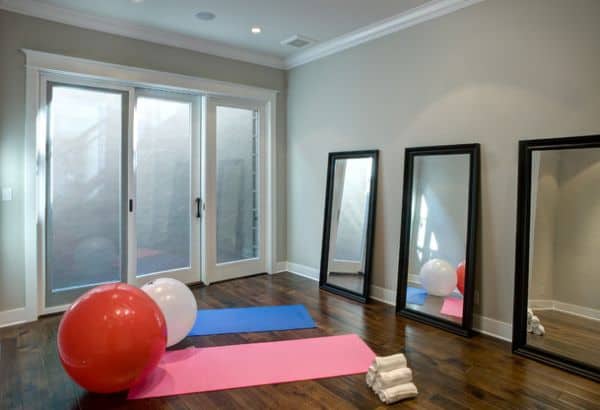 Simple light hues can emphasize the feeling of space in your home gym, mirrors are highly recommended to ensure the correct practice of your workout routine.
by Allwood Construction
Small home gym design ideas
Any space can shelter a decent gym design regardless of size; a corner room or a small garden shed can be swiftly transformed with a treadmill and few weights; attic spaces are also a welcoming option for workout spaces; choose something that fits your needs and start pumping pure health into your organism. You need to start, results will follow.
Airy attic spaces can really make great gym spaces, especially when skylights and wooden beams are present.
by Tim Barber LTD Architecture & Interior Design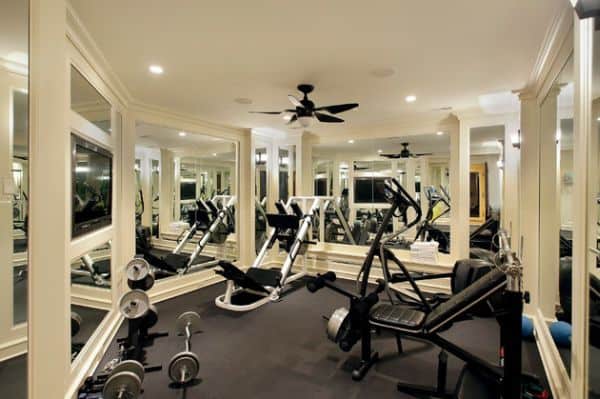 Mirrors are used in gyms to control movement. At home, you can surround yourself with mirrors.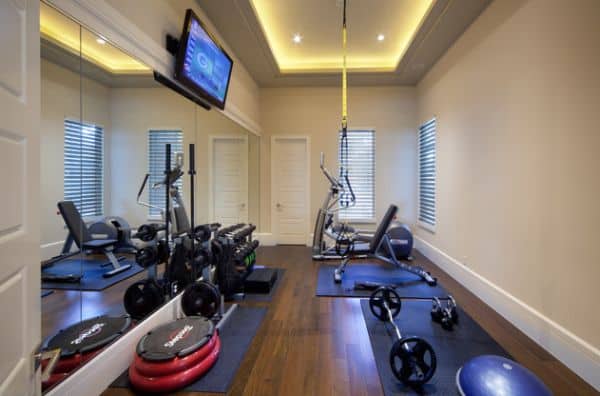 A narrow space can be doubled by a mirror wall, a trick often used in home gyms.
by Dave Brewer Homes 
In the gym mirrors are recommended to help you visually control your movements, they also help certain people remain motivated. Mirrors are known to reduce the claustrophobic feel and create the illusion of a bigger space. Functional and beautiful at the same time, mirrors would be a great addition for your home gym whether the space is in the attic or by your laundry room in the basement.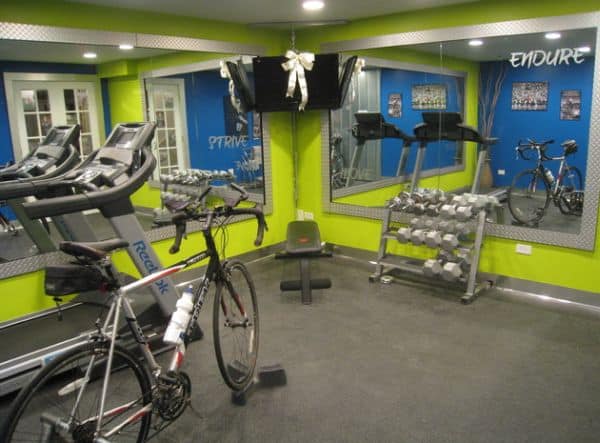 Mirrors and colors in a simple gym.
by Your Favorite Room By Cathy Zaeske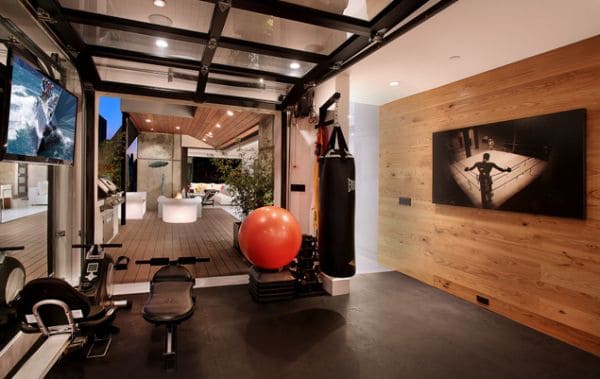 A punching bag in the gym is a highly desirable feature, it helps you with cardio in a very pleasant, stress-relieving way.
by Jeri Koegel Photography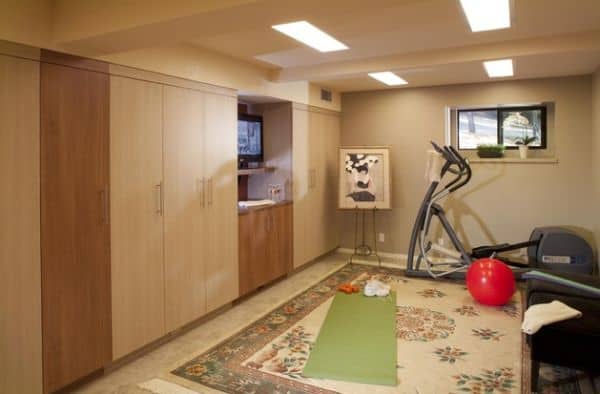 Your yoga space can accommodate additional small gym features to enhance your workout.
by Harrell Remodeling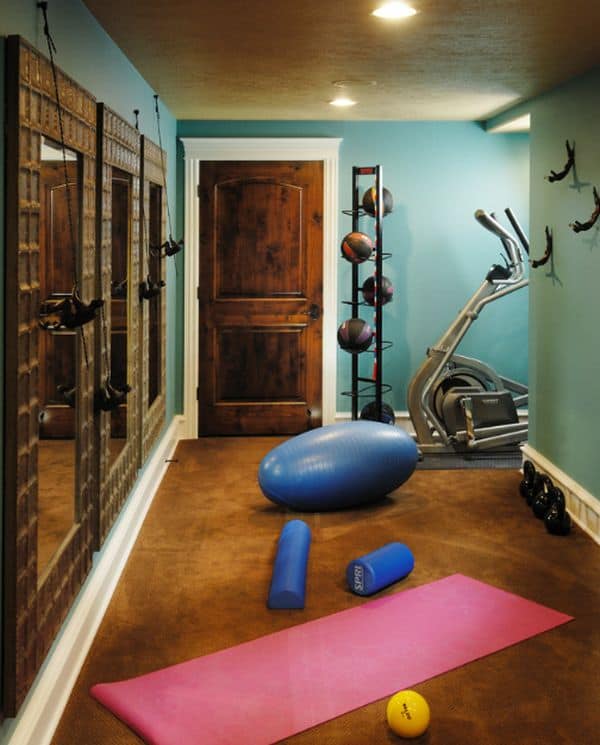 Get in shape at home and improve your daily game. Notice beautiful mirror frames.
by Doug Pitts Construction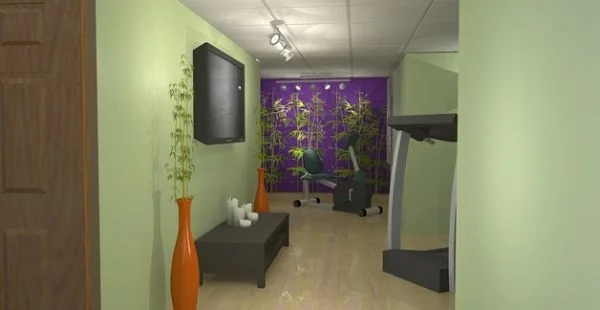 You don`t need a huge space to exercise, will and motivation are a must though.
by (m) + charles beach Interiors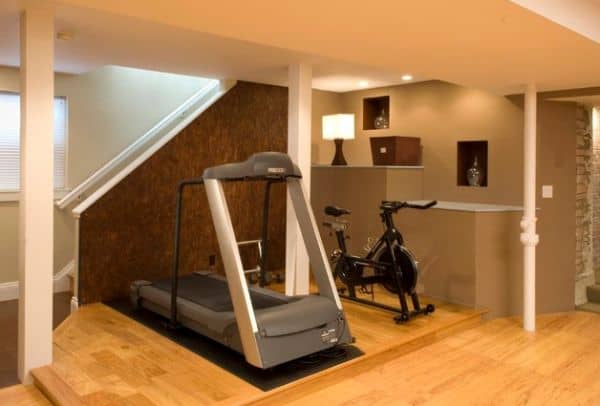 Park your gym equipment wherever you can and act.

Multipurpose rooms with home gyms included
In our home gym the huge features of a gym, big mirrors, huge speakers, posters, and tons of equipment are necessary. While some do need such an ambiance to work as a call to action, others are comfortable with less, and the space allocated to the gym becomes a versatile multipurpose area that helps the inhabitant save space and nestle multiple functions in one room. Keeping one room clear for the home gym might be impractical for casual practice. Boost your home with features like a Jacuzzi or swimming pool and make the most out of your space.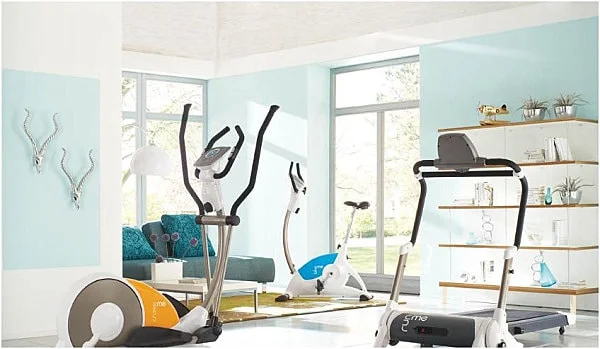 Light blue and white airy gym design with plush seating area.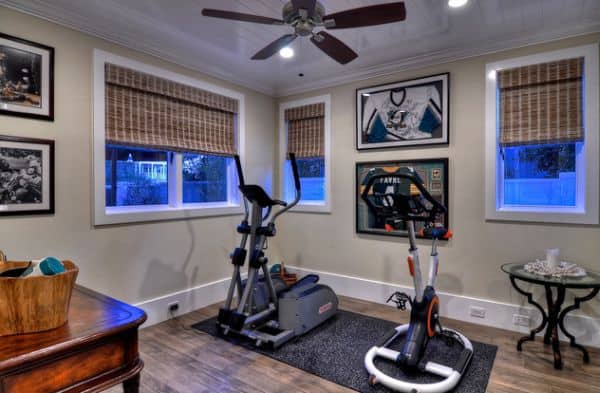 Your home gym can be nestled into a corner of your living room, get active, and stay healthy.
by Spinnaker Development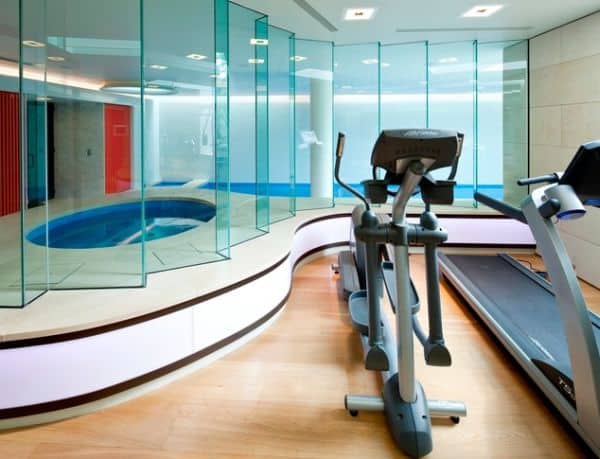 Elegant home gym with swimming pool area and Jacuzzi.
by Guncast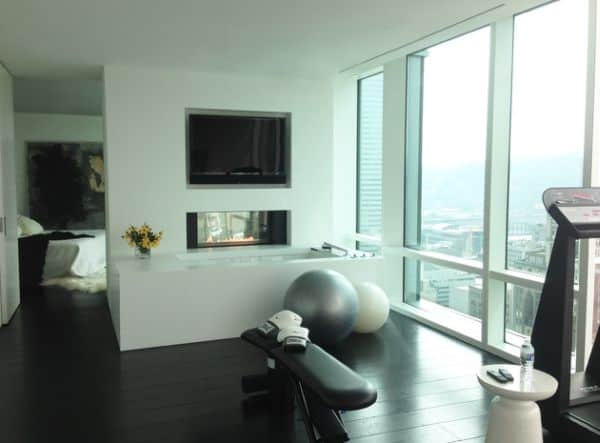 Little sleek exercise area with an extraordinary view tied to the home spa in direct connection with the bedroom.
by Bennett Farley Design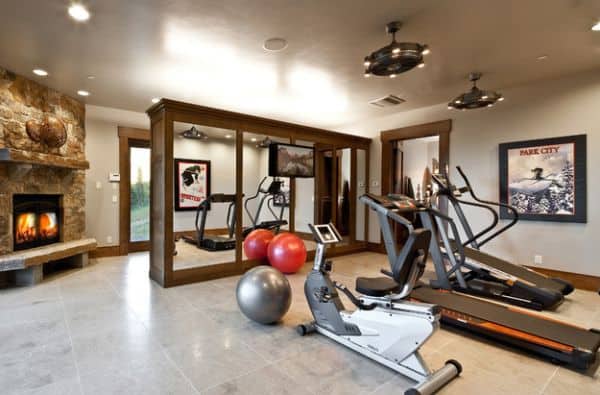 You can include additional storage space wrapped in mirrors, which will emphasize the feeling of space and help you with your workout.
by Jaffa Group Design Build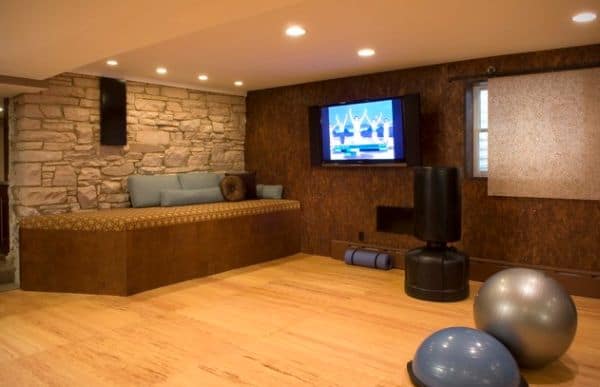 Simple home gym with a small resting area.
by Jodi Feinhor-Dennis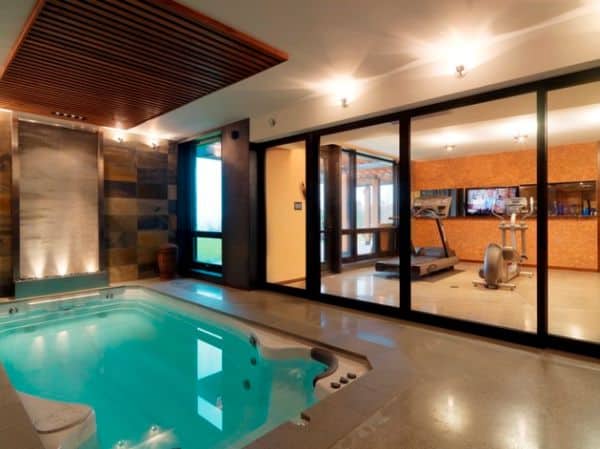 Have a beautiful swim spa session after your workout. A great way to keep yourself healthy.
by Birdseye Design
Work out in comfort
More and more these days working out in the comfort of your home is sought and small gym homes are created, often combined with work areas and kids` playrooms. In this manner, the inhabitant can keep a close watch on his loved ones while working out. The space combination highlights an accumulation of positive energy that easily generates well being, happiness.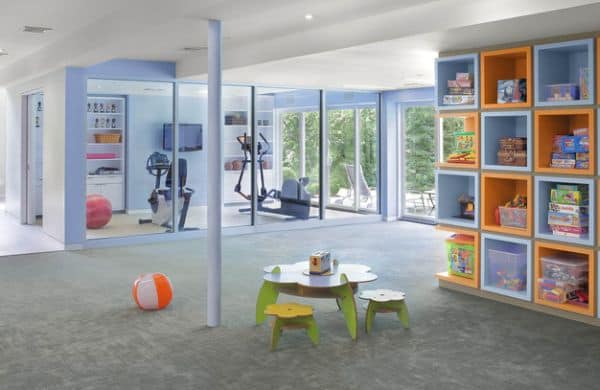 Tailoring a home gym with a playroom is a combination that works like a charm.
by Eisner Design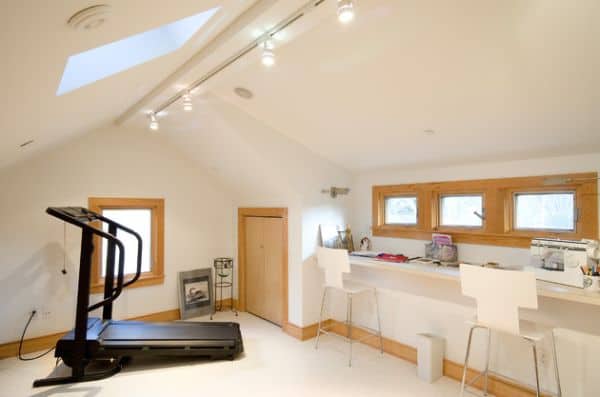 Attic space sheltering crafting workstation and small gym all beautifully animated by light.
by RD Architecture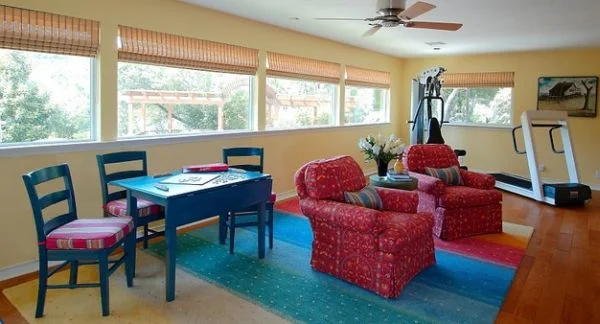 Playroom integrates a simple home gym in its color.
by Claudia Cowperthwaite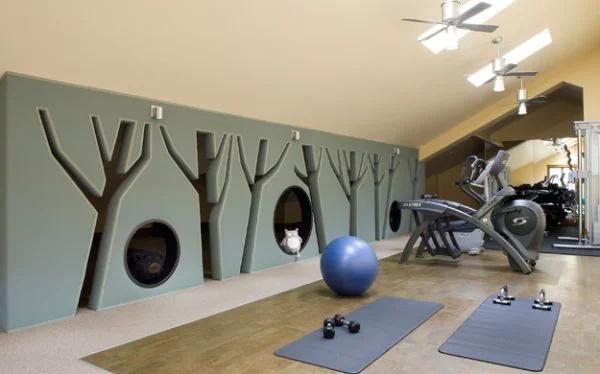 A playful dividing wall allows one to watch over the little ones during the workout.
by Studio 80 Interior Design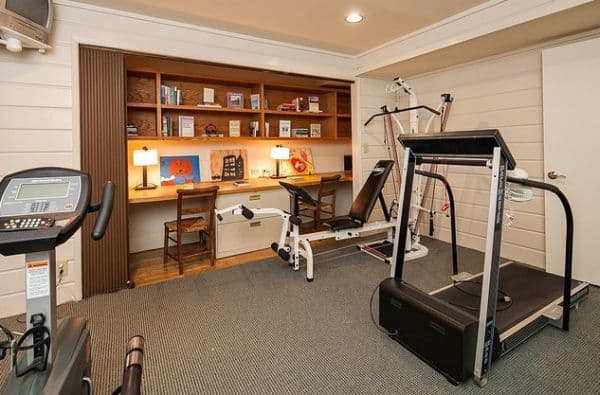 Neat home office inserted into a closet in the gym.
by Seattle Staged To Sell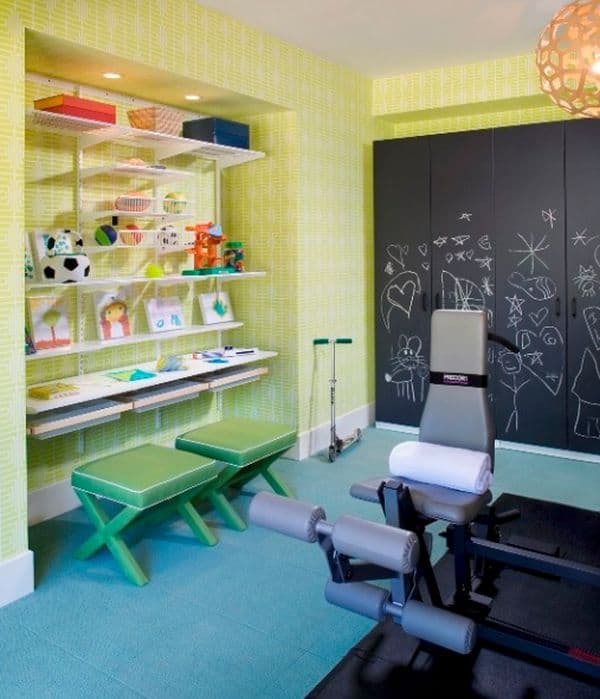 Colorful crafting desk for children and chalkboard storage around a home gym.
by Martha Angus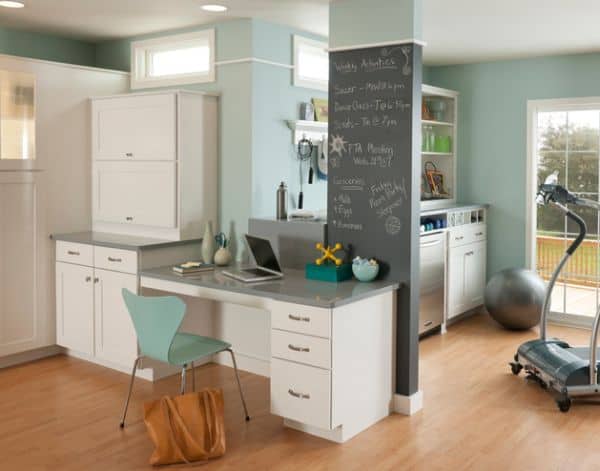 The tiny multipurpose area contains a laundry room, office, and home gym.
by Elements by Durcon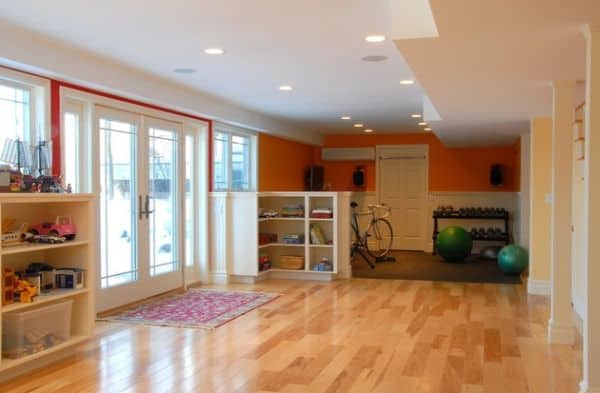 Huge playroom sheltering home gym equipment.
by Peregrine Design Build 
Integrate additional features in your gym
If an office is on the blacklist of your home and a playroom indoor is not your top priority you can find other features to match your gym with. A home bar, a gaming room or a lounge area could serve you greatly, having the beverage of your choice at your grasp is important. Do your best to make your workout perfect and keep cycling through it the entire year.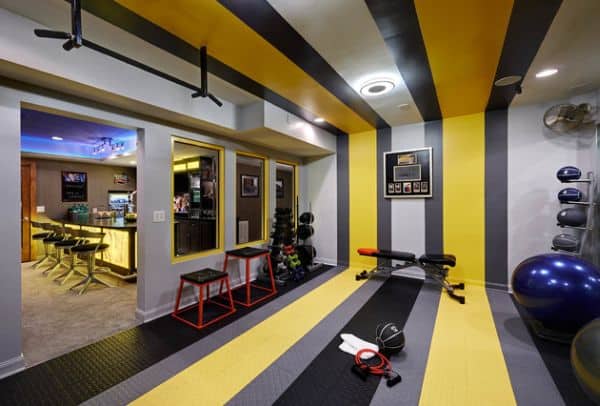 High contrast with yellow and black neighboring a home bar.
by Vonn Studio Designs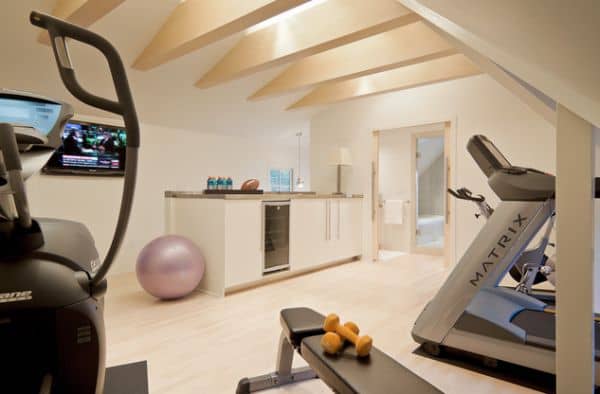 Small kitchenette in the attic home gym ready to serve you water and energy drinks.
by olodesign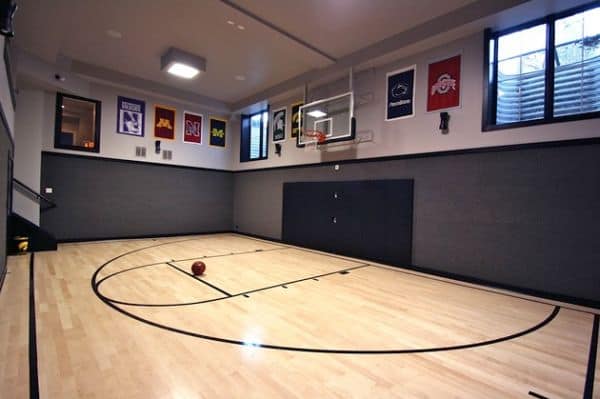 It goes without saying that the happy individual that actually has a basketball court in his bedroom simply must work out. The beautiful workout room can be transformed minutes into an immense dining room or living area but when enthusiasm strikes, the basketball setup is present and ready.
by Oakley Home Builders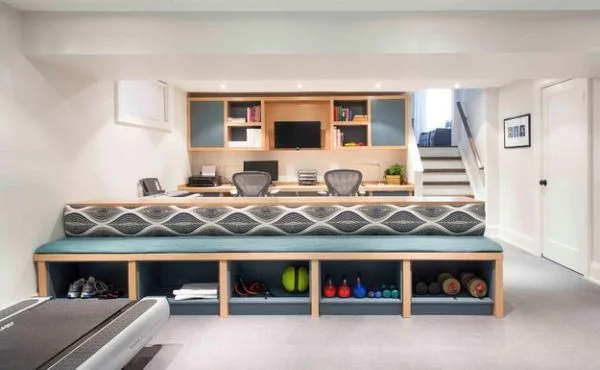 Beautiful modern bench tucking colorful gym equipment that actually doubles as decor when not used, through color.
by Meghan Carter Design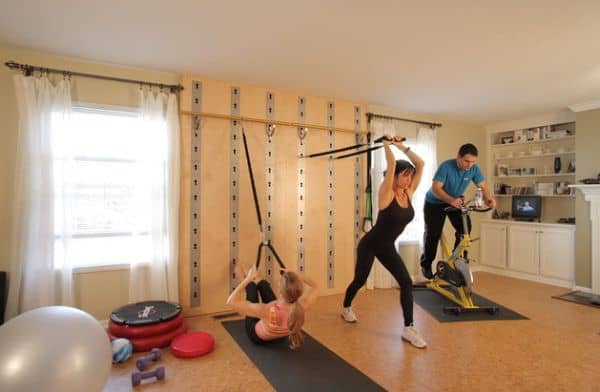 A smart training wall can offer a great lot and it can be used in small spaces with ease. When not used it can double as a coat rack.
by Isawall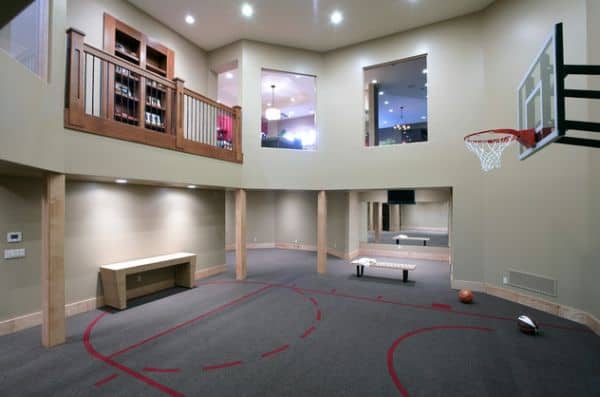 Impressive home gym in the basement with carpeted basketball courtyard.
by Visbeen Architects
Ideas on how to decorate a home gym
A gym does not actually need decoration to function well, indeed but if you are wondering how to decorate a gym, we have prepared some images for inspiration below. Four walls, carpeted tiles, and a stereo are enough for most people but if you are to work at home where you actually control every single thing it would be a shame not to take advantage of your power; you can decorate your gym just like any other room in your home, through the extent of your personality; creating something you are comfortable with. You can play your own music, and post your own posters that you actually like and that are actually motivating you. Go the extra mile and claim your gym with your decor.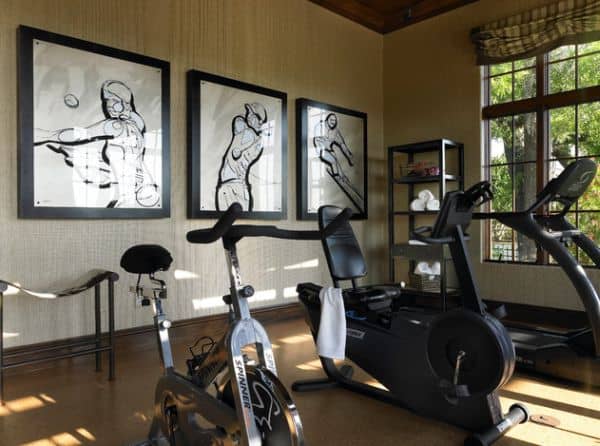 Decorate your gym in black and white and keep focus.
by Victoria Martoccia Custom Construction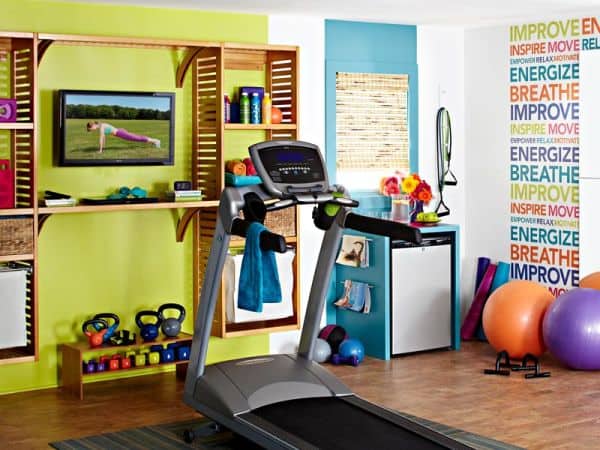 Bring color to your home gym and use custom wall decals for motivation.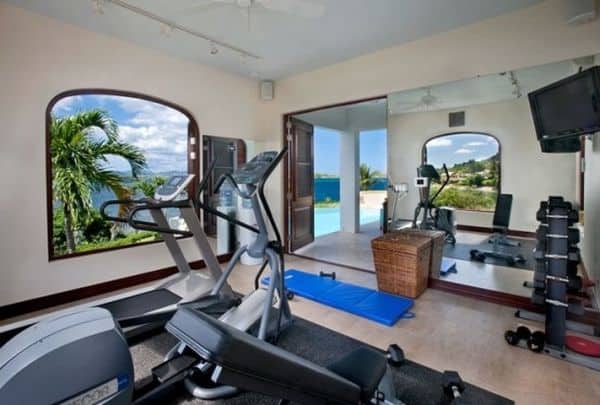 Large glass windows and insanely beautiful expansive views are a great motivation on their own, connecting your gym with such wonders is recommended.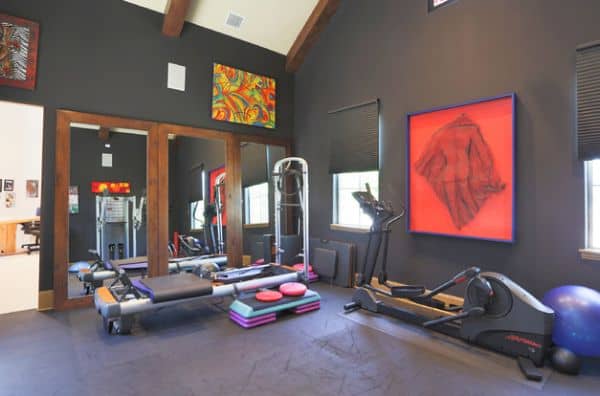 Bring your own artwork in the gym forward with a dark background.
by Sullivan, Henry, Ogger and Associates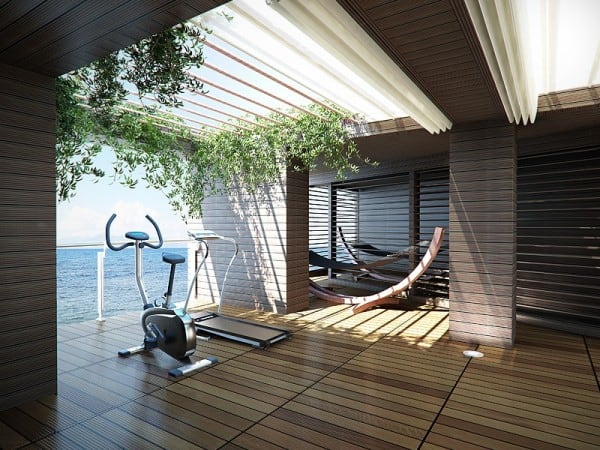 Absorb positive energy and actually work outside during summer.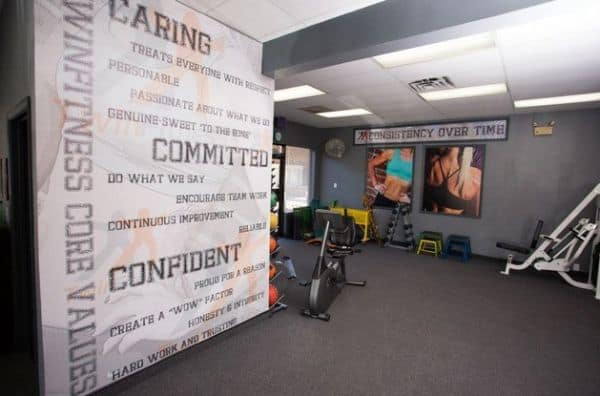 Design your own motivational wall mural for the home gym.
by Shaping Your Space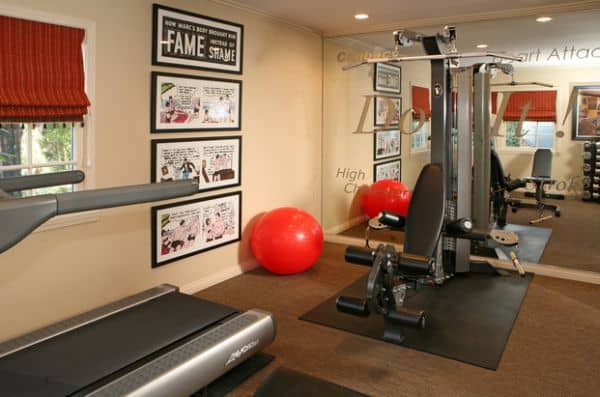 Bring in framed comic books and follow your dreams, get fit like Batman or Superman in your home gym.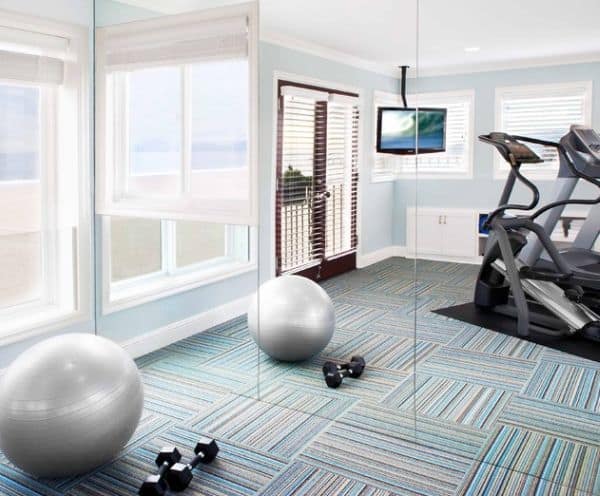 Orientate your gym equipment towards interesting views and dim the decor of the space down to maintain proper focus.
by About : Space
Motivational walls that inspire you
Motivation and inspiration are key elements for your workout routine, is hard to keep focus at all times and is hard to work out with a regular schedule, placing motivational, encouraging calls to action items is recommended. A word or two, a phrase or two can really help you and they cost next to nothing these days. Remember at all times that your workout has positive effects that you cannot obtain by skipping workouts. Keep focus.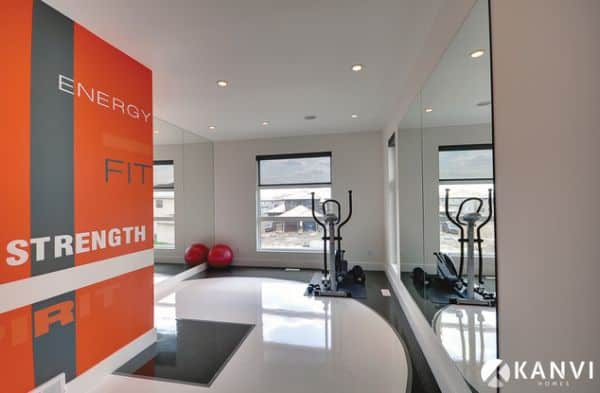 Custom-painted stencils on the wall add contrast to a gym.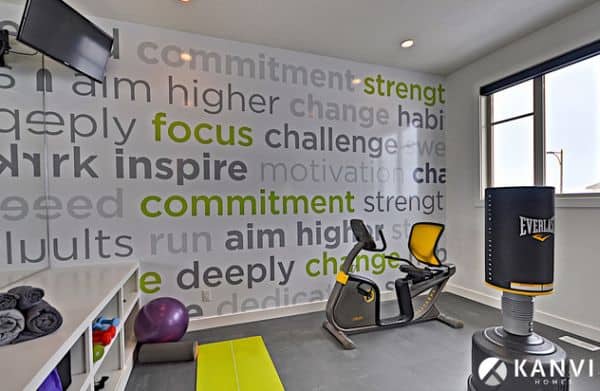 Graphic and fresh wall decal summoning focus.
by Kanvi Homes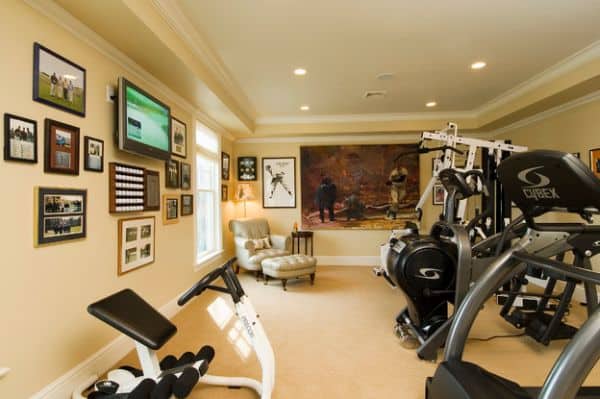 Cherished sports memorabilia could be beautiful additions to your home gym. Visualize what you work out for.
by Sara Hopkins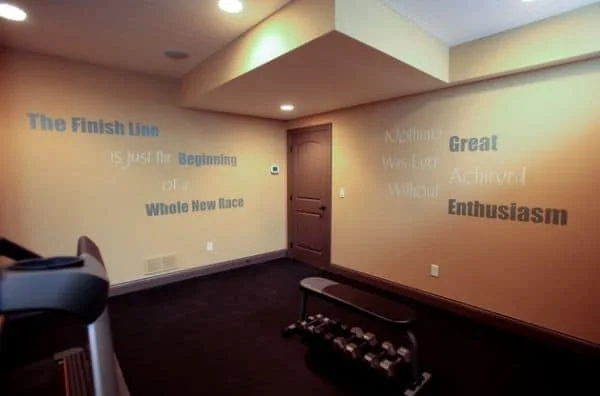 "Do not slack this year and maintain your New Year`s resolution!" can be actually installed on the walls.
by Instyle Interiors
A really cool design idea that offers great depth and a super cool motivating ambiance is the highly detailed sports locker room wall murals below. These are ideas that no enthusiast should overlook, their potential can lead to a really long marathon.
Wall mural inside a home gym illustrating Pittsburgh Steelers 1970's Locker Room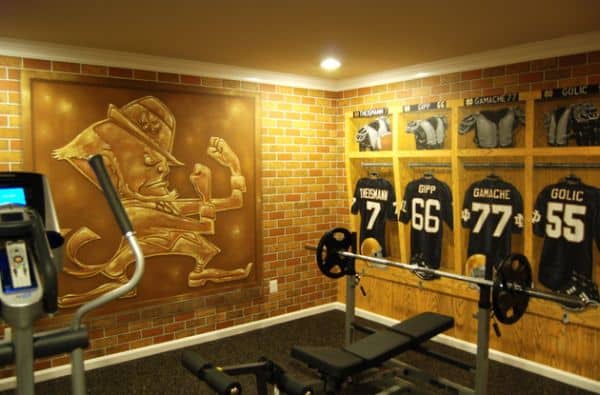 Beautiful wall mural in the home gym drawing attention. An item with meaning.by Wow Effects – Murals and Fine Art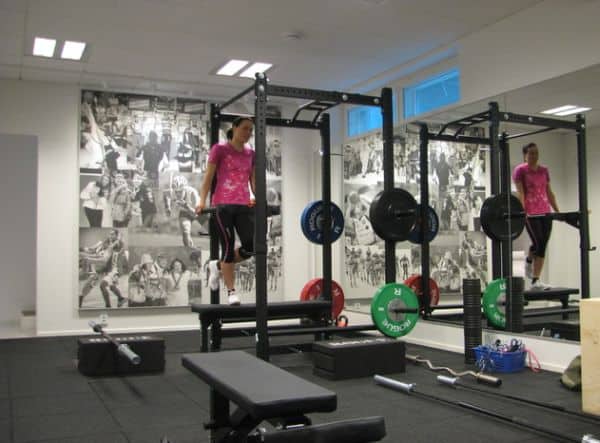 Beautiful black and white home gym collage presenting great moments worth fighting for.
by L.I.N.E.S Interiors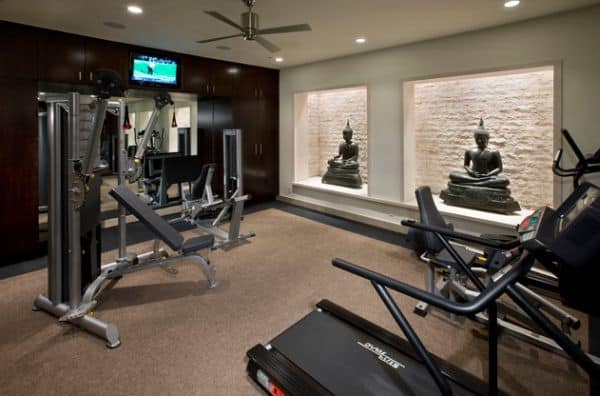 Buddha statues in the home gym are animated by light inspiring calm.
by Kollin Altomare Architects
Metal and grey are not everything a home gym can carry
Most gyms adopt dark neutral hues for their interior design, black and cold steel grey being common options; from time to time powerful yellow or red is combined with black for great contrast but the ambiance created is not actually friendly, or positive. In your home gym, you dictate the rules and you can choose the color of your choice. Fresh green, energetic yellow or happy orange can be great colors to inspire you but it all comes down to the overall theme and the desired ambiance, in the end, designing these will set the mood.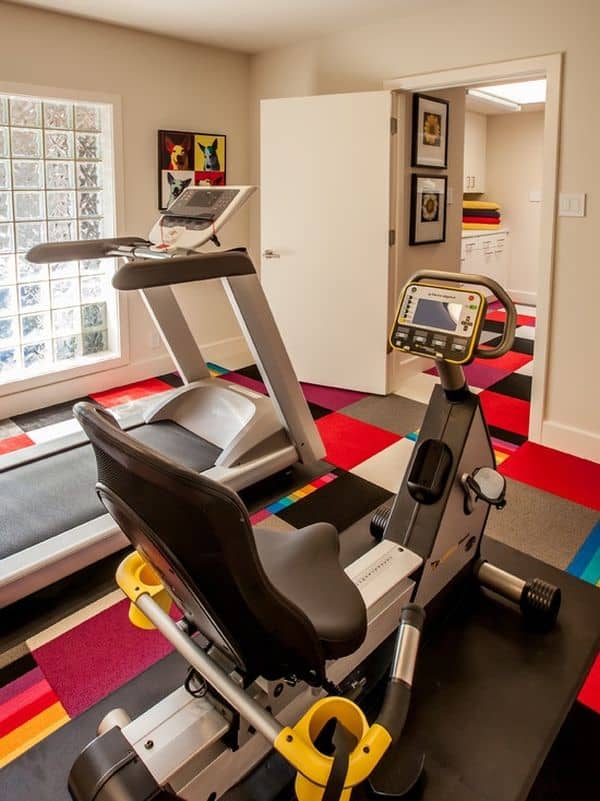 Colorful flooring can really animate your gym.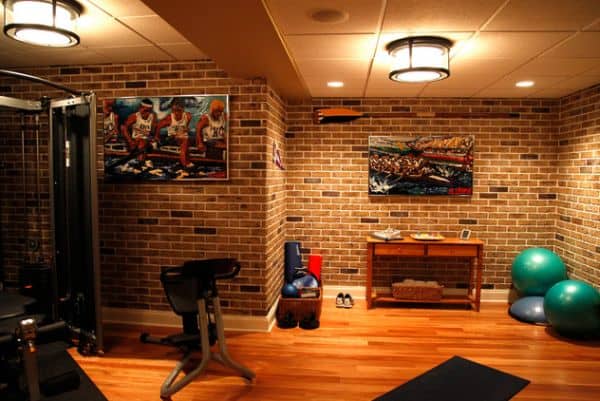 Exposed brick walls and colorful gym equipment can construct great scenery.
by O'Neal Interior Design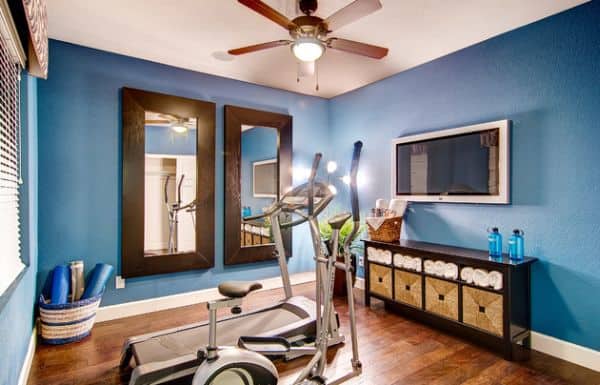 Blue is inspiring peace and calm.
by Oakwood Homes
The traditional boxer`s gym style, raw, bold, and rough, or the colorful setup of your football team, the basketball court decor, or the airy ocean view gym are all places in which we work, places in which we work out a lot. Pick your favorite color scheme and start shaping your future self, reaping the benefits of all the hard work is everything that matters in the end and if you are to pursue your fitness goals at home you ought to prepare your setup right.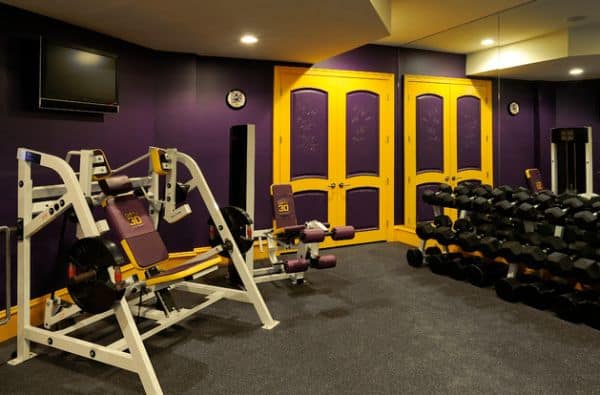 Favorite sports team colors nestled in a home gym.
by Distinctive Designs By Janelle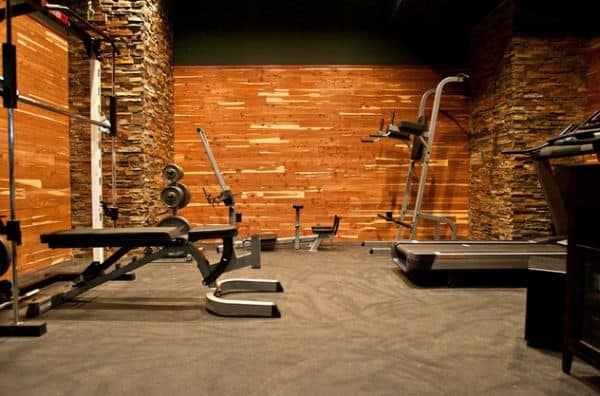 Custom rubber flooring and cedar wool walls tailored with stone in an interesting home gym composition.
by Atmosphere 360 Studio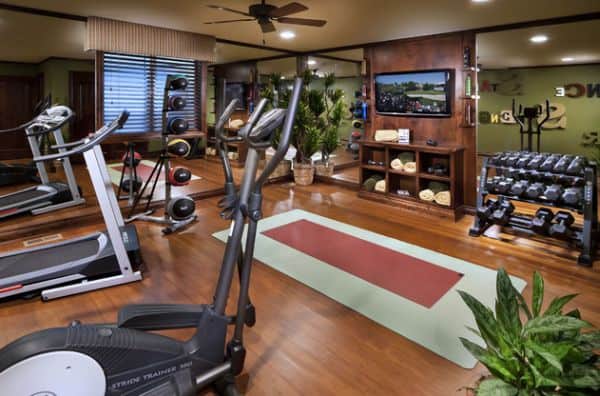 Natural elements emphasize an exquisite home gym.
by Celebrity Communities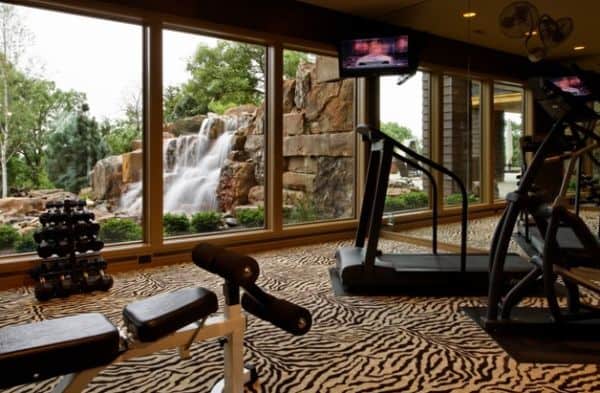 A relaxing view always helps.
by Curt Hofer & Associates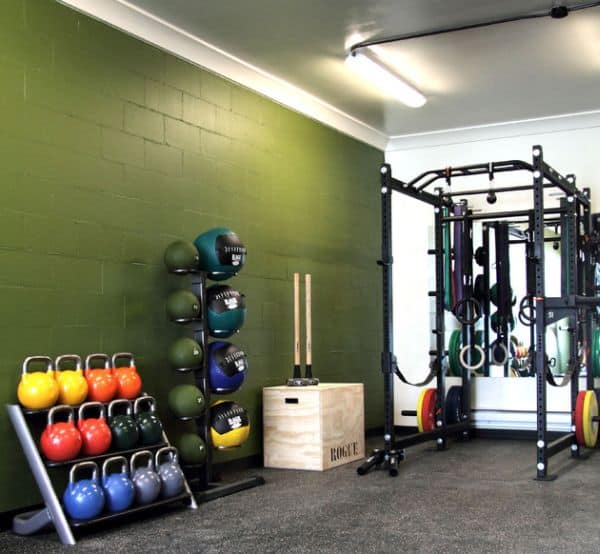 Using colored gym equipment is a great way to improve your décor, make distinctions between weights and keep them organized with ease.
by Capstone Dwellings, Design-Build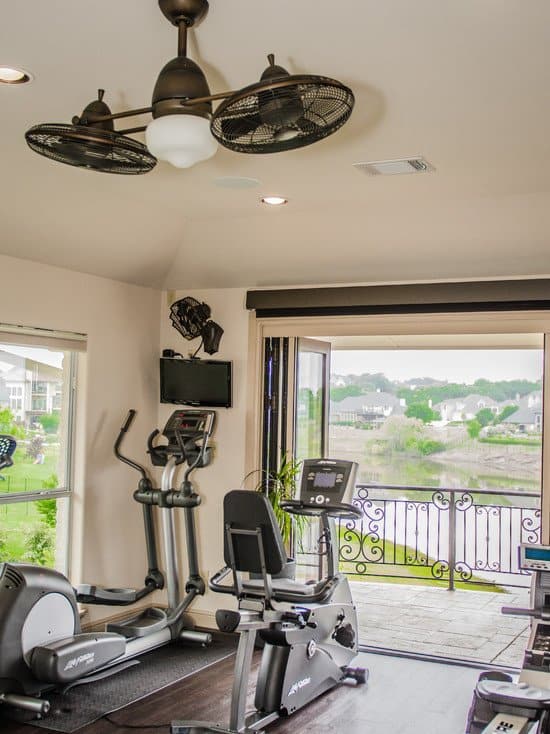 An expansive view will always help with motivation and taking the most out of your position.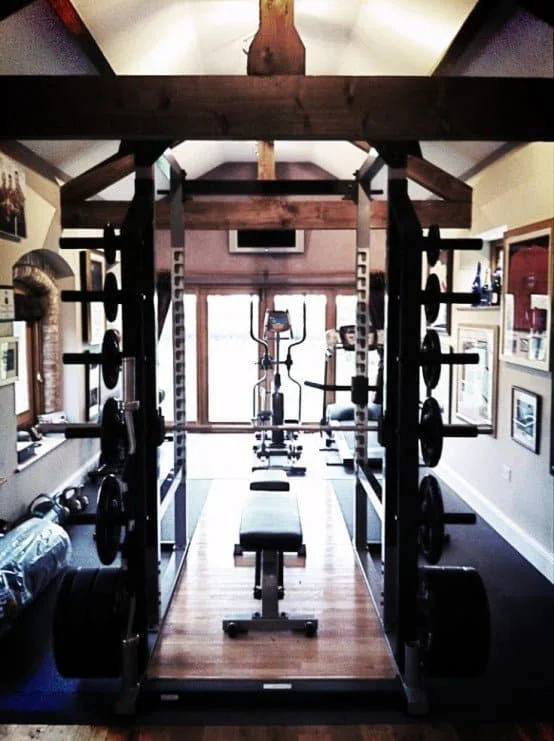 Building out a small fort of iron can help. Framed memories on the wall are a great addition as well.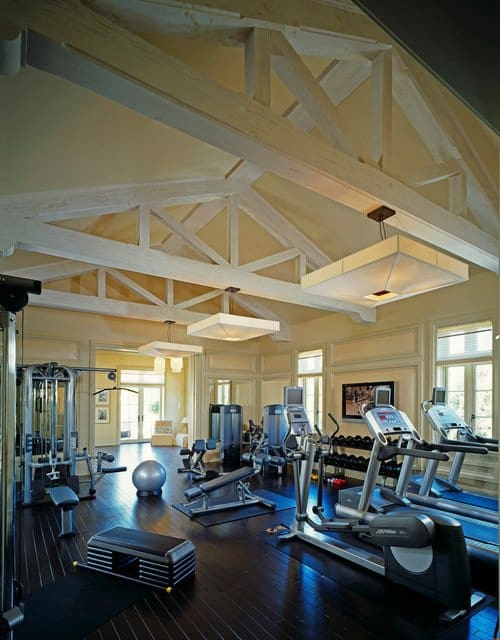 An expansive attic space to shelter your gym is ideal, here natural light plays a crucial role along the beautiful exposed wooden structure to which the attention is drawn thanks to the black flooring. Keep your head up, work hard, and achieve results.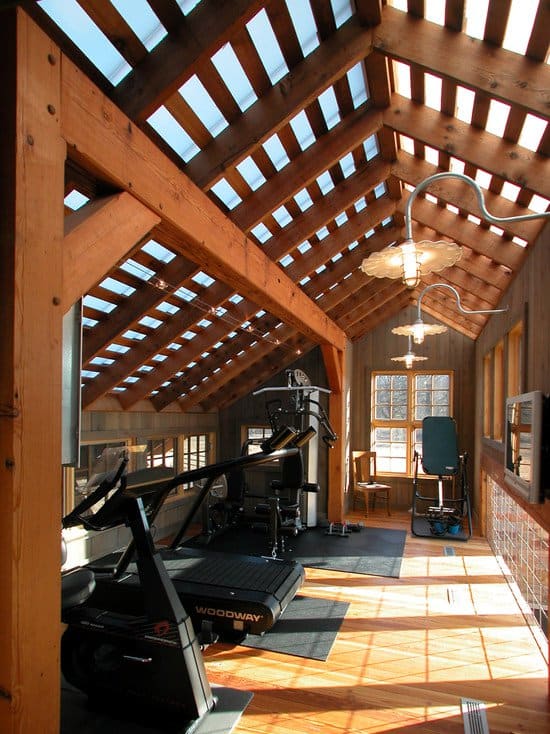 If you are to transform your shed, try to include natural light in the setting, a skylight or a complete sunroof can do wonders.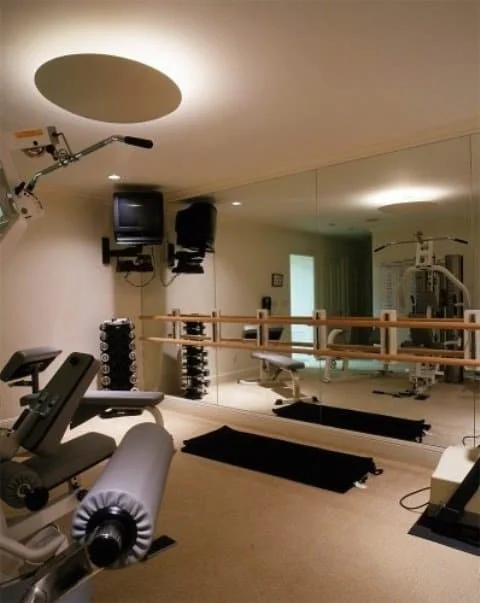 Light hues and mirrors are a known recipe for success.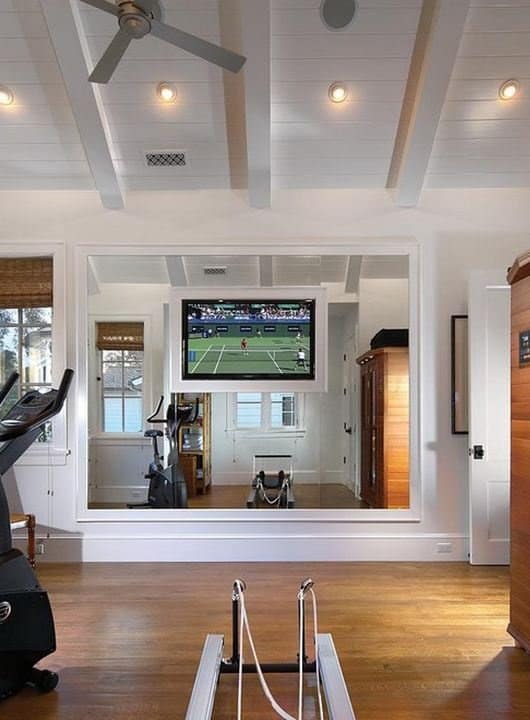 Having your reflection while exercising along a TV in front of you might help a lot.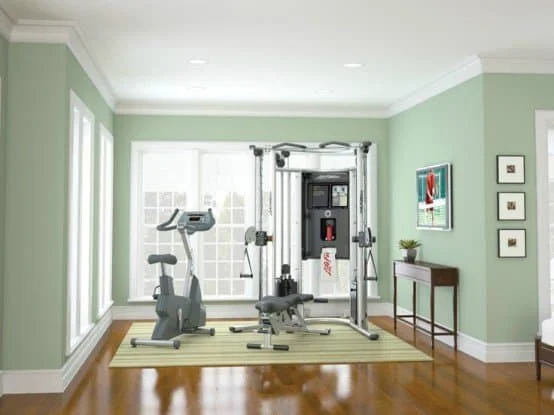 Simple green mint space sheltering a home gym. Find space for yours today.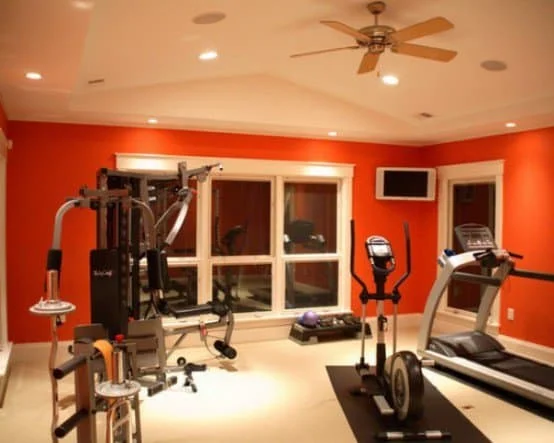 A vibrant red along white can energize the user.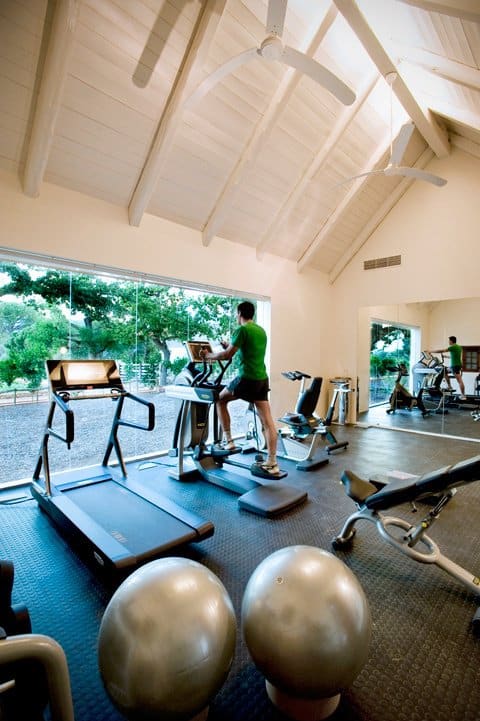 A great view is the ultimate décor.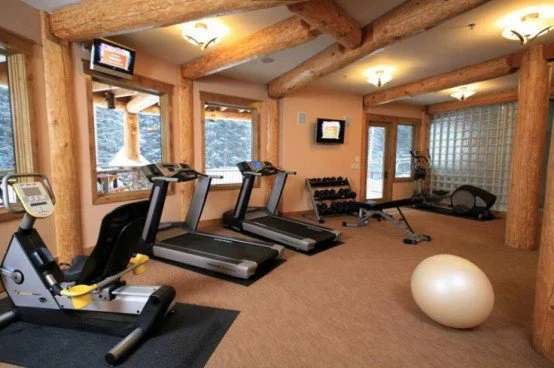 Rustic decor home gym with beautiful expansive views. Breathtaking.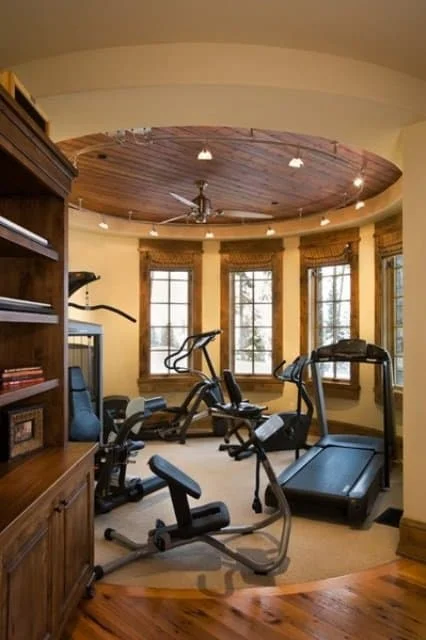 A gym can actually be organized in a circle.
Multipurpose room featuring a small desk, storage and home gym.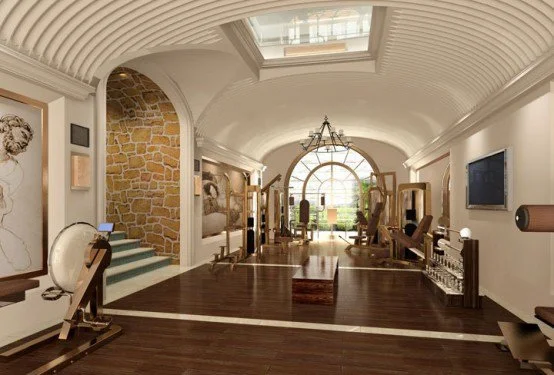 Simply stunning luxurious home gym flooded by light.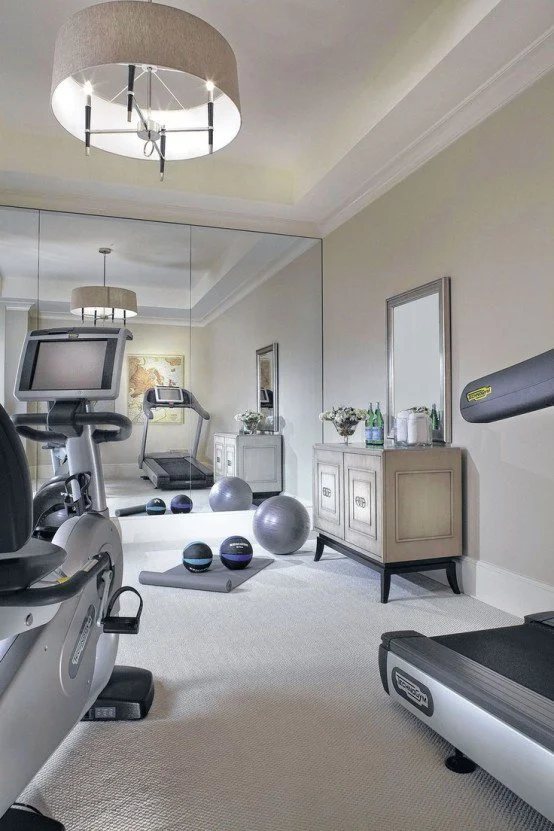 Traditional spaces can nestle gyms too, in a beautiful manner.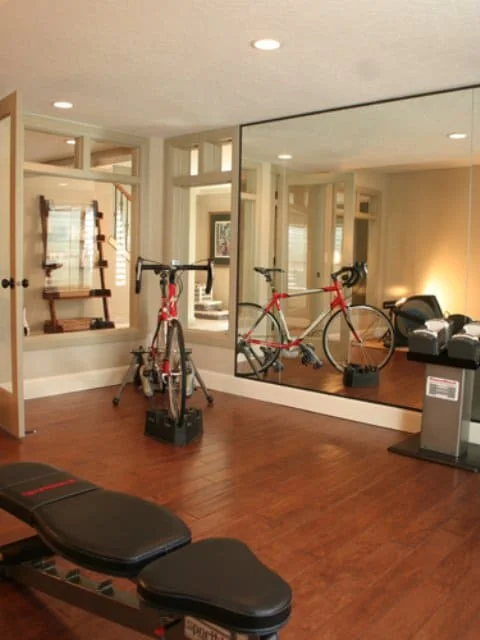 Two pieces of equipment might be all your need. You can actually use your bike with a stand indoor exercise trainer
 to work out indoors in bad weather. This solution is adopted by many these days and they`re insanely practical.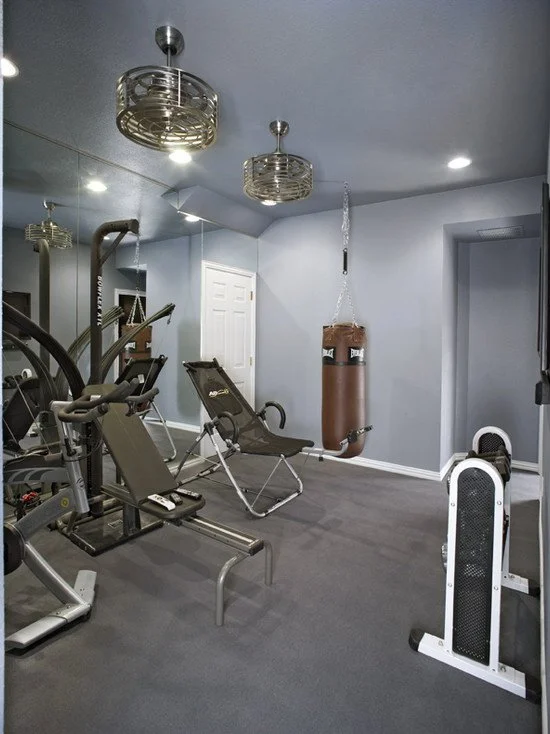 Simple gray and blue hues boosted by mirrors can keep you calm, and focused.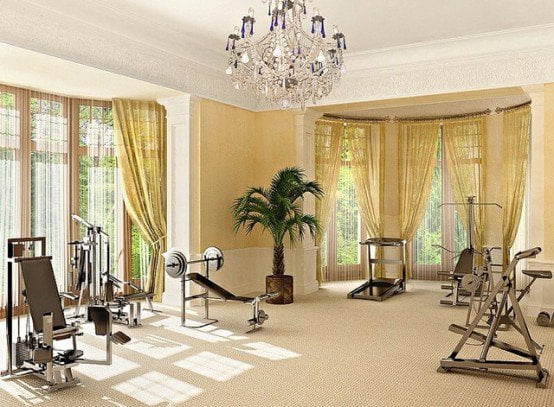 Luxurious elegant gym designs are an option as well.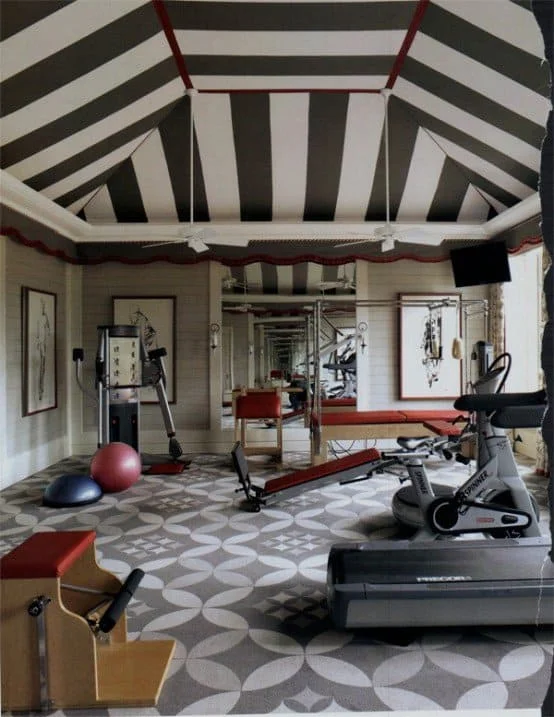 Design for yourself, pick the textures and colors that you need to feel at home, comfortable, and ready for heavy-duty workouts.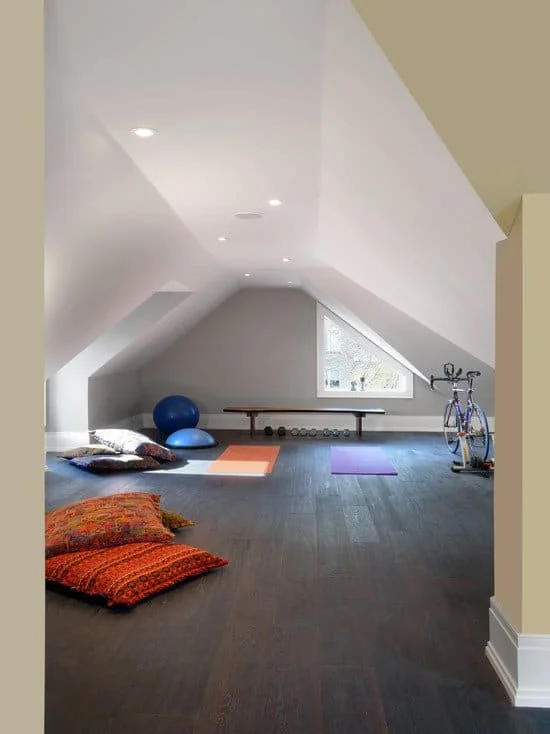 You don`t need a large space for fitness at home, nor expensive gym equipment. Here too the personal bike is used with an indoor bike exercise trainer
 and a few light weights are ready to be used if needed.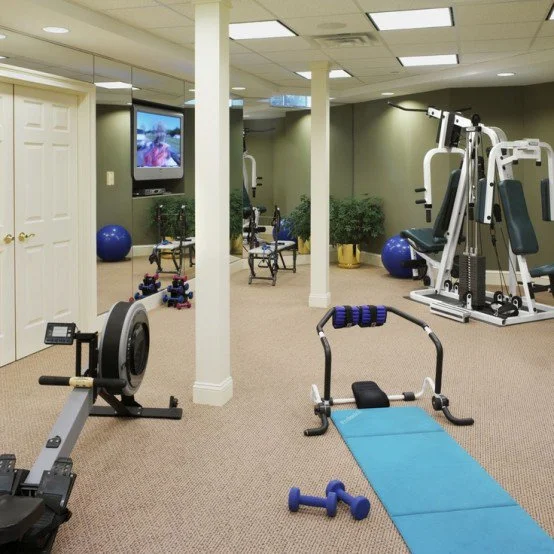 Transform your space for your health. Step by step you get closer to your beautiful, simple, home gym.
Home Gym Ideas FAQs
Can a home gym be effective?
Yes, a home gym can be extremely effective depending on the type of equipment, the user's goals, and commitment to regular use but it eliminates commute time, expensive gym gear, take-out meals, and other produce that one could source from the personal fridge in full comfort.
What is the difference between a functional gym and a fixed-press gym?
A functional gym usually has adjustable weights and allows for a greater variety of exercises, while a fixed–press gym typically has a limited number of exercises and uses a fixed weight for each exercise.
.What home gyms require the least amount of space?
Home gyms that require the least amount of space include compact equipment such as Smith Machines, Power Racks, Bowflex or Total Gym models, as well as resistance bands, kettlebells, and bodyweight exercises.
Which is better for fitness: weight stacks or bands?
It depends on the user's goals and preferences. Weight stacks are typically better for building strength, while resistance bands can be used for stretching and bodyweight exercises for cardio.
How many exercises can be done with a home gym?
The number of exercises that can be done with a home gym depends on the type of equipment and the user's goals. Some examples include squats, rows, chest presses, bicep curls, and more.
How can I maintain or service my home gym?
Regular maintenance and service of a home gym should include cleaning and checking for wear and tear. It is also important to check the user manual for any specific instructions.
Conclusion
If you are to think about it, it makes sense. If you have a small space to adorn the gym in your home you should take action. Saving time, energy, and money are great and well worth the effort but what really counts is your health and in the long run, having a home gym might keep you engaged in the action. It is easier to make a schedule and it is easier to respect it.
Start slowly and purchase only the very important pieces of equipment, take baby steps to get fit, and maintain focus at all times.
Stay healthy, stay fit.
What do you think about these Home Gym Design Ideas? Are you one of the individuals who would not be motivated enough to work out in his home? We would love to hear your valuable feedback on the subject in the comment section below.