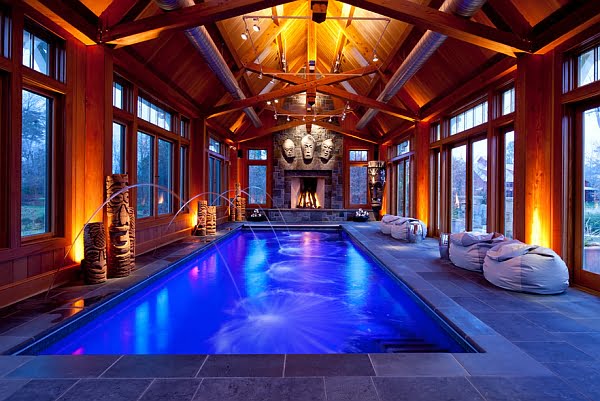 With the summer vacation ahead of us we often day dream about exotic getaways and serene retreats and no matter how long we are staying in our dream location we will always want to continue this cycle instead of going home,we need to bring that relaxing and calm vibe at home and enjoy every single day a little more. This sentiment is mainly brought up by the need of carefree days of relaxation and calm rejuvenation. With this thought in mind, we invite you to throw a look on the topics bellow and apply them in your home, we invite you to create your own personal retreat and extend your carefree vacation at home.
Outdoors First
With exotic locations in mind and secluded beaches it`s impossible not to picture an outdoor lounging spot. Whether you`ll use a patio, balcony or beautiful porch your own restful nook is a must and with butterfly chairs it can be easily arranged. [from Lonny]
Lush greenery will help you create the tropical inviting tone into the picture, making a huge difference and working as a background stage for a restful rejuvenating moment. If the climate permits you consider tropical greenery to evoke that laid-back approach to life that we all desire . [from Lonny]
Vegetation is marvelous in any climate even if they`re not tropical ones, any thoughtful arrangement of plants can be the foundation to your own secret garden at home, potted greenery included. [from Lonny]
Bellow  a beautiful pergola curtain DIY project from A Beautiful Mess summons us to privacy and shelter alike in a secluded resort style feel in our own backyard. What stops us from sailing through our imagination and simply relax.
In the perfect weather any second spent outside is precious, bound to a time period we are "constrained" to act and spend time outside in a comfortable and rejuvenating environment. Consider creating an outdoor dinning space where you can enjoy a breakfast or dinner in fresh air.  [from CB2]
Bringing the Exterior In
In many cases we will not be able to exterior the desired backyard or the ocean view in our apartment design or small cozy home, reason for which we encourage you to imagine your dream setting and withdraw some of the elements and include them in your home, for example your own private spa or hot tub, whether it`s in your own yard or on the balcony you will still enjoy it, greenery and pebbles can enhance that fell as well.  [from Ketchum Photography via H3K Design]
If your extraordinary expansive view is limited by another city block consider a large 3D print that will evoke the feeling of space whilst hiding the regular gray tone on your patio, imagination has no limits, take advantage.[from CB2]
Consider a simple and fresh outdoor kitchen to encourage time spent outdoors in fresh air. [from West Elm]
Fresh fruits, fresh greenery and a lot of light will enhance the interior living quality.[from Christy Allen Designs]
Enhancing your interiors with a fresh vibe will come in handy when the temperatures will go up suddenly. Do not overlook this aspect.
Your Own Private Spa
While some techniques involving vegetation and greenery do have a clear soothing and rejuvenating effect there is nothing more special then a private spa for instant relaxation. You can transform your bathroom completely and melt your problems away into care free days, what stops you? Bellow the Barcelona Daybed by Mies van de Rohe is impersonated creating a luxurious large seating statement but if you have no space available for such endeavors you can always use a vanity stool.  [photography by Beth Singervia EuroCraft Interiors]
A tropical touch trough specific greenery showcased bellow.
The powder room usually evokes a calm and relaxing effect especially if a verdant garden surrounds it visible through a huge glazed windows. In a less pretentious spatiality you can add potted topiaries, candles and aromatic plants to enhance the lounge in your tub.  [from Nigel Lewis Design]
Clutter and unorganized spatiality cannot be relaxing, it simply disturbs most of us. A sense of calm and serenity is offered by natural light, fresh air and over all clean natural looking things, the design must inspire appreciation and well being at the same time. [from Michael Hsu Office Of Architecture]
Resort-Like Bedroom Design
In the end we would like to present probably the most important part of our home in this small act. A collection of bedrooms meant to inspire a resort-style relaxation. In the bedroom we will appreciate rest and rejuvenation at its best. Tropical hues never failed to disappoint and will never do. Bellow the mismatched lamps are offering two perspective points in vibrant colors, enhancing the serene airy white.  [fromLonny]
Some bold colors and hues tend to be avoided in personal bedroom whilst being very popular in tropical resorts, few examples being olive green or sea teal. Honoring your favorite color palette in your bedroom will help you enhance that holiday feel and exude happiness.. [from West Elm]
Certain accessories must be considered in the thought process, from these we would like to mention mood lightning and comfortable pillows and textures. Personalize your relaxing spot as much as possible if you want to enjoy your setup to the fullest.[from Custom Furniture World]
Certain images or memories may help you relax instantly at a certain point, reason for which these should be an important part of your design, these may induce a well deserved peaceful contemplation.  [from Design Love Fest]
Life comes in variety of packages, all unique, whether yours is big or small, beautiful or complex you are the one making the calls in the end. You should make your life more enjoyable, you come first. Do not hesitate to tell us your opinion on the matter in the comment section bellow, on Facebook, Twitter or G+!