Disclaimer | This article may contain affiliate links, this means that at no cost to you, we may receive a small commission for qualifying purchases.
Homesteading sounds like a term that is quite archaic or rural in natural. It also gives off the vibe of something pleasant and serene, stuff that makes life feel good. By definition, it is an act of residing in a place wherein you make your home as a family. In practice, it is doing-it-yourself taken to the level of bare necessities.
What is Homesteading | Tips, Tricks and Essential Steps
Who Is A Homesteader?
A homesteader aims to be self-sustainable, growing one's own food and gathering resources without relying on help outside one's own familial borders. But, it doesn't necessarily need to be a drastic lifestyle shift nor does it require you to abandon the outside world entirely for basic sustenance. Homesteading is not just for the extremely ambitious ones.
It is for everyone.
It can be done by anyone.
But, if you have a lifestyle wherein you are resigned to dedicating a majority of your time in the office with little to no space for quality time at home or to do anything at home beyond the bare essentials, being a homesteader can be tough.
Because you've come looking for tips, I assume you are not the latter kind.
Is Homesteading Right For You?
The word home is imperative to the practice of homesteading, as obvious as that sounds. It is not just about self-sustenance, it is also about how a family or a group of individuals come together, take up responsibilities and work with each other to cultivate not just crops and fruits but also a healthy bond. Homesteading is about establishing yourself in a place you feel comfortable in, not a place you want to leave. People absolutely cannot gather the will to put in extra effort, and this does require a lot of it, if they do not feel motivated enough where they live.
So, do you need to homestead in a big, airy countryside house with a family or family-like friends who are ready to live the dream of living off-grid with you? Not really. You can start homesteading in a small space too, including an apartment.
In the end, it depends on what you want and what those who are going to homestead with you want. Not everyone has the same perspective or outlook towards something. While homesteading to you would mean establishing a large area for cultivation, harvesting everything from water to electricity to the very textile you use for your clothes, to someone else it might be as simple as growing tomatoes in the balcony.
And it isn't just about growing things. You can also preserve things so that you are not too dependent on making trips to the grocery store. You see what I'm saying?
via pinterest
How Many Ways To Homestead?
As mentioned above, homesteading is not restricted to the big, countryside self-sustenance. It comes in different types. You can homestead in your apartment, and it is aptly called an apartment homestead. You can homestead on a small scale in a house, known as a smaller homestead. You can homestead on a comparatively larger scale while still living in a metropolis, referred to as an urban homestead. Lastly, you can homestead the way it has always been in your mental picture: a large, traditional homestead.
The Apartment Homestead
Let's start with the first one, considering you're one of the many unfortunate twenty-first century dwellers who is losing out on large plots of land to live in even though you absolutely would love to have a sprawling space to breathe freely in.
An apartment homestead is not as bad as it sounds. There are many things you can grow, cultivate and husband even in something that basically provides you with just enough square feet to cover in tiles.
But, homesteading is all about self-sufficiency, even if it means being more clever about a few things to save a bit on the money or have healthier produce to eat.
Container Gardening
And in this regards, growing a container indoor herb garden in your apartment is a smart way to go about homesteading.
Even though there isn't a big enough space in an apartment, you can grow some plants in containers. It saves you from the hassle of tilling the ground and the there can be enough produce to sustain a single person or a nuclear family. Growing the plants in a small greenhouse helps you regulate their weather conditions more, and you enjoy the luxury of not being restricted to specific seasons.
Herb Gardening
In our everyday cooking, we do spend a lot on purchasing vital herbs. What if you could save on that by growing your own herbs? They do not require much space and can find a home even in a window. You are also treated to the exquisite scent of fresh herbs every day.
Hydroponic Gardening
You can give the hydroponic gardening system a shot, as it is cleaner, does not require soil, is more efficient, saves resources far more than potting and also increases the rate of growth of plants by many folds.
Poultry Farming
Hah. Husbandry in an apartment? Sounds absolutely ridiculous and impossible unless you use a Harry Potter spell to conjure enough space and amenities. But, it is entirely possible. Not for goats or cows and their ilk. But, small animal husbandry is still possible. Chickens, though messy and with a good amount of stink, are a popular option for people to raise for their abundant egg production. They are also small enough for an apartment. Quails and ducks are good alternatives to chicken, especially if you're looking for meat or more exotic omelets.
Fish Farming
Small-scale urban fish farming is another option to go with. This one stinks too, but that's how life on any farm goes. In actuality, urban fish farming has many benefits. Firstly, you don't have to spend a lot on buying fish from the market to cook. Fish can be costly for consumption if you are a lover of seafood and want a regular taste of the seas.
But, apart from just feeding yourself, you can run a local fish farming business right from your apartment and make considerable money from it. You will need to invest a bit in the aquaponic system, but it isn't expensive, to begin with.
Rabbits And Goats
If you want to venture beyond fish and poultry but not take up the big mammals, rabbits are a viable option. The downside to it? They can be quite adorable for consumption. Another option for you is raising pygmy goats. They are small enough to fit in your apartment and not only provide you with meat, but can actually help you save on something else that comes really costly in the market: milk.
Preservation
Growing is not the only way of homesteading. Preservation too is a smart way of saving resources. You can buy stock from a local grocery during sale days in bulk and save it for later. But, preservation is also complementary to container gardening. This applies to fish farming too. You can freeze, can and pickle away your produce for consumption at a later time.
You can also visit farms and purchase crops from a farmer directly. This way you remove the option of middlemen, thus paying a fairer price and also benefiting the farmers. You can buy crops that you know cannot be grown by you, and save them for later.
Community Gardening
When we can't do something alone, it doesn't mean we cannot do it at all. And if homesteading even with your family in an apartment seems out of the equation, you can do it with others in your neighborhood. Community indoor herb garden is growing in popularity by the year. Your workload is cut down significantly, and your investment is rewarded during harvest time.
via pinterest
Pantry Making And Cooking
Instead of spending on a lot of items for cooking, you can make them on your own by just purchasing the base ingredients they commonly share. Stocking up on pantry supplies, and bulk purchasing them, you can make everything from buttermilk to cookies to sugar syrup.
And similarly to stocking up food, cooking everything on your own is a smart choice, one that is more common in Asian homes than in other places. It saves a lot on your expense, rids the food off preservatives and risk of being stale, smells fresh and is healthier. You can experiment with recipes and are not restricted to the standard either.
Sounds delicious? Absolutely. And quite easy too.
Urban Homesteading
Urban Homesteading really isn't a distinct category, and more like an extension of Apartment Homesteading. While apartment homesteading presents you with challenges that emerge mainly due to lack of space, urban homesteading is for the suburban folks who can afford as less as one-fourth of an acre.
In urban homesteading, you can expand your farming to more than adequate levels, make more from fish farming and even include Dexter cattle to your husbandry plans. Dexter cattle is something like pygmy goats, but with a lot more proficiency in producing milk.
Even plans for a greenhouse and a hydroponic system gain from a larger piece of land. A well-built hydroponic system spread across a considerable plot of land does wonders for both your pocket and the plants as you will be growing much more with almost the same requirements you needed for it in an apartment.
via pinterest
Courtesy of Janko Ferlič
Ah, at last! A homestead that looks like one. Traditional homesteading is much more than a hobby and requires you to seriously consider and reconsider what you're investing in, both physically and monetarily. The larger the scale, the more difficult it is to manage. With a traditional homestead, you are spending a lot of hours and labor in keeping your consumption organic.
But, it's not all that tough. Traditional homesteading comes in two packages. Large and small. Starting with the small one, you will require an area of at least an acre and on average two acres. In a couple of acres, you can venture into fruit farming, crop farming, fish farming and animal husbandry at the same time. Vines, orchards, a couple of greenhouses, and a small field of crops seems quite feasible.
You need to keep in mind that homesteading the traditional way has demands that are sensitive to the weather. For animals, you will either need to grow enough fodder to store it for the winter, or buy it from farmers to save on expense. Either way, you will need to maintain a ledger and a calendar that cover all your homesteading sections on a day to day basis.
A large homestead eliminates the need for dependency as you can grow enough on it to help you maintain stock for your livestock throughout the year, including large cattle because that becomes totally possible in this scenario. From vegetables and fruits, alcohol and milk to meat and poultry, a large homestead provides enough space for all.
Photo Courtesy to Christian Widell
Are You Ready To Be A Homesteader?
Questions. So many questions. Indeed. Because you do need to ask yourself as many questions as you can as frequently as you can if you want to succeed at homesteading, be it urban or traditional, small scale or large scale. Homesteading is all about proactivity. Passivity is not only discouraged, but it also disables you from passing the first hurdle: time management.
Maintaining both a mental and a physical checklist is important for homesteading. Think like a researcher in a lab and not a hobbyist. You must take every step into careful consideration. Start by growing a couple of herbs. It seems basic, but once you have managed to master something as small as growing a herb to fresh and healthy consumable state, you can venture into increasingly complex endeavors. Plants are always a better option to start your homesteading journey. Plants, even if they die during your experiment, do not cause grief that would hit you, and guilt too, if you were to fail and cause fatal loss of life, and for naught.
Homesteading is the opposite of monotonous and mundane industrial work. Homesteading is like motherhood, you nurture living things, and that brings a different kind of feeling.
So, be proactive, feel active, contribute to the environment and homestead to your heart's delight, from either your backyard or your apartment.
You`re convinced and need free land for homesteading ? See this article !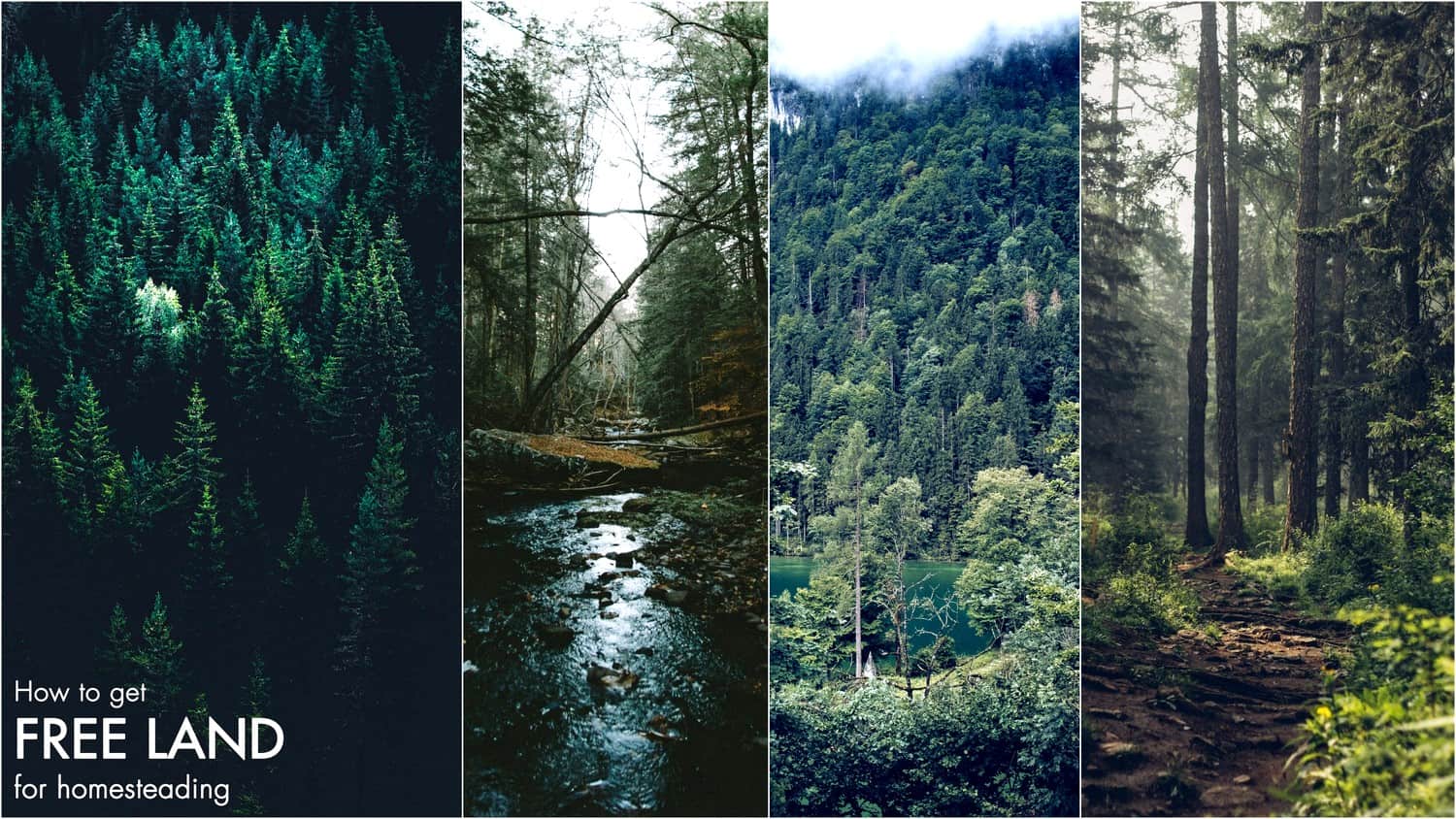 Related Articles
Free Land in Australia | Where Cheap or Free Land Can Be Found?
17 US Places Where You Can Find Free Land for Homesteading Today
5 Best Rotary Tillers for Tractor | Buyer's Guide and Reviews
3 Best Finish Mower Right Now | Buyer's Guide and Reviews
Effective Tips for a Weed-Free Landscape Design Today
5 Best Weed Barriers and Landscape Fabric for Happy Gardeners
7 Best Electric Fence Chargers | Buyer's Guide and Reviews
5 Best Sod Pluggers Right Now | Buyer's Guide
7 Best Cloning Machines | Aeroponic & Hydroponic Cloner