Searching for new fun and creative DIY projects which preferably imply recycling or up-cycling is a real extraordinary quest and from time to time the answer to this question lies in front of you. An accident led to the braking of a lampshade and to an impressive DIY craft.Today we have focused on a simple quite funny little project perfect for your backyard or front garden and by following this small guide you will Learn How To Create A DIY Concrete Garden Decorative Ball in little to no time.
Concrete projects are so fascinating due to their simplicity and raw texture which resides in each unique object created. As much as you might try there are little chances to obtain the same object each time; concrete has a will of its own in some cases and the results are all unique in one way or another.We invite you to try this small project as a weekend challenge and to follow the simple steps explained below.
Tools and materials required
#1. protection goggles-working with glass might be dangerous so be sure to protect yourself
#2. a round shape-we have used a glass one for a smoother texture but a silicone mold will suffice
#3. a glue gun- to seal the cracks
#4. a role of tape
#5. concrete mix-you can make your own mixture or opt for a store bought one-we recommend QUIKRETE® – Concrete Mix
#6. small hammer/cutter
#7. sandpaper if needed – for finishing the surface
1. First things first: choose an old lampshade with the right size for this diy object
2. make sure to seal all the possible cracks- we have used an old glass bulb and sealed the broken bits with a hot glue gun
3. in order to really keep the shape from breaking apart from the cement's pressure tape EVERYTHING together
4. MAKE SURE YOU HAVEN'T MISSED ANY SPOTS
5. now you can pour in the concrete mixture- we have made our own mixture but you could actually buy a formula already mixed for you and simply add water
Make the mixture fluid enough to fill the mold easily and obtain a smooth surface. Remember to use gloves to protect your skin from the aggressive nature of the concrete mixture.
6. make sure the form is filled EQUALLY and vibrate it to eliminate all the air bubbles
7. leave the concrete ball to rest and dry for at least 24 hours before BEGinning to reveal it
8. start by removing the tape from the glass ball
9. take your time with it in order not to crack the glass and get yourself injured
10. use a hammer to carefully break the glass form
This step definitely requires protection glasses as the glass ball tends to break into shards which can hurt your eyes.
11. if the form does not come of easily try very carefully to remove the bits and pieces still attached to your concrete ball
12. some bubbles will form no matter how much you vibrate the form but we think they give it a nice raw touch
13. there is just one thing left to do and that is to find the perfect spot for your concrete ball, we had fun rolling it around the garden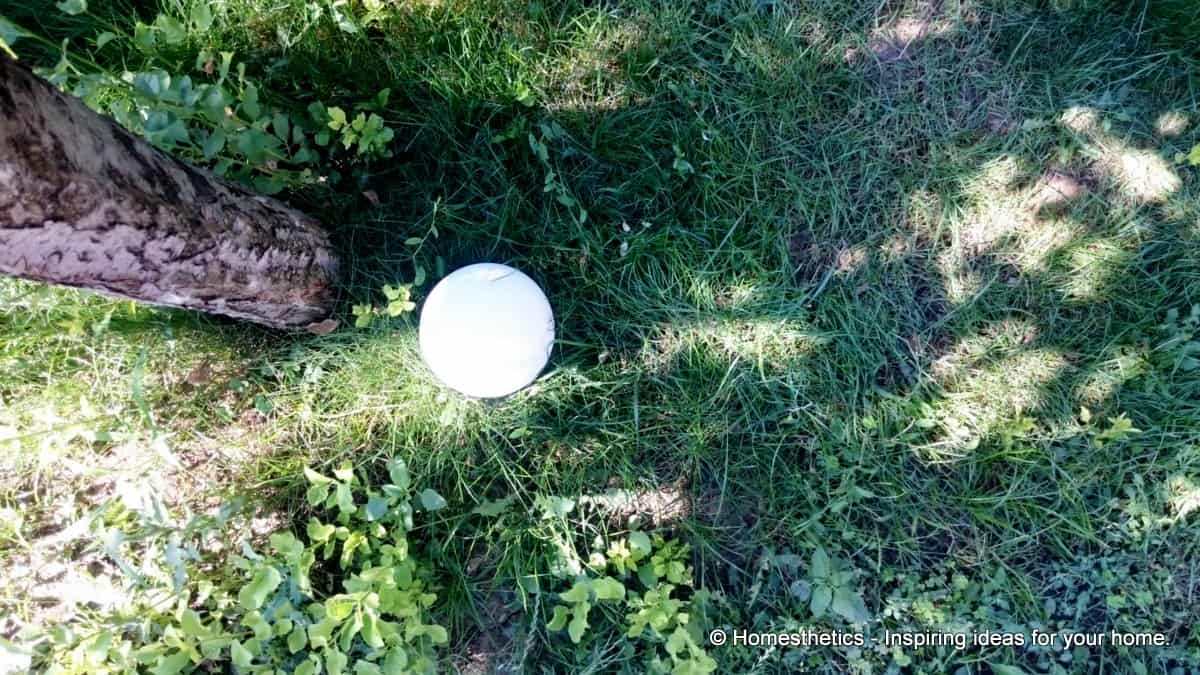 Due to the fact that we have used a glass bulb the texture of the decorative ball was very smooth and nicely finished. In any other case you can polish the surface with a fine sandpaper until you obtain the desired texture of the item.
What is your take on this simple fun DIY project? Would you try to make a concrete garden decorative ball for your backyard? We invite you to leave your valuable feedback below together with your own attempt at this DIY craft.