The roof system is an item very often overlooked when we imagine and envision our dream homes. Every now and then the color might be mentioned in our dreams description but rarely details go further than that regardless of their immense impact on the home aesthetics and functionality. It goes without saying that having a watertight roof is an insanely important thing to check on our list. We will present you underneath a few different roof types that are able to really change the image of your home or future home into something remarkable.
#1 Sustainable and graphic green roofs
Green roofs are a world wide phenomenon today as building elements and waterproofing systems are performing better everyday. The immense public benefits of these systems are highly recommended , besides the obvious tremendous aesthetics value improvements.
Green roofs are able to contribute effectively to landfill division by prolonging the life of waterproofing membranes, heating, ventilation and HVAC systems by decreasing their use and reducing associated waste. The use of recycled materials in these systems improves the sustainability factory to great extents as well.
Roofs wearing green in the world are also improving the air quality thanks to the plants carried, they can alter the temperatures both in the exterior and the interior as well as filter noxious gases around the home. They are able to help your home with storm water management and if used in large numbers they can reduce the urban heat .
#2 Swimming pool roofs
The advantages of swimming pools on your roof are quite clear: you obtain a different isolation medium on your home along with a new social core. Swimming pool roofs are often the advantage of dream homes or sky-roofs in metropolitan areas where luxury is nestled in details.
It is worth knowing that the supra-structure required to keep a function-able roof system on your home will increase the weight of the entire home dramatically both loaded with water and empty alike, increasing the overall rigidity of the structure and directly influencing the behavior to natural elements like earthquakes; these practical downsides reducing their presence in individual homes.
A very rare solution in the world that really shapes words like "extravagant" or "ludicrous". These solutions are meant to target the luckier individuals that get to see the world with different eyes. They are used in high end hotel and resorts around the world and they are able to offer expansive views from hand picked perspective points in the most comfortable way possible.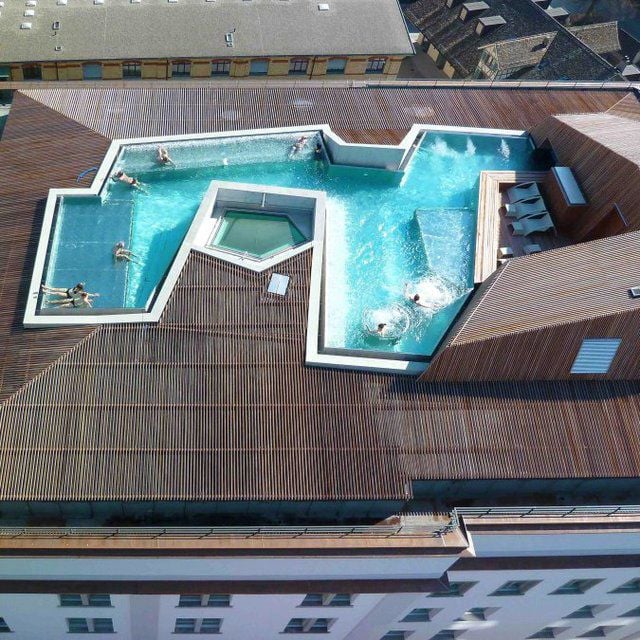 The Thermal Bad in Zurich is a memorable example of a complex spa roof ensemble. Zurich is renowned for the hot springs that lie beneath the city. Some historians agree that it was not the Romans the ones who laid the first structures but the Celtics and the city's name is derived from the word for water, 'dur' as a reference to the lake and the springs. One of these mineral springs is placed below the Hürlimann Brewery, which is placed somehow above the city, offering a great panoramic view. The building is very well preserved; in order to accommodate its new function the structure has been revamped, enabling visitors to swim inside and outside as well; the exterior pool has been placed on the roof, requiring some dramatic changes.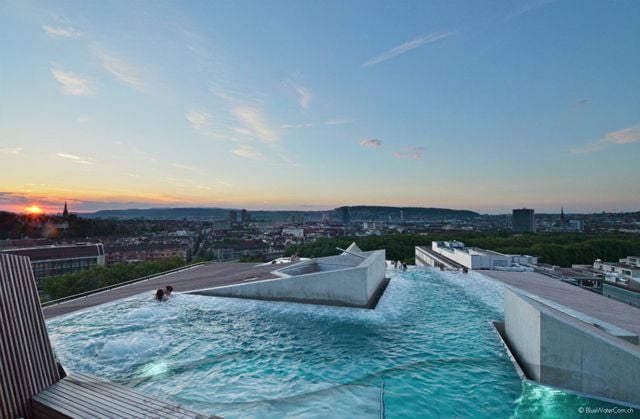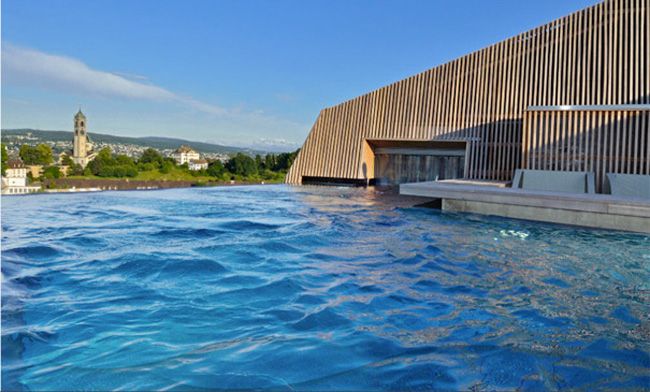 #4 natural MOUNTAIN slopes used as roofs
Dream home is a word used by different individuals for very different buildings or spaces. These dream homes can mean private islands with helicopter ports and private jets around a tropical home or a hole in the mountain where two three rooms can rest in plenary silence at the chilling atmosphere infused by the mountain. There are thousands that are considering privacy the supreme gift in the world and for those certain retreats dug in the mountain can be the pure definition of luxury .
Mountain dug homes are offering multiple advantages and disadvantages alike as the waterproofing and digging are very hard to realize in heavy rock. The extreme personal location of the home and the customization factor are making the effort rewardful though; just close your eyes for a little and imagine that you would be able to pick with fairy tale scenery in front of you will feed your eyes each morning. Man made homes covered by earth and rock can be reproduced as well but its stance and nurturing effect will be without a doubt reduced.
#5 classical ceramic or contemporary fiberglass roofing
As the fast pace of evolution is injected into our lives the inertia becomes a dream for most. Classical prairie homes or Mediterranean mansions are becoming far less often in the world as natural elements cannot contest the ability of today's composite solutions with anything but exclusivity and aesthetic values. Today a ceramic roof will suffer in comparison with a fiberglass roofing as these will be fair easier to install, replace repair and maintain on an easier home structure that will reduce the costs of the entire home.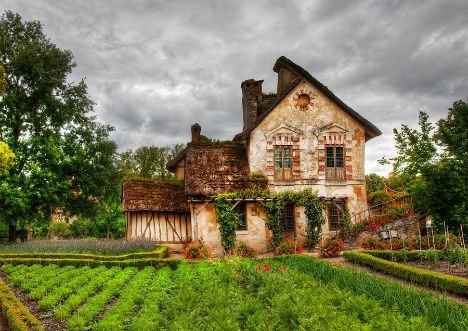 The dream home of many today, me included, pictures a small french cottage like home nestled into an immense green oasis where birds and animals are animating the scenery. Certain contemporary solutions are bringing these dreams closer to us thus sacrificing the authenticity of the result .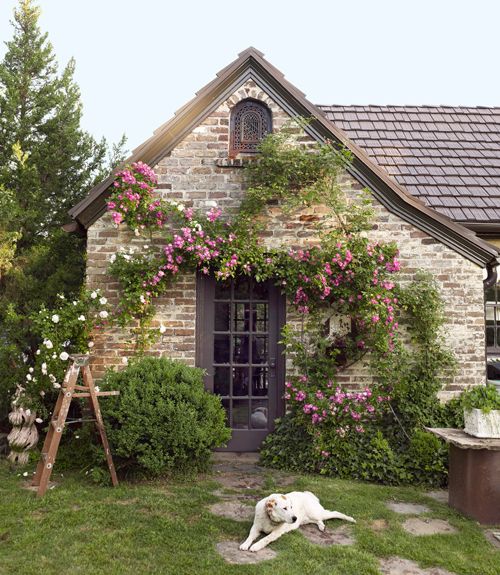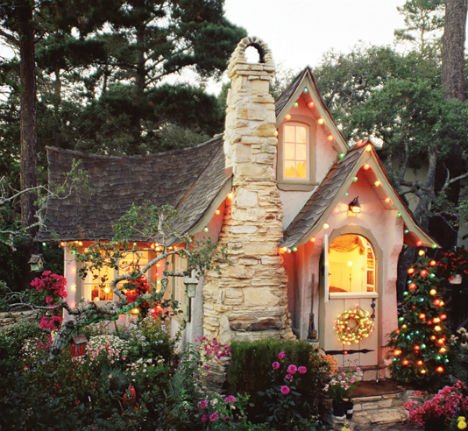 #6 parametric wood and metal solutions
Today`s computational area is influencing every domain, architecture included, inserting the immense processing power of the computer into a complex geometric areas solvable through algorithms. Programs like Maya and Rhino along with Grasshopper are sculpting breathtaking unimaginable spatialities with ease today, things really unimaginable two decades ago.  The pioneers of organic parametric architecture have set the basses a long time ago but only today contemporaneity can understand and glance at its immense beauty.
#7 simple wooden roof systems
Simplicity is the ultimate sophistication in the end. The nobility and elegance of a natural element that evolves and transforms throughout its life every day is simply fascinating and beautiful. Wood is a renewable element after all, easily replaceable, a pure constructive element that will really change how the world perceives your dream home through immense coziness and warmth. It is quite clear that properly maintained wooden surfaces and constructive elements can last thousands of years so its fragility is no excuse.
What do you think about the different types of roofs presented above? We would love to hear your opinion in the comment section below on the subject. Waterproof roofing in special ensemble is definitely not an easy thing to obtain in your home but with patience and dedication this can be realized in any complex system.