Are you looking for smart organizational ideas? If yes, you are at the right place. In this article you are going to have the chance to see some Awesome Ways To Organize Your Home With Pegboards. Yes, pegboards! They can be reused in the home in so many different ways, and will help you to organize your items with ease.
Scroll down through the photos to see how a pegboard can change the way your home looks like! You will fall in love with every single one of the ideas and you will definitely want to incorporate a pegboard in your living area!
If your kids are into sport, they probably have lots of sports equipment, so the pegboard gives you a chance to put it all in order in just a few simple steps!
Did you recently have a baby? Then you know how messy your home has become since then with all of the products for baby care that you now have. Adding a pegboard on the wall, will organize all of them, and you will be able to find them quickly and easily.
This is the perfect design for the fashion mogul who makes clothes. Display all the threads in different colors on the wall, and find the one you need in no time.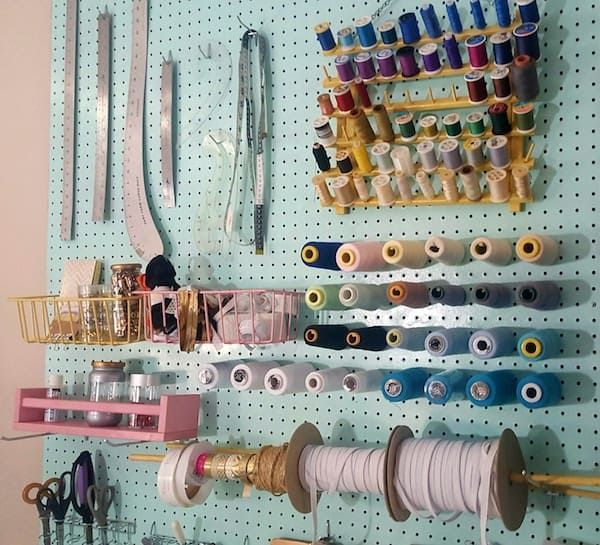 A pegboard just above your bed? Why not? It will serve you as a great decoration, plus you can add baskets so you can leave your things close to you when you go to bed, and of course keep your books close.
Add a pegboard on your entry door and organize your accessories when you get back home. In this way you will never lose your sunglasses, hat or bag again.
Go bold, and turn the whole wall into a pegboard. Add lots of shelves and other containers to organize the small things in the room in an outstanding fashion.
Have you ever thought to display your hanging plants on a pegboard? Give it a try!
This is the design that food lovers will like the best for sure! Keep your kitchen utensil organized up on the wall, and never spend time to look for them in drawers and cabinets.
Girls have an abundance of necklaces, earrings, bracelets and other accessories, they can easily make a mess in their rooms. Thanks to the pegboard, they will never get tangled again.
The giant pegboards can really make a statement in the home, so take them in consideration if you want to make a change in your living area. Which is the design that you like the best?
What do you think about the ways to organize your home with pegboards exemplified above ? We would love to hear your feedback in the comment section below !
Related Articles