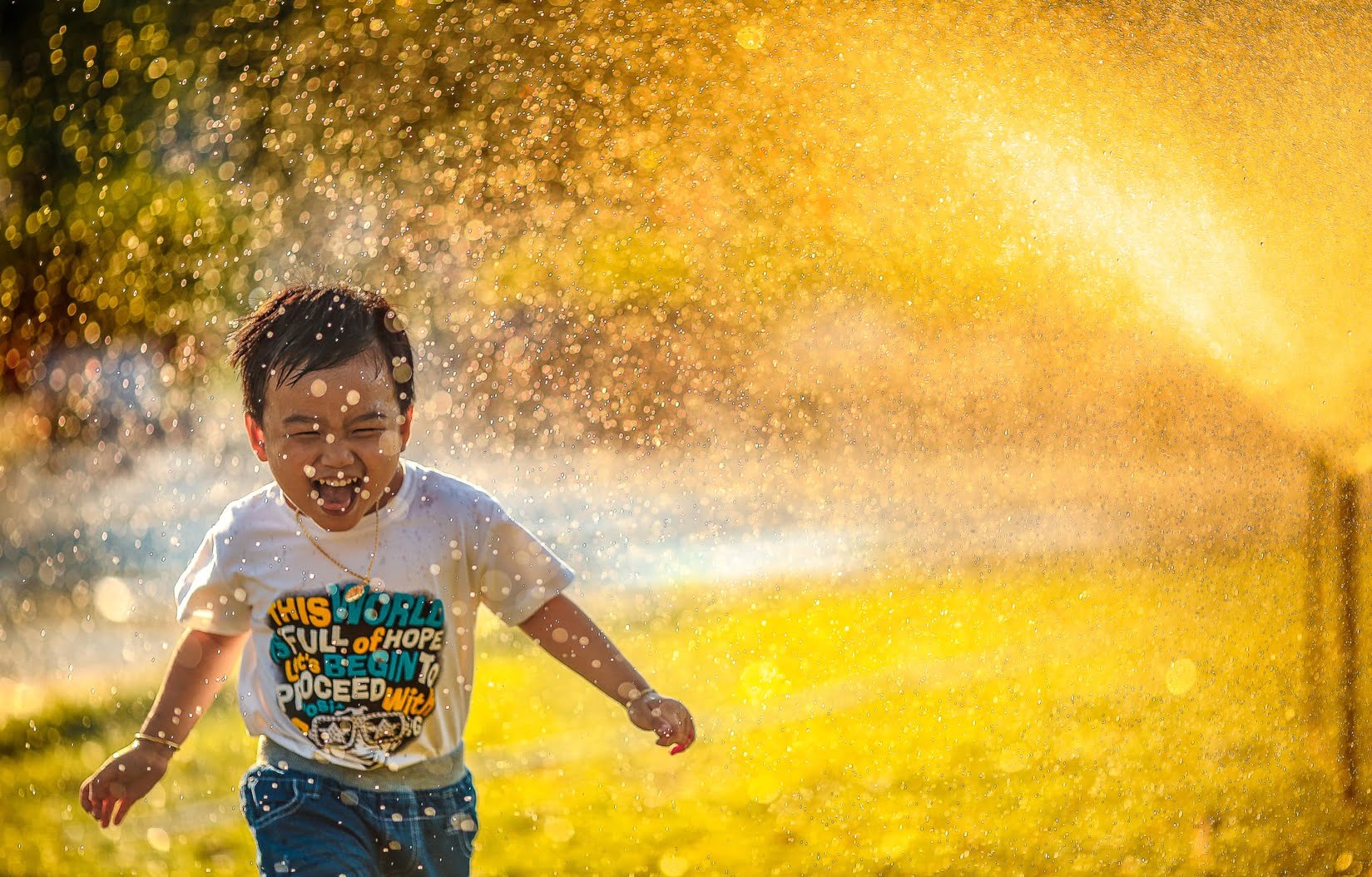 It must have been a lot of work for estate owners and gardeners to water large lawns before sprinklers came into the picture.
And not just estate owners, everybody deserves a lush, green lawn that they can be proud of. Also, with weather fluctuations on the rise, you can't just rely on mother nature to feed your grass with sufficient moisture and warmth. 
What you can do is get a high-function sprinkler that offers seamless performance and makes your garden look vibrant with all shades of green. Nevertheless, when you walk into a hardware store or shop online to buy the ideal sprinkler, you are bound to be bogged down with a ton of choices. 
You start wondering- "Where to start? What specific kind of sprinkler should you get for the variety of plants in your garden?"
Before you give up, and just reach for a standard hose and nozzle, cast a glance at our comprehensive guide. We have handpicked 13 best-value and highest-rated sprinklers available on the market right now.
Thus, without any further ado, let's get to sprinkling right away!
 Top Lawn Sprinklers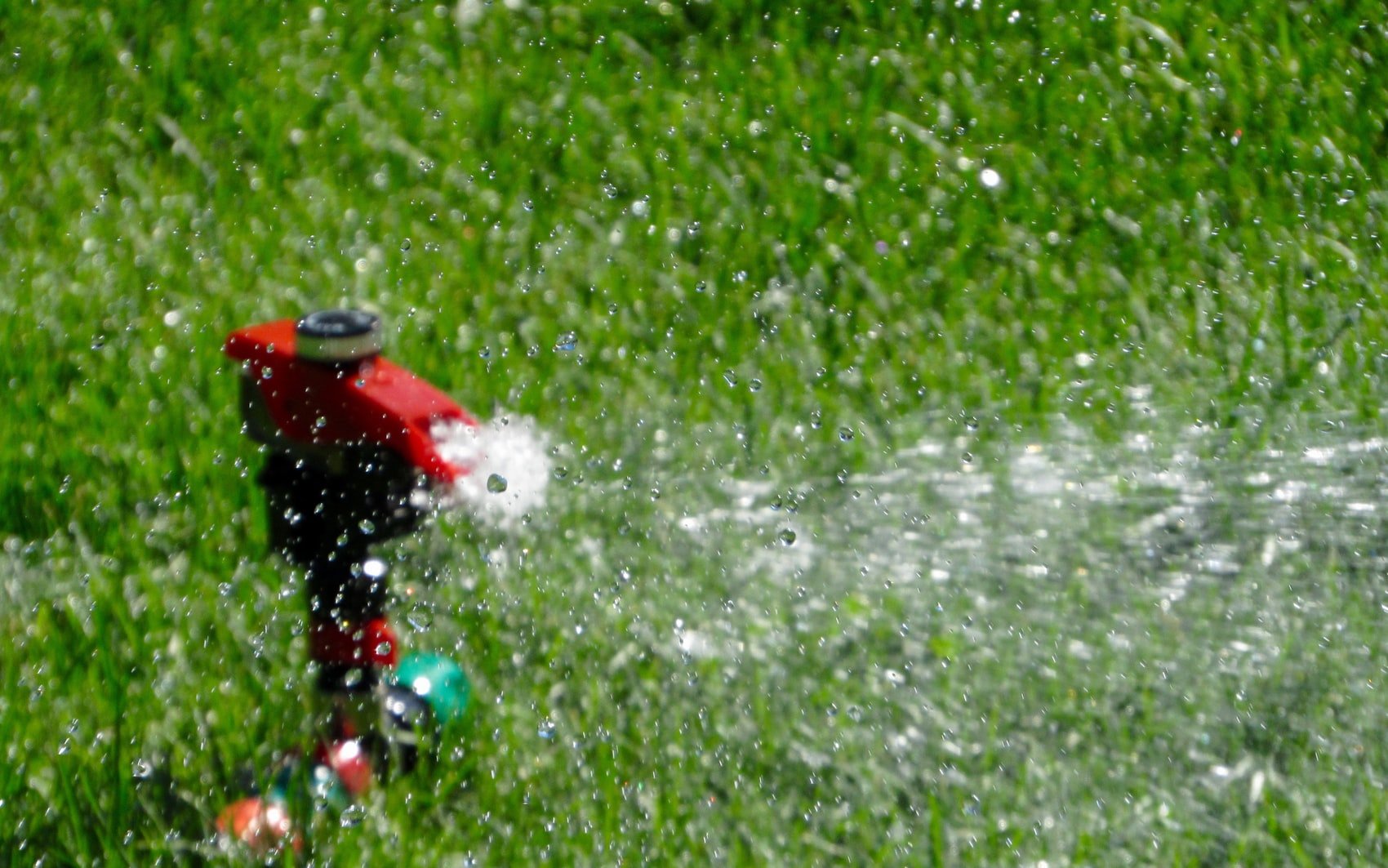 Nelson is a renowned brand that does not require much of an introduction. Since 1965, Nelson Rain Train models have helped several homeowners to take care of their yard effortlessly. On that note, the first entrant on our list, the Nelson 818663-1001 continues to carry forward the brand's legacy. 
It is one of the best traveling sprinklers with some of the most innovative features available today. 
Why Did We Like It?
Our first impression of the Nelson model was nothing short of admirable. And this is mainly because of its ability to water the entire lawn at a go. Since it travels, it can move a total of 200 feet and water an area of up to 13,500 sq ft, thus making sure it covers every nook and corner of the lawn along its way. 
As the name suggests, this model has been designed to water the lawn like the rain. This is mainly possible due to the shape of its arms. Apart from that, unlike its competitors, the arms of this sprinkler can be adjusted to the preferred curve or even aligned to the water's angles. 
When it comes to construction, this 818663 model of Nelson is highly durable. It is built out of cast-iron, which makes it resistant to dents, scratches, and other forms of damage. Apart from that, it's yellow powder-coated finish also makes it rust and weather-proof. 
Furthermore, it comes equipped with an automatic shut off feature that saves you the hassle of switching it immediately after use. Last but not the least, the unit has three-speed settings that give you ultimate control over the water speed  as per your lawn needs. 
What Could Have Been Better?
While this sprinkler is perfect in terms of high-functionality and durability, two things kept us from giving it a 5-star rating. First, some parts such as the gears are made of inferior plastic materials. Second, the product tends to be overpowered by high water pressure, which makes it a tad bit difficult for many to use it with ease. 
Pros
Capable of traveling up to 200 feet

Can cover up to 13,500 of lawn area

Solid cast-iron body

Adjustable aluminum spray arms

3-speed settings
Cons
Gears made of inferior plastic materials

Becomes overpowered with high water pressure
Rain Bird is one of the few companies that can offer you everything to set up a remarkable underground system. Likewise, their 32ETI model is one of their elite products in the world of lawn sprinklers. Designed to water an area of 3,000 sq ft in the most affordable price range, this model is our silver pick and one of the must-buy products on our list. 
Why Did We Like It?
After a series of tests and thorough scrutiny, we can say that for the ones who are looking for a remarkable model that delivers value for money- the Rain Bird 32 ETI can be your way to go. 
Coming to its core features, the kit comes with six retractable sprinkler heads to cover up to 3000 square feet of your lawn area. Each head is able to provide a 40-360- degree arc that allows the sprinkler to water up to 24 feet with simple adjustable features.
However, the cherry on the cake is the patented "Rain Curtain Watering technology." This unique feature helps the machine to cover your entire lawn evenly and eliminate all brown spots, even those that are in the corners. 
Furthermore, it comes adorned with a big display 1ZEHTMR hose end timer that we found quite easy to program. All you need to do is enter the desired watering days of the week, start time , and duration. This advanced timer will do the rest all season for you. 
Last not the least, it also includes advanced features like "Water Now" or "Cancel Watering" that can make your life easier like never before. For its price, we honestly couldn't have asked for more!
What Could Have Been Better?
While each feature of this unit is nothing short of perfect, the spray nozzles included with the sprinkler heads are too small to conserve pressure and water. Besides, while testing, we found the advanced timer to not work accurately, which created quite an inconvenient situation for us. 
Pros
Rain Curtain Watering Technology

Presence of "Water Now" or "Cancel Watering" features

1ZEHTMR hose end timer

6 retractable sprinkler heads with 40-360 degree arc
Cons
Small spray nozzles

Timer does not work accurately
For those concerned with critters wreaking havoc in your yard, this deterrent sprinkler with day and night detection options is worth giving a try. Orbit Irrigation comes with a massive experience of delivering irrigation products, which is why we tried their 62100 model.  And, this unit with a one-smart sensor and durable build simply left us impressed beyond expectation.
Sale
Why Did We Like It?
Let's start with the unique advanced features we have mentioned before. This is a high-quality motion-activated sprinkler that is engineered to combine sound, motion, and ingenuity. It also drives away small critters and pests from your precious landscapes and garden. What we really liked is that it only squirts water with a pressure that will certainly not harm them. 
To make it even better, the model comes equipped with a passive motion sensor that can detect all animals from up to 40 feet away. Meaning, no longer you need to stress over protecting your beautiful lawn. 
Also, it's impressive how the model has been engineered to provide an adjustable line of sight. This made it possible for us to position the sensor and the sprinkler in a specific direction. While we concentrated on growing new veggies, the sprinkler chased away any intrusion from critters.
It also uses 4AA batteries, which is enough to last for 7500 cycles, an aspect that is sure to make your life easier. 
What Could Have Been Better?
As brilliant and unique as this sprinkler is, it is not flawless. The only gripe we have with it is related to its night detection mode. Despite being set to "always-on" mode, it stopped working during the night, which became quite a bummer for us.
Pros
Offers 7,500 activation cycles

Sensors for day and night detection

Provides an adjustable line of sight

Passive motion sensor
Cons
Night detection mode stops working
Nobody understands the essentials of a lawn sprinkler better than Melnor. The brand has launched its XT turbo oscillating sprinkler, which is already competing with major players in the market. So, what makes this product so demanding these days?
Why Did We Like It? 
As we have mentioned before, Melanor is competing head to head  with its rivals when it comes to delivering versatile products. And, it's XT Turbo oscillating sprinkler is no different. With its unique clog-resistant design, this sprinkler ensures the uphill task of removing and resisting clog as easy as a breeze. 
We appreciated the fact that unlike the majority of sprinklers available today, this one comes with a patented one-touch adjustment feature. It helps not only in the irrigation of more than one area up to 3900 sqft but also in controlling the width of the watering pattern that is exclusive to Melnor.
Speaking of advanced features, this model comes equipped with an advanced even flow control technology that not only helps the sprinkler to throw  the water in narrow areas but also to distribute the flow evenly. 
Not to forget, given the price, the product offers 18 precision nozzles made of rubber, among which six of them have a positive shutoff. These rubber nozzles help you control the width, length,and even the coverage of the water flow with proficiency. 
What Could Have Been Better?
Though this oscillating lawn sprinkler is quite efficient at what it does, we were disheartened with one major issue. Though this model promises an ideal coverage of 3900 sqft, we found it to be not suitable for coverage of wider areas of our lawn. 
Pros
Even flow control technology

18 rubber nozzles for a better water spread

Patented one-touch adjustment feature

Affordable price range
Cons
Difficulties in installing the sprinklers

Not suitable for wide areas
While talking about reputed manufacturers who deliver only top-notch lawn sprinklers, we cannot afford to miss out on one of the most reliable brands, Gardena. Its highly versatile ZoomMaxx oscillating sprinkler is one of the most compact and sturdy models we have tested so far. Let's dive deep into its nitty-gritty and find out why we are so thrilled with this product. 
Sale
Why Did We Like It?
To begin with, the goodwill of Gardena itself speaks for the quality of this sprinkler. Likewise, the ZoomMaxx model sets higher standards for oscillating sprinklers for small spaces and strange dimensions. 
Speaking of spaces, unlike most of its rival oscillating models, the Zoomaxx comes with a modest coverage of 2,300 square feet and a range of up to 30 feet. This makes it suitable for covering the many needs for all kinds of yards, from small to medium. 
As per reviews, we found this model to be a popular choice among countless buyers due to its built of high-grade materials like metal, rubber, and plastic amalgam. This allows it to withstand the wear and tear caused by continuous use. What's more, there's also a unique metal spike design that can help you to set the sprinkler even on slanted topographies. 
All in all, from functionality to price, you can consider this model as your next sprinkling BFF. 
What Could Have Been Better?
Like other models, this unit also comes with its fair share of setbacks. The largest being the absence of a number of indicators on adjustment dials and levers. This means it is essential to memorize their position, which can be frustrating, especially for beginners. Plus, it causes severe blockage due to the absence of a cleaning kit for unclogging the nozzle. 
Pros
Ideal for small to medium spaces with irregular dimensions

Metal spike design

Coverage of 2300 sq ft

Durable construction
Cons
Lack of indicators on adjustment dials and levers

Absence of cleaning kit for unclogging nozzle
Rain Bird has bagged another position on our list with one of its bestselling models in the market- the PRLSP plastic lawn impact sprinkler. When it comes to premium features, it's quite a task to find a top-value product like the P5RLSP that offers such seamless performance and impressive durability. 
Sale
Why Did We Like It?
As soon as we saw the raving reviews of this product online, we knew we had to give it a try. And frankly, we weren't disappointed a bit. 
Now, although this sprinkler is made of plastic, the majority of its reviews are for its supreme performance. Mounted on a robust metal stake with a portable hose-end, this model is made of the finest of plastic that seems to hold up well over the duration of its life. 
Apart from that, it also has a double brass-weighted arm for a slower rotation. This ensures you have better water coverage and even spread for even the most delicate orchids and precious African violet in your garden. 
Not only that, this brass weighted PJ spray guide arm operates well to prevent side splash onto your sidewalk and drive water. And, thus contributing greatly in saving water resources.
Also, the infinite pattern adjustment helps the sprinkler rotate part-circle or 360 degrees with ease, hence, making this model a top contender on the list. 
What Could Have Been Better?
Although the robust construction enhances the unit's durability, it comes at the cost of reduced versatility. If some reviews are to be believed, this unique impact sprinkler fails to do its job of watering a garden with more extensive coverage. Also, the manufacturers should consider providing an easy to follow instruction manual for the convenience of its customers. 
Pros
Infinite rotation adjustment

Water saver arm

Uniform coverage

Highly durable

Side and backsplash almost nonexistent
Cons
Unclear instructions

Doesn't work well for large areas
Although Watex is comparably a new entrant in the lawn sprinkler industry, this brand has been creating waves since 2016 with its innovations. Watex's slogan says, "Gardening is not just a hobby; it is a way of life", and they truly achieved that with their WXO44 model. 
Designed with a heavy-duty cast iron body, this self-propelled sprinkler can be one of your favorite allies with its supreme functionality and durability.
Why Did We Like It?
To start with, we want to draw your attention to the unique looks of this sprinkler. This highly-reliable model comes with a tractor look that is extremely fun to watch. All you need to do is switch the unit on and enjoy it going around watering your garden, making it lush green.
Speaking of durable construction, this compact tractor sprinkler is built of heavy-duty cast iron and made to stand the test of time. Although some of the internal parts are made of plastic, it provides the provision of replacing them if required. 
We also need to mention that this self-propelled model comes equipped with a 2-speed internal gearbox. This means it can easily traverse a 200-foot hose path, while evenly distributing water across a total coverage area of up to 11,900 sqft. Thus, it can be one of the best options for the irrigation of your extra-large backyard. 
The cherry on the top is the automatic shut-off feature. This means you no longer have to remember to stop the sprinkler when you could be doing something else.
What Could've Been Better? 
Although Watex did an amazing job of bringing something new to the table, it could not get everything right. We found it to be a tad bit heavy and extremely slow for our liking. Also, it can get stuck in a wet spot, so you have to be extra cautious about that. 
Pros
Durable cast-iron construction

2-speed gearbox

Water coverage up to 11,900 sqft

Automatic shut-off feature

Appealing truck-like design
Cons
Heavy and slow

Can get stuck in a wet spot
GrowGreen is one of those global brands that we cannot have enough of when it comes to choosing sprinklers with optimum performance. Out of the box, this 360-degree rotation model of GrowGreen stands out to be one of the most versatile sprinklers available. Not only is it highly durable, but also can give some popular brands a tight run for their money with its advanced water conservation technology.
Sale
Why Did We Like It?
While testing, we've observed that though it may lack the bells and whistles that come with our top-ranked models, this unit does not compromise on performance. 
Speaking of performance, this model comes with an 80 PSI water pressure and a 32.8-foot spray distance that helps it to cover all small to medium-sized lawns. Apart from that, it also boasts of a 360-degree rotation feature. This can provide you with the much-needed relief from the worry of parched patches by evenly watering the grass.
When it comes to conservation of water, GrowGreen has also engineered this model with an advanced water conservation technology that ensures the minimization of water resources and prevents overwatering. 
What Could've Been Better?
To be honest, while testing, we found that this product would drench you while it is moving. Unless you like to get wet while sprinkling your lawn (which nobody does), this bug can cause an inconvenient situation for you. Furthermore, the manufacturers should provide a cleaning kit for the nozzles of sprinkler, as it often tends to get clogged with debris. 
Pros
360-degree rotation

80 PSI water pressure

32.8-foot spray distance

Advanced water conservation technology
Cons
Drenches the user while moving

Lack of cleaning kit for nozzle
Yeah, we can't get over the high-efficiency and convenience of traveling sprinklers. Thus right after the Watex model, we thought of giving this innovative 58322 model from  Orbit a try. While there are ample other brands of best traveling lawn sprinklers, this Orbit model with its unique features is a class of its own. Let's check what this device has to offer in detail. 
Sale
Why Did We Like It?
If you are thinking of making an investment in a decent lawn sprinkler, one of the most crucial factors you should look for is its durability. And, in this aspect, Orbit truly beats the game. The 58322 model has been designed with a rust proof cast iron body, providing it the necessary durability and weight required for reliable water delivery to medium and large lawns.
Speaking of movement, this model also features a unique and functional design that allows it to travel along the designated path without stalling. Not only that, it also comes with a spiked rear wheel that ensures a secure grip on the soil for smooth maneuverability.
Another aspect worth mentioning is this model comes with three advanced speed controls: high, neutral, and low-speed gears. These gears will help you determine the speed of the movement of the sprinkler and the quantity of water it will spray perfectly. 
What Could've Been Better?
Everything was going fine with this sprinkler until we came across some user reviews saying that the speed options it comes with are slower in operation. Also, we've found that unlike most of our recommendations, this model isn't quite efficient in watering overgrown lawns, limiting its efficiency to some extent. 
Pros
Highly durable

Can travel on a designated path

Spiked rear wheel

3 advanced smooth control gears
Cons
Speed control gears slow in operation

Not suitable for overgrown lawns
The next top-value product we want you to consider is a heavy-duty turret sprinkler from the reputed brand Dramm Watering tools. You can take your pick from six vibrant colors -red, orange, yellow, green, blue, and berry. Unlike all the other recommendations on our list, this sprinkler comes with 9-pattern dials that can help you water your lawn of any shape and size.  
Why Did We Like It?
This product takes the cake for power and performance with its 9 easily-adjustable "pattern dial." All you need to do is simply twist the dial to select between different shaped patterns ranging from the circle, rounded square, rectangle, outer ring to half square-to effectively water your lawn of any shape and size. This precision not only allows you to direct the water accurately where it is needed but also reduces unnecessary wastage. 
Furthermore, this 9-in-one-unit like the Orbit traveling sprinkler is designed with a heavy-duty metal base that is made to stand the test of time. It also comes with engineered reinforced ribs that will stand up to many years of use, even if it is stepped on.
But that's not all, this high-function model also comes equipped with a low profile and cast in storage loop. This feature allows you to store your turret sprinkler when not in use easily and conveniently. Oh! Did we mention? It comes with a limited lifetime warranty to back the unit greatly.
What Could've Been Better? 
Well, there's certainly no way we can sugar coat this, but this lawn sprinkler doesn't truly live up to its promises of being the most versatile sprinkler in the market. If some reviews are to be believed, the water pattern fails to work for large yards effectively. Apart from that, this product turned out to be a tad more expensive for our liking. 
Pros
Available in vibrant colors

9 easily adjustable pattern-dial

Durable metallic base

Reinforced ribs

Can be stored easily
Cons
Expensive price range

Water patterns do not work effectively for large yards
We stumbled upon the Green Mount lawn sprinkler while searching for low-priced models that can meet all our basic requirements. We must say, with this impressive model, you can kill two birds in one stone- one being "affordability" and another "high-functionality." Although it isn't the most efficient lawn sprinkler we have come across, it still offers decent performance. 
Why Did We Like It? 
Initially, we assumed it to be one of those standard conventional sprinklers that you find in the market. However, after  unboxing it, we found it to be a highly-functional unit that not only comes with a beautiful design but is also incredibly practical to use. 
When it comes to performance, this heavy-duty impulse model comes with a two-arm metal sprinkler head that can be used for watering both large and small areas. This also holds the capacity of reaching up to 24 feet, thus offering garden lovers a complete solution for watering new seeds.
Besides that, the body of this unit is covered with ABS to prevent erosion on both the surface and inner components. Also, it has a diffuser shield that is made of corrosion-resistant metal to ensure that the jet of your sprinkler never wears away from the high-speed water spraying. 
Last but not the least, it comes with an auto-rotate feature that enables it to rotate 360 degrees. In a nutshell, this sprinkler, though not efficient as other top-ranking models, can be considered a powerhouse in itself. 
What Could've Been Better?
 While testing this product, we encountered an important issue, i.e., the sprinkler is absolutely not very suitable for watering a newly seeded lawn. This aspect gives it a considerable disadvantage against its rivals in the market. 
Pros
Construction is corrosion-free and durable

Multifunctional sprinkler

360-degree auto-rotate feature

Impressive design
Cons
Not suitable for watering a new seed lawn
There is no doubt about RainBird's quality as they have consistently introduced a brilliant line of irrigation products for farms, golf courses, sports arena,and commercial homes since 1935. The 35ADJTNTB brass impact sprinkler only confirms its reputation and makes the penultimate position on our list as one of the budget-friendly options available today. 
Sale
Why Did We Like It? 
For those who enjoy kicking back on a hot sultry afternoon and taking in the hypnotizing sound of a traditional sprinkler, this model of Rainbird can be an ideal choice for you. 
It's their classic pulsating tick-tock type of sprinkler that ensures you have good coverage of your yards. Also, it comes with a diffuser screw that breaks the water into uniform droplets while its bronze PJTM spray arm effectively refrains the water from splashing sideways. 
Apart from that, the presence of high gallon output and ¾" male pipe thread connection ensures better coverage and easy installation. 
When it comes to durability, this product from RainBird reportedly outranks most zinc sprinklers available in the market. This is mainly because it is built with high-grade quality materials like brass, bronze, and stainless steel that ensures its reliability and longer life. 
Furthermore, it also comes adorned with adjustable coverage, so you can make this model go a full circle rotation or all the way down to just a 40-degree angle for the better coverage of even the small corners of your lawn. All in all, this can be quite a good option to consider if you are short on the budget in the present. 
What Could've Been Better?
You might be thinking why we ranked this sprinkler lower on our list, especially after reading that it comes with all the basic features of a sprinkler. 
Well, the reason is that it fails to work with a hose. This means you are required to have an irrigation system set up with proper pipes and stuff. Apart from that, we also noticed it to back spray, so there will be a huge wastage of your water resources. 
Pros
Decent and adjustable coverage

Adjustable spray distance

Diffuser screw

¾" male pipe thread connection

Sturdy
Cons
Does not work with a hose

Unnecessary wastage of water
The ultimate recommendation on our list is none other than the Orbit 5667N lawn impact sprinkler, one of the best tripod base models in the market. For those who are on the lookout for one of the best-selling sprinklers without going over your limited budget, this durable-constructed tripod from Orbit may just be your cup of tea. 
Sale
Why Did We Like It?
Professional gardeners are quite a fan of this product mainly due to its remarkable durability. To put it simply, this model is designed with high-quality zinc materials that make this sprinkler last for seasons together. It also features a 0.5-inch zinc male threaded impact head that allows it to sprinkle water over an 80 feet diameter. 
Speaking of the feature that makes it one of the best-selling models out there, this unit comes with a sturdy tripod base that can adjust from a moderate 16 inches to 37 ½ inches height. This allows the unit to water both the low bushes and tall trees of your garden efficiently. 
We also loved the heavy-duty brass head it comes adorned with. This head can be attached to any standard garden hose through a gooseneck attachment. 
Apart from that, it also can be adjusted so that it rotates in either a partial or circle to meet all your multifarious gardening needs. 
What Could've Been Better?
Well, this could have been the perfect bridge between a high-end and medium lawn sprinkler, but some users complained about its adjustment clip to be flimsy.
 Also, we found while utilizing the device at high water pressure that it went onto two legs instead of putting the weight equally on all three legs. This means that this tripod sprinkler is only worth your investment if your lawn area is flat. 
Pros
Durable brass construction

Sturdy tripod base

Can reach up to 80 feet

Adjustable height and rotating head
Cons
Flimsy adjustment clips

Only works on a flat surface area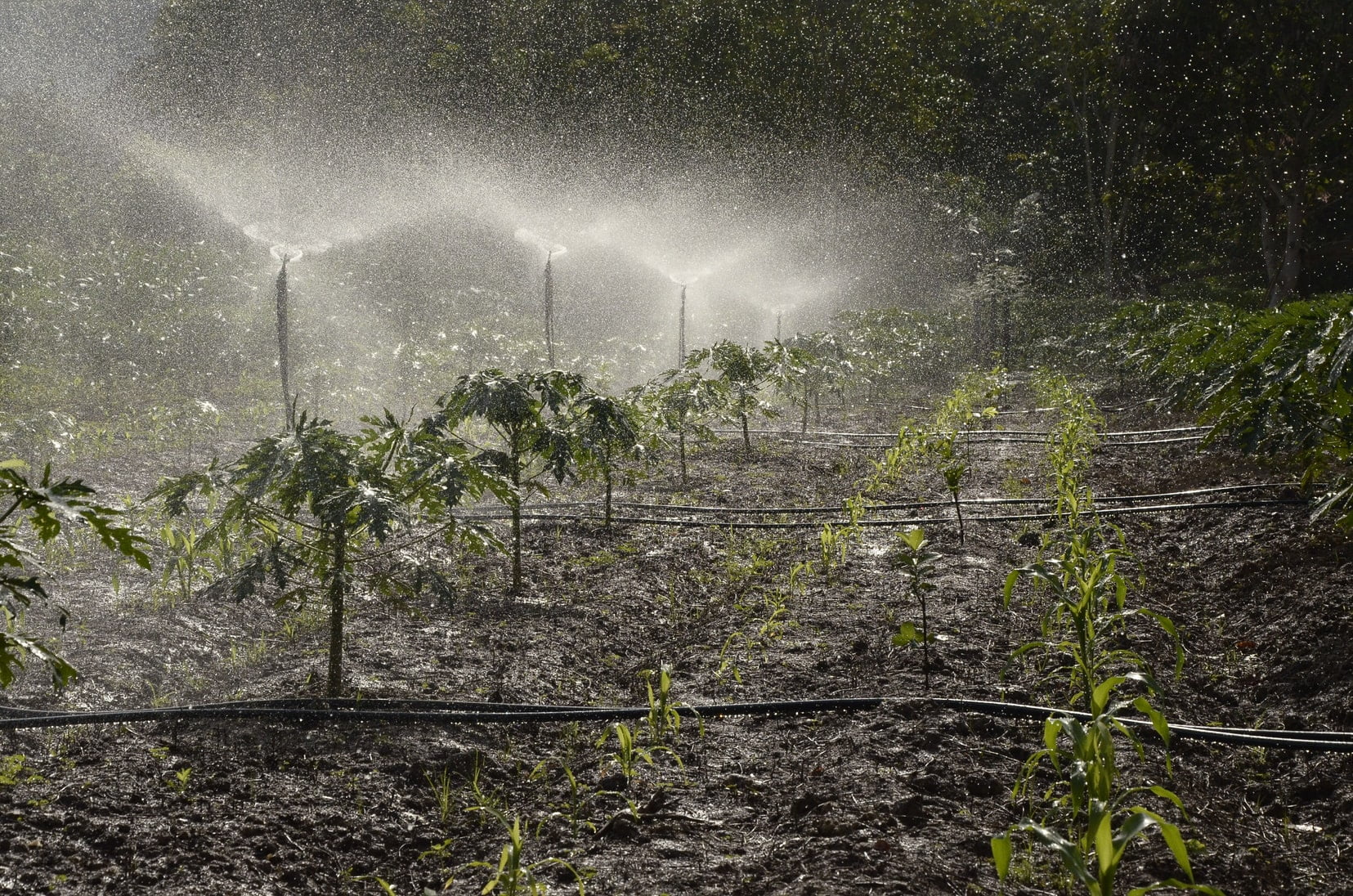 Lawn Sprinklers Buyer's Guide
Are you aware of all the significant aspects that make a lawn sprinkler qualify as an outstanding model? There are innumerable features to check and cross-check, which will help you in making a sound decision whether the product is worth investing your hard-earned money. And that's where our extensive guide will come handy. 
We have carefully listed out various crucial factors you need to consider while you are on your next shopping spree. Keep reading to know more- 
Types of Sprinklers
By now, you have become well-acquainted with the fact that when it comes to lawn sprinklers, you're bound to be inundated by a sea of choices. But based on your needs and budget, you can select one from the oscillating, stationary, pulsating, turret, rotating and traveling sprinklers. Know that each type comes with its unique set of advantages and disadvantages, so take your pick from one that you find to be most reliable, efficient, and cost-effective.
Coverage 
Not many of us know, but the maximum coverage is always an essential consideration in the purchasing of an ideal sprinkler. As you definitely do not want something that you have to move several times to cover every nook and corner of the lawn. 
Also, you would not want a sprinkler that sprays further than the size of your yard, creating a huge mess. Hence, if you have a small lawn, we believe that stationary and oscillating sprinklers would be a great pick. On the other hand, traveling and pulsating types are the best for lawns with larger areas.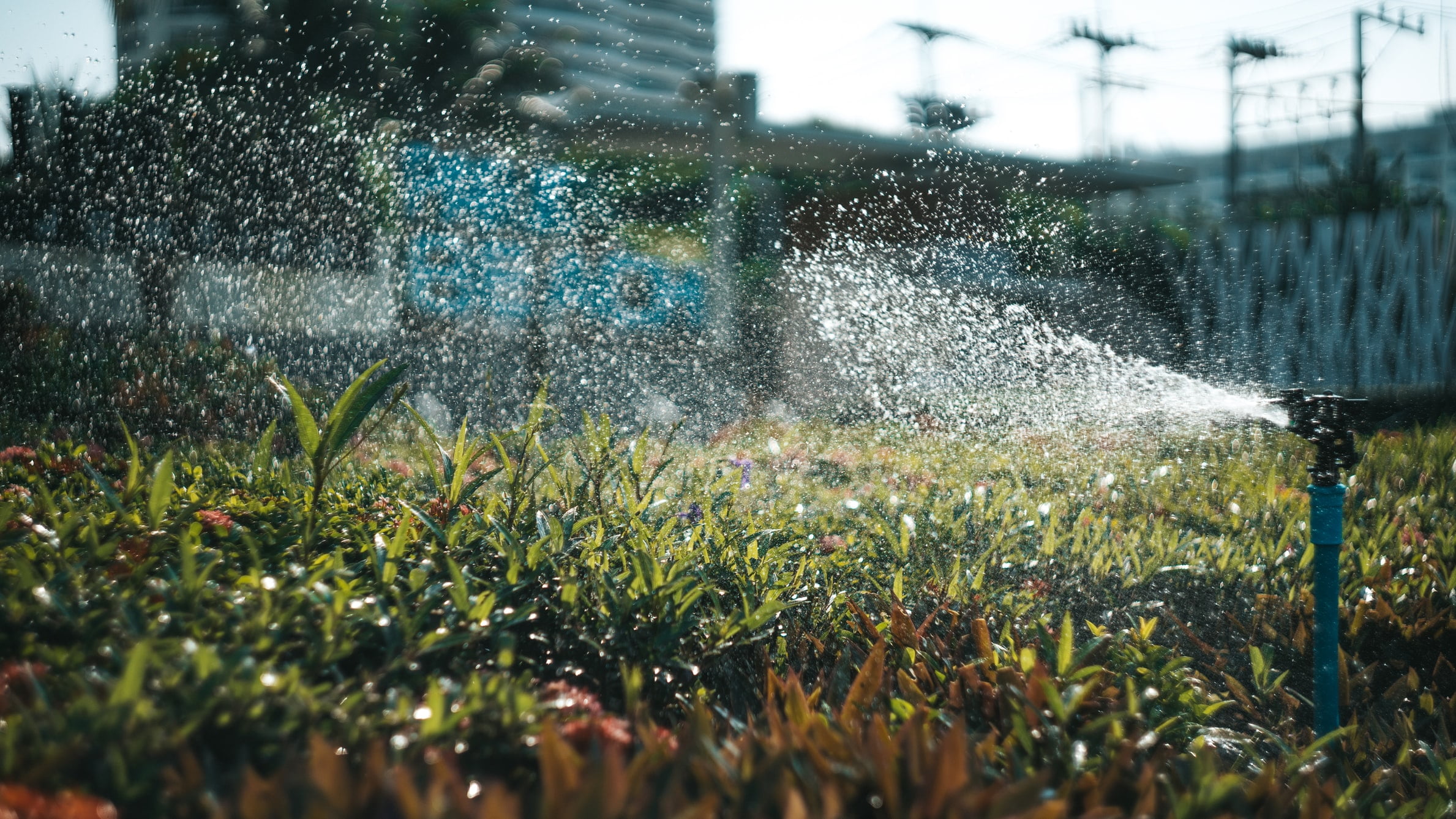 Spray Pattern
Most people tend to ignore this aspect, but the type and number of spray patterns a sprinkler has also determines its suitability and versatility for different types of lawns. To determine the appropriate spray pattern for your lawn, you need to assess how you intend to use the device, size of your lawn and also the  water pressure. 
You can get a sprinkler that comes with adjustable nozzles and can spray water in various patterns. Alternatively, if your needs are limited, we recommend choosing a sprinkler that can be used in square, circular or rectangular patterned lawn.
Maximum Pressure
The third aspect of a lawn sprinkler you need to consider is the maximum pressure. After all, that's what produces different spray patterns and enhances the coverage area of the sprinkler.  We always recommend going for something that can withstand the water pressure in your home without getting severely damaged. You can take your pick from the ones that can cope up to around 80PSI, and that,  in our opinion, is good enough for most households. 
Installation 
Remember, similar to other products, just buying the sprinkler is not enough; you also need to install it. And, it should be viable enough to work with the conditions at your lawn. 
Hence, while choosing the sprinkler, we always advise you to consider the way it will be installed and whether that is compatible with your lawn. Accepting a model which is not at all feasible for your lawn will be a total waste of your investment, undoubtedly. 
Price
Similar to anything you buy, the price is always an essential consideration. You need to do a cost-benefit analysis to check if the price you are paying to buy the sprinkler and install  adds value to your lawn. In situations, where the lawn is too small for the sprinkler you have chosen, you need to reassess the options. Try to make a different and more inclusive choice that fits right in your budget.  
Verdict 
We believe we helped you in clearing your doubts today with our selection of the 13 top lawn sprinklers. Still, feeling confused? It's only natural sometimes, and to further help you with that, here's our final verdict. 
If you are looking for some premium sprinklers with trailblazing features in a meager budget, go for Nelson 818663-1001, Rain Bird 32 ETI, or Orbit 62100. All of them are extremely versatile, come equipped with advanced features, and can serve all your requirements without any such complaints. 
And if you're looking for a durable sprinkler with advanced water conservation technology, we feel RainBird Grow Green rotating sprinklers will be an ideal choice for you. 
Let us know in the comment section below if you agree with our verdict. Till then, choose wisely and stay tuned for more such exciting reviews. 
Good Luck!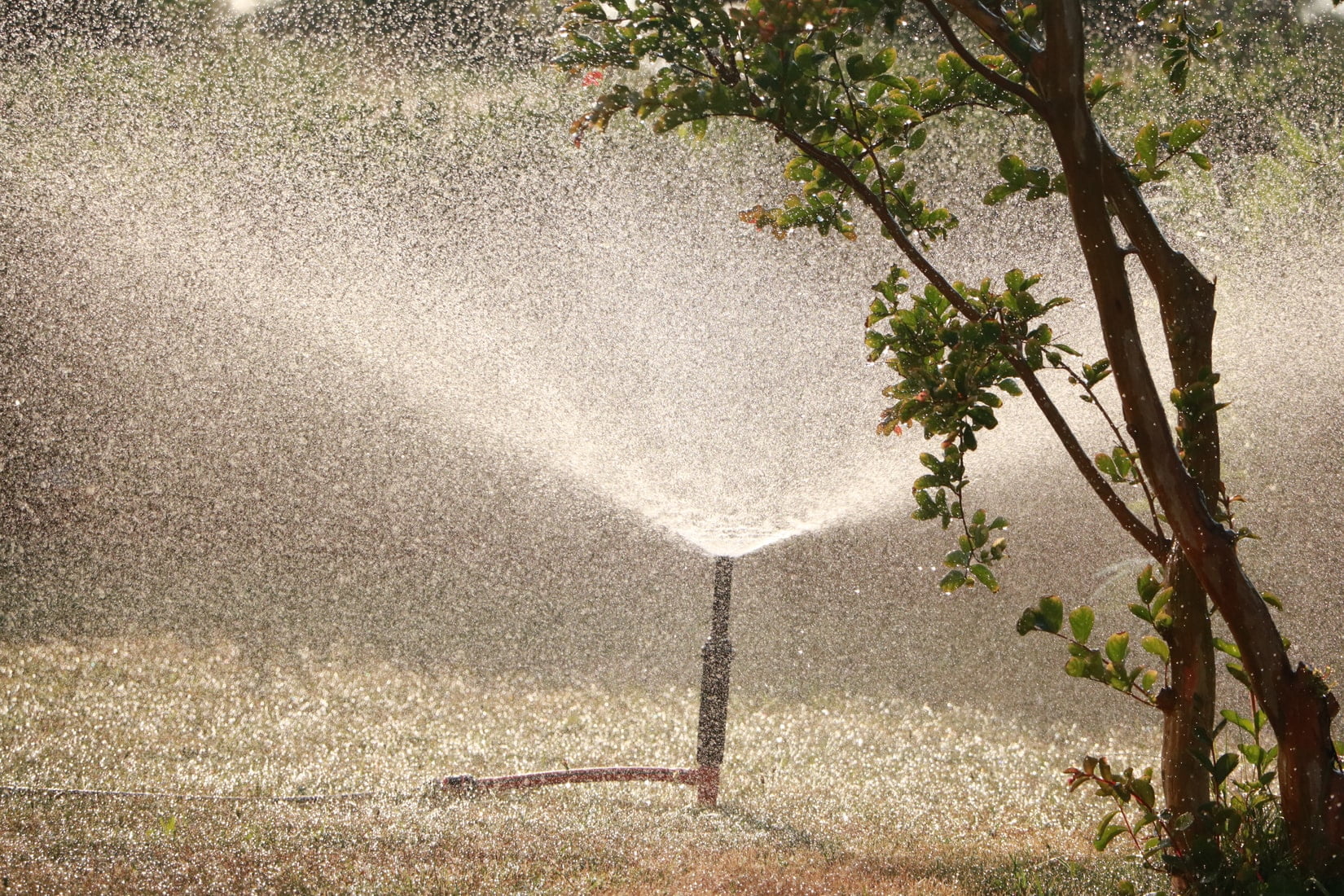 Related Articles
5 Best Self-propelled Lawn Mowers Right Now
The 5 Best Lawn Mowers for St Augustine Grass Right Now
Best Lawn Edging for a Legendary Garden 
4 Best Walk Behind Brush Cutter  
13 Best Trimmer Lines | Multi-Sided, Round, Square, Twisted & Serrated
13 Best Inexpensive Lawn Mowers For Small Yards
6 Best Electric Start Self Propelled Lawn Mowers 
11 Best Battery Powered Lawn Mowers  
11 Best Mosquito Fogger Insecticide
9 Best Fertilizers for Petunias Right Now
9 Best Fertilizers for Hydrangeas
13 Best Weed And Feed For Lawns
13 Best Weed Killer for Flower Bed Reviewed
How to Install Landscape Fabric for Weed Control
Does Grass Seed Expire? All You Need to Know
11 Best WiFi Smart Sprinkler Controller 
13 Best Potting Soil For Herbs To Consider Today
13 Best Backpack Sprayer [Buyer's Guide]
13 Best Fertilizer for Palm Trees 
13 Best Fertilizer for Zoysia Grass
11 Best Sprinkler Valves [Reviewed & Buyer's Guide]
13 Best Potting Mix For Orchids