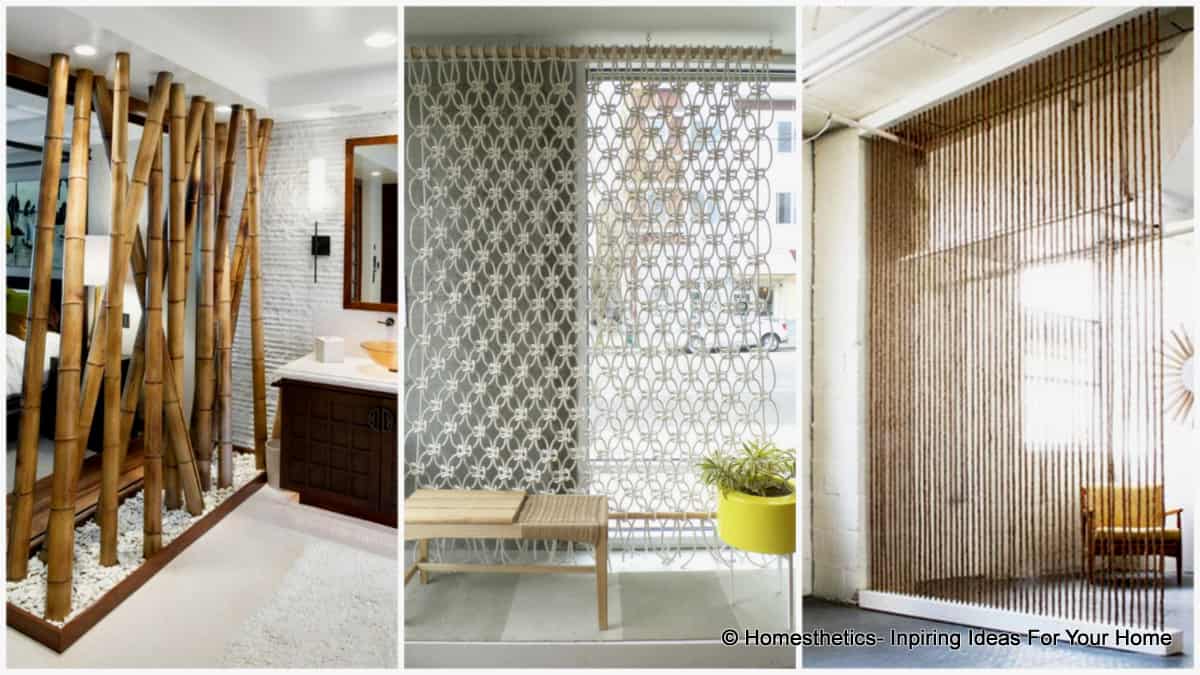 The popularity of open floor plans has created hundreds of new ideas for DIY room dividers from how they are designed to the materials used. They have also sparked new interests in the art of creating functional living areas. Instead of using a wall, what else can be used to provide a sense of moving from the living room to the dining room? Have you created a room divider for yourself? Share your story with Homesthetics!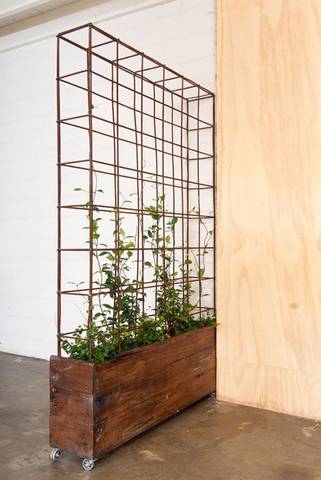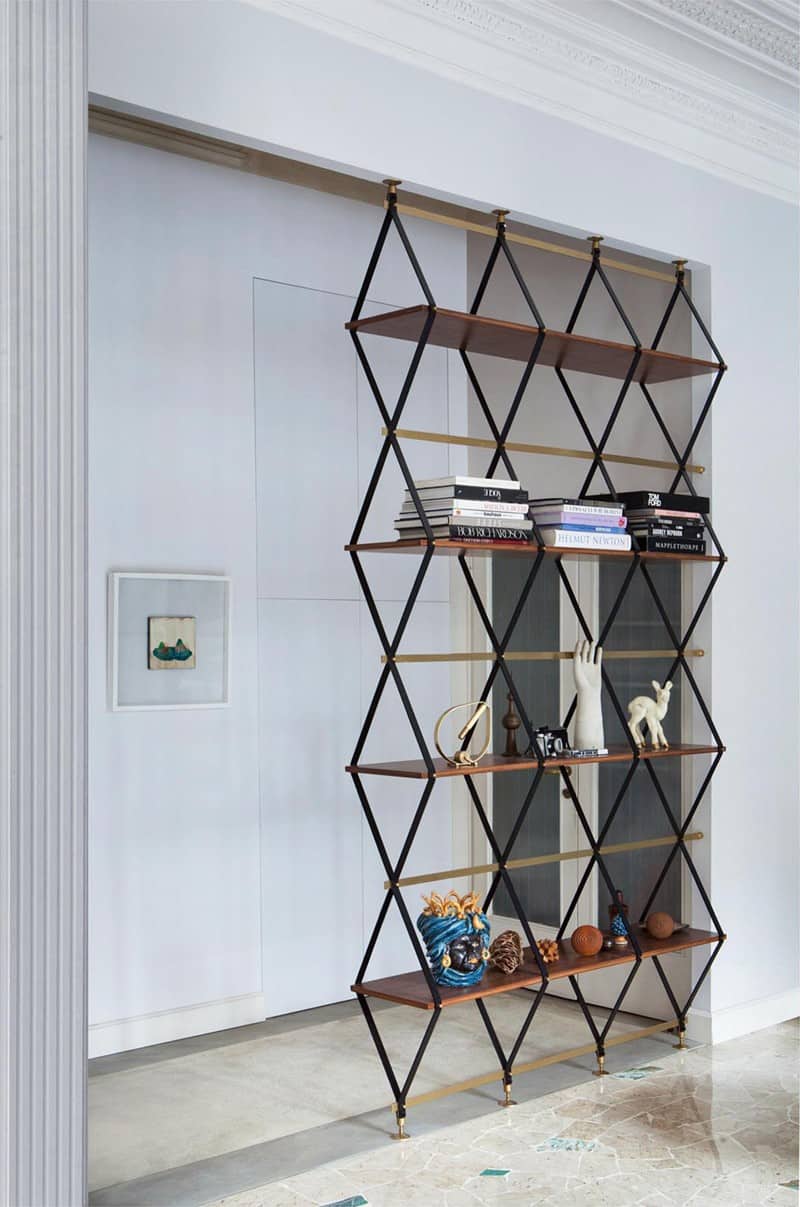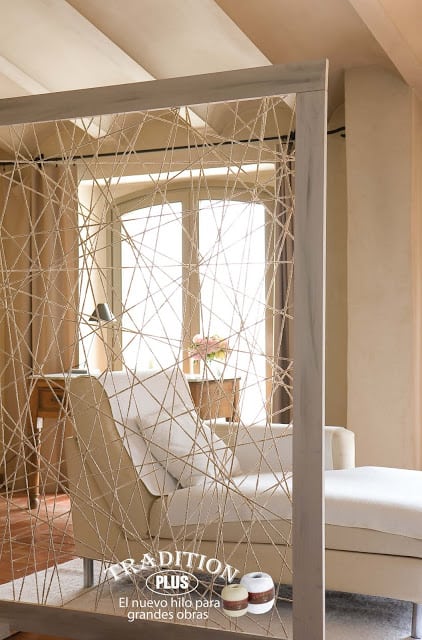 Easy Does It – How to Make a Room Divider
The key to a successful DIY room divider project is choosing the right one for the amount of time you have. When the idea is to create a space that is separate from the original area quickly, keep the design simple. Traditional folding screens are still one of the major decorating items used on its own, but they are also used to create one-of-a-kind room dividers. Let we share with you the projects we have found that are fairly easy to do: review these interesting variations on DIY room dividers and let us know what you think.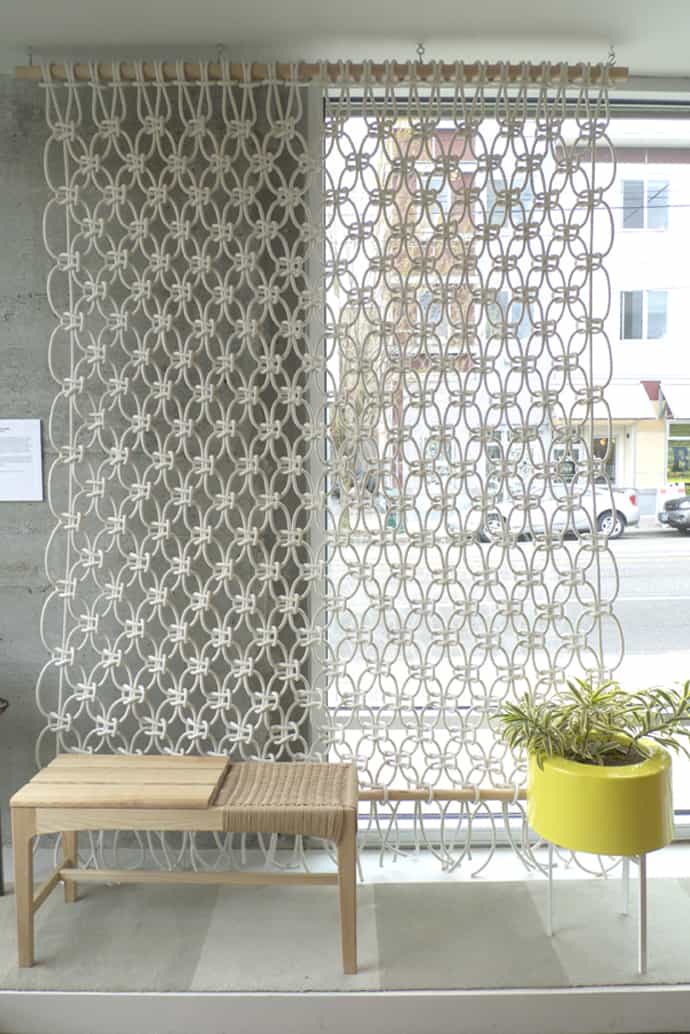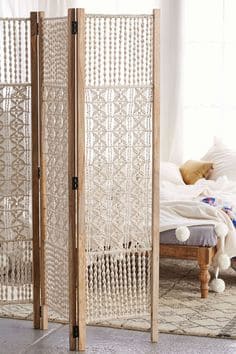 So how do you make a room divider? First start with your space: how large is the area you want the room divider to use? Second, decide on the level of privacy you want to have. You can make a wall with a room divider or just visually define your space. Whether you live in a tiny studio or an enormous loft, any of these ideas can be modified to suit your space.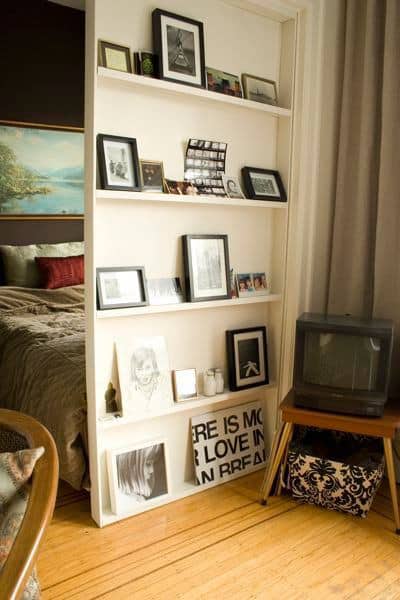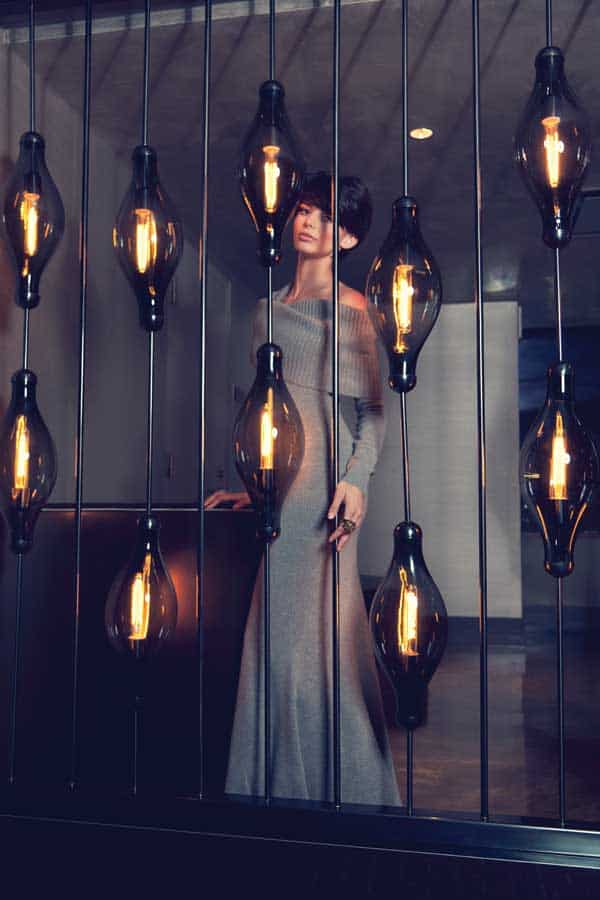 Floor to Ceiling Room Divider
Looking through the hundreds of photos for DIY room dividers ideas, it's amazing to see the different styles, designs and materials. You have more options than folding screens that stand on the floor. Staying with the theme of keeping it simple, here's a great example. We really love this sisal rope room divider. The coolness of the white walls, neutral colors for the furniture and flooring make the color and texture of the sisal stand out. It brings a feeling of stability to the space. Although the chair behind the room divider can be seen, the area is defined and clearly intended for a different use than the room on the other side.
Using industrial spaces for living is becoming more common too; notice the height of the ceiling and windows. For this room size, you might require more time and hands to install this type of room divider correctly. However, for an average apartment size, the scaled down version of this DIY room divider project makes it a lot easier. Once you have all of the needed tools, materials and measurements together, you can build this over the weekend.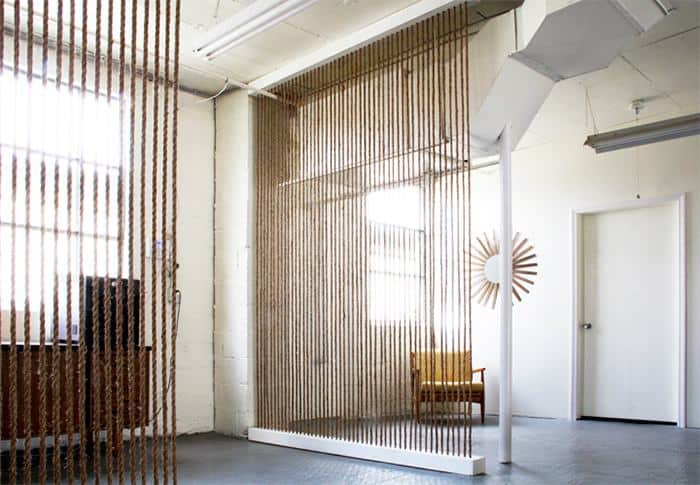 Re-purpose Pallets for Your Living Space
When the goal is to enclose a space for maximum privacy, using pallets as the base material in your DIY room divider project could be ideal if you like the natural, rustic look. The nice thing about pallet planks is that both sides are great for hanging pictures, organizers, shelving and other items you want to keep off your desktop. For instance, this pallet design carves out space in this apartment for a home office.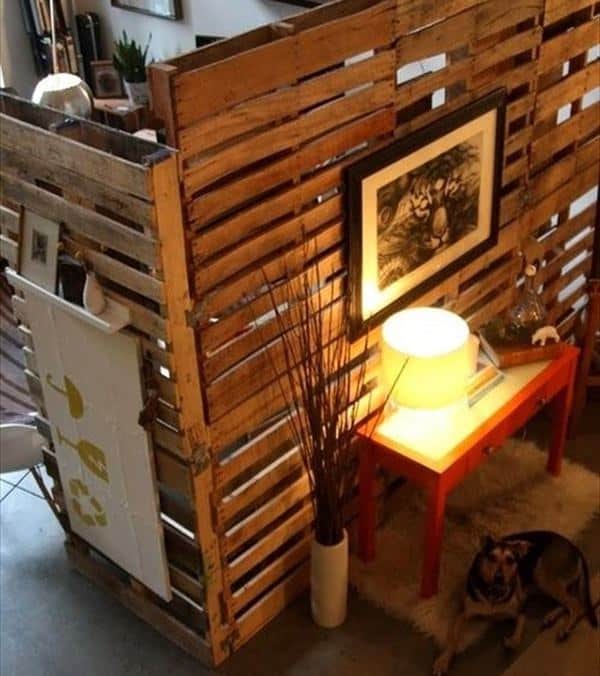 If you have more time, you can too use pallets for a room divider that does more than divide the space. The wooden planks that are used to make pallets are usually cut well and can easily be painted to match your decor. This makes them easy to craft into functional storage space or to serve as a plumbing cabinet for the bath.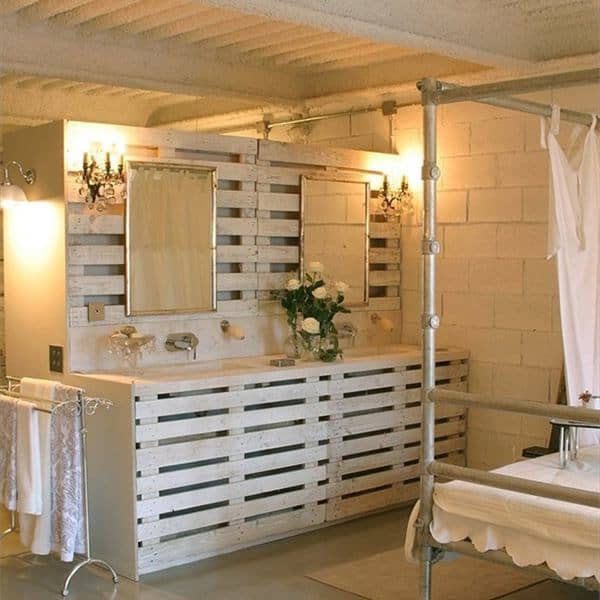 Using Sustainable Materials for Room Dividers
Bamboo is another popular material for home decorating. In addition to being one of the easiest to use in a DIY room divider project, it's being used to make flooring, furniture and other household items. Starting with a deep base container, a large quantity of smooth stones and long, sturdy stalks of bamboo, this minimalist style room divider separates the bath from the bedroom. Positioning the bamboo at different angles from the base to the ceiling gives the impression that the bamboo is extended to another part of the structure.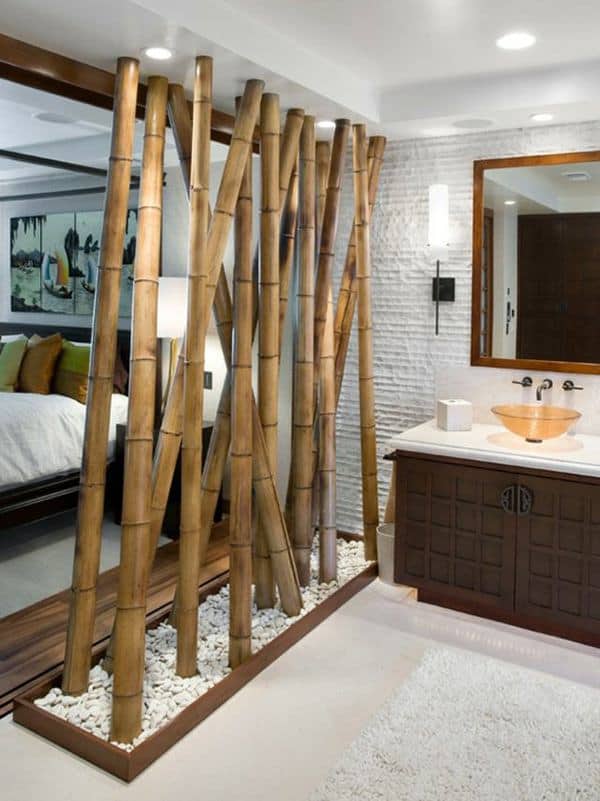 For a cozy, intimate feeling, this bamboo room divider helps to set the mood. This is the perfect way to accent your decor theme and diffuse light in the room. For this easy project, the bamboo stalks are arranged in a frame to keep them upright. Once again we see that this room divider allows a view into the room, while providing the feeling of an enclosed space.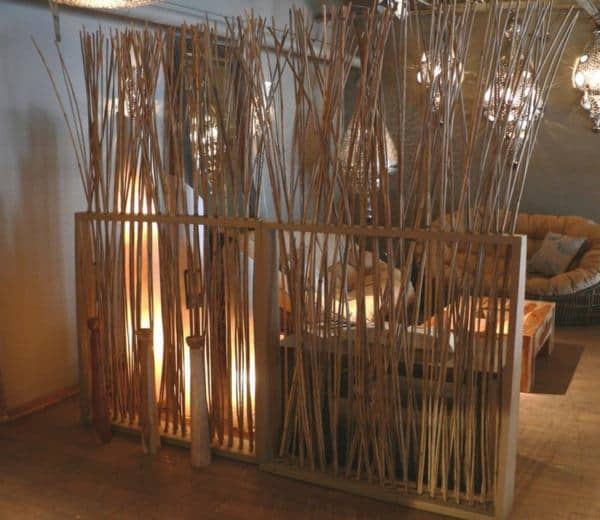 Heavy Metal DIY Room Dividers
Modern architecture is known for its bold, sleek look and this black metal frame wire mess room divider makes for a stunning entrance to a living room. Here's a dramatic way to make a statement about your personal style. As much a work of art as it is a piece of furniture, this room divider sets the border for the room without hiding it.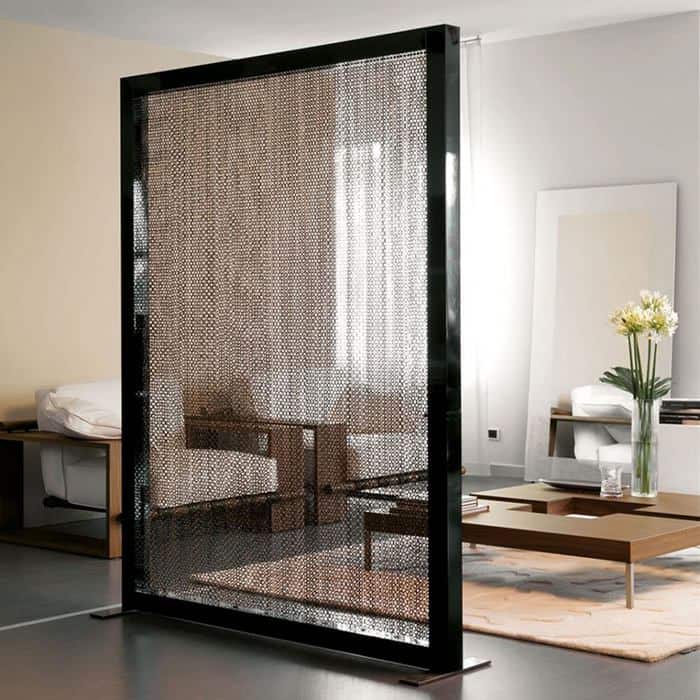 For a more fluid and adaptable style room divider, take a look at metal mesh curtains. The chain mail gives a substantial weight to this curtain making it appear more rigid than it really is. Metal mesh curtains can be tied back to allow easy entry or exit when the need arises. When you want more privacy, simply open the curtain to its full width.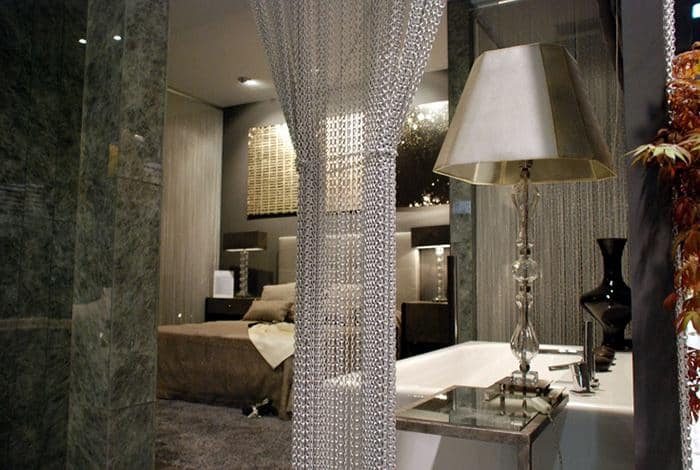 A DIY Room Divider for Book Lovers
When your living room doubles as your library, this is one of the many DIY room dividers that give you plenty of room for keeping your favorite books close at hand. Using a cabinet base and an open shelving unit together makes this an easy weekend project. This combination adds extra storage space and privacy to your living room.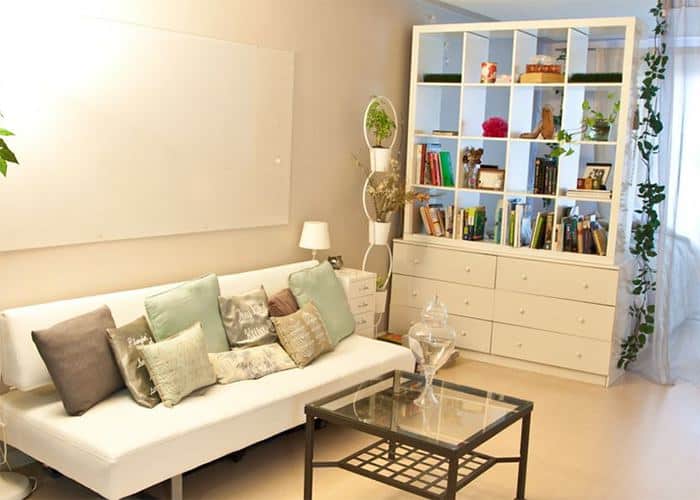 Enhance Natural Light with Glass Room Dividers
Here's a modernist take on stained glass for a distinctive room divider. The patterns allow light into the room in soft, earth tones accenting the furnishings. The glass panes are welded to slim metal fixtures at the floor and ceiling, with plenty of space for air to circulate throughout the room.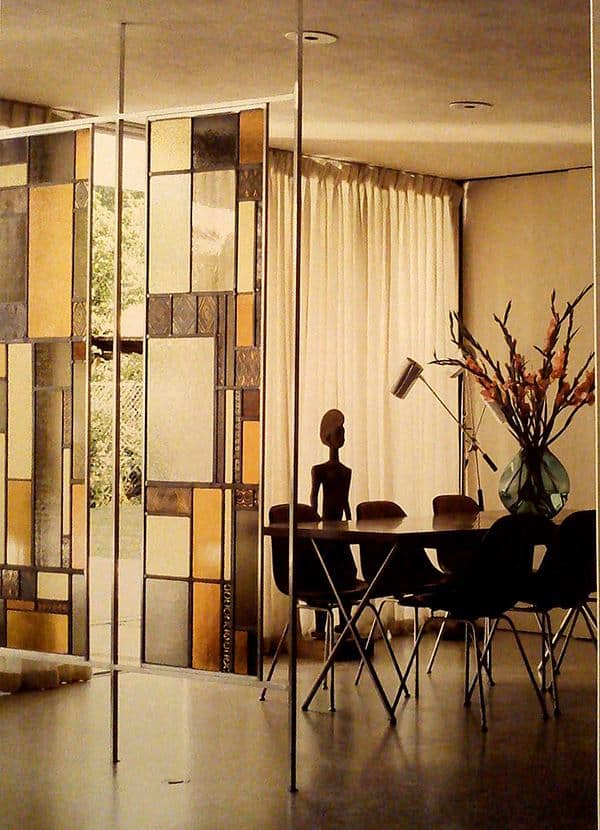 Go Creative with DIY Room Dividers
These projects are easy to do and will make your living space more comfortable, functional and enhance your privacy. That wraps up our pick of the Top Ten DIY room dividers, but this is where the fun begins for you. Enjoy!