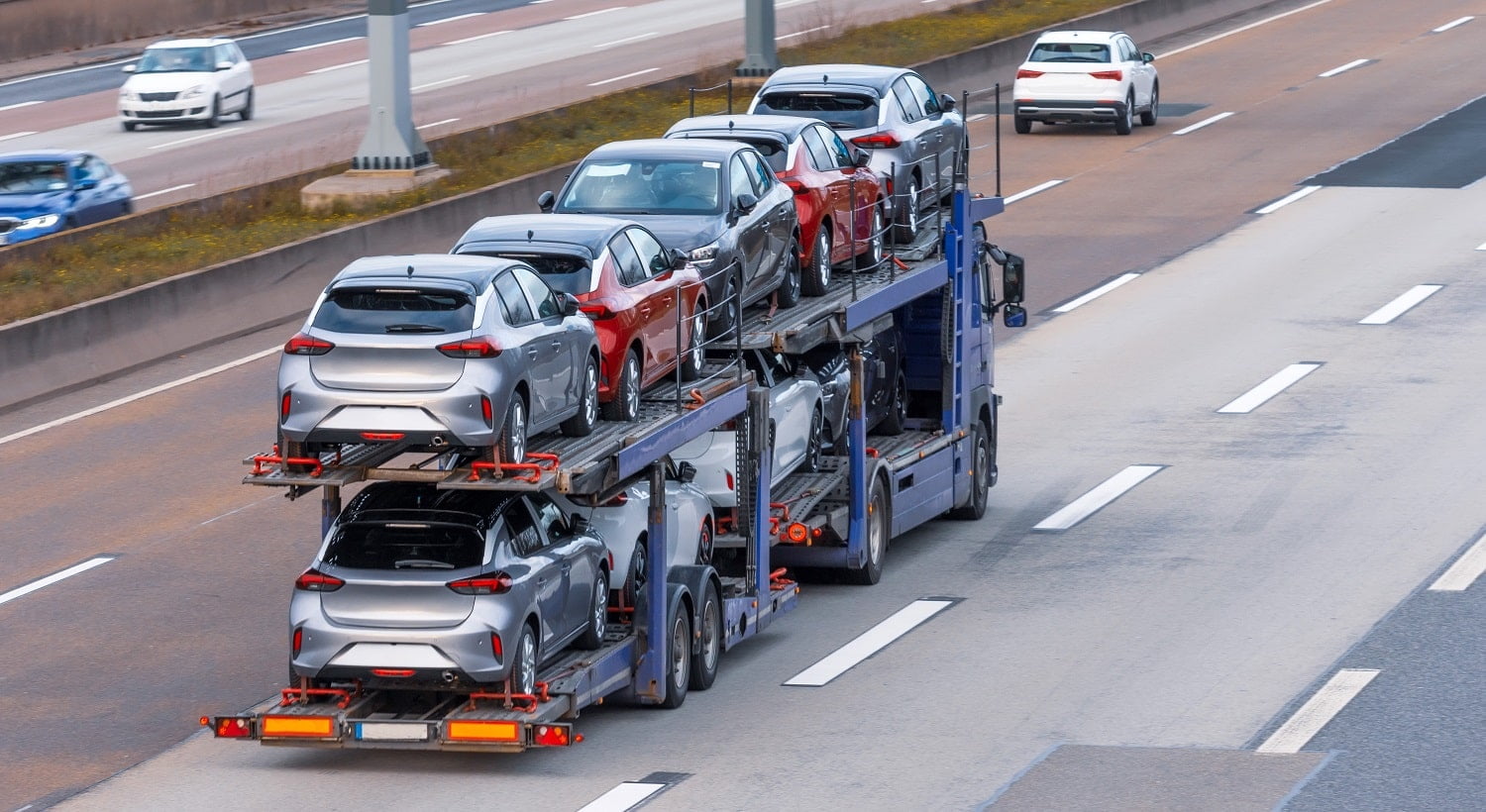 When it comes to shipping, you can't afford to make compromises, but it's often tough to choose the right trailer.
Your trailer has to be capable of transporting the shipment without damaging it or encountering any accidents. It has to rate high in terms of durability and safety, while the loading and unloading procedure must be smooth. Moreover, if needed, you must also get the benefit of using a generator for backup power.
But most importantly, it should be suited for long-distance travel and versatile enough for shipping various types of cargo. So, the question is, how do you choose from the numerous options dotting the market. To help you, we have formulated a list of 19 different types of trailers you could choose from.
Without further ado, let's begin.
Types of Trailers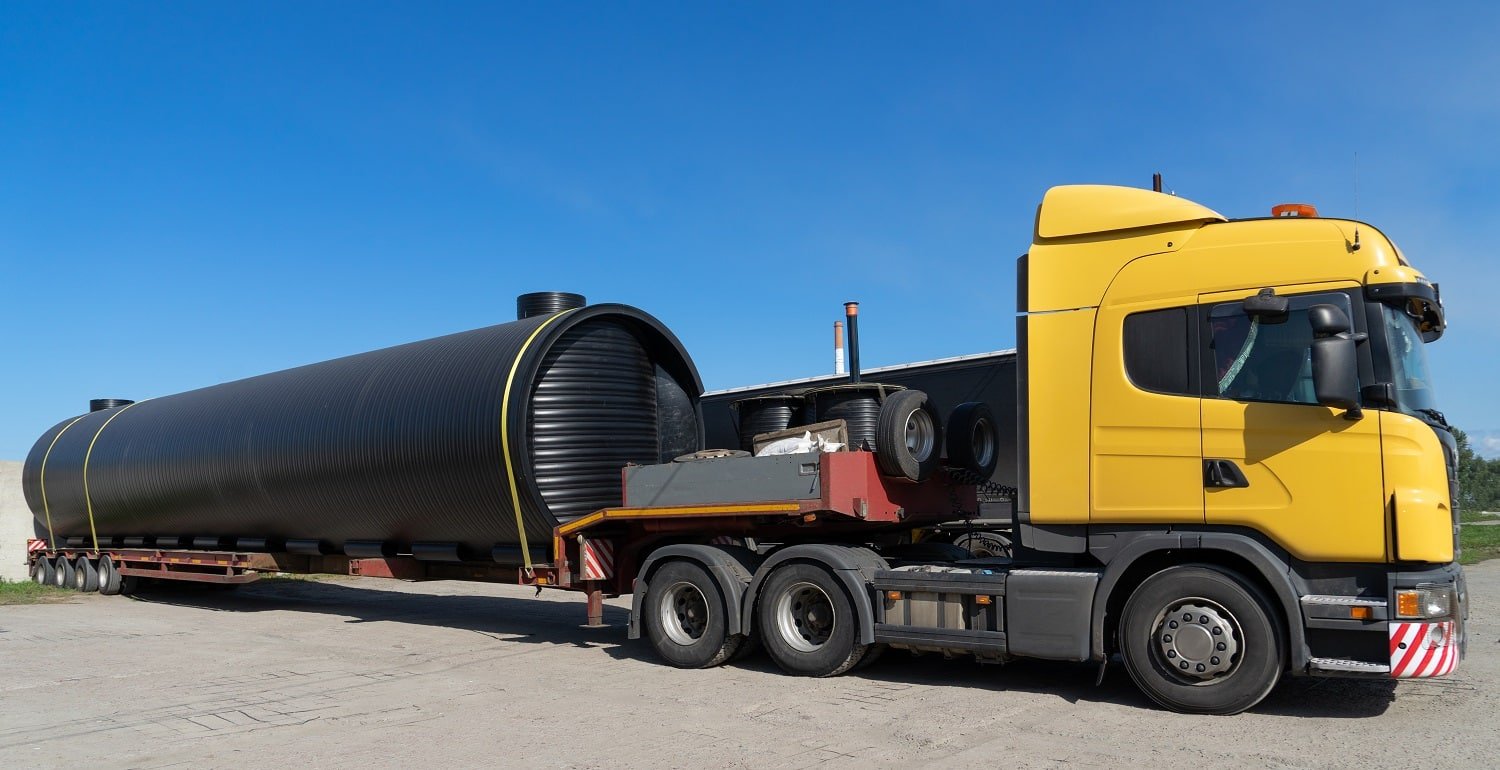 Flatbed Trailers
First and foremost, Flatbed Trailers are most common due to their incredible versatility. You can use them for transporting a range of items, from steel coils to lumber, with the trailer being open from all sides. You'll like the fact that there's no box covering the shipping load, making it extremely easy to load or offload.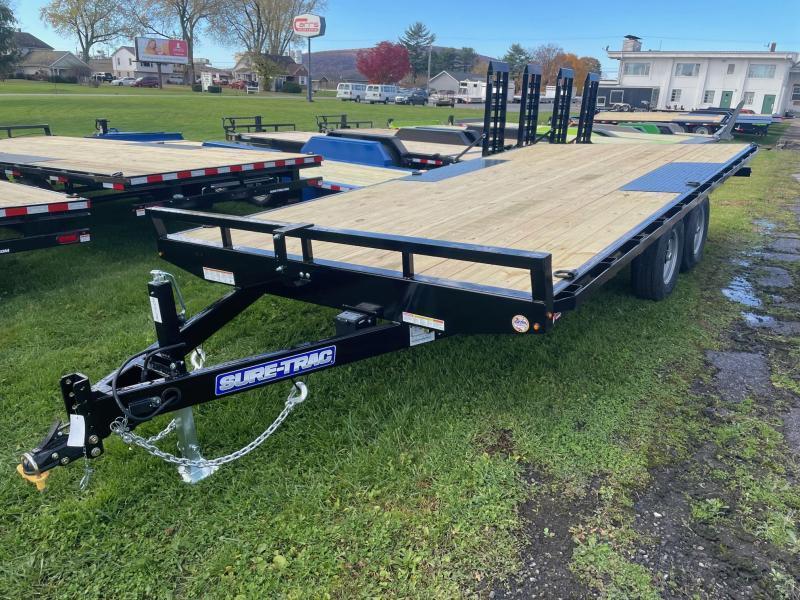 Furthermore, it can carry a maximum load of 48,000 lbs without any difficulty, while you can choose the length of the trailer depending on your need. It comes in five sizes – 24ft, 40ft, 48.5ft, 48ft and 53ft – with the 48ft variant being the most popular choice. Moreover, you get a maximum width of 8.5ft, while the load must not be higher than 8.5ft as well.
If you're planning to go for the flatbed version, you'll need to buy a tarp since there's nothing else to cover the load. But it's not as easy as it seems and you can't use any tarp.
Choosing the right tarp for the trailer can be tricky, and you need to be wary of the material along with the safety precautions for using them. Depending upon the load, you can use steel, lumbar, glass-clear, or a smoke tarp.
Pros
Versatile

Maximum load-carrying capacity of 48,000 lbs

Maximum width of 8.5ft

Easy loading and unloading

Maximum length of 53ft
Cons
You need to purchase a tarp
Enclosed Trailers
Straight off the bat, an enclosed trailer comes with a container to cover the load. It has several similarities with the flatbed type but includes a shipment box, which the former lacks. As a result, you don't have to incur any additional costs to keep the material safe.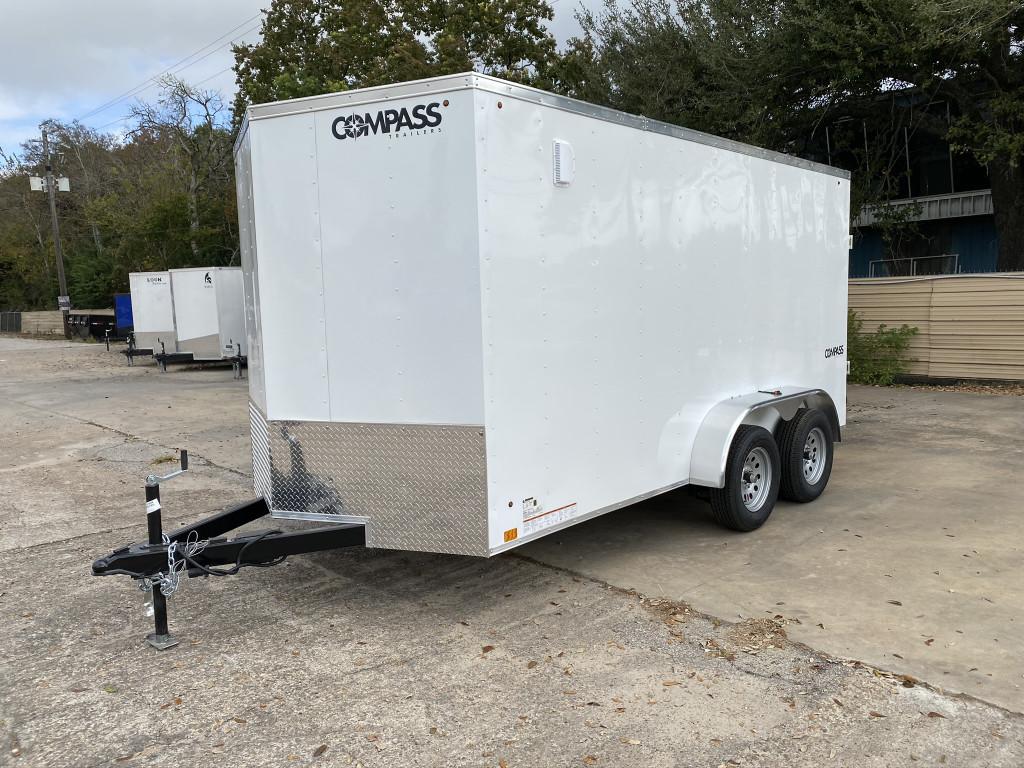 Moreover, they are versatile, making them perfect for transporting various materials such as tools and band equipment. So, it's highly popular among people and offers excellent efficiency by keeping the load safe from external elements such as turbulent weather.
However, the significant benefit of using the model is that you get a lot of additional space. You, therefore, have the option of making shelves or storage cabinets within the container. But don't worry as it doesn't hamper the performance or affect the load-carrying capacity in any way. You get the perfect blend of user-friendliness and power.
The enclosed trailer can carry a load weighing between 42,000 lbs and 45,000 lbs without any difficulty. Likewise, the length varies from 48ft to 53ft, thereby allowing you to choose the appropriate range depending upon the quantity you're required to carry.
Pros
Maximum capacity of 45,000 lbs

Affordable

Maximum length of 53ft

Enhanced protection

Additional space
Refrigerated Trailers
Firstly, if you need to transfer materials that can deteriorate in the heat, you'll need to store them in colder temperatures. In such a scenario, you can use Refrigerated Trailers, which are ideal for transporting frozen food items, ice-creams, and pharmaceuticals. It may look like enclosed trailers, but don't be fooled.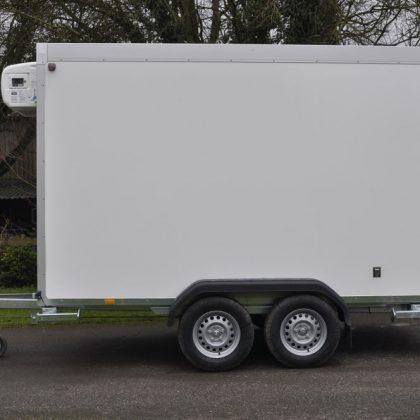 It comes with proper insulation and a cooling system allowing you to maintain the temperature without any trouble. Apart from that, it includes components like a compressor, condenser, and an evaporator for enhanced performance. Moreover, the system is stored securely inside an enclosed container.
As a result, it protects the cargo from external elements like the weather. And even if there's an attempted robbery, you have no reason to worry. Plus, it doesn't vary much in weight compared to other models despite having several additional elements. It provides you with a maximum width of 8.2ft while the maximum height is 8ft.
You can travel long distances without encountering any fluctuations in temperature inside the trailer, with all the components working in tandem. The power comes from a small engine, and as the engine starts to function, the condenser receives liquid from the compressor. Meanwhile, the heat generated from it flows to the tubing walls and subsequently to the fins, preventing deterioration.
Pros
Maximum height of 8ft

Excellent cooling mechanism

Enclosed container

Enhanced protection

Affordable
Cons
Noisy motor

Loading and unloading takes time
Lowboy Trailers
The next recommendation is the Lowboy Trailer, which is known by several names. So, don't be confused if you hear someone saying low loader or double-drop trailers. The main feature of the machine is the semi-trailer with dual drop decks. One is situated behind the gooseneck and another right in front of the wheels, providing a significant advantage.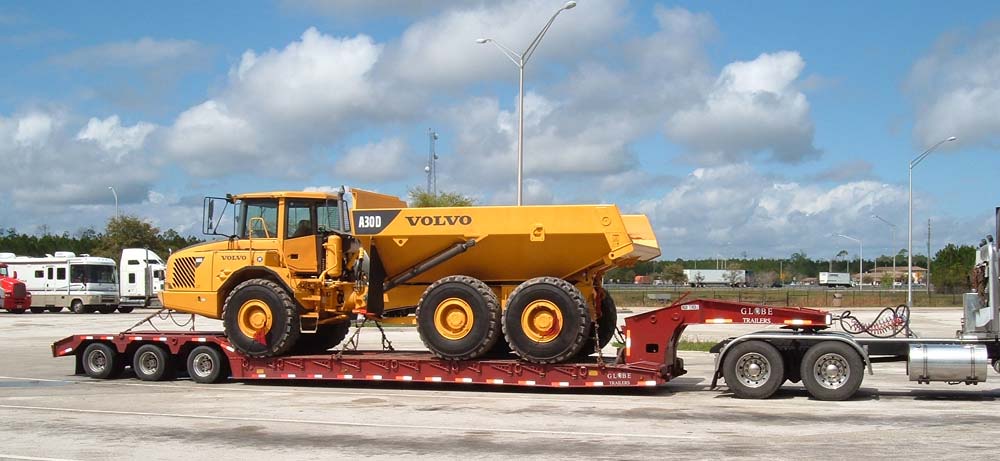 It allows you to transport heavy-duty construction equipment, thereby offering one of the highest carry capacities going around. Besides, it sits close to the ground, supporting the shipment of huge items without any difficulty, thereby making it stand out.
Plus, there's no compromise on versatility, and you can haul various types of machines from bulldozers to excavators. Moreover, you get added width along with height, which is complemented by the dual axles. As a result, the maximum carrying capacity is 40,000 lbs.
However, you can increase the capacity to 80,000 lbs depending upon the type of shipment. Likewise, the maximum height of the load can extend to 14ft, and for support, it includes a hydraulic suspension system.
Pros
Extendable carrying capacity

Sits close to the ground

Maximum height of 14ft

Two drop decks

Hydraulic suspension system
Cons
Permit needed for carrying large weights

Heavy
Step Deck Trailers
Right away, you'll see Step Deck Trailers are very similar to its flatbed cousin, and the noticeable difference lies in the maximum height of the load. As a result, it's closer to the ground and can carry cargo slightly exceeding 8ft in height. The primary purpose of the model is to take loads not suitable for other trailers because of the elevation.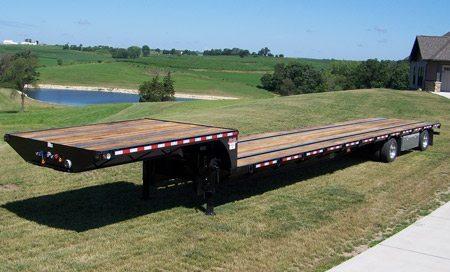 Moreover, it features an open design having two deck levels – the upper and lower. So, it's more versatile, and you can place a taller load in the lower deck. Similarly, depending upon the load type, you can use the upper floor without difficulty, therefore, offering excellent carrying capacity.
The maximum load-bearing capacity is 48,000 lbs, and you also get a variety in length varying from 48ft to 53ft. The significant improvement comes in loading and unloading, thanks to the availability of various components like a ramp, making it easier to move the material.
Likewise, with the forklift, the entire process becomes safer since it's closer to the ground. It's suited to most of your cargo needs, and you can ship various types of materials with ease. Furthermore, you don't need to worry about obtaining a permit.
Pros
Can carry tall loads

Easy loading and unloading

Forklift included

Ramp

Maximum capacity of 48,000 lbs
Extendable Flatbed Trailers
First and foremost, as the name suggests, it's just like a flatbed trailer but with the ability to be extended. As a result, you can vary the length according to the load you're carrying. So, even if the trailer has an initial range of 43ft, you can extend it to 80ft, thereby providing higher capacity.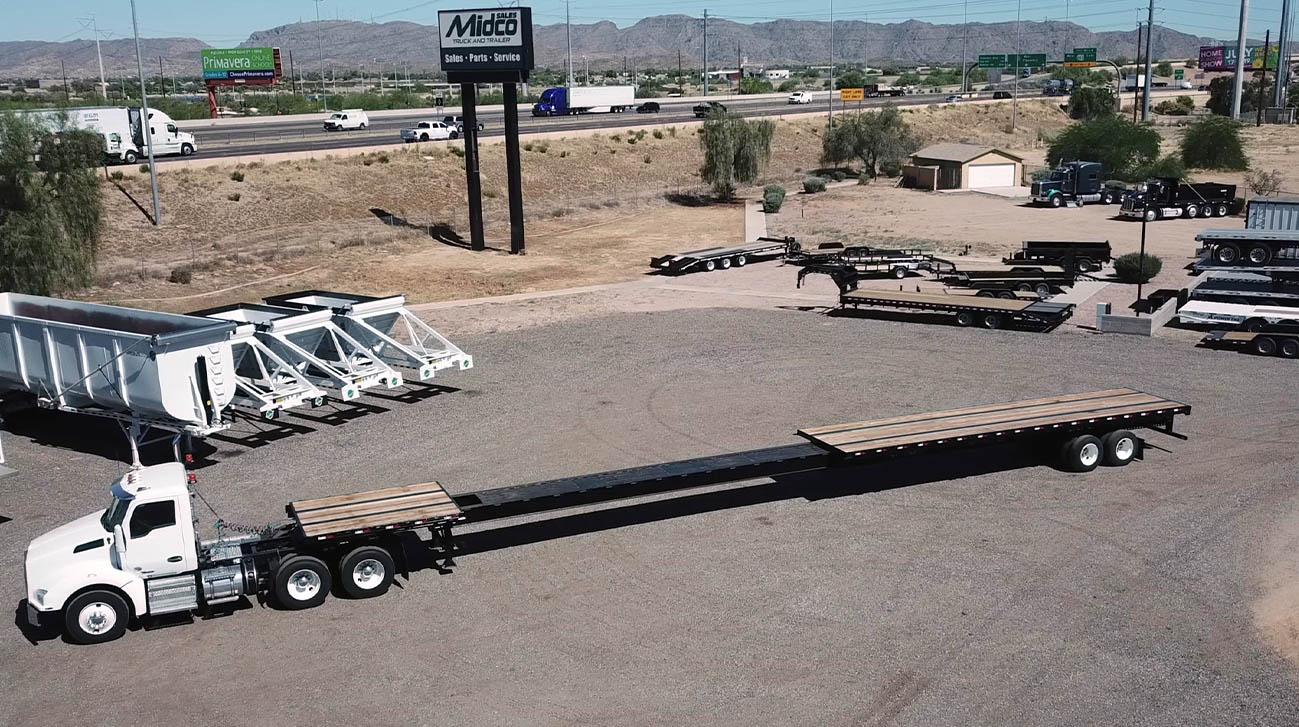 Also, like the traditional unit, it performs similarly, and there are no walls or roofs. You can carry out the loading or offload from any side, making the process easier. Additionally, it's exceptionally affordable, and you won't need a massive trailer to ship various materials. It offers the desired versatility to carry cargo, which a standard flatbed trailer doesn't.
Furthermore, it ensures you get a smooth operation, making it highly user-friendly. When you want to extend the bed, release the pin holding the two sections together and press on the breaks, causing the expandable portion to attain the maximum length. Besides, you get both air and mechanical suspension options.
Likewise, it comes with a drum or disc brake axles along with the steering axle. You can use its transport pipe, steel, or other dense materials, and, thanks to the twist locks, the cargo is securely held in place.
Pros
Made from heavy-duty steel

Pneumatic extension

The maximum length of 80ft

Easy operation

Steering axle
Cons
No container

Tarping required
Stretch Single Drop Deck Trailer
Straight off the bat, the Stretch Single Drop Deck Trailer is quite similar to the step deck trailer, but the difference lies in the extendable bed. If you have to carry a load that's too large for the standard step deck trailer, the extendable version comes in handy. Along with shipping more copious amounts, it also provides additional support.

You can easily extend the lower deck as far as 76ft from the initial 48ft, thereby enhancing the load-carrying capacity. The top floor, on the other hand, measures 9.6ft in length and offers much-needed versatility. Furthermore, it generates maximum load width of 8.6ft while the maximum height is 11.4ft. And the overall carrying capacity is a substantial 44,000 lbs.
You can carry numerous items or machines such as tractors, excavators, and building or agriculture materials. Moreover, you won't have to worry about getting a permit. Besides, since it's closer to the ground, the vehicle comes with a forklift.
It makes the loading and unloading process more manageable while maintaining safety so that the cargo remains unharmed. Further adding to the ease of use is that there are no walls or roofs to hinder movement, thereby allowing you to make the necessary adjustments.
Pros
Versatile

Maximum capacity of 44,000 lbs

Lower deck extends up to 76ft

Top deck measures 9.6ft

Maximum height of 11.4ft
Removable Gooseneck Trailer
Firstly, the Removable Gooseneck Trailer is the ideal model for shipping heavy loads, which can often become cumbersome. Moreover, there's the added burden of trying to get a permit for heavier loads, which you won't face with it. You must also remember – the more substantial the load, the more technical your trailer needs to be.

In such a scenario, it's hard to match the performance delivered by the unit. You'll notice the load situated closer to the ground, enabling you to carry taller objects. It comes with a drop in the middle, which ensures you can fit taller loads with ease. Furthermore, depending upon the shipment, you can easily switch the taller cargo in the raised beds with other materials.
The dropped region is also called the well and measures 29ft in length. Besides, since it's closer to the ground, it becomes easier to carry out the loading and unloading. Additionally, the front end of the model is detachable, allowing even a bulldozer to drive onto the trailer.
And once it's in place, you can reattach it, thereby ensuring you can easily carry heavy machinery. Moreover, it's called a double lowboy or a double drop trailer as well, so don't be confused.
Pros
29ft long well

Detachable front end

Ideal for carrying heavy loads

No permit needed

Easy loading and unloading
Trailers for Hazardous Materials
We have come to that part of our list where it's time to talk about specialty trailers, and we kick things off with containers used to transport hazardous materials. With them, you can carry anything from petrol, diesel, oil and other dangerous substances. And in some cases, the contents may even be flammable.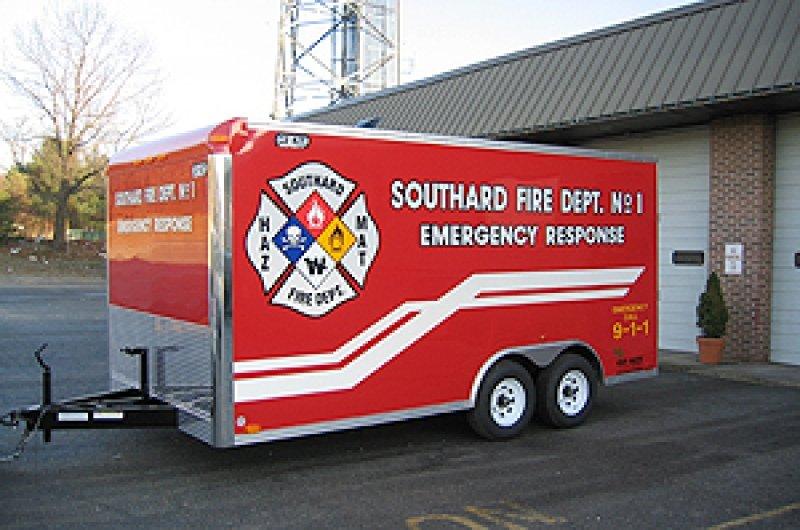 Therefore, the shape of these vehicles is different to accommodate the material they are carrying and ship them safely. As opposed to the usual rectangular shape, they flaunt a cylindrical shape ideal for transporting large quantities of liquid. Plus, they also carry chemicals to industries.
As a result, it requires an additional permit for the trailer and the driver from the authorities. Likewise, the cost for transportation is higher as well, but that's understandable given the cargo that needs to be shipped. Moreover, due to the high risk of spillage or damage, they are kept under strict surveillance.
Furthermore, the weight limit can be as high as 200,000 lbs, which is significantly higher than all other models. So, the main focus is on security to ensure there are no untoward incidents, and they are fully enclosed, with a tight lock to avoid accidents.
Pros
Maximum capacity of 200,000 lbs

Cylindrical in shape

Fully enclosed

Enhanced safety

Versatile
Cons
Requires additional permit

Costlier
Event Marketing Trailers
Next up, we have Event Marketing Trailers, also known as display trailers. It allows any particular company to display its message or advertisement on moving vehicles, thereby spreading it to the masses. The advantage lies in the fact that they attract more customers.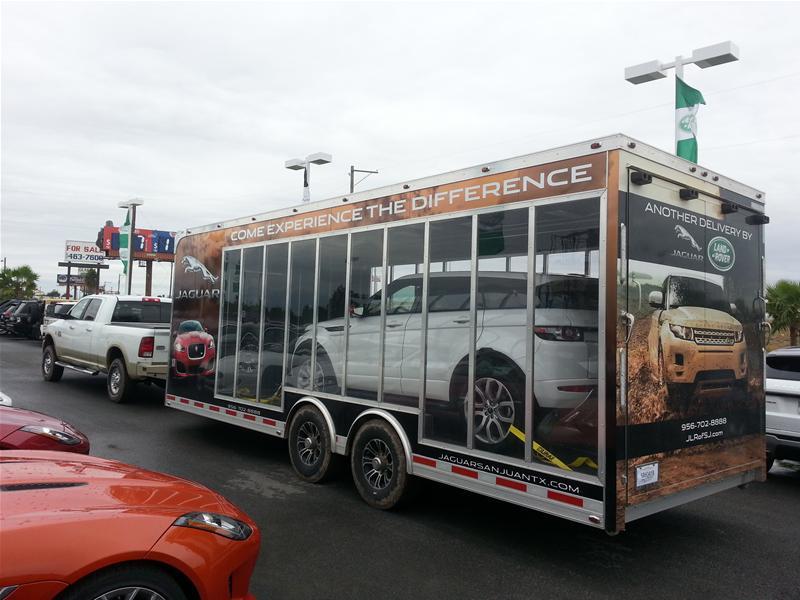 It ensures one can carry out on-site promotions, demonstrations, and sales, making the unit very efficient. Moreover, you get to choose the design both inside and out, ensuring you can customize it as per your convenience. Likewise, with slides-out, awnings, and stages, you can significantly enhance your marketing strategy.
Furthermore, some models have a unique expanding feature, thanks to the walled pod on one side and a gullwing on the other side. As a result, it features an enhanced capacity, and you can glaze or obscure the walls if needed. Plus, it comes with generators as well as air-conditioning for added comfort.
You'll never run out of power, and the campaign can continue uninterrupted. The strength varies from 5kva to 12kva, while there's the added benefit of having a sound suppression system. These are incredibly versatile units suited for most purposes.
Pros
Large capacity

Expandable features

Sound suppression system

Wide outreach

Generator for uninterrupted power
Cons
It takes time to get it ready
Food Services Trailers
Right away, it's fair to say there are few things as popular as Food Services Trailers, carrying with them entire kitchens. The kitchens are situated inside an enclosed space to protect it from outside elements and ensures even the weather can't hamper your service. Like some of the other specialty trailers, it comes with backup power and air-conditioning.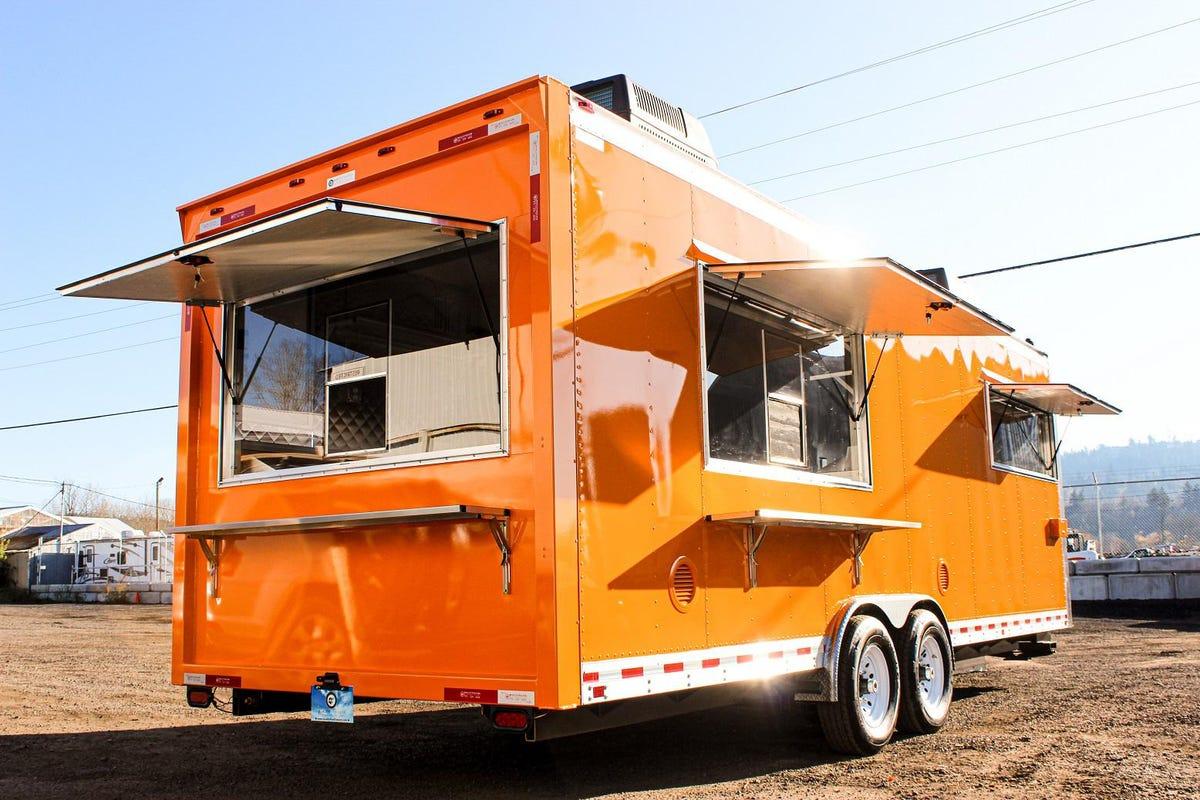 There's even an on-board refrigerator for storing perishable food items. One-side of it comes with a closable flap, which you can pull down after work. The significant advantage is you get to serve food-on-the-go instead of having to wait for customers. Plus, you can take it to carnivals and conferences, among other places.
Additionally, you'll like the customizable interior, and there's enough space to set up cabinets, sinks, and charging points. Meanwhile, all of these features are available at a low price, making it affordable. Another crucial aspect is it can last for a long time.
As your business grows, you can choose to expand it without any difficulty, and due to the sturdy construction, you won't experience any reliability issues. It delivers a power-packed performance, and many people prefer it rather than going to a restaurant.
Pros
Includes backup power

Lots of space

Affordable

Flexible

Wide outreach
Vending Trailers
First and foremost, Vending Trailers are another type of specialty trailer, meaning you can get a lot of work done. They flaunt the design of an enclosed trailer, allowing you to keep the inside of the container well protected from external elements. Even in bad weather, you can continue uninterrupted, and you can reach out to people.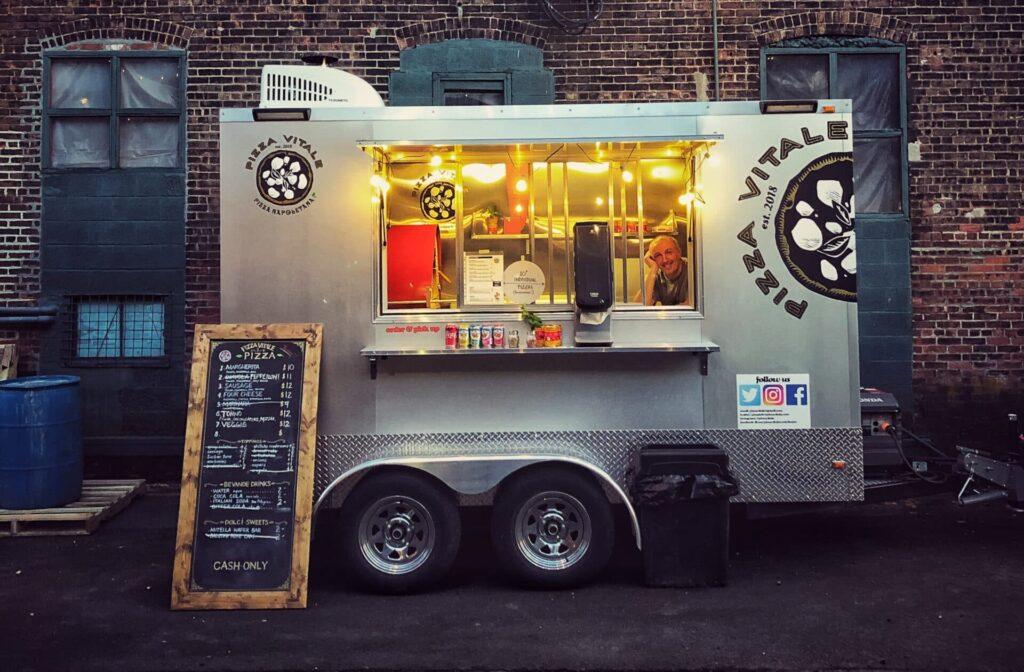 That's one of the significant advantages of it, ensuring you don't have to wait for people to turn up. Its extensive outreach makes it highly accessible, and you can customize the interior as per your needs and change it depending upon the job at hand. Furthermore, it's incredibly versatile and serves you well in several places such as NASCAR races, college sporting events, and shopping centers.
Moreover, it includes several components like glass display counters and three vending doors, amping up user-friendliness. Likewise, it has dynamic exterior graphics and televisions to portray marketing messages. In that regard, the fluorescent lighting comes in handy as it makes the words stand out.
Meanwhile, it has the latest security system, and along with the generator and air-conditioning, you can continue working under different situations. Apart from that, sufficient storage space gives you enough room for all your needs.
Pros
Versatile

Wide outreach

Generator for uninterrupted power

Eye-catching display

Interior customization possible
Side-kit Trailers
Straight off the bat, Side-kit Trailers are useful for materials that are difficult to pack. So, powder, crop, granular substances, coal, and gravel are ideal for the shipment because they don't have any specific shape. As a result, you can't use an enclosed container that might damage the cargo and prove to be an inconvenience.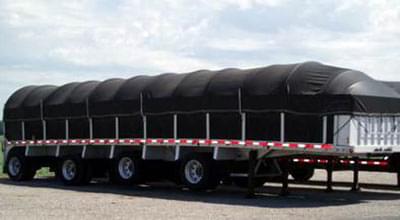 Moreover, it helps to protect delicate substances from moisture or dirt quite effectively. Additionally, it has removable sides, making the loading and unloading very convenient while the forklift makes the process easier and prevents damage.
The detachable sides ensure you can layout the material along the trailer's bed length without any difficulty. Likewise, it's available in a range of sizes starting from 48ft and going up to 53ft. You can choose the length depending upon the shipment you have to carry, thereby making it very versatile.
On top of that, it has a maximum width of 8.6ft while the maximum carrying capacity varies from 42,000 lbs to 45,000 lbs. Besides, the side-kits are made from plywood and fiberglass, providing excellent durability for a cracking performance.
Pros
Versatile

Maximum capacity of 45,000 lbs

Easy loading and unloading

Removable sides

Forklift included
Cons
No enclosed container

Not suitable for heavy machinery
Extendable Double Drop Trailers
Firstly, Extendable Double Drop Trailers are ideal for shipping longer than average materials meaning you can't use traditional double drop trailers. You can extend the middle part of the stepped deck to provide greater area for carrying the cargo. As a result, it has an edge of other models, making it suitable for specific jobs.
To enhance user-friendliness, both the height and weight are adjustable, ensuring you can carry different loads without facing any problems. Moreover, it's versatile as well, and you can ship both taller and shorter cargo by placing them on the lower and upper deck, respectively. It's no surprise then it has a high carrying capacity.
The maximum carrying capacity is 40,000 lbs, while the length can be extended from the initial 29ft to 50ft. On the other hand, it has a width of 8.5ft, and it can carry cargo as high as 11.6ft, which is much more than provided by other units. To make the necessary adjustments based on the load, you can opt for the dual or triple axel variant.
Furthermore, the automatic slack adjusters provide security, complemented by the air parking brakes on two axles. And if you want, you can also opt for rear lugs.
Pros
LED-sealed beam

Automatic slack adjusters

Extendable middle portion

The maximum carrying capacity of 40,000 lbs

The maximum length of 50ft
Stretch RGN Trailers
Right away, Stretch RGN Trailers come in handy for transporting heavy loads, which are considerably taller as well. The main deck can be extended from the initial 29ft to a maximum of 65ft, making them more efficient than the standard RGN trailer in specific instances. Moreover, the massive load carrying capacity of 150,000 lbs is higher than in most other models.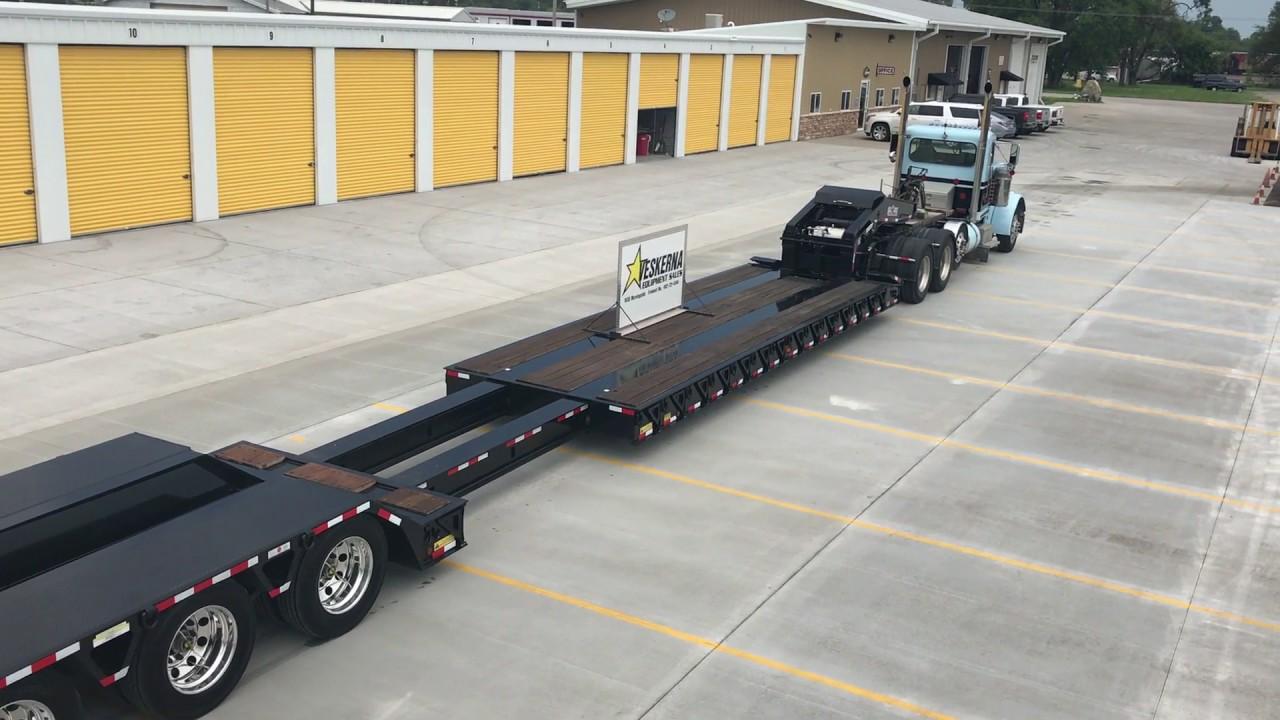 Similarly, the maximum width is 8.5ft, while the maximum height is 11.6ft, giving it an edge. Furthermore, for safety, you can include extra axles to balance the weight of the cargo, making it highly stable and suitable for long-distance travel. Plus, thanks to the removable goosenecks, the loading, and the offloading process becomes more comfortable.
Likewise, for securely handling heavy loads like an excavator, you need to remove the gooseneck enabling the excavator to drive up to the deck. You can then reattach the gooseneck to get a smooth operation. The unloading takes place in the same way for a hassle-free experience.
It can transport a range of cargo, including dump trucks. However, you'll need a permit for the shipment because it usually exceeds the standard dimensions.
Pros
Maximum load capacity of 150,000 lbs

Extendable up to 65ft

Extra axles

Detachable gooseneck

Maximum height of 11.6ft
Conestoga Trailer
First and foremost, Conestoga Trailers are ideal for loading and unloading of cargo, making it a favorite for several people. But there's no compromise in the other aspects, and you're sure to get fantastic performance. It offers excellent protection for the cargo, thanks to the rolling tarp-on-frame system.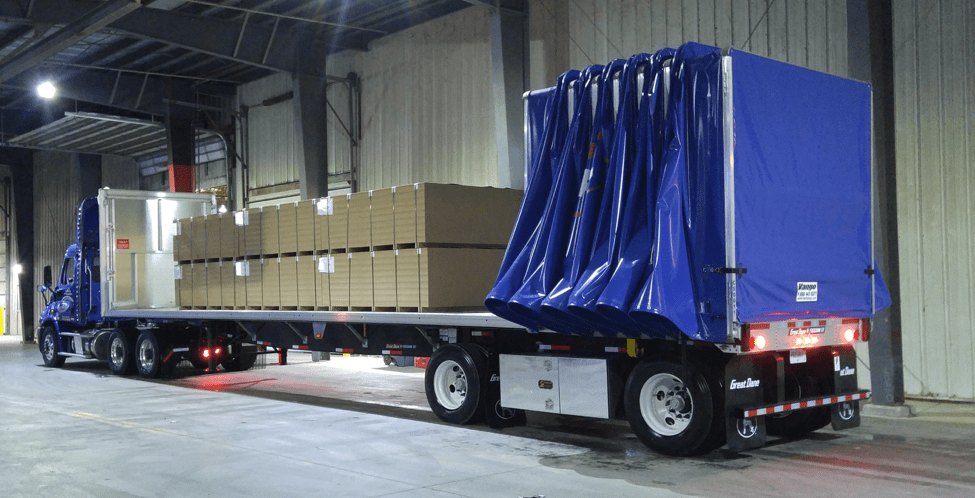 The tarp attaches to a moving frame situated on the sides of the trailer to keep the cargo safe. So, it's ideal for long-distance travel without having to worry about damaging the shipment. Likewise, it protects the material from external elements like dust and strong winds.
Moreover, you can move materials under the tarp for added flexibility. Additionally, it comes with a forklift making it easy to load or unload the equipment from the sides. It can also be done from the top using a crane, thereby making it incredibly useful and versatile.
Meanwhile, it proves to be an affordable option, with multiple drops being a possibility. You can carry a range of materials for shipment, and it doesn't require a lot of maintenance. Furthermore, due to the unique design, backhauls can be added to the trailer.
Pros
Low maintenance

Versatile

Forklift included

Easy loading and unloading

Added protection
Cons
Tarp may rip after regular use
Power-only Trailer
Straight off the bat, you may encounter a situation when a trailer needs to go from one location to another. In such scenarios, it's better to use another trailer to tow it instead of using trucks or tractors. The Power-only Trailer attaches to the other container to take it to the desired destination.
It works with flatbed trailers, refrigerated trailers, dry van trailers, and shipping containers. Plus, it has a large carrying capacity since it requires tugging along another trailer with the cargo. As a result, safety is of the essence to ensure there are no untoward incidents, and the load remains unharmed. It doesn't involve any loading or unloading, and once the shipment is ready, you're good to go.
You get fast and efficient performance, and the only thing required is to get permits for the driver and the cargo. Moreover, it isn't limited to one trailer, and you can haul along several trailers without any issues.
The adjustable fifth wheel holds the key and allows it to fit the dimensions of the other vehicles. Depending on the model, you can choose a unit having a maximum of four axles for stability.
Pros
No loading and unloading

Adjustable fifth wheel

Large carrying capacity

Can haul several trailers

Fast
Multi-Car Trailer
Firstly, the Multi-Car Trailer has been around for a long time and is quite common for transporting numerous cars. It's a type of specialty trailer used to carry a maximum of 8 vehicles from one location to another. And there are two types of this version – the single-decker and double-decker trailers.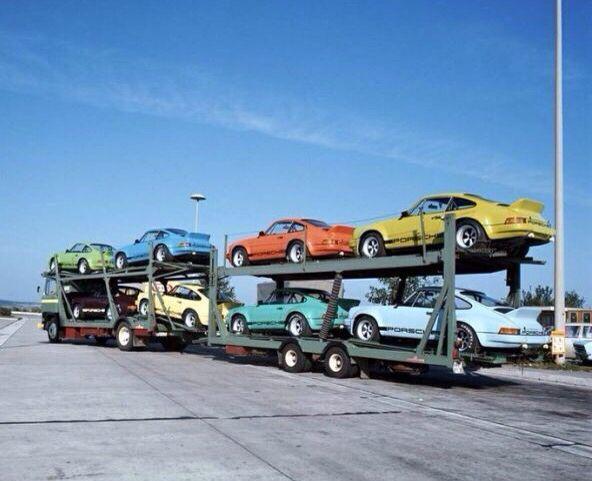 If you need to ship eight cars, then the double-decker version is used and can carry a maximum height of over 11.6ft. Besides, a lot of attention is paid to safety, thereby ensuring the cars are tightly secured to avoid damage or accidents. Meanwhile, it can carry a maximum load of 200,000 lbs, allowing for heavy vehicles' shipment.
There are no walls or roof, making for easy loading and unloading, but since there's no enclosed container, you may need to use a tarp. Plus, the driver and the cargo require a special permit. Apart from that, you'll be happy to know it presents an affordable option for shipping, and you can conduct multiple drops if needed.
It also comes in various sizes, allowing you to choose one depending on the number of cars you're shipping. Similarly, the weight varies as well, and older cars will require a more massive trailer.
Pros
Available in two versions

Versatile

Large load carrying capacity

Can ship eight cars at once

Easy loading and unloading
Cons
Requires tarping

Permit needed
Livestock Trailers
Right away, you'll notice stock trailers are incredibly durable, given that they have to ship live animals. Most containers come with an all-aluminum construction as it provides higher load-carrying capacity. As a result, it'll last a long time while withstanding the livestock moving around in the back.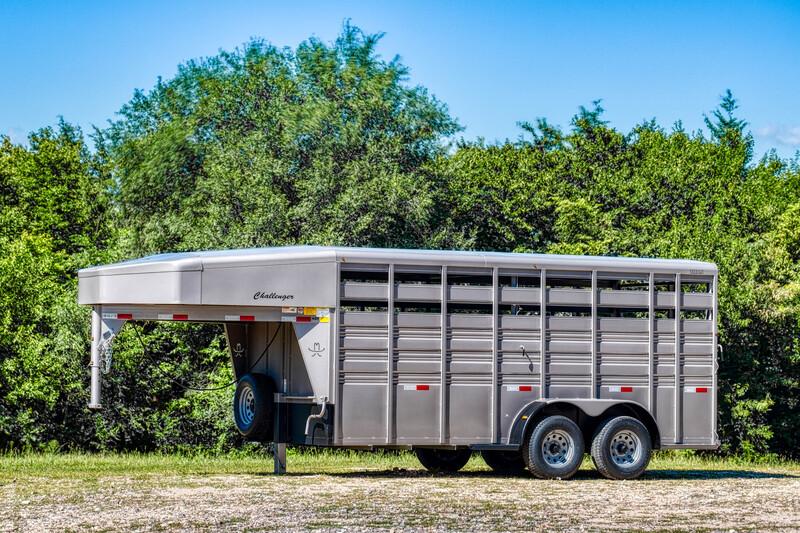 It has to ensure both the animals and the trailer remains safe, to deliver unmatched performance. Moreover, it requires low maintenance and is resistant to rust, while the lightness in weight means it consumes less fuel compared to other models. Yet it still provides a smooth tow for convenience.
Furthermore, the unibody design is ideal for long-distance travel, complemented by the 4″ thick dock bumper. The bumper is crucial for providing more shock absorption when the farmers back up to the gates. Meanwhile, it features running boards along the side for added protection. And, thanks to the slam latch, a one-piece lock available with the interior of the trailer, it's suitable for easy unloading.
Additionally, it comes with LED wraparound lights for more visibility, thereby making long-distance travel more manageable. Finally, the tapered gooseneck creates better aerodynamics for a seamless experience.
Pros
LED wraparound

Slam latch

Dock bumper

Durable

Large carrying capacity
Final Words
We hope you have a much better idea regarding trailers and you can make an informed choice.
Whether for business or shipping, trailers are of utmost importance in today's day and age. It's essential to have a clear idea of the type of cargo to be shipped to choose the correct type of trailer.
You're bound to get a lot of versatility, and even if the shipment arrives unexpectedly, the transportation can be mode possible. So, that's all for now. Until next time. Ciao!