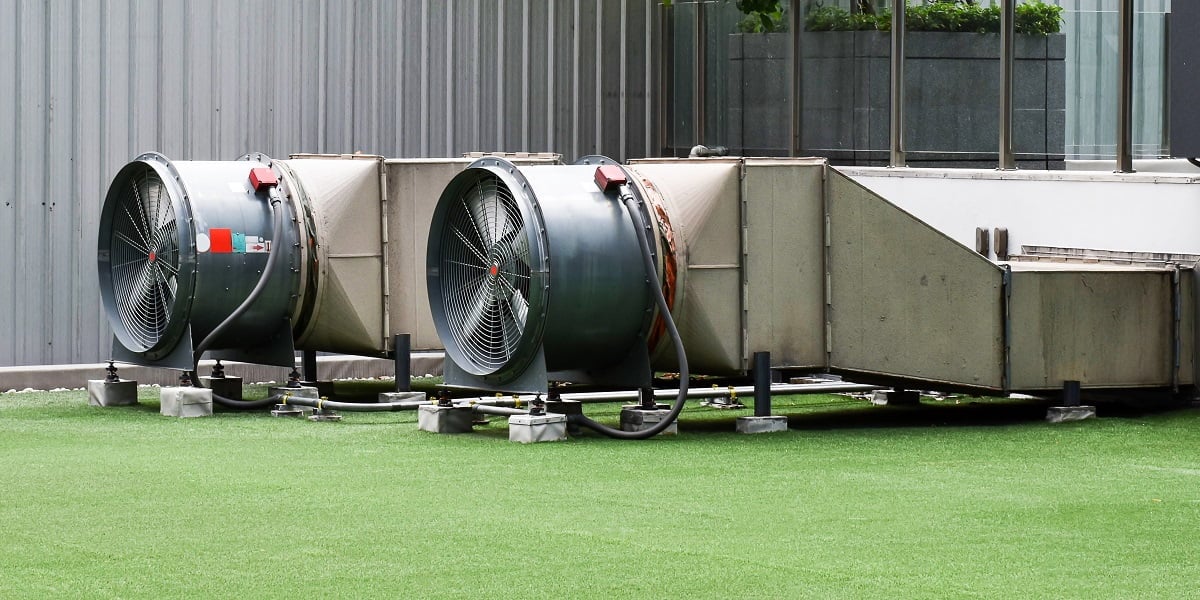 Blower fans generate more pressure compared to traditional fans through a series of vortex motions, thanks to the centrifugal movement of the impeller. As the impeller keeps turning, channels within the system help expel the air forward. 
If you don't have an air conditioning system, buying a blower fan can be the next best way to deal with the scorching summer heat. 
That said, choosing the right blower fan can be a daunting task because there are so many great options. You need to consider the fan speed, motor performance, airflow capacity, and much more, so, today, we'll review the six best blower fans to make it easier for you. 
6 Best Blower Fan For AC Reviews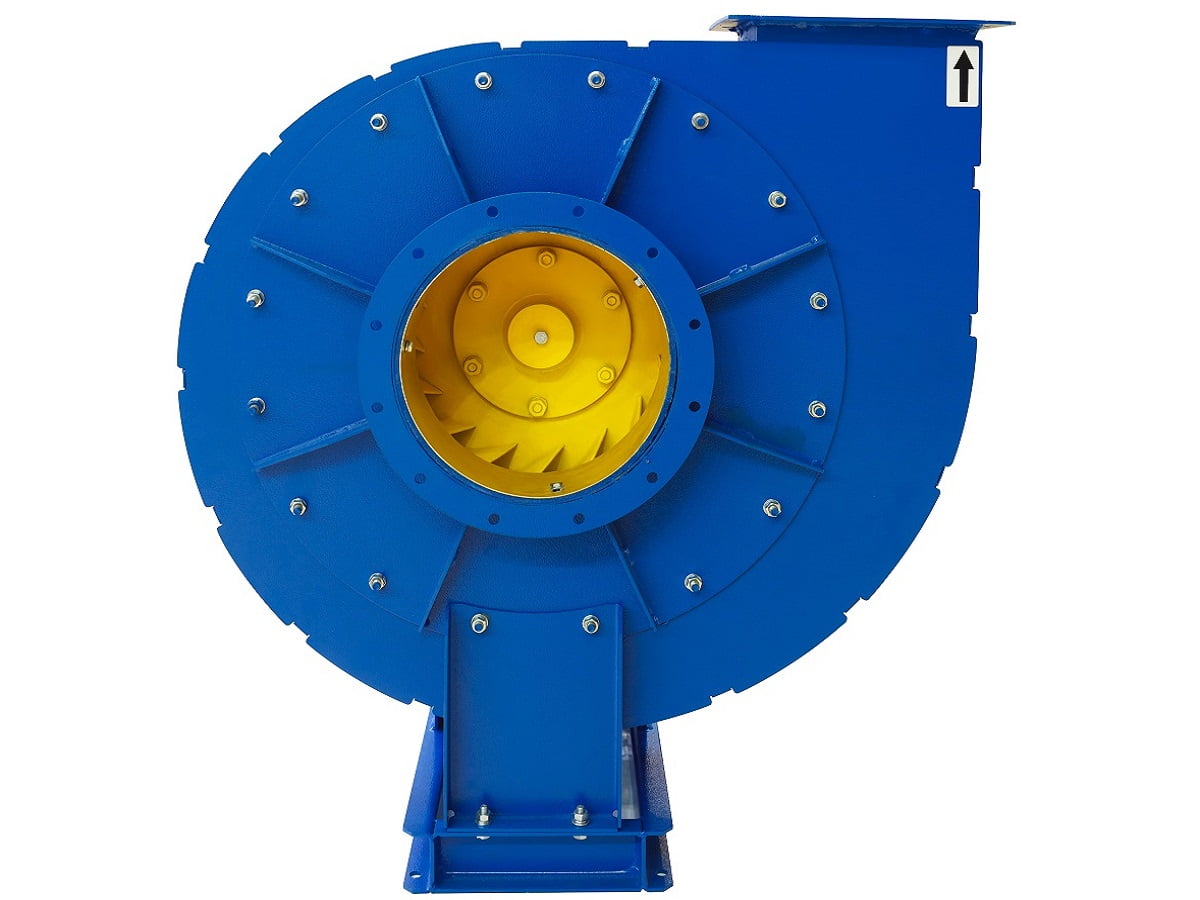 Beat the heat with this high-velocity utility fan from Lasko, or just use it to prevent your AC from leaving damp patches on the walls. Even if you don't have an AC, this pivoting blower fan can be excellent for different residential applications. It is an ideal solution to keep you comfortable and cool during the blazing summer months. 
Why Did We Like It?
Its pivoting blower head makes it super-easy to control the direction of the airflow and the Lasko high-velocity blower fan keeps out the heat and humidity from your bedroom. You can even use it during household chores or while exercising to stay cool and comfortable.
The blower fan comes with three adjustable fan speeds to generate a maximum air delivery of around 341 CFMs. Its high-velocity air stream makes it suited for circulating and exhausting hot and stuffy air to improve ventilation inside your home. You can also use it for drying carpets, floors, and even small wet patches left on the wall from the drain line of your air conditioning system. 
This Lasko blower fan is pretty easy to use, thanks to its manual controls and compact design. It's a real space saver with a large easy-grip handle and a 10-foot cord, so you can place it anywhere without hassle. The built-in circuit breaker, reset button, and Blue Plus safety fuse technology also prevent electrical hazards to offer safe cooling. 
What Could've Been Better?
Even though the high-velocity air stream works quite well in cooling and drying small spaces or objects, the fan isn't the best choice for large spaces. You can't use it to cool a living room with an open floor plan or to dry massive wet patches on your walls from burst pipes. 
Pros
High-velocity air stream

Easy manual controls

Built-in circuit breaker and reset button

Patented Blue Plug safety fuse technology
Cons
Not suitable for large spaces
This XPOWER centrifugal fan is a pocket-size powerhouse because of its motor that can blow away moisture in a jiffy. The high fan speed is excellent for cooling and exhausting hot air, while it can be perfect for drying wet clothes or damp walls during the humid summer days.
Sale
Why Did We Like It?
The most attractive quality of this centrifugal fan is its powerful performance since it produces an air stream of up to 925 CFM, thanks to its ¼ HP motor. This air mover is excellent for boosting air circulation and helps create an ambient environment inside your room. It also guarantees optimal airflow to dry off tight areas and flat surfaces. 
This centrifugal blower fan is not just powerful but also highly energy-efficient and consumes only 2.3 amp even at the highest speed setting. It has a lightweight, portable design with a handle for transpiration and storage. But, the lightweight design doesn't compromise the fan's durability as it's made with PP filter housing. 
Its three adjustable fan speeds and four operating positions with an in-built timer make this centrifuge fan an exceptional choice for better air circulation. It has an ETL/CETL safety certificate and comes with a 1-year limited warranty. XPOWER even employs an excellent customer service team to support and help people with their queries. 
What Could've Been Better?
Even though you can use this centrifugal fan for drying your clothes or carpets, the fan motor doesn't have a protective sealing and is susceptible to water or dew. Moreover, unwanted dust and debris can get sucked inside the motor and lead to significant damage. 
Pros
Super-fast surface drying

Powerful and energy-efficient

Lightweight and portable design

Adjustable fan speeds and operating positions
This blower fan from K Tool International is designed for indoor and outdoor applications. You can use it in your kitchen, bathroom, shop floor, basement, attic, garage, or driveway for super-fast drying and improved airflow. Plus, the fan is powerful enough to blow air up to 50 feet away. 
Why Did We Like It?
The K Tool International blower fan is a heavy-duty unit and delivers high-velocity air stream for quick drying. With a maximum airflow capacity of 1,200 CFM, it can blow air up to 30-50 feet away. 
It also has three fan speeds, so you can enjoy a cool afternoon amidst the summer heat or dry up your wet bathroom floor within minutes. You can also adjust the blower fan in four positions to get the desired angle of airflow, including facing straight forward, 90-degree upward, or 45-degree up or down. 
Moreover, the fan comes with two overload-protected ground outlets on either side. You can easily plug your cleaning appliances, shop tools, speakers with some good songs, or any other equipment to get the job done seamlessly without any stress. 
What Could've Been Better?
The biggest drawback of this blower fan is it contains carcinogenic materials, which can cause cancer if the plastic housing of the fan gets burned and you inhale the smoke. Not to mention, if the fan runs for long hours it increases the risk of overheating and damage. 
Pros
Centralized airflow and quick drying

Powerful performance and heavy-duty design

Versatile

Ground outlets with overload protection
Cons
Made from carcinogenic material
The utility blower fan from Air King is perfect for residential and commercial applications, thanks to its durable plastic design and powerful adjustable fan speeds. You can also use it for cooling or drying large spaces, including your garage, basement, damp patches on your wall from the AC ducts, or leaking pipes.
Why Did We Like It?
This commercial-grade utility blower fan has three adjustable powerful fan speeds with a side-mounted rotary dial switch for easy control. Its two grounded outlets allow you to plug in additional appliances and tools. Additionally, the pivoting fan head directs airflow wherever you need it the most. 
It has a lightweight design featuring a carry handle for easy transportation and storage, so you can move it effortlessly. The blower fan is perfect for use in large spaces, including offices, industrial sites, garages, or basements. 
It has a 7-foot SO-type power cord and comes fully assembled, so you can plug it into the nearest electrical outlet, and you'll be good to go. Also, the circuit breaker and reset button ensure safe cooling without causing any electrical hazard. 
What Could've Been Better?
Although this blower fan produces high-velocity airflow, it makes a lot of noise and can ruin your peaceful afternoon nap. It often creates a squealing noise, even while running on the lowest fan speed. And if you have babies or toddlers in the house, this blower fan model might not be the best option. 
Pros
Three powerful fan speeds

Adjustable pivoting fan head

Built-in carry handle

7-foot power cord with 3-conductor
The VEVOR utility blower is excellent for exhausting and ventilating, and you can use it for professional or residential applications. Its pure copper motor is designed for high-velocity and high-volume output, making it better than ordinary blower fans on the market. Also, the fan's high-working efficiency and directional airflow help to access tight areas. 
Sale
Why Did We Like It?
The most attractive quality of this blower fan is its 520W pure copper motor offering a high speed of 2,800 RPM for long-term ventilation at a low noise of 69 decibels. You can use it as an exhaust fan while the windings of this impedance-protected motor offer superior heat resistance. 
7 thick aluminum alloy blades create a large air volume with an airflow capacity of 2,295 CFM per 3,900 cubic meters per hour. These blades are further built to resist cold, corrosion, or overheating and the cutters and impeller are even resistant to flaming. 
Moreover, the heavy-duty steel construction makes the fan withstand vibration, compression, deformation, and rust. Speaking of vibration, it has rubber feet for better stability and noise reduction when the fan is running. 
This industrial extractor fan also comes with flexible PVC ducting for easy intake or exhaustion of air. 
What Could've Been Better?
Even though the blower fan is perfect for ample airflow and offers a low-noise performance, it doesn't have any adjustable fan speeds or a speed control button. It only offers a single fan speed, and you can't hook it to a control system to change the fan speed depending on your requirements. 
Pros
Aluminum alloy fan blades

Heavy-duty steel construction

Flexible PVC duct included

Portable handle and rubber feet
Cons
No adjustable fan speed control
The utility blower/extractor fan from OrangeA, offers fast and adequate ventilation by extracting maximum air. It has a durable steel casing, making it perfect for heavy-duty applications. The fan is also great for exhausting hot air and keeping your room cool all year round. 
Sale
Why Did We Like It?
There are so many things to love about this OrangeA utility blower fan, including its high-volume output and 3,300 RPM motor speed. Its 100% powerful copper winding motor is ideal for improving air circulation while delivering a quiet performance of 71 decibels. The fan also has 7 thick blades, offering an exceptional airflow of 2,298 CFM for efficiency.
Its 16 feet flexible PVC ducting is waterproof and helps in exhausting your room or office space to keep it cool and comfortable throughout the year. Since the duct is flexible, you can conveniently adjust it for effective intake or exhaustion of air based on your requirements. 
Moreover, the fan has a sturdy steel casing with excellent durability that extends its lifespan. It even has four rubber feet and two handles for improved stability and easy transportation. You can use it at any place requiring ventilation, such as kitchens, garages, warehouses, and workshops. 
What Could've Been Better?
The power switch of this blower fan can be a bit of a letdown because it tends to break quite easily after only a few uses. Furthermore, many customers have complained about the switch being broken or faulty on receiving the product package from Amazon. 
Pros
100% copper winding motor

2,295 CFM high-volume airflow

Waterproof PVC ducting for improved ventilation

Sturdy and humanized heavy-duty construction
Cons
Faulty and broken power switch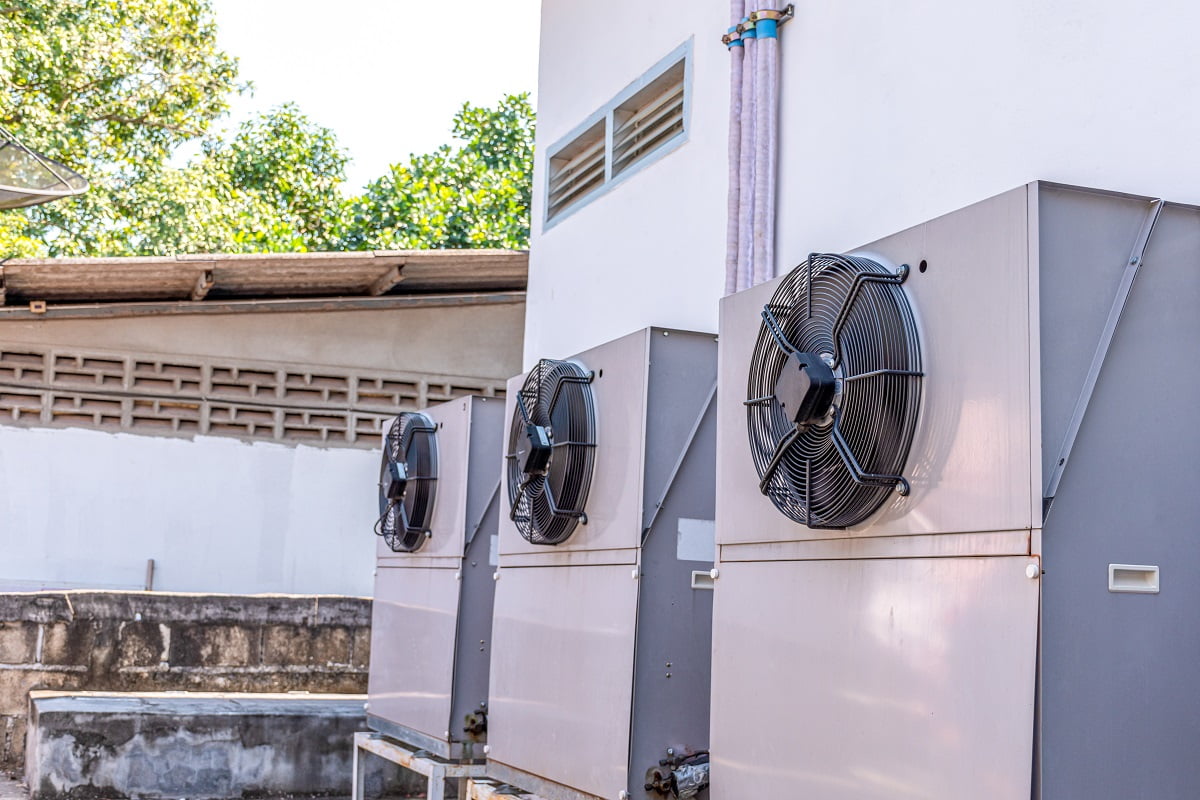 Blower Fan For AC Buying Guide
Factors To Consider
1. Motor Speed
The motor speed of a blower fan determines the amount and velocity of the air stream it can produce, along with the distance up to which it can blow the air. Blower fans having 100% copper winding motors are known for their powerful performance and can easily blow air up to a distance of 30-50 feet. 
Motor speed is particularly important if you're looking for a blower fan for commercial applications because they require more power compared to ordinary home blower fans. The more the motor speed of a blower fan, the more its RPM (rotation per minute) will be. 
Thus, choose blower fans with a higher motor speed for more blade rotations and powerful performance. 
2. Fan Speed
If you're looking for blower fans for home applications, it's best to search for models that come with adjustable fan speeds. Typically, high-quality home blower fans offer 3 adjustable fan speeds accompanied by a manual control system or a rotary control dial for your convenience.
If you're using the blower to dry up the damp patches on your wall, set it on a higher fan speed. On the other hand, it's best to change the fan speed to low for drying your wet clothes or carpets so that the high-velocity airstream doesn't damage the fabric. 
3. Airflow Capacity
The airflow capacity of a blower fan determines the velocity and amount of airstream it can produce while it's running. It essentially signifies the volume of air a blower fan can move per cubic foot. A higher CFM value indicates that the blower fan is able to blow out air to a greater distance. 
Any blower fan with a high CFM value will offer more area coverage by producing a high-volume air stream. The airflow capacity of commercial blower fans can be anywhere between 2,000 and 3,000 CFM, while residential blower fans have a much lower CFM value. 
4. Construction And Portability
When buying a blower fan, you want it to last long and perform heavy-duty tasks, especially at job sites. Look for a model with a sturdy plastic or steel construction that's resistant to heating and rusting. Once you find a suitable blower fan, carefully go through the product description to determine the durability of its material. 
Along with sturdy construction, portability is an important factor to consider while purchasing a blower fan. It's much easier to carry and transport a lightweight model featuring an easy-grip handle. Furthermore, portable blower fans are easy to store, and you can safely stow them inside a closet without any hassle. 
5. Quiet Performance
Studies show that constant and prolonged exposure to noise over 70 decibels can cause severe damage to your hearing. Since some blower fans can create quite a ruckus, it's better to check their output decibel before buying them. 
It's best to go for models that perform at a lower decibel of 60, even when running at the highest fan speed. Moreover, if you have babies in the house, a blower fan with a quiet performance won't disturb their afternoon naps. 
6. Affordability
Always consider the price of a blower fan and whether you can afford it before making a decision. Even though blower fans are much cheaper than any air conditioning system, their prices vary based on their performance. 
Commercial blower fans are usually more expensive than residential blower fans. So, there's no point in wasting hundreds of dollars on buying a commercial-grade model for simple residential applications. 
Blower Fan For AC Frequently Asked Questions ?
Do blower fans work differently than normal fans?
Even though it can be hard to detect because of their exterior housing cover, blower fans work differently than normal fans. Blower fans basically function like reverse windmills because they suck in air and then spin it around with thick blades. 
They suck in hot and humid air before shooting out the exhaust for cooling or drying. However, if there's any residual air left behind, the fan blades continue to spin it until all of it is used up eventually. 
The small enclosed space of blower fans allows them to trap the outside air at a higher pressure before shooting it out to produce a high-volume air stream. In contrast, a normal fan simply collects and pushes the surrounding air forward.  
What are the common uses of blower fans?
Since blower fans offer a high-velocity airstream to a concentrated area, they provide a wide array of services. The most common uses include drying carpets, clothes, or floors, ventilation, and cooling. You also use the best blower for car to remove toxic exhausts or fuel emissions to keep the air inside your car clean and breathable. 
Apart from these common residential appliances, blower fans are used in industrial works, like combustion. They are also pretty common in woodworking shops because the high-volume concentrated airflow clears sawdust. 
However, the sizes and prices of the blower fans vary based on their applications. Commercial blower fans for industrial applications are bigger and offer a significantly more powerful airstream than any residential model. 
Are blower fans better than normal fans?
Both regular and blower fans fundamentally give the same result; they collect the surrounding air and blow it forward to ventilate or cool down any space. But, their applications are very different, so if you ask which one's better, the answer will depend on your requirements. 
For instance, blower fans might not be the best choice if you're trying to cool a wide and open area. The air stream in blower fans is focused on a concentrated area and won't work in large spaces, which makes regular fans are a much better option. 
Blower fans are more efficient than regular fans when you want to dry your bathroom floor or damp walls.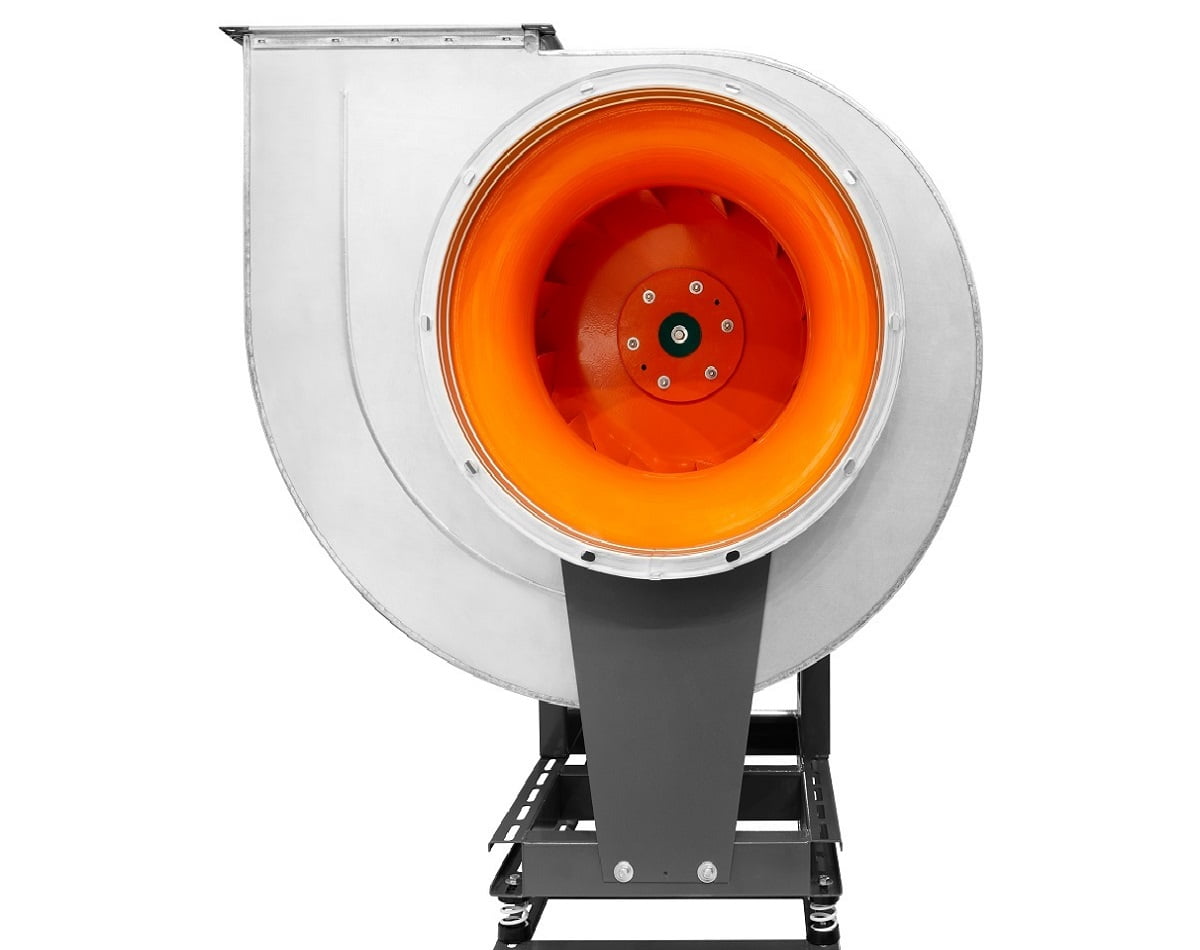 Blower Fan For AC Verdict
After going through our product reviews, you must've realized that shopping for the best blower fans requires hours of research, and you need to go through tons of products. That said, all the products included in our list are known for their high-quality performance and pocket-friendly price. 
If you're still reluctant about choosing the right product, we highly recommend going for the Lasko High-Velocity Pro-Performance Pivoting Utility Fan. It offers a high-velocity air stream, which is excellent for residential applications while you can adjust the fan speed using manual controls based on your requirements. Its patented Blue Safety fuse technology and the circuit breaker also deliver safe cooling.