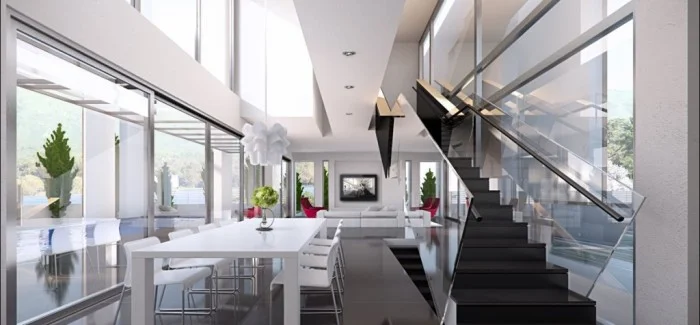 A black and white interior design is sure screaming out the strong and powerful attitude of the owner trough a classic apparel, a very bold contrast and huge color scheme that works with this amazing collection. You can use it anywhere from the living room to the the terrace and in  backyard landscaping, a highly versatile combo that can mix and match everything just by adjusting the contrast and the ratio of black and white.  You need a simple bright room? All you need to do is use stark white on the walls and most of the furniture and keep the gadgets as  black accents.You need a Vintage Gothic Apparel? Go hardcore by using very strongly black in combination with Art Deco and Gothic motifs, you can use more iron, less glass expressing what you need trough textures and keep things as black as it`s needed.
There are hundreds of world architects and designers which just love to use black and white for contrast, mostly because such a contrast does not keep your attention fixed in, it`s a  neutral way of controlling the surroundings. Take Colunata House as an example, if you look on the interior design, you will notice that even though the contrasts exists, the interior design is top notch, your attention will still go to the wonderful rocky shores, allowing you to enjoy the amazing landscape.
From another point of view, you can use such colors to make your room seem larger wider or taller depending on where you`re using the white or black; you can make a small bedroom seem huge using stark white paint or even smaller with black; in the same manner you can control the lightning and brightness of the room just b using the black and white color scheme.
There are hundreds of methods of using the black and white color scheme and hundreds of methods of transforming a home or an interior design using it, this bold and strong combination is considered a very powerful asset by any architect or designer that knows how to use it and we are obviously highlighting such setups for your dream home.
Pictures below are speaking for themselves of how far you can play with your interior design but we are really curious how are you using the black and water color scheme in your design.
For more inspiration we have posted bellow few of our articles which rely mostly on black and white :
17 Inspiring Wonderful Black and White Contemporary Interior Designs