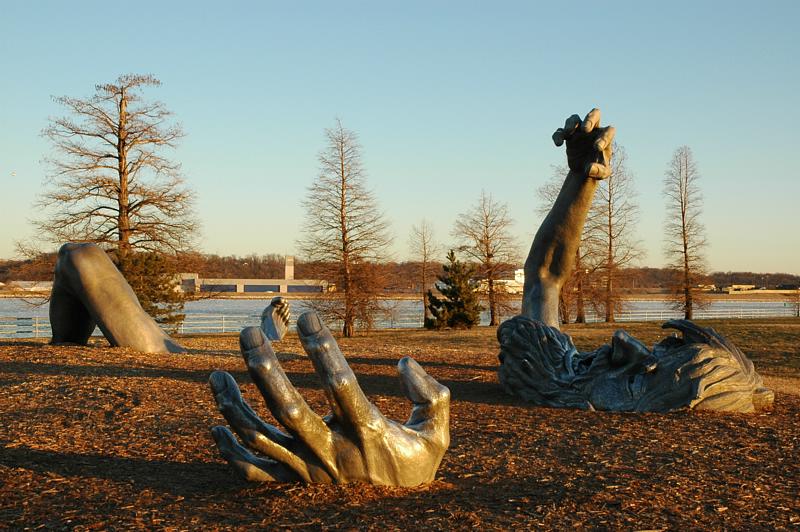 The Awakening (1980) is a 70-foot (21 m) statue of a giant embedded in the earth, struggling to free himself, located at National Harbor in Prince George's County, Maryland, USA, just outside the District of Columbia. It was created by J. Seward Johnson Jr. and originally installed at Hains Point, Washington, D.C.
The statue consists of five separate aluminum pieces buried in the ground, giving the impression of a distressed giant attempting to free himself from the ground. The left hand and right foot barely protrude, while the bent left leg and knee jut into the air. The 17-foot (5.2 m) high right arm and hand reach farther out of the ground. The bearded face, with the mouth in mid-scream, struggles to emerge from the earth.
The sculpture was cast in five parts over a two year period. It was funded with a National Endowment for the Arts, Art in Public Places grant of $50,000 given in 1980 to the International Sculpture Center, Inc.
The sculpture was installed at East Potomac Park during the 1980 International Sculpture Conference, and remained at East Potomac Park on an open-ended loan to the National Park Service until 2007. In 2007 the sculpture was sold for $740,000 to the developers of National Harbor in Prince George's County, Maryland. In February 2008, the sculpture was removed from East Potomac Park and installed at its new home in National Harbor, on a beach along the Potomac River.
Homesthetics Conclusion
First of all, the remarkable expression of the giant will never be forgotten once seen.
Second of all, personally, I highly appreciate the creativity of this piece of art and the effort invested in it and I fill satisfied that effort has been rewarded with a huge prize when sold the last time, all artists, from theater actors to architects should have a better life style. And their work should should be acknowledged, but it should also be worth creating in the first place.