Designed by E. Fay Jones, second of six "most admired" architects recognized by Architecture magazine, an apprentice of Frank Lloyd Wright, Jones's Thorncrown Chapel displays characteristic organic architectural elements.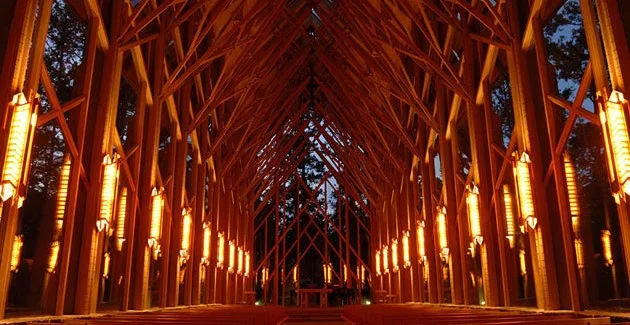 Demonstrating respect for the natural setting and landscape and integrating a sophisticated orchestration of space and light along with the use of simple, handcrafted, natural materials, Thorncrown Chapel received the American Institute of Architects (AIA) Honor Award and Jones was awarded the Gold Medal for his great contribution. The Architectural Record proclaimed that Thorncrown was"a brilliant testimony to the power of architecture to intensify experience and inspire contemplation."
It is constructed mostly of wood and other natural materials indigenous to northwestern Arkansas. So the proposed design minimized material transportation costs. Though it looks like an open-air structure, the chapel is a glass-enclosed, conditioned space that still allows you to fell in the middle of a forest.
This chapel was listed on the National Register of Historic Places in 2000 .(Buildings less than fifty years old can only be listed on the Register if they are of exceptional significance).