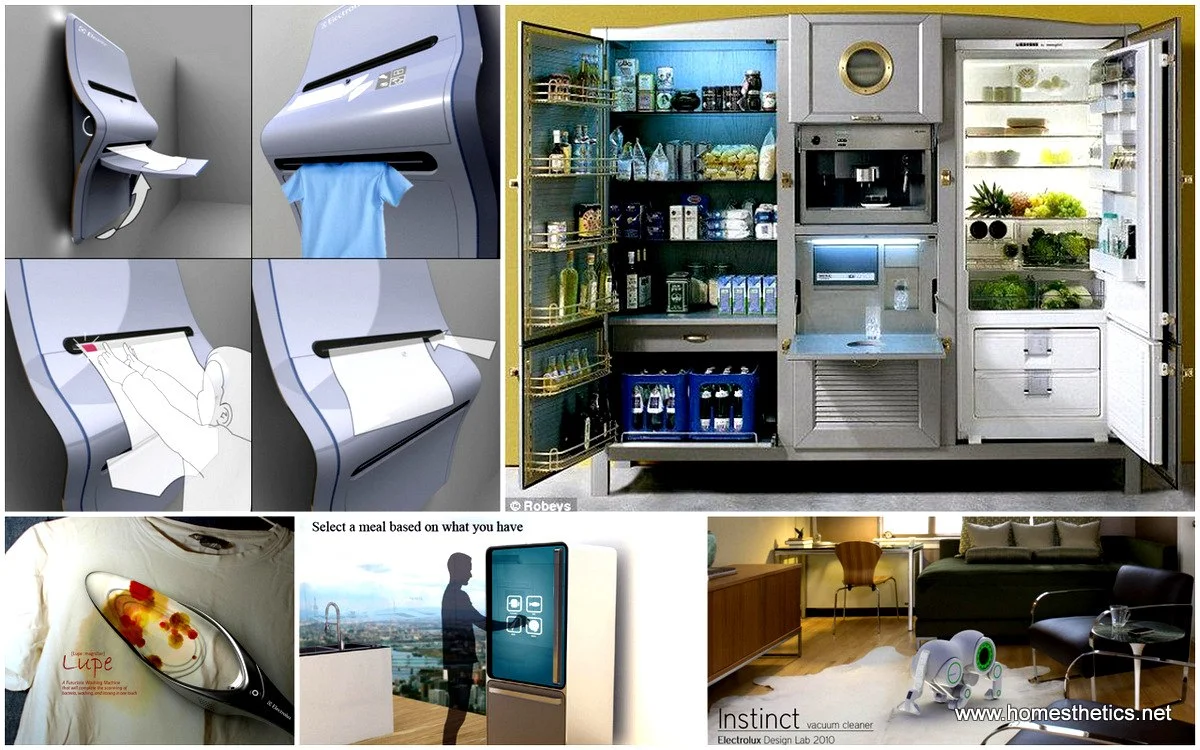 There is never to early to design for the future. And nowadays specialist predict a rather dark future for our civilization due to the end of fossil fuels and global warming.Our need for consumption has exceeded any expected limit and has transcended the actual human needs. We buy more than we need and consume more than our earth was meant to supply. Thus we must come up with new and innovative methods of creating food from nothing, preserving the little resources we have left and maintain a green, safe environment for the future generations. Top 27 Future Concepts For The Home Of 2050 will give you a small idea of what the future has in plan for us.
1.Smart Fridge Is Your New Recipe Card by Ashley Legg
The first concept was created for those lazy ones who end up cooking using just the microwave every day. Its intelligent interface provides you with cooking recipes depending on the contents of your fridge and offering you the necessary instructions while cooking. Quite smart don't you think?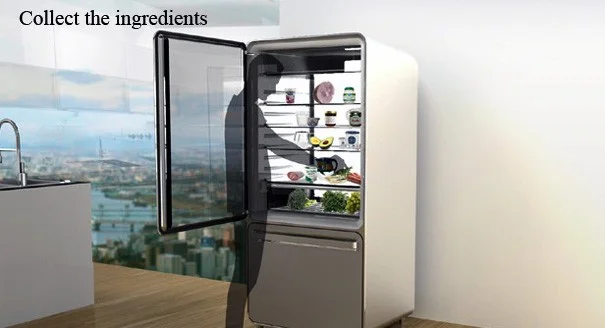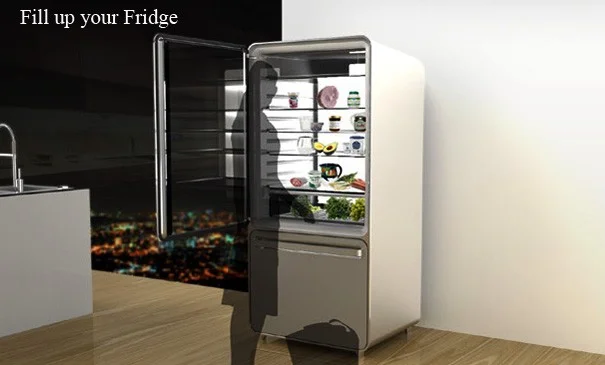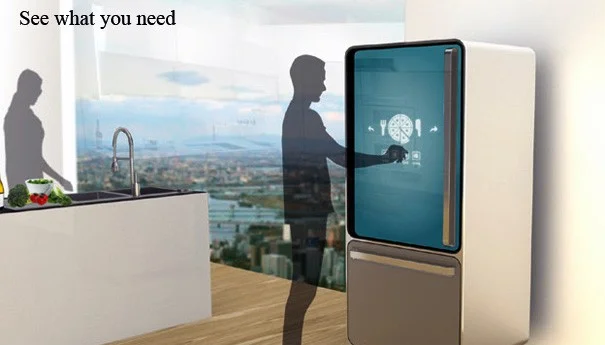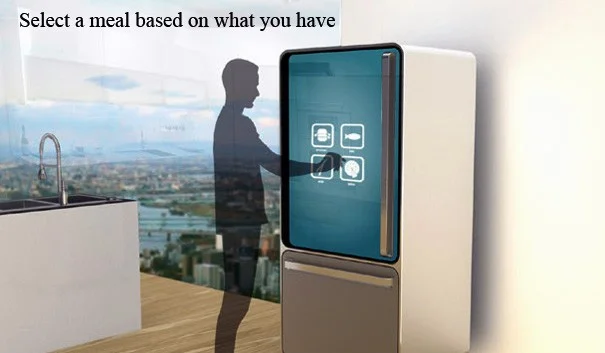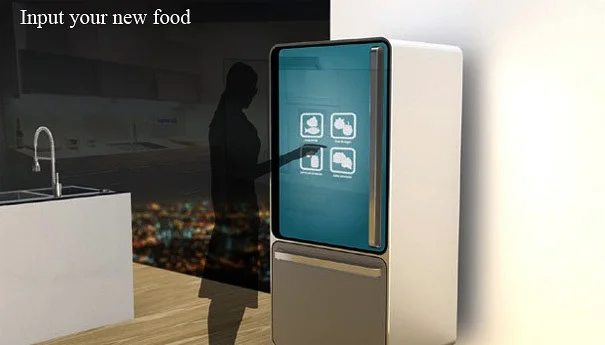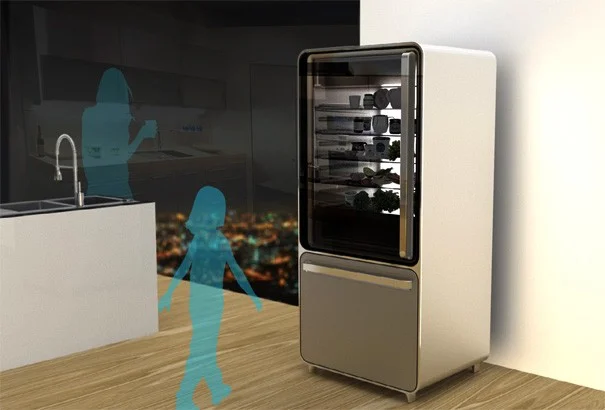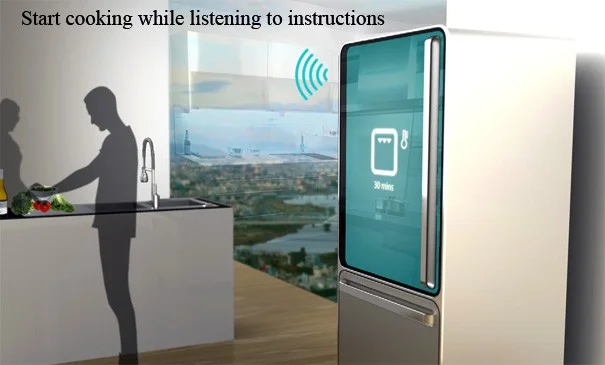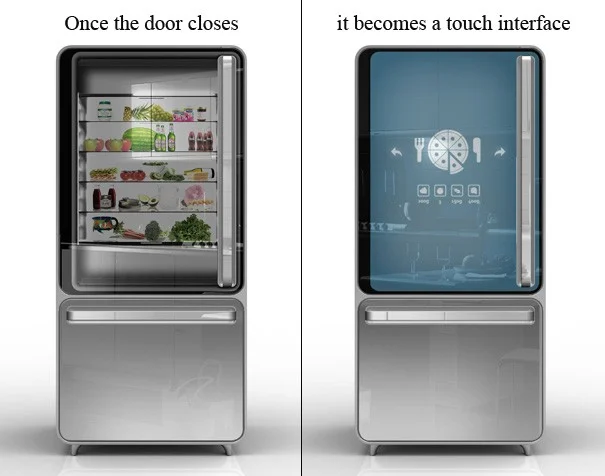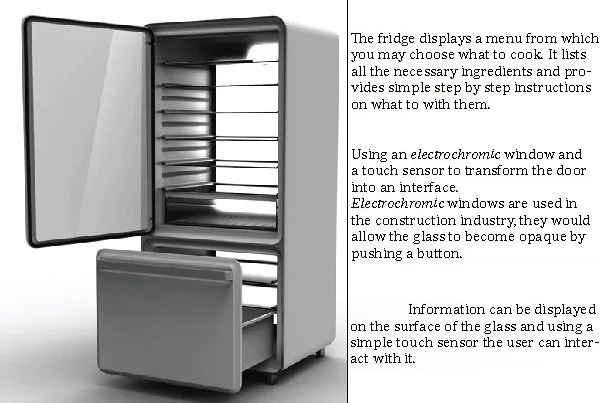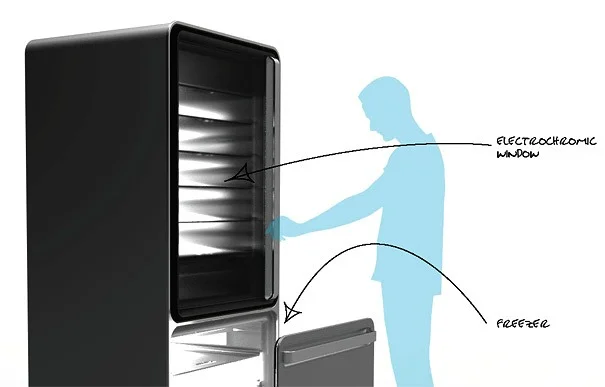 2.The Meneghini La Cambusa is what a $40,500 refrigerator looks like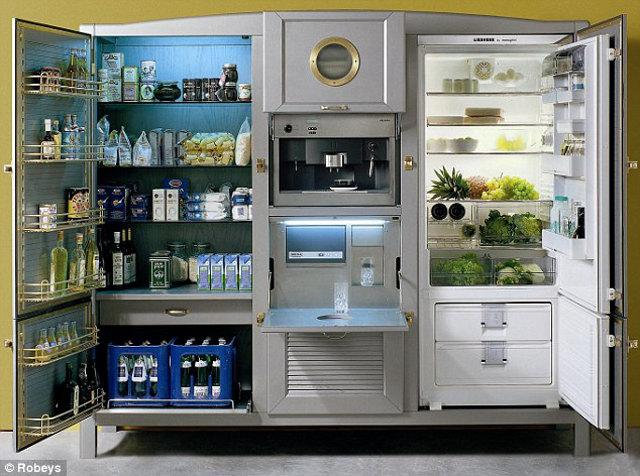 $40,500 for a fridge?! That sounds outrageous! But not if you are extremely rich! According to its product description, what makes this fridge so special is its ability to be customized, with optional extras that include "space for coffee maker, fitted pantry, double pantry, ice-maker, microwave oven, steam oven and multi-function oven." Well we are not sure who would need all those options put together in one piece, especially placing antagonisms like hot coffee and an ice maker, but when you are wealthy I suppose this may make sense?!
The 2nd Space Age
For its 2010 competition, Electrolux Design Lab went with the theme: The 2nd Space Age. The idea is to design an appliance that will come to the aid of the future and combat the space crunch, limited resources plus advocate energy savings at the same time for the year of 2050 when most of the population is predicted to live in the urban areas. The following 25 projects have been deigned by students which hope of a greener, eco-friendly environment.
3.Community Laundry Concept by Kai Wai Lee
A communal laundry for the entire apartment block! Each family has its own basket that he can take home with clean clothes and can bring back with  the ones that need washing.
4.Bio Robot Refrigerator by Yuriy Dmitriev
The Bio Robot fridge works by cooling biopolymer gel through luminescence. Odorless gel encapsulates each piece of food individually.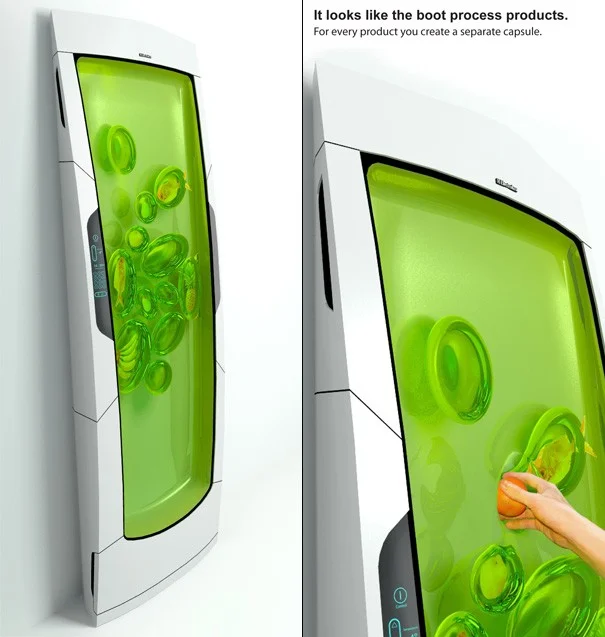 5.Bio Tank, Robotic 'FishWasher' by Akifusa Nakazawa
The Bio Tank contains Robotic Fish which clean the dishes and turn the leftover food into bio fuel, while filtering the water as well. Talk about recycling!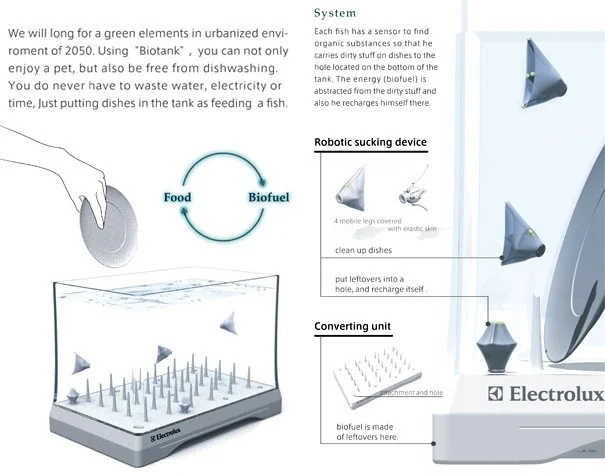 6.Bx7 Preparation Unit by Losif Mihailo
This gadget transform capsules of zinc, magnesium, selenium into a delicious juice filled with nutrients and the necessary vitamins for your everyday need.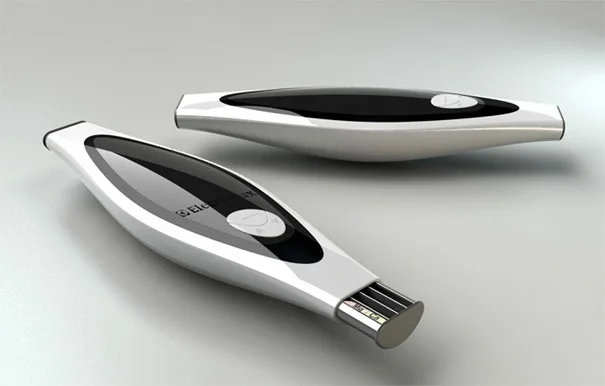 7.Clean Closet – All in One Laundry Concept by Michael Edenius
A scanner scans your hung clothes, finds the dirty spots and cleans them so you always have fresh, clean clothes in your closet.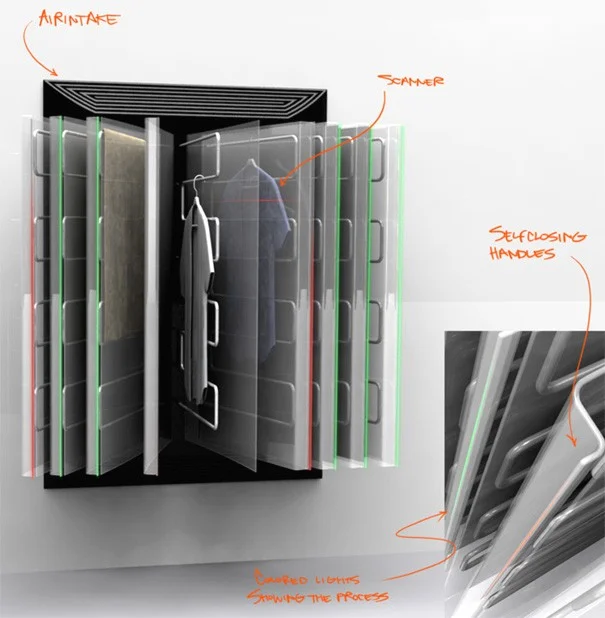 8.In-home Clothing Printer by Joshua Harris
There is only one more small step to printing your own clothes in your home when ever you want to. Can't wait for this one to become real!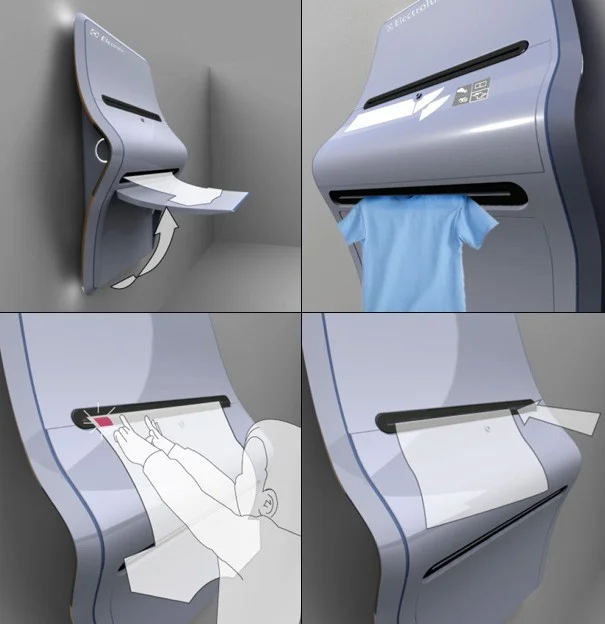 9.Community Fridge by Pedro Sanin Perez
Taking community living to another level. Sharing your fridge might seem unusual. But this fridge allows you to have a personal code which lets you choose only the food you have placed in the fridge. Don't really know what to think about his concept! It might work in a dorm room where you store snacks and sodas.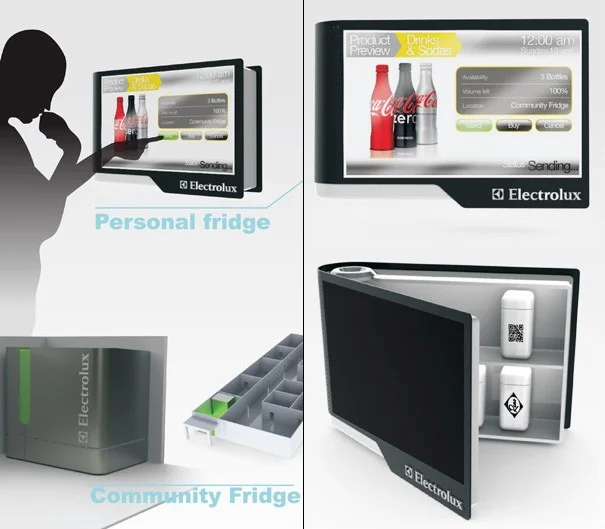 10.Dismount Washer – Wash & Go Laundry by Lichen Guo
The Dismount Washer is a machine drum/ basket you can take home after the washing is done.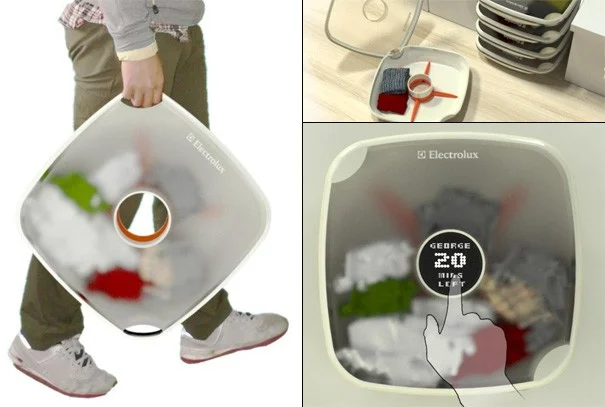 11.Eco Cleaner by Ahi Andy Mohsen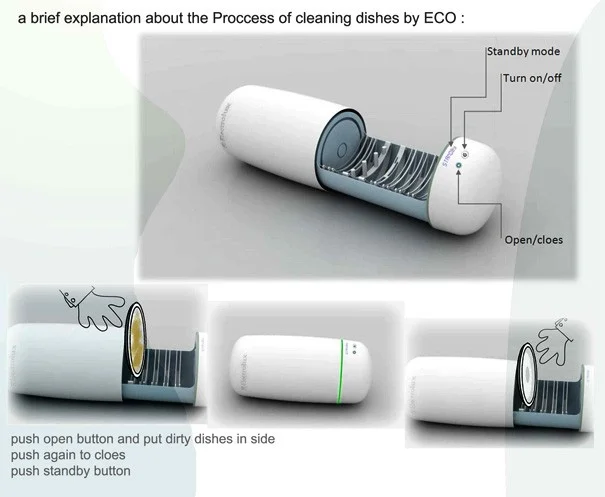 12.Elements Modular Kitchen by Mathew Gilbride
Elements Modular Kitchen by Mathew Gilbride is a modular all in one kitchen for the wall with different shelves that have different purposes like cooking, refrigeration, air conditioning, lighting etc. in order to have everyhting you need at our reach.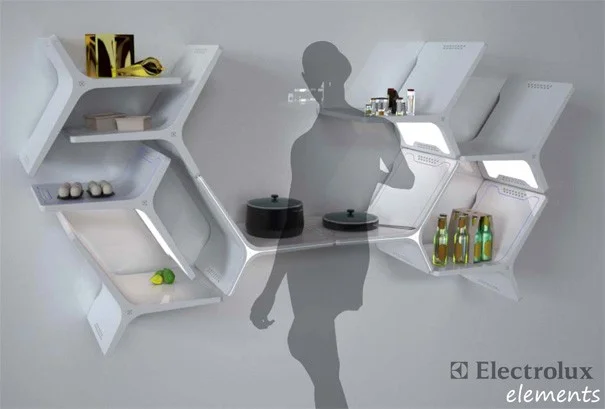 13.External Chilling – External Refrigerator by Nicolas Hubert
Meant to be placed outside, on the balcony, the fridge uses the outdoor temperatures to save energy. While in the winter the cold keep it from consuming much energy, in the summer the solar panels attached to it gather the solar energy.
14.Freedge – The Inside-Out Fridge by Matthew McNaughton
Similar to the External Chilling, Freedge consisits of a wall included tube that uses the outside temperatures to its usage. Both concepts are designed for small amounts of food though.
15.GAIA Wall Mounted Air Purification by Ankit Kumar
A green wall offers temperature control, air purification, energy supply for your home, all in modular wall panels.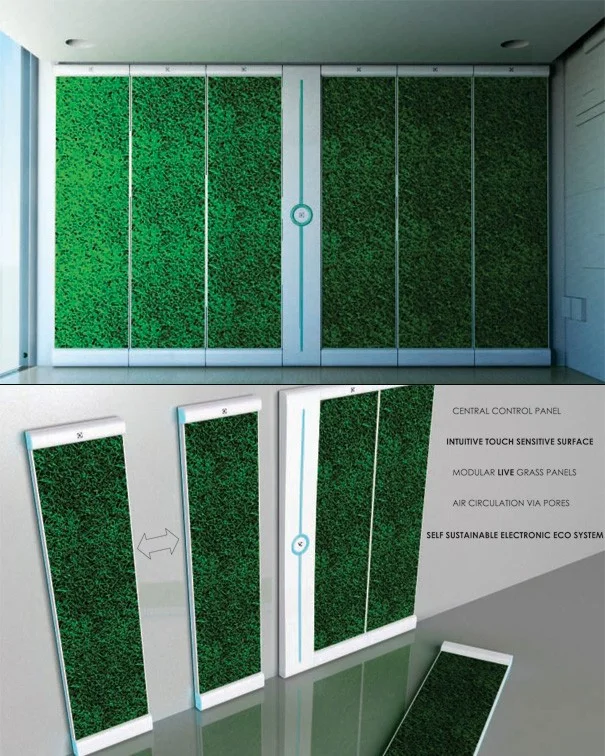 16.The Snail Micro Induction Heating System by Peter Alwin
Using high density sugar crystal battery for power, the Snail uses magnetic induction to heats up food according to its type ( sensors detect it).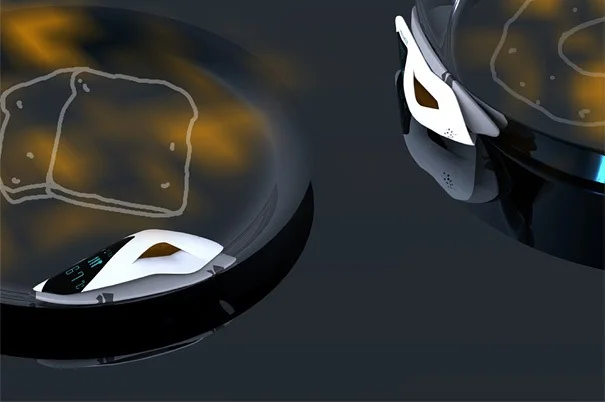 17.The Inflower – Small Laundry Cleaning Units by Jianjiang Yin
Inflower uses solar power to charge and cleans through nanotechnology stains and freshens up stored clothes.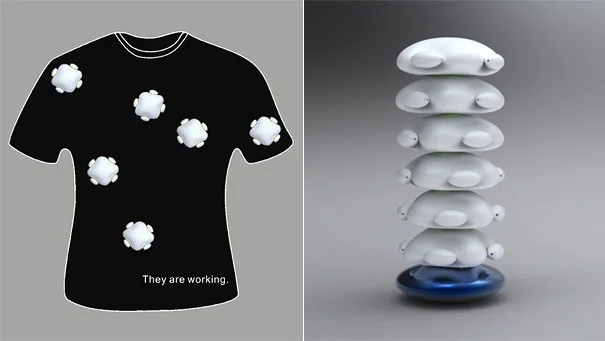 18.Instinct Vacuum Cleaner by Berty Bhuruth
The Sheep-like Cleaner is a robotic vacuum cleaner concept that creates a 3d model of the room and create s a cleaning plan which it then follows.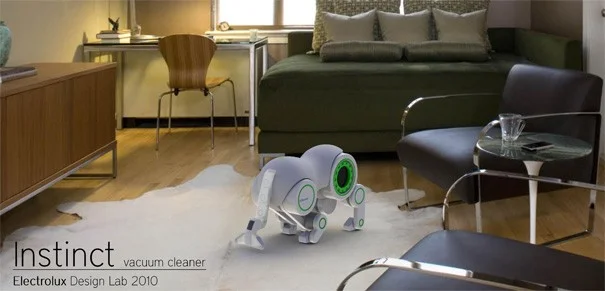 19.The Kitchen Hideaway by Daniel Dobrogorsky
Imagine your food and you shall have it. Robots see your desired food recipes and get it ready for you without you having to place an actual spoken order.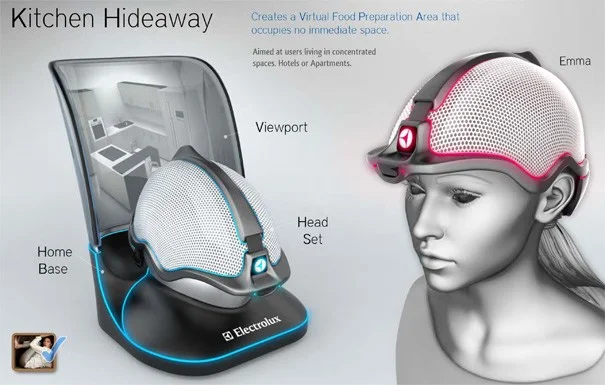 20.Lupe Hand Held Washing Machine by Il-seop So
Scan, wash and iron with one move with the Lupe Hand Help Washing Machine.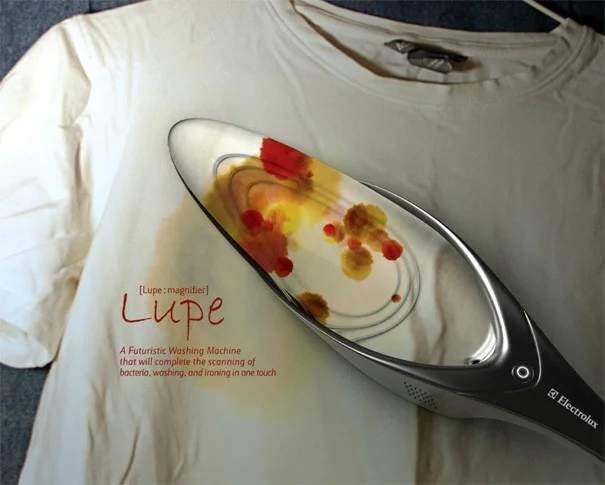 21.Mesh Cooker – Expandable Oven & Hob by Lucian Cucu
The Mesh Cooker is a fold-able portable device that can be connected to any socket and used to heat your food in or on top of it.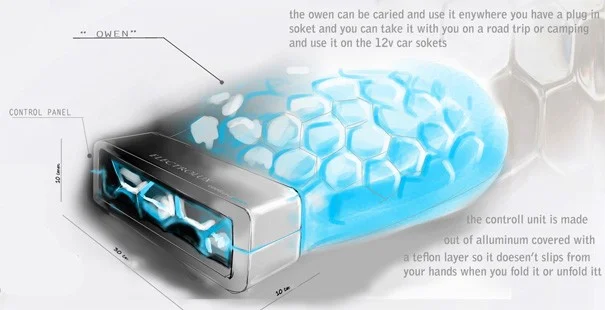 22.MESO- Food Injection by Bogdan Ionita
An injection that provide you with all the required vitamins an nutriments directly to your blood stream. A little over the top for us.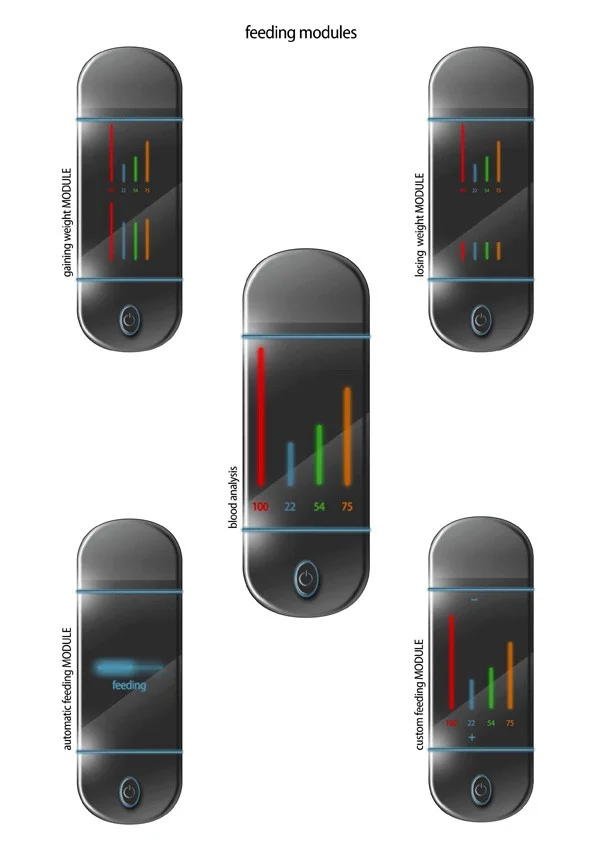 23.Space Saving Kitchen Range – Modular Kitchen Appliance by Shin Woosup
A toaster, a kettle and an induction hob, that's what the Modular Kitchen Appliance offers for an entire breakfast.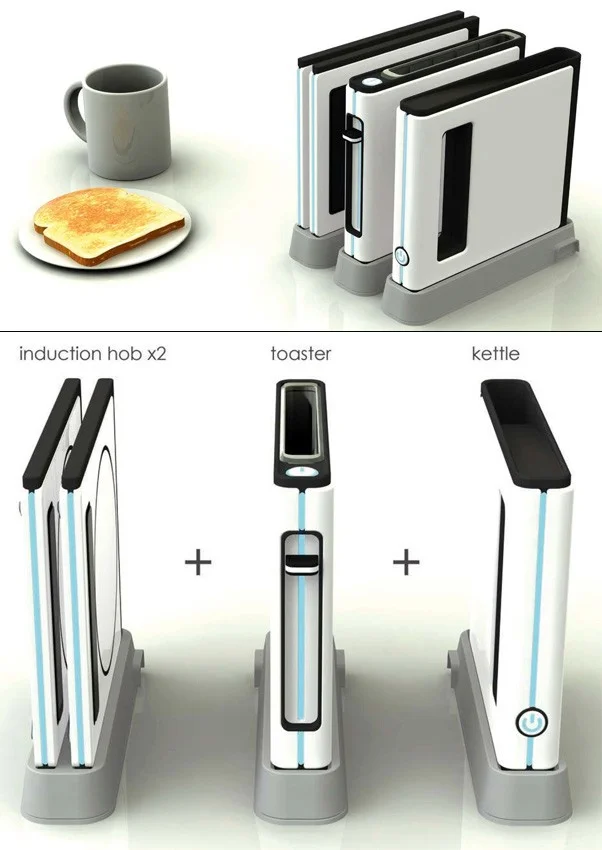 24.Preserved Egg Sweep Robot by Kai Dung
The Preserved Egg Sweep Robot cleans your home for you and recharges in a station until the next cleaning day.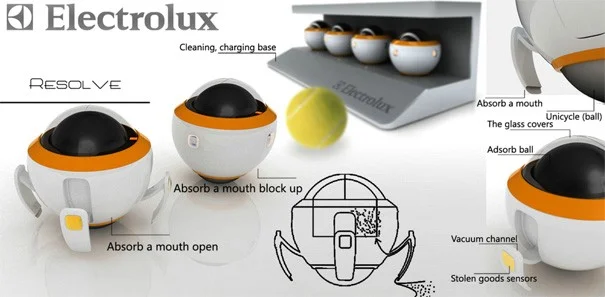 25.The Drum Washing Machine by Andras Suto
Another project designed for a community. Take the drum with you as a clothing basket and bring it back with your dirty ones,place it on the motor and wash your clothes.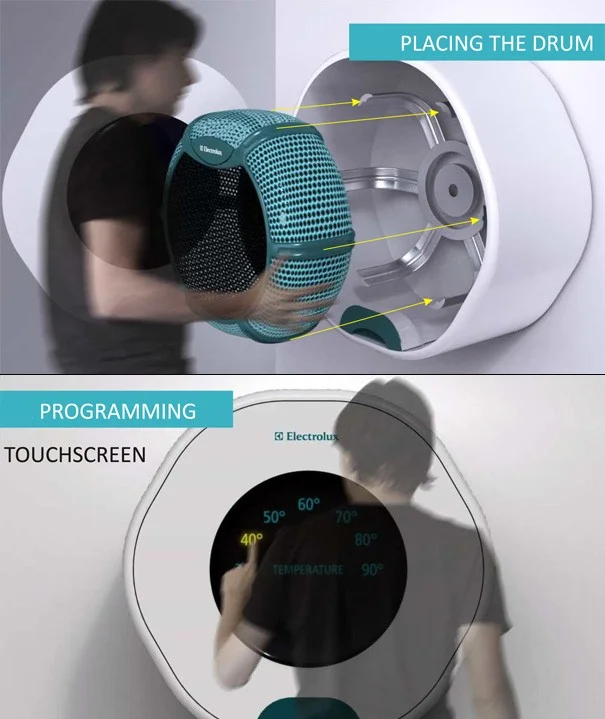 26.Zephyr Integrated Laundry System by Dulyawat Wongnawa
Zephyr is a storage that uses'Airwash' technology (with ozone being created to remove bacteria and odors, as currently found in industrial cleaning) and steam to remove wrinkles.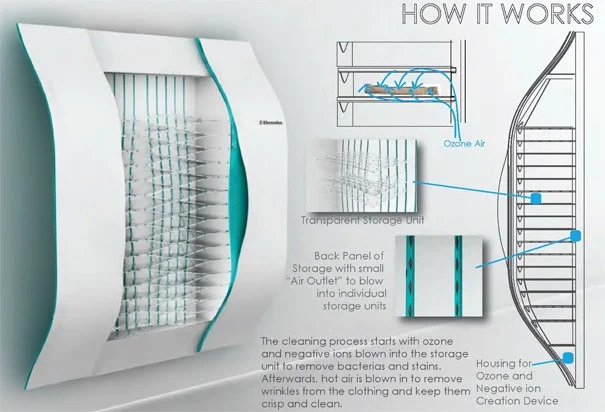 27.Qumi Flexible Cooking Unit by Ilia Vostrov
Used for heating, frying and steaming a wide variety of food types (including water based meals such as soup), Qumi comes with no buttons or touchscreens, everything being controlled by phone or by a central command panel installed  in the home of the future.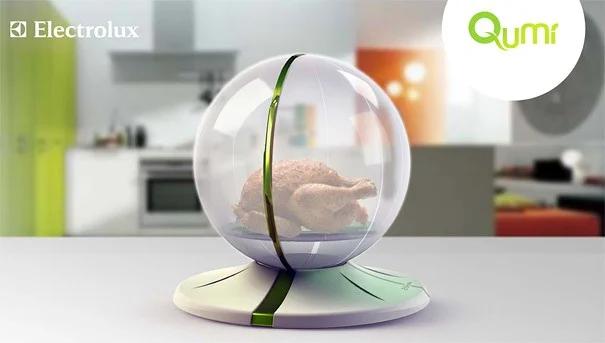 What do you think about these concepts? Do you believe any of them could come true and be useful for everyday usage? What does the future have in plan for us and what are we going to develop next for future generations? We would love to hear your opinions in the comment section below.