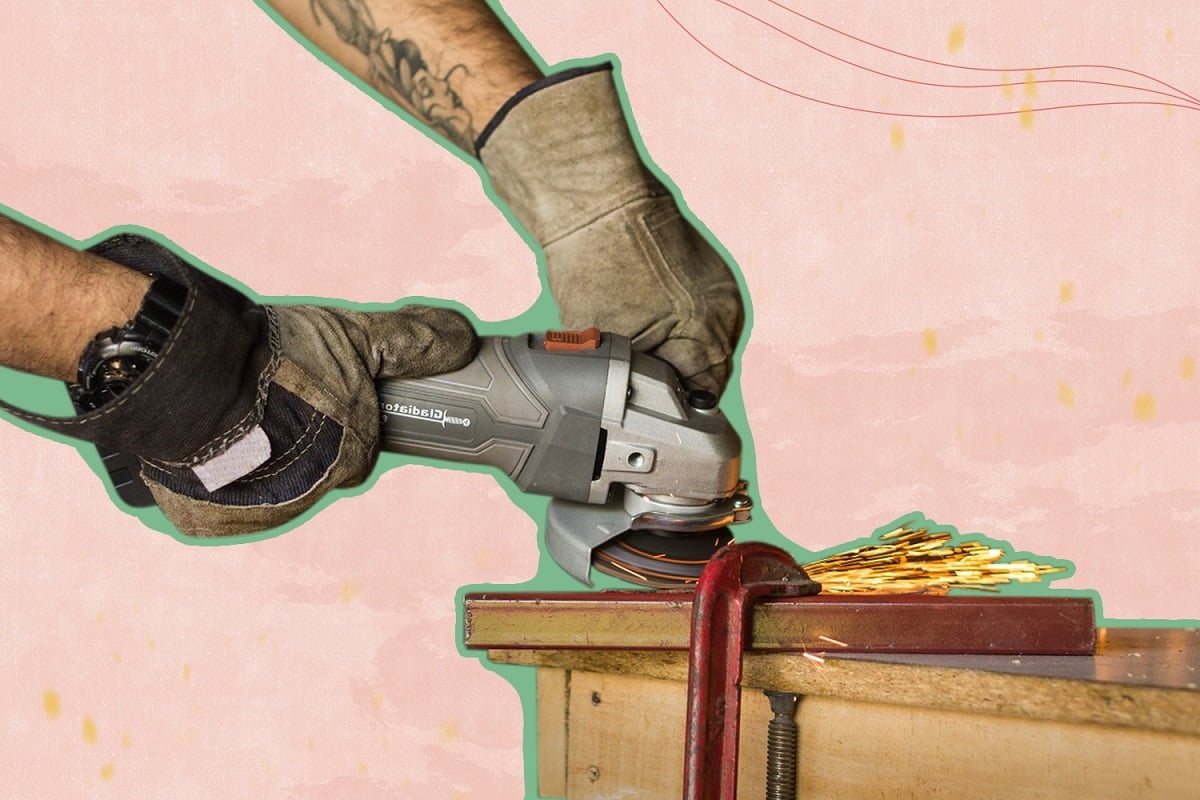 A 4.5-inch angle grinder is best suited for small-scale projects and tasks that don't require any extensive cutting or grinding. On the contrary, 7-inch grinders are versatile enough for a wide range of professional projects. 
Angle grinders come in all shapes and sizes but choosing the best angle grinder for the task can be tricky. 
In fact, choosing the right angle grinder for the task doesn't solely depend on the size since other features play an important role as well. For instance, a power tool like an angle grinder should offer safety features to keep the person safe from unwanted accidents. 
So, without further ado, let's proceed! 
Angle Grinder Sizes – Full Guide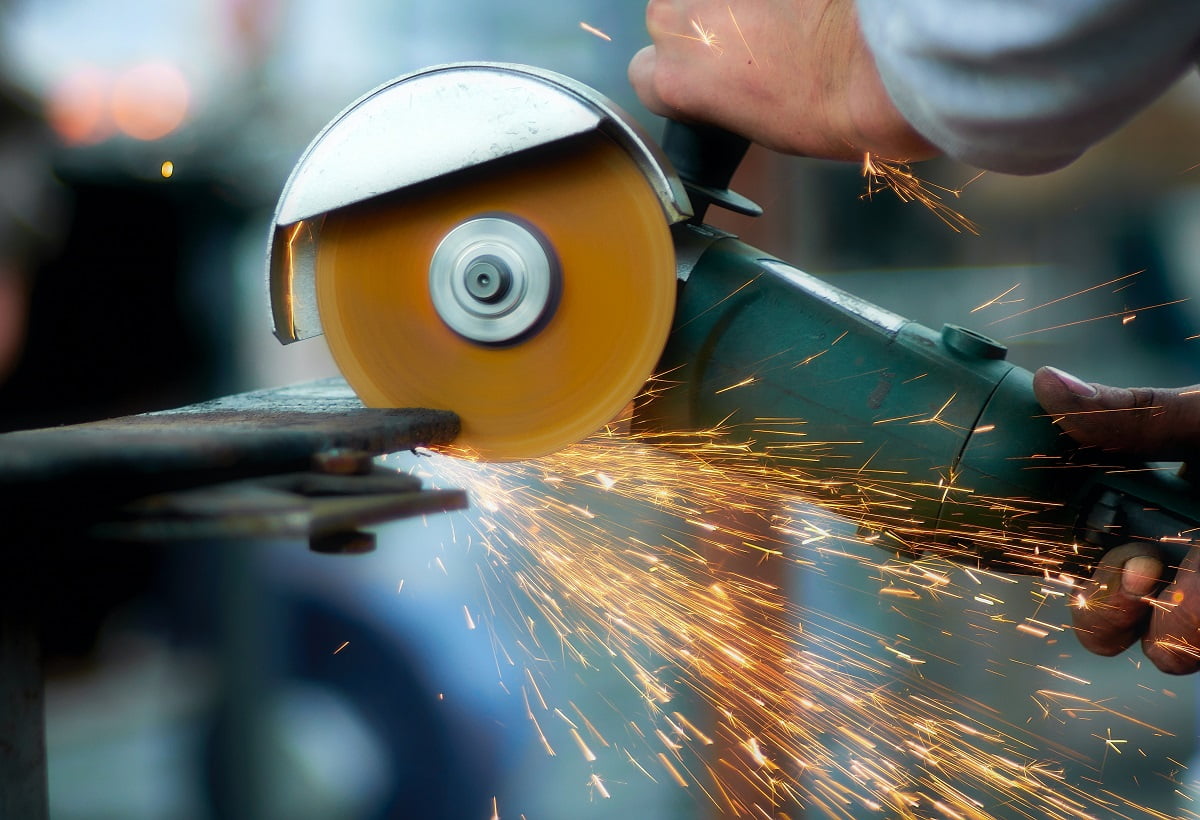 When it comes to angle grinders, different brands produce them in different sizes, which makes it hard to choose the right model for the task. However, each size serves a unique purpose. As such, you can not use the same angle grinder for every task. Keeping this in mind, this section will highlight the different angle grinder sizes and their applications. 
1. 4-inch Angle Grinder
Out of all the models, this is considered to be the smallest angle grinder a person can purchase. Although it is small in size, this unit still has plenty of features to offer the user. For instance, it usually comes with a 6 AMP motor, which is more than sufficient to take care of small and minor projects. 
Apart from that, the motor can deliver a speed of 11,000 RPM without having any loading conditions. This makes it extremely efficient since you don't have to wait for a long time to start the power tool. In addition, it only weighs around 3.7 lbs, making it extremely portable and lightweight. Ideally, we recommend using this unit for cutting thin pieces of metal and for small grinding tasks. 
2. 4.5-Inch Angle Grinder
Just like the previous model we mentioned, a 4.5-inch angle grinder has similar specs. The motor delivers an average speed of 11,000 RPM while drawing an average of 120 Volts from the main power source. 
On that note, this model even has similar applications in comparison to the 4-inch unit. Normally, these units are best suited for small jobs in workshops. Hobbyists can also purchase this angle grinder if they don't have any extensive cutting to perform since this unit can only handle thin metal pieces. 
3. 5-Inch Angle Grinder
Unlike the previous two units, this category of angle grinders usually has more powerful motors. The motors come between ranges of 9 AMP and 12 AMP. As such, they can deliver a maximum power of 1440 Watts. However, powerful motors are bulky and heavy, which makes it tough to carry these units everywhere. 
Due to their compact sizes and power-efficient motor, these angle grinders are best suited for DIY projects and small-scale projects. 
4. 6-Inch Angle Grinder
A 6-inch angle grinder falls under the middle-sized angle grinder category. It usually delivers higher power output since it uses motors that have a range of 10 to 13 AMP. And since it is heavy, the unit has a very low speed of 9000 to 10000 RPM. 
Moreover, these angle grinders are rarely used since most people prefer to opt for a 7-inch model or the small ones to get the job done. You can still purchase this unit if you are looking for something powerful while being compact in size. 
5. 7-Inch Angle Grinder
Amongst all the different size angle grinders, the 7-inch angle grinder is the most popular unit on the market. It comes with a powerful motor that ranges between 13 to 15 AMP. Thus, the motor is capable of delivering a power output of 1600 to 1800 Watts. Apart from that, it has an average speed of 6500 to 8000 RPM. 
When it comes to application, this grinder can be used by a wide range of professionals. For instance, construction workers and metal operators can benefit a lot from using this unit since it can cut a wide range of metal and surfaces. Plus, it can be used for extensive grinding projects and activities. 
6. 9-Inch Angle Grinder
Lastly, the 9-inch angle grinder is the largest angle grinder on the list. The specs include a 15 AMP motor which delivers a speed of 6500 RPM. In fact, some 9-inch units require a larger motor since they have a power requirement of 230 Volts. 
This angle grinder is mostly popular amongst folks that prefer to work with thick metals. It is also ideal for heavy usages such as cutting concrete stones and thick metal pieces. Welders, contractors, and construction staff use this unit for their work.   
What Size Angle Grinder Do I Need?
Now that we have talked about the different angle grinder sizes, we can determine which is the right angle grinder for your task. In general, the 4.5-inch and 7-inch angle grinders are capable of covering 99% of your daily activity. Therefore, you will not need another unit if you have these two powerful tools. 
Nevertheless, the applications can differ from one person to another. Keeping this in mind, we have carefully mentioned a few guidelines you can follow while choosing the right angle grinder for the task. 
Firstly, small tasks around the house can be completed by using a 4.5-inch angle grinder. You can also use this unit to cut various materials, such as concrete and metal surfaces. But you should avoid using it extensively since it can spoil the disc. 
7-inch angle grinders are versatile power tools since they can be used for a wide range of projects. For instance, a 7-inch angle grinder is best suited for a home restoration project. 
Finally, a 9-inch angle grinder is ideal for heavy-duty tasks and extensive cutting.
Key Factors To Consider While Buying Angle Grinders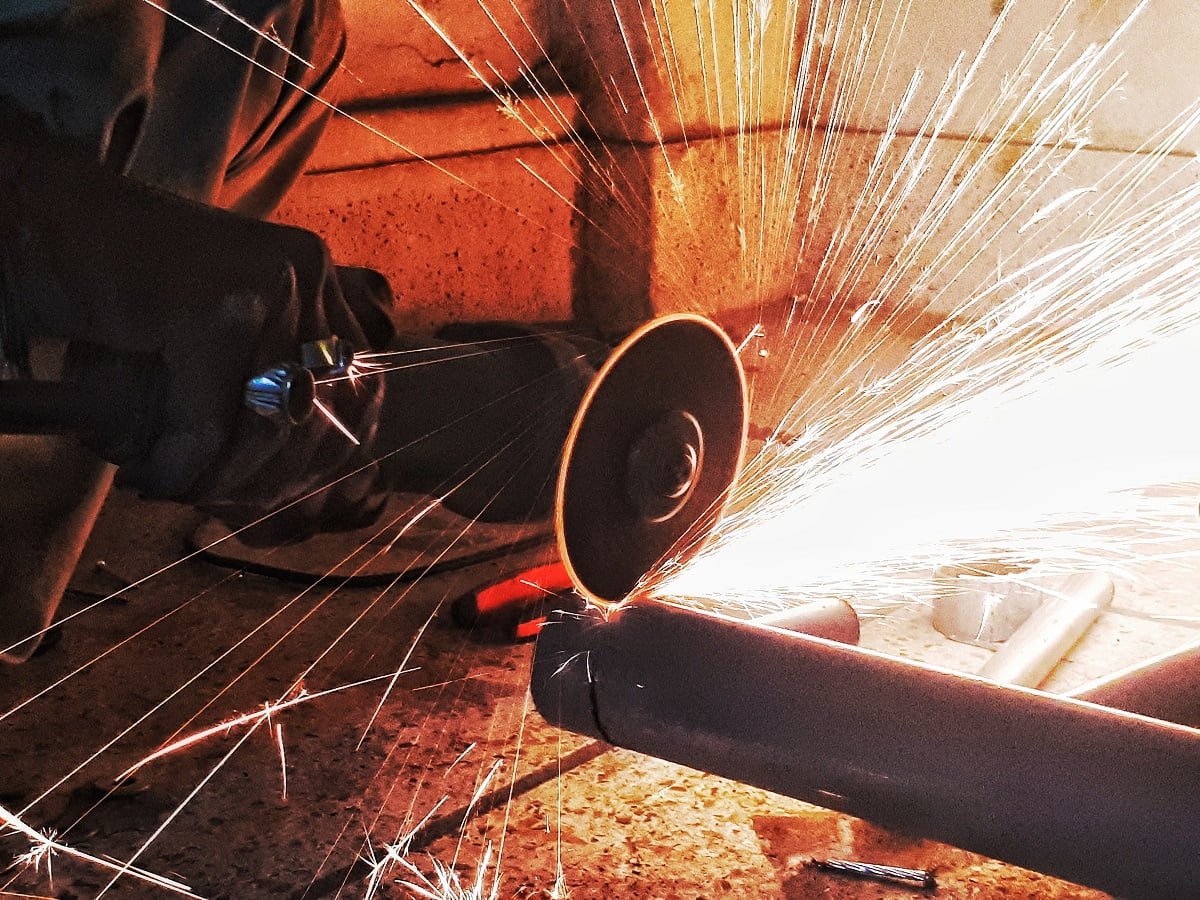 Apart from choosing the right angle size, there are several other factors you should consider if you want to find the best angle grinder.
1. Disc Diameter and Disc Size
One of the most important components of the angle grinder is the disc. As such, an angle grinder with a large disc size is ideal for cutting all types of surfaces irrespective of thickness. Moreover, angle grinders with bigger disc diameters are usually considered powerful since they can handle extensive tasks easily. 
Smaller discs usually rotate at a higher speed, but they are not capable of cutting through thick layers of metal. Thus, you should carefully select the disc size according to the type of project you are working on. 
2. Wattage
Grinders with higher wattage are well-known for delivering high power output while cutting through tough materials such as thick steel. If you do plan to use the power tool for a long period, make sure to purchase a high-wattage unit.  
3. Power Source
When it comes to power sources, angle grinders are available as corded models as well as cordless models. 
A. Corded Angle Grinders
Corded angle grinders can generate more power at a consistent rate since they draw power directly from the main power outlet. However, they do have one major drawback, which is that they are limited to a confined physical location. As such, you will need a power cord to reach far places while working. 
In addition, a corded model can also cause a tripping hazard if you are not careful while working. 
B. Cordless Angle Grinders
Cordless grinders usually deliver less power in comparison to their corded counterparts, but they are ideal for portability purposes. Besides, a cordless angle grinder is dependent on the battery capacity, so a larger battery will provide it with a longer run time. 
That said, a cordless angle grinder offers a hassle-free experience since the users can move wherever they want while using the tool. 
4. Speed
When it comes to measuring the speed of an angle grinder, we usually measure it by the revolution it makes within a minute (RPM). Most units have a speed ranging between 5000 and 10000 RPM. However, you should keep in mind that these speeds are measured under the "no load" condition. This indicates that speed is calculated while it is running in mid-air without cutting any object. 
Once you start using the device for cutting and grinding purposes, the speed reduces significantly. Thus, units with higher speeds are recommended if you want to complete the project faster. 
Nowadays, most brands design variable-speed angle grinders that can easily adjust their own speed to serve different purposes. If you plan on working with different surfaces and projects, we recommend using a variable-speed angle grinder. 
5. Hand Guard
Another important feature you must keep an eye on while buying an angle grinder is a reliable hand guard. While working with grinders, the chances of getting into an accident are very high. As such, hand guards become a crucial safety measure to keep hands safe. 
This safety guard covers half of the disc, which helps to protect your hands while it prevents debris and spark from reaching your body. Apart from this, some models come with movable guards, which can easily be adjusted to provide better protection. 
However, if you don't tighten the guard properly, there is a chance of it falling off, which can trigger an accident. Thus, we highly recommend wearing safety glasses and gear to protect yourself from a serious injury. 
6. Soft Start Or Slow Start
Whenever you start an angle grinder, there is a high chance of it recoiling due to the sudden surge of power. This can be risky at times since you can lose your balance while working, which can cause accidents. In fact, heavier and larger angle grinders have a higher tendency to recoil each time you start them. 
To tackle this problem, brands use a soft-start or slow-start technology, which reduces the overall power output whenever you start the motor. This feature ensures that the motors don't cause the angle grinder to recoil during the start-up. It also prevents injuries on the arms and wrists. 
Safety Measures While Using An Angle Grinder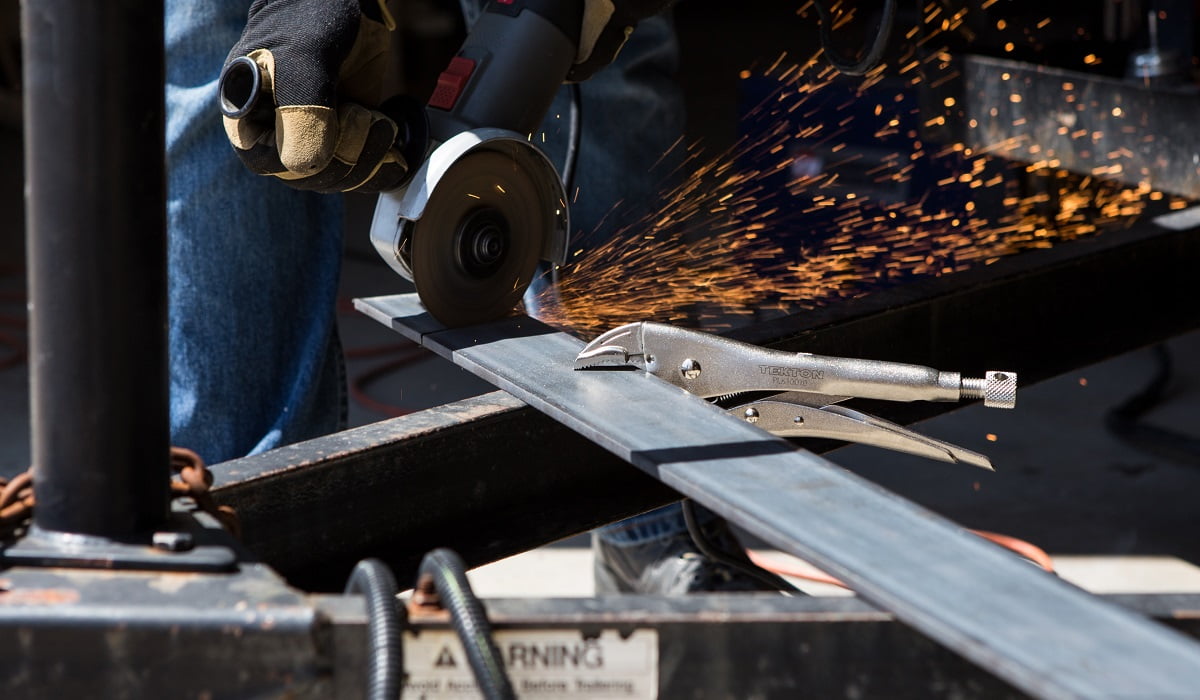 Working with an angle grinder is one of the most dangerous jobs since the chances of getting into an accident are very high. Nevertheless, you can reduce the chances of meeting with an accident if you follow these guidelines, which include:
1. Always Keep The Device Switched Off
Before plugging the angle grinder into the main power outlet, you should always make sure to turn it off. If the device is turned on before plugging it in, there is a high chance that it will recoil and injure you in the process.
2. Read The Manual Carefully
Unlike normal home appliances that are easy to set up and use, an angle grinder is a complicated device. As such, you should always read the instruction manual whenever you purchase a new unit. Doing so will help you understand the device better, and you become familiar with all the features. 
Similarly, you should always refer to the instruction manual if the unit is malfunctioning or not working efficiently. Fixing the unit by yourself without any technical knowledge can cause accidents and ruin the device completely. 
3. Use The Right Clothing And Safety Gear
Most accidents that take place while working with angle grinders are because of not wearing appropriate clothing and safety gear. Whenever you cut metal with an angle grinder, it produces sparks. If you wear cotton and nylon clothes, they can easily catch fire which can cause first-degree and second-degree burns and scars. 
Similarly, you should wear the appropriate safety gear and dust mask since angle grinders produce a lot of debris and dust while cutting metal. In some instances, it can even cause harmful fumes, which can make you feel sick while working. Some units generate a lot of noise, so wearing ear defenders can prevent you from losing your hearing ability.
4. Always Stay Focused
Lastly, you should always stay focused while using an angle grinder, even if it offers various safety features. Sometimes accidents can occur no matter how safe the device is; however, you can reduce the chances by paying close attention to small details. Moreover, you should avoid any form of distraction while using these tools. 
For instance, if you notice the motor is hot, you should immediately turn off the device. This will prevent it from overloading or getting damaged from extensive work. 
Can You Use An Angle Grinder On Wood?
Most people have the common misconception that you can use an angle grinder on wood. However, this is a totally wrong belief since angle grinders are designed to polish and grind concrete, stone, and metal surfaces. As such, if you use them to cut wood, you can get into a serious accident. 
Thus, we highly recommend not using an angle grinder for cutting wood since it is not a compatible device for the task. Moreover, you can damage the device while cutting the wood, and this can cost you a lot of money. If the device can't be repaired, you might have to purchase a new model for a silly mistake. 
Can You Use Angle Grinder To Buff Car?
Wondering if you can use an angle grinder to buff the car? Normally, we wouldn't recommend using an angle grinder to buff the car since it rotates at high speeds and cannot be controlled easily. Moreover, if the angle grinder doesn't have a dedicated soft switch, you should avoid using it to buff the car since it can cause a lot of damage. 
Instead, we recommend using an angle grinder with a variable-speed adjustment feature. In this way, you will be able to adjust the speed to 3000 RPM, which is ideal for buffing cars. Models with soft-start are also recommended since it prevents injuries from recoils.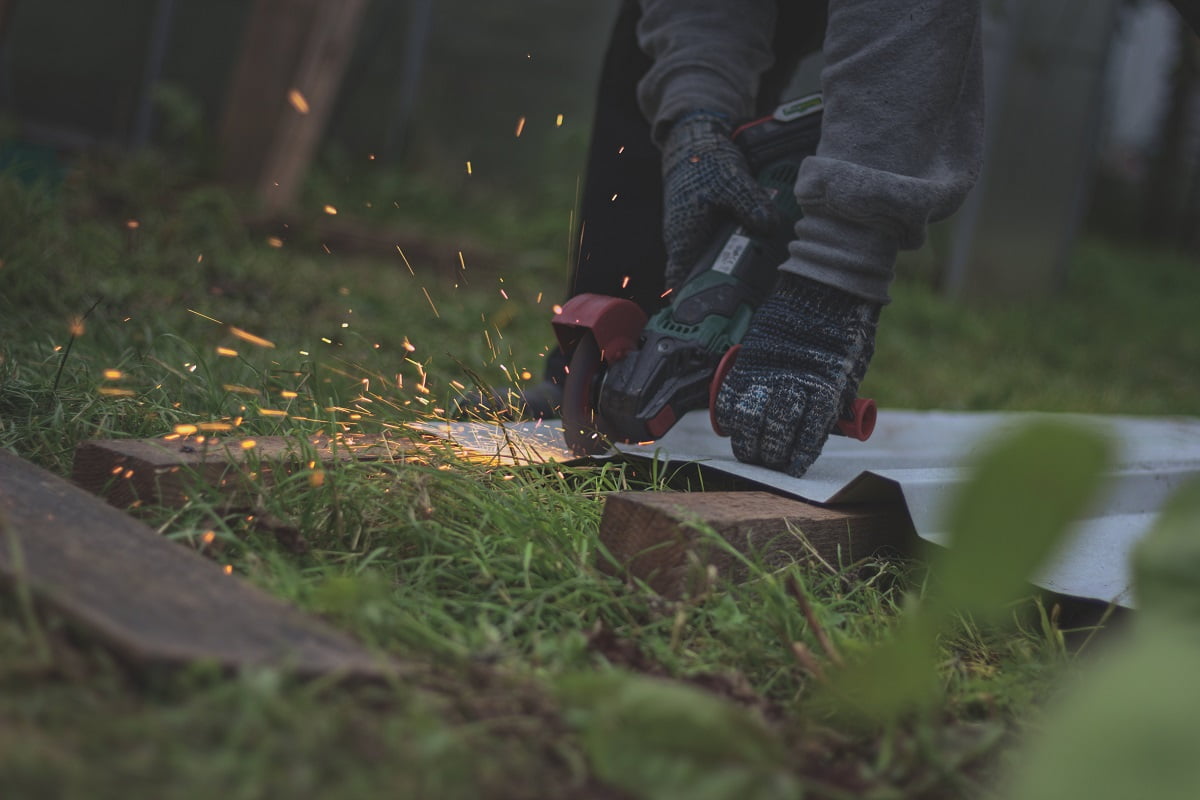 What Size Angle Grinder Conclusion
With that, we have reached the end of this informative guide. We genuinely hope you found this guide to be informative. When it comes to the construction business, construction workers need to take several factors into consideration while choosing the best angle grinder. Factors such as high speed, disc sizes, paddle switches, surface preparation, and many more can significantly influence the overall performance. 
Before signing off, here are a few tips that can help you make a wise decision while choosing the right model. 
Firstly, always examine the metal surface before choosing the angle grinder size. Thick pieces of metal will require larger angle grinders, while a small grinder is ideal for thin pieces of metal. 
Apart from that, you can always opt for variable-speed grinders if you are planning to work with different surfaces and textures. Cordless angle grinders are more convenient if you don't have a power source nearby.